Getting your home ready for spooky season? Here are my best tips on how to put up fake spiderwebs for Halloween!
I adore decorating for Halloween and a long tradition for me has been to do a big spiderweb.
I have played with a few different locations, but this year we decided to do a spiderweb wall behind the TV.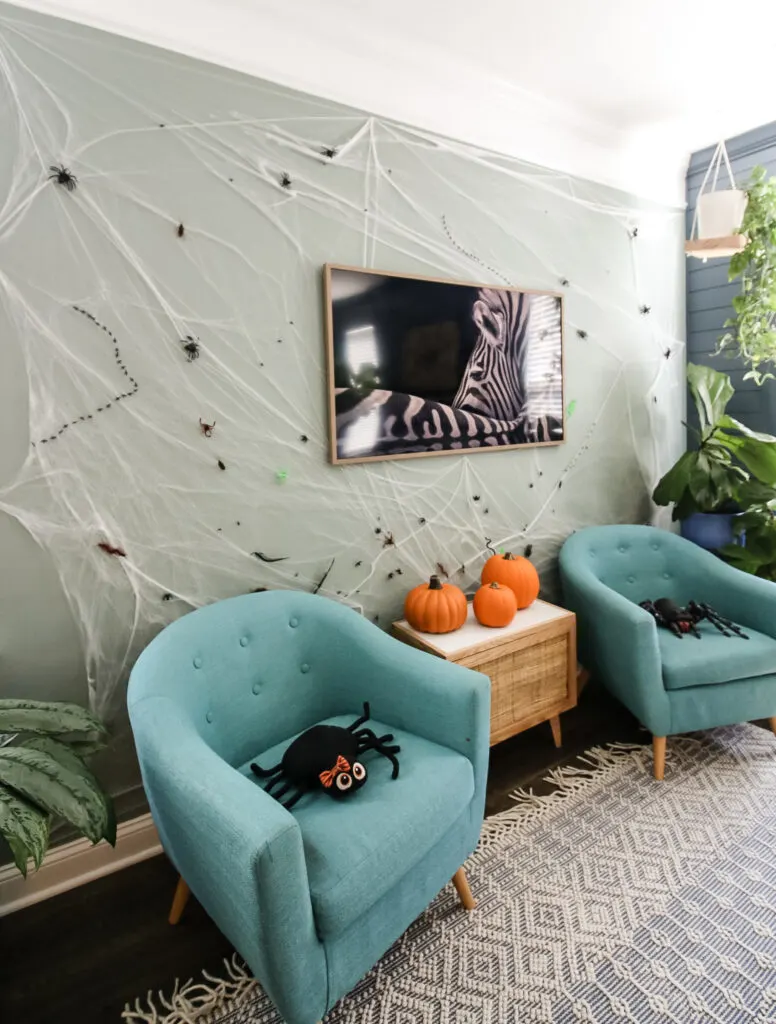 The kids LOVE it and had so much fun adding spiders and other spooky critters.
I have hung dozens of fake spiderwebs and wanted to share my best tips on how to hand them the right way!
Here are some of my favorite Halloween spider web ideas and tips to make the most of your Halloween spider decorations!
Love spider halloween decor? Be sure to check out my spider stairs, spiderweb wreath, and spiderweb mantel!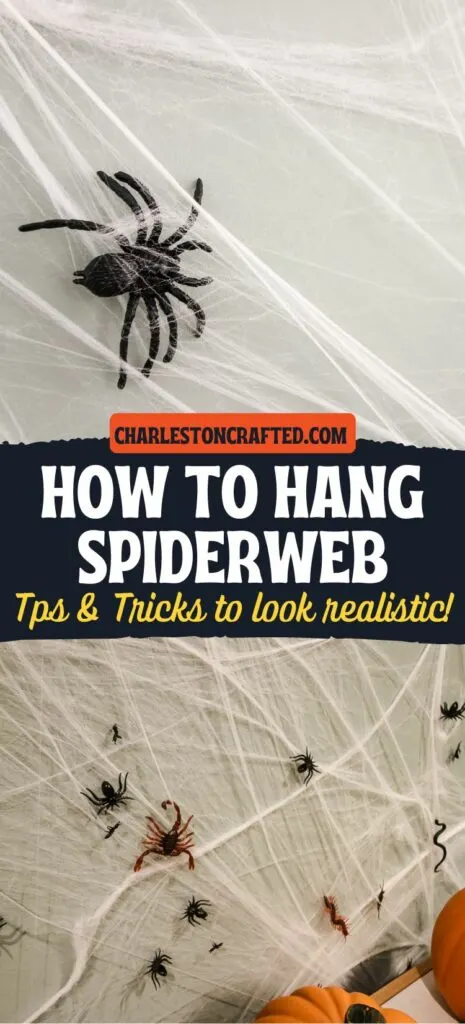 How to decorate with spiderwebs for Halloween
There are lots of ways to incorporate spider web decorations into your Halloween decor.
Spiderwebs make a great backdrop to go behind any spooky scene.
The spiderweb itself can be the focal point, especially if paired with giant spiders.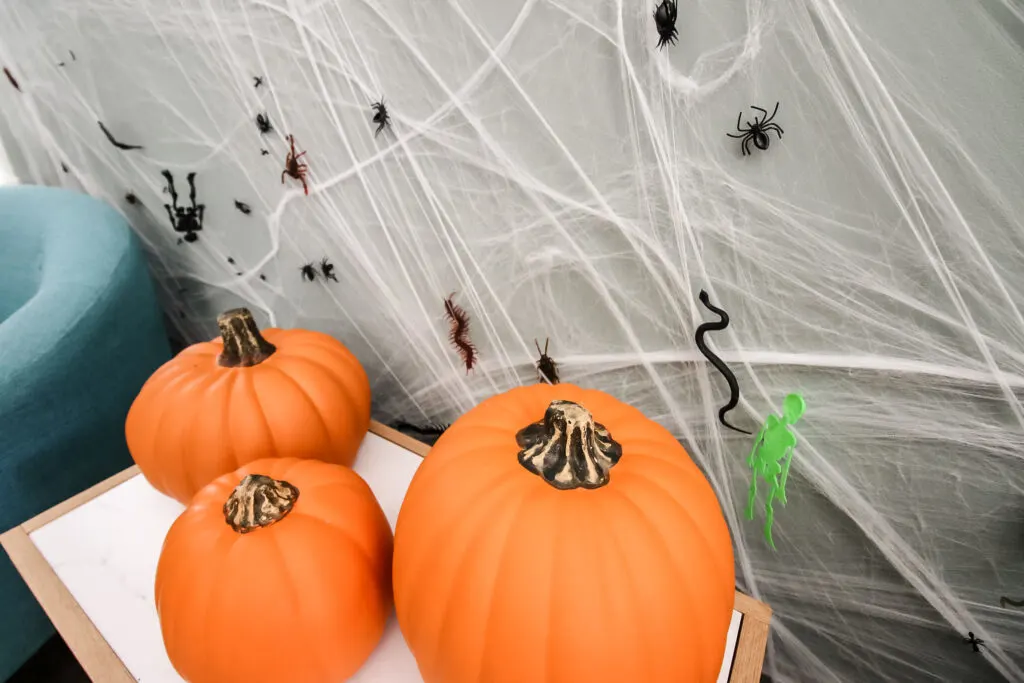 Fake spiderwebs can be hung indoors or out for any of your decorations needs.
And fake webs are a great Halloween party decoration ideas!
However you use fake cobwebs, I have some tips to help you make them look as realistic as possible.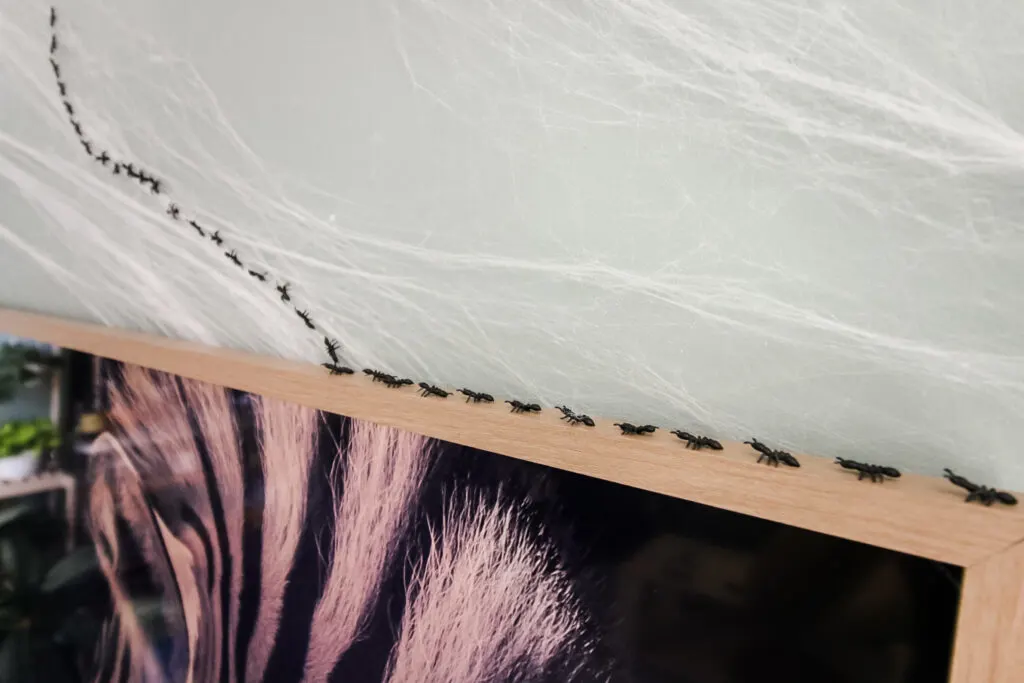 Tips for hanging a Halloween spider web:
A little goes a long way – you can use scissors to cut the larger pack of web into smaller sections
Stretch, stretch, and stretch the webs some more – the thinner the web, the generally more realistic it looks. look for seams (lines) in the web and really stretch from there!
Hook the web to something along each corner or edge to give it a tight, pulled, realistic look
Don't be afraid to twist the web and pull it back over itself
Triangular or angular shapes tend to look more realistic than square or rectangular shapes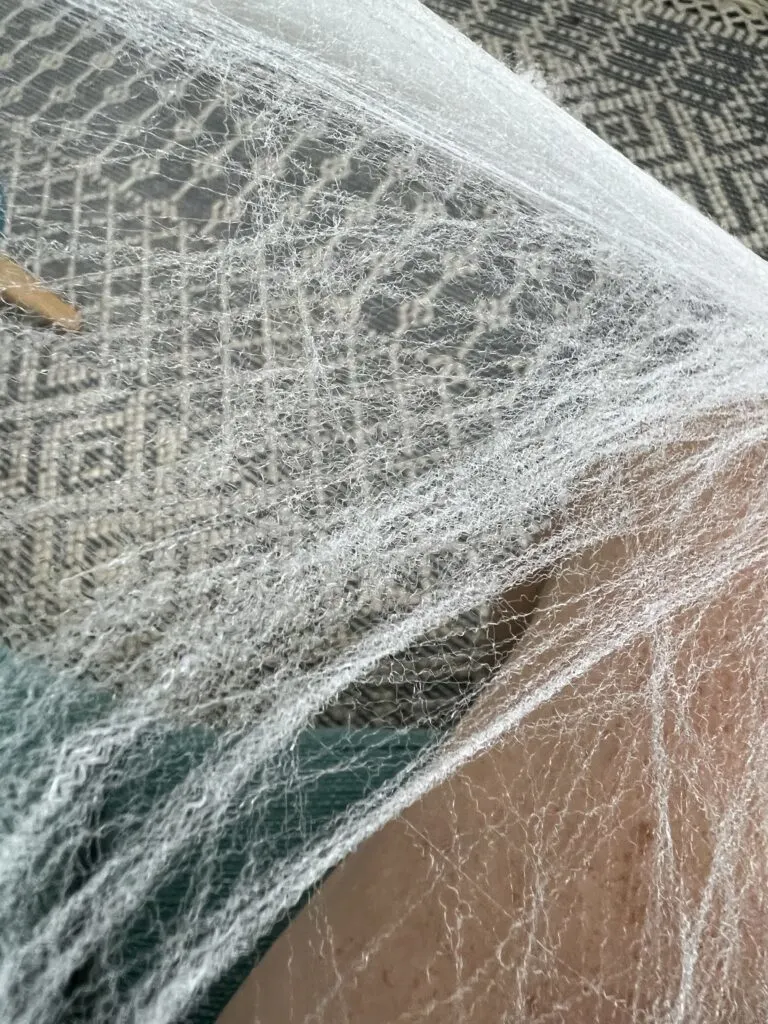 How to decorate fake spider webs
You can of course put plastic spiders in your spider webs, but also consider adding some of my favorites: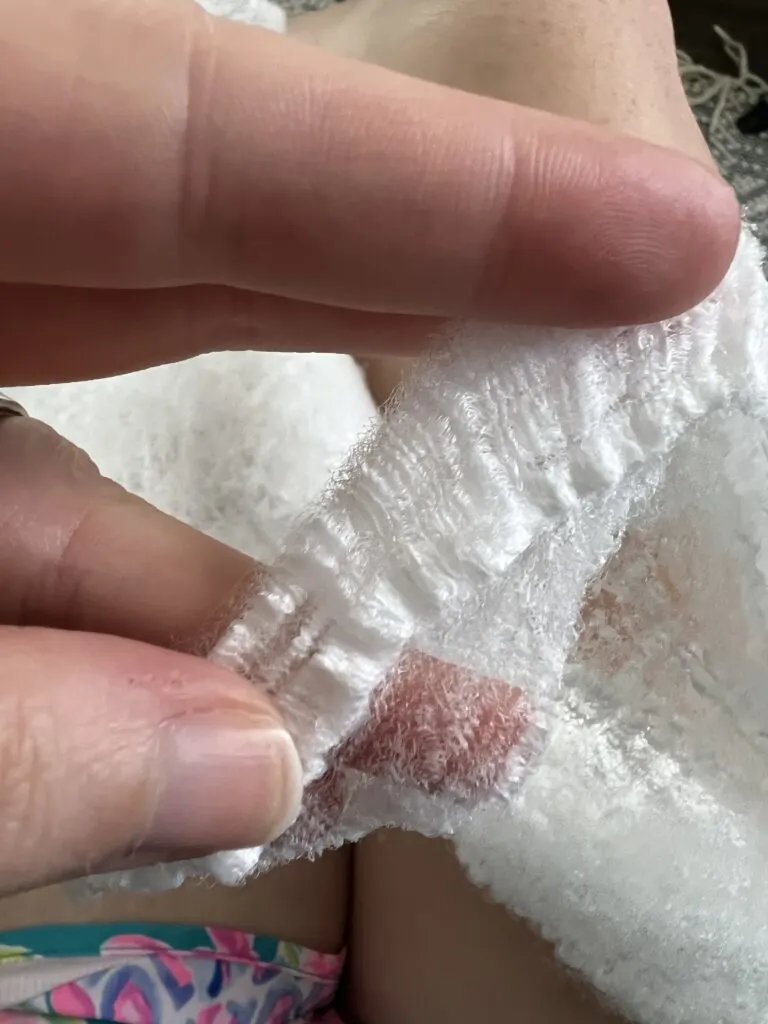 How to hang spider webs
Here are my best tips for how to hang spider webs in different situations.
How to put up fake spider webs indoors
When hanging web indoors, you can first opt to drape web over something like a tree or chandelier. Use a very small piece of webbing to do this (cut it with scissors) and it should be able to hook itself in place.
If you want to hang web on the wall or ceiling, you will need something to hook it to.
I have a few suggestions for you!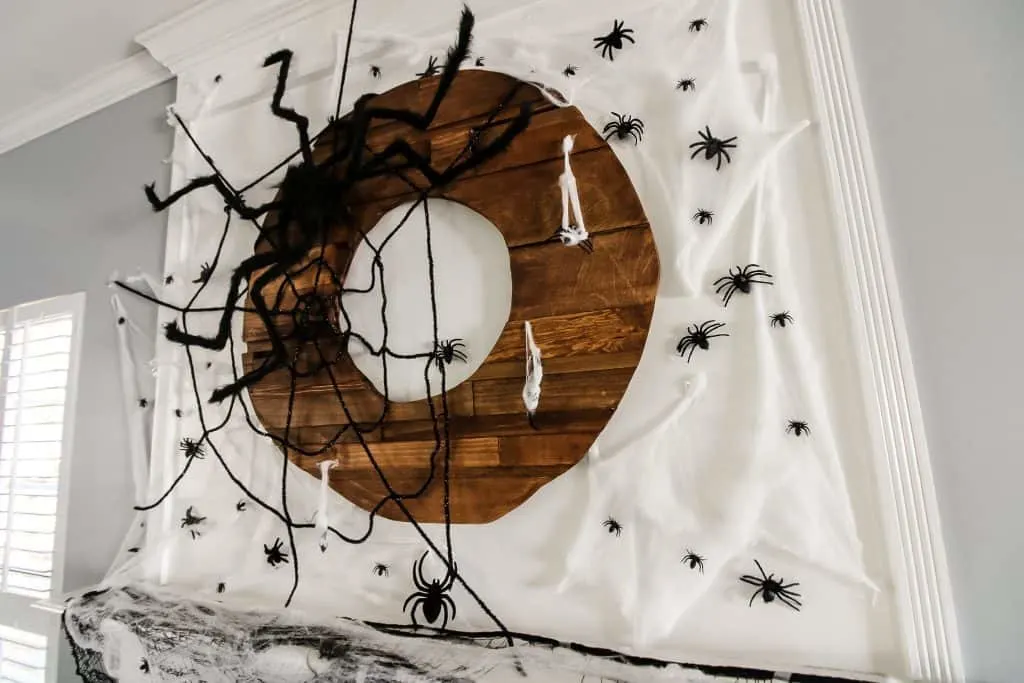 The easiest way to hang fake spiderwebs indoors:
Clear push pins/thumb tacks
Small nails
Command type removable velcro strips (use a piece of scratch velcro and the web sticks right to it in lieu of the soft side)
Staples/staple gun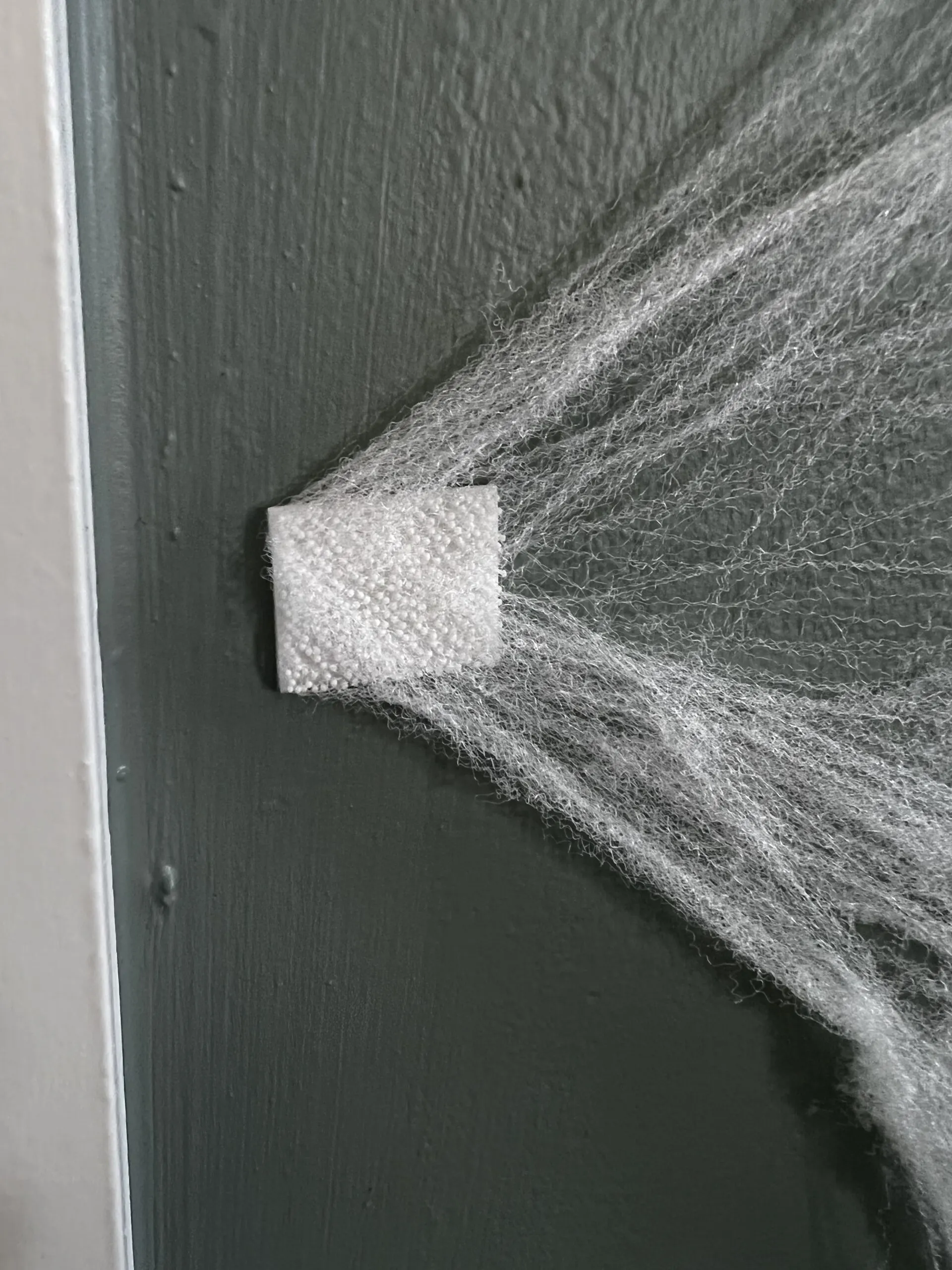 How to hang fake spider webs outside
I actually do NOT prefer to use typical fake spiderweb outside. It gets really dirty, leafy, and nasty. I prefer to use one of these alternatives for outdoor spider decorations for Halloween:
If you do opt to use traditional faux cobwebs outside, remember to stretch it very thin and hang the edges on something – a hook, a branch, a bush – so it pulls tight and doesn't just hang in a sad clump.
How to attach spiderweb to brick
If you want to hang a spiderweb on a brick wall as a part of your outdoor halloween decorations, I suggest attaching it to nails, outdoor command hooks, or outdoor velcro on the wall.
Any more questions about spider web Halloween decorations?!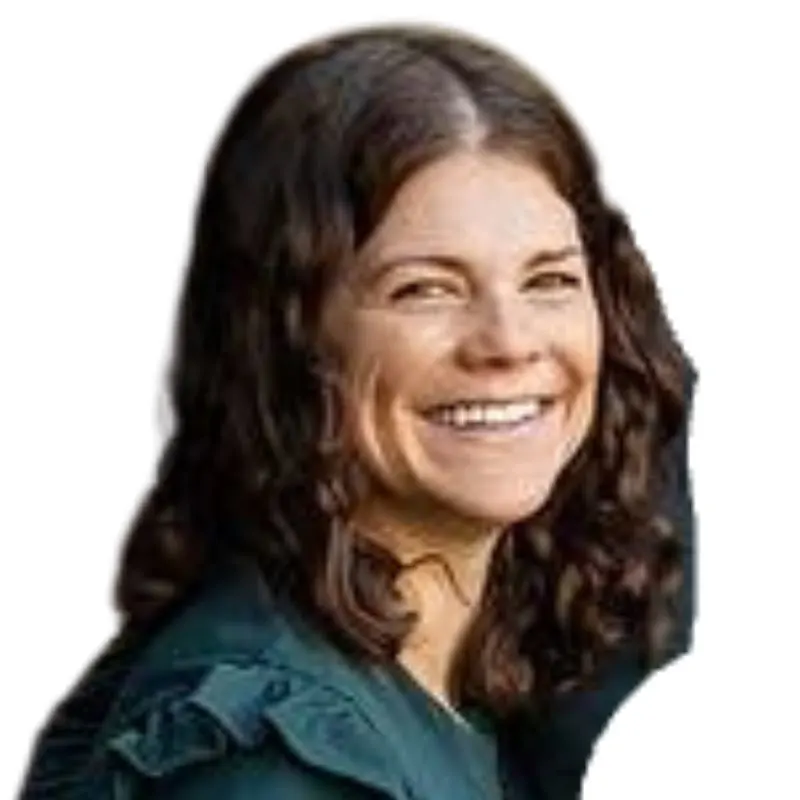 Hello, I'm Morgan, half of the creative force behind CharlestonCrafted.com! With a passion for DIY that dates back to 2012, I've transformed three homes and now I'm dedicated to helping others craft their dream spaces. Let's turn your house into a home together!