Want to paint your stair risers? Here's a step by step guide on how to paint stair risers – and a peek at our rainbow staircase!
I recently painted a rainbow mural in our kid's loft. That mural is right next to the stairs up to our 3rd floor (which is also a playroom/future media room). The boring treads and risers looked dull next to the new rainbow.
So, I pulled back out my rainbow paint and decided to paint a rainbow staircase!
Now, I know that not everyone has a desire for a rainbow staircase in their home. This is a pretty specific project for specific spaces.
However, painting stair risers is a big home improvement project. If you have wooden stairs, then you might want or need to refresh their paint.
So, I'm going to teach you exactly how to give your stairs a paint job – white or rainbow or any color in between!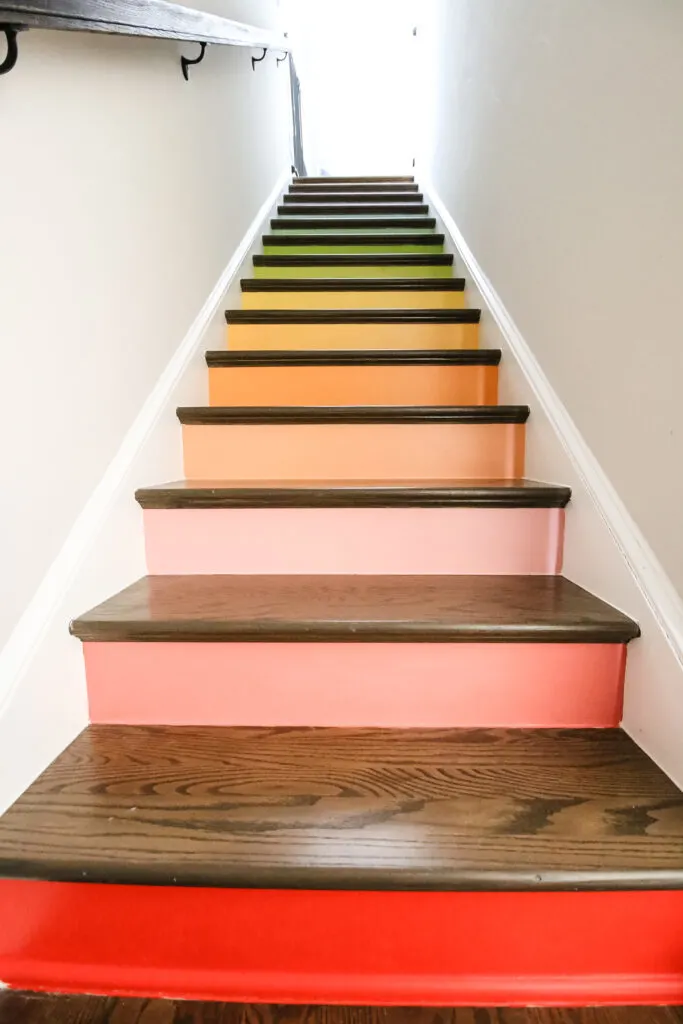 What kind of paint do you use on stair risers?
You can use paint specifically for porches and floors on your stairs. This is necessary if you want to paint the stair treads. However, for risers, you can use regular wall paint.
What color should risers be?
There are lots of options when choosing a paint color for stair risers. If your stairs are surrounded by white trim, it is most common to paint the risers white.
Having white (or any color painted) risers helps to break the stairs up visually and keep them from looking like a brown wood blob. It gives them definition and helps the wood treads be a highlight.
You can paint treads as well, but since they get a lot of wear, staining the natural wood is a more common option.
What sheen should stair risers be?
Typically you want to use a semi-gloss paint for stair risers. This is because they will get scuffed up and you want to be able to wipe them clean. I used Behr's Scuff Defense paint, which we use all over our house, and can really stand up to a cleaning and scuff marks (and 2 kids and 2 pets!)
Read my complete guide to paint sheens here!
Why are stair risers painted white?
White paint is usually used to tie the risers of wood stairs in with the surrounding trim work. It also allows the wooden stair treads to pop and really shine.
However – they don't HAVE to be white. Black, navy, or another dark color can be moody and dramatic.
Or if your stairs are to a playroom like ours – why not make rainbow steps!
How to paint stair risers
My technique for painting stair risers isn't going to be for everyone. Professionals might gasp and click away immediately.
But, there is a reason for my madness!
See, most people will tell you to use painter's tape to tape off around each stair tread.
Here's the thing – if you have wooden treads with grooves and grain (ours are oak) you are going to have a hard time getting a good tape seal. Paint will leach through where the bumps in the grain are.
If you are doing just one set of stairs in your own house – I think it's easier to freehand it! Aaahhhh, I know. But let's see the process.
Supplies needed to paint stair risers:
Cleaning supplies
Sander or sanding block – if needed
Small and medium paint brushes
Paint of choice
Paper towels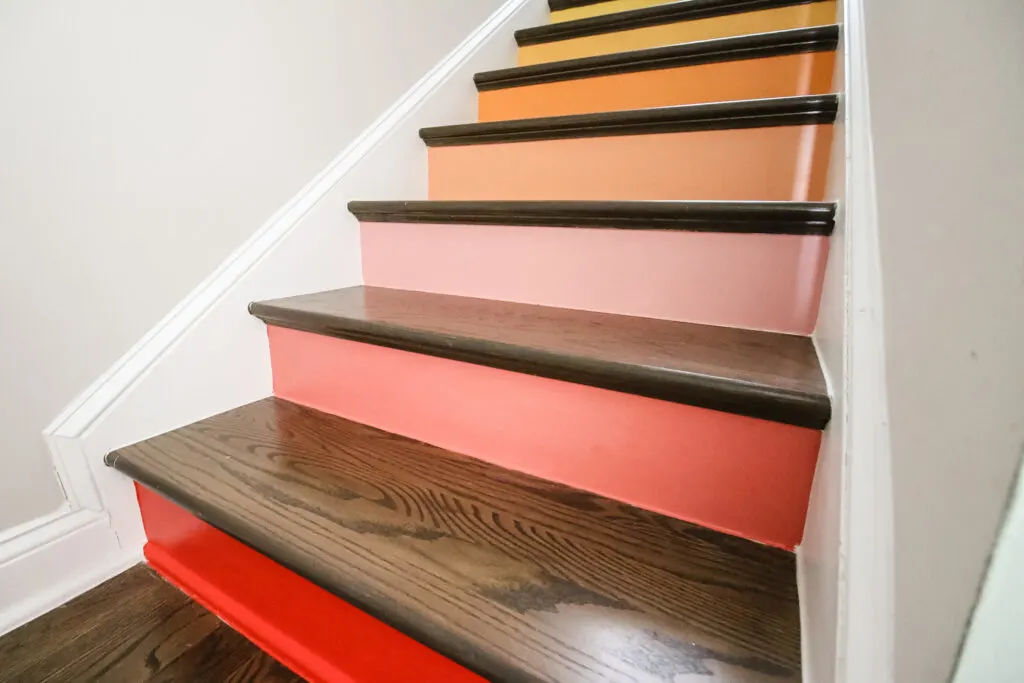 Steps to paint stair risers:
STEP 1: PREP THE STAIRS
If your stair risers need sanding, sand them. Reasons to sand include if the paint is damaged or peeling or if it is covered with a thick varnish. If it's a thick varnish (like for wood floors) paint is unlikely to adhere without roughing up the surface with sandpaper first.
STEP 2: CLEAN THE STAIRS
Sweep your stairs. Wipe down each riser with a damp cloth. Scrub if there are stains to remove.
STEP 3: PAINT THE EDGES
Use a small, angled paint brush to paint the border of your stair riser. Paint as close as you can to the edge without touching it.
Have a paper towel on hand and immediately wipe away any paint that gets on the wrong surface. I find this more efficient than taping, and less bleed you have to touch up anyways.
STEP 4: FILL IN
Use a medium sized brush to fill in the remainder of the stair with paint. Do a light coat and be careful to avoid drips.
STEP 5: REPEAT
It will take 2 coats of paint for most colors. If you are painting light over dark, it might take even more coats!
Do thin coats to avoid drips, have patience and take breaks. It's better to slowly do a good job than to rush through a sloppy job!
STEP 6: LET DRY + ENJOY
Let it dry completely before "handling" them. Enjoy your fresh new stairs!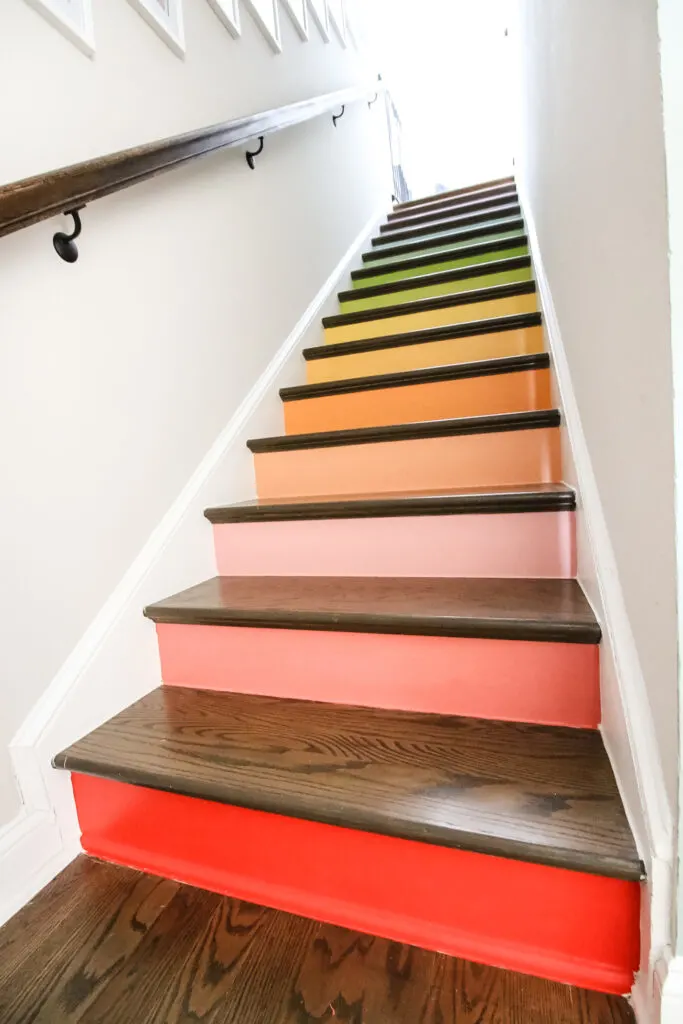 How to paint rainbow stairs
To make your stairs rainbow like ours, you follow the above technical instructions. Just make each stair a different color!
I had 7 paint colors to use but needed 14 step colors. So, every other color is a blend of the two colors on either side of it.
My colors are (all by Behr):
Red – Top Tomato

blend of Top Tomato and Coral Fountain

Pink – Coral Fountain

blend of Coral Fountain and Toucan

Orange – Toucan

blend of Toucan and Smiley Face

Yellow – Smiley Face

blend of Smiley Face and Green Neon

Green – Green Neon

blend of Green Neon and Spring Stream

Blue –

Spring Stream

blend of Spring Stream and Evening Slipper

Purple – Evening Slipper

blend of Evening Slipper and Top Tomato
Any questions about painting stair risers?!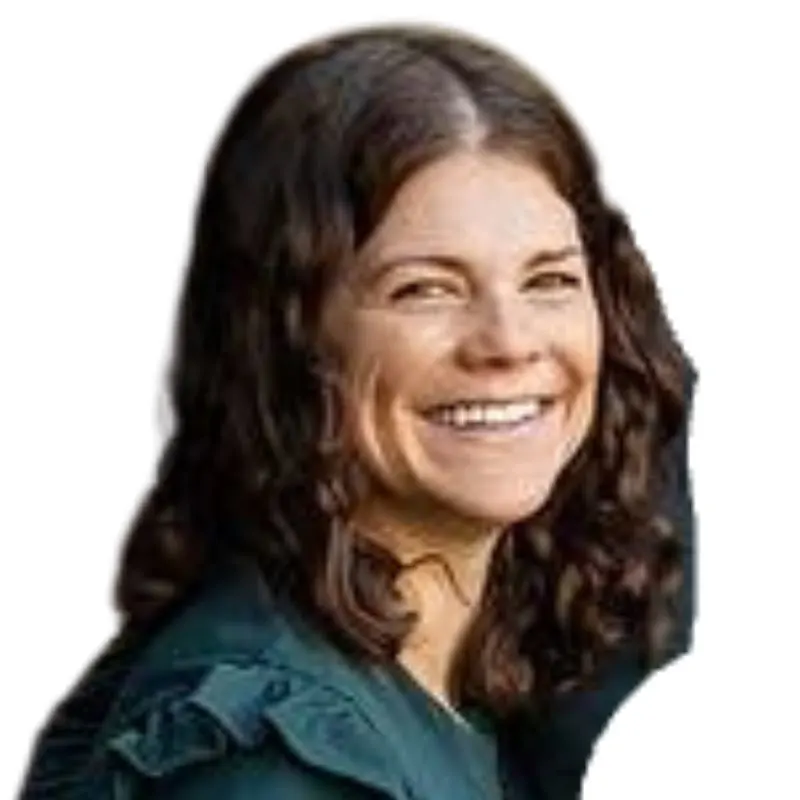 Hello, I'm Morgan, half of the creative force behind CharlestonCrafted.com! With a passion for DIY that dates back to 2012, I've transformed three homes and now I'm dedicated to helping others craft their dream spaces. Let's turn your house into a home together!