Our new house doesn't have much of a front yard, so we decided to go all out decorating our front steps and porch for Halloween instead! Here's how we DIYed it.
I just love Halloween! It's such a fun holiday because there's nothing serious, no expectations for gifts or hosting big family gatherings. You can just focus on the fun things that bring you joy.
Outdoor decorating is my favorite because trick or treaters really get a kick out of it.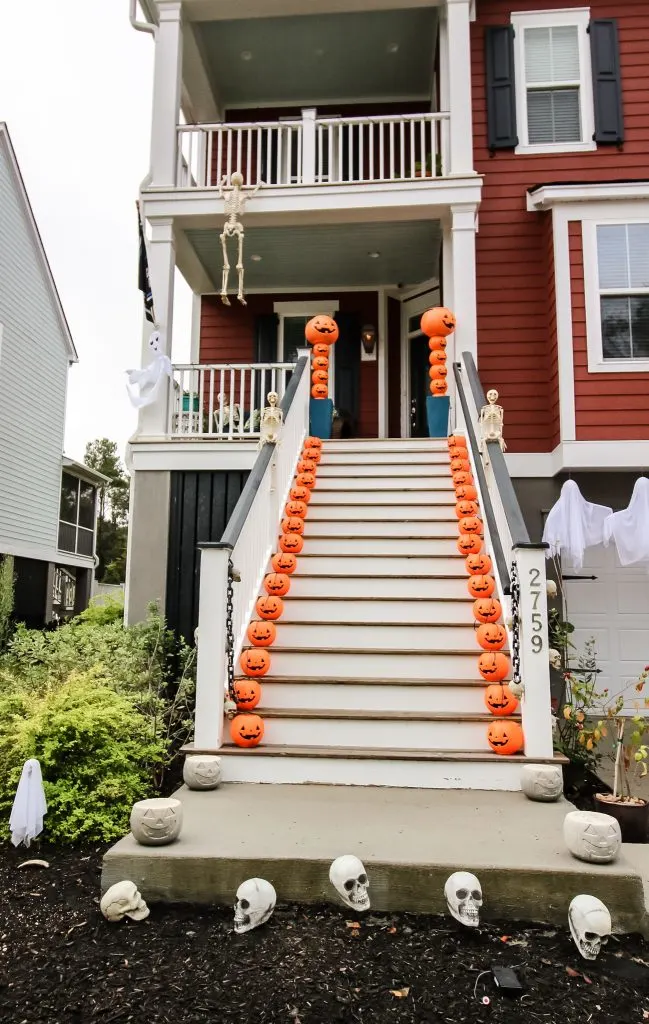 This was our first year decorating in our new house and it was a bit of a change. Our old home had a big front yard that we always decked out.
Click to check out our past front yards for Halloween:
However, this house has hardly any front yard space. But, it does have a lot of steps – 16 to be exact – and 2 front porches.
So, we decided to focus on decking out the steps and porch this year!
Our DIY Halloween Porch Decor
We mostly re-used decor that we had from previous years in new ways, but we did add a few new things this year.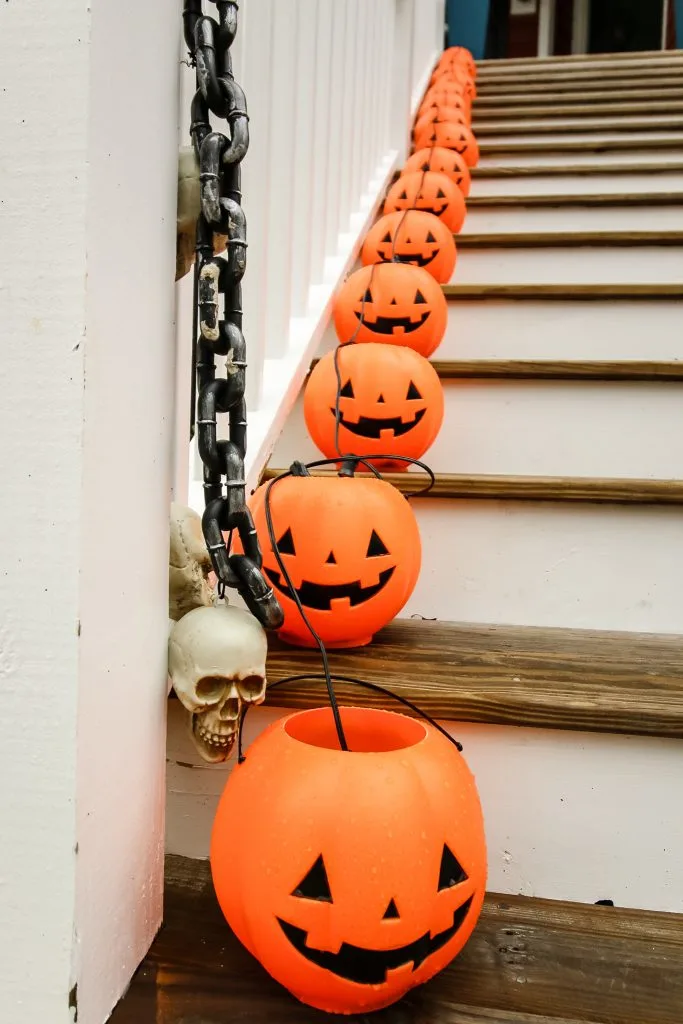 Pumpkins on the stairs
I really wanted to deck out our stairs with tons of pumpkins. I am obsessed with how this looks. But, with 16 steps, that is a lot of pumpkins!
After perusing Michaels, Costco, and Target, I decided that I couldn't get that look for less than $10 a pumpkin. Multiply that times 32 and it was just not happening.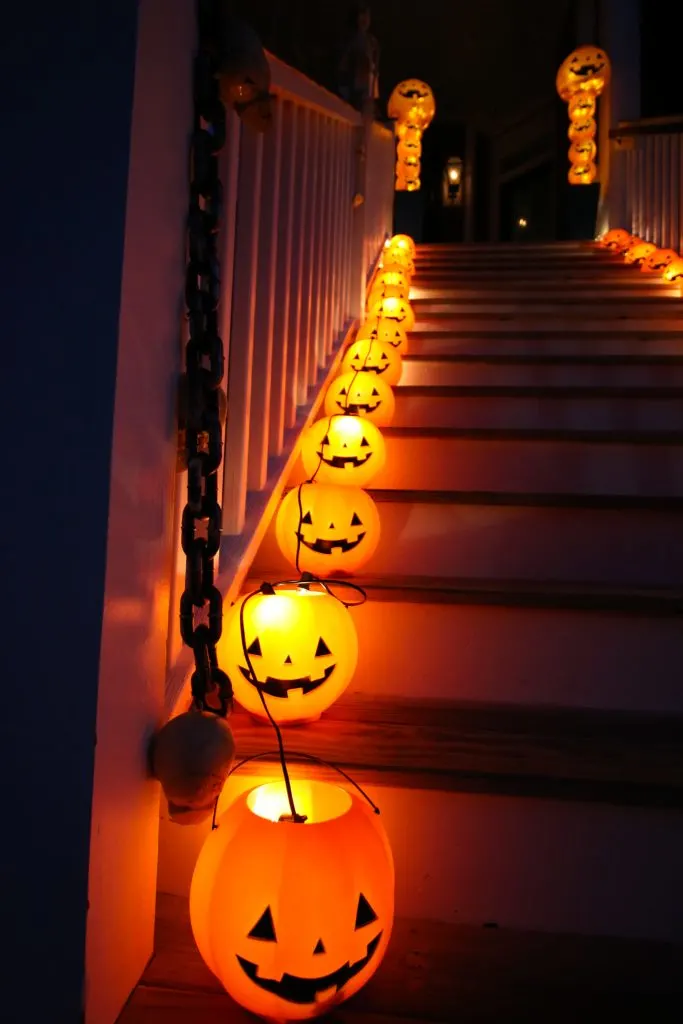 So, I picked up these $1 pumpkin candy pails from Target. If you want to re-create this look, I suggest ordering them online to be delivered to your home so you don't have to man-handle multiple carts of pumpkins from the store.
We placed one pumpkin on each step, with a small hole drilled in the bottom of each and some stones to keep them from blowing over. We strung these lights across them. The lights are 12″ apart so they reached pretty perfectly from pumpkin to pumpkin.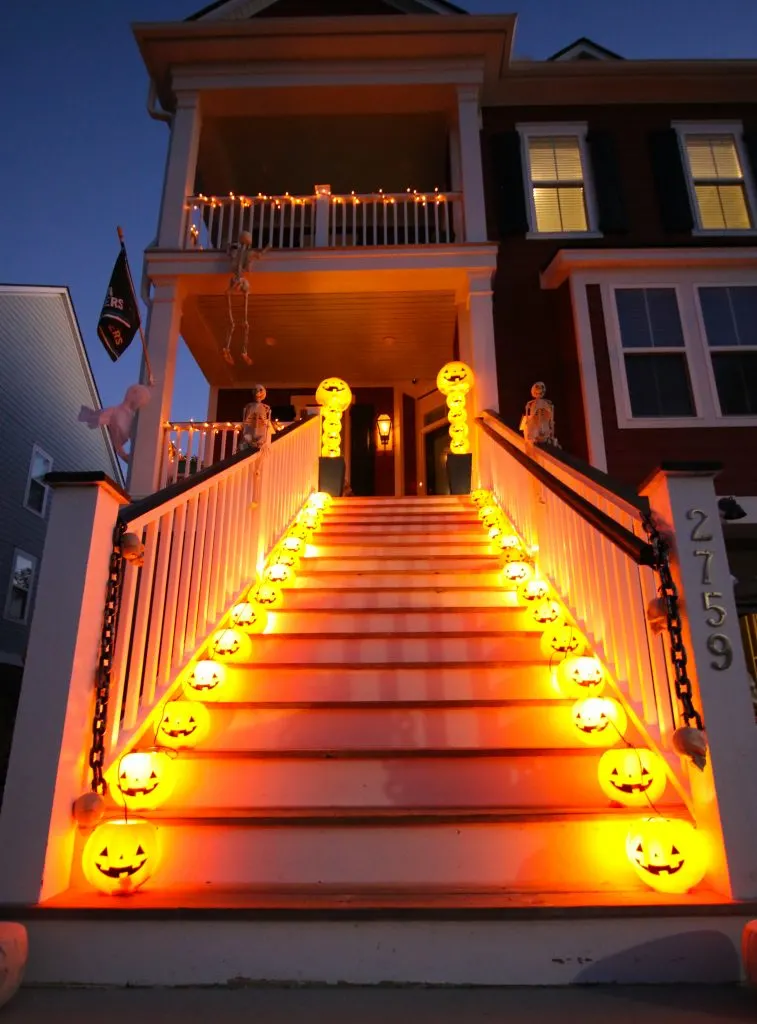 The lights have little clips on them, which we clipped onto the tops of the pumpkins. Each strand had 25 lights, so some of our pumpkins got 2 lights each.
I love how this looks, especially all lit up!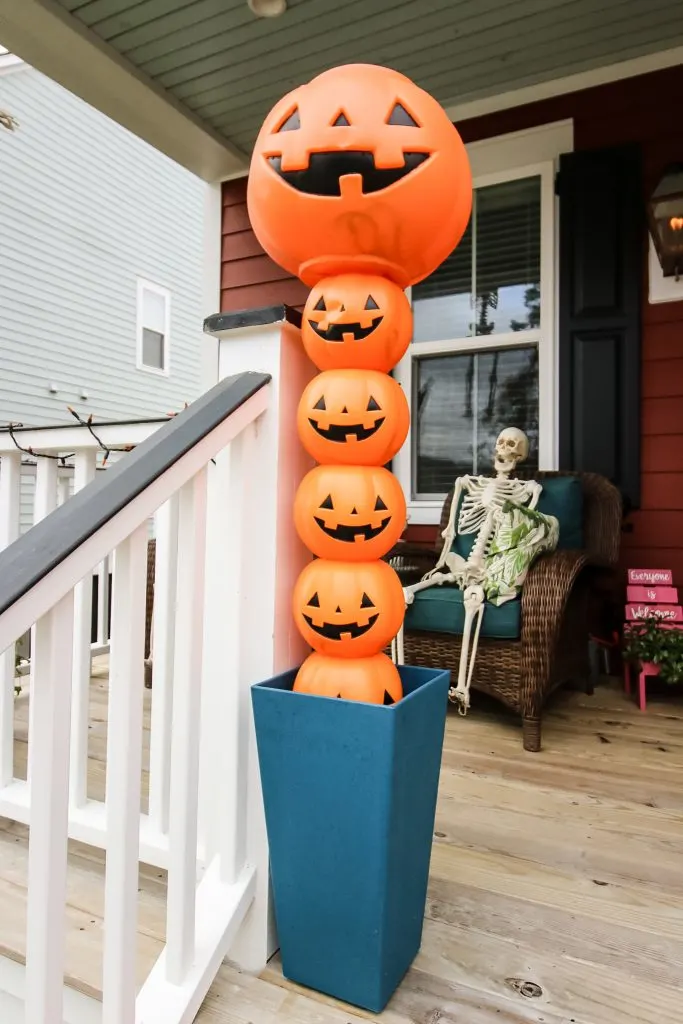 Pumpkin topiaries
We topped off our spooky halloween stairs with our pumpkin topiaries! You can read all about how we made them last year!
This is a great decoration idea for either side of your front door or steps. It uses more of the $1 faux pumpkins and string lights, making it a very cost effective project.
Skeletons
We re-used our skeletons from our past decor this year, too. Two of them are sitting in our porch chairs just hanging out. Luke loves sitting in their lap and calls them Mr. Bones!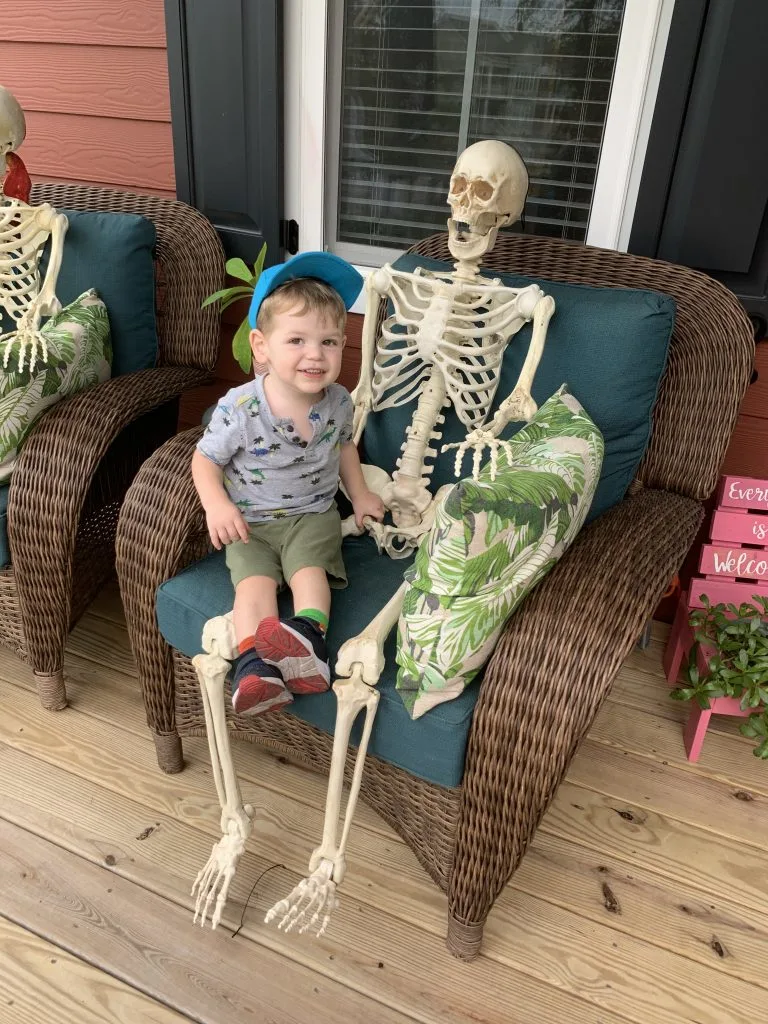 The third one we used zip ties to hang from the wrist to our upper porch. I think this guy looks hilarious!
When Luke goes out on the upper porch, he pulls on this skeleton's hand and tries to help him up. It's very sweet!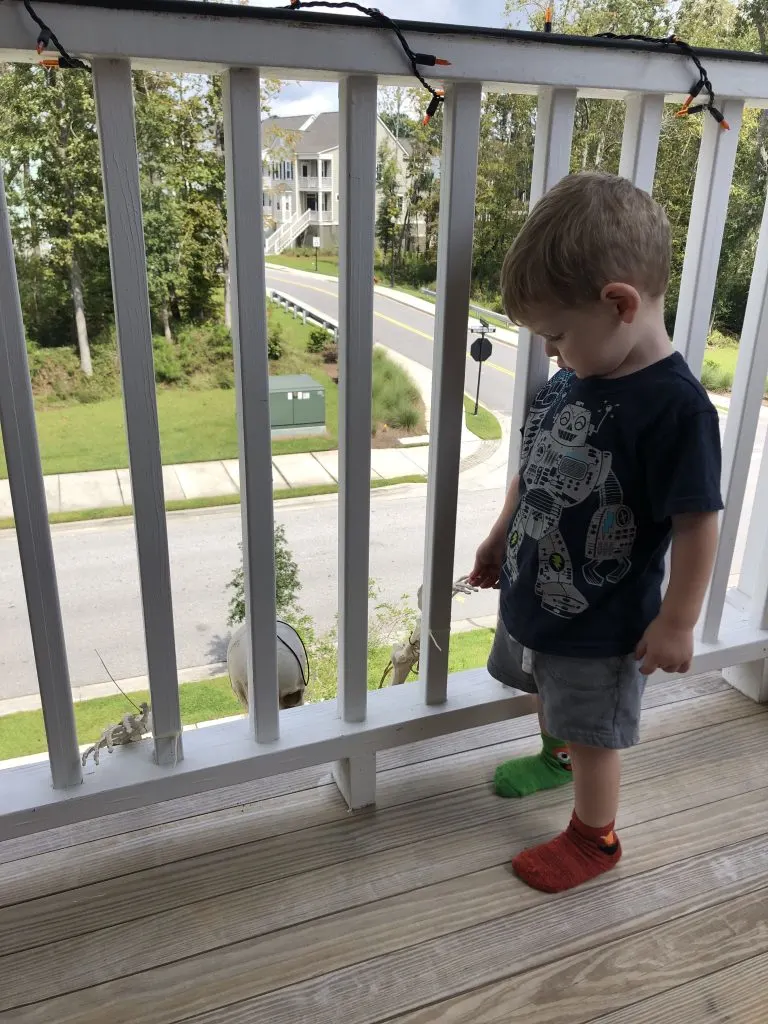 Ghosts
We also sprinkled in some spooky ghosts. They are all from Wayfair and we used them in our bushes last year.
We don't have any good trees in our yard. The bushes are all pretty scrappy looking, too! I hope that the ghosts look better next year and that we have some better looking greenery by then.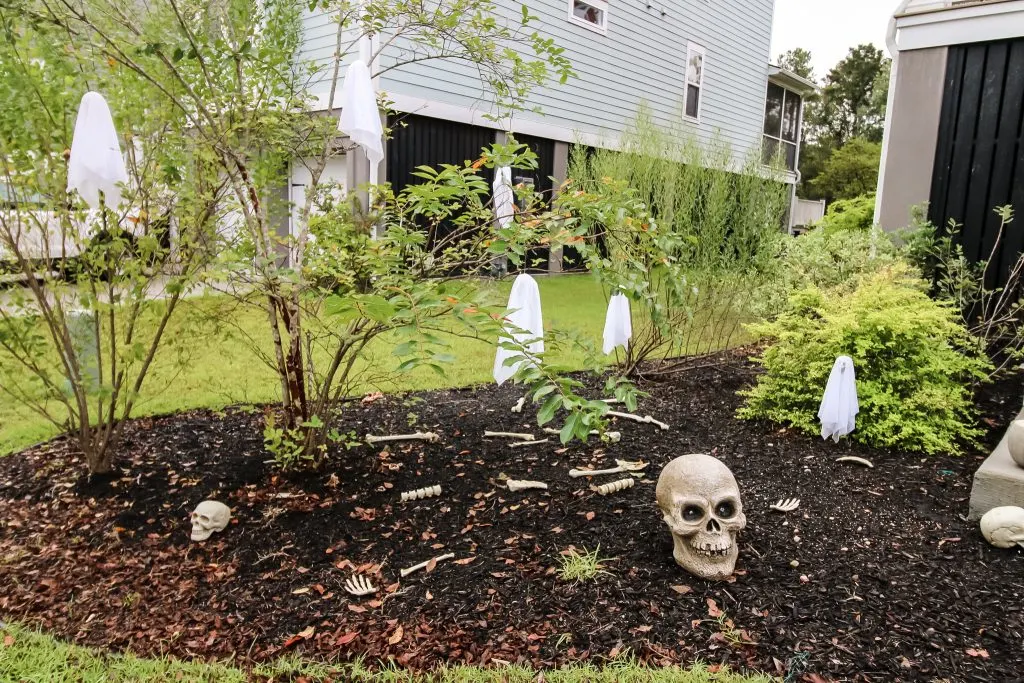 Sean also hung 3 ghosts in front of our garage door. He just hung them from outdoor command hooks! These guys have bendable arms making them really fun to pose.
I slipped one hanging ghost over our flag pole, too! Spooky!
Concrete pumpkins
We also added our DIY concrete pumpkins at the slab at the bottom of our stairs. These suckers are heavy and we almost didn't move them to our new house – but I am so glad that we did! They add the perfect subtle touch.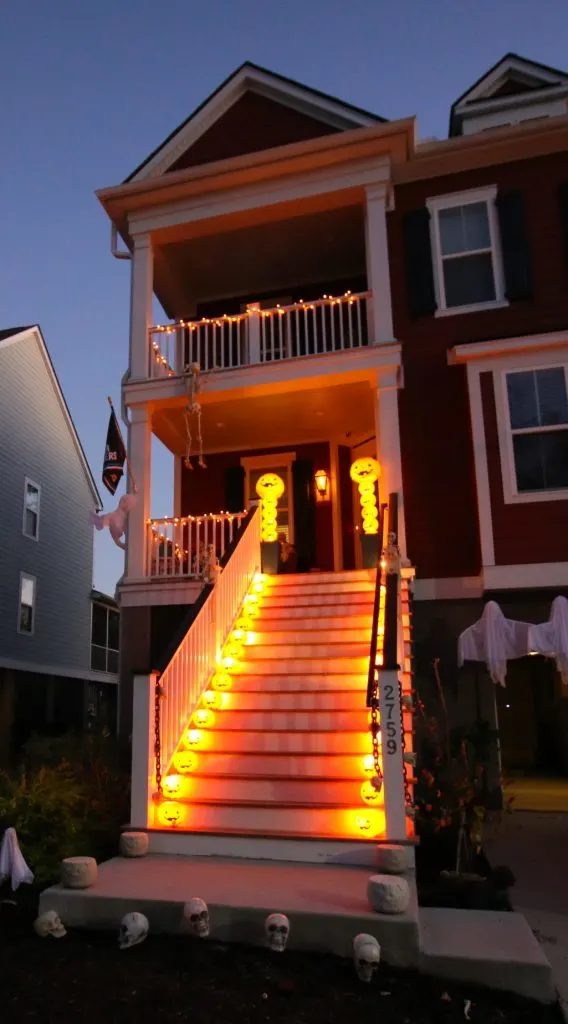 Orange lights
We also added orange twinkle lights to the railings of each porch. I used a 20 foot strand for each, but definitely could have doubled up for more dense lights and colors.
I'd like to add more orange lights up the railing to draw attention to our Halloween porch steps. Maybe next year!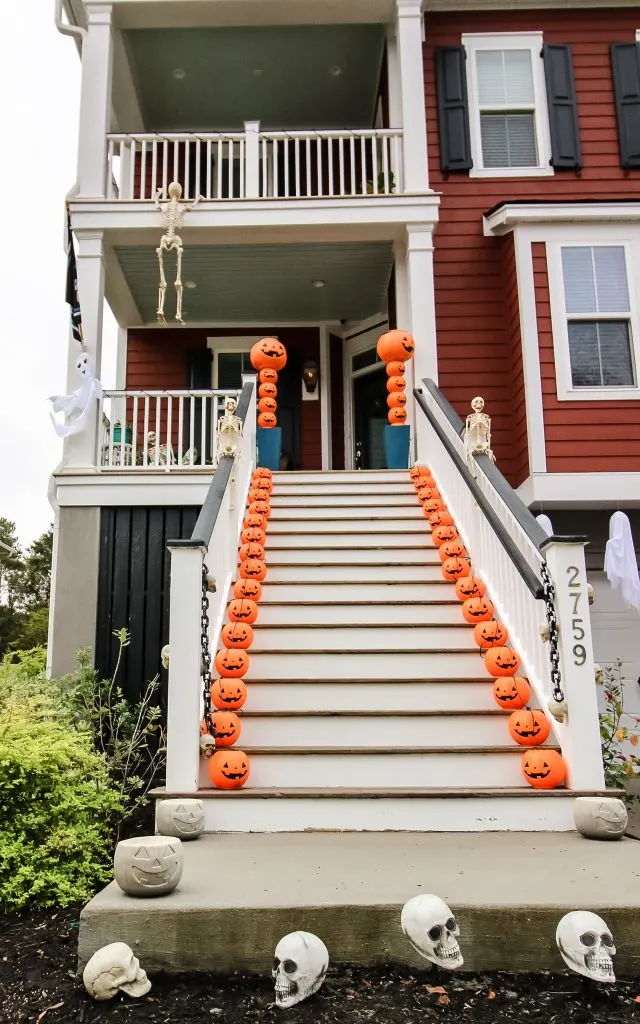 Smart plug
All of the downstairs lights are plugged into our outdoor smart plug. I set it on a timer so it cuts on at sunset and off at 11pm each night!
I love using a smart plug for holiday decor so I don't have to remember to plug and unplug them. I am thinking since we have 2 porches now, I will need to get a second smart plug!
How are you decorating for Halloween this year? I'd love to see your Halloween decorations!