Considering buying a Samsung Frame TV but pausing at the price tag? Here's our honest Samsung The Frame review and thoughts after buying one ourselves!
We bought a Samsung Frame TV as a part of our living room makeover. While we definitely wanted a larger TV, buying the frame was a big splurge!
Now that we've had it for over a year, we wanted to share an honest, unsponsored, unbiased review based on our experience with the Samsung Frame TV!
Here is our Samsung The Frame TV Review!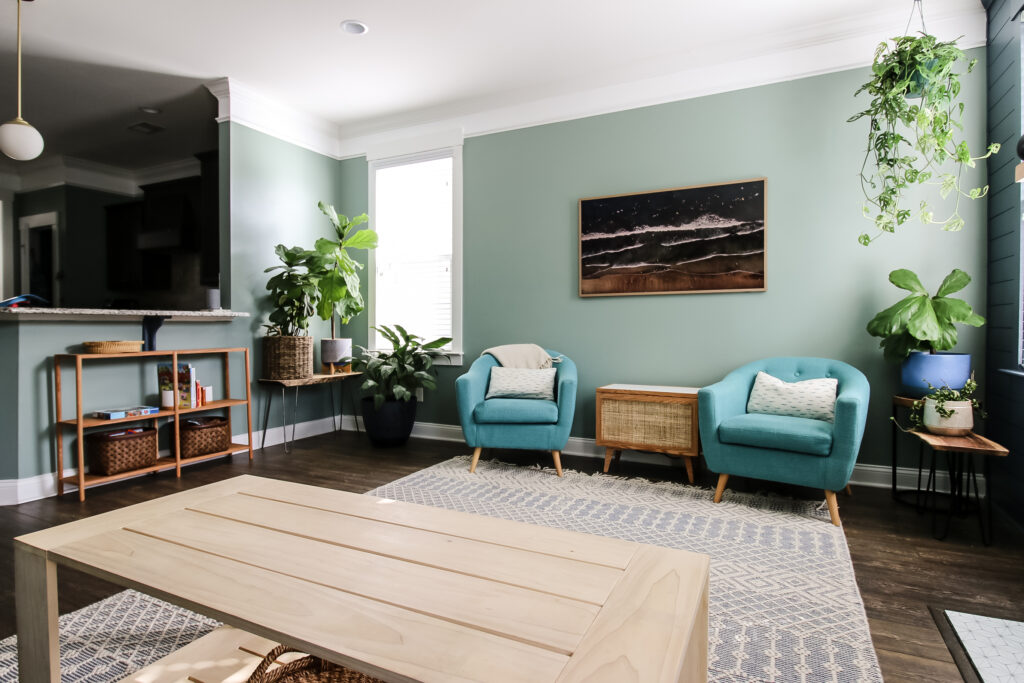 What is the Frame TV?
The Frame TV is a TV that looks like a picture frame with art inside it! Samsung's Frame TV is what they are considering the next generation of TVs that blend in with your space.
The Frame TV is an extremely slim TV that includes a box that runs everything, allowing the TV itself to appear flush to the wall without any ports or wires.
The Samsung Frame TV is a picture frame TV that is beautiful on its own and provides a high quality 4K TV watching experience.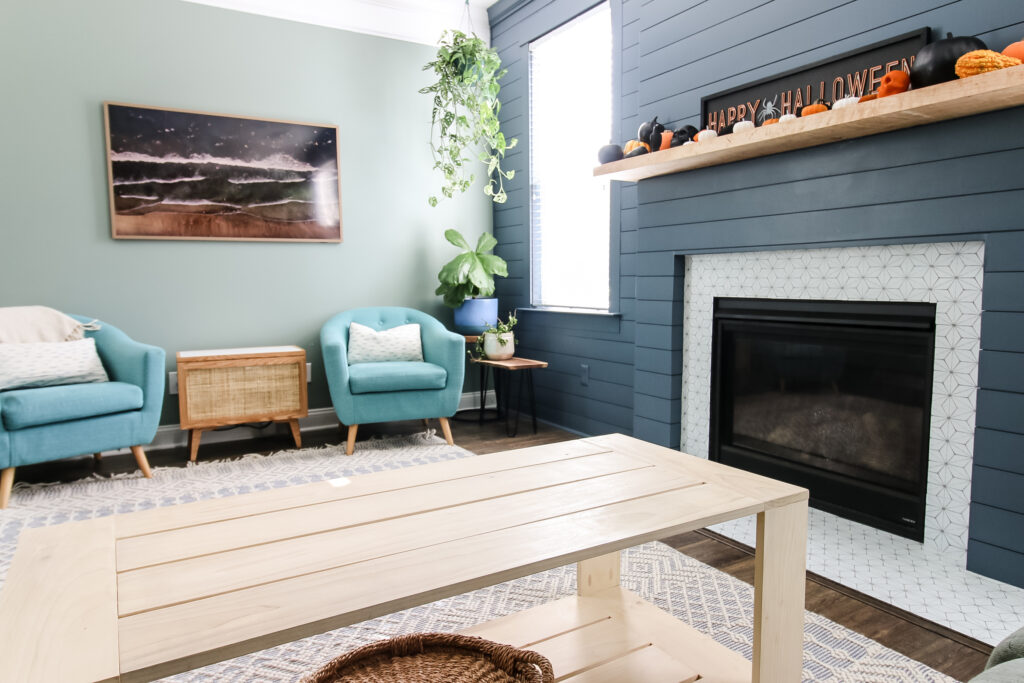 What is included with the Frame TV?
The Samsung The Frame TV includes:
The actual TV
No-Gap wall mount
One Connect Box
The invisible connection (TV to One Connect Box)
Remote control (solar powered!)
Does the Frame TV come with a wall mount?
YES! The Frame TV includes everything that you need to mount it flush to your wall.
Other wall-mounted TVs will require you to purchase a wall mount separately and set it up to work with whatever TV you have. The Frame has one that works specifically with it.
If you want your cords hidden, you will want to drill a hole in your wall or install a tube to drop the cords through! But, more on that later.
Read about your options for Frame TV mounts here!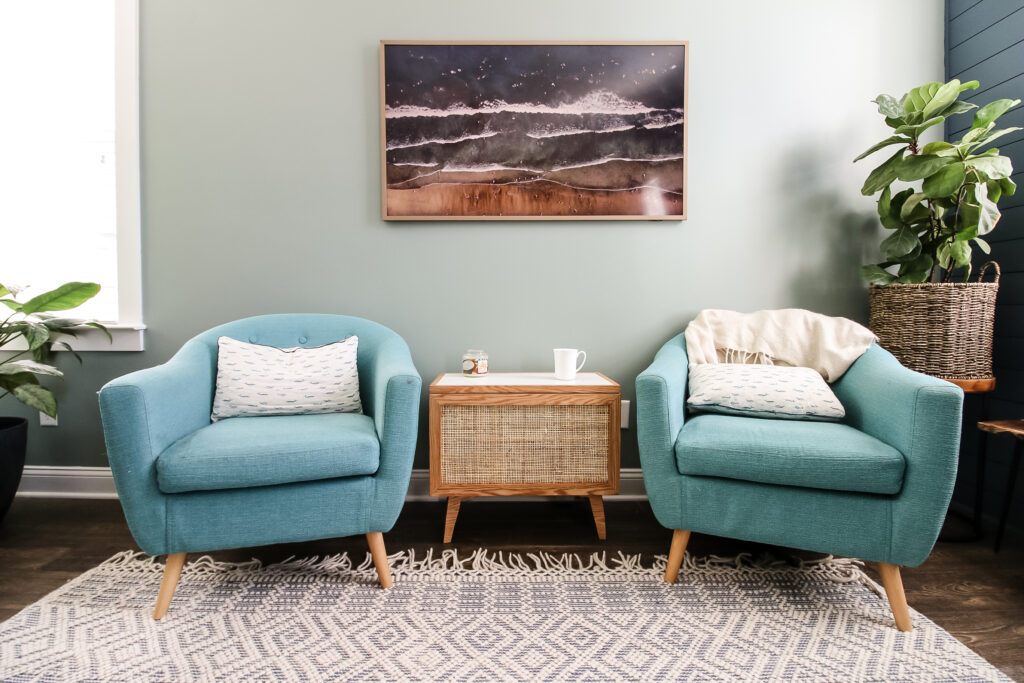 How does the Frame TV work?
The Samsung The Frame TV has a few cool features. One is the no-gap wall mount. This allows it to mount directly on the wall – no gap for a bulky mount or exposed plugs. This is SUPER nice and a huge selling point of the TV for me.
Another big selling point of the Frame TV is that you can display art on the TV instead of just a black screen. This will in theory make it into a TV that looks like art or a TV that looks like a painting.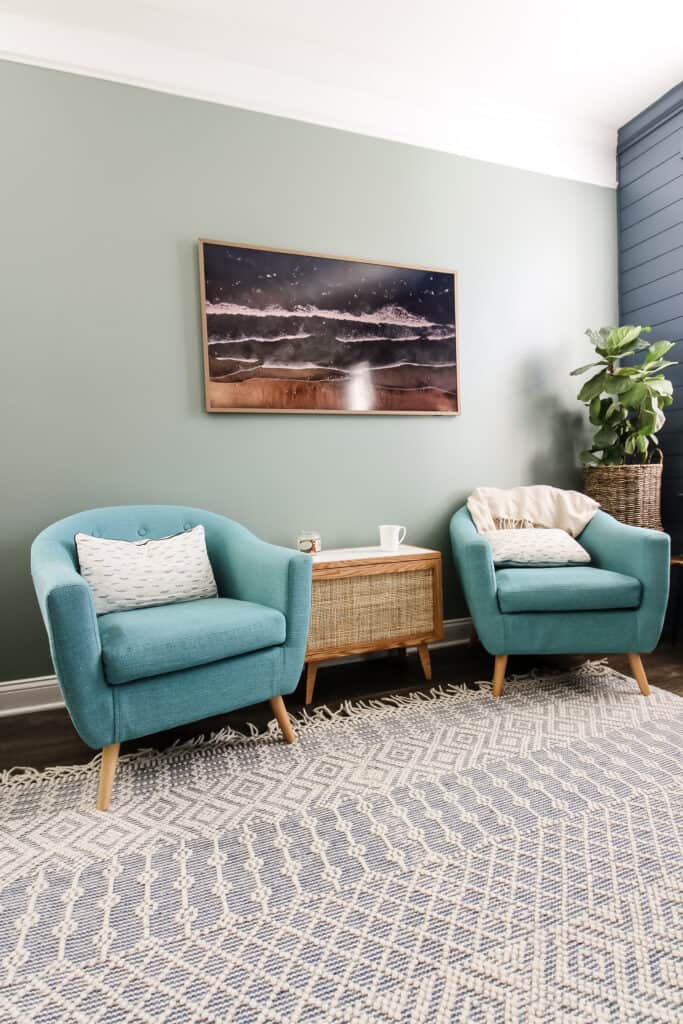 You can choose to turn the screen all the way off (like at night for instance), but having the art screen on during the day makes the room feel a little brighter.
Another feature that I love on the TV is that the sound and brightness adjusts to match your room. We've put it to the test – when our kids are screaming, the volume goes up. I think this is a super smart feature!
Does the Frame TV actually look like art?
Here's the thing – you aren't going to fool anyone into thinking that the Frame television art mode is actually an oil painting. Anyone on Instagram telling you differently is taking very creative photos and lying.
The glass of the TV screen has a very definitive glare to it that is quite clearly a TV and not a piece of art. Maaaaaaybe a framed print behind glass, but it just has a different look to it.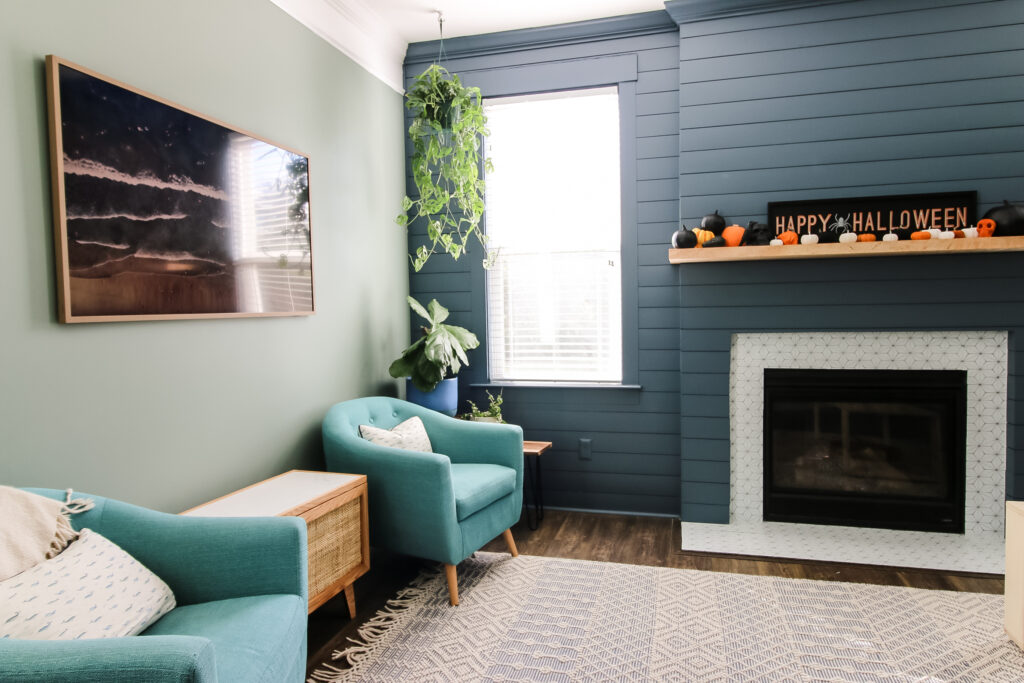 I would classify it as a matte-look computer screen.
However, it looks 1000% better than a black screen. It looks like an intentional piece of art – even if it doesn't look like a real painting.
You know how real estate photographers like to photoshop that goofy tropical beach image onto TVs? This is like that, but way less cheesy.
Can you turn the art mode off?
Yes, you can cut the TV completely off to a black screen. We cut our TV off every night – it just seems wasteful to leave it on when no one is around!
The actual Frame (AKA the Bezel)
So the third unique feature of the Frame TV is that it has a – you guessed it – frame around it.
The bezel frame comes in a variety of colors and designs (a flat modern shape or a more angled traditional shape).
We chose the teak wood frame because I wanted it to go with some of the other wood elements in our room. It's worth noting that this is NOT actual wood but plastic painted to look like wood.
Read about all of the options for Samsung Frame TV bezels here!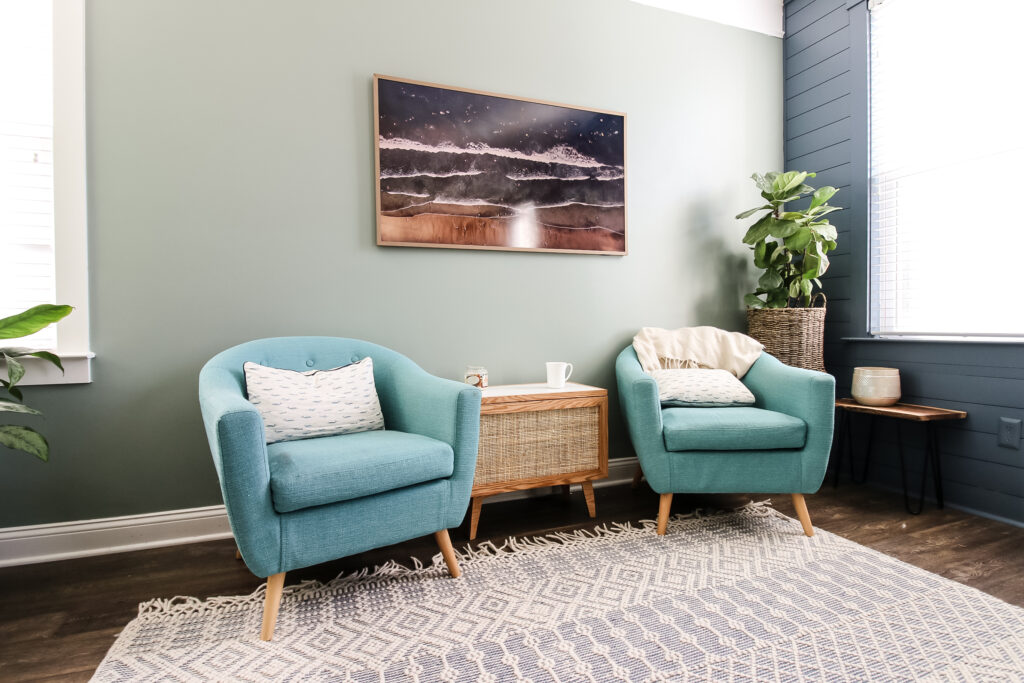 It looks great with the hidden media console side table we built for underneath it! Get the plans!
The frame include special clips and pegs that fit exactly into the tv. So no, you couldn't just attach wood to it!
One of the biggest negatives of the Frame TV is that the frame is NOT included in the cost. It actually cost an extra $150 (!!!) when we bought it. I think that's a big rip off to not include one of the biggest selling points of the TV in the cost of the TV.
Without the frame, it's still a tv mounted very close to the wall, but it's not a framed TV.
Could you use Frame TVs without the frame? Sure. But, you really lose a lot of the effect!
What is the Samsung Art Store?
The Samsung Art Store is Samsung's streaming service for art. It costs $5 a month to have unlimited access to the art.
Again, I think that this is SUPER LAME and one of the biggest negatives of the Frame. It really feels like they are nickel and dime-ing you after a big initial investment.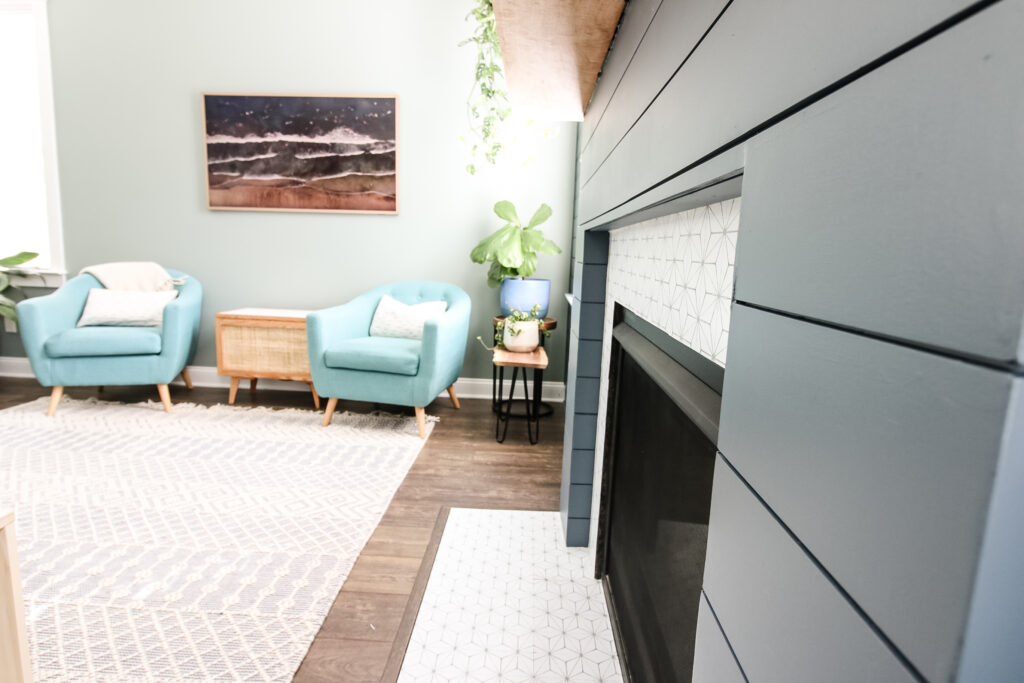 I refuse to pay for access to the Art Store and use the free art or will upload my own art!
Also, the Art Store really seems unnecessary because that would imply you are changing out the art on your TV all the time. For us, we selected a free photo that worked with our decor and have used that the whole time.
Where else can you get art for a Frame TV?
There is a lot of art for the Frame TV for sale on Etsy. It's pretty cheap and there are lots of seasonal options!
Shop Frame TV art on Etsy here!
How do you upload your own art to a Frame TV?
Download the SMART THINGS app on your phone or tablet. Follow the steps to connect it to your TV.
Go to Art Mode. Choose Add Your Photos.
Once you have your photo selected choose if you want a mat or not mat.
Click SET and your art should appear on the TV!
What is the quality of the picture on the Frame TV?
This was a big sticking point that we had when splurging on the Samsung The Frame TV. It doesn't take two minutes in the TV aisle at Costco to realize that TVs in general are available at a much lower price (than the Frame and compared to just a few years ago!).
The truth is that you can get a smart TV the same size as your Frame (we got 55 inch) with the same 4k resolution and an equivalent picture quality for a much lower price. Maybe even… half the price.
If you are really into TVs and home entertainment systems, and you are cool spending this amount on a TV, you might want to go for more of the latest and greatest in pictures.
HOWEVER as someone who is not into TVs but knows what a good picture is when they see it, the picture on this TV is great. It is absolutely an upgrade from our previous TV, which was only 3 years old.
Also, the sound is totally fine on its own. We previously had a sound bar/subwoofer but I didn't want to use it because it's ugly with our digital-art looking TV.
I don't miss the sound bar whatsoever.
New vs older Frame TVs
I also want to note – The Samsung Frame TV has been around for quite a few years now. When you compare an older Frame TV to the newest ones, there is a huge difference in picture and screen quality.
So, these rumors that the picture is not good were originally correct. However, as the Frame has been updated and revised, they have gotten much better at squeezing a great quality screen into a thin, small TV.
How to mount a Samsung Frame TV
Frame TVs are easy to mount with the included hardware. There are great step by step instructions in the box.
The biggest issue that we had was that the holes in the mounts didn't exactly line up with the studs in our walls. We obviously wanted the mount to be as secure as possible.
So, we added extra screws (into anchors) to be sure it was very secure.
How to hide the wires of the Frame TV
Our house already had an in-wall cable management system set up in place. This made it easy to put the wires through and have them pop out below.
You can use this kit to install a similar system in your home.
Where do you put the One Connect box?
One interesting aspect of the Frame TV is that it has no USB plugs or anything like that on the sides of it. That makes it easy to flush mount and cover the sides with the frame, but you still need plugs.
Enter: the One Connect box. This black box is the only thing that connects to your Frame TV. Then the box connects to the power, the cable box, the USB ports, everything like that.
This is great – but it means you have to deal with a black box.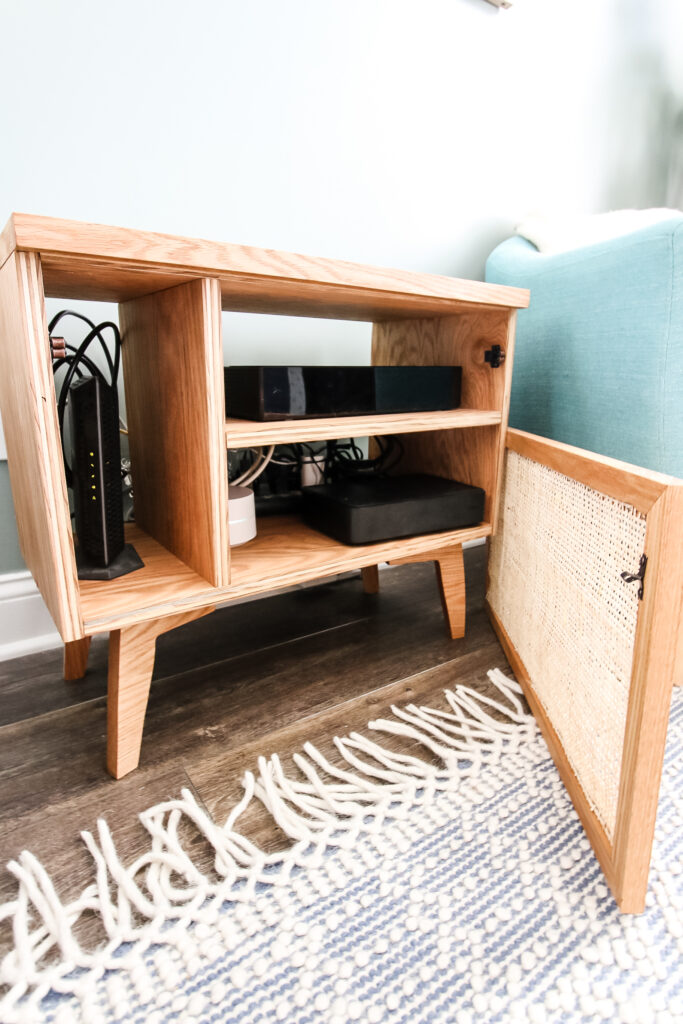 Your best bet for the One Connect box is to put it in a piece of furniture. Sean actually built this small console table just to discretely hide ours (and our router!). It could go in any drawer or console type table, as long as it can still receive a remote signal.
Is the Frame TV worth the money?
The Samsung The Frame TV is worth the cost if your priority is looks and interior design. It is much more attractive on the wall compared to a standard tv.
It's perfect for a living room or great room, especially in an open concept main living space.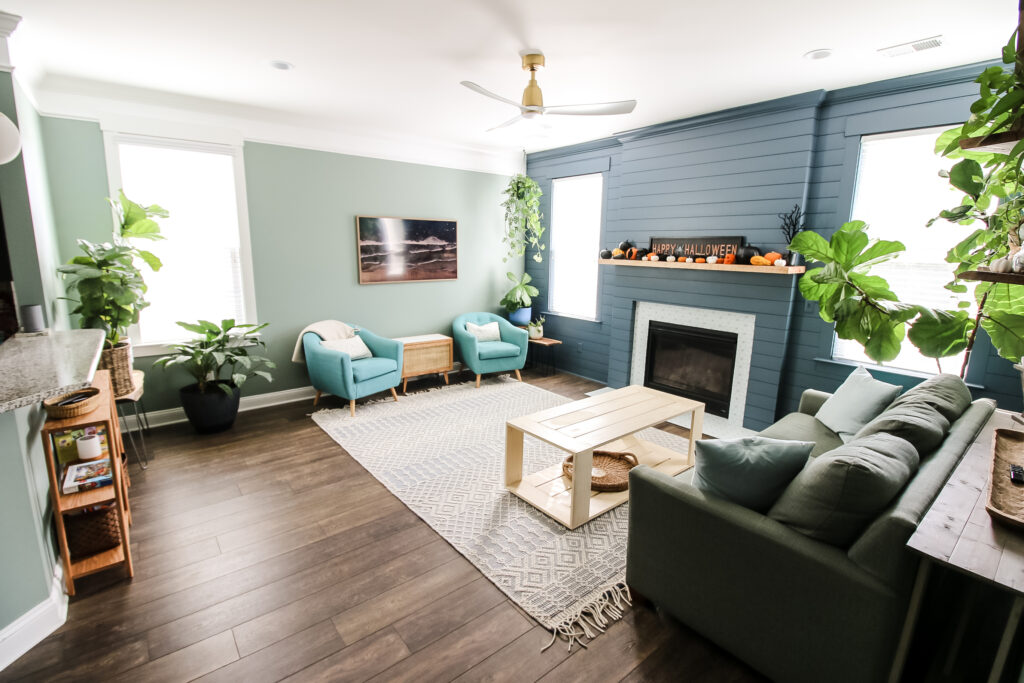 If you have a man cave, movie room, that kind of space, I'd go with a standard TV and get something bigger or fancier for your money (or cheaper!).
It's also worth noting that the Frame TV that we got went $500 off for the month of November for Black Friday. So, if you can wait, definitely do!
What are the Frame TV alternatives?
This TV is gorgeous, has a superior picture to the Frame TV, and has the extreme slim flush mount. However, you can't leave a picture on it because of burn out and it's way more expensive. OLED is susceptible to burn-in, while LCD (the Frame) is not!
Can I just put an image of art on a regular TV or add a frame to a regular TV?
When we were considering a Samsung The Frame TV, a lot of people told us to just DIY a wood frame on any old TV.
If you are on a budget, that's a totally fine alternative.
But, it's not perfect.
First of all, most TVs won't mount quite as flush as the Frame, making it stick off the TV.
Also, most TVs can't have the same image up all day long or it will burn into the screen!
These two things pushed us towards the Frame over a DIY version.
Does the Frame TV go on sale?
YES! The Frame TV goes on sale a LOT. If you can, wait for Prime Day, Black Friday, or any other big TV sale type holiday. On Black Friday last year, they were about 33% off. Seriously, if budget is any sort of concern – it's worth the wait!
Any more questions?!