If you follow us on Instagram, you will know that we bought Luke a Nugget Comfort play couch for his birthday. Well, we are obsessed with it and we are excited to share a review and all the details with you here today!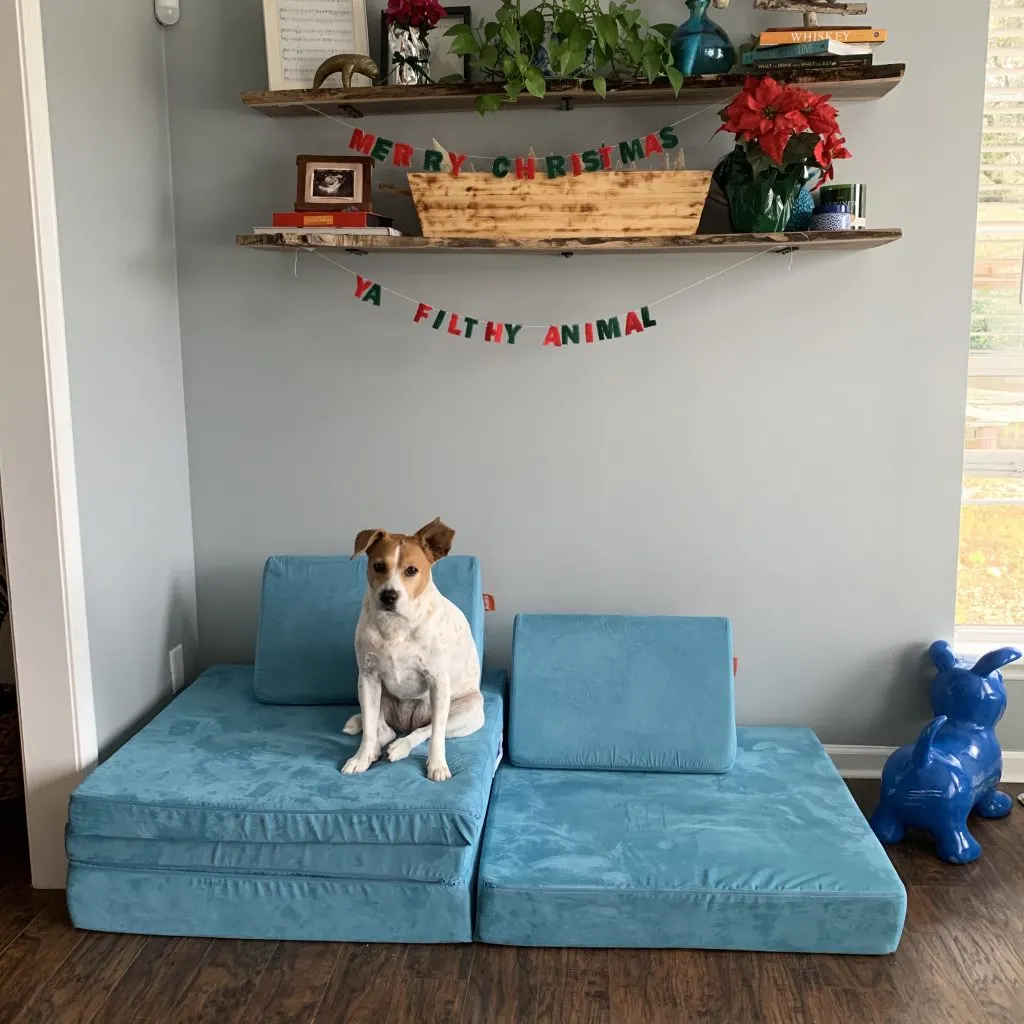 What is a Nugget couch?
A Nugget is a play couch. It is made of foam, covered in slip covers.
It includes 4 pieces – two long base pieces (the size of two couch seat cushions each) and two triangular pieces.
A Nugget is part furniture
The Nugget can work as a sofa or chair in your space.
To be clear – if you have just one Nugget – it's a really low to the ground sofa.
But it is the perfect height for lounging just off the floor and playing with your kids inside their playpen.
Also, the Nugget makes a great dog bed.
Our dog loves climbing up onto it (when it is set up like a couch) and lounging there all day while we play nearby!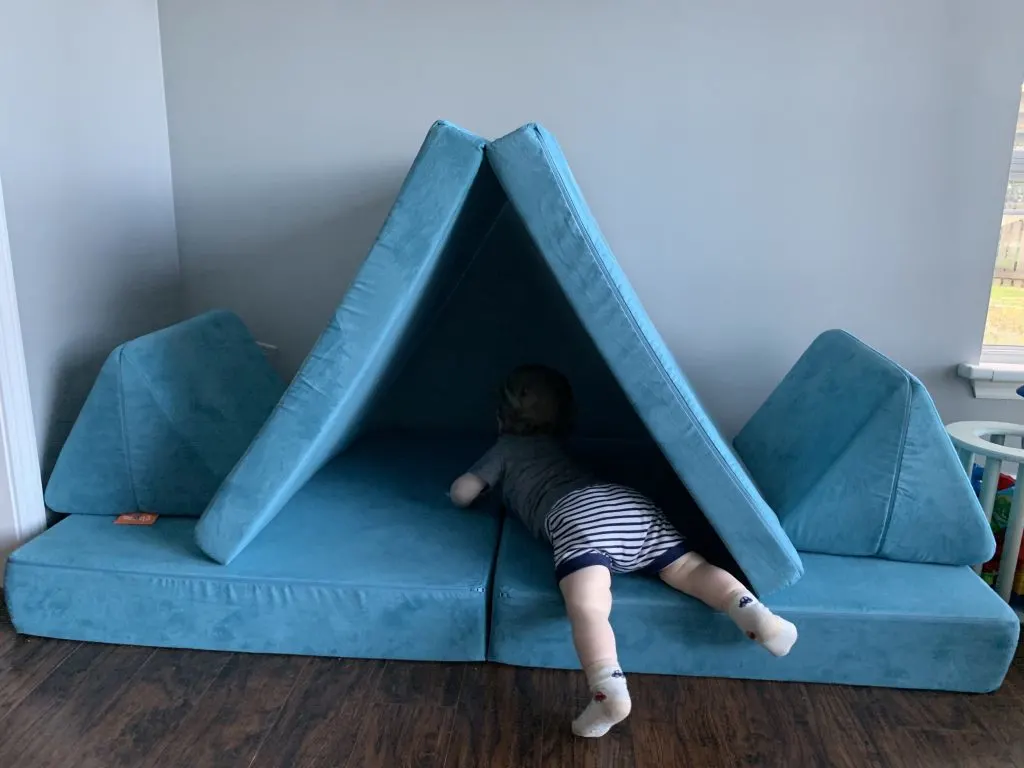 A Nugget is part toy
In addition to being a piece of furniture, the Nugget is a fort-making machine.
The pieces are all designed to easily make a ton of different set ups – your imagination is the limit!
We love making forts to climb into, ramps to roll cars down, and obstacle courses for Luke to climb and explore!
It has really helped him become more brave and helped with his dexterity getting over and down things.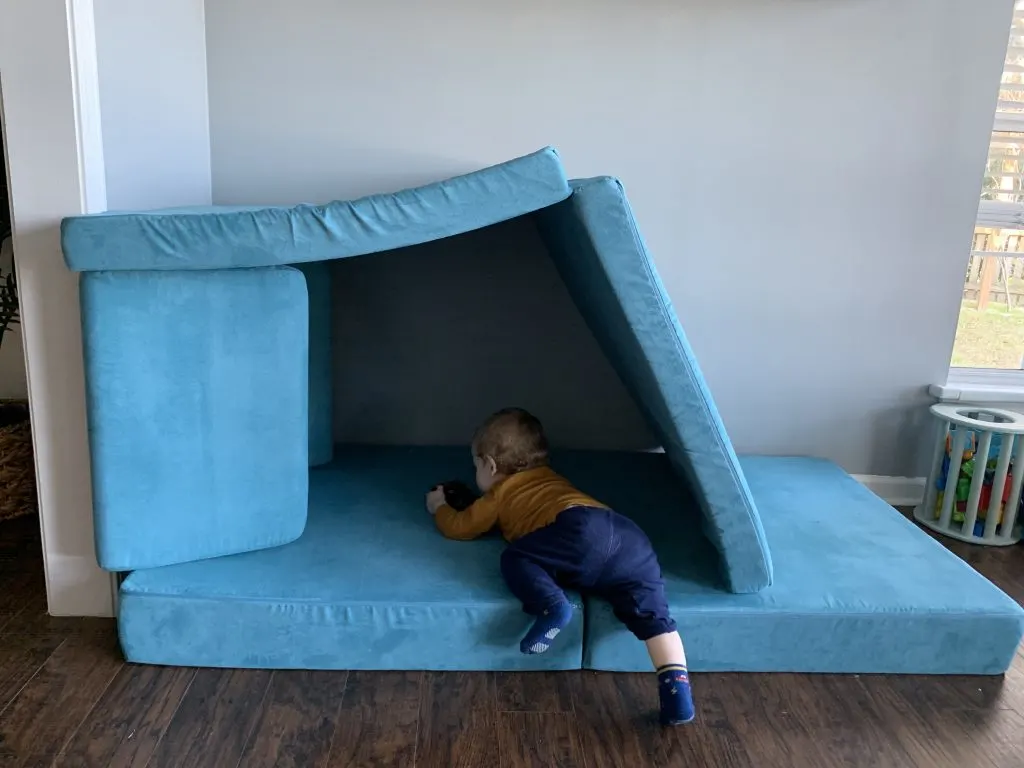 Our experience with the Nugget Couch
What we love
The potential
There are so many things that you can use the Nugget for – so many layouts and set ups! I love how this will work for Luke for many years to come.
Between the ability to lounge and the ability to use the Nugget as a toy, it really changes things up from day to day.
Check out my favorite indoor climbing toys for toddlers!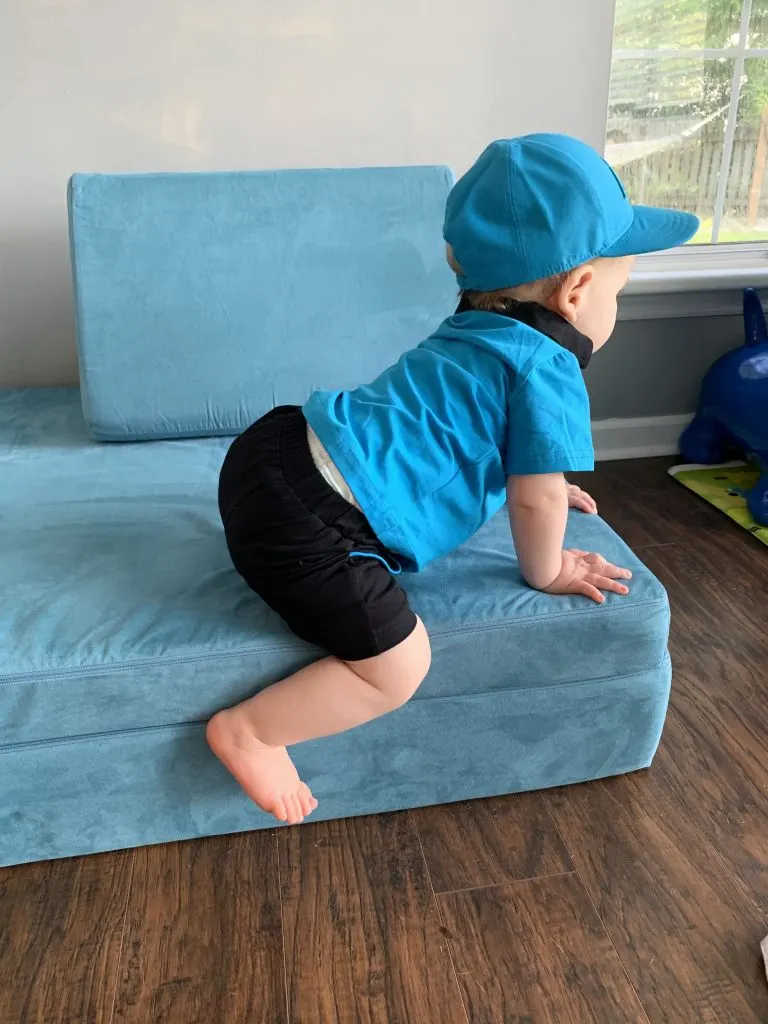 The look
I love the clean, modern lines of the Nugget. It's very sharp looking and while it's not a "normal" sofa, it doesn't look like a cheap kid's toy at all.
Bean bags are so flumpy (is that a word?) and pillows don't work as well for sitting on.
The Nugget looks great in the corner underneath our floating live edge shelves.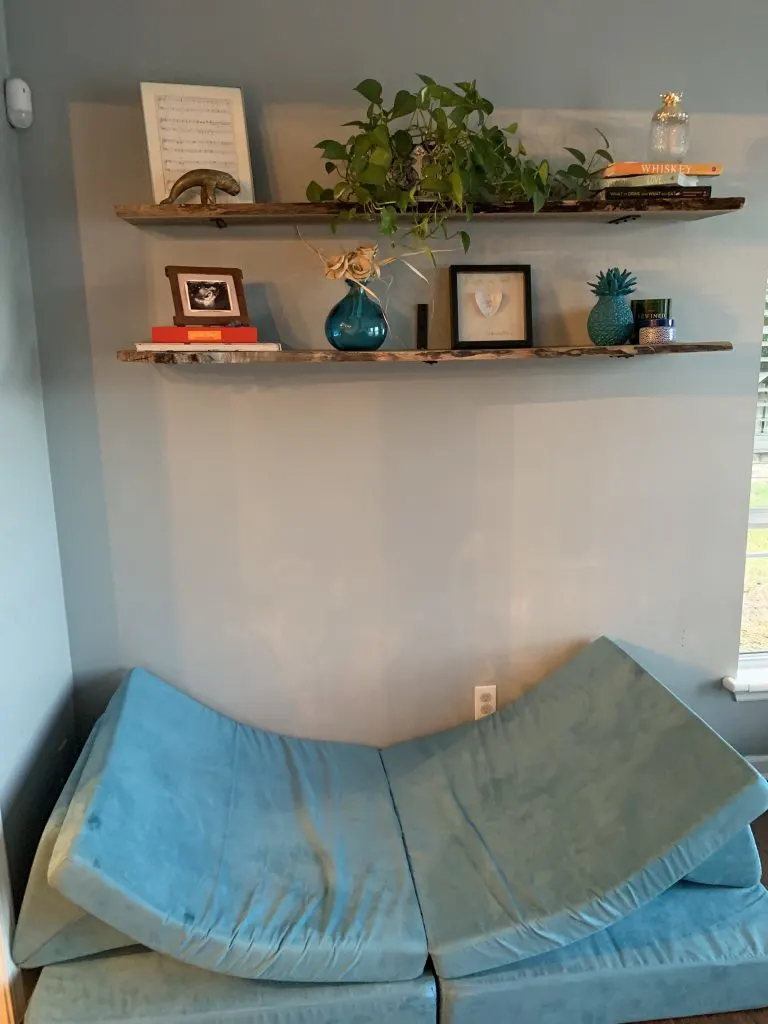 The color choices
Nugget sells a ton of different color options – many are limited release.
You can purchase new covers for your existing Nugget to switch things up or to have a back up for wash day.
All the options allow you to pick something that will not only go with your home, but go with the specific room you're planning to put it in.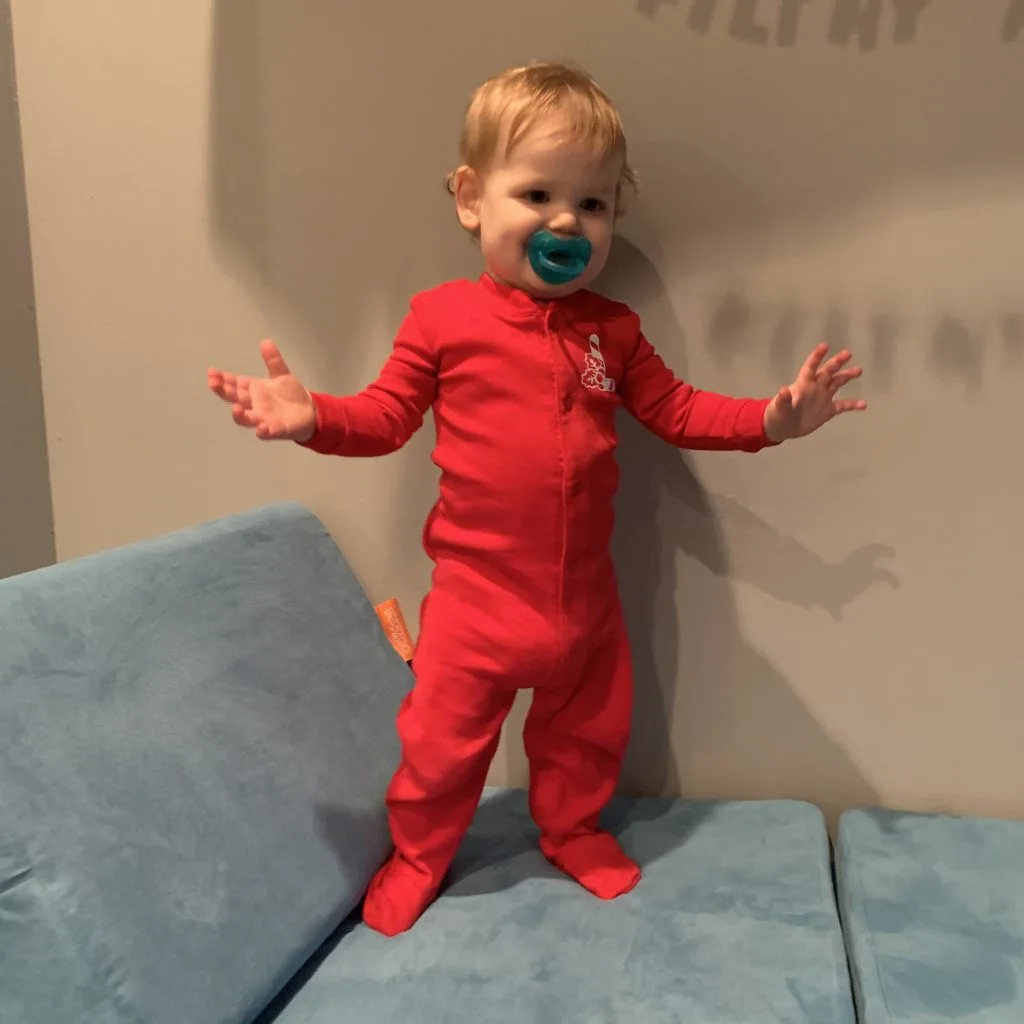 What we don't love
My biggest complaint about the Nugget is the material of the cover.
It's a microsuede and just a lot of dirt and pet hair sticks to it. It's machine washable so it's not a huge deal, and it is very soft and comfortable.
I also definitely had more visions of Luke climbing all over it when he first got it for his first birthday, but he wasn't quite old enough.
It is definitely better for a kid a little older than that. But we can't wait to snuggle and watch movies on it in the future!
Another big negative lately is that Nuggets are hard to get – and have to be bought at a pre-sale. Here are my tips for shopping a Nugget restock!
Bottom line
We seriously love our Nugget. It's my top gift suggestion for a toddler – and I know that it will last a long time as a favorite toy in our home!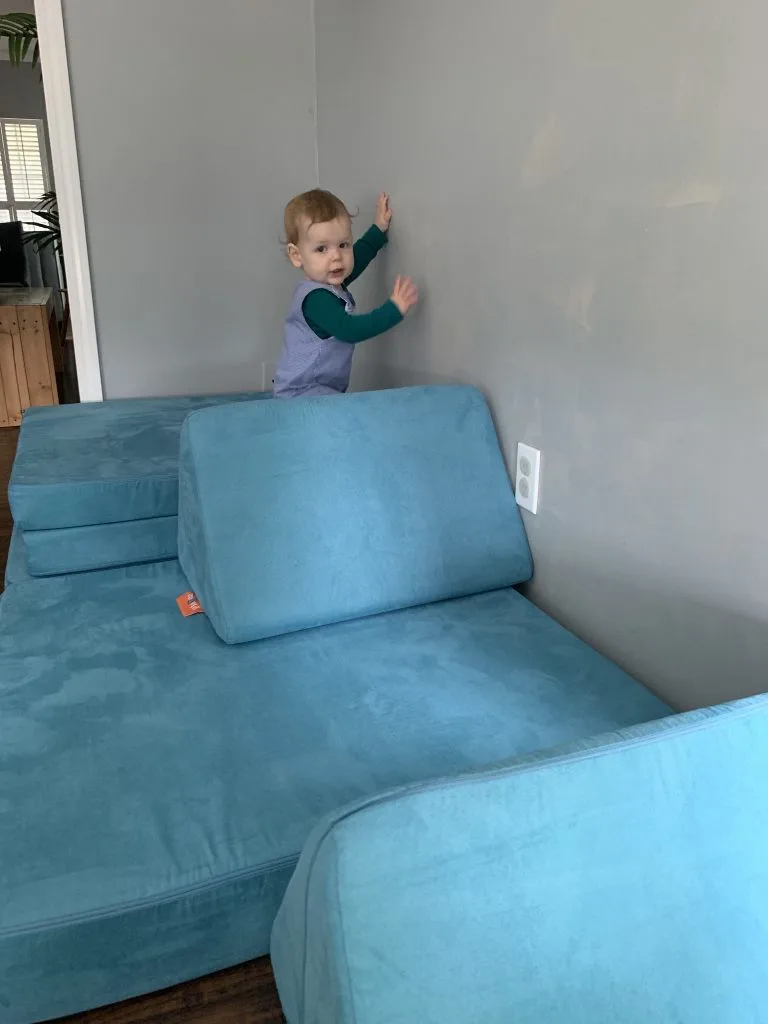 Need to get your playroom organized?
I get it – it is SO HARD to keep play spaces clean and tidy! In my FREE 6 Day Playroom Organization Challenge, I walk you through exactly how to purge and clean up your playroom!
Details + Specifics of the Nugget
What is the Nugget Comfort made of?
The Nugget is made of open-cell polyurethane foams, cloaked in soft and durable microsuede fabric.
So, is it non-toxic?
It's CertiPUR-US certified to exceed safety standards. It's mercury, lead, and formaldehyde free, and VOC's are minimal to protect indoor air quality.
What are the dimensions of the Nugget?
The Nugget is 33″ deep and 66″ long in its standard configuration.
The seat is 8.75″ above the ground, and it's 22.25″ high to the top of the pillows in the standard configuration.
The Nugget box measures 15″ x 15″ x 34."
How much does a Nugget weigh?
The whole Nugget weighs 27 lbs.
That's the sum total of the base (12 lbs), the seat cushion (9 lbs), and the two triangle pillows (3 lbs each).
Where are Nuggets made?
Every Nugget is made in Hillsborough, North Carolina at Nugget HQ.
We love this because it is very close to Cary, North Carolina, where I grew up – and not too far from Charleston!
We love supporting local small businesses.
The fabric is sourced from China and El Salvador, and foam produced in Mt. Airy, North Carolina.
How does the Nugget hold up?
The Nugget material holds up great.
We have an aggressive toddler, a 40 pound pit bull mix, and a long haired cat that all play on it and it has not ripped at all.
It does however get slight stains (not colored – but kind of "crunchy" from drool spots. This easily washes out.
It also seems to be a bit of a pet hair magnet.
It comes off with a lint roller, but you might want to keep your pet fur color in mind when selecting your Nugget color!
Is the Nugget washable?
Yes! That is a huge benefit to the Nugget.
They are machine washable – on cold – hang to air dry. It can be beneficial to have a second cover so you can put that on while the other cover dries.
Here is my full tutorial & video showing how I wash my Nugget cover!
How much does a Nugget cost?
The price of a Nugget is $249. They have released one model so far with an upgraded fabric that was $269.
Extra covers retail for $99 each.
Click here to shop for a Nugget!
Does the Nugget couch go on sale?
No, Nugget never puts their sofas on sale or has coupon codes. Your best bet on a discount is to buy one used on Facebook Marketplace.
Or, follow Nugget on Instagram – they often have contests and give away $100 gift cards!
What age is the Nugget good for?
Our experience is that it is better for a toddler once they turn one and beyond.
Our one year old didn't know what to do with it when we gave it to him for his birthday, but a couple of months later, he was crawling on it.
As he gets older, he's going to become more daring.
Can you sleep on a Nugget couch?
A lot of people want to know if a Nugget will work as a guest bed or even a toddler bed.
Yes, you can sleep on a Nugget. However – there are a few things to keep in mind.
The Nugget is shorter than a twin bed. So, it's not comfortable for tall people.
Nuggets are also pretty firm. Even the soft, thin piece is on the firm side. This will depend on personal preference, but I don't find it comfortable for sleeping. My brother in law chose the couch over the nugget.
You will want to put sheets on it to protect it if you do sleep on it. Moisture gettin on the foam can cause mold! Here is my guide on how to wash a nugget cover.
Can adults sit on a Nugget?
Definitely! We sit on ours and play with our kids all the time!
If you are talking about sitting on it like a couch, you will want to have 2 nuggets stacked (or one nugget folded into a basically stacked square) for it to be at a standard "couch" seat height!
Are there any competitors to the Nugget?
Here are 14 alternatives to a Nugget!
The Foamnasium Blocksy
The Foamnasium Blocksy is the top Nugget knock off. It is similar in looks, but has a non-removable vinyl cover.
The sizing is slightly different from a Nugget – it's longer and shorter – and it has a firmer foam for all cushions, unlike the Nugget which has a softer top cushion.
The Blocksy is priced at $229 which is exactly the same as the Nugget.
Read my full Nugget vs Foamnasium Blocksy comparison here!
The Pottery Barn Teen Lounger
Pottery Barn offers a Cushy Lounger that has a similar modular sofa type feel to the Nugget.
However, it can't be used to make forts and is more aimed at teens hanging out than kids playing. It is also about double the cost of the Nugget.
Foam Climbing Blocks
If you want your kids to climb on foam, you can also buy foam climbing blocks on Amazon.
These are cheaper than the Nugget, but can't build a fort or make a couch.
They might suit your needs, but I think the Nugget is worth the extra cost for the aesthetics and function!
Mack and Milo Modular Kids sofa
This kids sofa has foam pillows that are modular.
It doesn't have many play or set up options compared to a nugget, but it is very inexpensive!
Pikler Triangle
If you want a climbing structure for your kids, but not necessarily a couch or piece of furniture – consider a Pikler triangle!
We shared how to DIY build one yourself. Here's how to build a Pikler climbing arch, too!
We really love our Nugget and really recommend it for kids of any ages!
I can't wait until we move to a home with a big playroom so we can buy a second one!
This climbing toy can let your kids be wild and free without needing a new couch.
Do you have any other questions about the Nugget?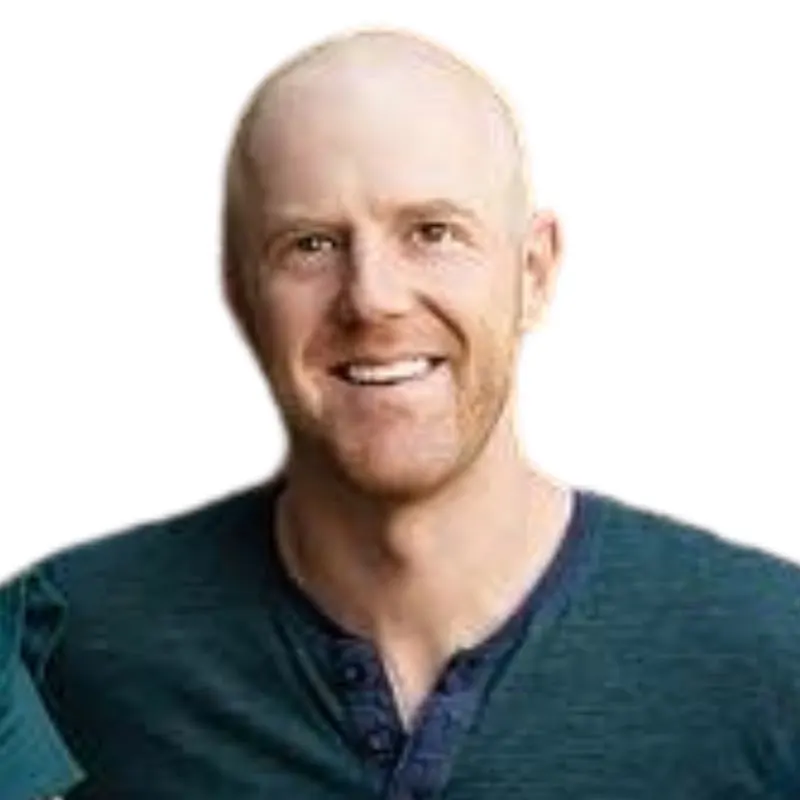 Hey there, I'm Sean, the woodworking enthusiast and builder behind CharlestonCrafted.com! Since 2012, I've been sharing the magic of turning raw materials into beautiful creations. I love teaching others the art and satisfaction of woodworking and DIY. I try to inspire fellow crafters to make something extraordinary out of nothing at all.