Comparing a Nugget comfort couch and a Foamnasium Blocksy? I researched both and surveyed people who had both and wrote this review!
The Nugget couch is a very popular kid's toy. However, they are hard to get as you have to shop a restock sale!
The Foamnasium Blocksy is a popular alternative.
Here are 14 alternatives to a Nugget!
They are both climbing foam cushions designed for kids to enjoy and play with.
In general, the Nugget is the more popular option. People who have both say that they prefer the size, cover material, and durability of the Nugget.
However, Nuggets are very limited in stock and hard to get. If you are wanting a climbing cushion now, you might have to settle for the Foamnasium.
Let's jump into the full comparison.
Note: I own a Nugget but not a Foamnasium, but I have nothing against Blocksy! Click here for my full Nugget review.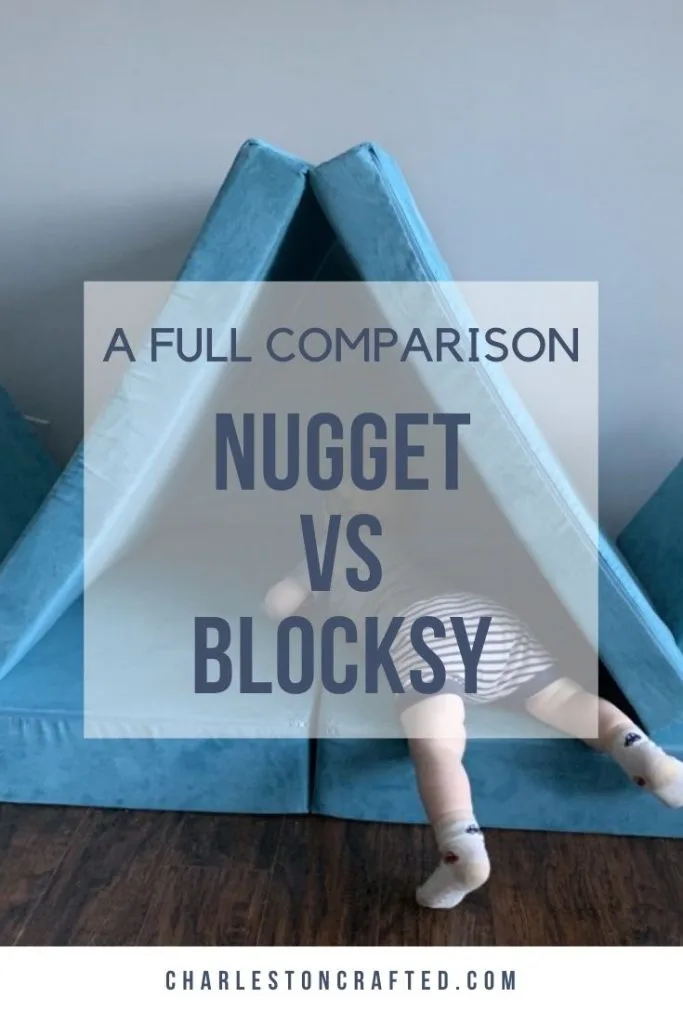 What are the differences between a Nugget and a Foamnasium Blocksy?
Nugget and Blocksy are both foam blocks that kids can climb – how different can they be?! Here are the main differences.
Cover material
Nugget
Nuggets have a cover that is microsuede. It is soft and velvety but does show change in coloration if you rub the fabric one way versus the other.
New nuggets including the color Harbor are being released in a double-brushed suede with a $30 premium for this upgraded fabric.
Blocksy
Blocksy is made of a medical grade vinyl.
It is said that the Blocksy is more slippery. This can make it harder to stack and build with. However, it makes for a better slide on your stairs!
Plus, the blocksy is fully wipeable, while Nugget has to be spot cleaned with upholstery cleaner and washed if stained.
Washability
Nugget
The Nugget cover is completely removeable and machine washable.
Here is my how to guide + video for washing a Nugget cover.
Blocksy
Blocksy suggests wiping their covers with a baby wipe instead of removing and washing them.
Quality
This is harder to sum up with facts and figures. However, I am in a lot of Facebook groups where the two are compared. It is a significant pattern that people say that the Nugget is much higher quality.
It is also said that the Nugget is a softer and more comfortable foam.
Colors
Colors are changing constantly but here are the colors they currently come in:
Nugget
Koala (light gray)
Submarine (navy)
Blackbeard (black)
Current limited edition colors:
Harbor (charcoal)
Atlantis (teal)
Redwood (red)
Bamboo (green)
Pebble (taupe)
Saturn (yellow/green)
Dewdrop (light blue)
Rodeo (rusty orange)
Bluejean (blue)
Mayberry (light mauve)
Sweet pea (blush)
Daybreak (light blue-gray)
Cactus (very bright green)
Potion (very bright purple)
Snorkel (very bright turquoise)
See all the retired Nugget colors here!
Blocksy
Pewter (dark gray)
Black
Green (a kelly green)
Mint (light green)
Red
White
Baby Blue
Gull Gray (light gray)
Size
Nugget
Rectangular cushions are 33″ x 66″.
Blocksy
Rectangular cushions are 25″ x 70″.
Blocksy is a bit longer and skinnier than the Nugget – this is a matter of personal preference!
Ease of Purchase & Delivery Time
Nugget
Nuggets are now widely and immediately available.
Blocksy
Blocksy is widely available for purchase at this time – you can just order it on Amazon and it will be delivered quickly.
Price
Nugget
A standard Nugget costs $249, free shipping, plus sales tax.
Blocksy
A standard Blocksy also costs $229. There is a mini version for $159. Shipping is free.
Summary of differences
Here are all of the differences summarized in a handy table!
| | | |
| --- | --- | --- |
| | Nugget | Blocksy |
| Cover Material | Micro suede | Vinyl |
| Washability | Machine washable | Wipes clean |
| Colors | 13 colors | 9 colors |
| Size | 33″ x 66″ | 25″ x 70″ |
| Delivery Time | immediate | immediate |
| Price | $249 | $229 |
See all of my favorite Nugget knock offs!
Do Nugget covers fit a Blocksy?
No, they are not the same size and do not fit.
There are a few differences between the Nugget and the Blocksy. Hopefully this guide will help you pick which one is right for your family!
Here are my top favorite climbing toys for toddlers!
Need to get your playroom organized?
I get it – it is SO HARD to keep play spaces clean and tidy! In my FREE 6 Day Playroom Organization Challenge, I walk you through exactly how to purge and clean up your playroom!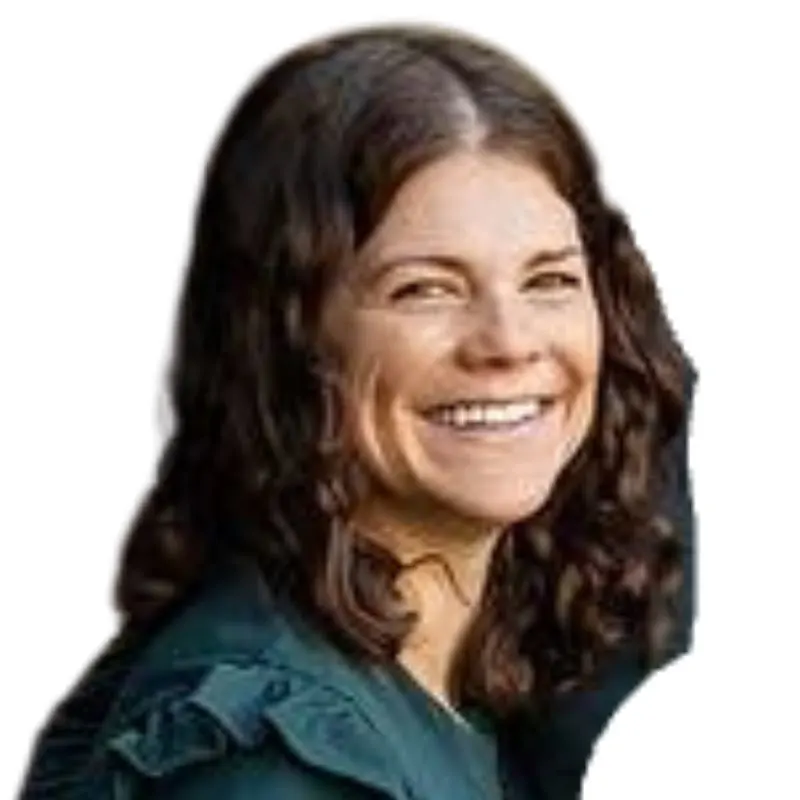 Hello, I'm Morgan, half of the creative force behind CharlestonCrafted.com! With a passion for DIY that dates back to 2012, I've transformed three homes and now I'm dedicated to helping others craft their dream spaces. Let's turn your house into a home together!