Looking for a DIY decorative electrical box cover? You will love this hack that I used to hang a picture frame on hinges over ours!
Love this post? Be sure to check all of our DIY tutorials and projects here!
What can I say, I like pretty things. I like colors and patterns and happy pictures. I do not like ugly things messing up the vibe in my condo.
For example, the icky red fire alarms in every room- though very important for safety- were super ugly until I gave them a fresh coat of glossy white paint.
Our coats were also piling up in an unattractive way- but we were able to conceal them in a hidden cabinet.
The latest ugly-but-necessary element of the condo that I wanted to hide was the electric panel box.
It is huge and in the middle of a wall that you can directly see from the living room.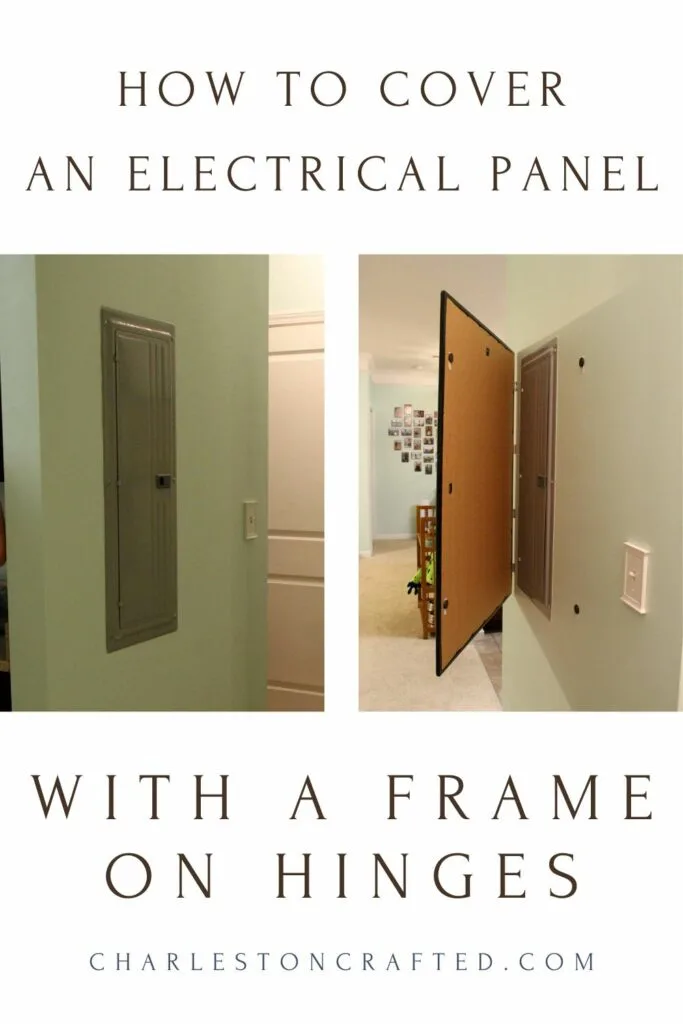 DIY decorative electrical box cover
I considered painting the box, or perhaps using some sort of magnets to embrace it.
However, when we dug out my old poster frames for this kitchen art project, I got totally inspired.
I found this old frame (which previously held my partial shrine to my idol, Elle Woods) and behind the poster, there was an awesome collage matte.
Totally inspired, I started to fill it up.
I had lots of print laying around from the heart gallery wall and the pictures around the string art in the bedroom, so all I had to get printed was three 5″x7″s.
I used small pieces of clear tape to attach them to the frame.
Then came time to attach it to the wall. While we could have totally just hung it over the breaker, I wanted to make sure the box was very accessible in case of an emergency.
So, Sean used four small hinges to hang it. They are from Lowes and came in 2-packs.
He replaced the included screws with shorter ones that we already had, so they didn't poke thru the frame.
First, screw the hinges into the frame. Make sure they are facing the right way. Not that we did it wrong the first time…
Then, just hold it up to the wall and screw in place. Sean did the top and bottom hinges first and then it was able to hold itself up.
I recommend having it open the same direction as your box.
Eek! How exciting! However, the hinge on the breaker was just thick enough that it kept pushing the frame off the wall on the right side.
So, we secured it using small magnets.
We just used command strips to attach the magnets to the frame and to the wall.
If you are anti-magnet (I understand that children can eat them and destroy their insides… Y-I-K-E-S) you could also get strips of velcro.
I liked magnets because they give about an extra inch of depth to make up for that hinge.
Now it holds close to the wall perfectly!
You can see the hinges on the side, but I don't mind- I want to brag about it!
Lowes also sold black hinges but they were sold out in this size the day I went.
If you get any scratches on the wall installing the hinges, try a magic eraser (I get the big packs at the dollar store). Works like a charm!
Have you concealed anything ugly lately?