If you love mixing up your home decor each season, then you are going to love Decocrated! Decocrated is a home decor subscription box that delivers you a ton of home decor accessories four times per year.
This is my third time receiving a Decocrated box, and I was once again really impressed by how much you get in the box. In the past I have done a few makeup or self care boxes that came with tiny samples of products. These are full sized, seasonal decor fabulous pieces for your home!
Read my unboxing of the Spring 2020 Decocrated box here!
Use my exclusive codes:
CHARLESTONCRAFTED10 for $10 off your first box!
CHARLESTONCRAFTED30 for $30 off an annual subscription!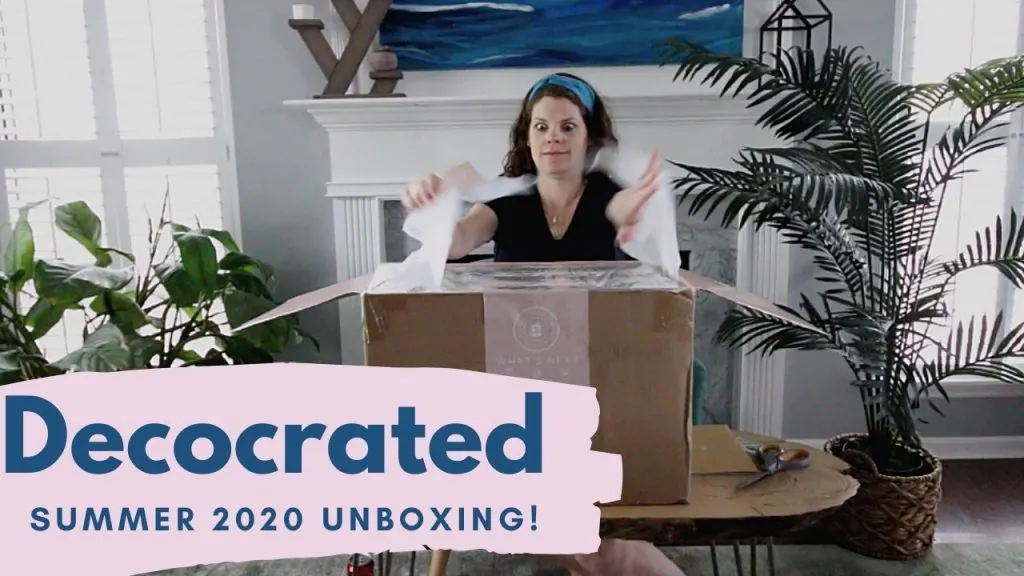 Summer 2020 Decocrated Unboxing
This box was all about geometric shapes, natural wood tones, and pops of bold colors.
There's less of a distinct color scheme compared to a previous box – but I like that – it definitely doesn't feel matchy matchy but feels like something you can really mix and match.
Be sure to scroll down to watch my full video unboxing!
Mini Rug/Door Mat
I was so excited to see a blue and white striped woven rug in this box! I love the tassels on the sides and of course the summery stripe. It would be great in a bathroom, kitchen, or layered under a door mat.
This rug is double sided (no liner/rug pad) making it really easy to wash in the washing machine.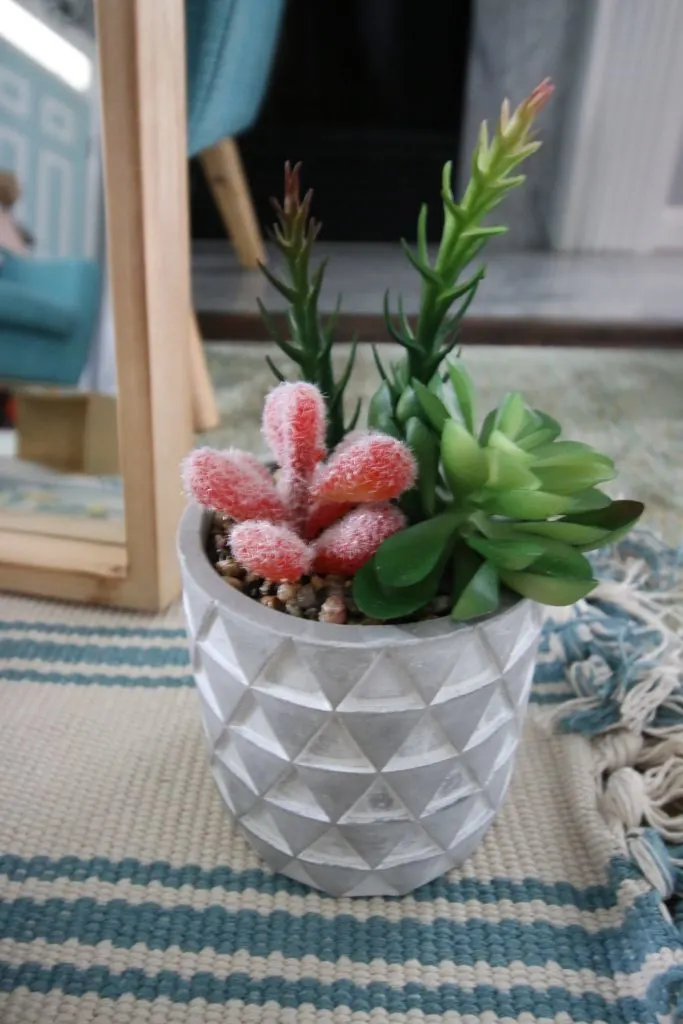 Ceramic Pot w/ Faux Succulent
Next up is a gray and white ceramic pot with a stamped/3D geometric pattern on it. It has 3 faux succulents and pebbles in there. This is great for adding "life" to a shelfie, even if you have a black thumb.
Yellow Floral/Burlap Pillow Covers
This quarter's pillow covers are double sided. One side is yellow with a white leaf print on it, designed by the featured artist. The backside is burlap, which is a nice neutral if you aren't feeling the yellow.
All Decocrated pillow covers fit an 18 inch pillow. These are the inexpensive pillows that I put my pillow covers on!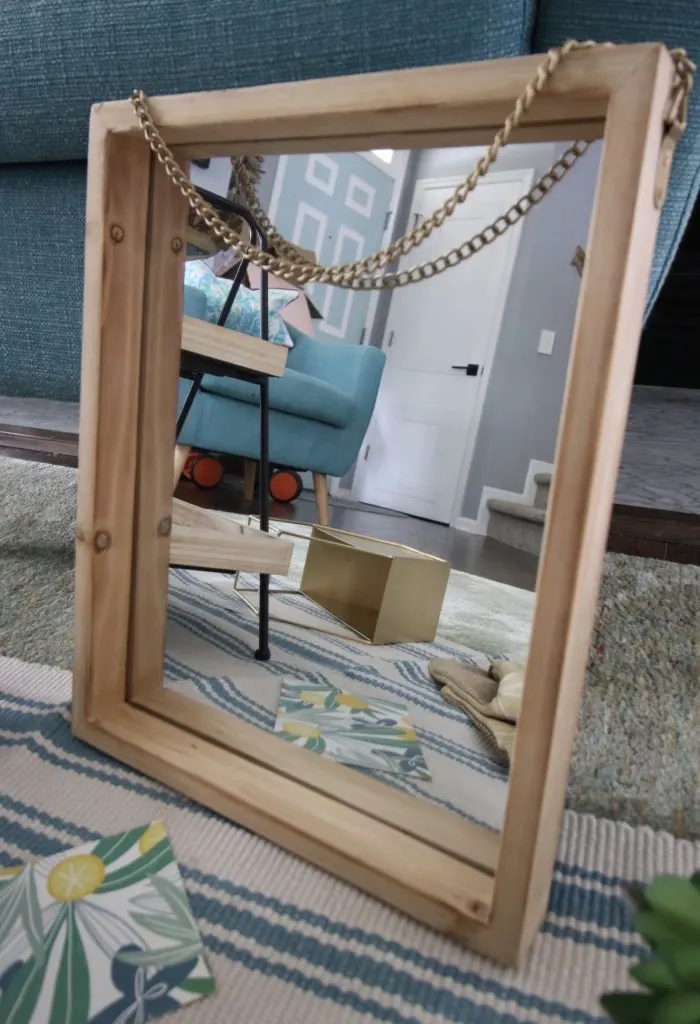 Hanging Framed Mirror
This framed mirror has a natural wood frame that I really love. It matches the two tiered tray in this box and the framed art in the Spring box. It has a gold/brass chain for hanging. Perfect for an entryway!
Hexagon Planter
This geometric planter is super fun. It can be hung on a wall (hangers are on the back) or sat on a shelf or desktop. It's not meant to get wet, so faux plants or air plants are best.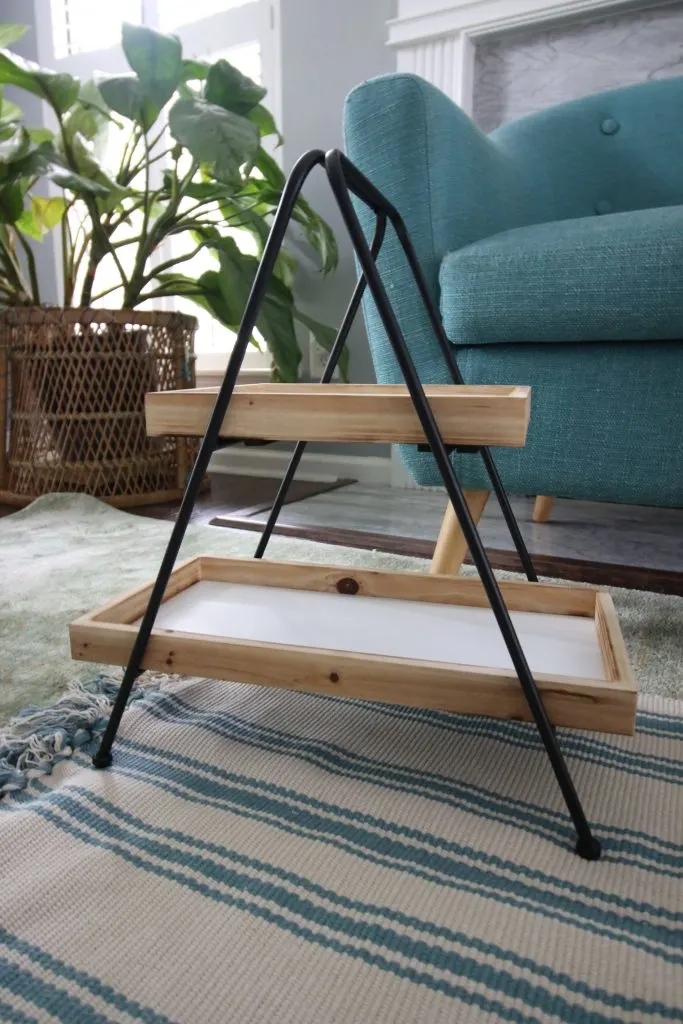 Two Tiered Tray
This two tiered tray has so many possibilities! I love the idea of styling it on a bar car of dining room hutch for a party. It comes apart to fold flat for easy storage. I think I will customize the bottom of my trays with contact paper!
I was really pleased with this box – I feel like I got a lot of large, high quality items for sure! Definitely worth it's cost for this stuff!
Use my exclusive codes:
CHARLESTONCRAFTED10 for $10 off your first box!
CHARLESTONCRAFTED30 for $30 off an annual subscription!