Have a ton of craft supplies? Here are my best tips + tools for how to organize craft supplies in cabinets and drawers!
If you do any sort of crafting, you know how many craft supplies you accumulate.
It's a constant connundrum – you have to buy a 12 pack of something for a specific project, have 8 left over, and don't want to trash them. You never know when they will come in handy!
Between leftover craft supplies and your regular gear, you can end up with a lot of stuff.
As a part of our office makeover, we wanted to fit in all of my craft supply storage. We use a lot of craft supplies in the scope of our work and need them to be easy to access and store.
We did our craft room organizing inside the wall of built ins that Sean built for the space. These built ins are a combination of drawers and cabinets to store craft supplies and office materials.
Today I am excited to share our best craft supply organization ideas!
Be sure to check out my craft closet in our old house and my tiny linen closet turned craft closet in the condo!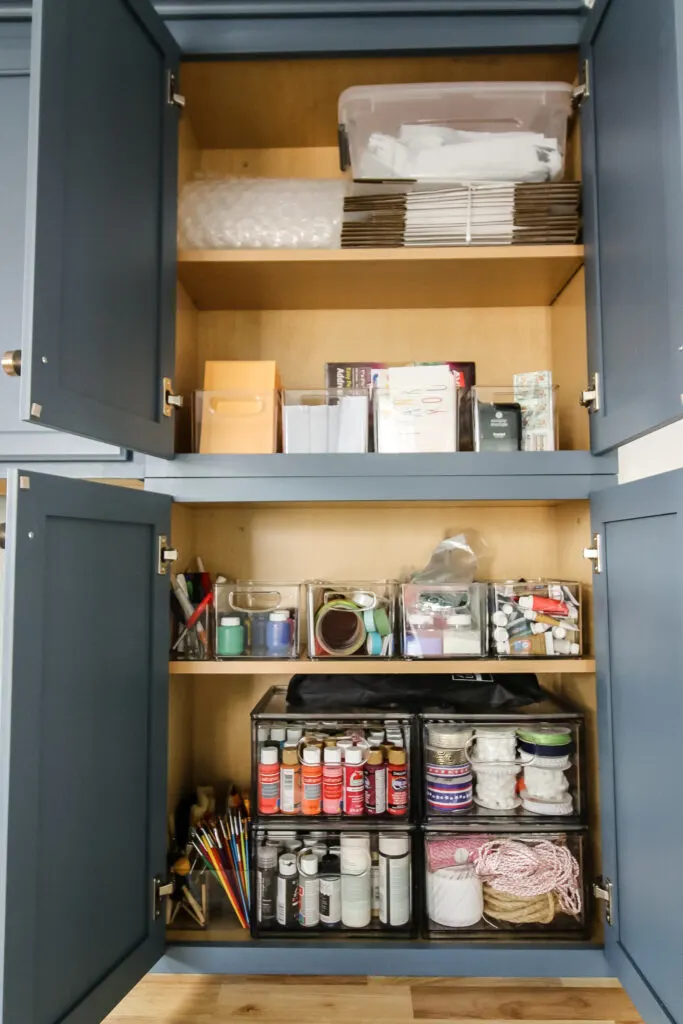 Make sure you check out our entire DIY home office renovation series!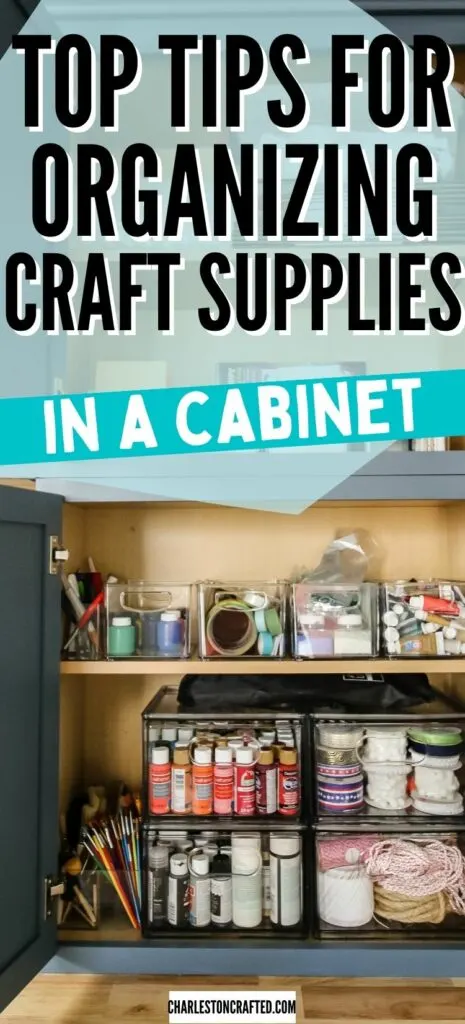 How to organize craft supplies
Two of the best ways to organize craft supplies are on shelves or in drawers. Cabinets are a great option for hidden shelf storage. If you have a craft closet, check my organization tips here!
When deciding on storage ideas for craft supplies, here are some of my top tips:
Contain everything – no loosey goosey small items rolling around. Baskets, bins, and containers are your friend.
Store like with like – group items together to ensure you know what you have and you can easily find it.
Keep the most used at chest height – put your rarely used items up high or down low and keep the frequently used items at arm's reach.
How to organize craft supplies in cabinets
When organizing craft supplies in cabinets, it is most important to take advantage of vertical space. Here are best ways to do this.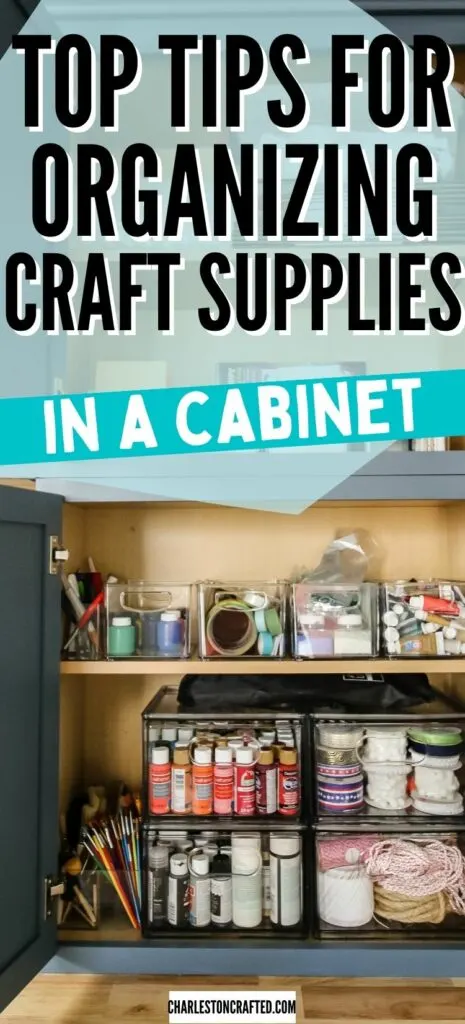 More shelves
Add extra shelves to your cabinets. If your cabinet has peg holes in the sides, it's easy to add another shelf!
More shelves means more space for bins, baskets, and boxes to store without having to be precariously stacked.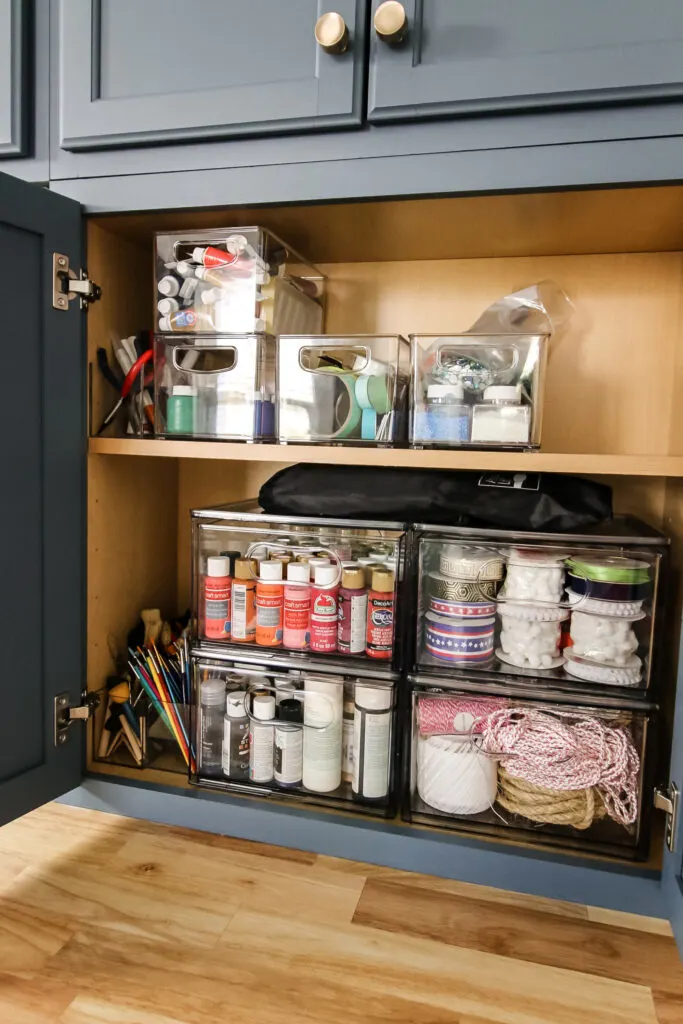 Drawers
Drawers or pull out bins are easier to work with compared to stacked bins. I used to swear by nesting/stacking storage bins that clipped together. However, to get to the middle or bottom bins, I had to take them all out.
This led to me just throwing random bits and bobs into the cabinet. That led to when I opened the door, random craft supplies raining down on you. Not ideal.
In our new set up, I chose a lot of these craft supply drawers. They can stack or fit side-by-side for easy access. Plus, the drawers pull all of the way out so you can grab a drawer and take it with you when you work on a project!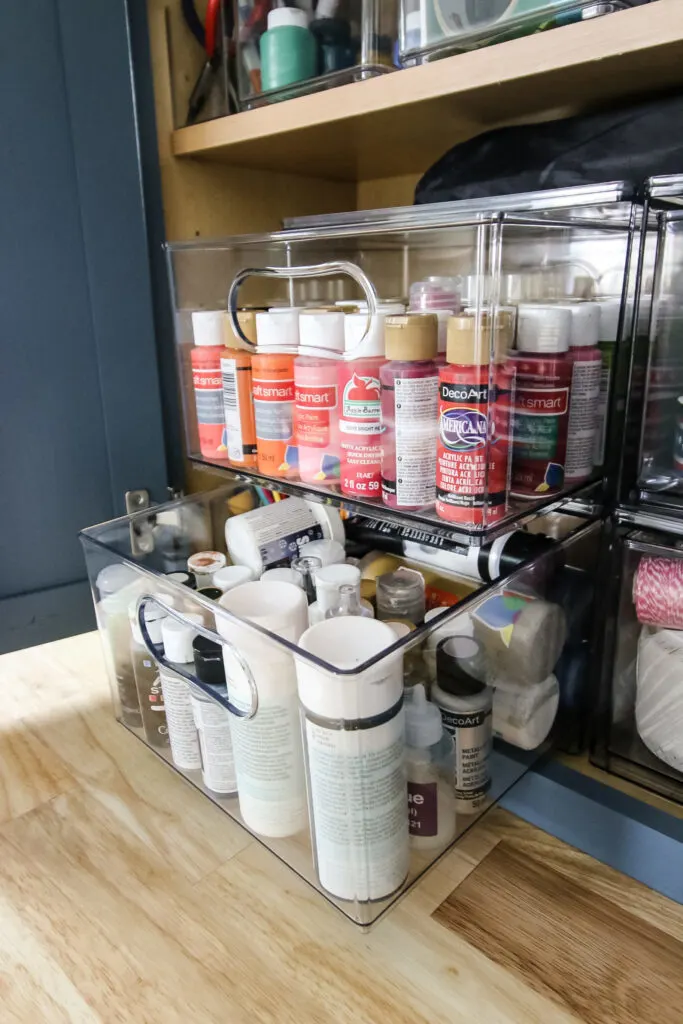 Tilt out storage
Tilt out storage bins are similar to drawers in that they can be stacked and allow you to access everything without having to remove the containers from the cabinet.
The benefit of tilt out storage is you don't need the full horizontal space that a drawer needs to pull out. The negative is that they usually can't pull out all of the way to come with you to the craft table.
Vertical containers
Vertical containers like jars or pen cups are a great storage option. I used these acrylic pen holders for paint brushes and similar supplies. They have dividers to keep them sorted and fit well into the cabinet.
I love that you can grab these and pull them out and use them on the tabletop when working on a project, then slide them right back in place when you are done!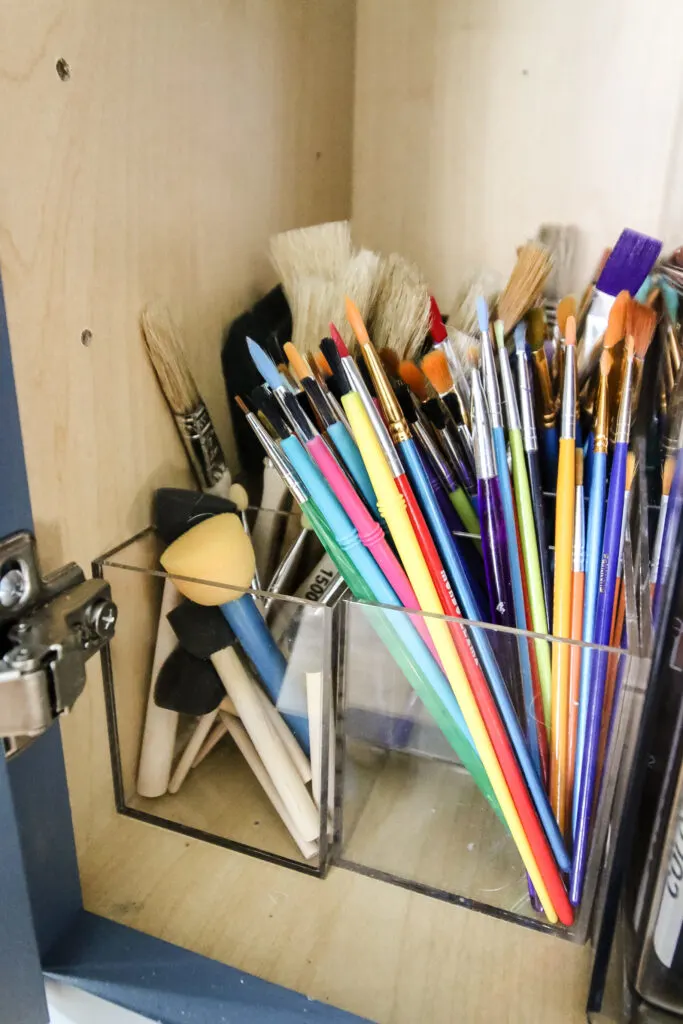 Paper rack
If you have a lot of paper or vinyl sheets to organize, having a paper organizer is key.
I actually used to keep my paper in a file drawer type situation, and it was hard to see everything that I had.
In the new office, Sean built me a paper rack and it is much better. We organized our paper by color, type, and size. It is so easy to find paper now – our 4 year old can come over and find the color he wants in a flash!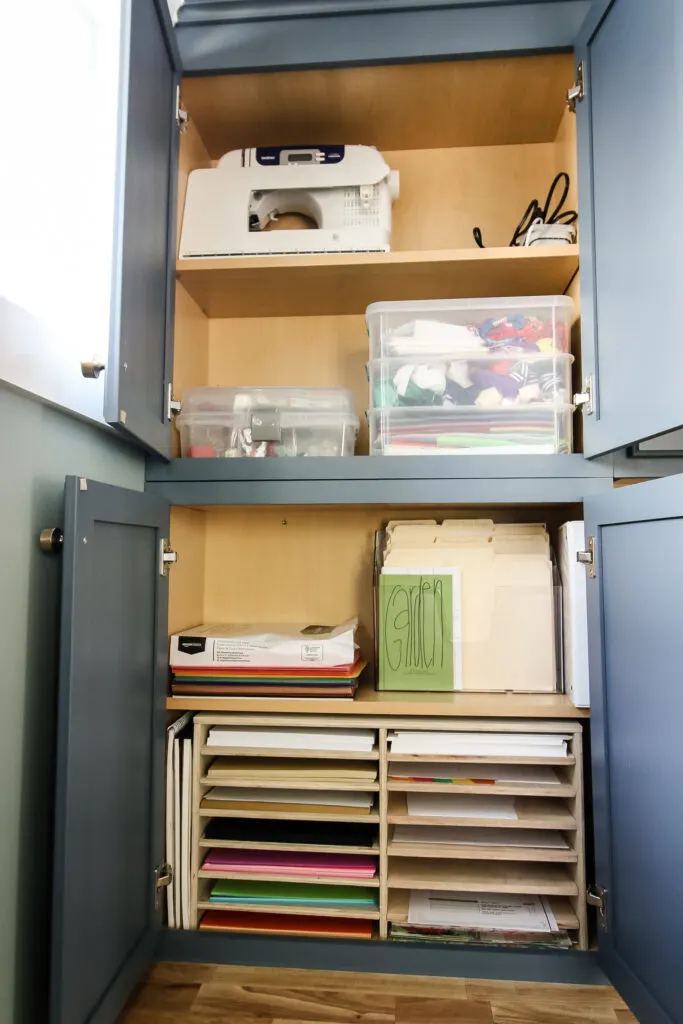 Divided storage
These dividers work great for organizing oversized items like art pads, canvases, and laptop sleeves.
Caboodle
Throwback to caboodles! These are like fishing boxes – bins that open up to reveal nesting storage options. I have one as a sewing box. It's perfect for sorting a lot of small items and can be grabbed to pull out and use as needed.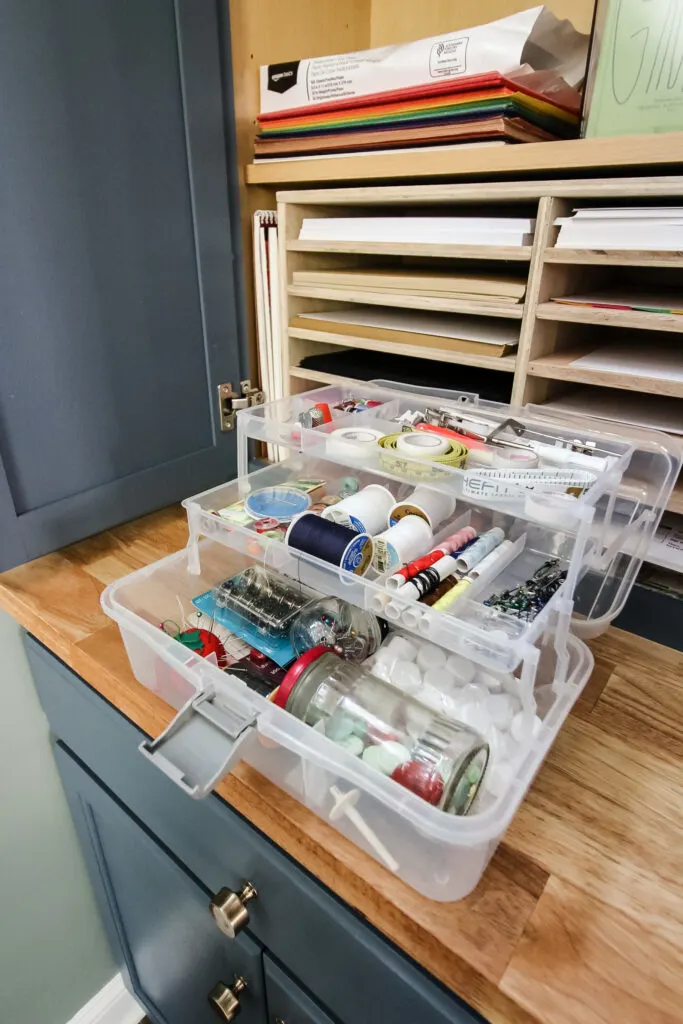 How to organize craft supplies in drawers
Drawers are one of my favorite ways to store anything, craft organization included! Here are my best craft storage solutions for drawers.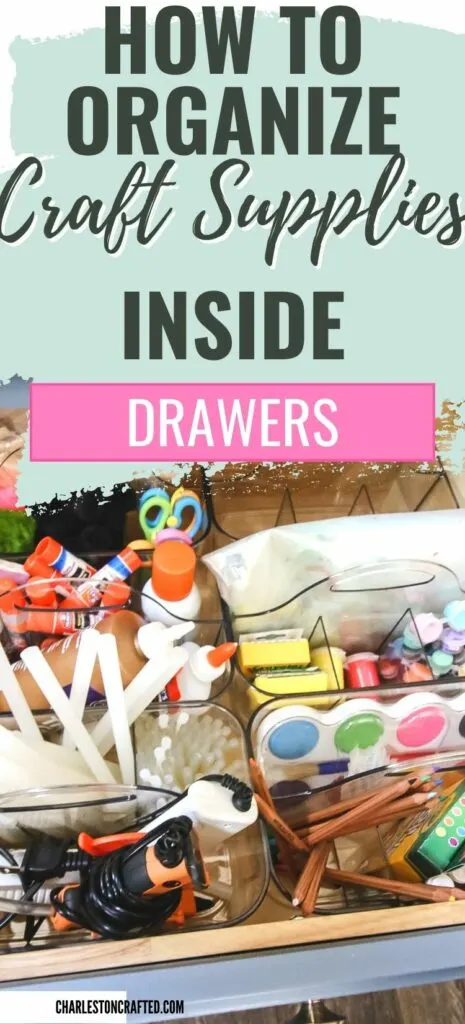 Dividers
Dividers are the best way to keep small items organized in a shallow drawer. I used these mini bins in our top drawers in the craft room for more "office supply" craft supply storage. This includes pens, highlighters, sharpies, scissors, and tape.
You can add little grippies to the bottom of the bins to help keep them from sliding around if they do not fit the drawers perfectly.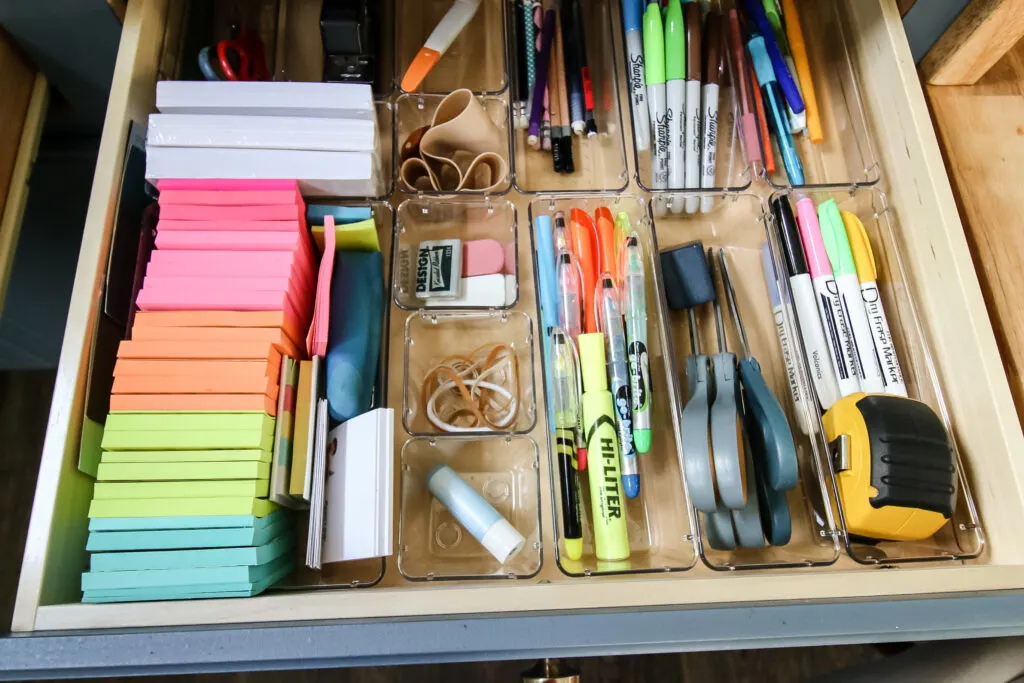 Caddies
For our deeper drawers, I decided to use a lot of craft supply caddies. These are bins with a handle in the middle that makes them easy to grab and take to wherever you are crafting.
Caddies are one of my favorite storage for craft supplies. Seriously – they make it so easy to grab and go!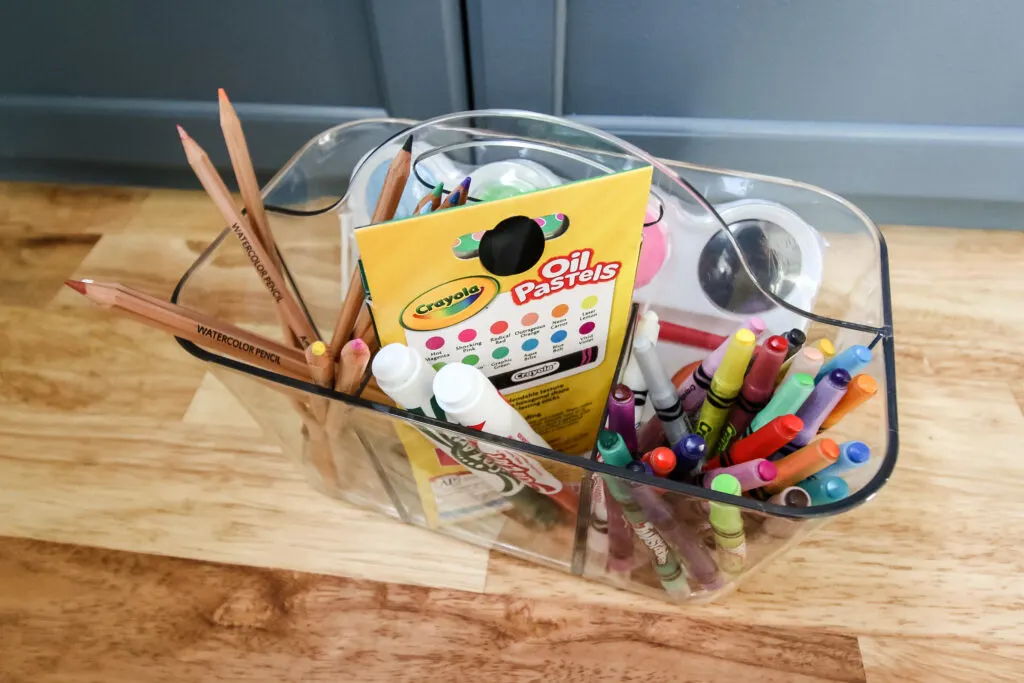 If you sort them very specifically (by task or type of supply, such as all hot glue, all paint, etc) then they are super functional. My 4 year old knows to go grab the caddy he needs and carry it over to the table for a project!
Docking drawer
We added a Docking Drawer in-drawer outlet to one of the drawers in our cabinetry. This is great for storing our computers and anything else that needs to be charged, out of sight.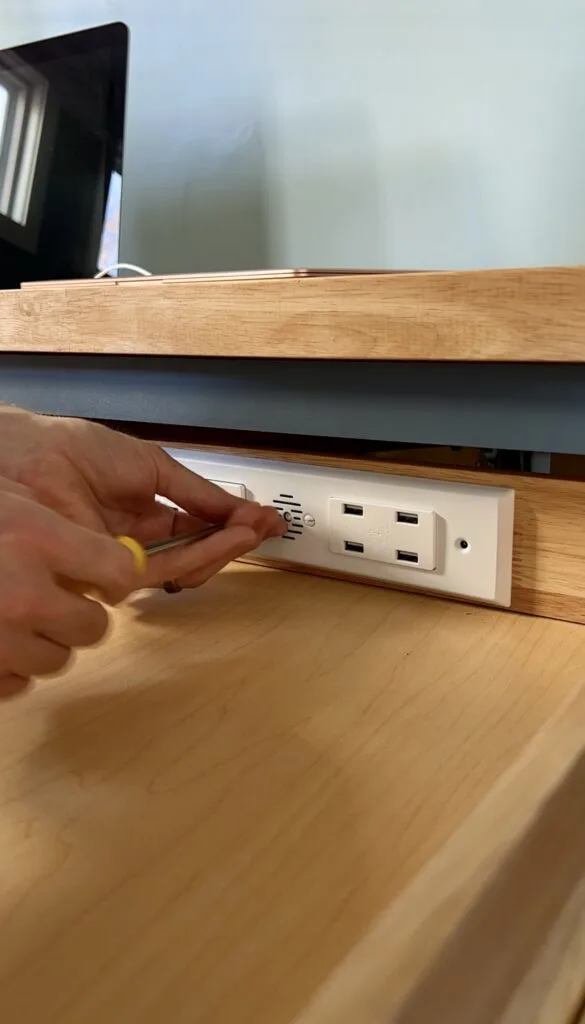 Other great ways to organize craft supplies
Here are some of my other favorite tools for craft supply organization in an office or craft room:
pegboards
fold out craft cabinet (in the craft room of my dreams!)
rolling storage cart
jars, vases, and canisters
Want to display art? Check out our DIY kids art display!
Any more questions about craft storage organization?! What are your favorite craft storage room ideas?!