Check out our home office design plan as we embark on a complete makeover of our home office space. We will add built ins and a custom t-shaped desk!
We are so excited to be diving into a home office makeover next.
Our home office is actually the formal living room in our floor plan and is immediately on your left when you enter our home.
It does not have doors but rather a large cased opening on the wall facing the hallway.
This is one of the last remaining rooms that we have not done anything to yet, makeover wise, and it is always kind of embarrassing when people come in and see it. It's literally the first thing people see.
Like, hello we decorate our home for a living, don't mind the beige room with mismatched furniture and a dining room light fixture, I promise we do decorate.
Anyways, I am so excited to dive into this room makeover starting this month!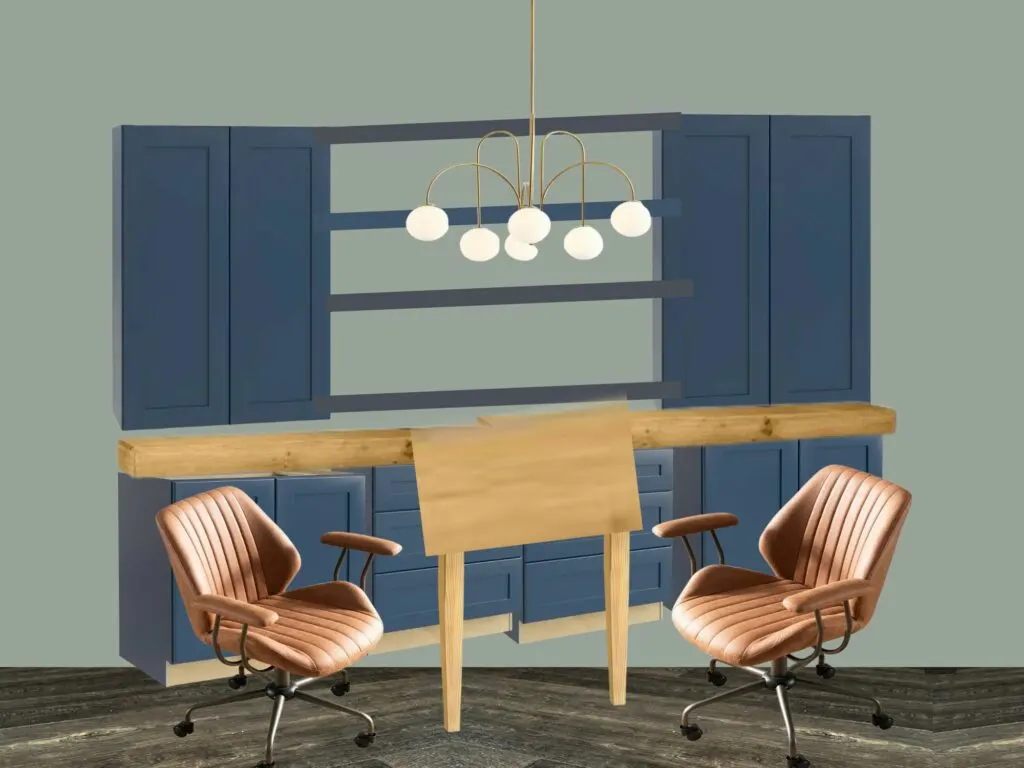 Home Office Design plan
The starting point for this office makeover actually wasn't in the office at all. We closed up the doorway from this room to the kitchen as a part of our pantry expansion project.
That project had the benefit of tripling our food storage space (!) but also setting this room up to function more as an office and less as an adjoining dining room.
By closing up the door, we now have a full wall to work with for our design plan instead of it being broken up by a doorway.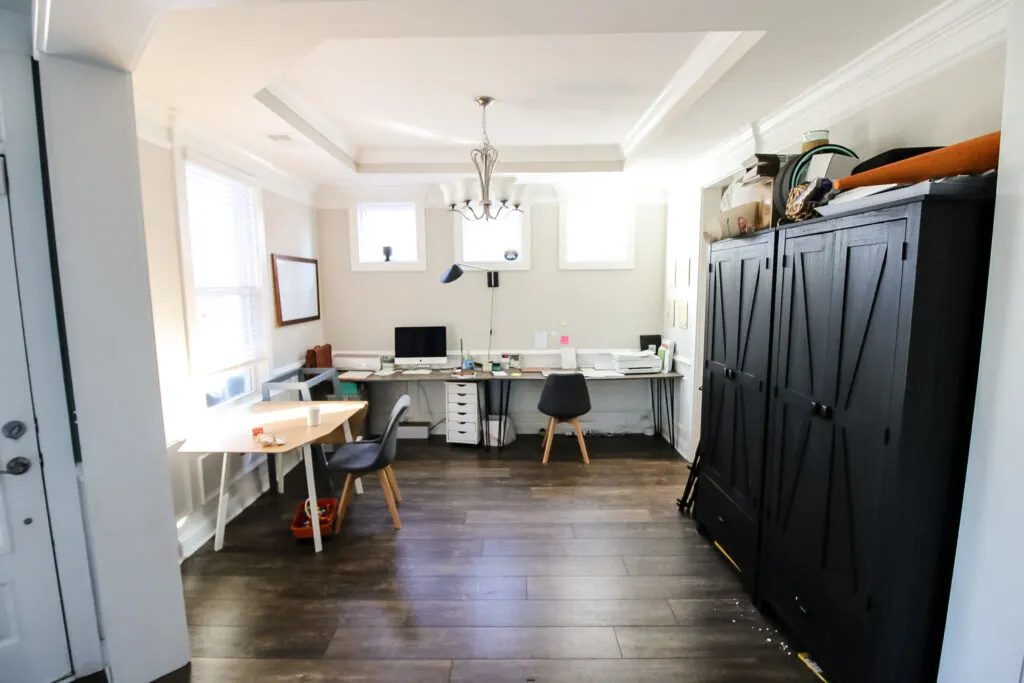 Built ins
The main feature in this space will be a wall-to-wall built in. This will be on the wall you see when you first enter our home and should give the space a dramatic look.
The built ins will also be functional, designed to hold all of our craft supplies and office products in a hidden, organized way. Here's a look at how we have it mocked up on the computer.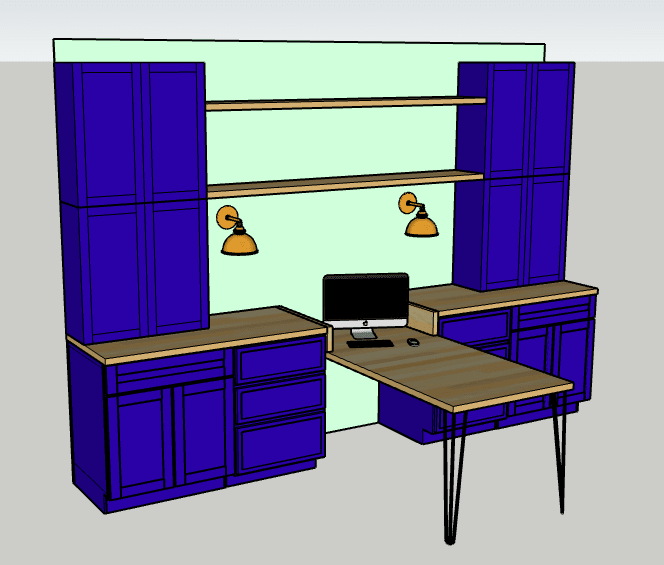 Our plan is for the builtins to feature a butcher block counter (like our mudroom, pantry, and my closet) that will then come out in a t-shape to create a double sided desk for us to work at!
This will be a big project, but is really going to define the space!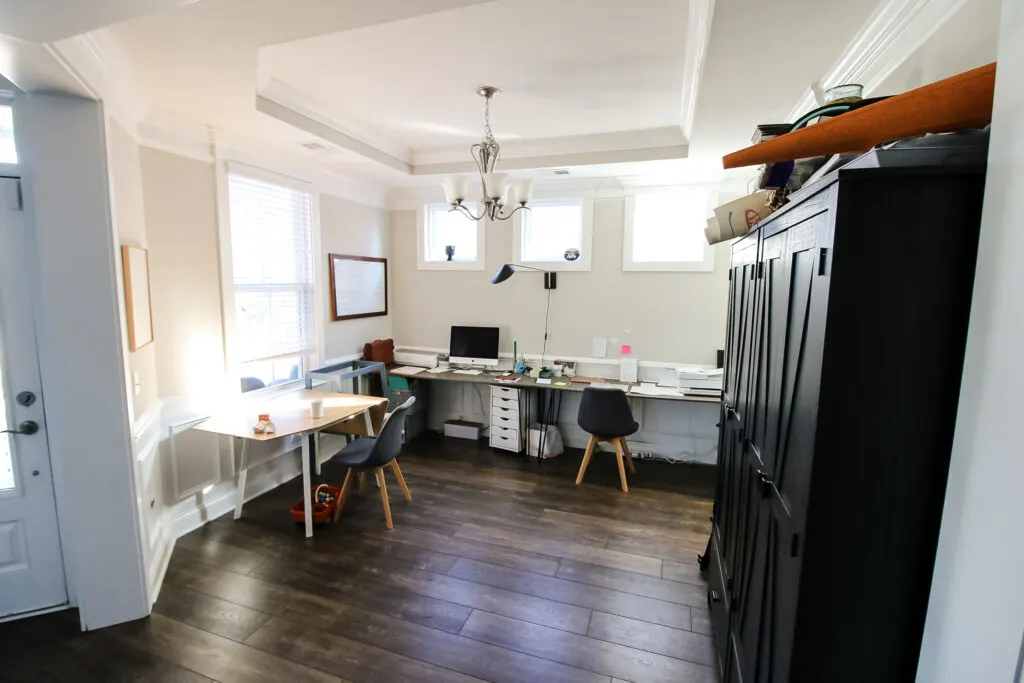 Paint colors
The walls will be painted Behr Nature's Gift, which is the muted green color that the rest of the walls in our open concept first floor are painted. This will help the space feel cohesive.
The built ins will be painted Behr NYPD. This is a navy blue-charcoal color that we used on our shiplap fireplace and mudroom, and is the main accent color on our first floor.
Seating area
This is not quite set in stone, but we are hoping to add a little comfy seating to the corner. This would be a good place to curl up with a laptop or for one of the kids to sit while we are working.
I'm hoping to hang the vintage art I recently bought in Asheville in this space!
Lighting
We are definitely going to be replacing the builder-grade dining room chandelier in this space. I haven't ordered the light fixture yet – and want to see the built ins in place before committing.
However, it will either be a capiz chandelier like this orb (to tie in with our hallway and dining light) or a modern gold fixture (to tie in with the majority of the other lights in our home).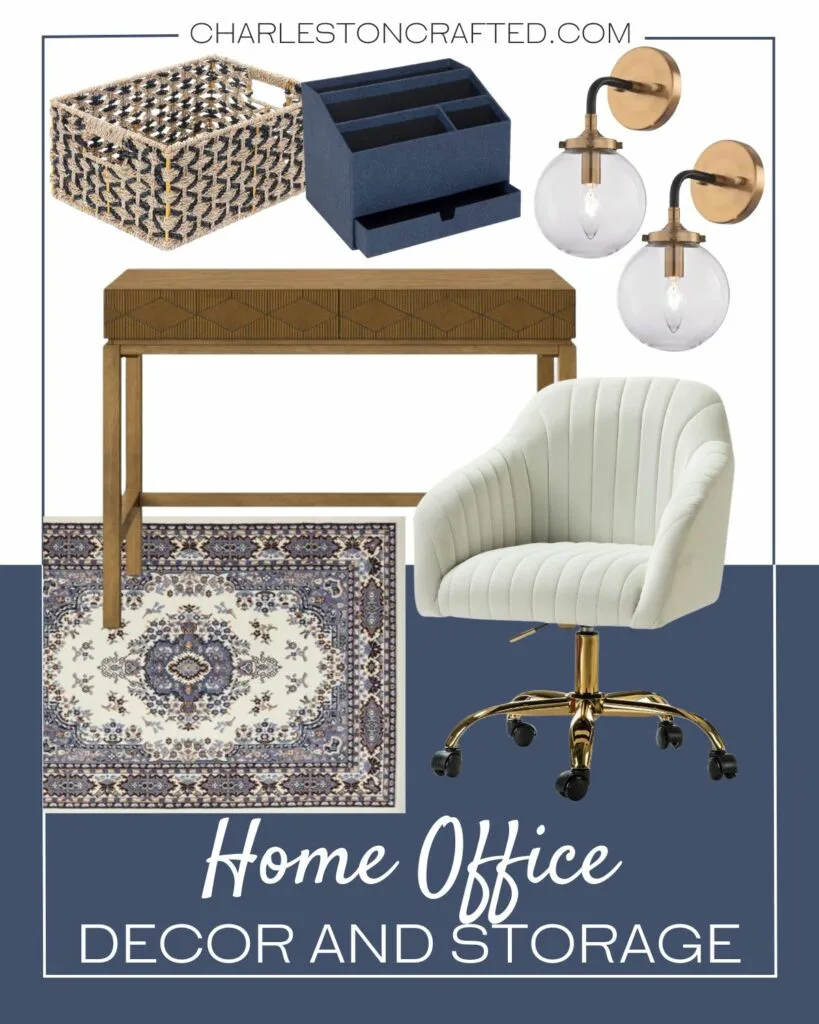 This collage shows you more of the inspiration of the vibe we are going for in this space. Click here to shop this collage!
Home Office project list
Here are the main projects we plan to conquer in this space:
Remove decorative wall molding
Repair & paint walls
Paint & hang cabinets on wall
Majorly purge craft and office supplies
Organize craft supplies in cabinets
Replace light fixture
Furniture + decor
Any questions about our home office makeover plan?