One of my New Year's Resolutions is to GET ORGANIZED! I seriously suck at picking up behind myself and unless I have really easy systems, I won't follow through. My goal is to conquer a "problem area" in the condo every other month so I don't get burned out on organizing but still make my home a happier place.
Undoubtedly, the place to start was my craft closet. I craft a lot – clearly – it's my main hobby along with cooking. I have amassed a ton of craft supplies. I keep them all in the linen closet across from the laundry room.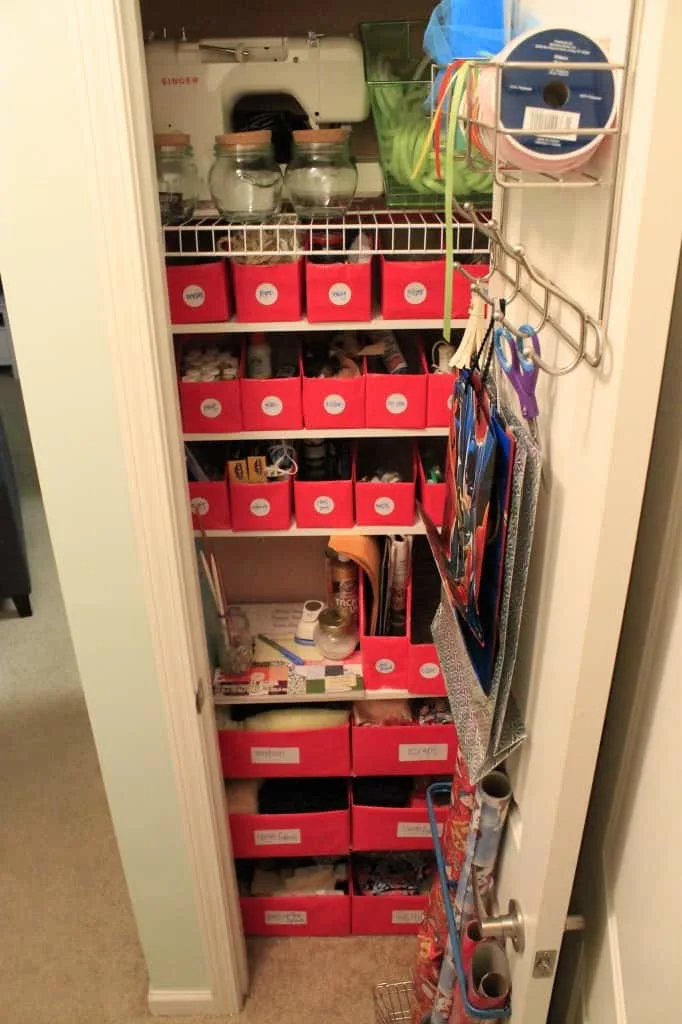 About a year ago, I thought I was so clever in organizing all my stuff in a hanging shoe holder. Well, maybe this would work for some people, but I couldn't see things and ended up just throwing stuff in there. It was bad. Like, open the door shove something in slam the door bad.
One year ago: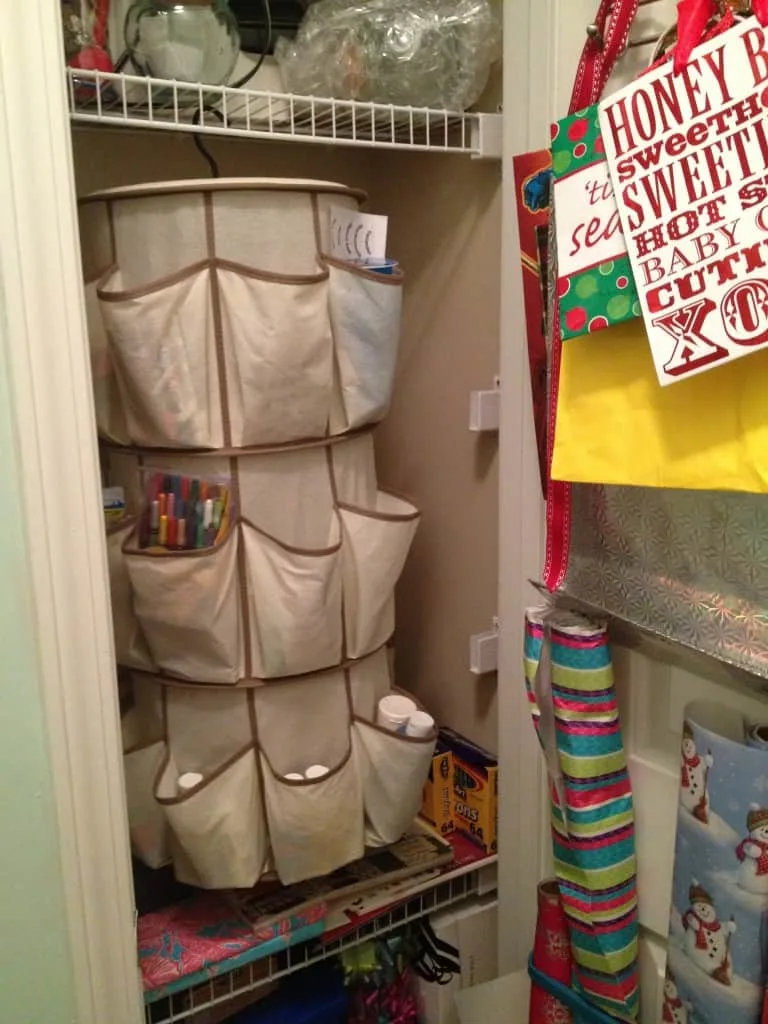 Today: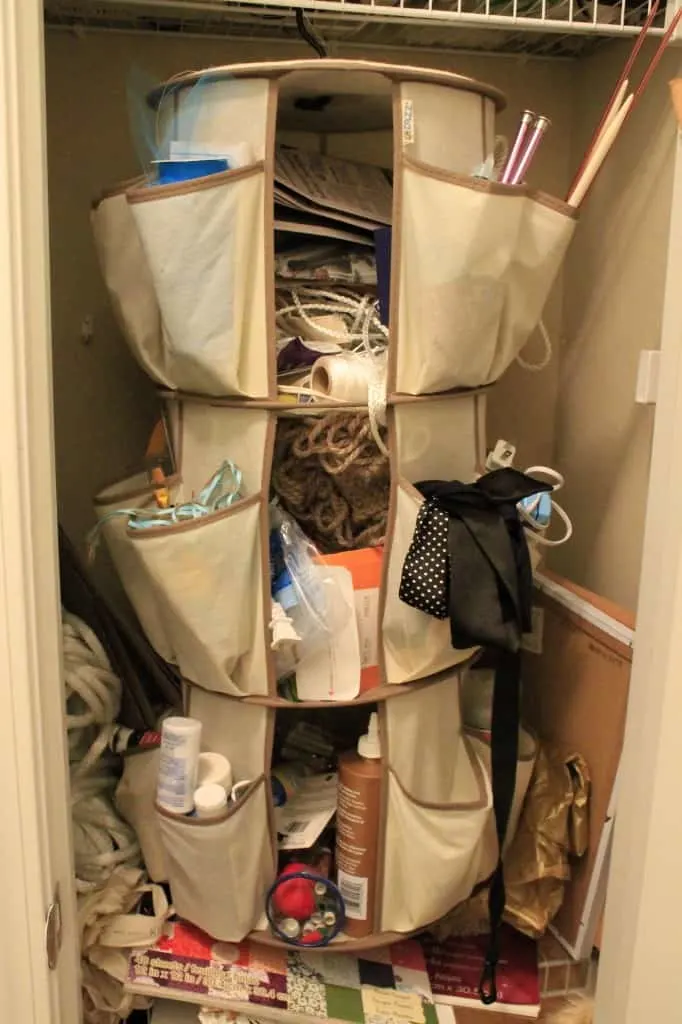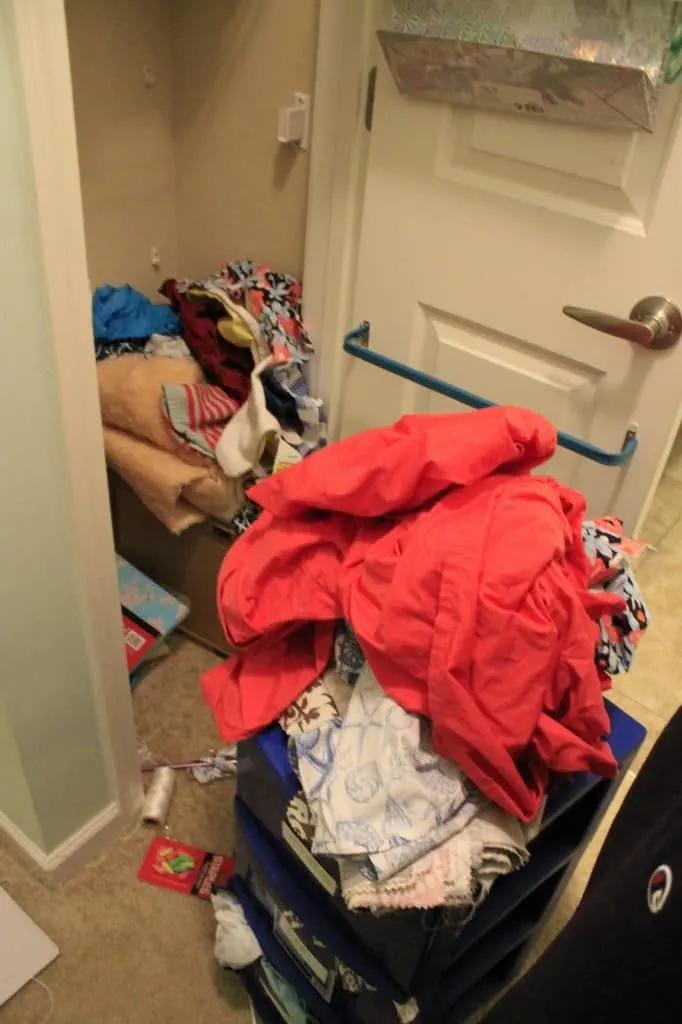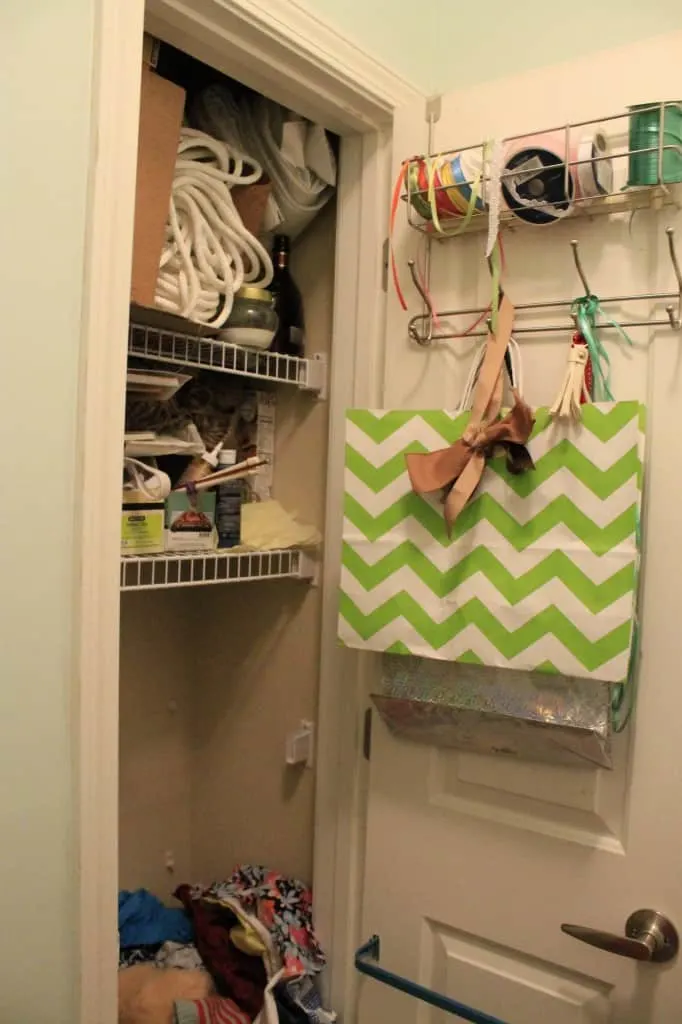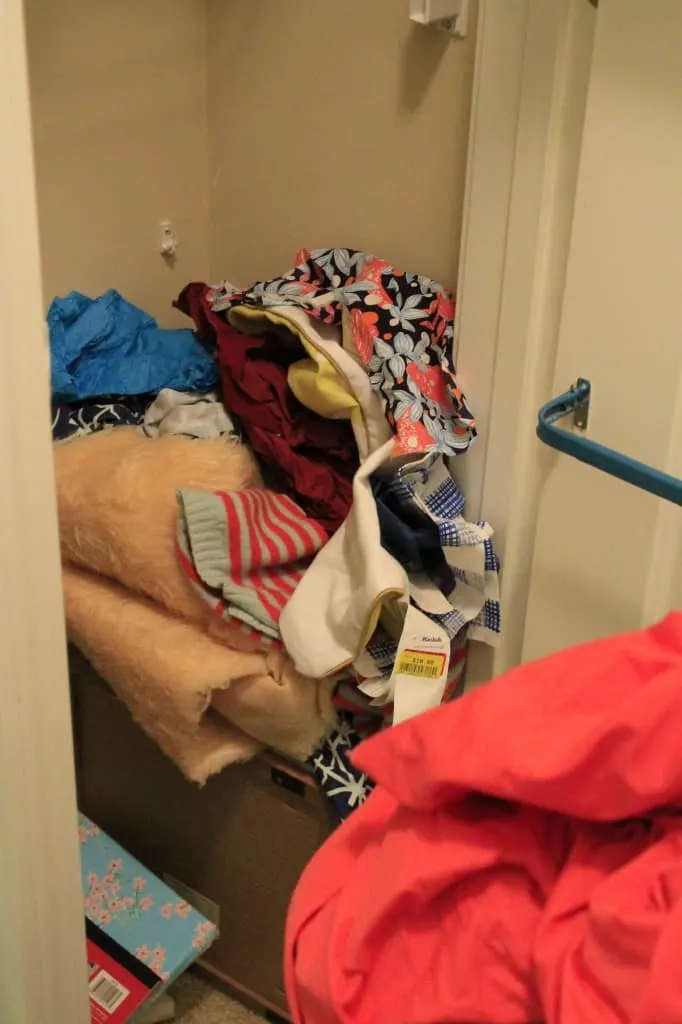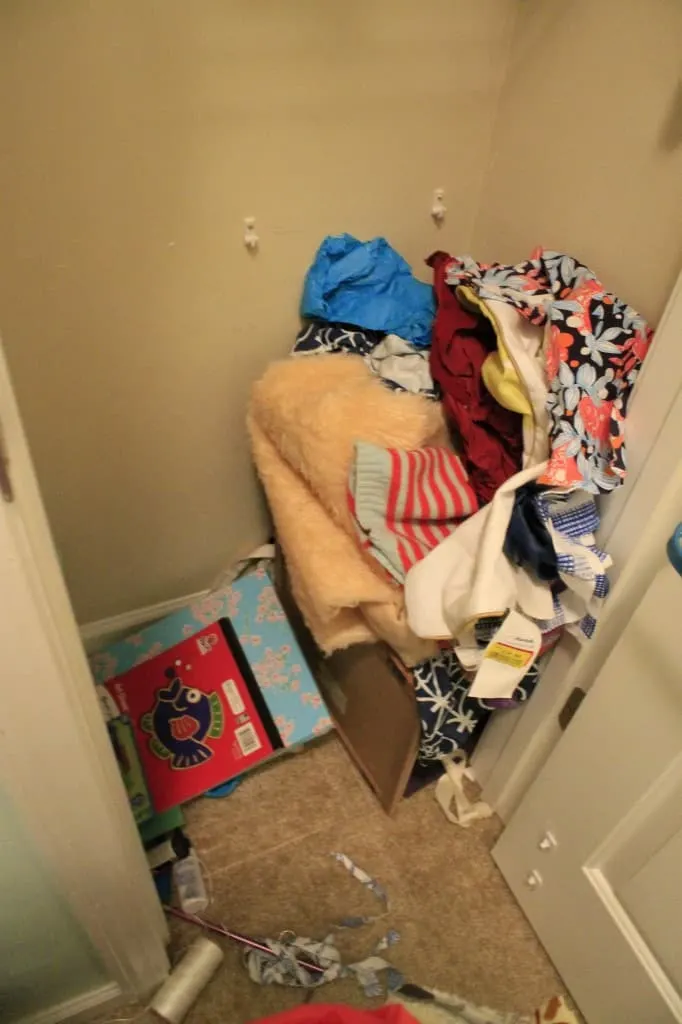 Yeah, I told you it was bad.
My original plan was actually inspired by the coffee station at work. We have a Keurig and about a dozen different K cups to choose from. We are a big group and go through a lot of coffee, so 2 or 3 of these boxes go in the recycling every day. I was inspired by the size and the "hand hole" in the boxes – they're perfect for supplies! So, I gathered them and started a plan.
My first idea was just to put the wire shelves back up in the closet. But – gasp! – I realized that we had donated them to Goodwill. Poor planning, I know, but probably they got confused with the pantry shelves.
Either way, we needed new shelves. That stunk because I was trying to make this as inexpensive of a project as possible. But it was good in that I got some freedom to decide what distance I wanted between the shelves.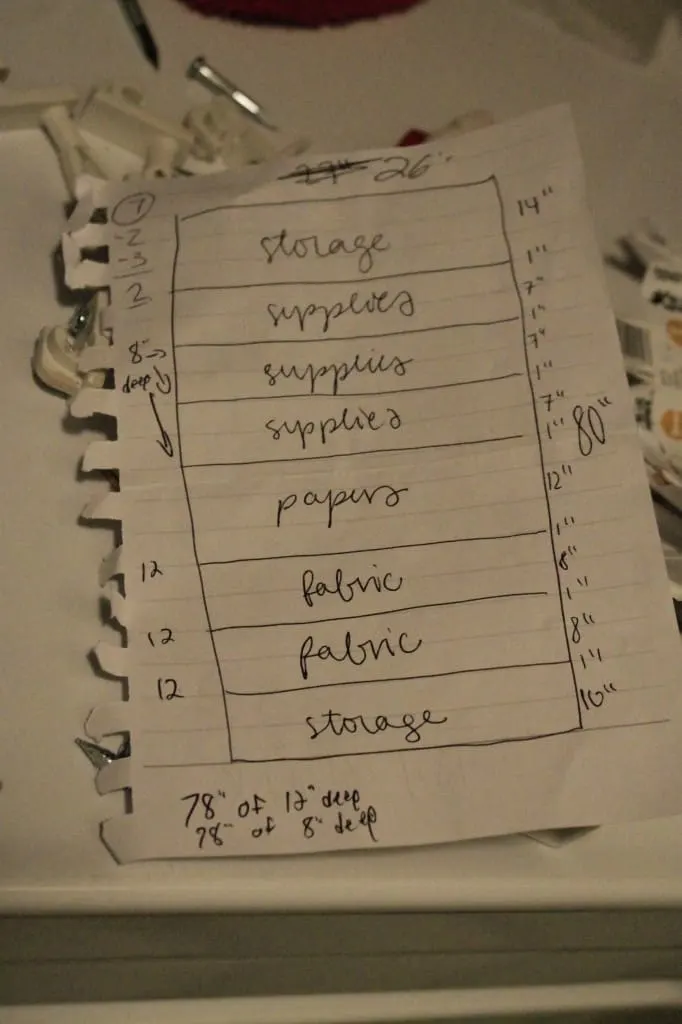 We decided to use wooden shelving material and simple L brackets to hang the shelves. I have used this shelf material several times before and am always pleased with it.
We ended up painting the closet because removing the old shelf brackets tore up the wall. You can read about how Sean patches and paints here. We started painting with left over grey paint, didn't have enough and had to redo it with left over light pink paint. Annoying, but a quick fix to make it right and not half assed.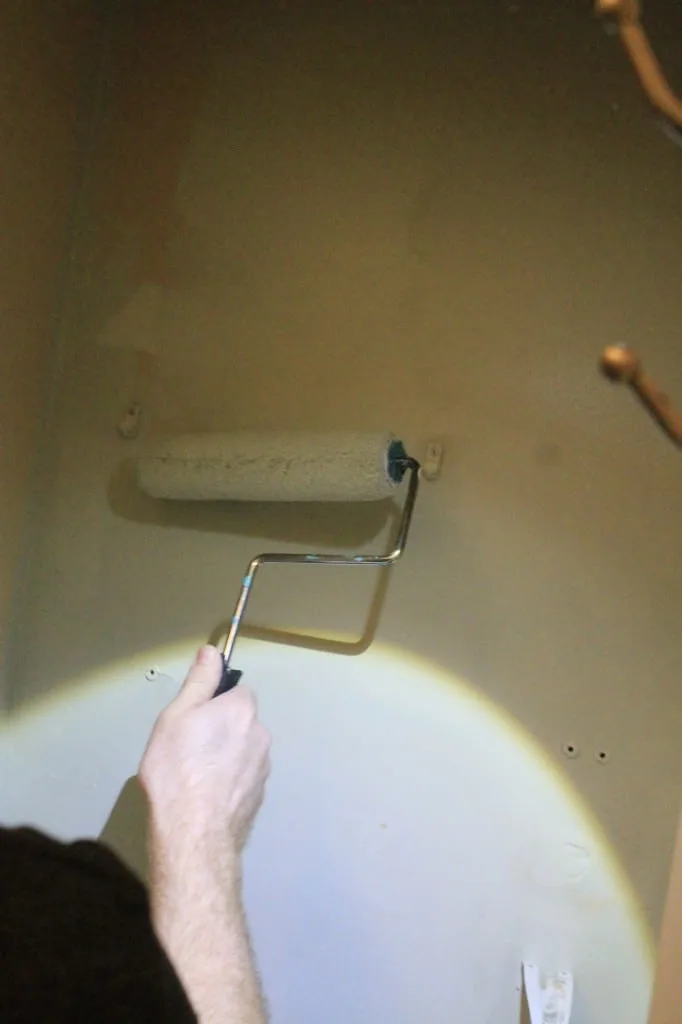 Sean hung the shelves using screws & anchors and then it was up to me to organize. (Pardon the lighting. There's no overhead in here so Sean had his twisty flashlight in action spotlighting the whole show.)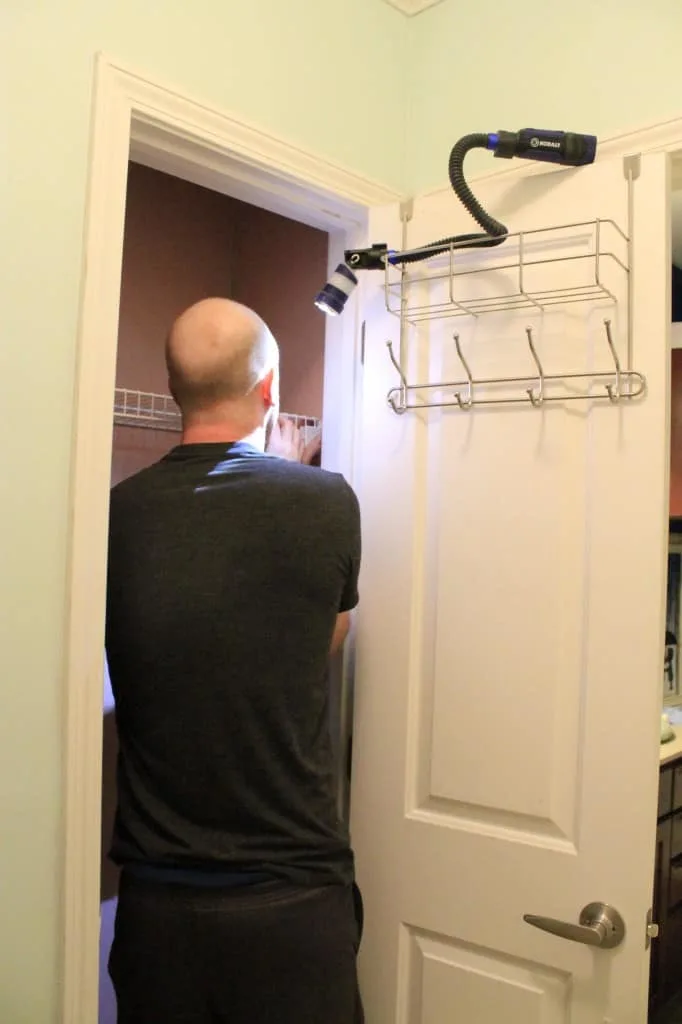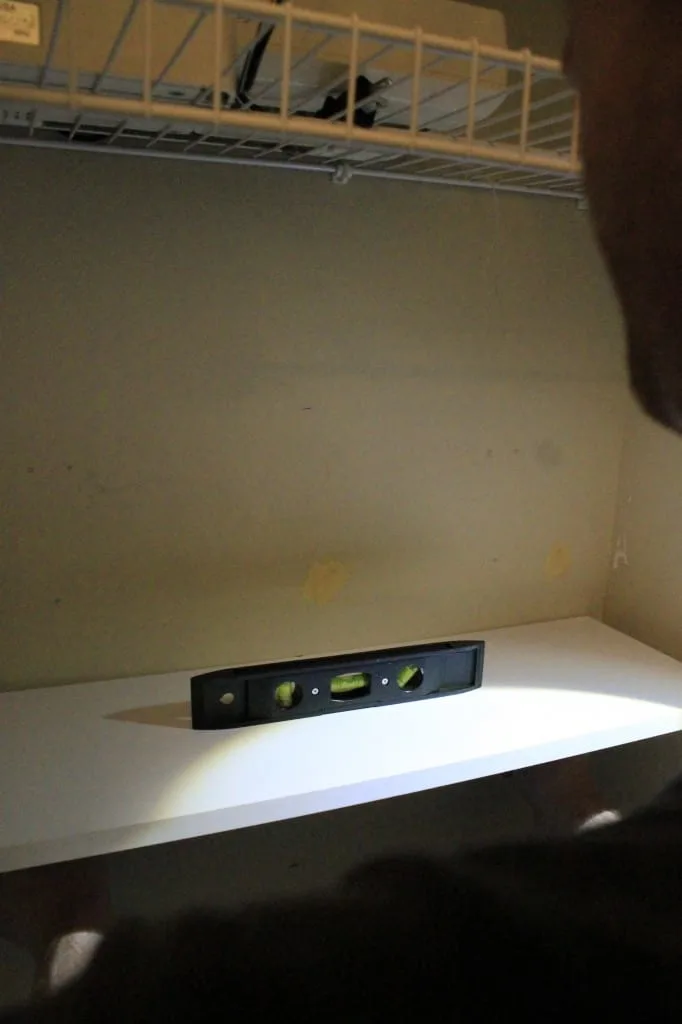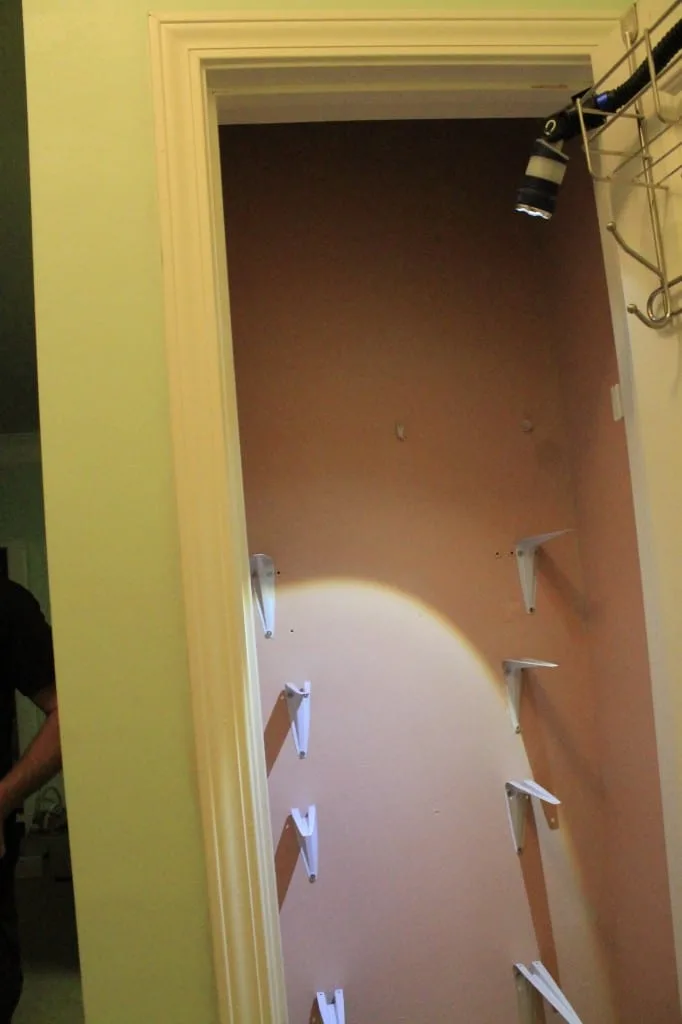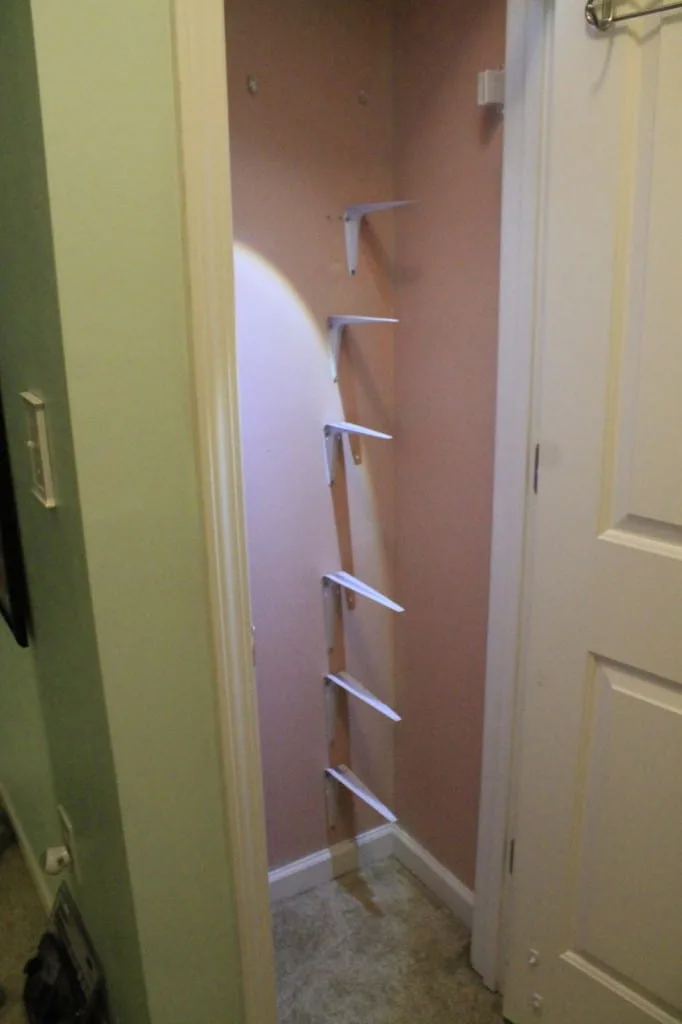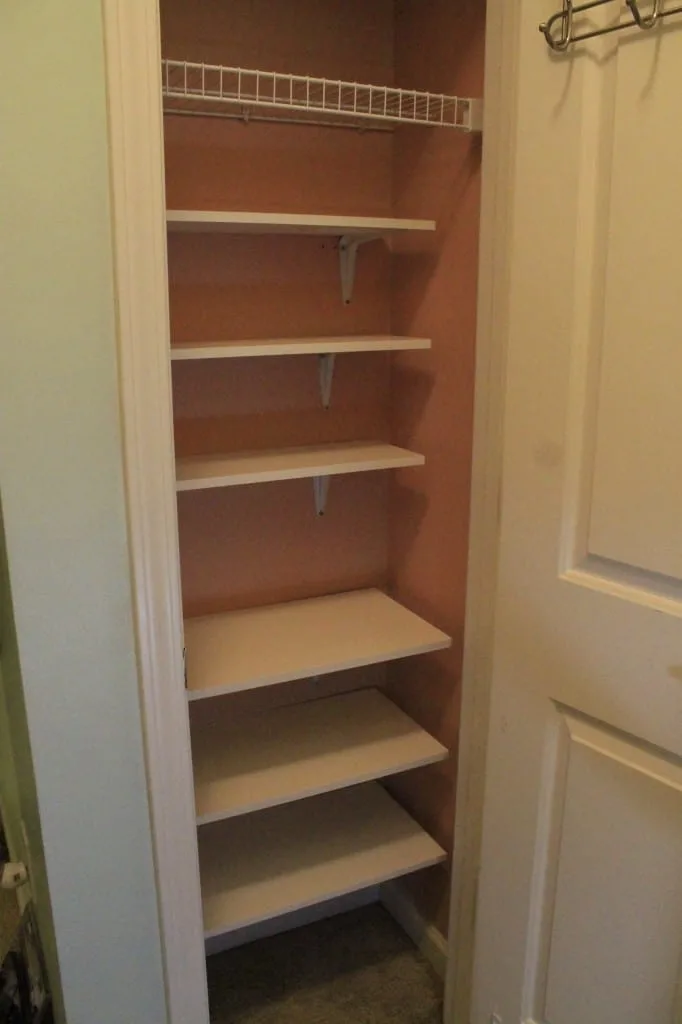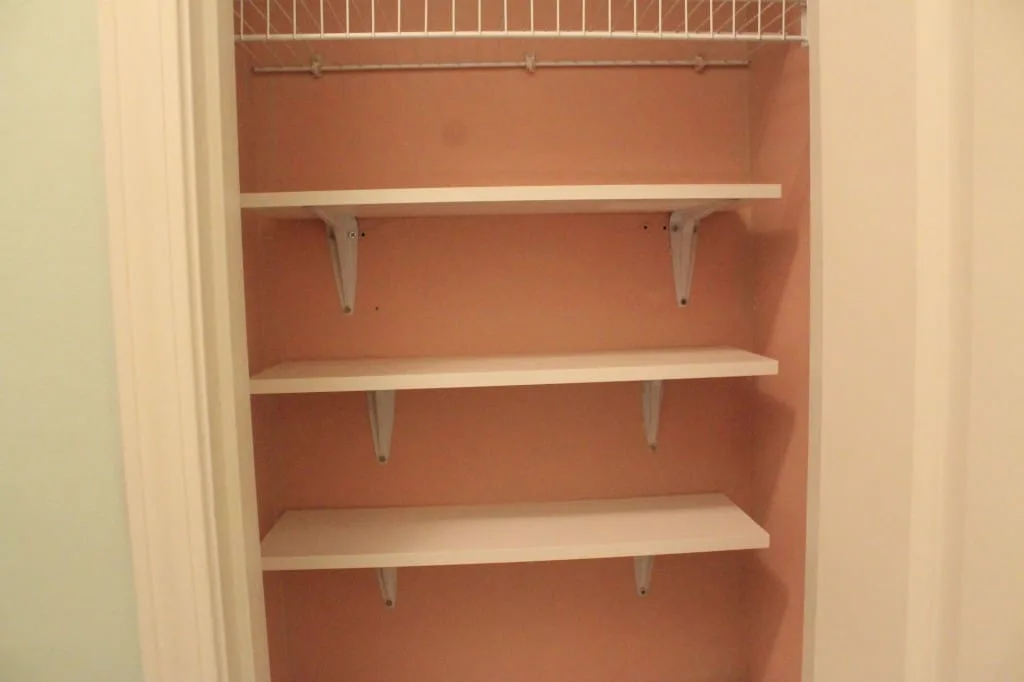 I kept the top (wire) shelf for my sewing machine (which is broken and needs either part replacement or a whole machine replacement before I can use it again.)
Meanwhile, I took everything out of the closet and into the guest room. It was a huge mess. I sorted things into categories of keep, trash, donate. I also went thru my fabric and threw away a lot I had been hoarding. Some of the larger pieces that I knew I would never use I gave to a lady at work who sews, so I felt okay about that.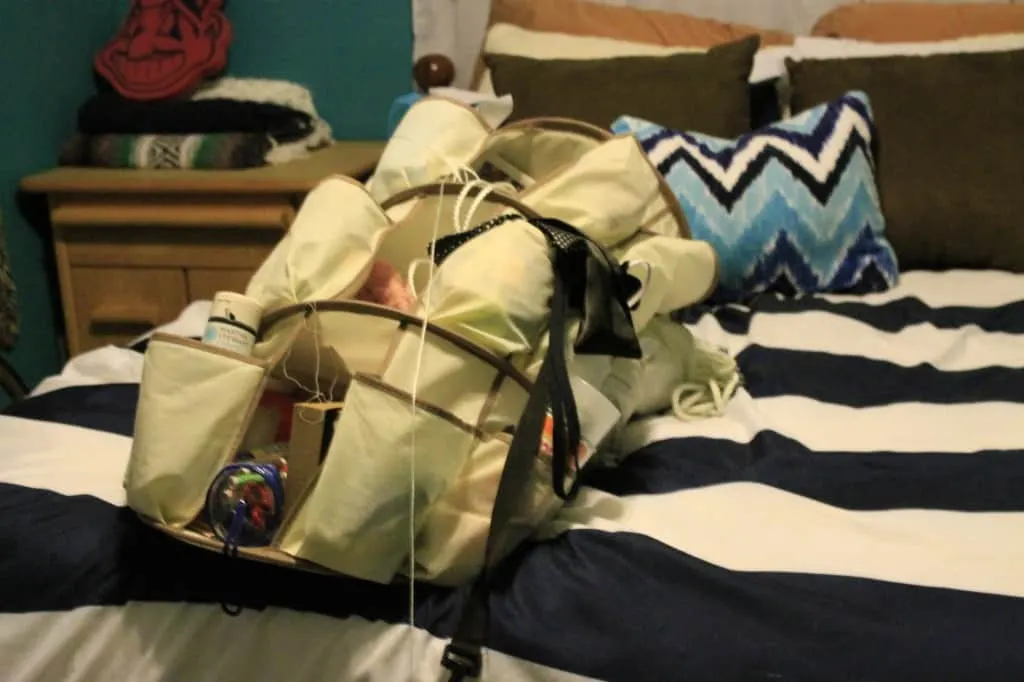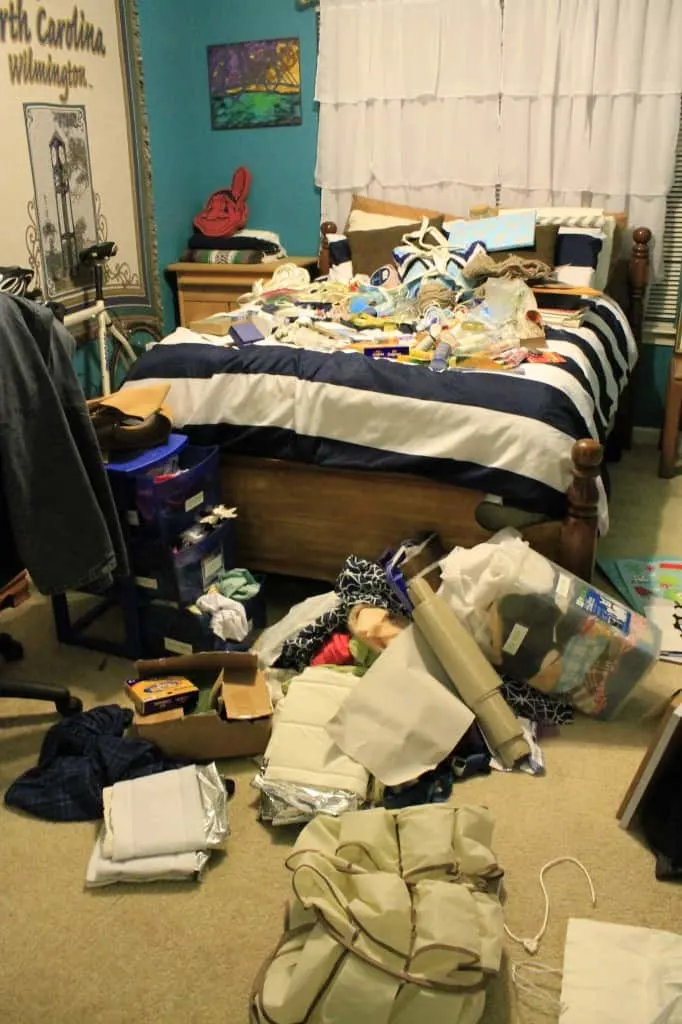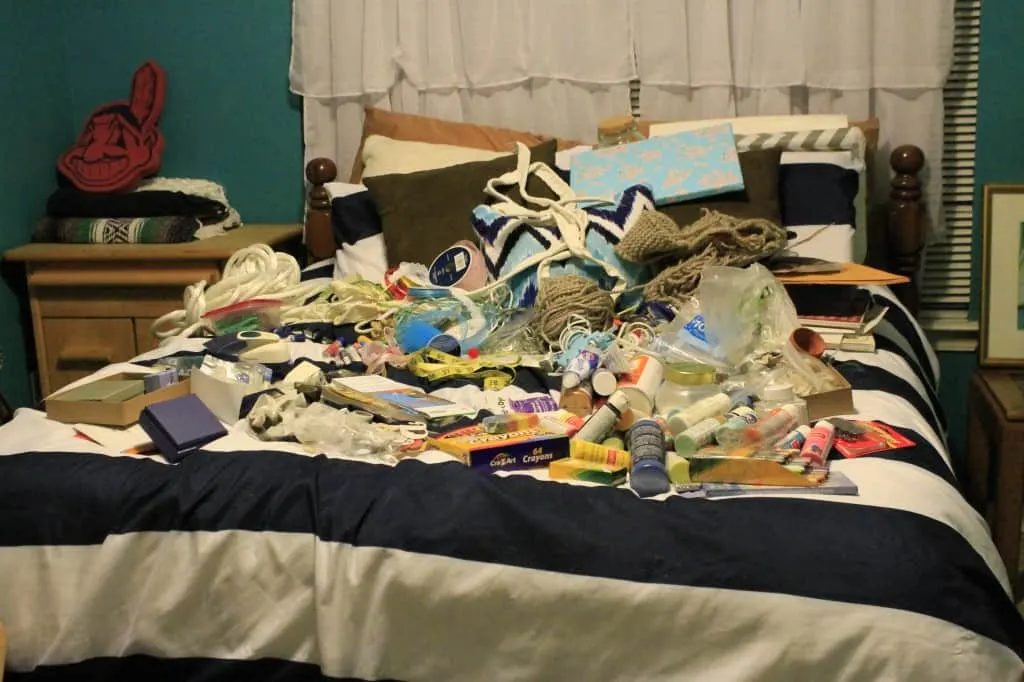 I decided that I wanted a bunch of box containers to sort and store my supplies. However, bins can be really pricey at the store, even at Walmart or Homegoods, so I decided to make my own by wrapping cardboard boxes in giftwrap. I used K cup boxes and boxes from the post office.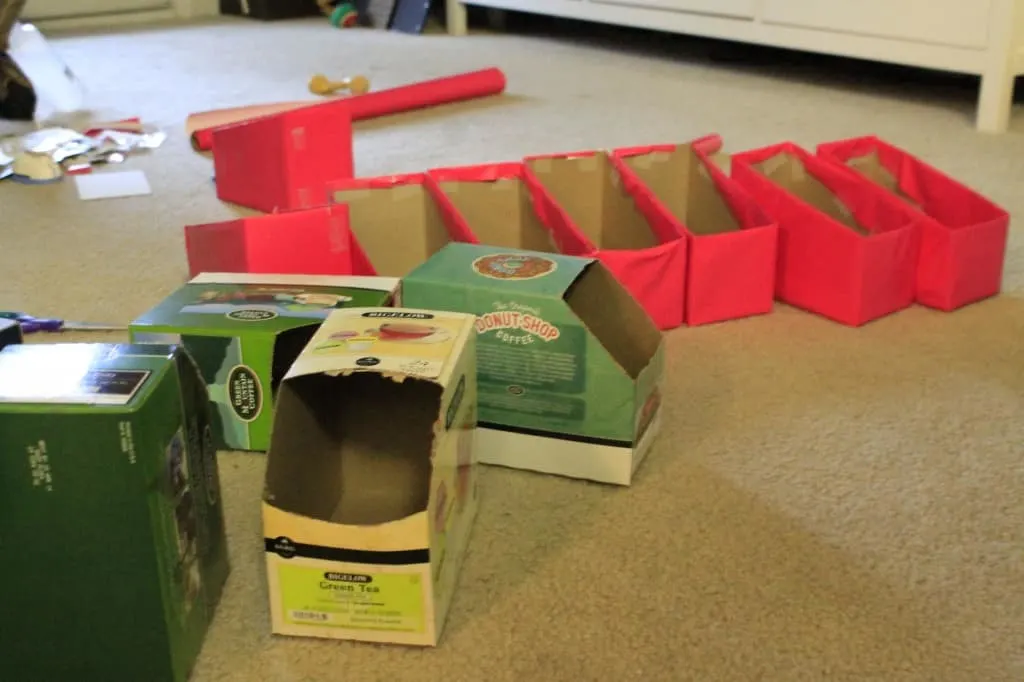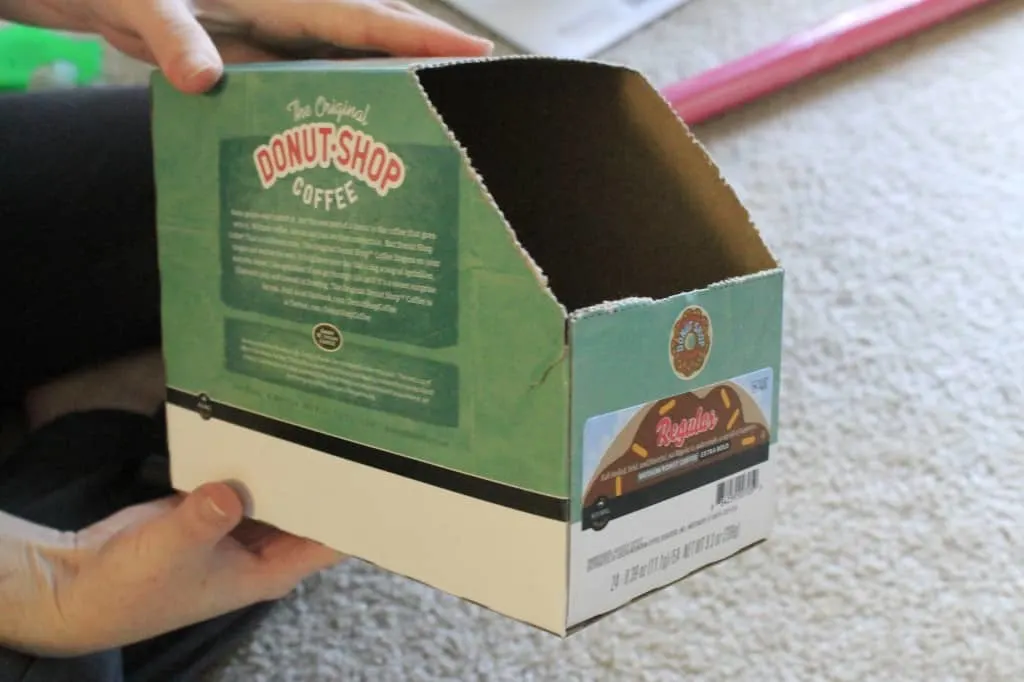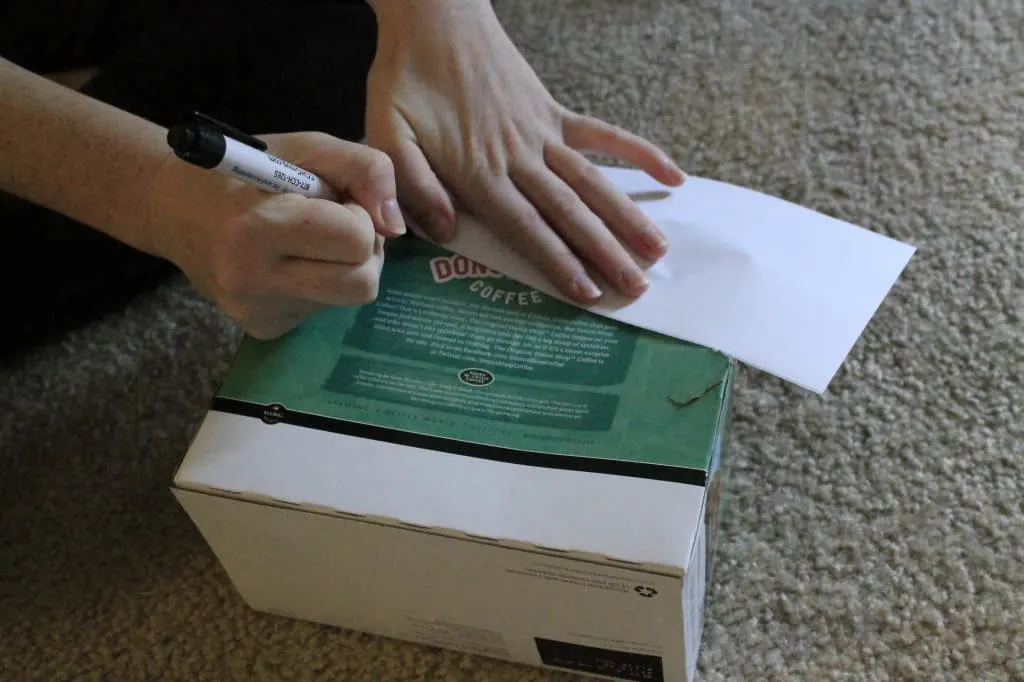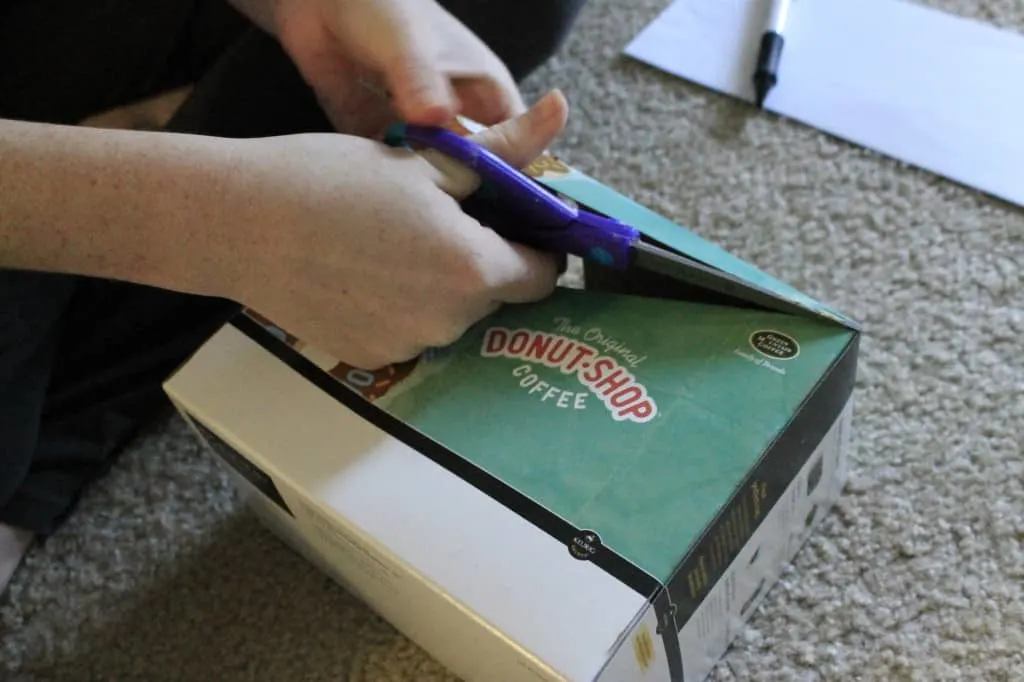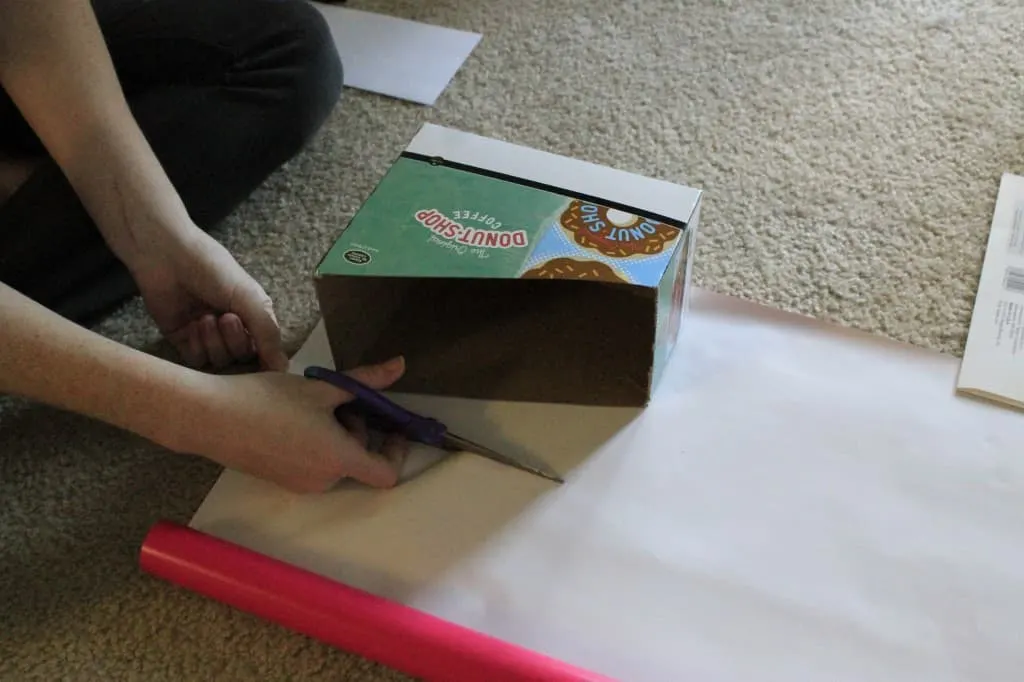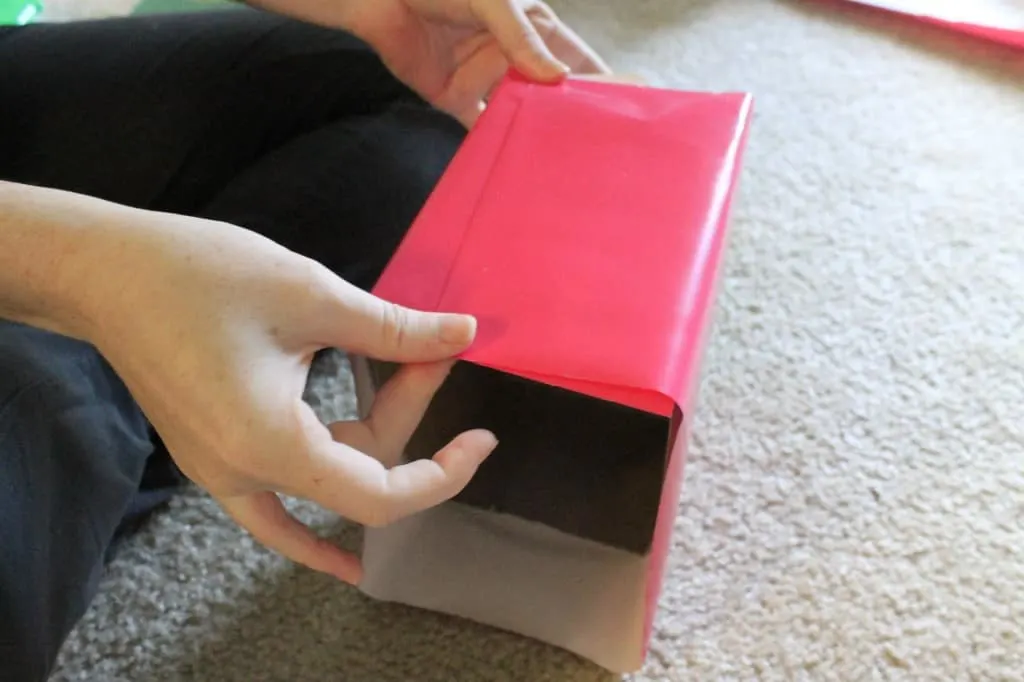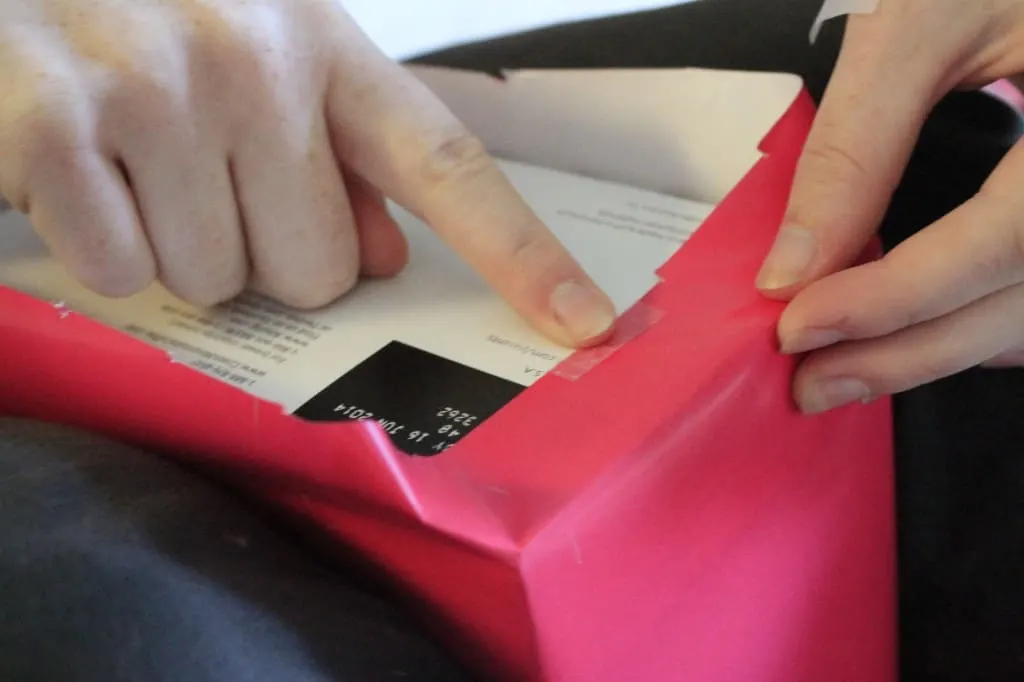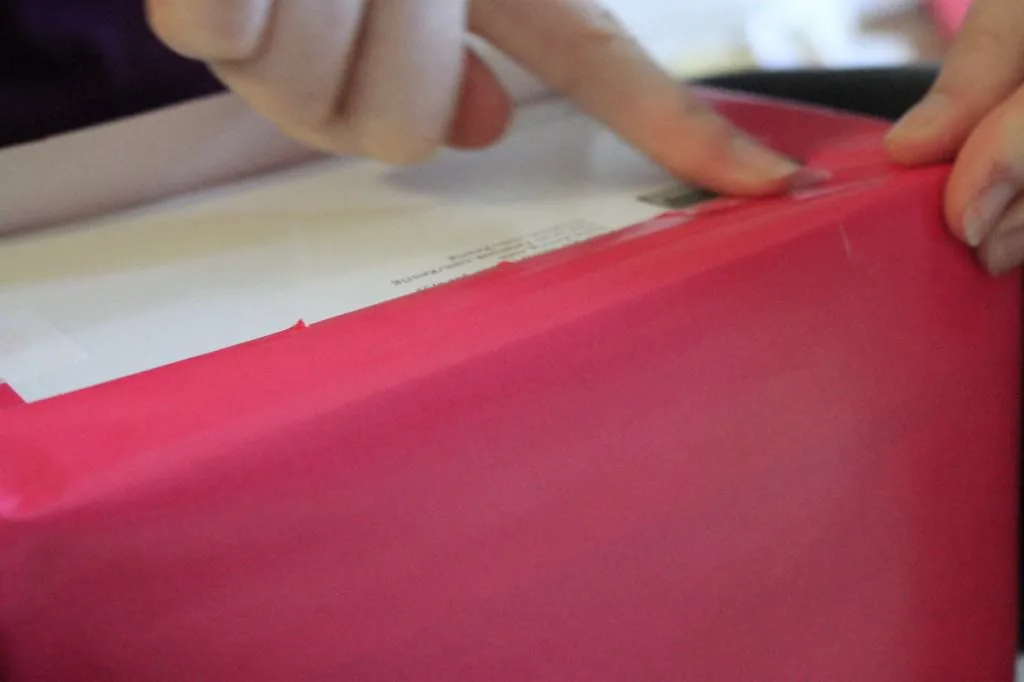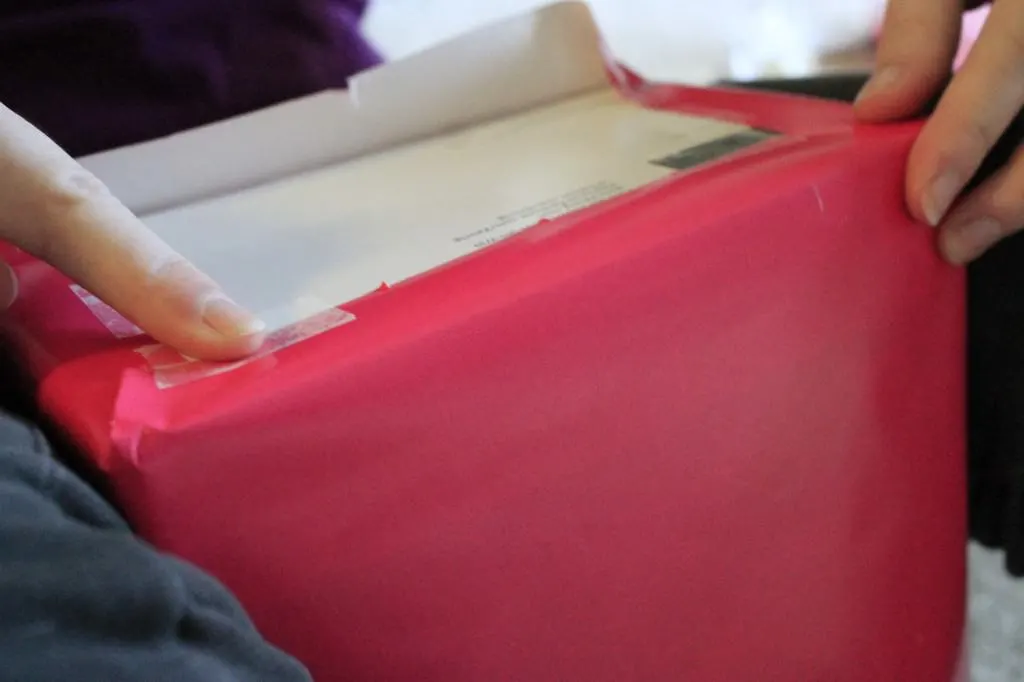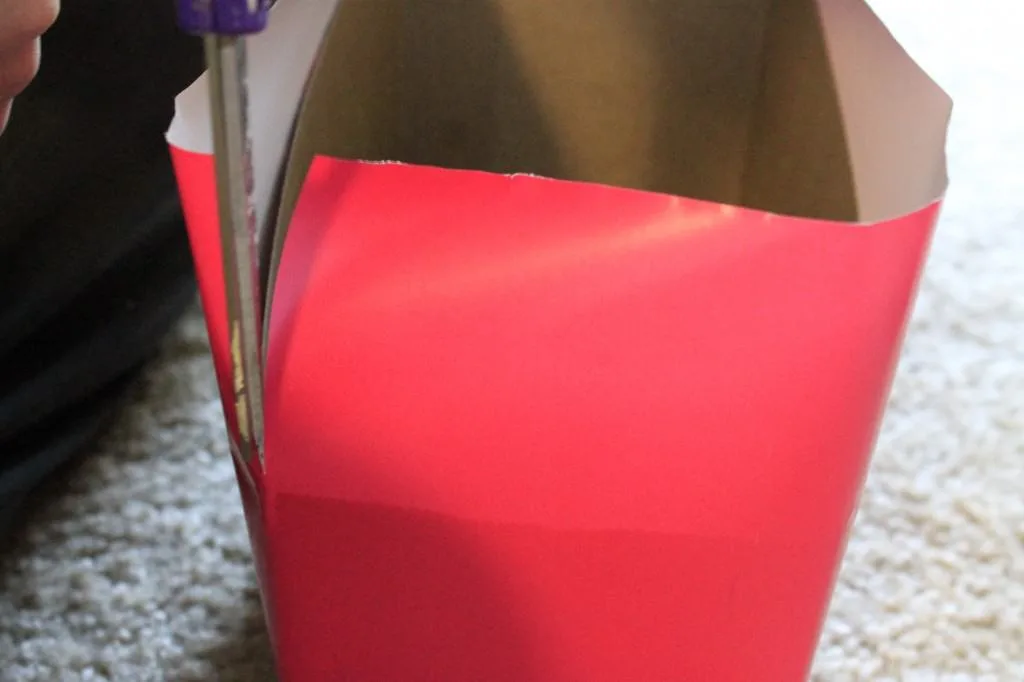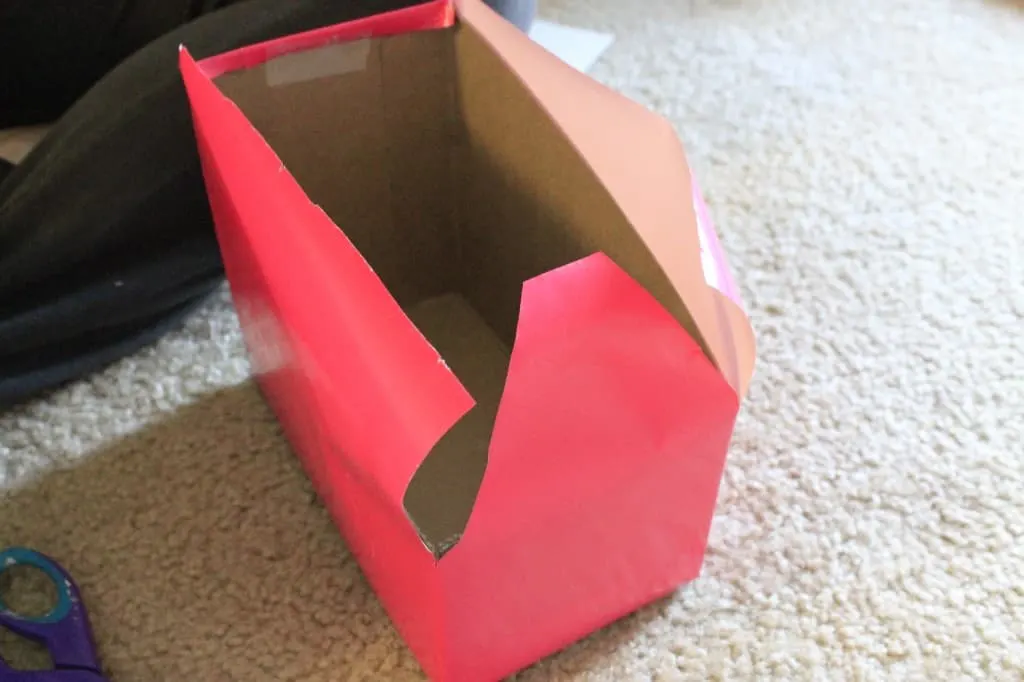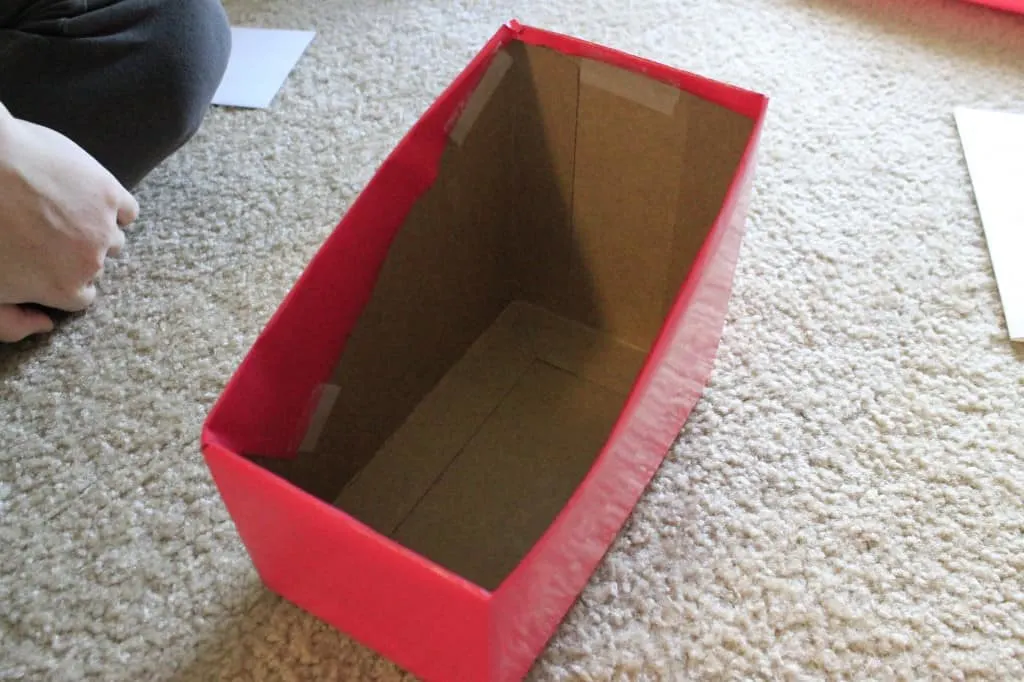 I punched circles out of address labels to label the boxes. I thought about printing labels but wanted to be able to change them quickly if I needed to and knew I wouldn't sit down and print one new label. This time around was all about sustainability.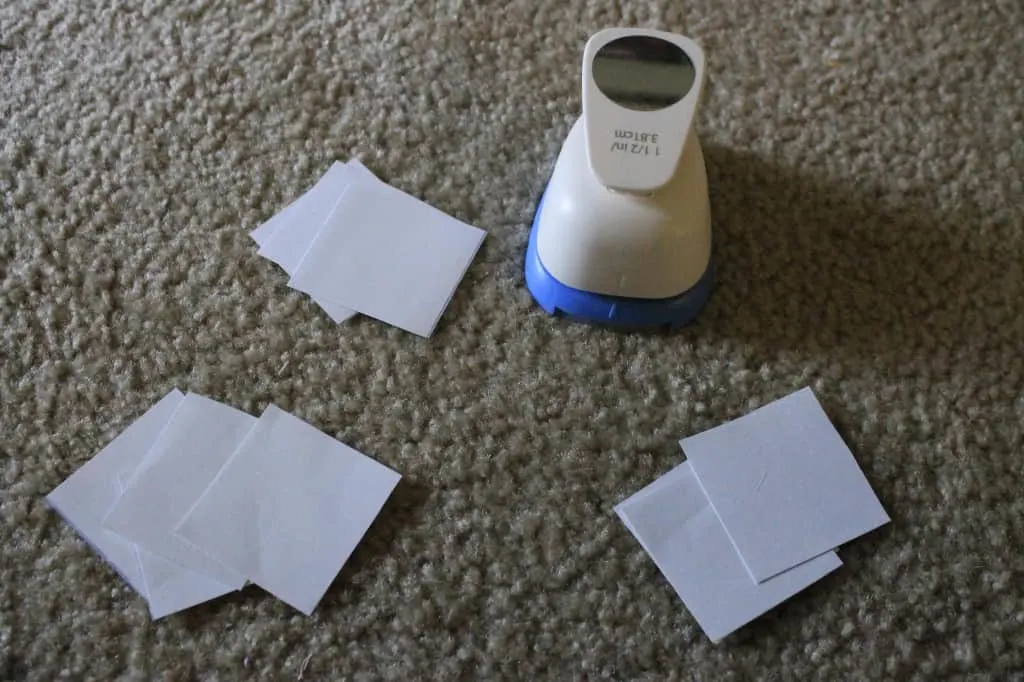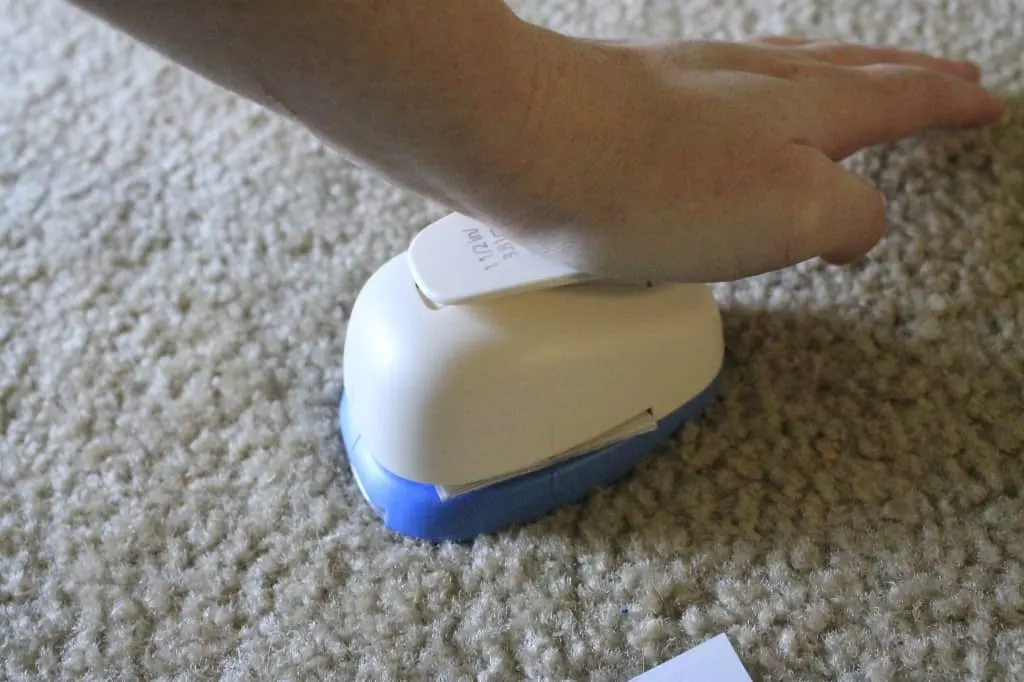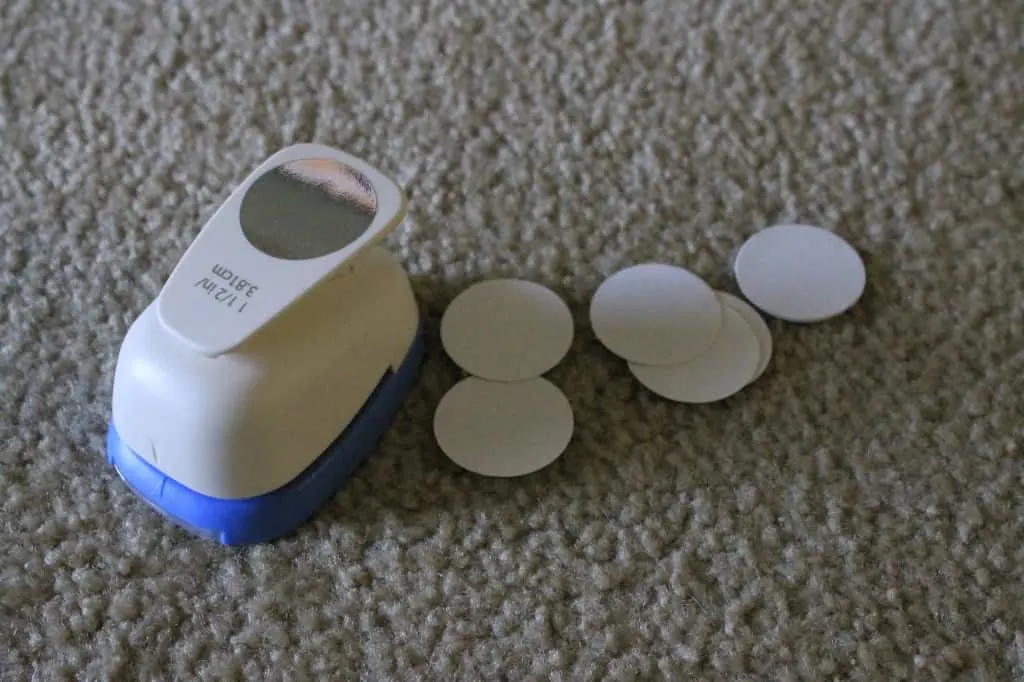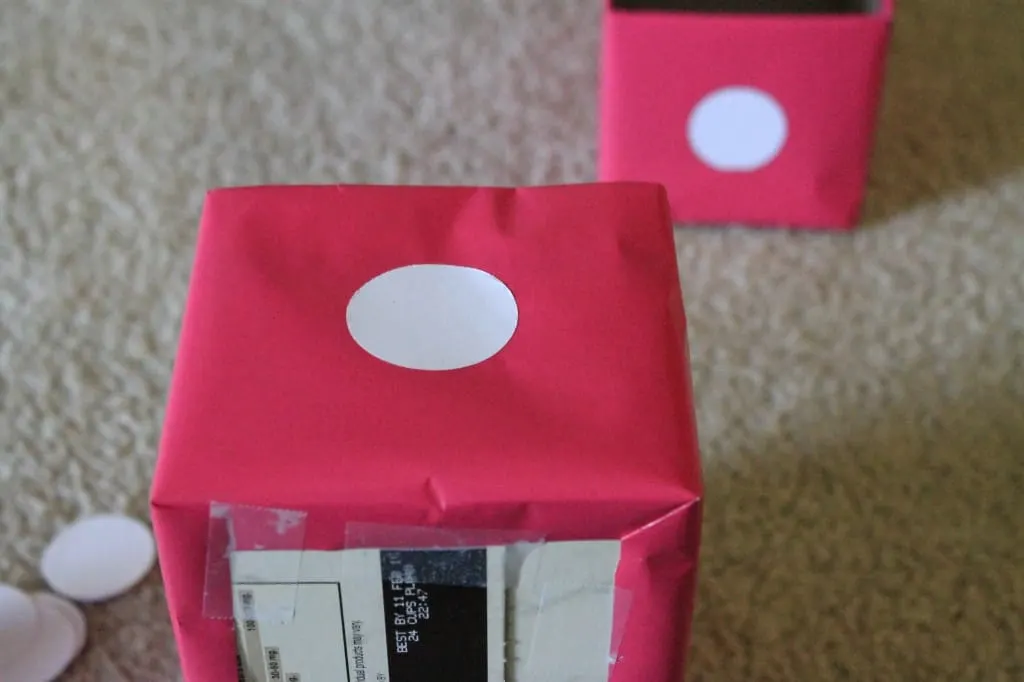 So, here's how it looks all together.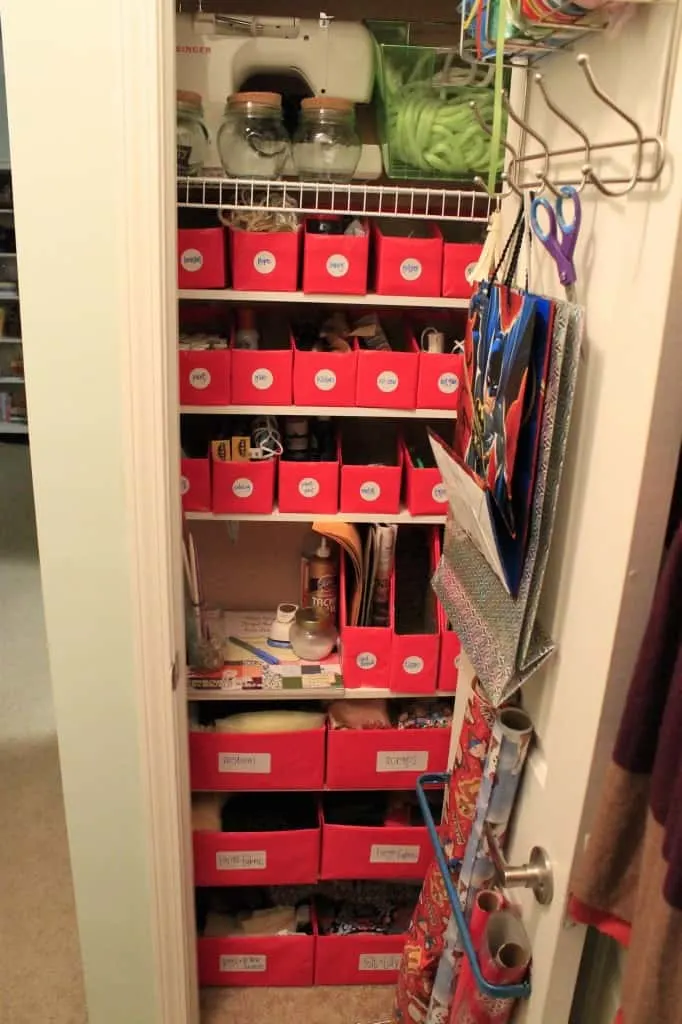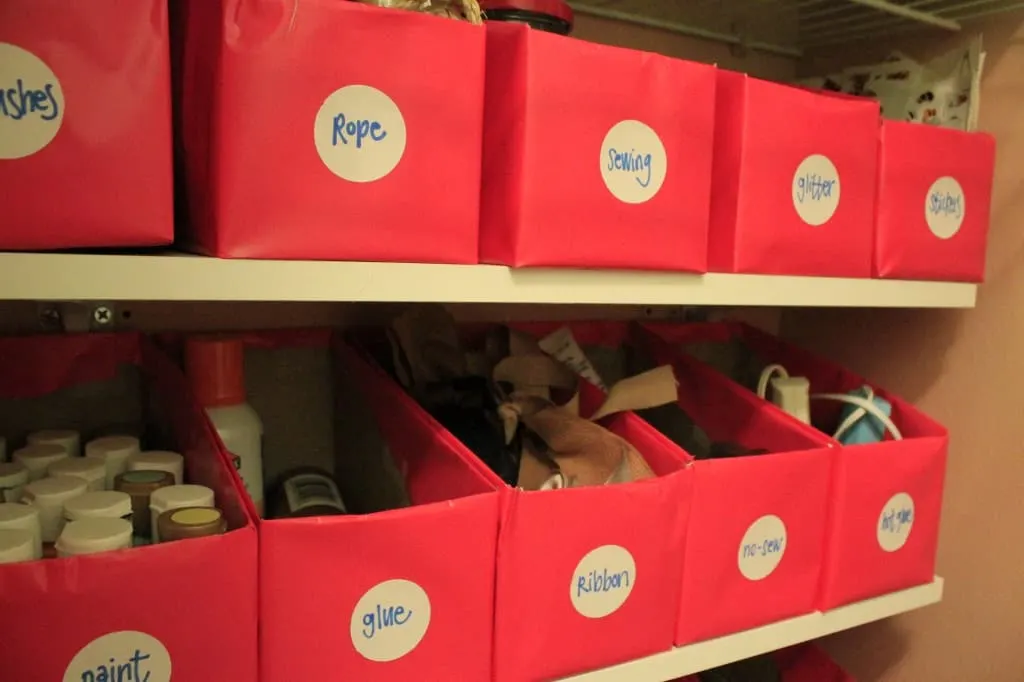 The top 3 shelves below my sewing machine are 6 inches deep and hold my K cups. There are 5 on each shelf or 15 total. I cut the top at an angle, wrapped the box in wrapping paper, and stuck a circle label on the front to keep them very organized.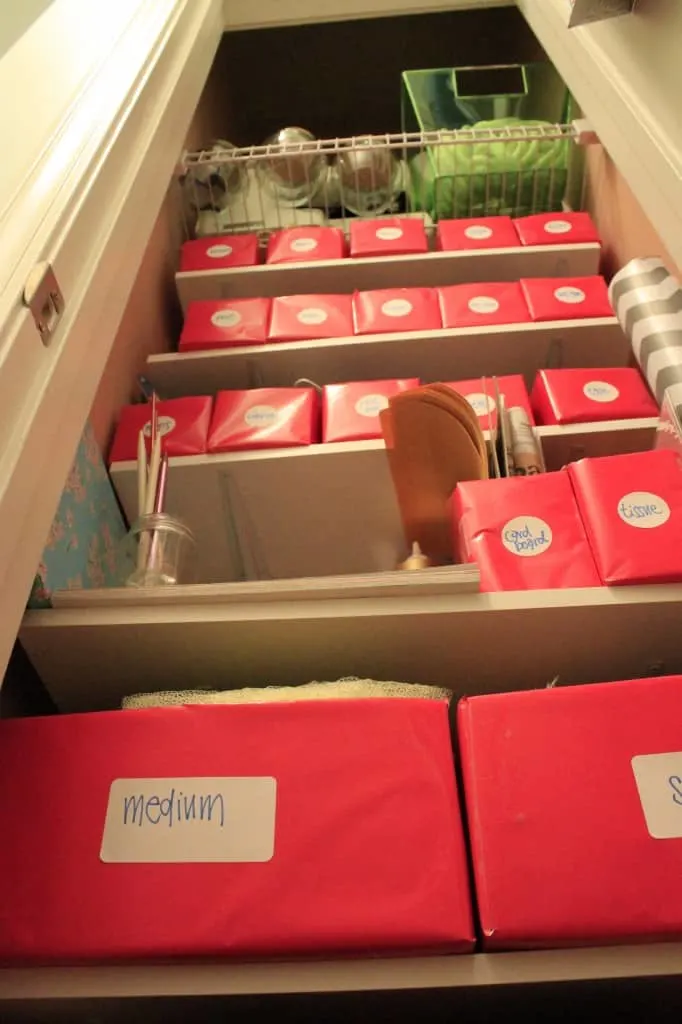 The next shelf has larger magazine type boxes (just larger boxes but and wrapped the same way) and holds a variety of papers. There is even open space for if I get more stuff!
Below that are 3 shelves of fabric. I have a fabric hoarding problem but I don't want to give it up because it comes in handy! However, I forced myself to purge and keep only what would fit in these boxes. I think that's fair. Speaking of, the boxes are large flat rate shipping boxes from the post office, wrapped and labeled.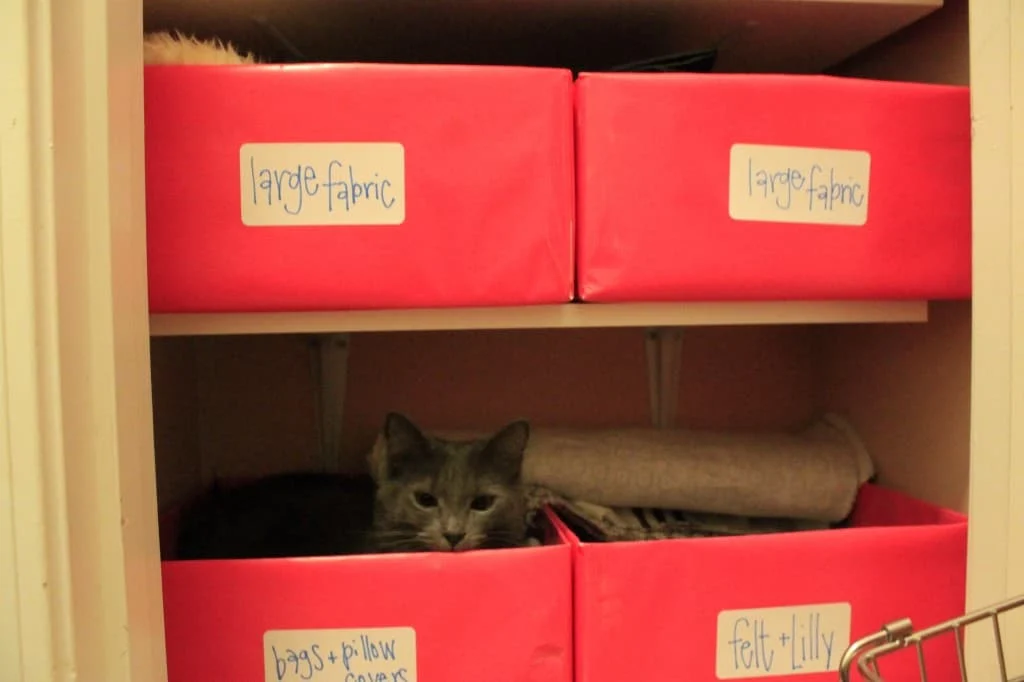 The door storage stays the same – it's our gift wrap and you can read about that here!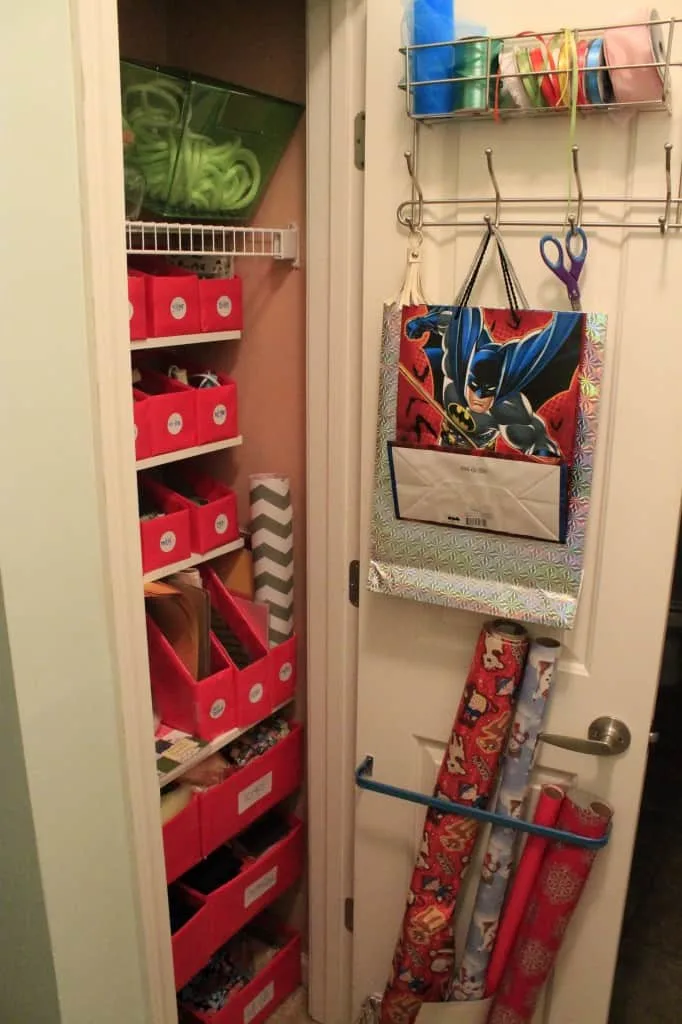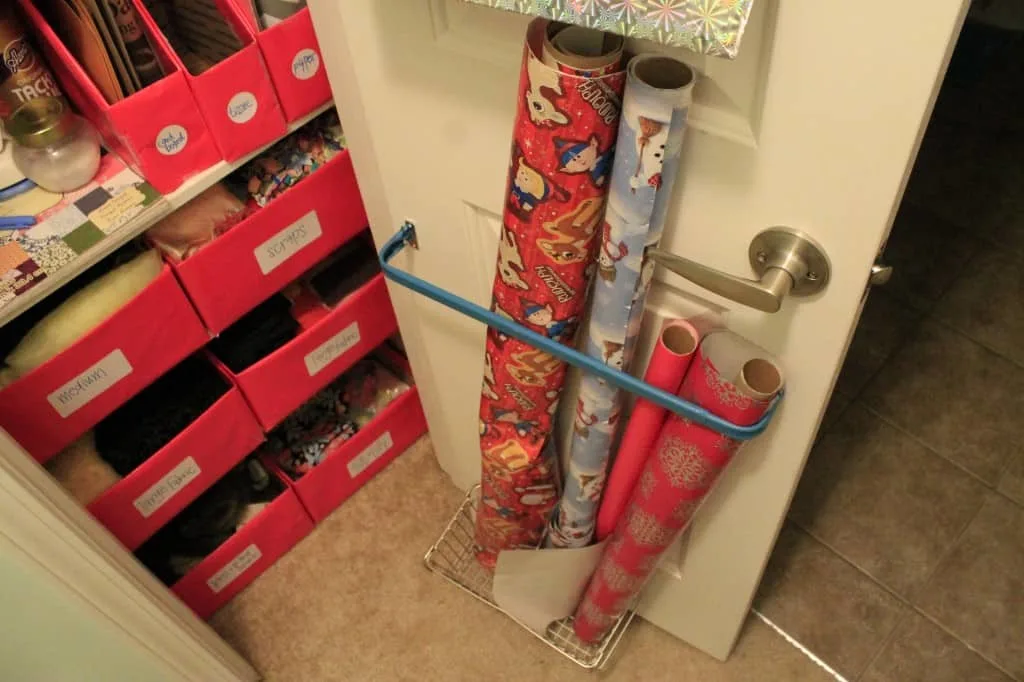 I am so in love with this room now because it is 1) pink and 2) so organized. It is SO easy to find things and also put things away. If I am working with a type of supply, I can take the whole box into the kitchen with me and then take it back easily. Easy is king of storage! Plus, the storage containers were free, I spent less than $10 on the gift wrap and already had the labels, we used paint we already had, and spent less than $100 on the shelving, brackets, and a huge box of fancy anchored screws that we will use for many more projects. I am so pleased with how this turned out!
Have you done any organizing lately?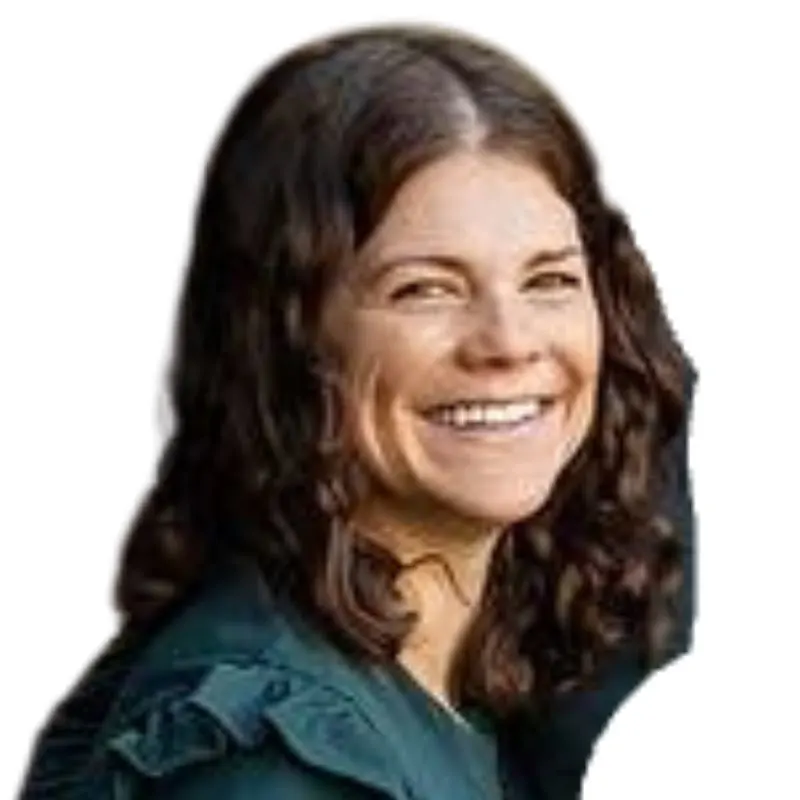 Hello, I'm Morgan, half of the creative force behind CharlestonCrafted.com! With a passion for DIY that dates back to 2012, I've transformed three homes and now I'm dedicated to helping others craft their dream spaces. Let's turn your house into a home together!