We added a custom DIY butcher block shelving unit in our home office as a statement piece for our built-ins. Check out how you can make one of these yourself!
We recently shared with you how we made DIY home office built-ins using unfinished cabinets and butcher block for the desk surface.
This project turned out beautiful and was one of the coolest things we've ever done.
When we were first planning out our home office design plan, we were planning to do long floating shelves between the cabinets, like the simple DIY floating shelves we hung in our guest bedroom.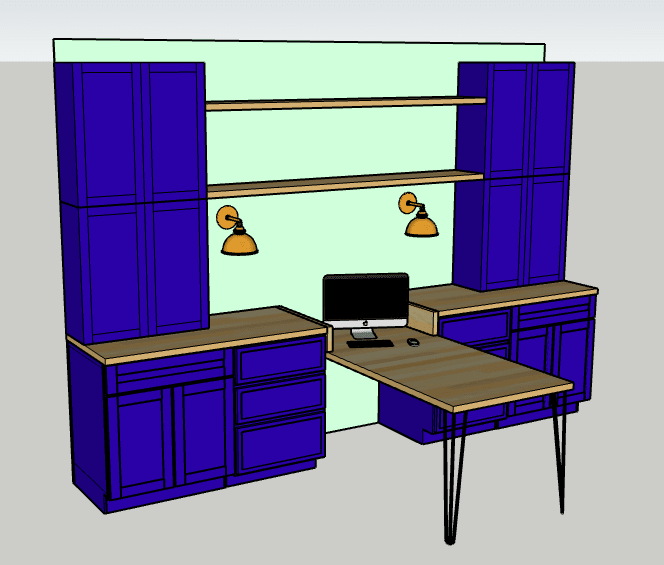 However, when we first installed the cabinets, the space in between seemed way too long for floating shelves. So, we came up with another design and created a butcher block shelving unit that would go in between the cabinets and tie into the desk below.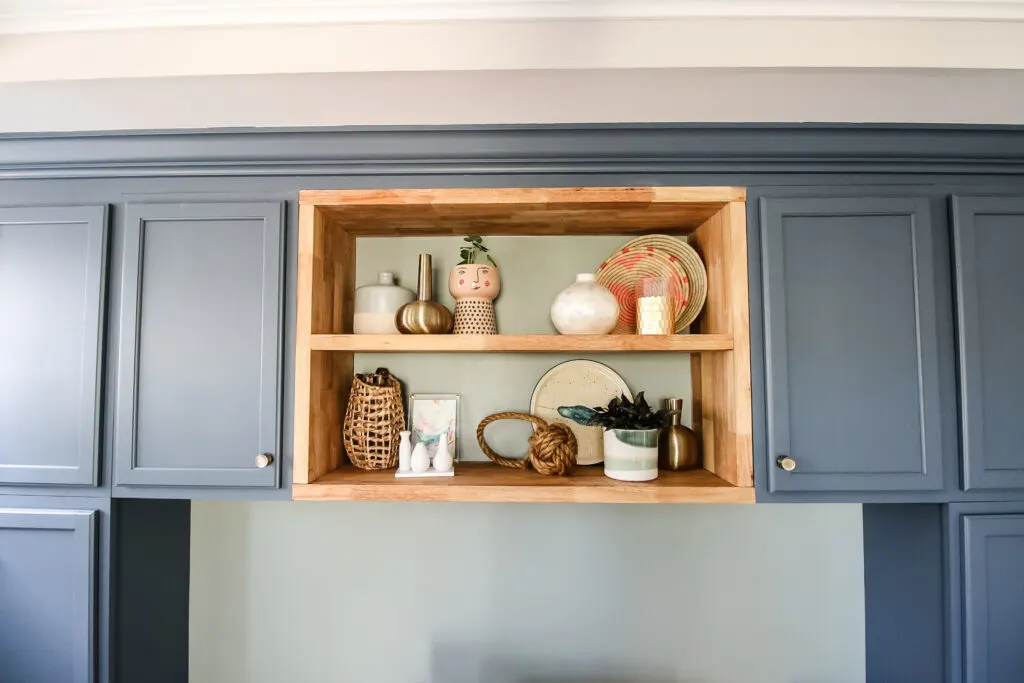 This turned out to be an AMAZING decision and it looks so good. We wanted to share with you how we built these DIY butcher block floating shelves and how you can make something similar for your home!
DIY butcher block shelving unit
Our DIY butcher block shelving unit is a great option for hanging on the wall OR would look great with some mini hairpin legs as a stand-alone bookshelf in your office!
This shelving unit can be made with cut off pieces of butcher block or cut down one big piece. It's also completely customizable for your space if you need it to be bigger or smaller.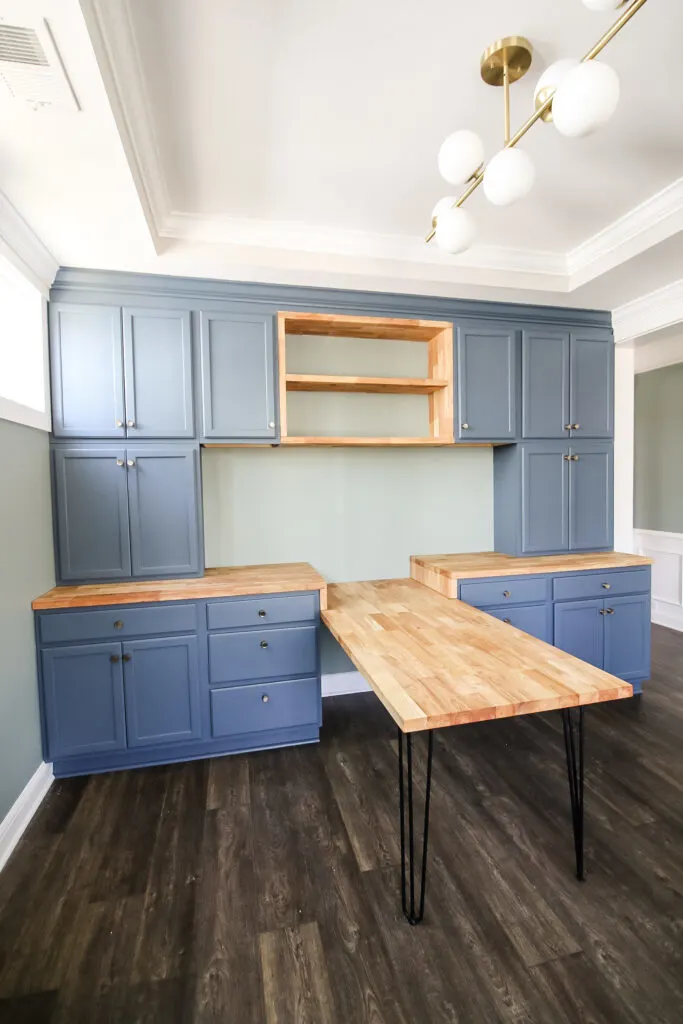 We customized ours to be 12″ deep to match with the upper wall cabinets we hung in the home office and it's a great depth for decor or books.
Check out how we used butcher block as a bench for our DIY built-in mudroom lockers!
Can you use butcher block for shelves?
You can absolutely use butcher block for shelves. Butcher block can be turned into a floating shelf unit like ours, or it it can be used as single pieces.
If using single pieces of butcher block to make straight shelves, we'd recommend using some bar floating shelf brackets like we did when we added a curly maple mantel to our shiplap fireplace.
Remember that butcher block is 1 1/2″ thick and is heavy, so you want it to be secure.
Check out how we used butcher block for an accent shelf in our pantry expansion!
How to build a butcher block shelf
Here's how we built our DIY butcher block shelving unit. The dimensions of ours are 12″ deep, 30″ tall and 43 1/2″ wide.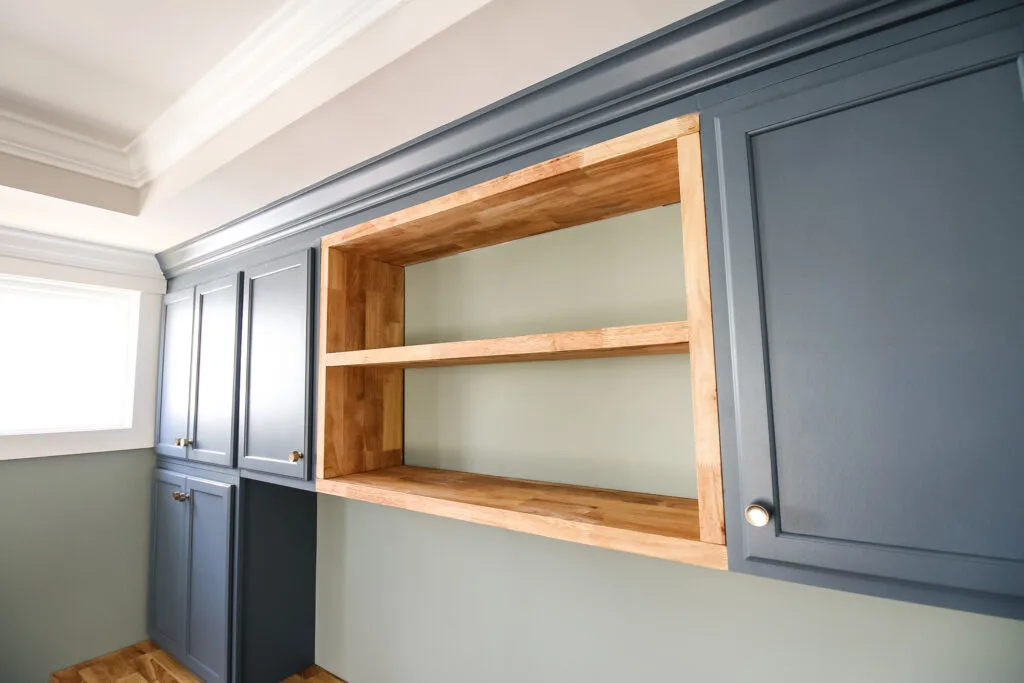 This shelving unit is beautiful, but super heavy. Know going into this that you may need help moving it and definitely will need help installing it on the wall.
Start by making your cuts. All of your butcher block is 1 1/2″ thick and will need to be 12″ wide then make the following cuts:
(2) Top and bottom- 43 1/2″
(2) Sides- 27″
(1) Center- 40 1/2″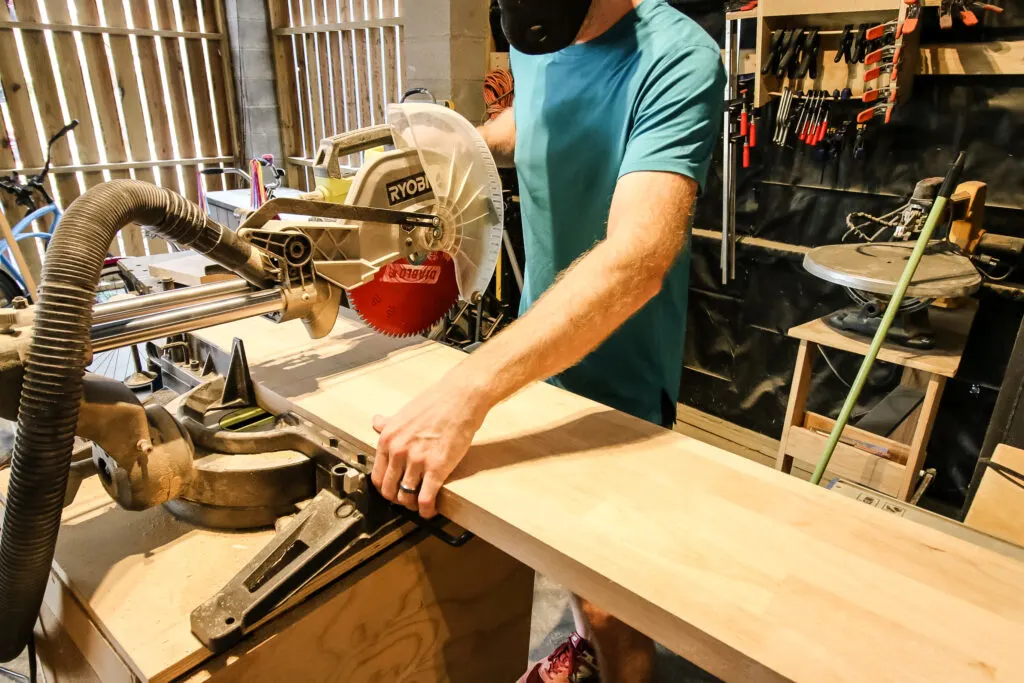 Sand everything smooth and round the edges. Then, drill pocket holes on each end of the sides.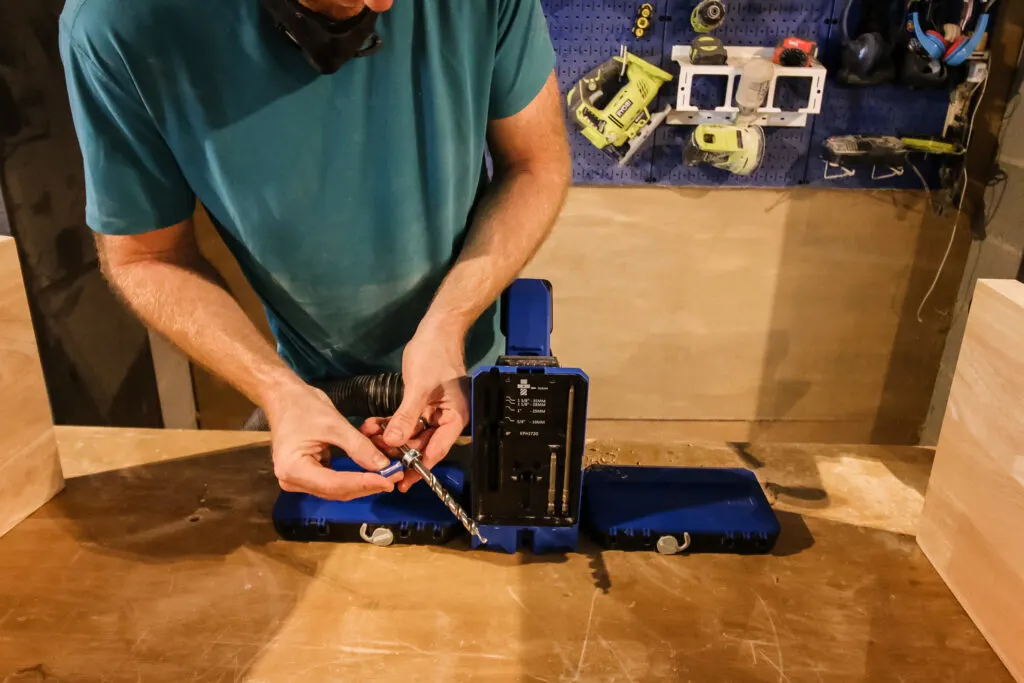 We used our Kreg 720 Pro to drill three pocket holes in the two ends of the side pieces. The Kreg 720 base was very sturdy for these very heavy and large pieces.
Click here to check our our full Kreg 720 Pro review!
We were trying to make sure there were no pocket holes visible in our our built, so we didn't do pocket holes on the center shelf, but if you aren't going to be covering the sides like we did, you probably want to do pocket holes on this shelf too.
With everything cut and sanded, it is time to assemble! We assembled our shelves with the pocket holes on the OUTSIDE of the shelving unit because those sides would be covered by the cabinets the shelves would be between.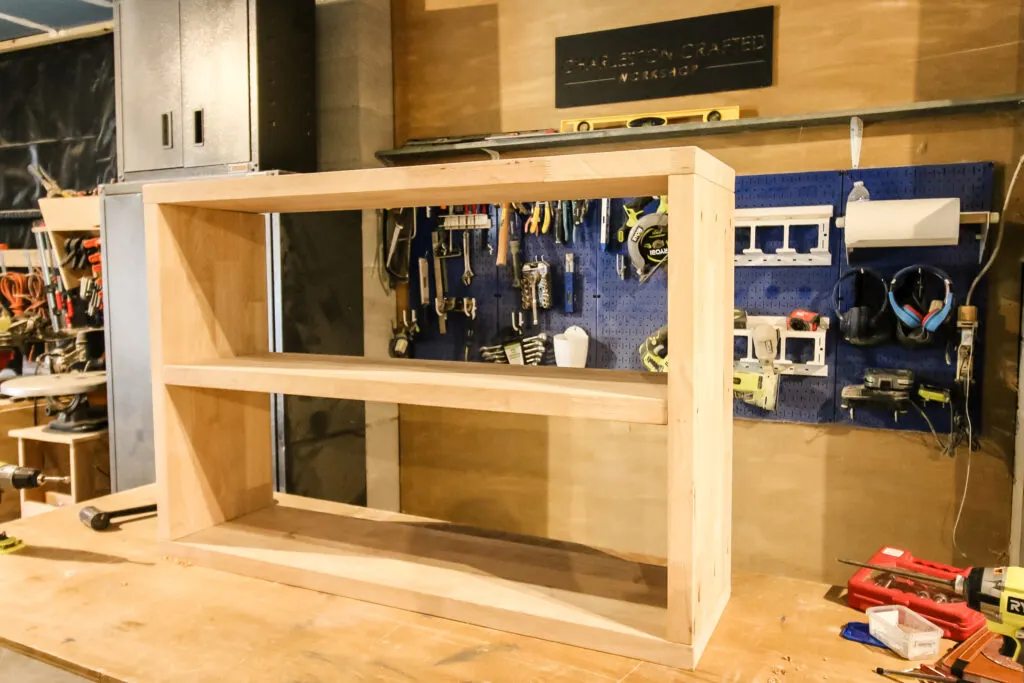 The best bet was to attach the bottom to the two sides first, then attach the top to the sides. Both of these are attached with wood glue and 2 1/2″ pocket hole screws.
Then we centered the middle shelf and attached it with wood glue and screws coming from the outside, again because those sides would be covered.
Once the shelf was assembled, we coated it in tung oil to bring out the color and keep it protected.
Check out our test of six different natural sealant options!
How to hang butcher block shelves
When installing any type of open shelving, you want to make sure it is very secure. You can add floating shelf brackets, but this butcher block shelf was too heavy for that.
For our butcher block floating shelf brackets, we actually used a professional level 30″ French cleat that holds up to 300 pounds. I'm telling you, this is heavy and the bracket is heavy duty.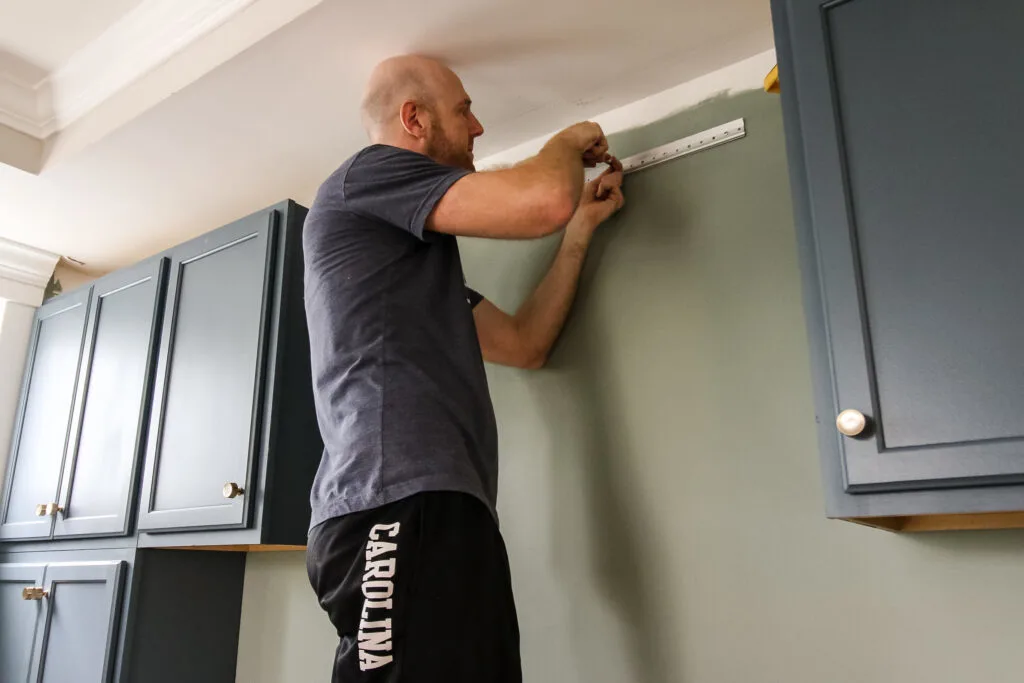 The cleat is installed in two pieces, one on the wall and one on the shelf. One key point with this French cleat is to make sure you install the screws with just a screwdriver, not a drill. It says that in the instructions and I didn't listen with the first one and needed to redo it.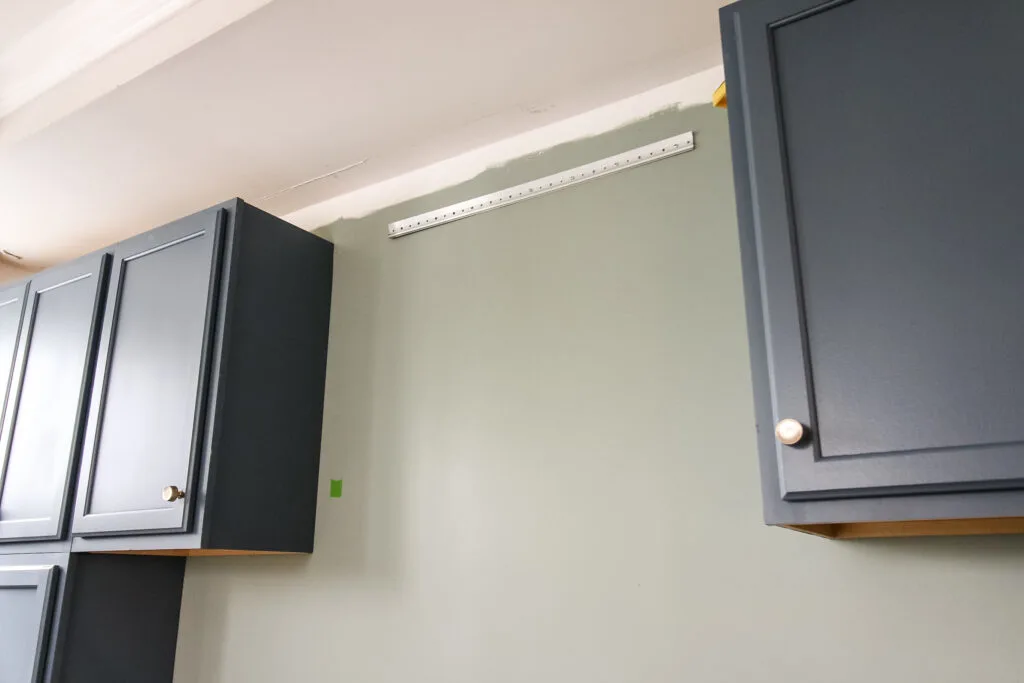 Install the French cleat into studs if possible and the rest into drywall. Then, install the other half onto the top piece on the butcher block shelves.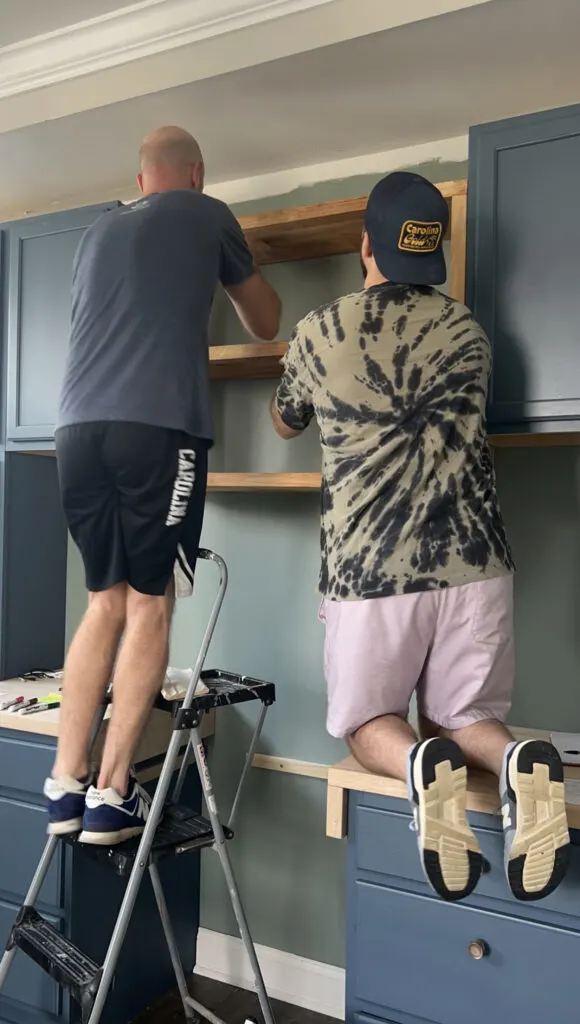 Finally, grab a friend and hang the shelves on the wall by hooking the French cleat together.
DIY butcher block shelves
We absolutely love how this butcher block floating shelves DIY project came together!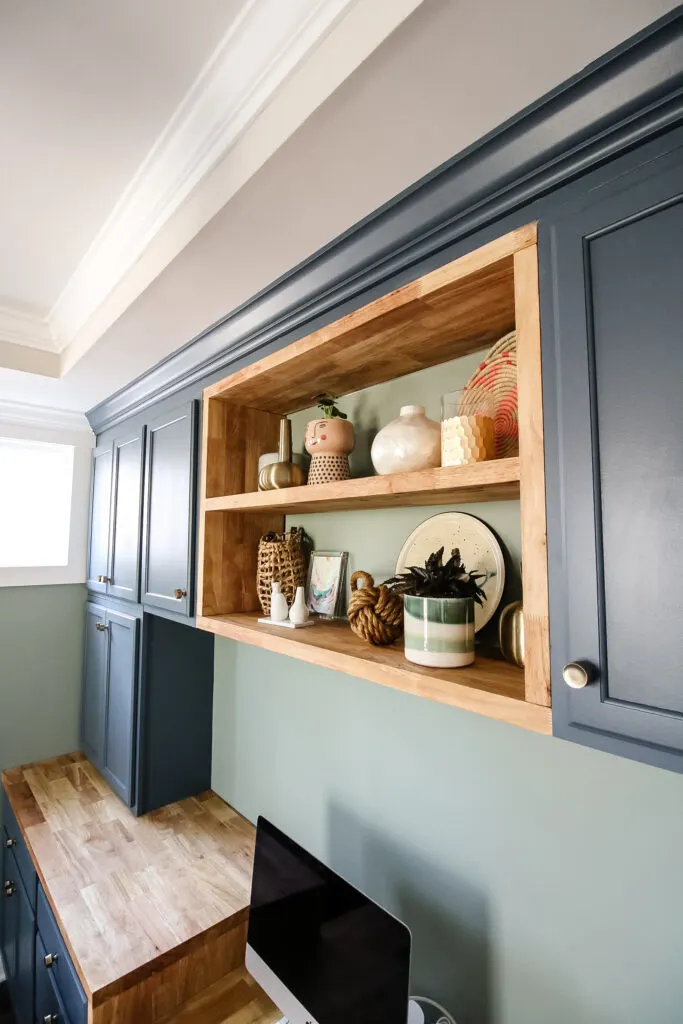 After styling the shelves with some items we already had on hand, it really pulled the entire space together.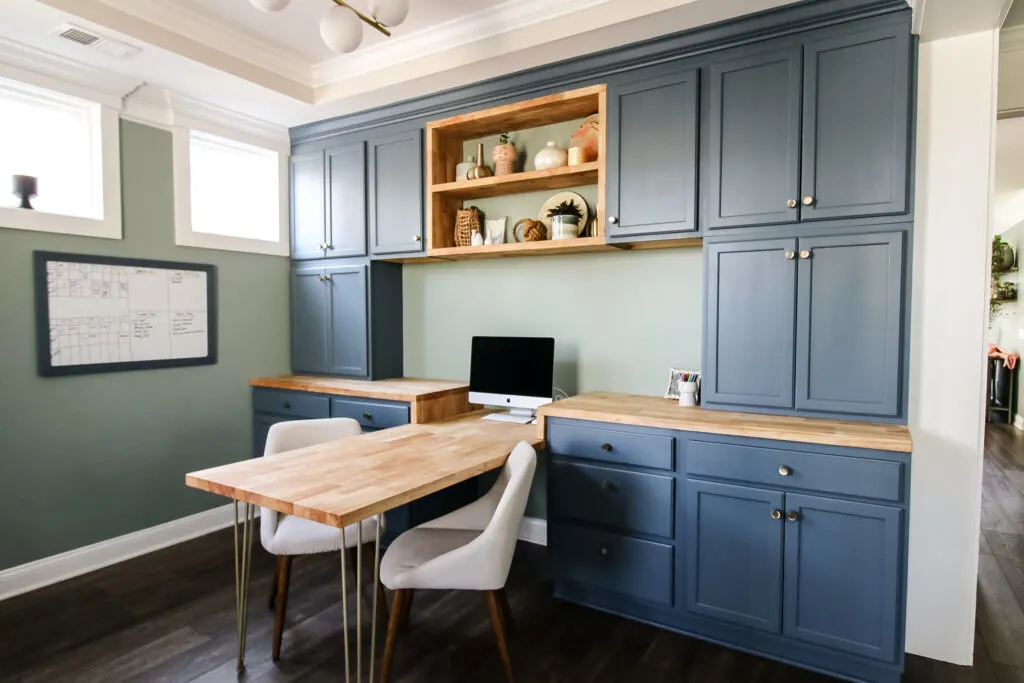 This is a different type of open shelving that is a great option if you have butcher block countertops in your kitchen or anywhere else to tie to and it's a much cheaper option than using live edge wood shelves.
What is the downside of using butcher block countertops for shelves?
The downside of using butcher block countertops for shelves is that they are very heavy. You need to have heavy duty brackets to hold them in place.
Also, butcher block is more expensive than something like plywood, so you have to account for that cost, but it is more beautiful.