We transformed our builder grade bedroom closet into a custom walk in closet design! Check out our DIY walk-in closet makeover reveal!
If you've been following us for a while, you know that we prioritize making sure our closets are custom built. The big reason for this is because it maximizes storage options.
When you walk into a closet, whether a bedroom or linen closet, and see that single builder-grade wire shelf, you know you can make a big difference.
A couple weeks ago, we finished our long weekend bathroom makeover and turned the attached linen closet into Sean's clothes closet. It's a huge closet and technically you can walk into it too, so he's fine.
That left us with the ensuite walk-in closet that had a single wire shelf in an L-shape on two walls. This was the perfect opportunity to completely make over our walk-in closet with custom built-ins to get exactly what we needed!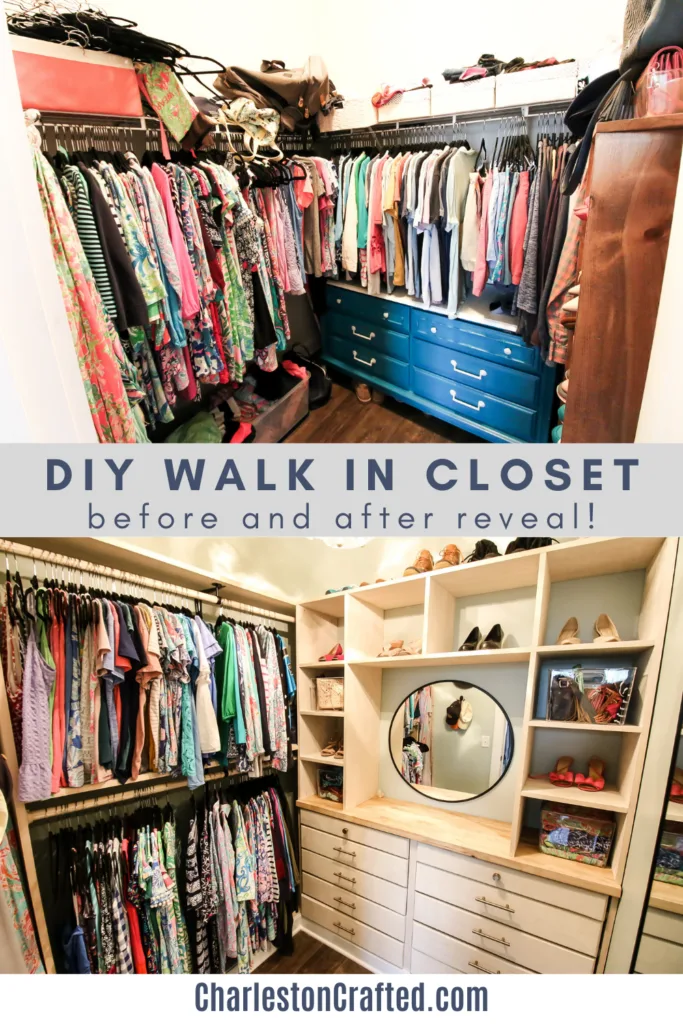 This post will show you how we did custom built-ins and some of the accessories we used to make our DIY walk-in closet a perfect space for what we needed.
DIY Walk-in Closet Makeover
Here's how we took our builder-grade walk-in closet and turned it into a custom space with tons of storage and accessories.
DIY Walk-in Closet Before
This closet started out with one wire shelf/rod combo that covered two walls.
When we first moved in, we added a shoe shelf (from our old house) and a few hanging hooks and racks. We also had a dresser in there under one set of rods.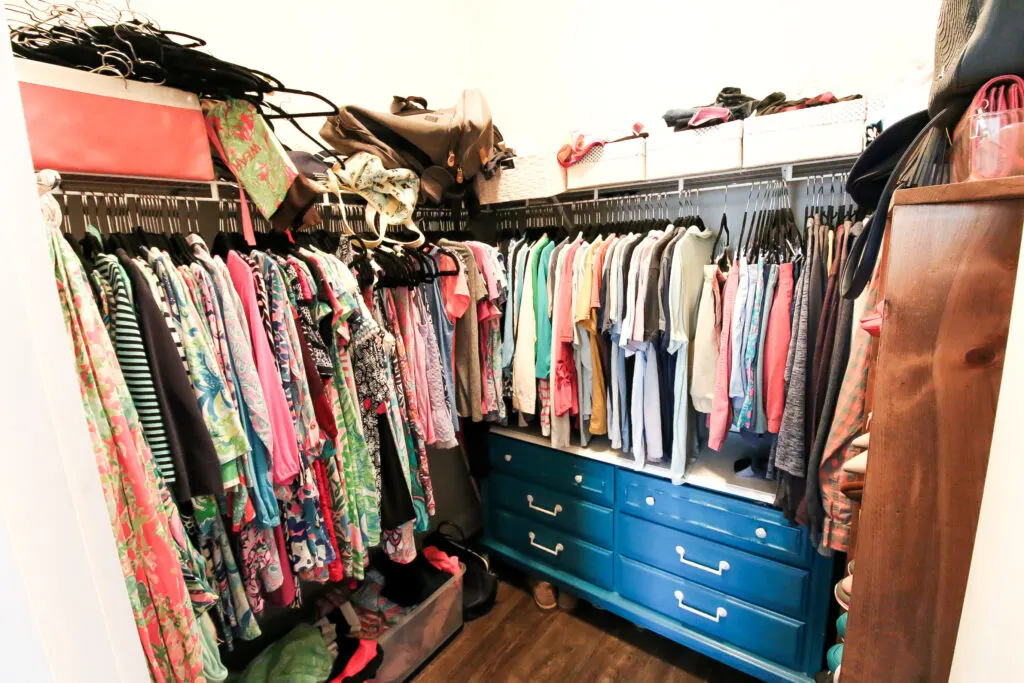 This is the problem with the single wire shelf in a closet- look how stuffed in all the clothes for two people are.
We moved into this house 10 days before our daughter was born, so a lot of spaces like this just because a quick solution to get by for as long as possible.
DIY Walk-in Closet After
Now the closet includes one wall with double stacked wooden closet shelves and hanging rods for hanging clothes. This automatically doubled the space for clothes in the closet by getting everything onto one side.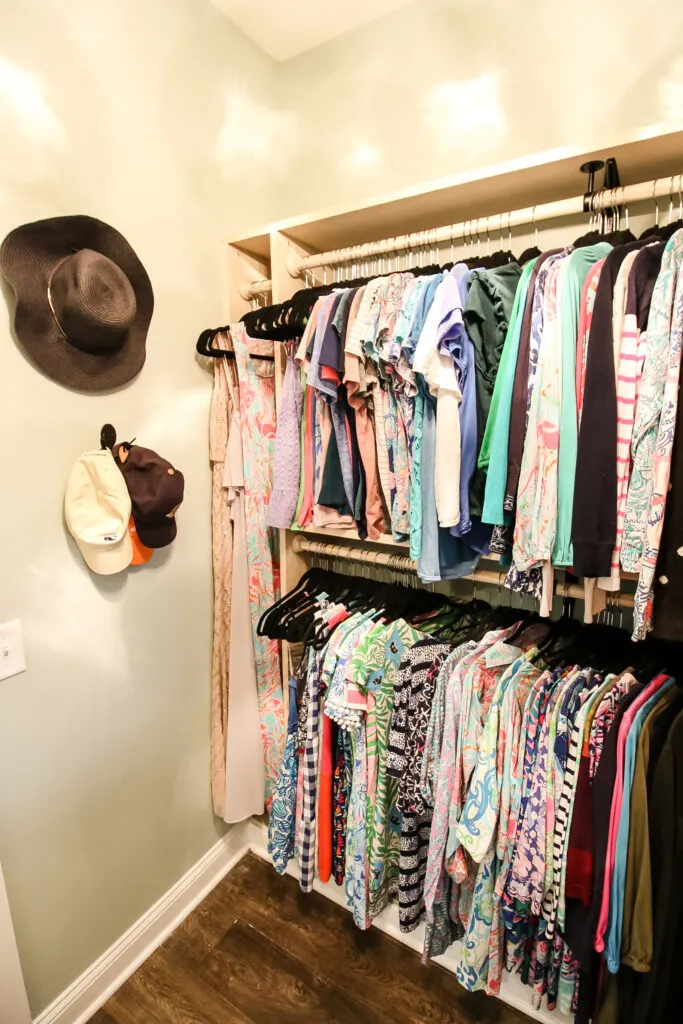 The second wall includes a set of custom DIY built-in drawers and a cubby system for shoes and other storage. Make sure to click here to get the FREE woodworking plans to build the drawers and cubbies!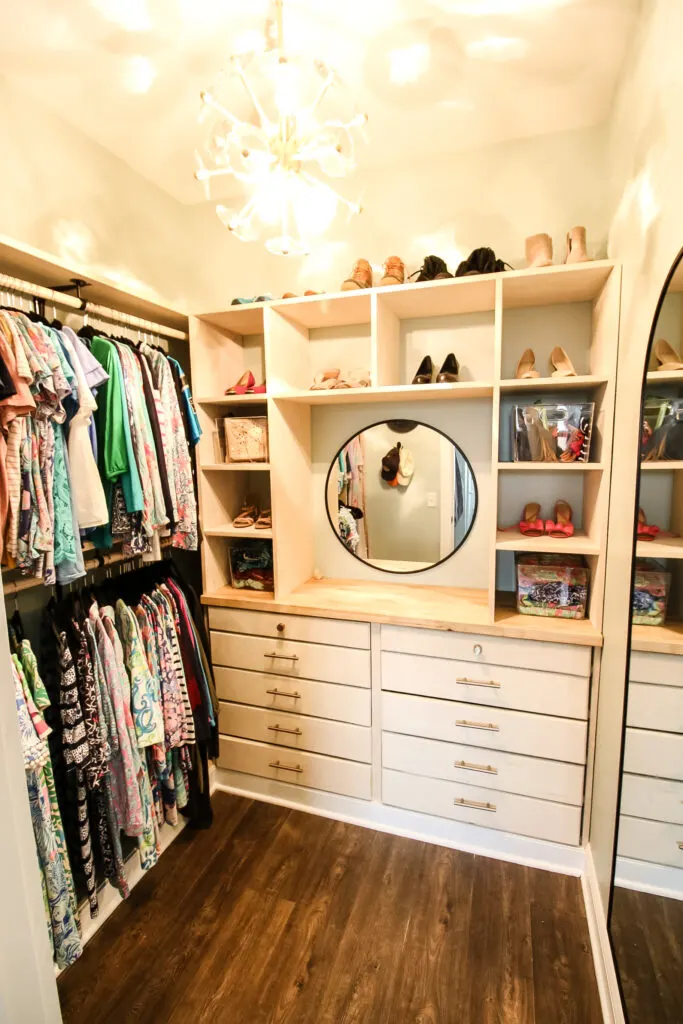 Thanks to this massive built-in dresser, we were able to get the clothes out of the side table dressers that were in our bedroom and get everything together in one space. This is clutch as we are renovating the bedroom soon and aren't going to keep those dressers.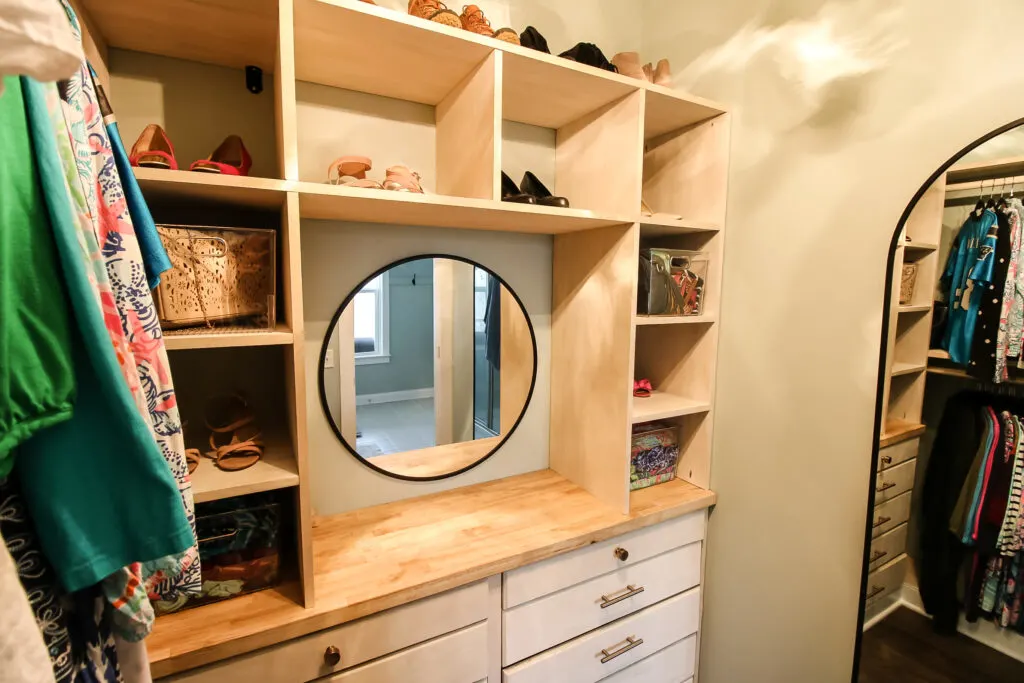 We added two mirrors – one full length and one round mirror to add a sort of vanity area to the top of the dresser.
Read about my jewelry drawer here!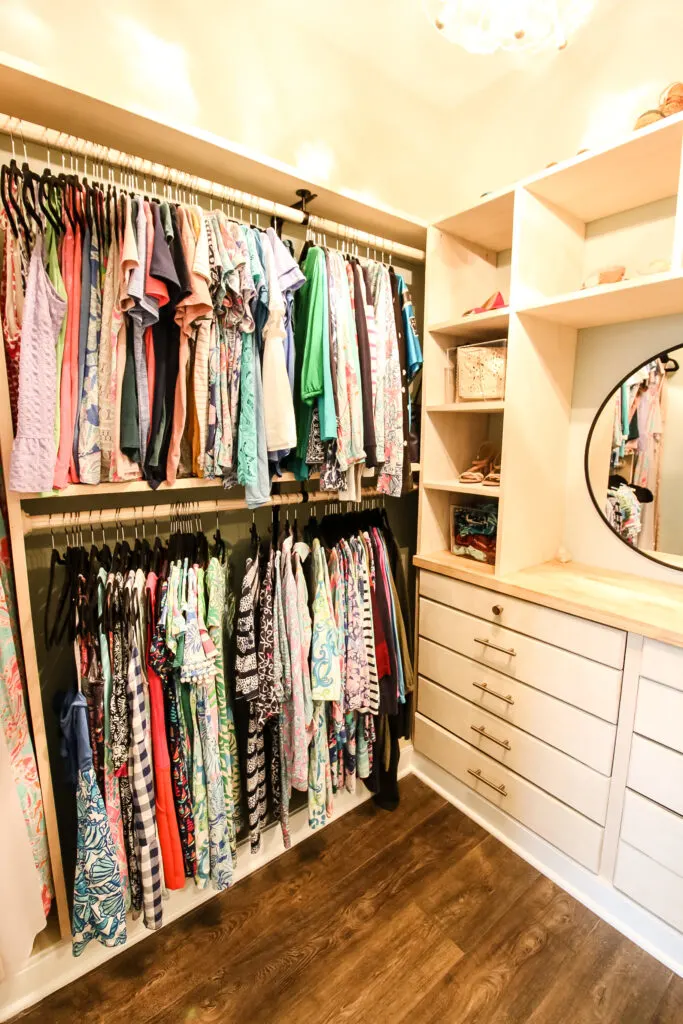 We updated the lighting as well which transformed the brightness of the space from the covered builder-grade dome light that was in place.
How do you remodel a walk-in closet?
The steps to remodel a walk-in closet are:
Demo and remove any existing wire shelves or hooks
Paint
Measure and plan your new closet system
Remove base molding for a built-in look
Build a base from 2×4 and slide in place
Build horizontal shelves and add any vertical braces
Add wooden rods
Add drawers or dresser system
Add base molding over 2×4 base for a cohesive look
Update lighting as needed
Accessorize
What was the cost of making over this walk-in closet?
I don't want to scare you off, but we spent a lot of money on this closet makeover. Like, way more than we would have at our old house!
A significant reason for this is just the current high price of plywood. This dresser has 10 drawers and that meant a LOT of plywood.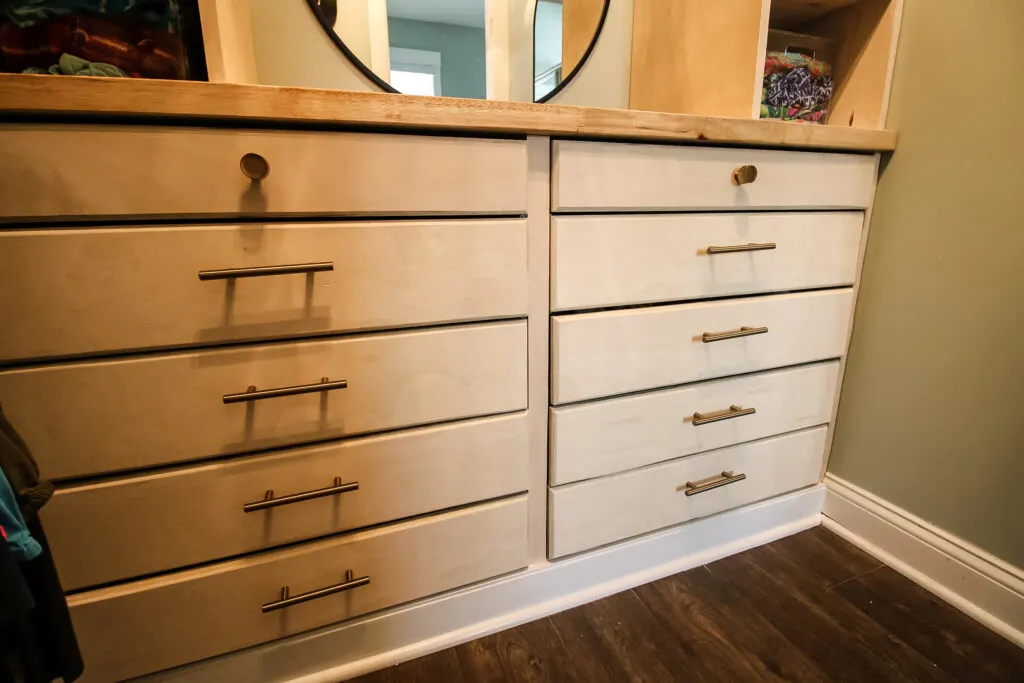 Also, we added a butcher block top. Technically, the butcher block was free because it was the other half of the piece we used for our mudroom. And you could use two pieces of plywood glued together instead. But, I'm including it to be fair.
Finally, I spent a decent chunk of change on accessories and bins. This isn't necessary, but I wanted it to be perfect!
How do you redo a closet on a budget?
To do this project on a budget, skip the built-in dresser. That will save you hundreds of dollars.
Add a dresser you already have (or thrift and makeover) instead. This worked totally fine for us along one wall for over a year and is easy to fit in.
Or, check out our first closet makeover in our old condo for how we used IKEA pieces to add drawers and shelves for a cheaper price!
Do custom closet systems increase home value?
We are NOT realtors and can only speak to what our realtor told us about our old house. Things like a beautiful closet organization system don't really add to your home's actual value.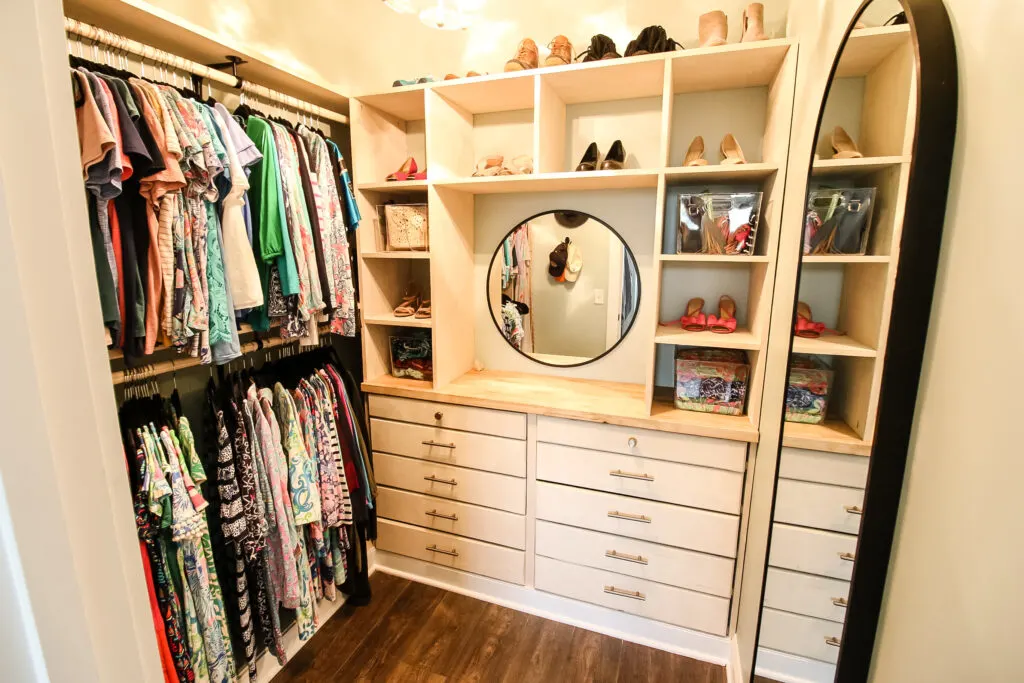 However, they can make people fall in love with the house and lead to it selling quicker. Houses that sell quicker usually sell for more money. Basically, if a home looks beautiful and has custom touches that make it more move-in-ready, it will make buyers more interested and help sell your home.
That being said the market is still wild around here so I think our closet could be one wire hanger hanging on a hook and the house would still sell in a day over asking (and no, we aren't moving any time soon!).
Any questions about this project?