Do you have a small pantry? It can still be beautiful and very efficient. Here are our best tips for how to organize a small pantry!
I am so excited to share that we just fully made over our kitchen pantry! It was a fun and simple project (well, it should have been simple, but me and the kids got super sick the day we started, which dragged the whole process out.)
Anyways, let me hop back for a second. We love our new house, and it was an upgrade from our old house in a lot of ways, (literally 1,000 square feet larger!) but the pantry was one area that was actually a downgrade.
Don't get me wrong – I'm glad to have a pantry at all. But it's just a small reach-in, no way to make it walk-in at all.
Our floor plan was actually designed to have a big closet under the stairs (right across from the kitchen) that most neighbors seem to use as a larger, walk in pantry.
However, our house is in the section of our neighborhood where the homes are elevated, meaning that "under the stairs" is actually another staircase – down to the "basement" AKA our garage.
Anyways, I'm getting off topic. The point is that we really needed to dig deep into our small pantry organizing hacks and kitchen pantry space saving ideas to make the most of this small space.
Our best small pantry shelving idea is to remove wire shelving and add custom wooden shelves at the most efficient heights. It's beautiful and easier to organize!
We've shared a few pantry makeover projects in the past: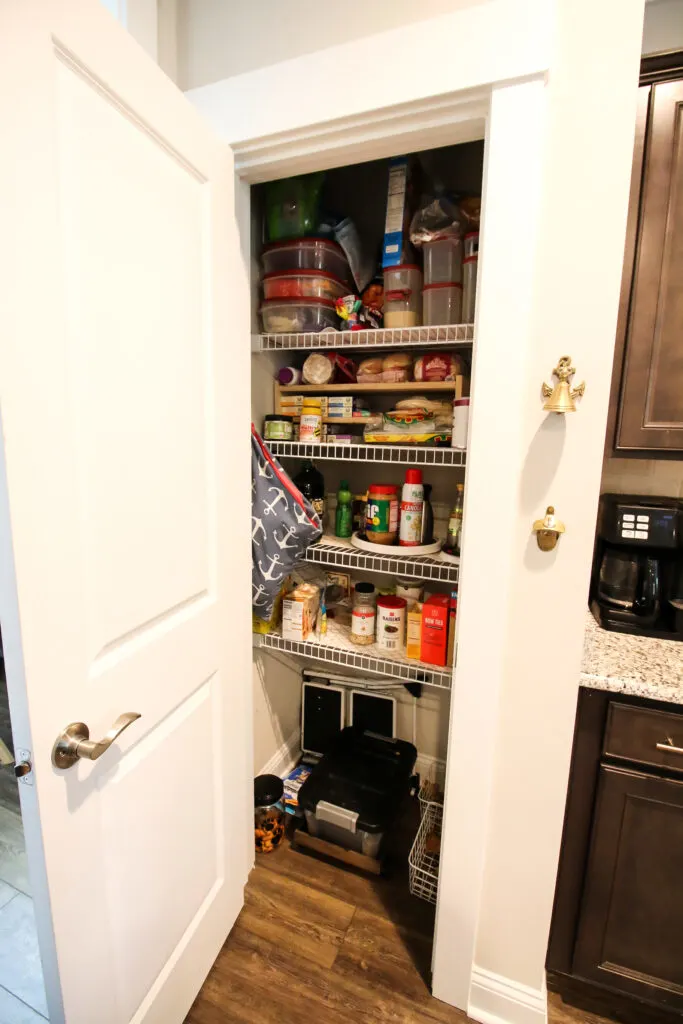 Both of those posts share the exact process that we use to build wooden pantry shelving, but here is a summary:
Remove existing shelving
Patch + paint
Design the pantry shelves
Cut strips of plywood to serve as braces
Nail gun braces into the wall at shelf height
Cut plywood to shelf size
Place shelf on braces, nailing from above into the brace
You can read more about that process in detail here.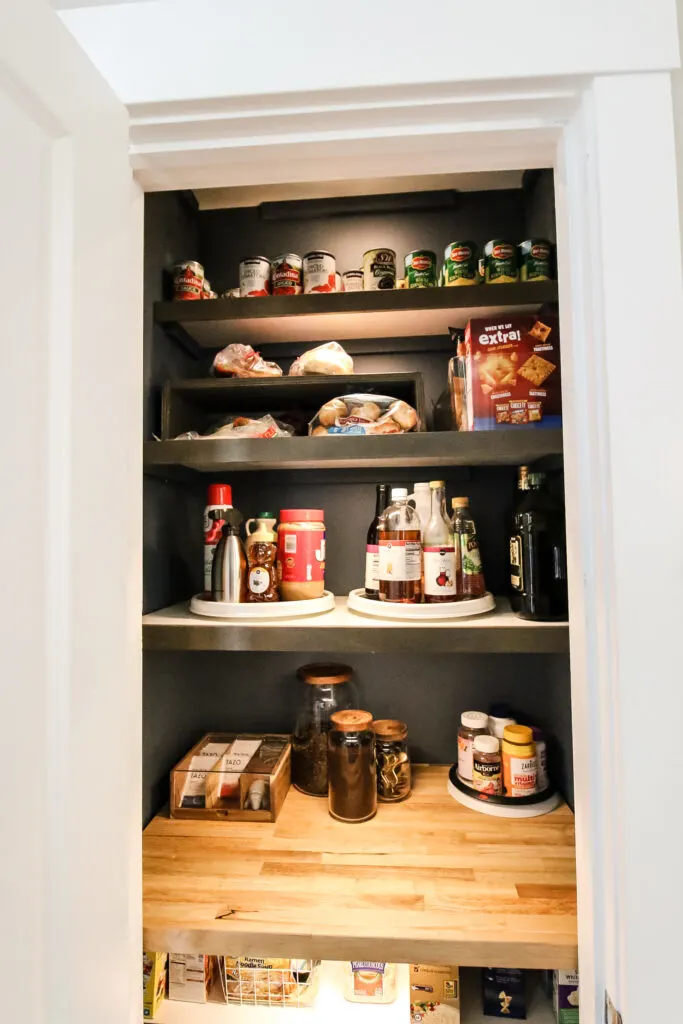 So, we thought instead, today we would talk all about organizing pantries. We've DIYed 3 pantries (plus had them in rentals before) and so we have a LOT of tips and tricks on the best way to organize a small pantry!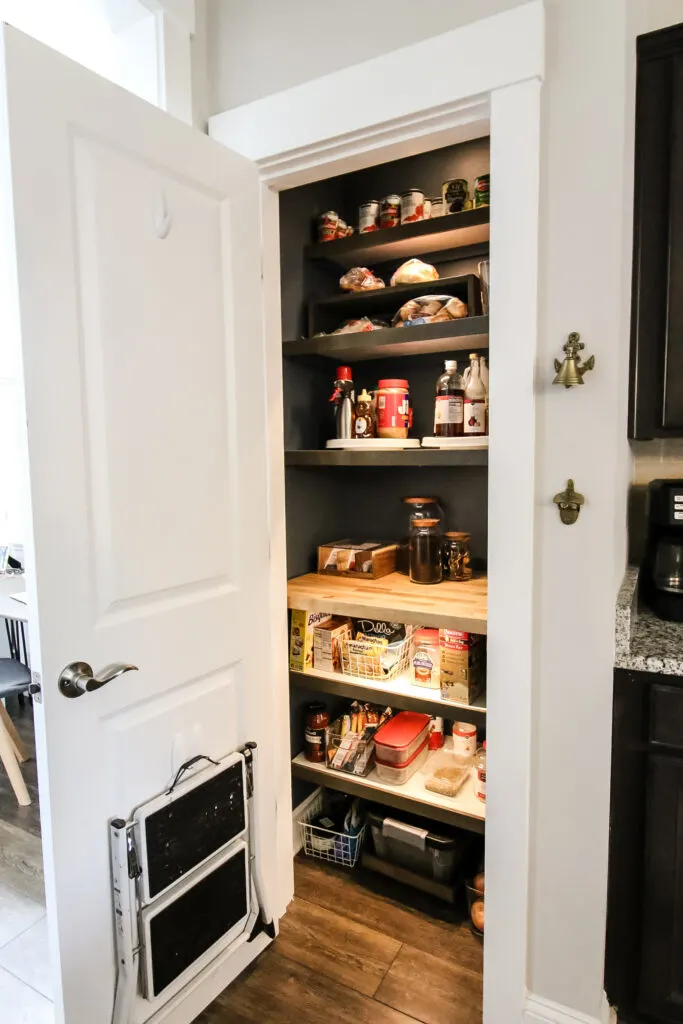 How to organize a small pantry
Here is exactly how we organize our pantry (and a lot of other small closets, too!)
How do you organize a pantry step by step
Remove everything – purge any food you no longer want.
Replace existing shelving (if needed) – follow the above steps or click here for our guide to building pantry shelves
Sort food so like items are together such as cans, boxes, breads, bottles
Break up your shelves by category – so, a can shelf, a bread shelf, a box shelf, etc
Determine if items are best suited to line up on the shelf, add risers, use bins, or lazy susans
Return items to shelves and keep them organized!
Remember to place your most frequently used items closest to eye or and height.
You can add labels if you prefer using a Cricut or a label maker. Honestly, I'm not into labels – it makes me feel like a preschooler – but I know a lot of people love them!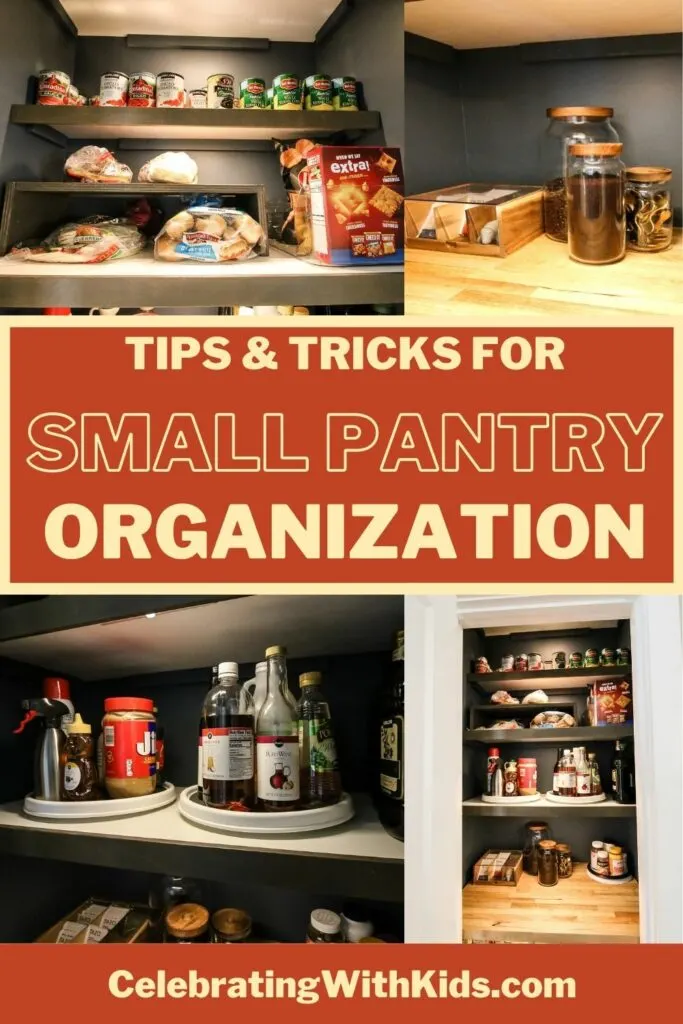 How can I maximize my small pantry?
I feel ya! It's actually funny – if you search "small pantry" on Pinterest, they are all walk ins! LOL that's not small people!
If you have a small pantry, you need to be diligent about not keeping a bunch of stuff you don't want or need.
Then, you need to take advantage of every square inch. This can include installing a small pantry shelving system with more shelves (closer together or additional shelves high or low).
One of my best small pantry hacks is to add a half-depth shelf super high up. Like, so high you need a step stool to reach it. This is the best place to keep rarely used items and otherwise it's just a waste of space!
Don't forget the back of your pantry door – you can use command hooks to hang items. We previously had measuring cups on ours! Now we have a stool and a bag to collect dirty dishrags.
The best accessories for organizing a pantry
Here are my favorite accessories to use when organizing a pantry:
Lazy susans
Bins and baskets
Risers
Canisters
Specialized bins
Lighting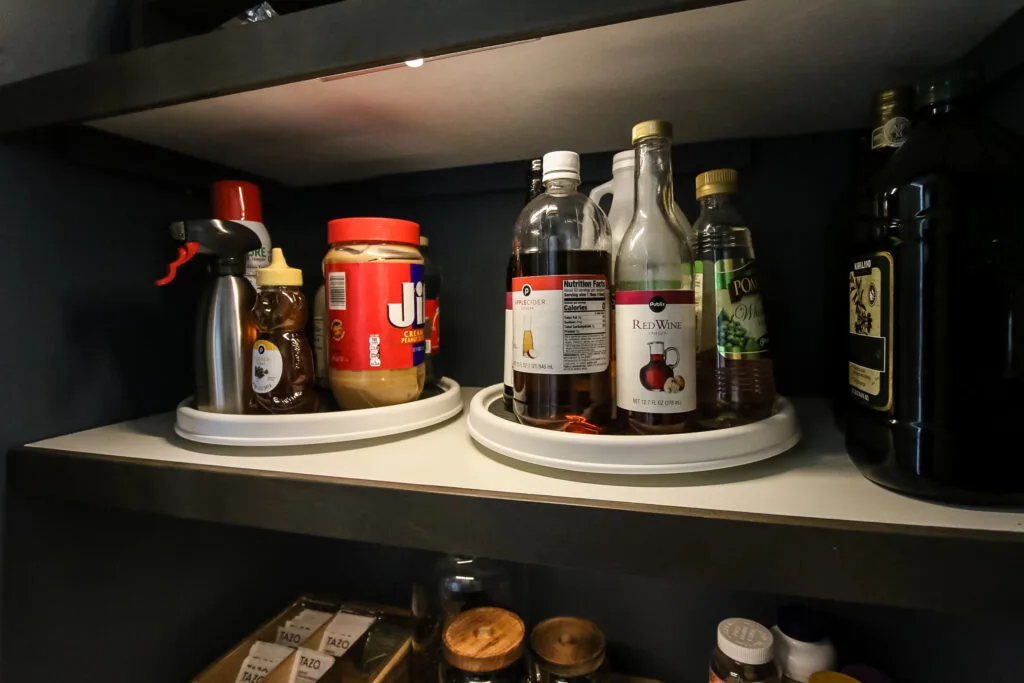 Lazy Susans
I love a good lazy susan. They are best for organizing bottles. I use them for our oil/vinegar collection, for miscellaneous frequently used condiments, and even for our daily vitamin jars!
Bins & Baskets
Bins are the workhorse of any pantry. You can use them to store like-items – like pet treats, miscellaneous granola bars, or even ingredients to set aside for certain recipes.
You can buy fancy bins or get simple baskets or boxes – anything will do the trick!
Risers
Risers are great for deep shelves. They add stair-step height and are perfect for shelves that store a lot of cans or boxes.
Risers are the best way to keep cans or smaller items from getting lost in the back of cabinets, and are really great if you have plenty of vertical space between shelves and shorter items.
Canisters
A lot of people (on Instagram) buy 100 clear canisters and pour each item out of it's original packaging into perfectly matching canisters.
Not me.
That seems super wasteful and honestly kind of like a weird hobby to have. I mean, that would take forever, and you have to do it each time you shop. If that's you – you do you – but that's not me.
But, a few strategic canisters are great. We have them for Sean's coffee beans and ground coffee (he grinds it in the blender 2-3 times a week).
Honestly, the canisters I liked came in a multi-pack, so I used the last one for chip clips. It works great for that but I never would have bought them just for clips!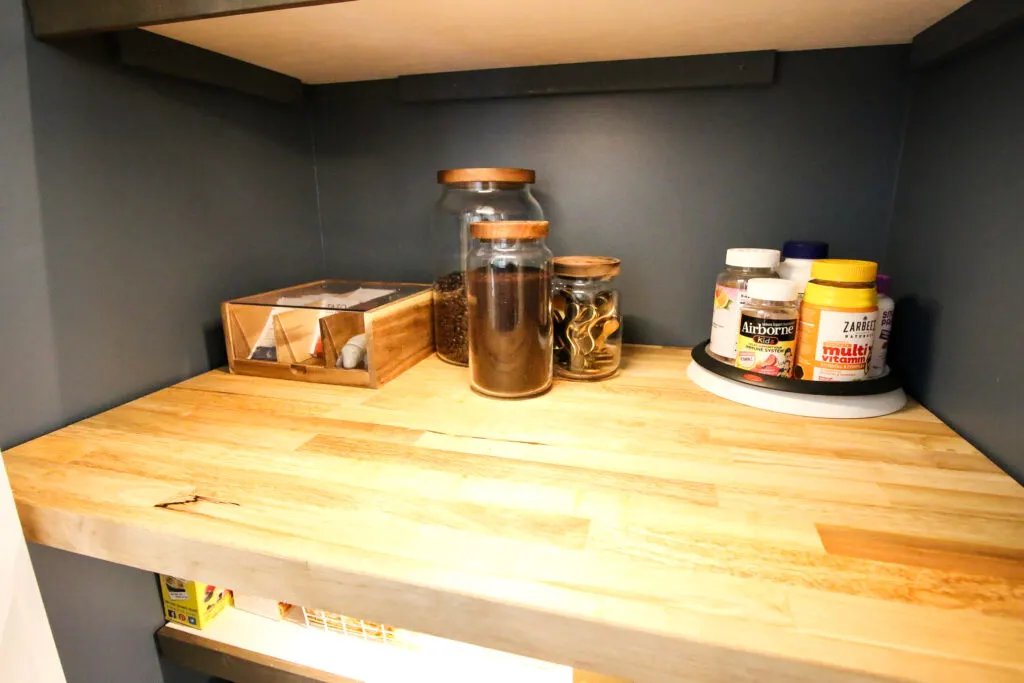 Specialized Bins
If you have special items, there might be the perfect bin for it. I splurged on this tea bag box (because my mom has one and I knew she loves it).
If you drink a lot of soda, for example, you might want a fancy soda can rack.
It makes it easy to see what I have and get it out! If you have something you love, it might be worth the splurge!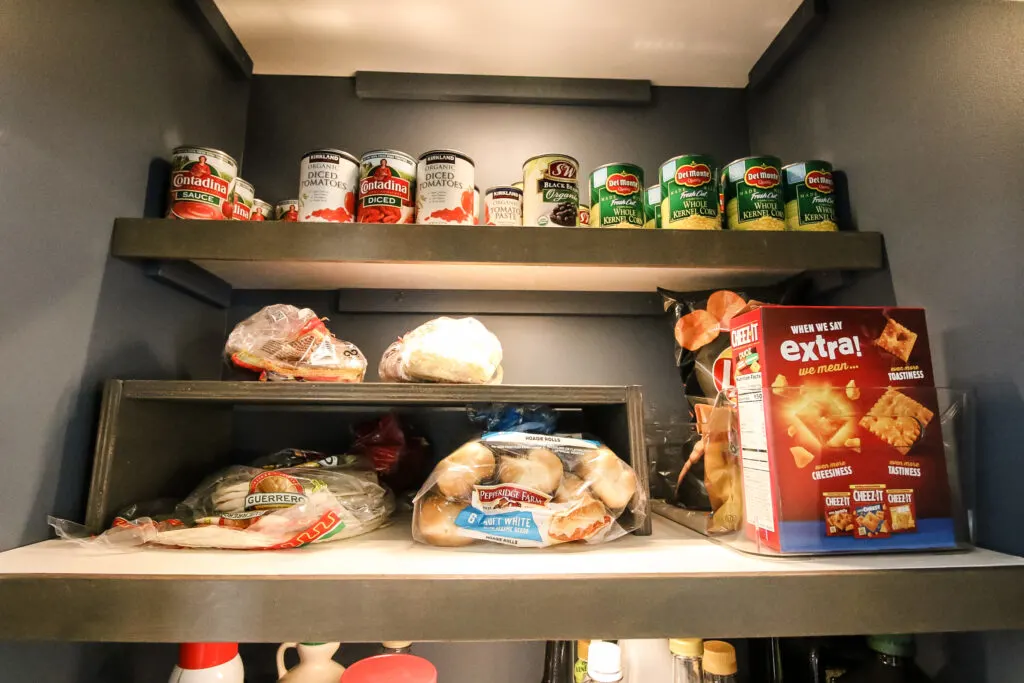 Lighting
Lighting is so important in a small pantry. If shelves are deep, they get dark, and groceries go to the back and never come out.
Our pantry doesn't have an overhead light, so we added touch lighting under each shelf. Game changer!
How to organize a small pantry with deep shelves
Let's start looking at deep shelves like the gift that they are – more shelf space!
For deep shelves, you need either bins (that you can pull out completely), lazy susans (for bottles, especially), or risers (so you can see boxes or cans way in the back)
Alternatively, if you are doing a small pantry makeover, consider installing a more shallow shelf and a small side shelf for a walk in L or U shaped pantry. (Our old house we turned into a walk in L shape).
This might seem counterintuitive to give up some shelf space, but if stuff is just getting lost in the back, an L-shape can be way easier to keep organized.
How do you organize an awkward pantry?
The best way to use an awkward space is to – use the space! If it's narrow, consider spice shelves or hanging storage. If it's deep, add bins or lazy susans to help pull things out.
Remember – any storage space is a gift! Making an organization system – and sticking to it – is a game changer.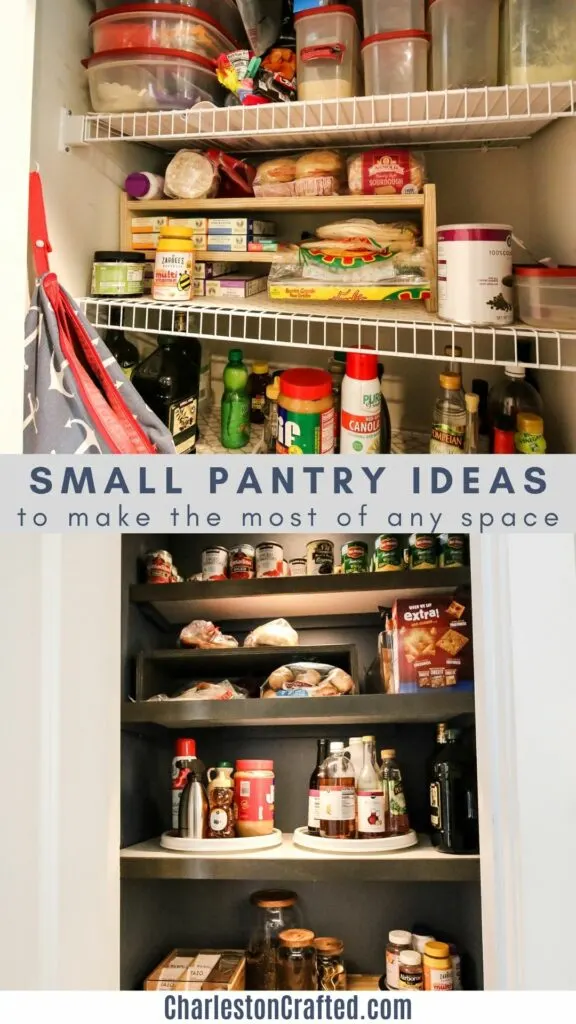 How do I organize my small pantry on a budget?
The best way to organize your pantry on a budget is to spend it very wisely.
Don't buy canisters to decant all of your boxed goods! Keep things in their original packaging whenever possible.
Instead, spend your small budget on things that you can't easily DIY – like a lazy susan – and DIY the rest in a budget friendly way.
Bins can be made from cardboard boxes (you can cover in wrapping paper or contact paper for a more stylish look).
I have had great luck finding baskets and bins at the Dollar Store or in the dollar section at Target. Don't go wild over-buying – be really strategic and make every bin count.
If you want risers, you can easily DIY them from scrap wood (like we did in our condo pantry!) or even small cardboard boxes. They will be mostly covered by food anyways!
I hope that these small pantry ideas inspire you! What are your best small pantry organizing ideas?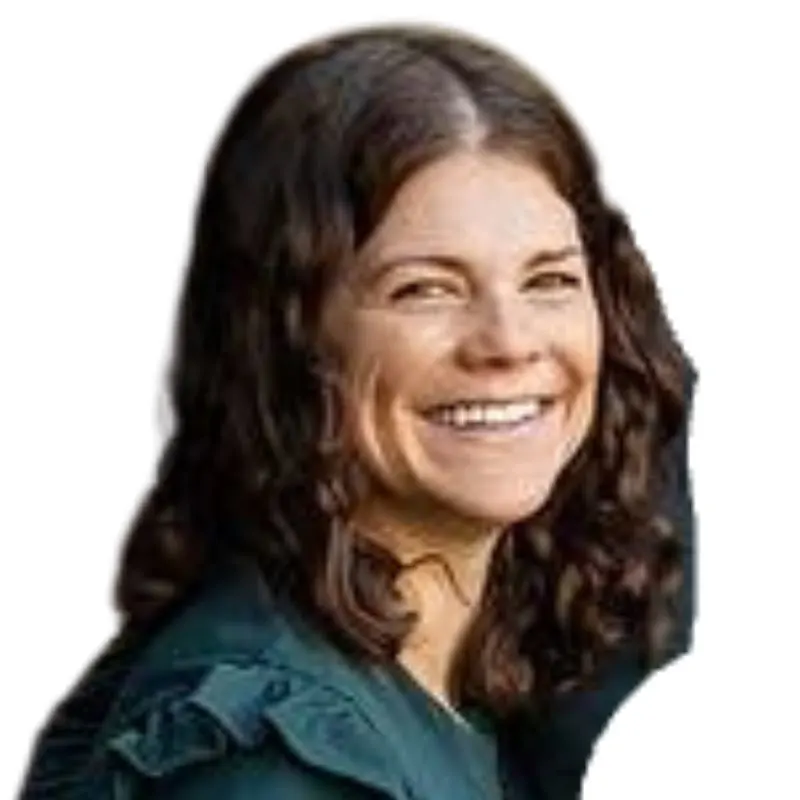 Hello, I'm Morgan, half of the creative force behind CharlestonCrafted.com! With a passion for DIY that dates back to 2012, I've transformed three homes and now I'm dedicated to helping others craft their dream spaces. Let's turn your house into a home together!