Want to decorate your home this Autumn? Here are the biggest fall home decor trends this year!
Fall is one of my favrotie times of year.
The cool weather is such a welcome change from summer. Things sort of slow down and cozy up. We aren't to the holiday rush yet – but we are starting to get together and enjoy being indoors.
If you like to decorate your home seasonally, fall is a great theme to decorate for.
When should you start decorating for fall?
Fall decorating wildly depends on where you live and the climate. In many places, you can start decorating for fall at the end of August. If you live somewhere hot, that can feel ridiculous. It might be better to wait until Labor Day – even if it's still hot, Labor Day is seen as the definite end of summer.
It's kind of your last chance to decorate for the year without it being holiday specific with Halloween, Thanksgiving, and Christmas coming in quick succession.
You probably already own a lot of fall decor staples. However, mixing in a few pieces of trending fall decor can make your room feel more current and on trend!
Be sure to check out my tips for transitioning from Fall to Christmas decor!
Here are some of this year's biggest fall interior design trends!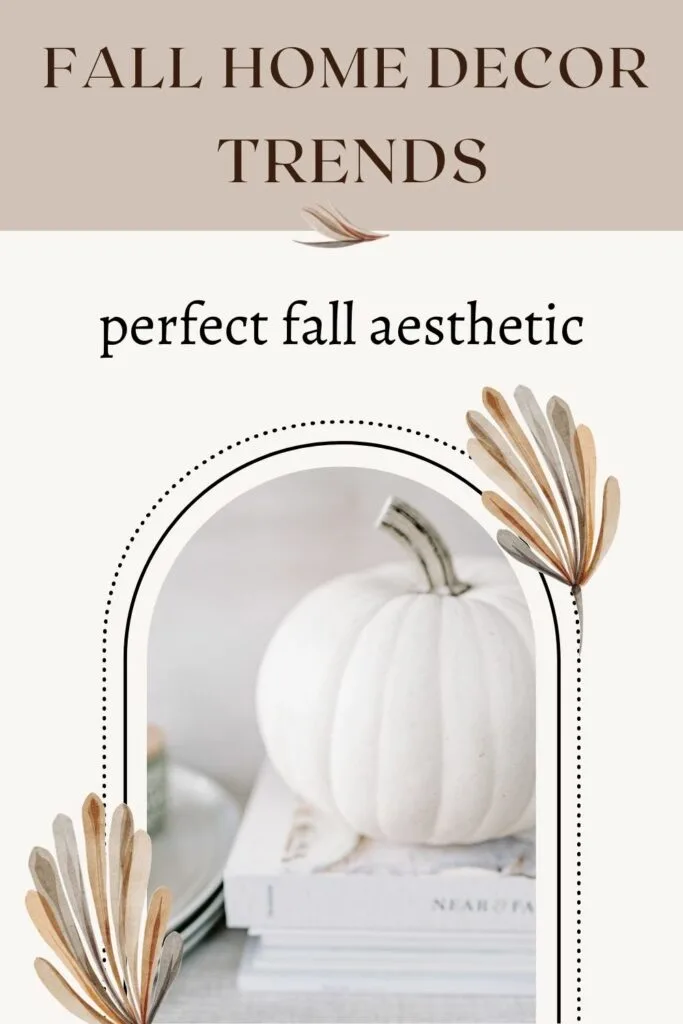 Fall Home Decor Trends
Here are the best fall trends to get in on this year!
Earth colors
It should be no surprise that earth colors will be trending this fall. Think of tans, taupes, warm browns, as well as deep lush green colors. I'm seeing a lot of green + white + brown fall room ideas continuing into the end of the year.
Lots of texture
A great way to add the feeling of autumn room decor is to layer on lots of texture.
Textured textiles are the easiest way to do that. Pick throw pillows, blankets, or even furniture slipcovers with unique textures.
Mix things that are smooth – like velvet – with rough materials like sisal. Then, add something bumpy like a chunky knit pillow.
Keep your color palettes simple and instead layer on the texture.
Here are more tips for getting that cozy fall aesthetic!
Rattan + Caning
If you are looking to add wooden furniture to your home, look for something rattan or with caning. These are usually light wood in color, with neutral natural tones.
But, the special rattan or caning elements add that trending texture to your autumn decor.
Dried florals
Dried florals and greenery are really having a moment. The look is sort of the modern take on boho – a bit cottagecore, a bit of nature vibes. It's a look and it's here to stay.
Consider adding dried florals to a vase or use them in a wreath for easy on-trend seasonal decor.
Luxe velvet
Velvet is here to stay in a big way. Go big with lush, plush pillows, a velvet headboard, or even a velvet chair.
If you are grabbing pillows or blankets, look for things with a velvet-like sheen to bring this trend entirely into your living room.
Jewel Tones
Jewel tones pair nicely with that velvet and have a great fall aesthetic. This emerald green, deep ruby red, and navy blue.
Jewel tones can be used on every day decor like blankets or pillows or unexpectedly in fall decor such as jewel toned velvet pumpkins.
See all of the trending colors leading into the new year here!
Barbiecore
On that same note is the newest aesthetic of Barbiecore. Maybe inspired by the movie coming out soon, this look features bright colors – hot pink and orange of course – and it happy, cheerful, and colorful.
Natural elements
Nature has been trending for a while and isn't going anywhere. Look for natural, light colored wood tones.
You can also add natural stone in tile or in your accessories. A slate tray, for example, is unique and trendy.
Consider things like twisted branches with a wall hanging from them or a coffee table made of drift wood for a very natural look.
See all of the year's hardwood flooring trends here!
Brushed brass + gold
While glossy silver tones have begun appearing on the runway, I don't think we are going to see them in mainstream homes quite yet.
Fall and cooler weather is compatible with a nice brushed metal finish. Go for a matte gold or brass.
You can pull these tones in easily with picture frames, lighting, knobs and hardware, or small accessories.
Green + white pumpkins
Want to decorate with faux pumpkins? Skip the orange this year. Go for white and light sage green instead for a more modern look.
Or, try your hand at making concrete pumpkins. This matte gray finish is very on trend!
Here is all of my favorite fall shelf decor!
Cozy ambiance
Think cozy this season, especially for living room decor. A big part of coziness is ambient lighting – look to lanterns or wall sconces so you can cut off the overhead light.
You can also add coziness by covering hard surfaces like wood tables with a tablecloth or big windows with a think lush curtain.
Light colored leather
Leather is another great way to bring in texture and light colored leather is really trending. Look for something cognac or lighter in the warm, brown family.
It could be as simple as leather piping on a pillow or leather curtain tie backs or as significant and timeless as a leather sofa!
Plaid + checks
If you want to add pattern to your space, consider a thick and bold plaid or buffalo check. Stick to neutral tones – tan, chocolate brown, chocolate, black, navy.
Plaid rugs are also great for layering under smaller more neutral rugs to get that pop of plaid without it being overwhelming.
What is your favorite fall room decor?