Wondering what colors will be trending for home decor in 2023? Here are the new decorating colors for 2023, as predicted by the experts!
Trends change quickly and that is super true is home decor.
Decorating trends come and go. And, while I like to have a timeless feeling home, it can be nice to pull in some interior design trends to keep your space feeling fresh.
If you are bold, you can go all in on the hottest colors. but, most people will stick to neutrals!
Decorating with neutral colors gives you the option to bring in the color trends for 2023 and then bring in new colors the next year, too.
Check out all of my predicted interior design trends for 2023!
How to use trending colors
You might not want to redesign your home every year, but you can definitely pull the hot colors for the year in as accent colors. This makes a space feel fresh for little effort.
Accents could be used for:
Accent walls (painted or wallpaper)
Pillows or throw blankets
Secondary colors in rugs or other patterned textiles
Color palette for art and wall art
My overall predictions for interior paint colors for 2023
2022 was all about warm neutrals. As we head into 2023, I predict that we keep those warm shades but go into more vibrant colors.
Now, that doesn't mean neon. These colors will still be muted, so they feel modern, but have a lot of color and pigment to them.
Muted colors have gray mixed in with them to keep the color itself from feeling too bright or in your face.
In general, warm tones are on trend, so these colors are mostly muted with a greige or beige color mixed in.
Here are my predicted trending houseplants for 2023!
Accent colors for 2023
I think that sage green is the perfect accent color for 2023. Look for something dusty – with a lot of gray undertones – so it feels earthy but not at all bright or neon.
Expect to see a lot of rust or terra cotta as well. Terra cotta and sage green are opposite each other in the color wheel and therefore accent each other quite nicely.
Purple will also be on trend. Very Peri was the Pantone color of 2022, and experts are expecting all shades of purple – including pastels – to continue to be popular. Purples tend to pair well with gold, yellow, orange, and green.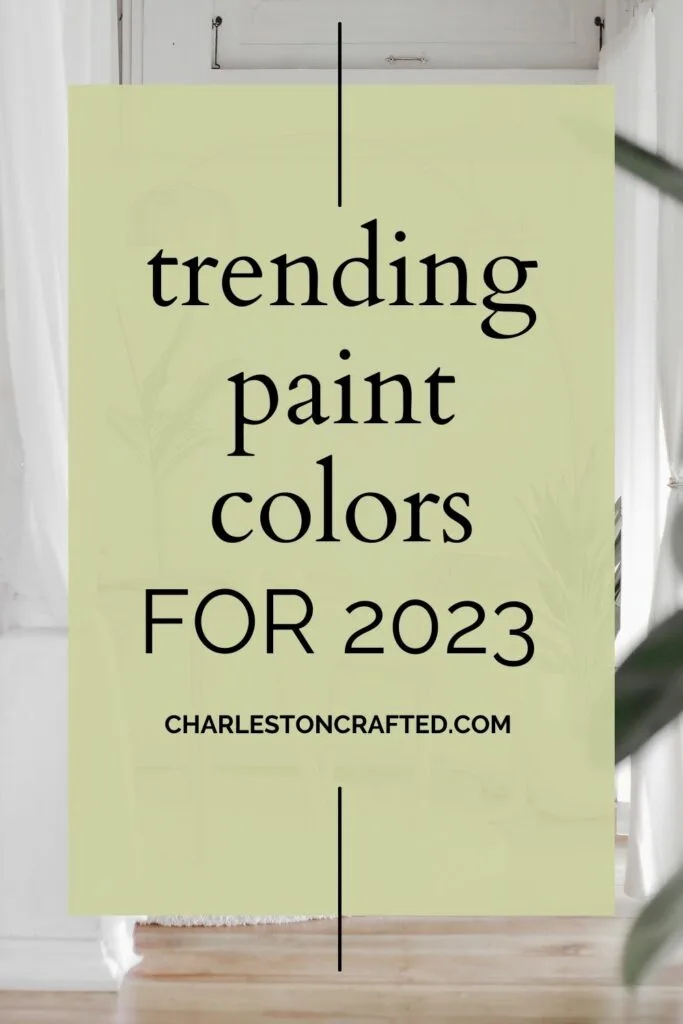 Color Experts Color of the Year 2023
Pantone
Pantone has named Viva Magenta their 2023 color of the year. This is a BRIGHT, dark red color. It verges on pink but reads a bit more red due to its color depth.
This color is obviously a bit much to paint your whole home, and is best used for accents and decor. Expect to see magenta home accessories – including pillows, lamps, textiles, and art – popping up at your favorite stores this year.

Coloro
Coloro have named Digital Lavender their 2023 color of the year. Their total list of trending colors includes:
Digital Lavender
Luscious Red
Sundial (muted mustard)
Tranquil Blue
Verdigris (turquoise)
Trend Council
Trend Council is predicting lots of pastel shades for Spring and Summer 2023, specifically pastel blue, green, peach, pink, and yellow.
Sherwin Williams

Sherwin Williams announced that their 2023 color of the year is Redend Point, a warm toned mauve. This color has a lot of beige and pink to it and is light and cozy.
This is 100% what I would expect for color for the year – warm, cozy, muted, and a pop of color!
Valspar
Valspar selected a palette of colors for 2023. Those colors include:
Ivory Brown
Cozy White
Gentle Violet
Blue Arrow
Flora
Desert Carnation
Green Trellis
Rising Tide
Holmes Cream
Southern Road
Villa Gray
Everglade Deck
Behr

Behr named their color of the year Blank Canvas – a warm cozy white. I'm a bit surprised as I think that color is more in than white lately, but maybe they know something that I don't! 🙂
Their other colors of the year – are more what I would expect:
Vine
Vintage pewter
Midnight blue
Gratifying gray
Cracked pepper
PPG

PGG and Glidden have announced that Vining Ivy is their color of the year for 2023. This is a green color with a bit of blue to it. It's almost a jewel tone – but muted.
What colors are you predicting for 2023?