One of our first truly DIY building projects way back when we first started blogging was an amazing DIY driftwood coffee table that we built from scratch using driftwood from Dreher Island right down the road. It's been a few years, but this thing is still looking amazing!
Love driftwood crafts? Check out all of our driftwood projects here!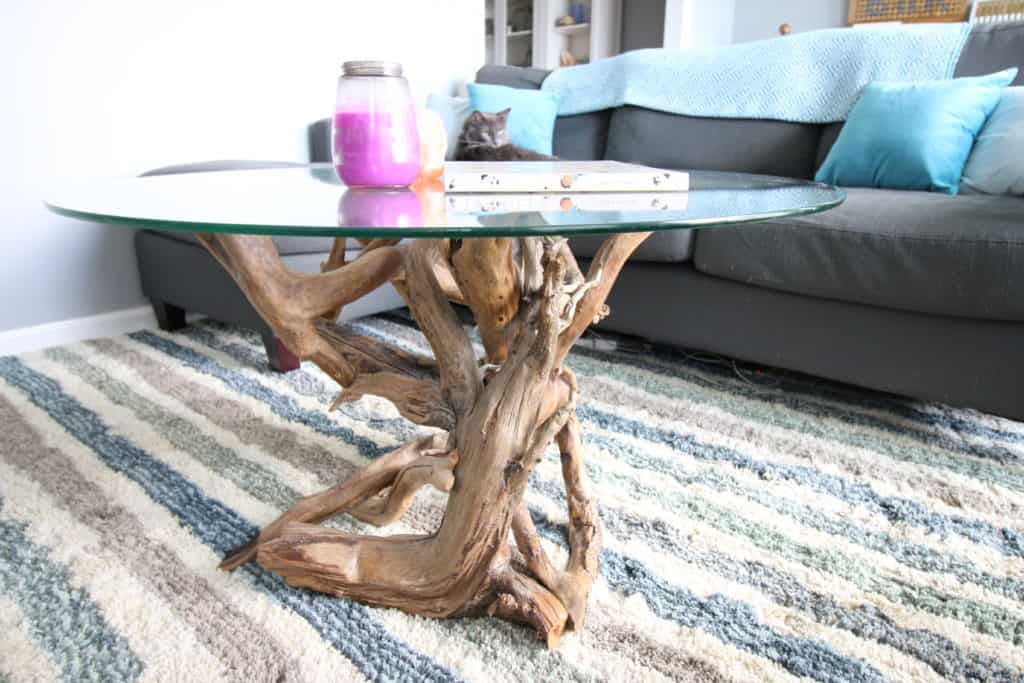 DIY Driftwood Coffee Table
We built this DIY driftwood coffee table four years ago when the only tools I had were a drill (which was a knockoff brand that had little to no power behind it) and a hacksaw. Let this be a lesson that tools do not handicap your ability to do cool projects!
A wide variety of good quality tools definitely helps and expands your possibilities, but you can do things without a garage filled with power tools. I had no idea what I was doing when I got into this project.
You can look back at some of the old photos and see that I was using rope to try to hold these pieces of wood together while I figured out the jigsaw puzzle of how to make a driftwood base.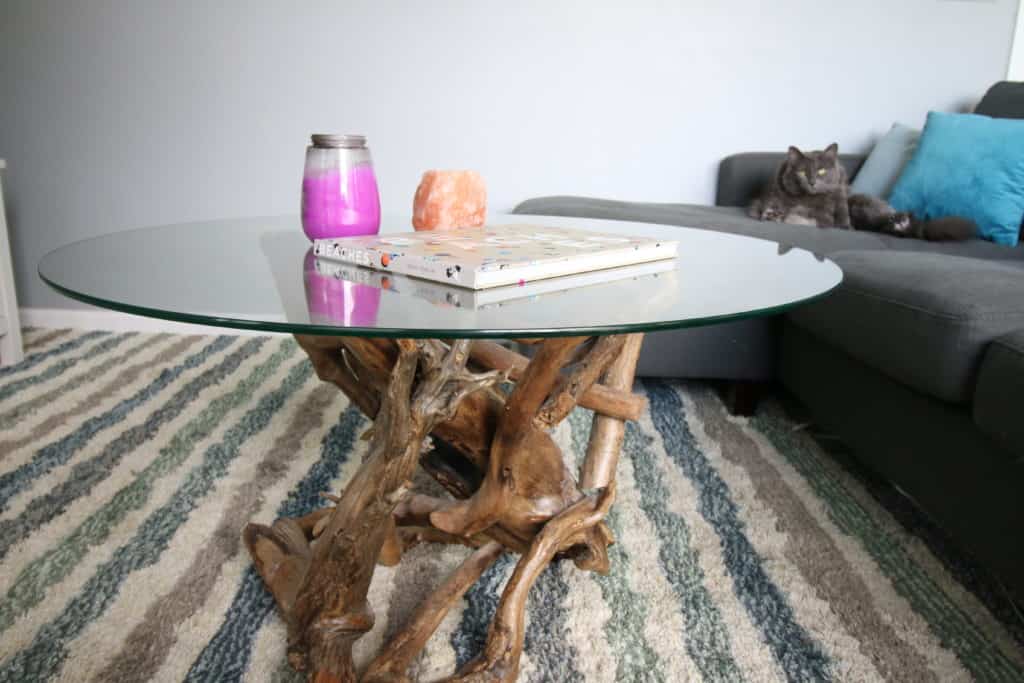 This project really wasn't difficult. If you have access to driftwood via a beach or lake, you can do this. My suggestions are to look for a couple of pieces that are bigger with forks that you can use as your base. Then, just work your way around adding different branches and creating enough level contact points at the top so your glass or wood top can sit on it.
Looking back on the project, I would have changed two things. First, I would have used small-headed trim screws. I used decking screw because I literally didn't know what I was doing. I went to the store and found something that was closest in color to the wood. Not something that would hide best.
You don't really see many of the screw heads because I screwed most in from the underside of the branch. But, you can still see them and trim screws would be much more clean. Secondly, I would recommend not having pieces that stick out from the base that don't serve a purpose.
I designed this so that a few pieces kind of stuck out from other pieces, but weren't integral to the structure. They were decorative and looked nice, but served no purpose. Well, since they stuck out, three of them have snapped off when CiCi came blowing by like a tornado. She clipped them and the part that was sticking out broke off right at the screw. Oh well, lesson learned.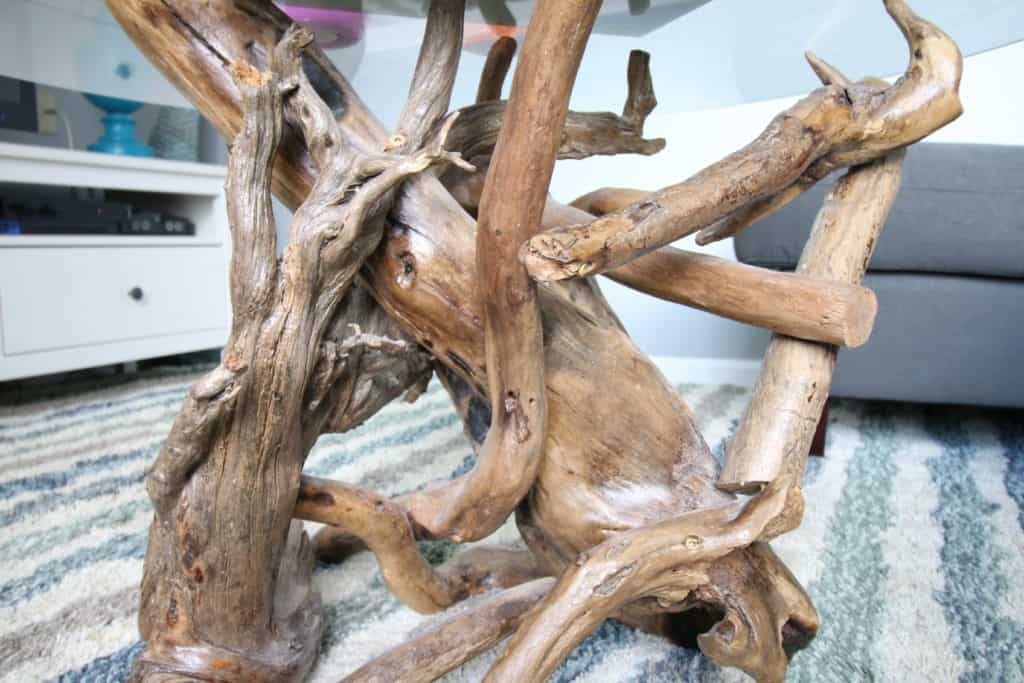 We still love this DIY driftwood coffee table and moved it with us to our new house. We still use it as our main coffee table in our sunroom. It's awesome and I've learned to work with driftwood a little better on other projects since then, like this starburst mirror, wedding cupcake stand, candle holder and picture frame. Driftwood is easy to work with and I can't wait to do more!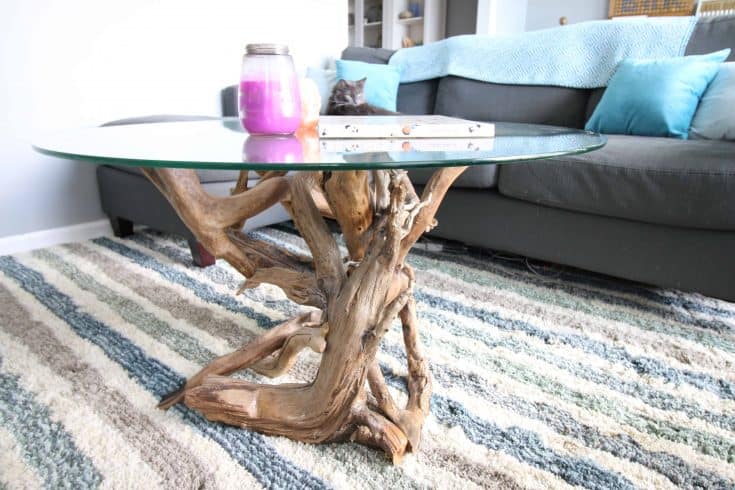 Yield:

1 table
how to make a driftwood coffee table
Here is how to build a DIY dirftwood coffee table. It is a great way to bring a natural, nautical feeling into your room!
Materials
Driftwood
Polycrylic
3.5" Screws
Glass table top
Tools
Drill
Saw of choice
Paint brush
Instructions
Make sure that all wood is dry and clean.
Assess your driftwood. Look for pieces that naturally might make a solid or sturdy base. Arrange the pieces freehand until you start to get a look that you are going for.
Begin screwing your design together. Keep playing with it until you are satisfied. Use a level to be sure you have a flat surface.
Seal the base with polycrylic.
Add a glass top for a finished look.
Recommended Products
As an Amazon Associate and member of other affiliate programs, I earn from qualifying purchases.
Facebook | Instagram | Pinterest | Twitter | YouTube