Want to redecorate your shelves for fall? Here are fall shelf decor ideas to inspire your autumn decorating!
It is fun to redecorate your home seasonally. But, it can also be overwhelming, expensive, and cluttery to feel like you need to replace everything multiple times a year.
I am a big believer that little tweaks can change the feel of your home and reflect the coming holidays and current seasons.
Today I wanted to chat about fall decor and how to incorporate it into shelves in your home.
Historically, I have mostly decorated the mantel on our fireplace, but we have put up a lot of floating shelves this year and I am excited to decorated them seasonally, as well!
Check out the top Fall decor trends here!
What month do you put out fall decor?
Typically you start decorating for Fall in September. Halloween decor goes up for the month of October. Fall decor is usually kept up until Thanksgiving, after which many people transition to Christmas or Winter decorations.
Here is my guide on how to make your home feel cozy for fall!
How do you decorate a shelf in the fall?
Decorating your shelves for the seasons does not mean that you need to get rid of everything and start new. In fact, don't do that! Instead, just pick a few elements to swap out.
In general, I like to pick a seasonal color scheme for accessories. If you typically style your shelves with a lot of neutrals, adding a pop of seasonal colored decor items will have a big impact!
There are other simple decor tweaks you can make for fall. For example, if you have faux flowers in the spring or summer, swap them for branches, fall leaves, or florals in fall colors for autumn.
Trade a frame for a large pumpkin, or place pine cones in a bowl for a fall feel. You'll be surprised at how much of an impact a small change can have on your space!
Can you mix fall and Halloween decor?
You can definitely mix fall and Halloween decor. Hay bales and pumpkins go hand in hand with witches and skeletons! If this is your plan, start with a base of fall decor and add halloween on top so it's easy to remove (but still have fall decor) after October 31st.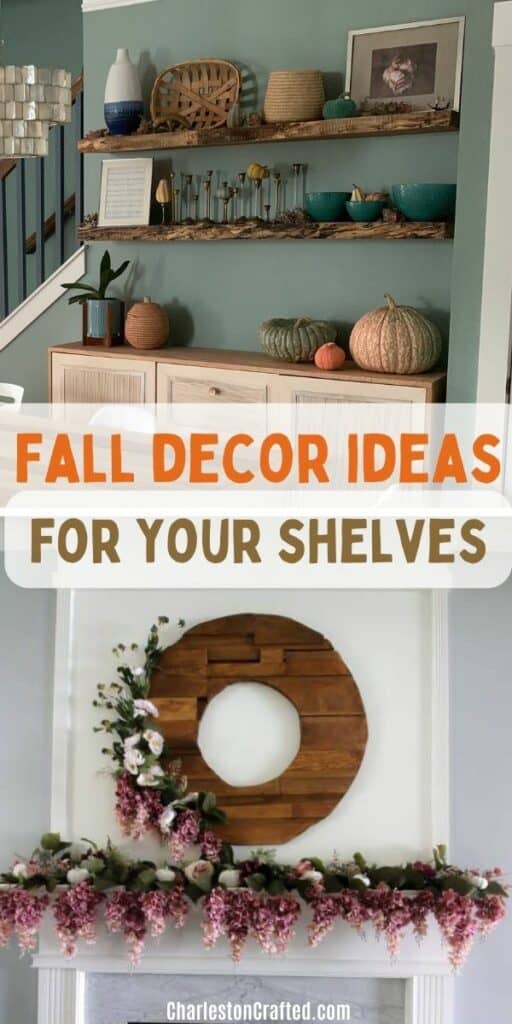 Fall shelf decor ideas
Fall decor usually comes down to natural elements, warm toned colors, and pumpkins!
Natural elements
Natural elements are one of the cornerstones of fall decor. By natural elements I mena:
branches
leaves
pine cones
acorns
stone
woven material such as straw or grass baskets
I love using natural materials to add texture and interest in a space without necessarily adding lots of color. This can be great for a neutral living room or if you already have a bold accent color and don't want to add more to the mix.
Alternatively, natural elements don't have to be literal. Raw, unfinished wood – like a natural dough bowl or a wooden cutting board – are great ways to bring in a natural element without having to forage in the woods.
Take an existing plant and set the pot inside a natural toned woven basket. Boom – it automatically feels warm, cozy, and – when paired with other accessories – like fall.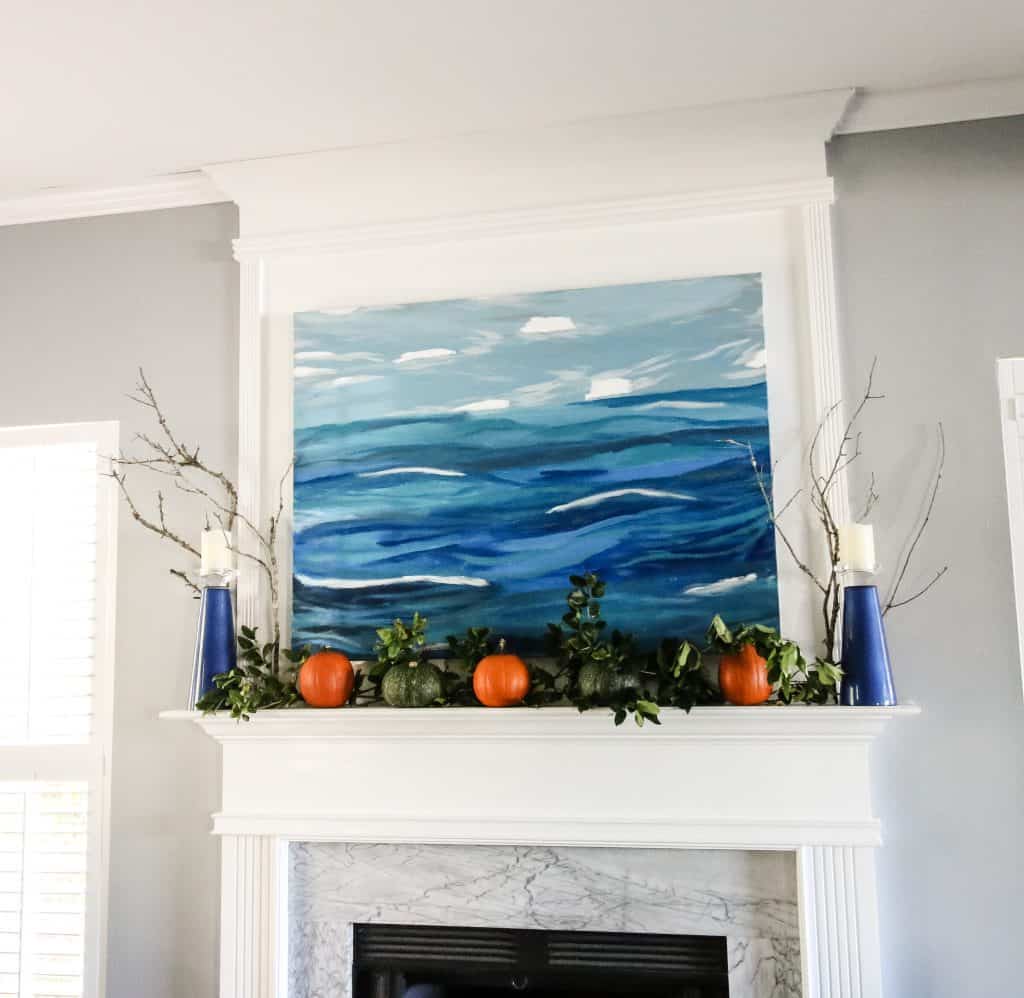 I decorated our mantel with a combination of sticks, leaves, and pumpkins. This gave the space a definite fall feel and was entirely nature-based!
As an added bonus, everything except the pumpkins was foraged from our yard, making this a super inexpensive fall shelf decor idea.
Warm toned colors
One way to make your home feel more fall is to bring in autumn-inspired colors. This could of course be rusty orange, deep red, mustard yellow, or a taupe brown.
But, a few years ago, I decided to decorate our mantel for fall in a dusty purple. I spotted the florals at Michaels and was instantly inspired.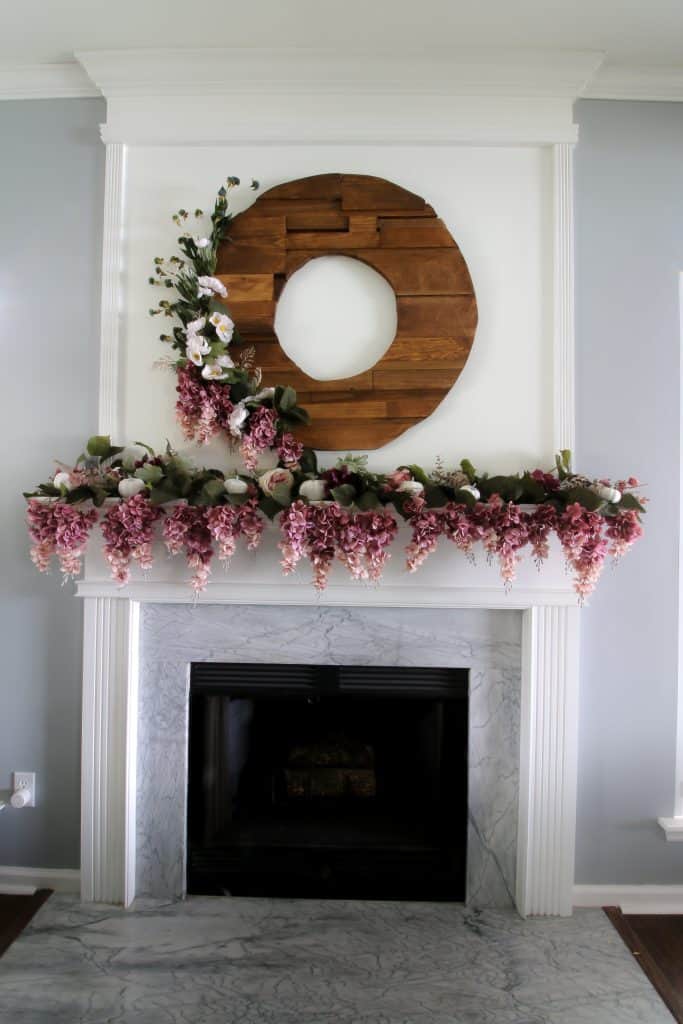 I paired the purple florals with white pumpkins and greenery. But this is just to say that you can think out of the box with your fall home decor! The color wasn't orange but it still felt very cozy and welcoming.
Pumpkins
Pumpkins are an obvious fall decor choice. A bright orange pumpkin will definitely make a shelf feel like Halloween! We did a mantel – which is basically a big shelf – with a ton of orange and black pumpkins. This felt very fall and very halloween, without too much effort.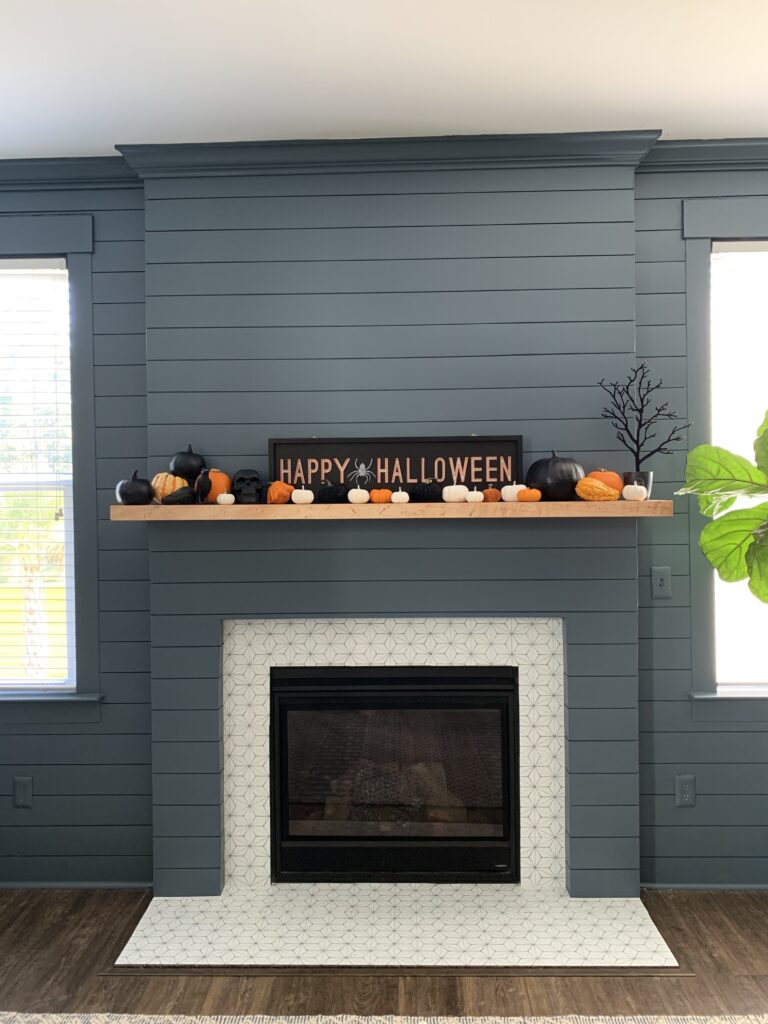 However you don't have to be quite so literal.
Last year we decorated our dining room shelves with a variety of more natural-toned pumpkins. We got these at a local farm stand but they also sell them at Trader Joes grocery store in October.
White, green, and tan pumpkins are a great addition to your shelf styling without being as bold or obviously "fall" as bright orange pumpkins!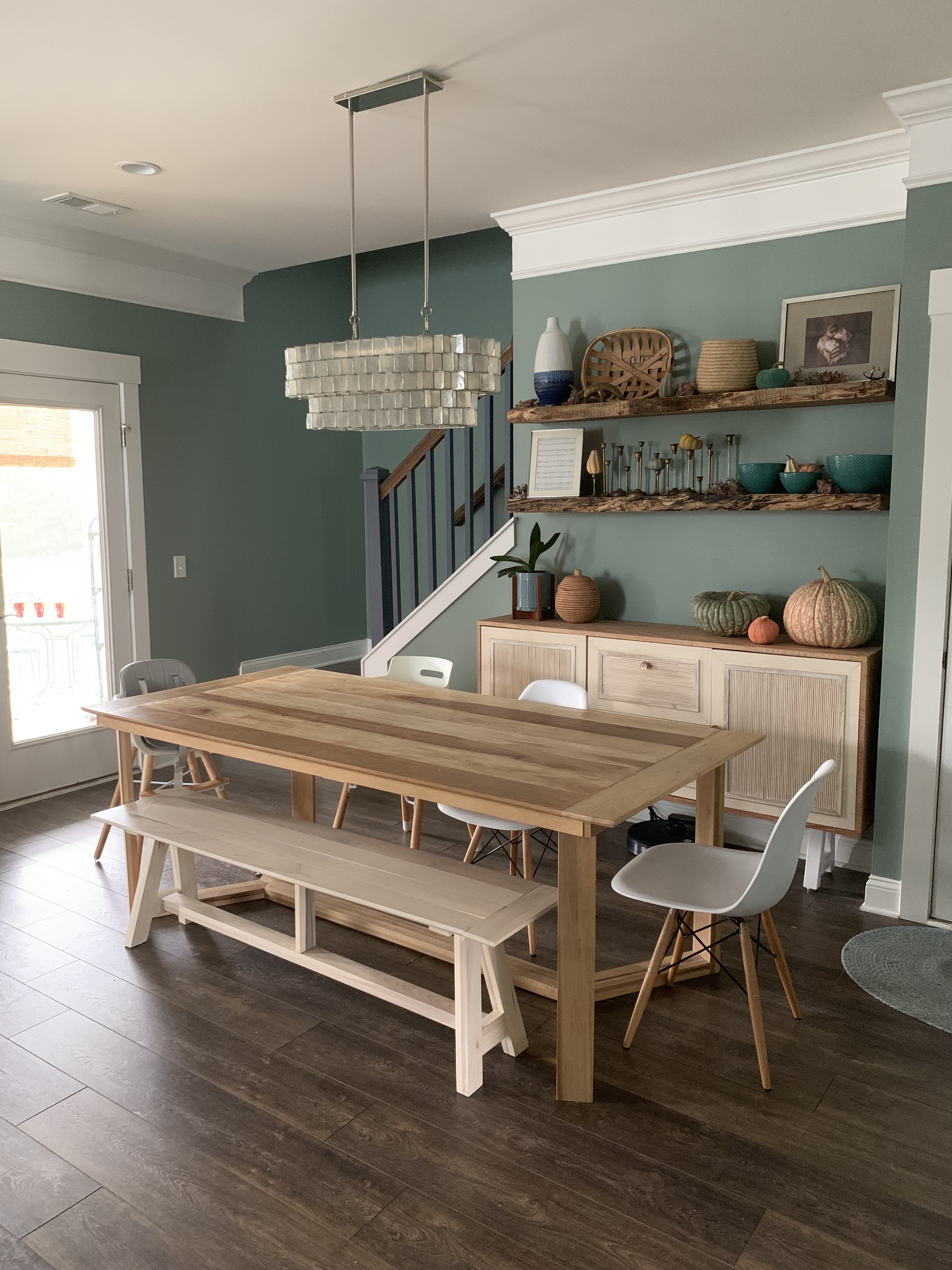 Any more questions about seasonal decorating and fall shelf decor ideas?