Want to anchor furniture to your walls to make it safer for your kids? Here's a complete guide on anti-tip anchoring hardware for furniture.
Thank you to National Hardware for sponsoring this post. All opinions are true and our own. Thanks for supporting the brands that make Charleston Crafted possible!
If you have a child in your home, you are going to want to pay attention to this post.
Kids are wild and many kids like to climb on anything they can get their hands on. However, many children have been killed by being squished by fallen furniture.
This is an absolutely true story: not too long ago, Luke and Rory were playing in Rory's room. We were both nearby but not in the room when we heard a wall-shaking CRASH.
We both went sprinting and were horrified to find Rory's dresser had fallen over to the floor.
It was one of the scariest possible things.
Luke's legs were under a drawer but we didn't see Rory at a first glance. It was panic-inducing.
One second later, as we're lifting this massive dresser up and thinking Rory is trapped underneath, Luke pointed out that Rory was actually on the other side of the room, behind the bedroom door.
They were both OK, but it could have been horrible.
After that, we have made it our mission to anchor as much furniture as possible to the wall.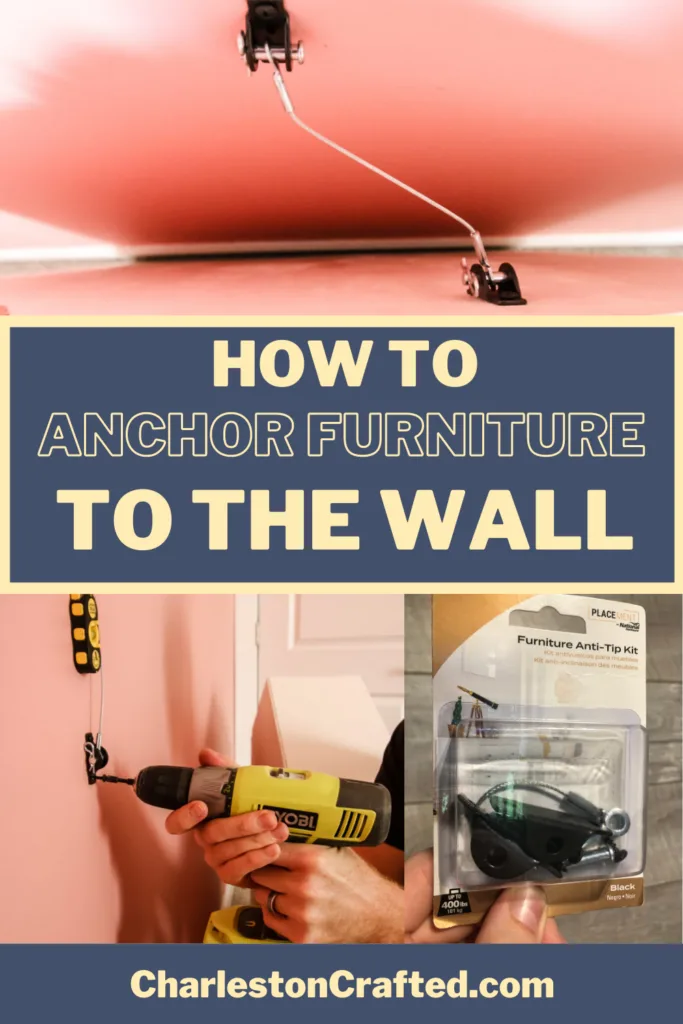 Thankfully, easy-to-install furniture anti-tip kits, like the one from National Hardware, are an inexpensive and accessible option for securing furniture to your wall and protecting your children.
If you are concerned with child safety in your home, you need to secure your furniture to the wall as soon as possible.
How do you secure furniture to the wall?
You will want to secure your furniture to the wall using anti-tip anchoring hardware.
There are a few different styles of furniture anti-tip hardware kits that are good depending on your situation.
When we first did Luke's jungle nursery in our old house, we installed two anti-tip straps, one that attached to the wall and the other to the furniture.
However, it didn't allow for a lot of adjustment and was tight to fit in the space.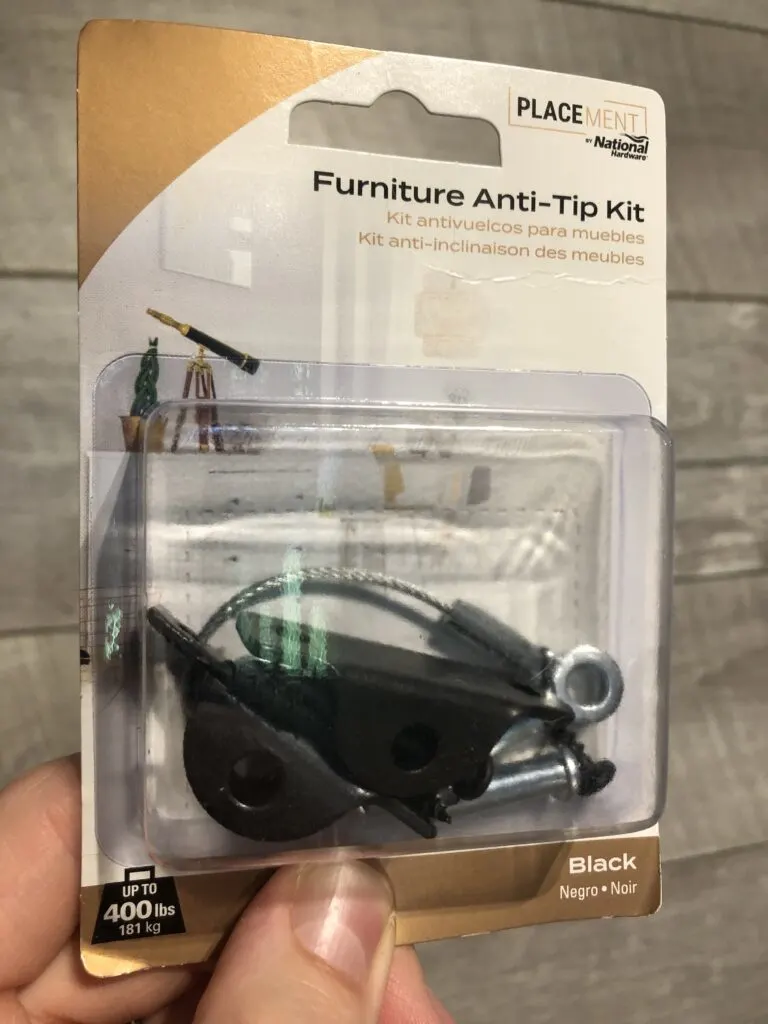 There are other kits, like the one from National Hardware, that is a wire that attaches to metal pegs anchored into the wall and into the furniture.
We like these ones now because they can be installed onto your furniture a couple of different ways, depending on what it is.
We'll show you a couple of those examples in just a little bit.
Supplies needed to anchor furniture
Anti-tip anchoring hardware
Drill
Stud finder or drywall anchors
Pencil
Steps to anchor furniture to the wall
Use a stud finder to find a stud behind your piece of furniture.
Pre-drill holes smaller than your screws into the stud. If there's no stud, insert a heavy duty drywall anchor.
Screw one end of the furniture hardware into those holes.
Hold the second end of the bracket to a secure part of the underside of the piece of furniture. Use a pencil to mark the holes.
Pre-drill holes where you marked them.
Line the hardware up with those holes and screw into place.
Slide the furniture back into place if needed.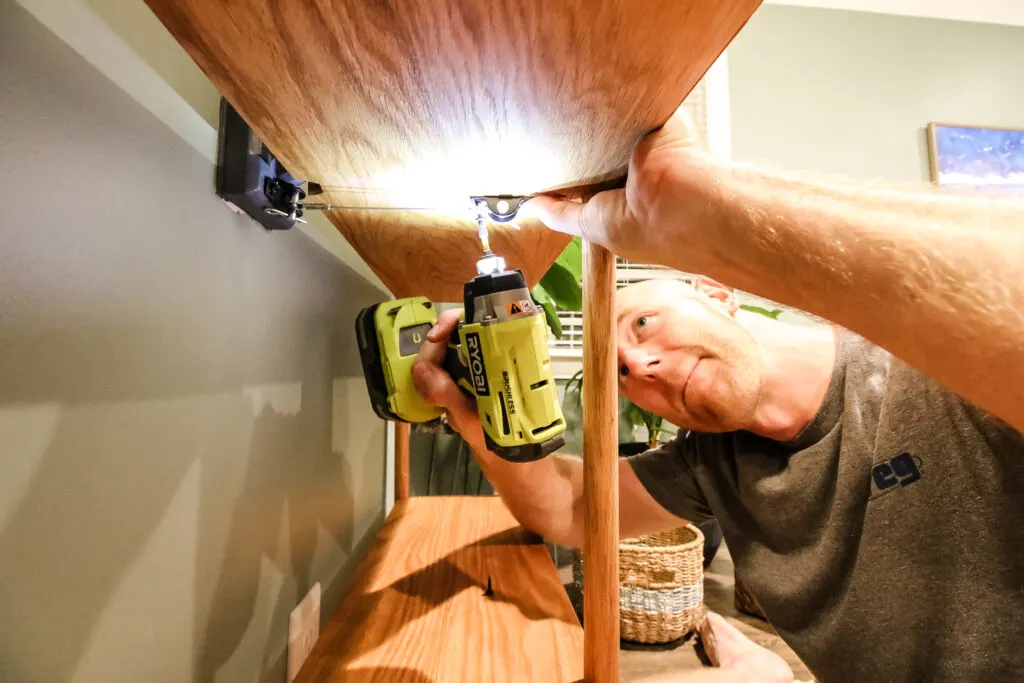 How furniture anchors work
Furniture anchors work by having a very strong wire with a fastener on either end.
One end of the furniture strap screws into the back of the piece of furniture.
The second end of the furniture strap screws into the wall.
By securing these together, the furniture can't tip forward, even if a child opens all the dressers or climbs on the shelves.
Anchoring to a wall
When anchoring furniture to the wall, you need to drill your anchoring kit into either a wood stud in the wall or use a drywall anchor.
You can use a stud finder to find the stud. Then, use longer screws to attach the wall-side of the anti-tip kit into the anchor.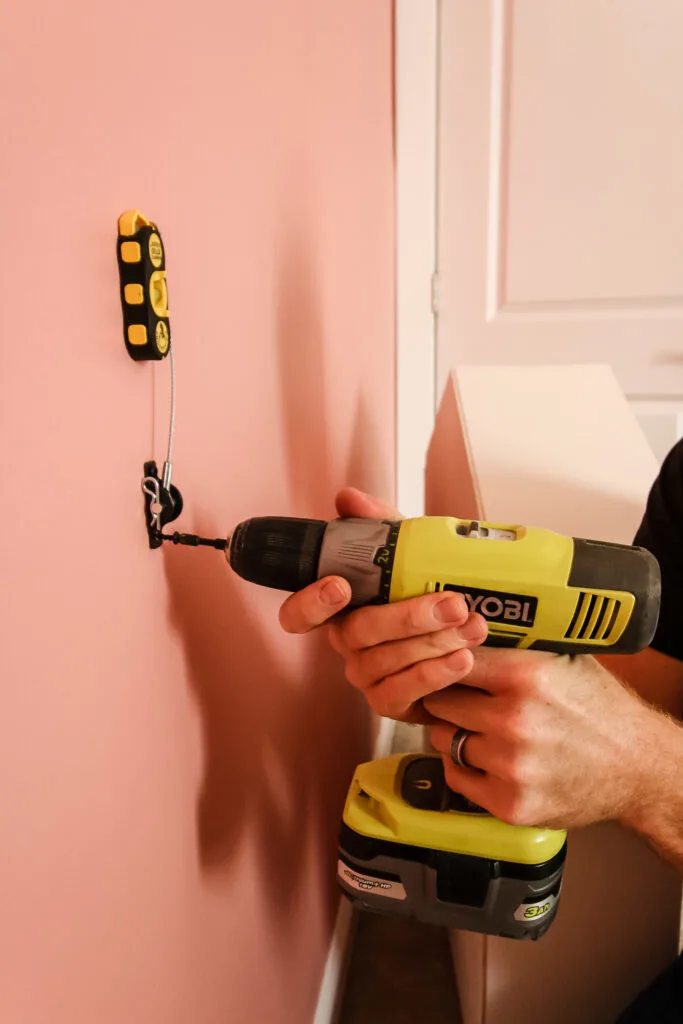 Securing into a stud will be by far the most secure and heavy duty.
If there's no stud where you need to install the anti tip kit, you will need to drill a small pilot hole and then install an anchor into that pilot hole, Then, screw the steel cable into that anchor.
Make sure you're using a heavy duty anchor that will withstand a lot of weight, otherwise, the anti-tip kit won't help.
Attaching the brackets to furniture
The second end of the furniture tip kit screws into the furniture. Pick a spot thick enough to take the depth of the screw.
For example, if it's a bookshelf with a thin backer, don't screw into the backer!
The furniture anti-tip kit from National Hardware actually allows you to drill a small hole in the back of your furniture and thread the wire through, allowing you to attach the anchor on the furniture side to a thick part of the furniture.
Depending on what you have, you could attach to the underside or the side of a furniture wall.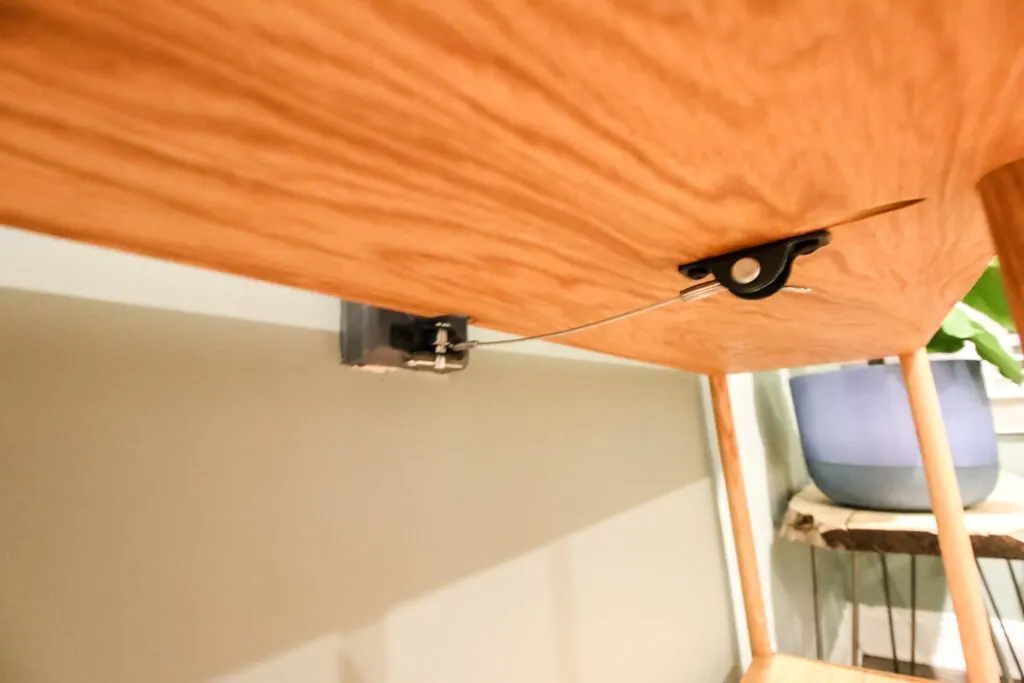 For anchoring the DIY dowel rod bookshelf we just built, we simply attached the anti-tip wire to the underside of the top shelf, where no one could see it.
Because of the open back, there was no need to drill a hole in anything and it is very secure.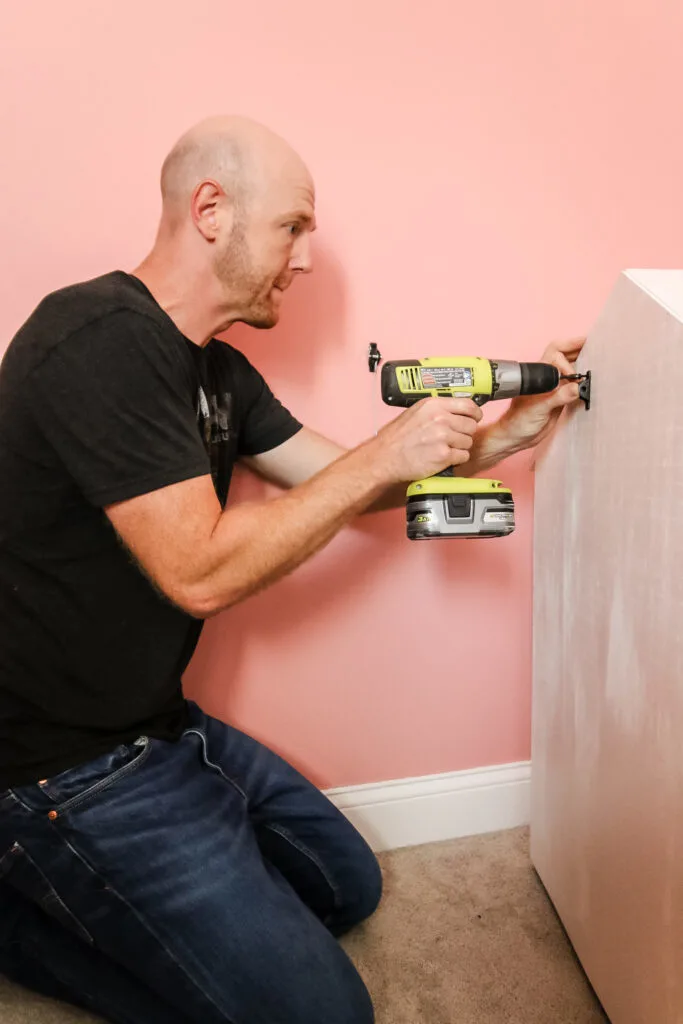 When we installed the kit onto Rory's DIY dollhouse bookshelf, we drilled through the thin plywood backer and attached the wire to one of the support shelves.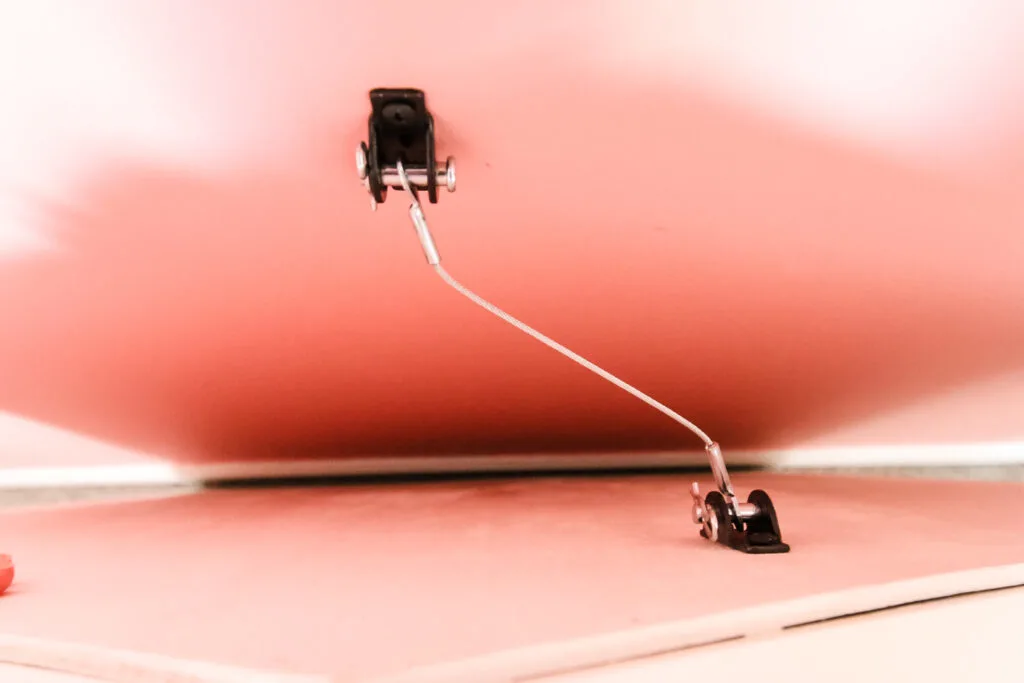 What furniture should you anchor to the wall?
If you have small children, it is much better to be safe than sorry when it comes to anchoring furniture to the wall. We suggest anchoring:
Bookshelves
Toy shelves
Dressers
Bedside tables
Armoires
Cabinets
Televisions
Any furniture in a child's bedroom or playroom
Especially focus on (but don't limit yourself to) furniture where kids are frequently accessing toys or clothing on their own, or anything in a room where children are frequently left alone.
How do you secure furniture without putting holes in the wall?
If you don't want to put screws in the wall, there are a few options for anchoring furniture:
However, these methods will never be as secure as using anti-tip anchored hardware screwed into the wall.
Any questions about using anti-tip anchoring hardware?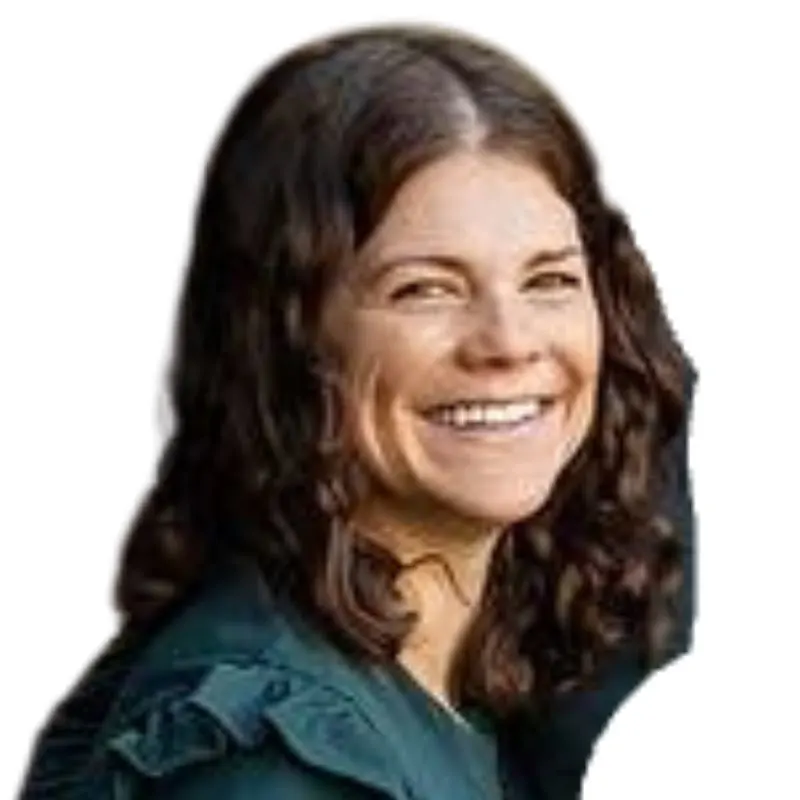 Hello, I'm Morgan, half of the creative force behind CharlestonCrafted.com! With a passion for DIY that dates back to 2012, I've transformed three homes and now I'm dedicated to helping others craft their dream spaces. Let's turn your house into a home together!