We LOVE barn doors and have written tons of content about them. Today I wanted to round up all of those posts into one and share with you everything that we know and love about barn doors.
Download the free ebook for a convenient PDF with everything that you need to know about barn doors!
Click here to download our FREE ebook – the Ultimate Guide to Barn Doors!
Barn doors are really trendy home decor. They are both functional (as a door) and beautiful (as a decor piece).
You can mix up the type of door that you use as a sliding barn door to match the decor style of your home.
Another big benefit of a barn door is that it slides instead of swings. This makes them ideal for small spaces, where a swinging door might smack into things or get in the way.
However, you will need to be sure that you have room for the barn door to slide along the wall next to the door opening.
Regardless of your space, it's smart to do your research before committing to a barn door. Here is everything that you need to know!
The Ultimate Guide to Barn Doors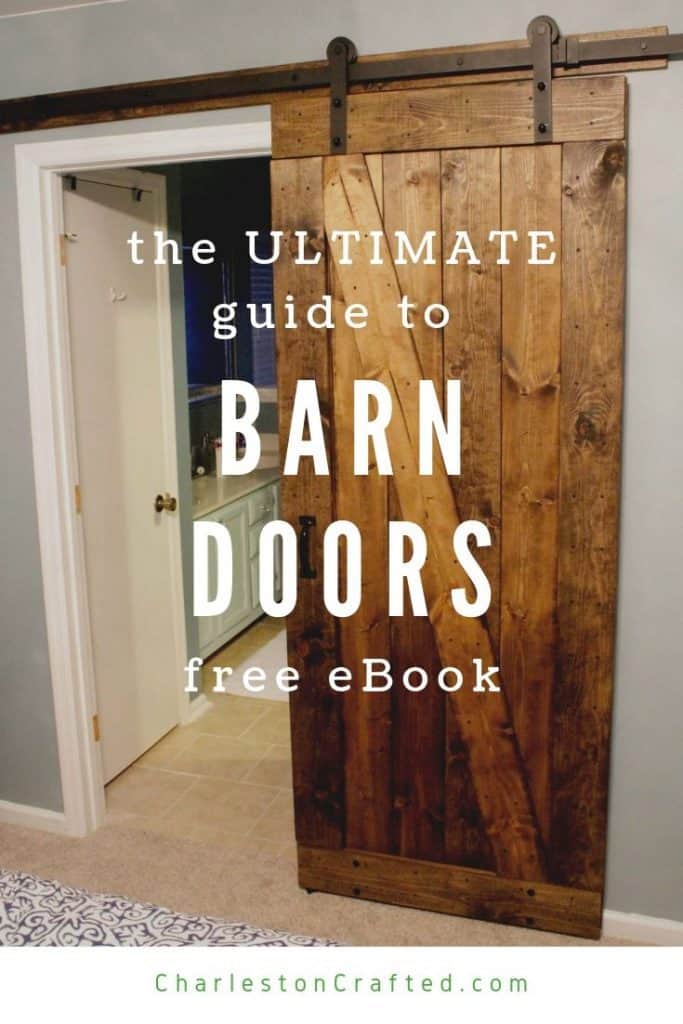 Frequently asked questions about barn doors
How do I build a barn door?
There are tons of ways to build a barn door, but here is the easiest and cheapest way!
We built our barn door using standard, hardware store lumber. It is a one day project! This is really doable DIY and a great beginner woodworking project.
How much does it cost to build a barn door?
Of course, the cost of building a barn door will vary depending on your location and the materials that you choose to work with.
For us, the wood cost about $100, the screws were around $5. The nuts and bolts were the same. When you search for doors that people are making and selling online, they cost about $300-400. This is a much better option and you can do it yourself.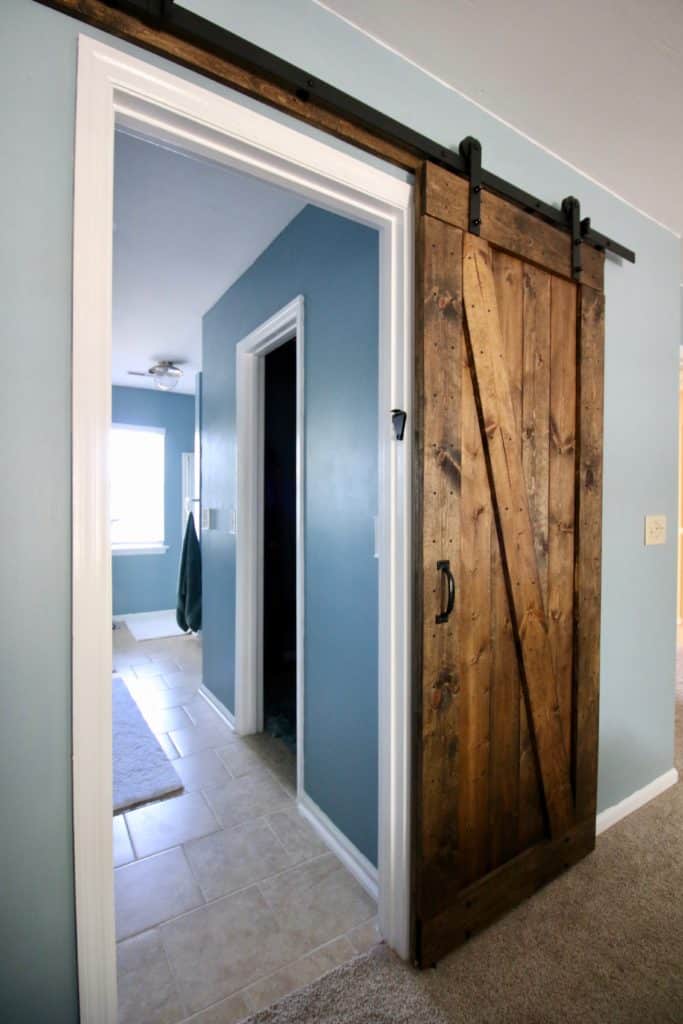 How do I mount a barn door?
You will need barn door hardware to mount your barn door. This is a kit that can be purchased at any hardware store or online.
What do I do with my old door?
We encourage you to donate your old door to a place like Habitat for Humanity ReStore instead of throwing it away. Or, list it for free on Facebook Marketplace. Keep it out of the landfill!
After removing your door, follow this tutorial to fill the hinge holes in the door frame.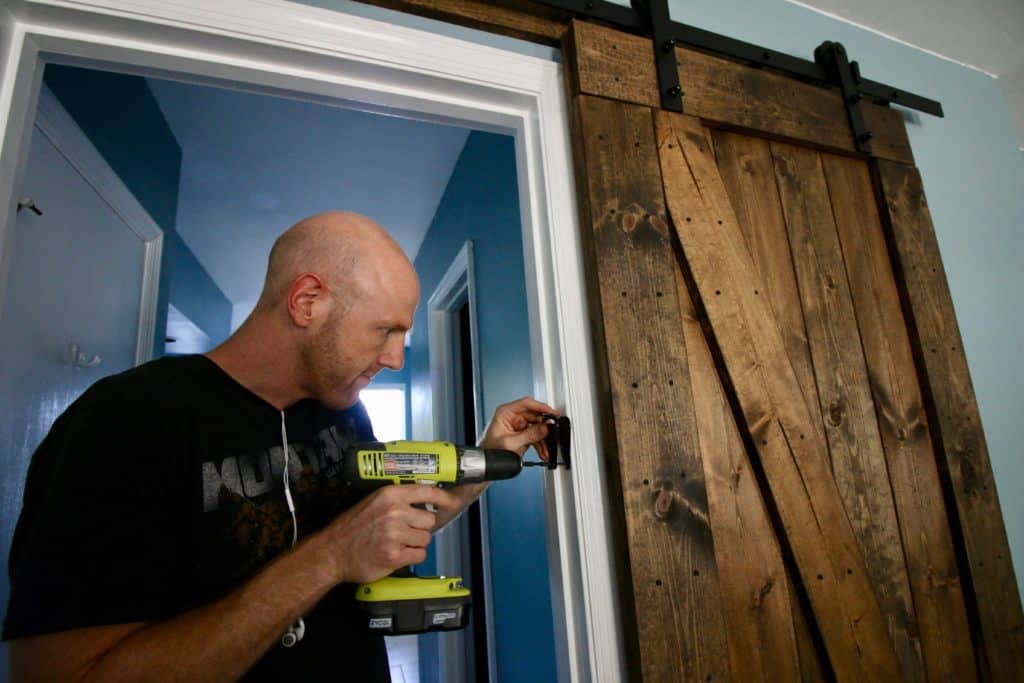 What keeps a barn door from swinging?
The bottom track! This is a super important part of the barn door hardware and should not be skipped.
You can see in this blog post about how we mounted our barn door that the barn door is connected to the floor on the bottom. This keeps it from swinging.
Can interior barn doors lock?
We wrote a whole blog post about what kind of lock works for a barn door!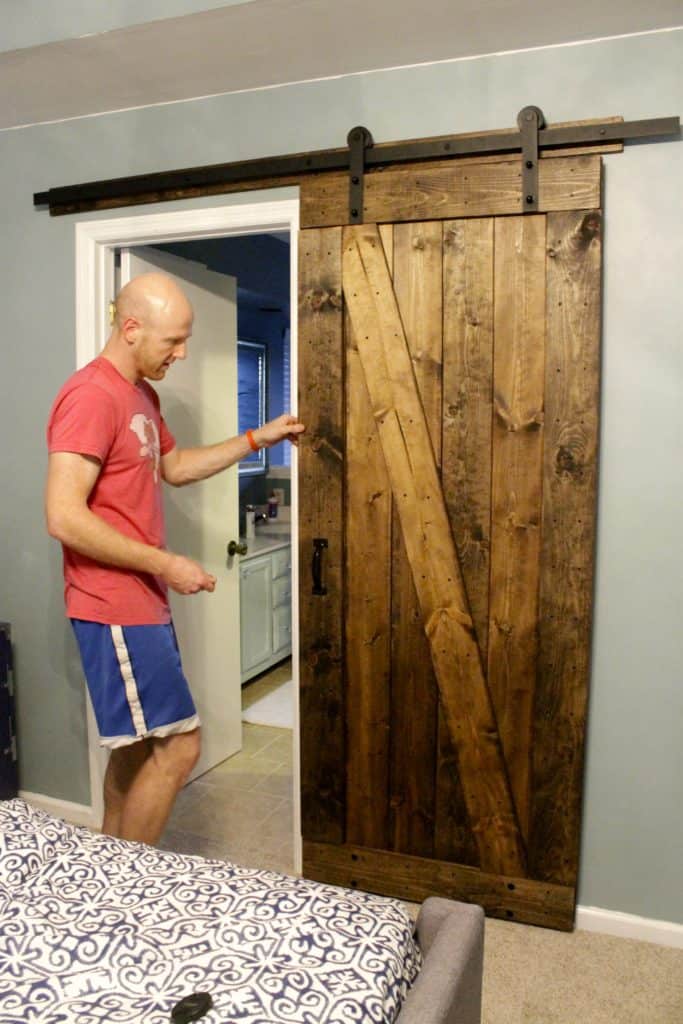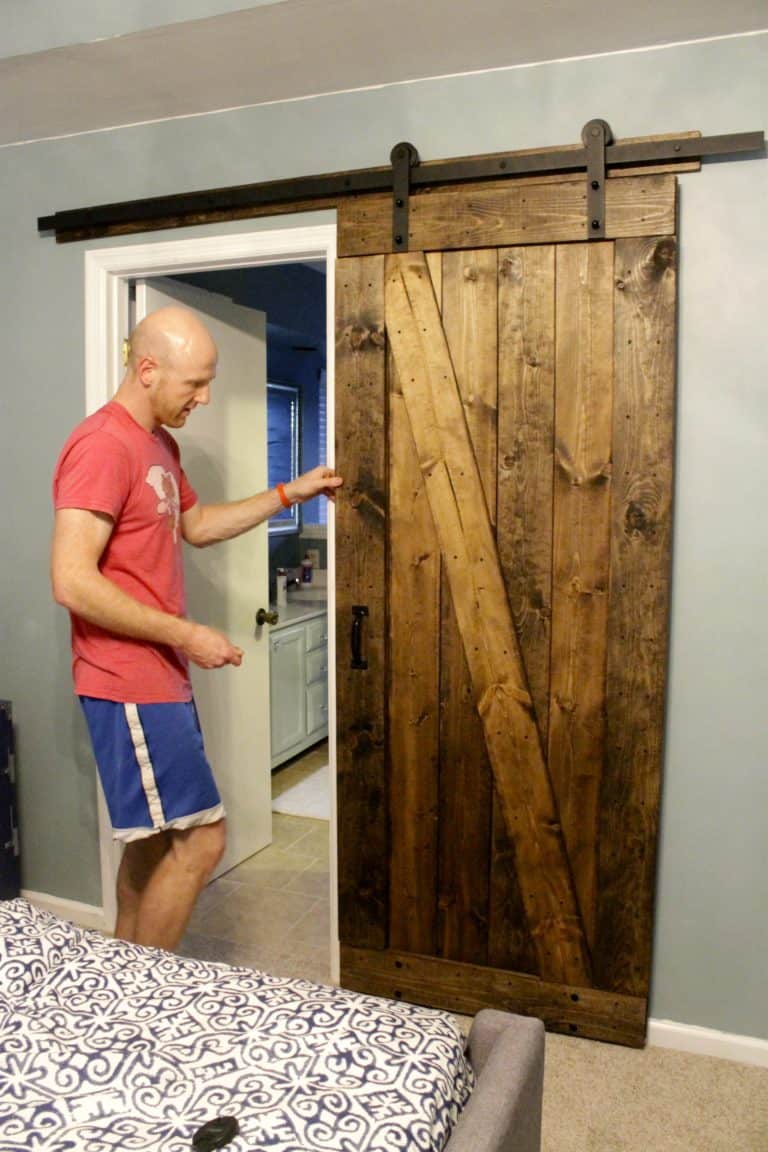 How wide should my barn door be?
Be sure to size your barn door to be wide enough to cover the opening of your doorway with a small amount of overlap on the door frame.
Where can I buy barn door hardware?
Barn door hardware is available at a ton of retailers and online. Here are the most popular places to buy sliding barn door hardware:
Barn door hardware from Amazon
Barn door hardware from Home Depot
Can I DIY barn door hardware?
We have not tried to DIY our own barn door hardware, but we love this tutorial!
What do I need to look for when shopping for a barn door?
Our biggest advice is to look at the spacing of the holes on the rail track. You want the holes in the track to line up with the studs in your wall. If it doesn't, you can use this hack to mount your barn door, but it does lead to more work (and a bit of stress!)
You also want to be sure that the spacers are wide enough to clear any moldings. This includes floor molding as well as molding around the door frame. You can buy wider spacers if you have thick moldings.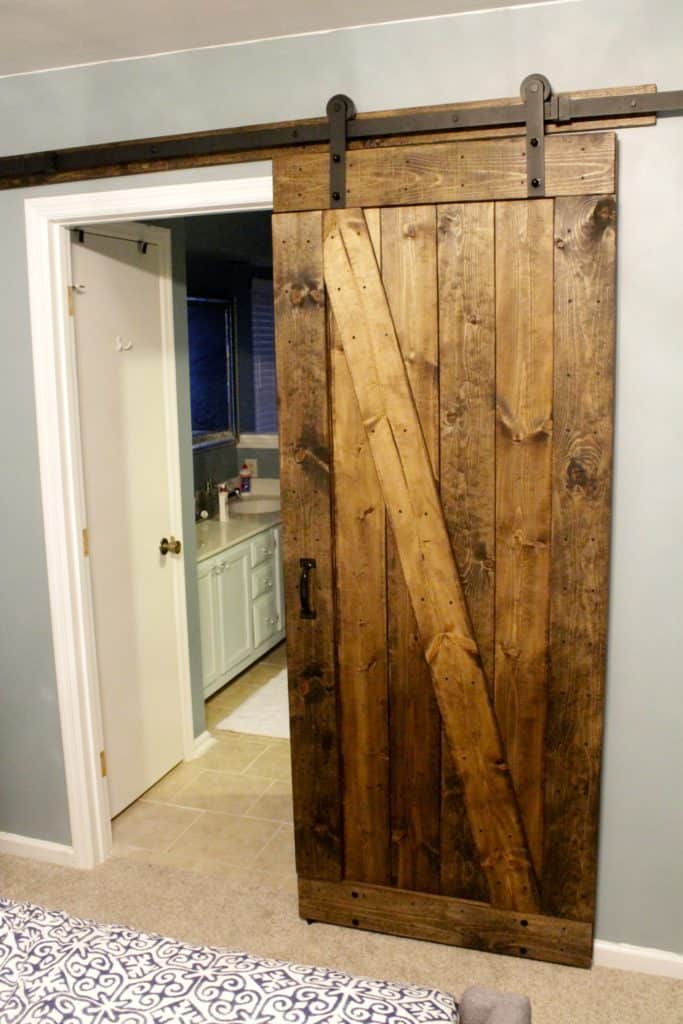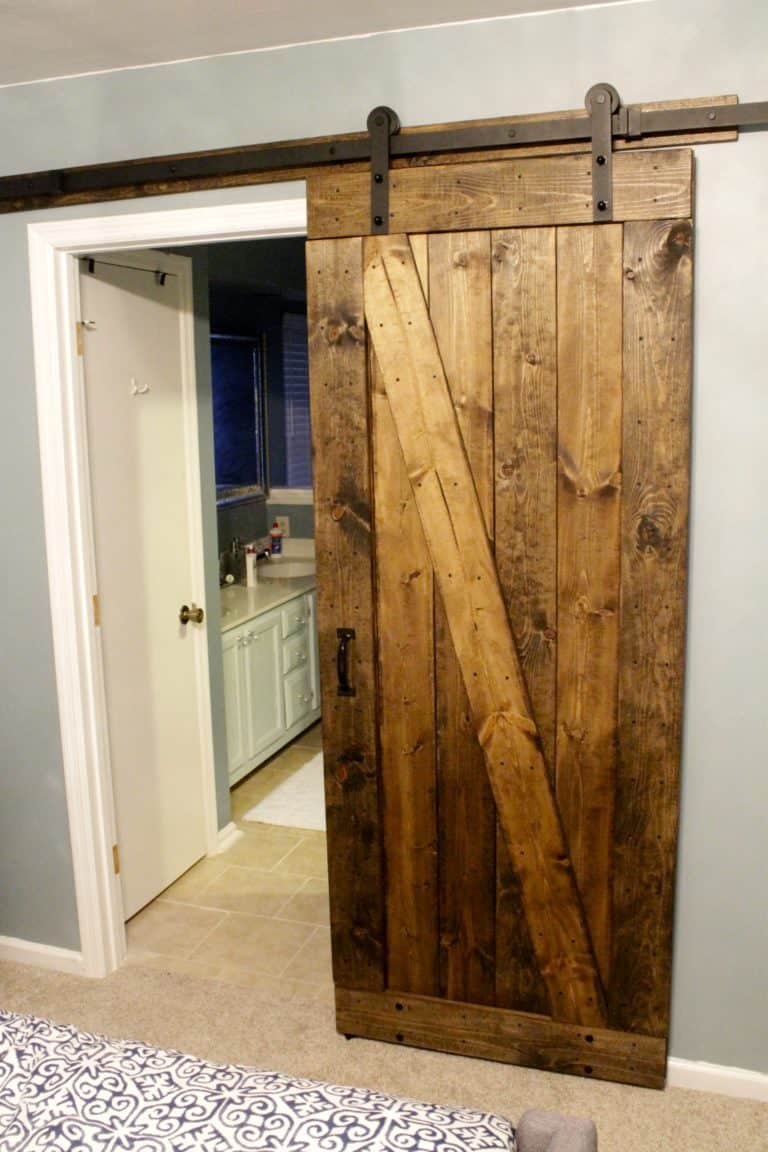 Can I use a barn door for a bathroom?
We wrote a whole post discussing the pros and cons of using a barn door for a bathroom!
Is there a gap between the barn door and the wall?
Yes, there is a gap, which is caused by the spacers in the barn door rail. If you have molding around your door (like we do) that will cover most of the gap, but it is not as "air tight" as a traditional door.
Here are all of the posts that we have written about barn doors: