Barn doors are super trendy – and for a great reason! They are a great way to make a functional and visual impact in any room. We love our DIY barn door and really love how easy it was to DIY. But, as great as the door is, the most important part of any barn door is the hardware.
Today we are breaking down what goes into sliding barn door hardware, where you can get it, and what kind of options for barn door hardware there are.
Want more barn doors? Click here to check out all of our barn door content!

Barn Door Hardware
There are several different aspects of barn door hardware.
The first piece is the rail or track. The rail is the horizontal metal piece that attaches to the wall that the barn door hangs from.
The next piece are the rollers. The rollers go on the top of the door and allow for the barn door to slide on the railing.
You will also have rail spacers. These are what holds the rail off the wall. They need to hold the door off the wall enough to clear any molding or door frames.
Additionally, you will need a floor guide. This is what keeps the door from swinging and keeps it in place along the wall.
You will also probably want a handle or pull for your barn door to use to open the door. We have a handle on one side, but not the other. We can slide it just fine from both directions.
If you would like to add a lock to your barn door, we recommend this Everbilt lock. Here's how to install a barn door lock.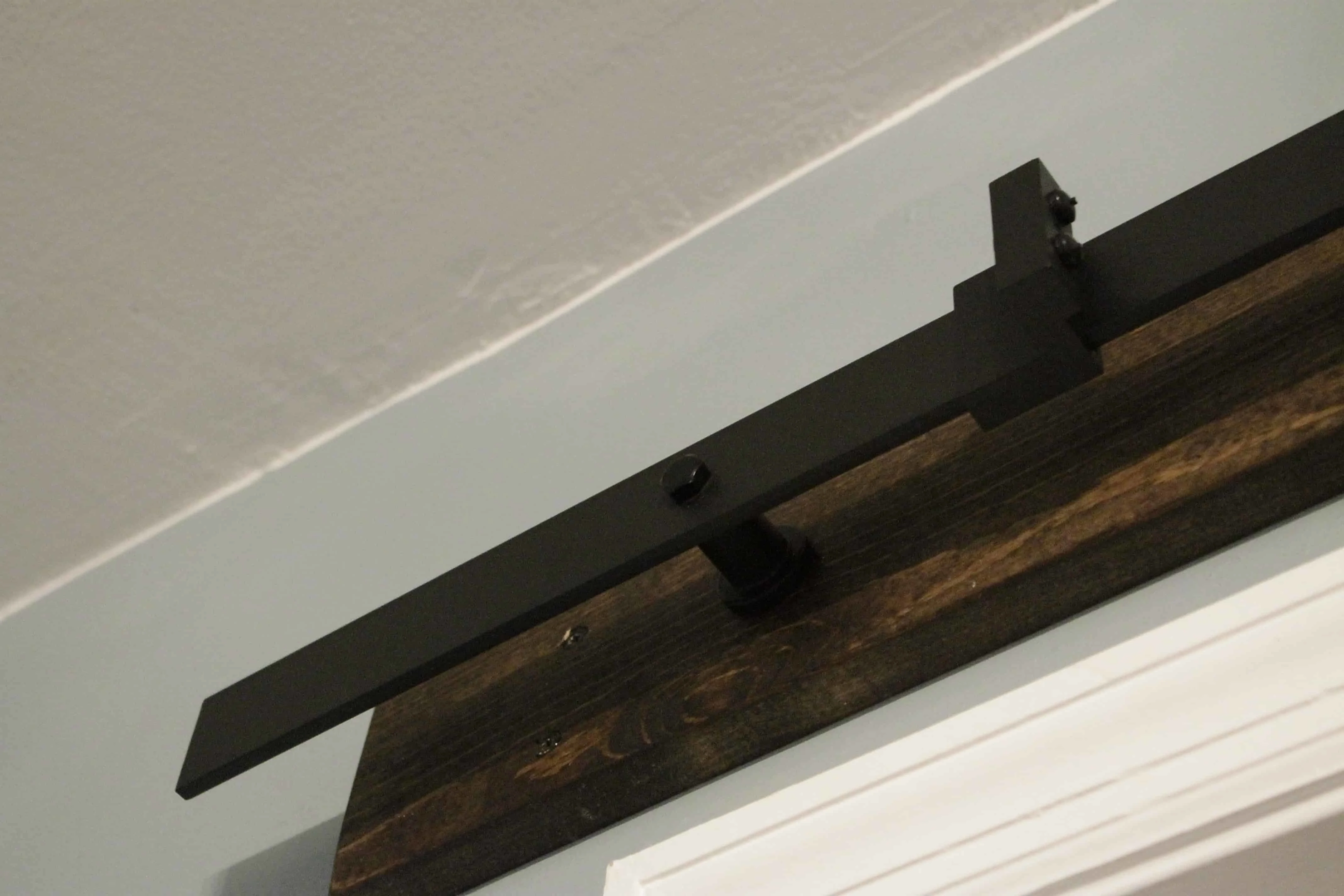 Where can I buy barn door hardware?
Barn door hardware is available at a ton of retailers and online. Here are the most popular places to buy sliding barn door hardware:
Barn door hardware from Amazon
Barn door hardware from Home Depot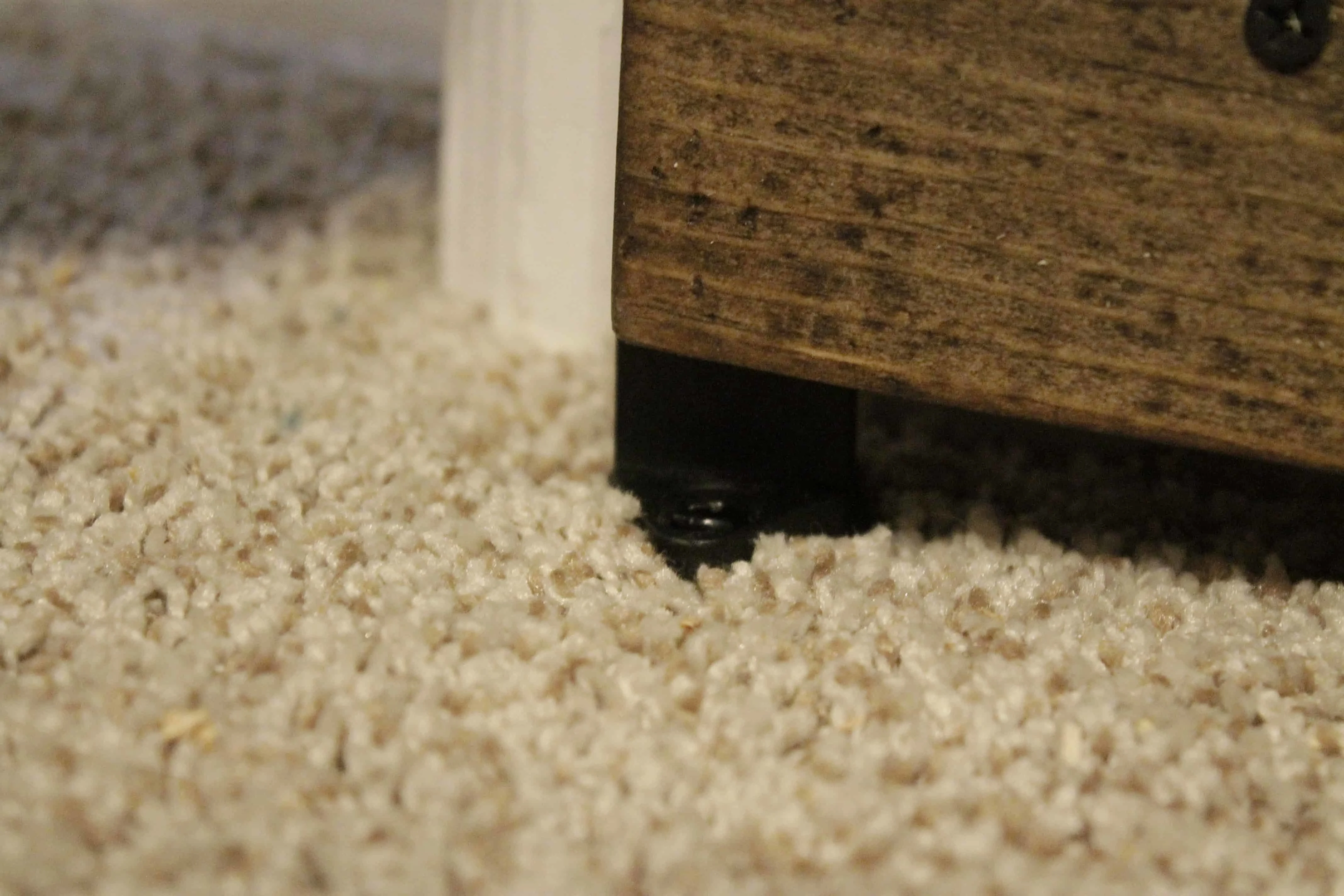 What do I need to look for when buying barn door hardware?
Our biggest advice is to look at the spacing of the holes on the rail track. You want the holes in the track to line up with the studs in your wall. If it doesn't, you can use this hack to mount your barn door, but it does lead to more work (and a bit of stress!)
You also want to be sure that the spacers are wide enough to clear any moldings. This includes floor molding as well as molding around the door frame. You can buy wider spacers if you have thick moldings.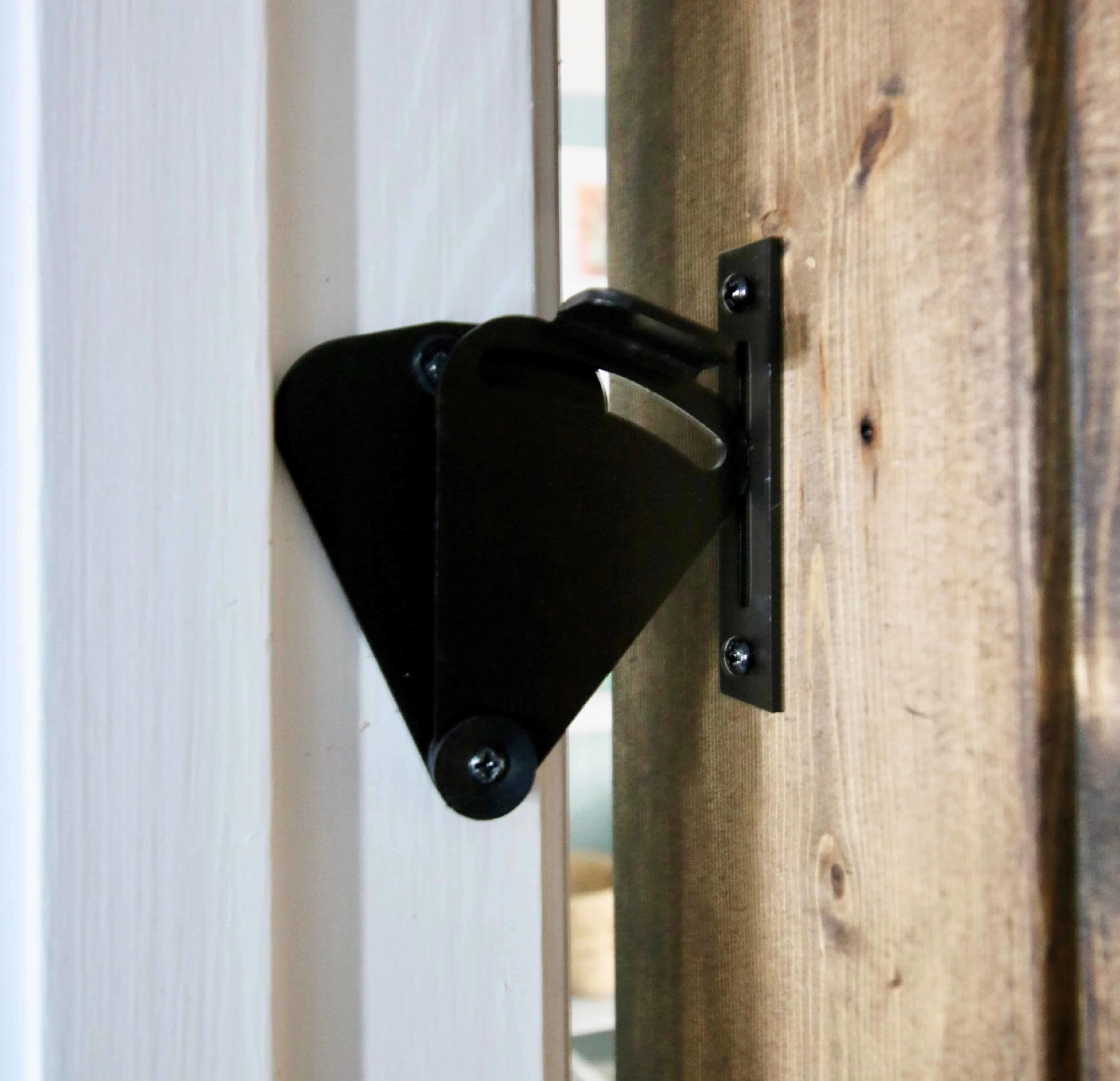 Want more barn door goodness? We wrote an eBook all about Barn Doors – and you can get it for free!
What is your favorite barn door hardware?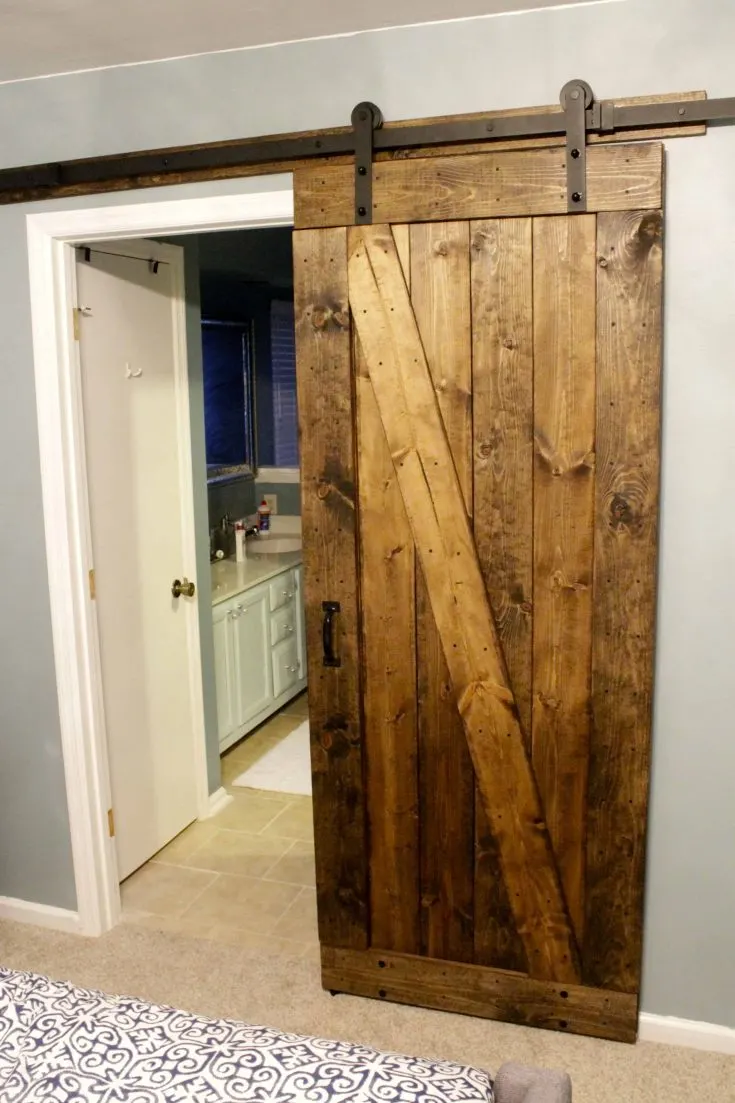 Yield:

1
How to Build and Mount a Barn Door
Barn doors are trendy and fashionable and can add a rustic flair to your space. Here's how to build a barn door and how to mount a barn door.
Materials
Roughly nine 1x6 boards
Screws
Barn door hardware
Instructions
Measure the space you want to cover
Design your door. Use two layers.
For the back layer, use as many 1x6 boards as needed to cover the gap of your door.
For the front layer, cut two 1x6 boards to span the width of your door space and attach at the top and bottom of the back layer. Then cut 1x6 boards to span the gap between those two boards vertically. Finally, cut a board to go diagonal from the top corner to the bottom corner.
Use 1 1/4" screws to attach all the boards from the front layer to the back layer.
Stain or paint your door to fit your decor.
Add a pull for a door handle.
Order barn door hardware. Different brands will differ slightly, but the idea is the same.
Attach a 1x6 board to your wall in the studs if your doorway has a frame that you need to go past. If your doorway doesn't have a frame, you can mount your rail bar directly into the wall.
Mount your rail bar.
Add bumpers for the barn door rollers to hit where you want to door to stop on each end.
Attach the rollers to the top of your door and hang the door on the rail bar.
Add a bottom guide for your barn door so that it doesn't swing back and forth.
Recommended Products
As an Amazon Associate and member of other affiliate programs, I earn from qualifying purchases.