Yesterday we shared with you how to build a rustic barn door like the one we constructed to go between our master bedroom and bathroom. Building the door was super easy, but when it came to mounting it, that was a different story.
We ordered the TCBunny Sliding Door Hardware from Amazon and had a lot of problems with it. Luckily, we are super crafty people we managed to work around them. Here's how to mount a barn door and work around any problems you have with the TCBunny sliding door hardware.
Here is how we lock our barn door!
First off, we didn't read the comments. That's our own fault. We usually always read comments, but didn't this time (it has four and and half stars!). Basically, anyone from America said that this product was the worst. That's because the holes on the TCBunny system don't line up with studs in American homes.
This causes it to be unstable. Luckily, TCBunny includes anchors for the screws. Unluckily, those anchors are the worst and do nothing. Just take a look at these instructions: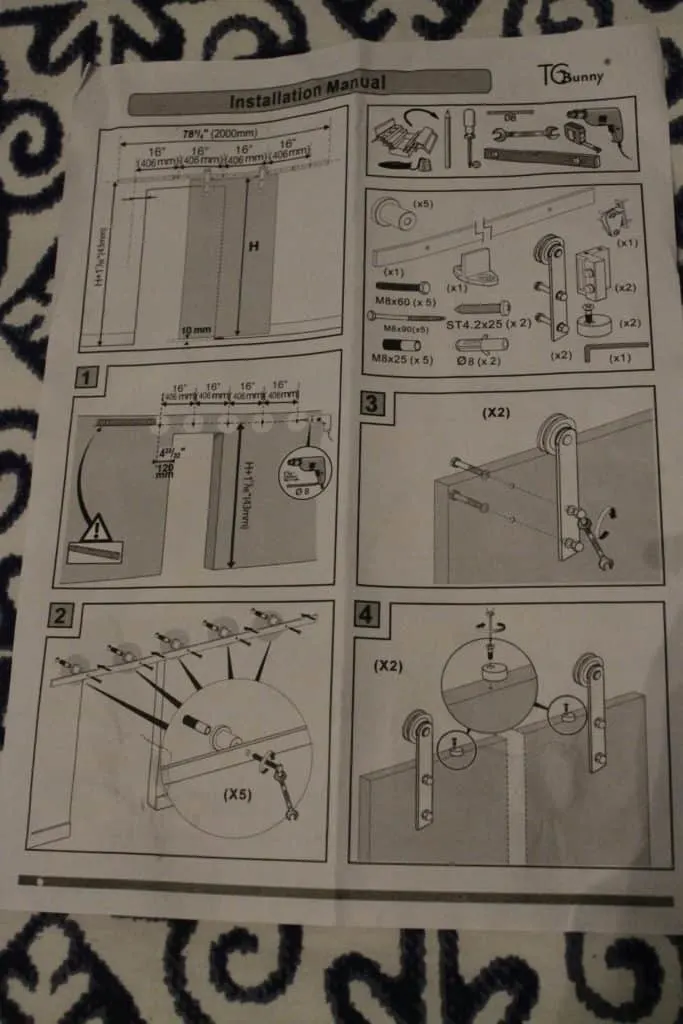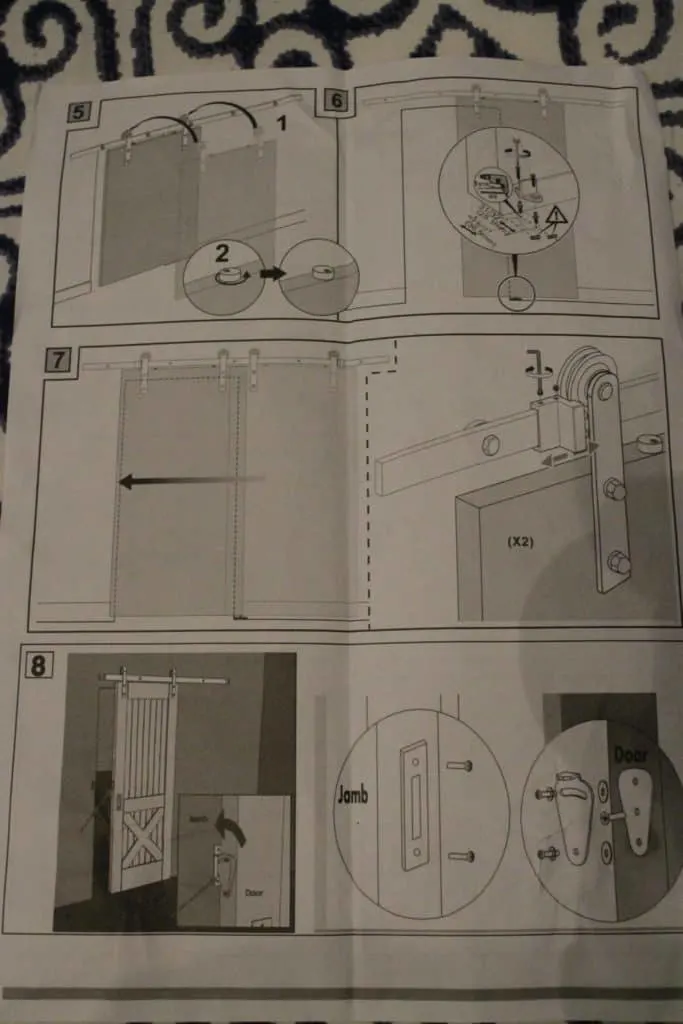 These instructions are of a lower quality than the pictures that IKEA gives you. These instructions skipped steps and didn't label parts and went out of order. They were basically worthless. Unfortunately, I drilled five holes in my wall before I realized how crappy the system and anchors were.
So, backup plan. We went to Lowe's and talked to them about whether or not we should try to use professional grade anchors, but the guy there highly voted against it.
He confirmed my other idea, which was to attached another piece of wood to the studs of the wall and attach the sliding door system to that piece of wood. Also, it would cover the big holes I just drilled.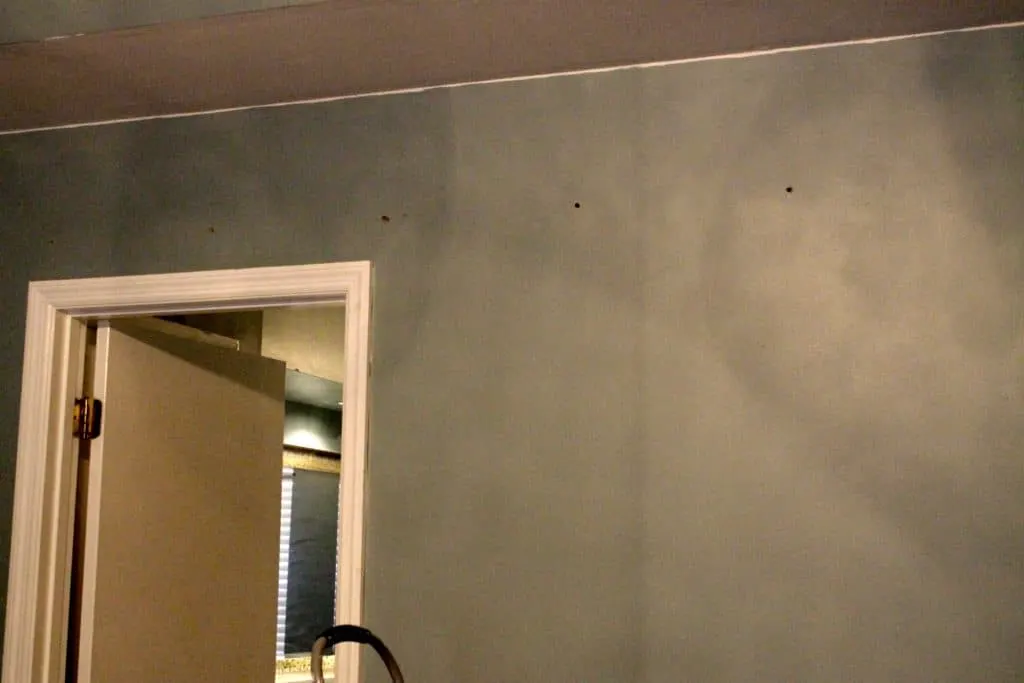 So, I got another 1″x6″ piece of pine and went through the same staining process that I just did for the door. The other option was to paint the wood the same color as the wall so it would blend in, but thinking that it would still be obvious if we did it that way, we decided to stain it to make it look purposeful. So, after the stain was dry, I used my stud finder and then used 3 1/2 inch wood screws to attach the board to the wall.
Then, we were finally able to start using the TCBunny sliding door system. Keep in mind, I'm about to make up the names for most of these pieces because they don't have real names.
So, first off, line up the rail bar on the board and mark your five holes. The rail is really heavy steel, so you're going to want a friend to help.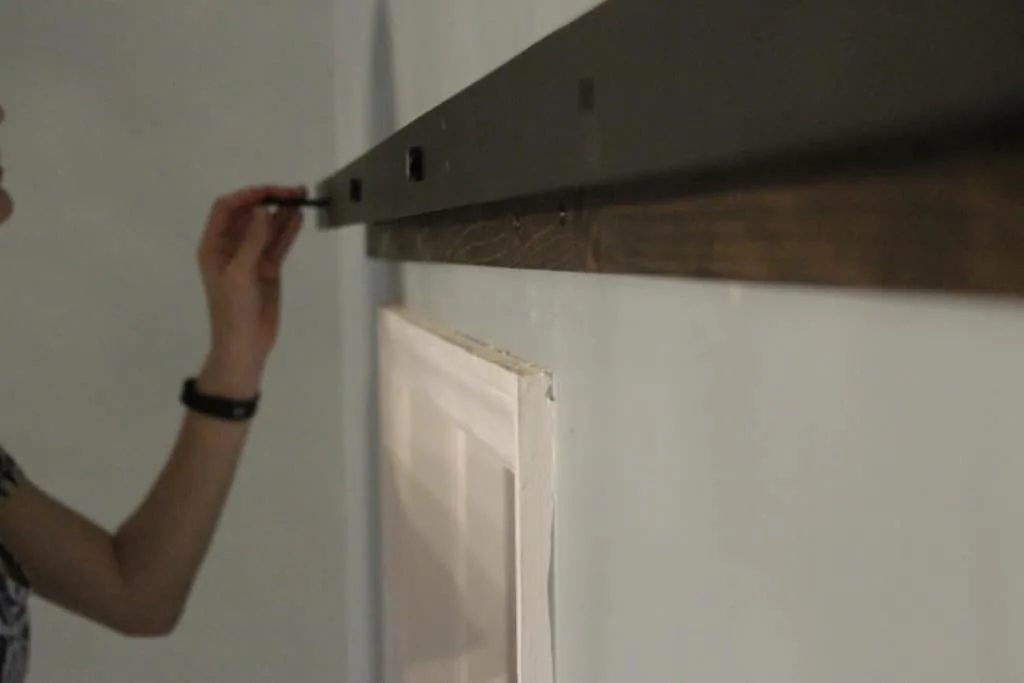 Then, attach the rail to the wall using the separator nubs and the long black wood screws. Start with the one in the middle, then do the next ones on each side.
These are tough because you have to put the screw through the rail before going through the nub, but you have to hold the whole thing up. Again, use a partner. You'll need a ratchet set for this.
Try to screw it in a little bit and then move on to another before getting it all the way tight. Then it will be holding itself up.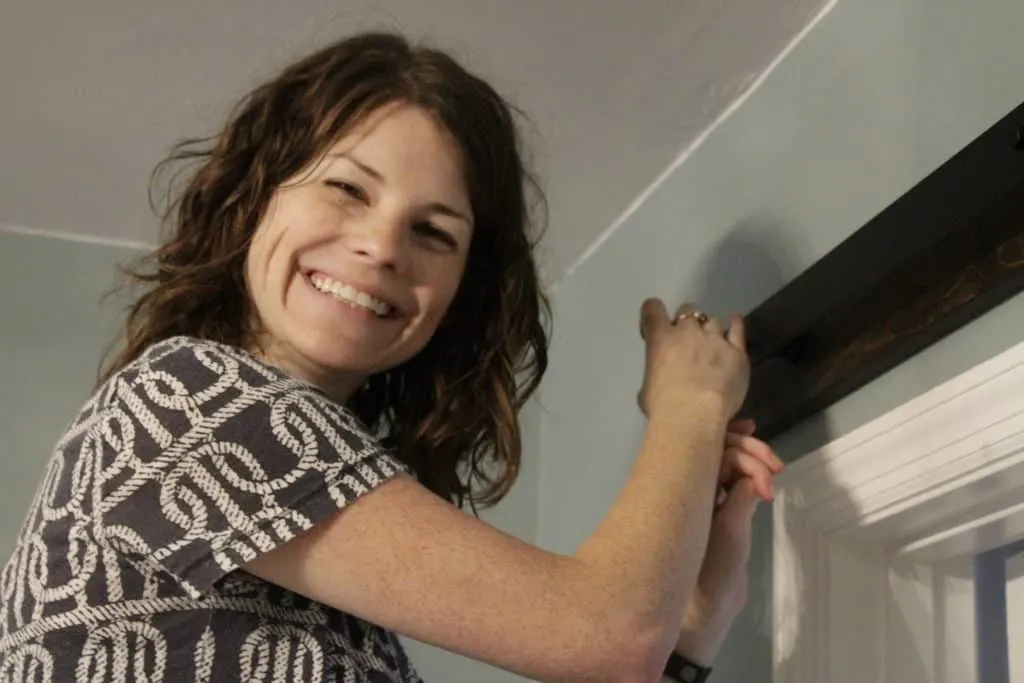 Once you have those first three up, PAUSE. There is a step at the very end of the instructions to add the bumpers, buuuuut in order to do that, we had to remove two of the nubs and slide the bumpers into place.
So, do yourself a favor and add those in between nubs 1 and 2 and nubs 4 and 5. You'll need a really small allen wrench to tighten the bumpers.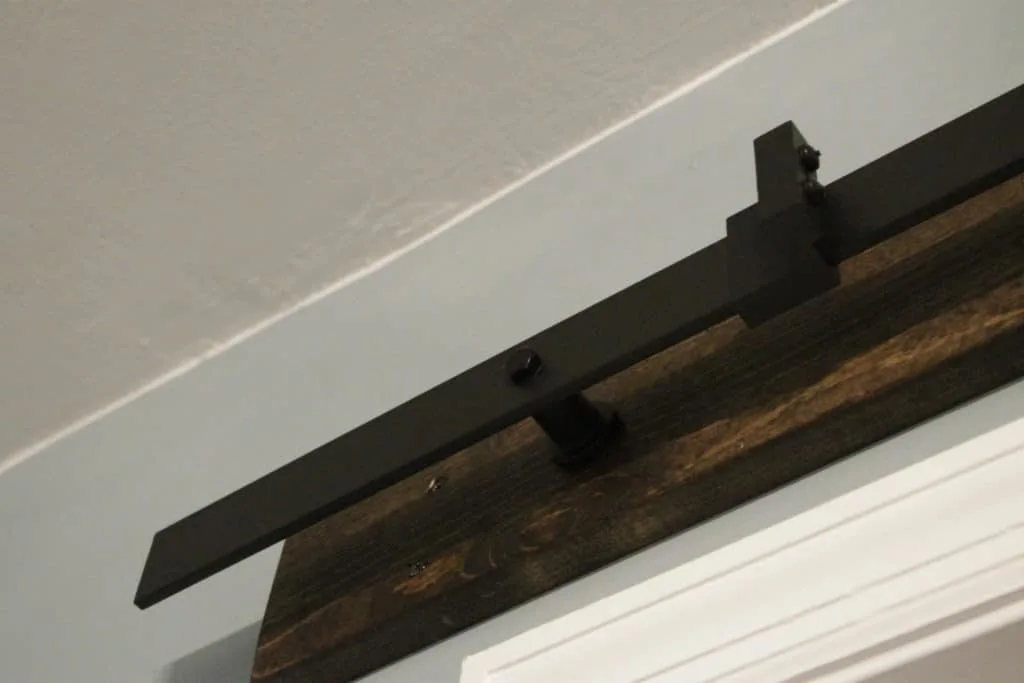 Now, you're getting close. Attach the sliders to the top of your door using the black nuts and bolts. If you've done it all right, now's the time to place the door up on the rail using the rail wheels.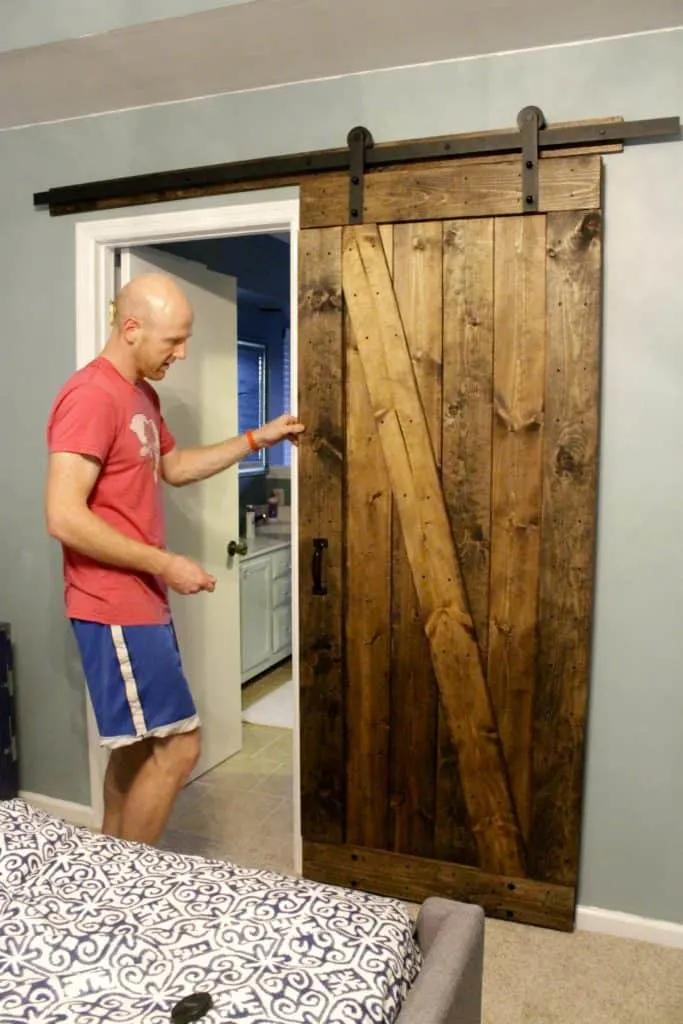 Your door should now be rolling freely, assuming you measured the proper height for the door. You're almost done. The last step is to install the bottom guide.
If you haven't noticed, your door is swinging back and forth from the top and needs something to hold it in place. This little guide requires a track to be cut into your door.
This is easy to do by running the bottom of your door twice across a table saw. Make sure to place the bottom guide in a spot that it will be in the door when it's at both ends of the track.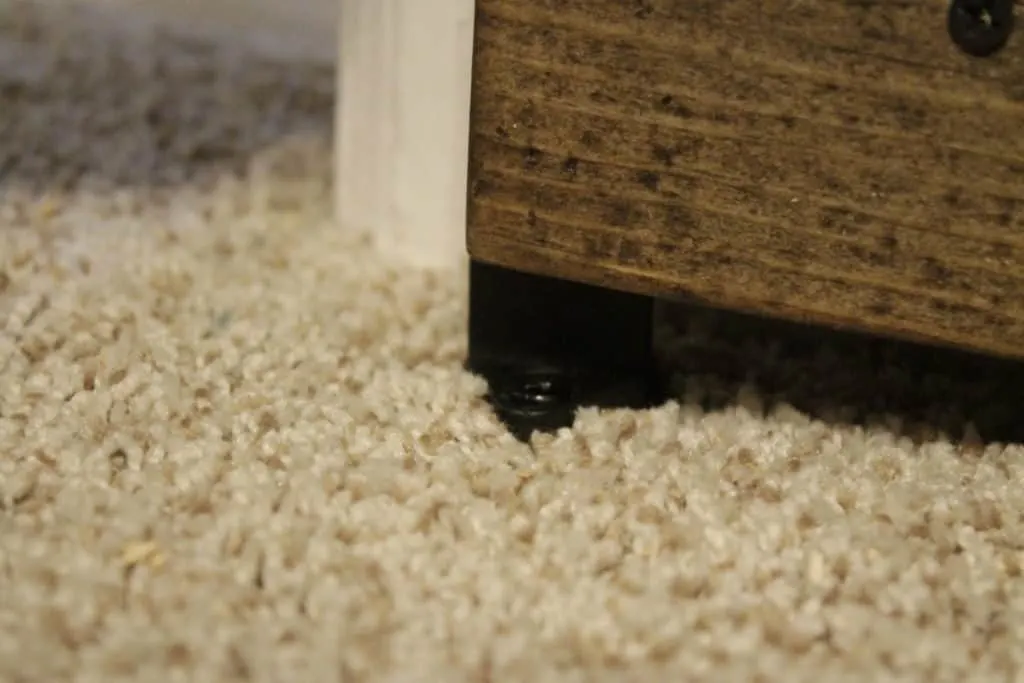 That's it. This TCBunny sliding door hardware system comes with really bad instructions and extra parts that literally don't mean anything, so don't worry. But if you follow our hacks, you should be in a much better place.
Now we have a beautiful sliding barn door to close off our master bathroom from our master bedroom and it's also an art piece on the wall when it's open. It turned out perfect and looks super rustic. Plus, we did it all ourselves and can always be proud of that.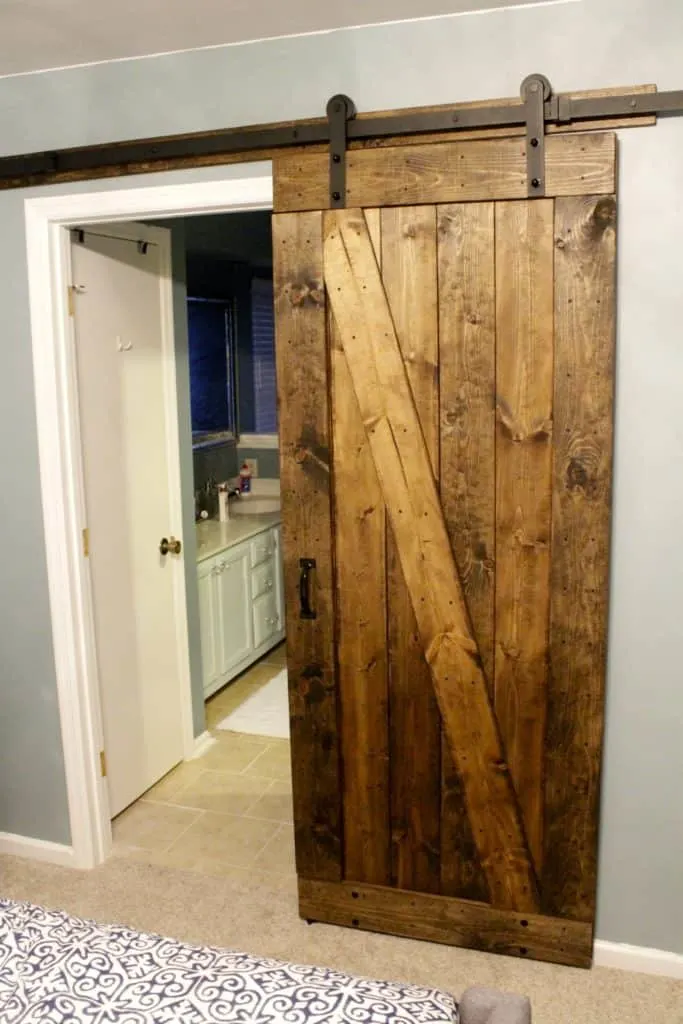 Want more barn doors? Click here for all of our barn door content!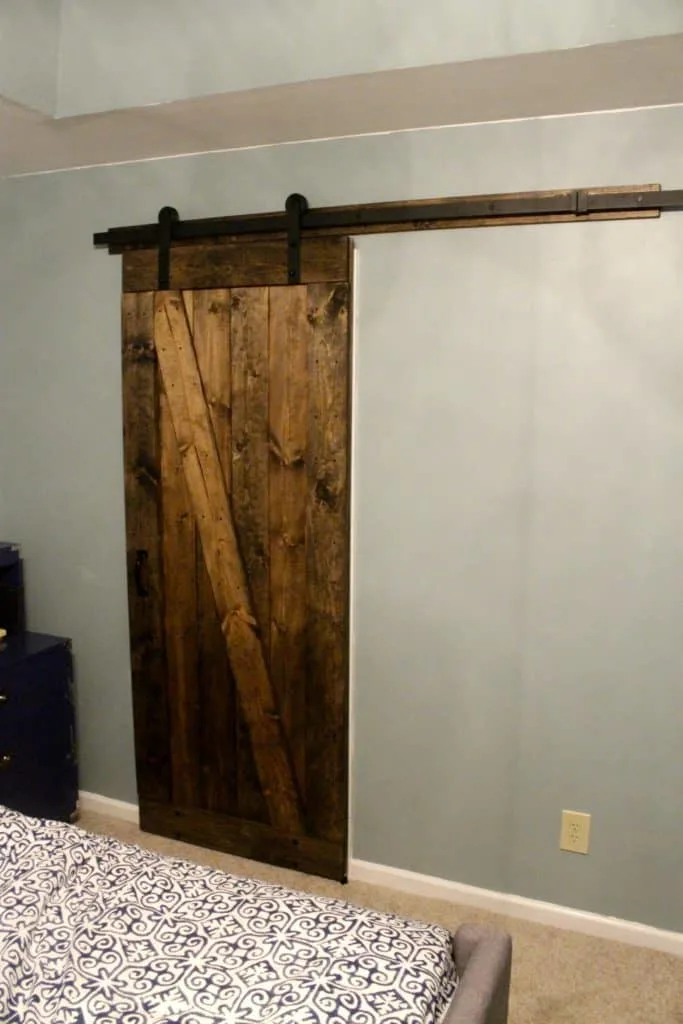 I really hope these instructions for how to mount a barn door help you out!
Want more barn door goodness? We wrote an eBook all about Barn Doors – and you can get it for free!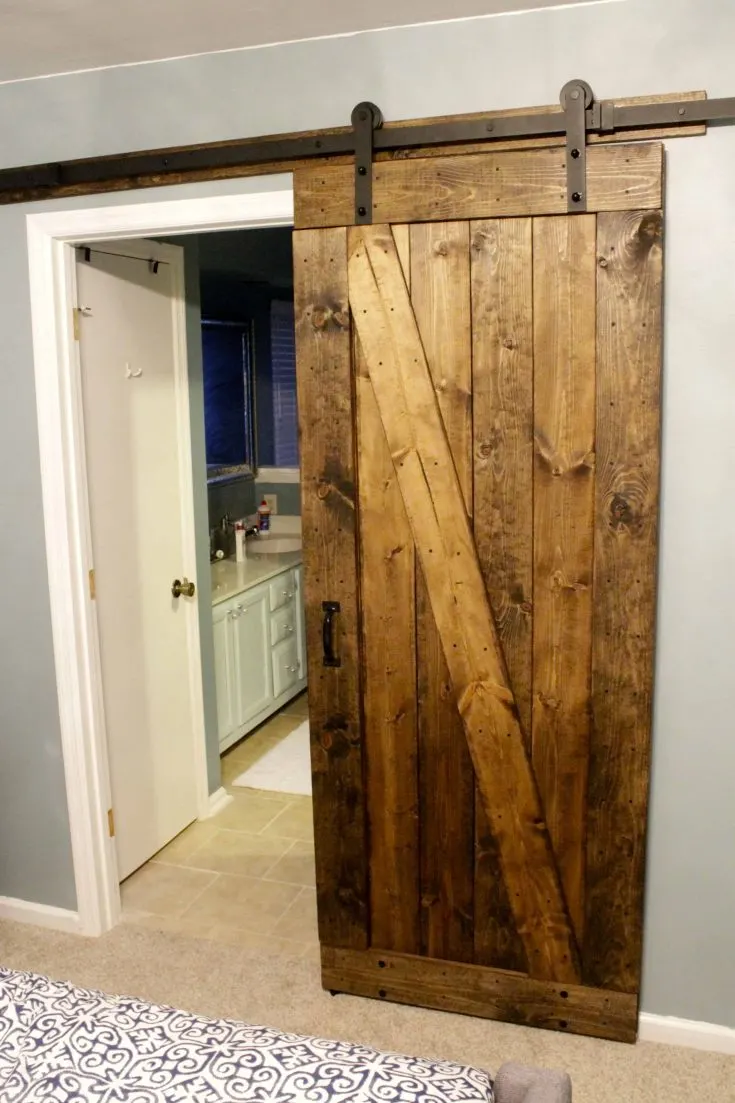 Yield:

1
How to Build and Mount a Barn Door
Barn doors are trendy and fashionable and can add a rustic flair to your space. Here's how to build a barn door and how to mount a barn door.
Materials
Roughly nine 1x6 boards
Screws
Barn door hardware
Instructions
Measure the space you want to cover
Design your door. Use two layers.
For the back layer, use as many 1x6 boards as needed to cover the gap of your door.
For the front layer, cut two 1x6 boards to span the width of your door space and attach at the top and bottom of the back layer. Then cut 1x6 boards to span the gap between those two boards vertically. Finally, cut a board to go diagonal from the top corner to the bottom corner.
Use 1 1/4" screws to attach all the boards from the front layer to the back layer.
Stain or paint your door to fit your decor.
Add a pull for a door handle.
Order barn door hardware. Different brands will differ slightly, but the idea is the same.
Attach a 1x6 board to your wall in the studs if your doorway has a frame that you need to go past. If your doorway doesn't have a frame, you can mount your rail bar directly into the wall.
Mount your rail bar.
Add bumpers for the barn door rollers to hit where you want to door to stop on each end.
Attach the rollers to the top of your door and hang the door on the rail bar.
Add a bottom guide for your barn door so that it doesn't swing back and forth.
Recommended Products
As an Amazon Associate and member of other affiliate programs, I earn from qualifying purchases.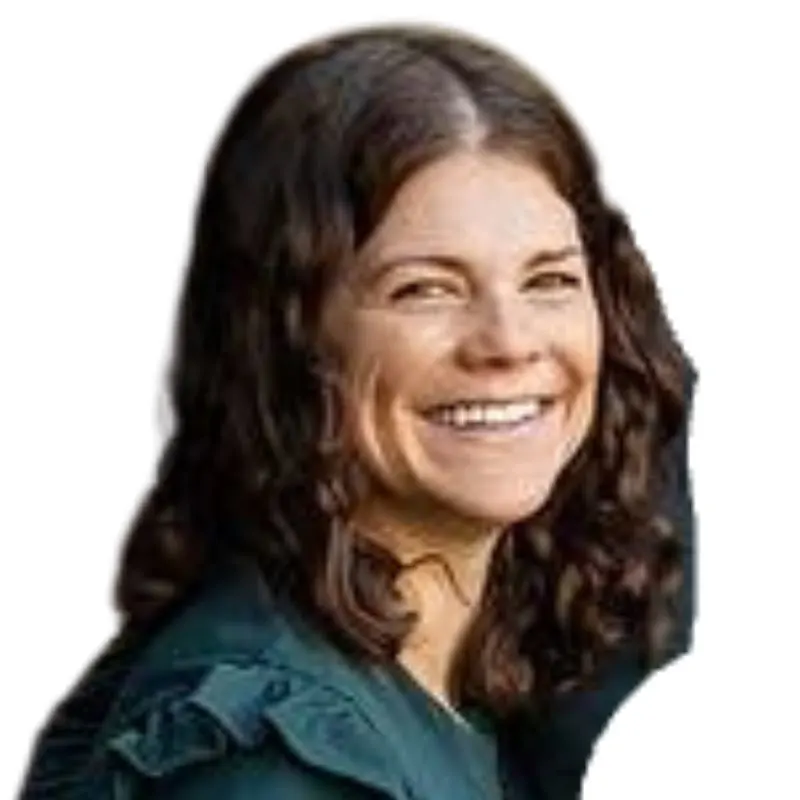 Hello, I'm Morgan, half of the creative force behind CharlestonCrafted.com! With a passion for DIY that dates back to 2012, I've transformed three homes and now I'm dedicated to helping others craft their dream spaces. Let's turn your house into a home together!