Barn doors are super popular and for a good reason – they are functional and beautiful! They are easy and inexpensive to build and can fit in with many home designs.
But, one of the big concerns that we hear is how can I lock my barn door?
Locks weren't a huge concern for us. We close the door and know in our family that a closed door means don't come in.
But, I know that some people might deal with a different situation!
It's actually really easy to lock a barn door – if you have the right hardware.
Don't worry, you don't need to try out tons of different locks and latches because we have done that work for you!
Today we are sharing lots of options for barn door locks and latches to give you the privacy that you want!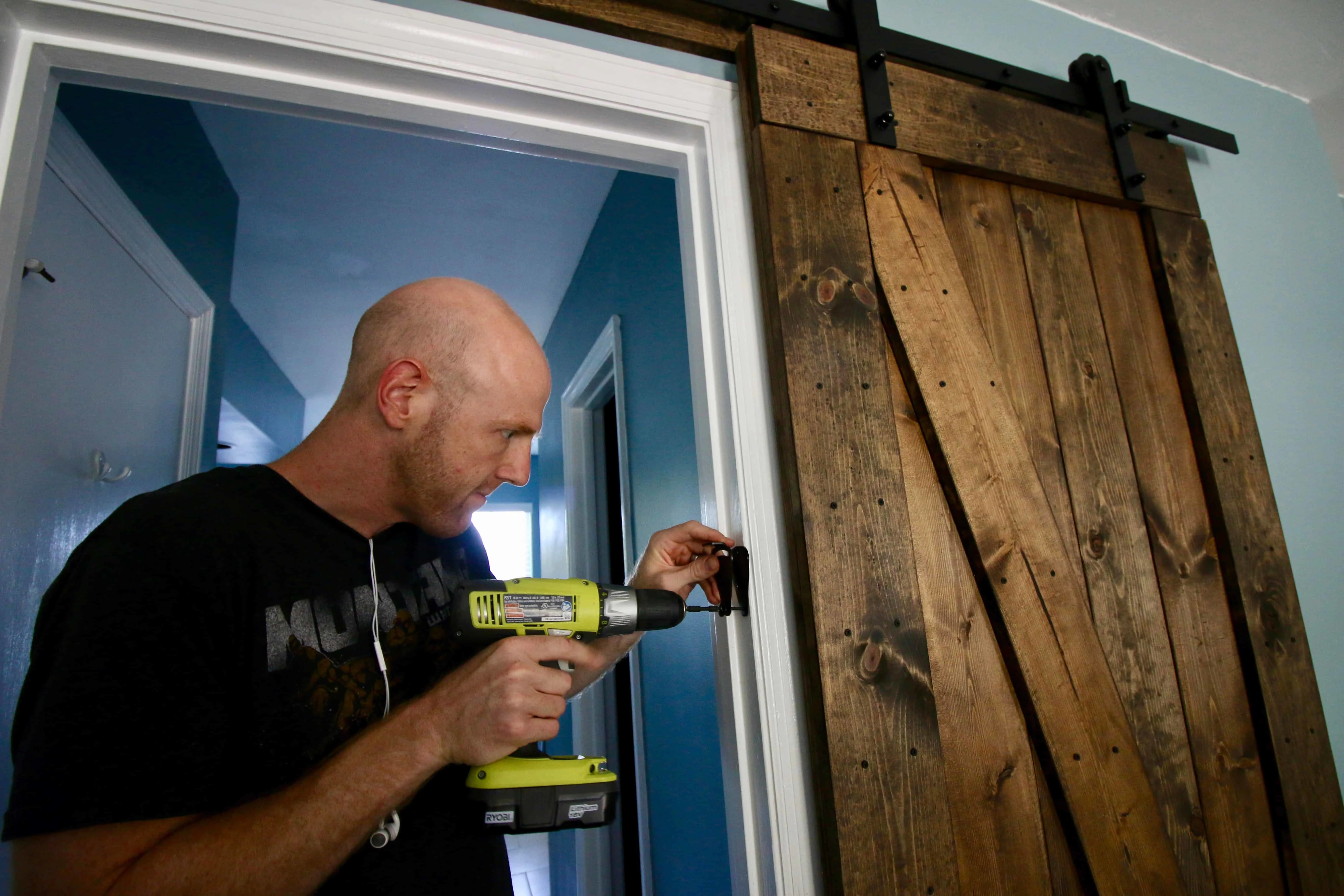 Want more barn doors? Click here for all of our barn door content!

Barn Door Locks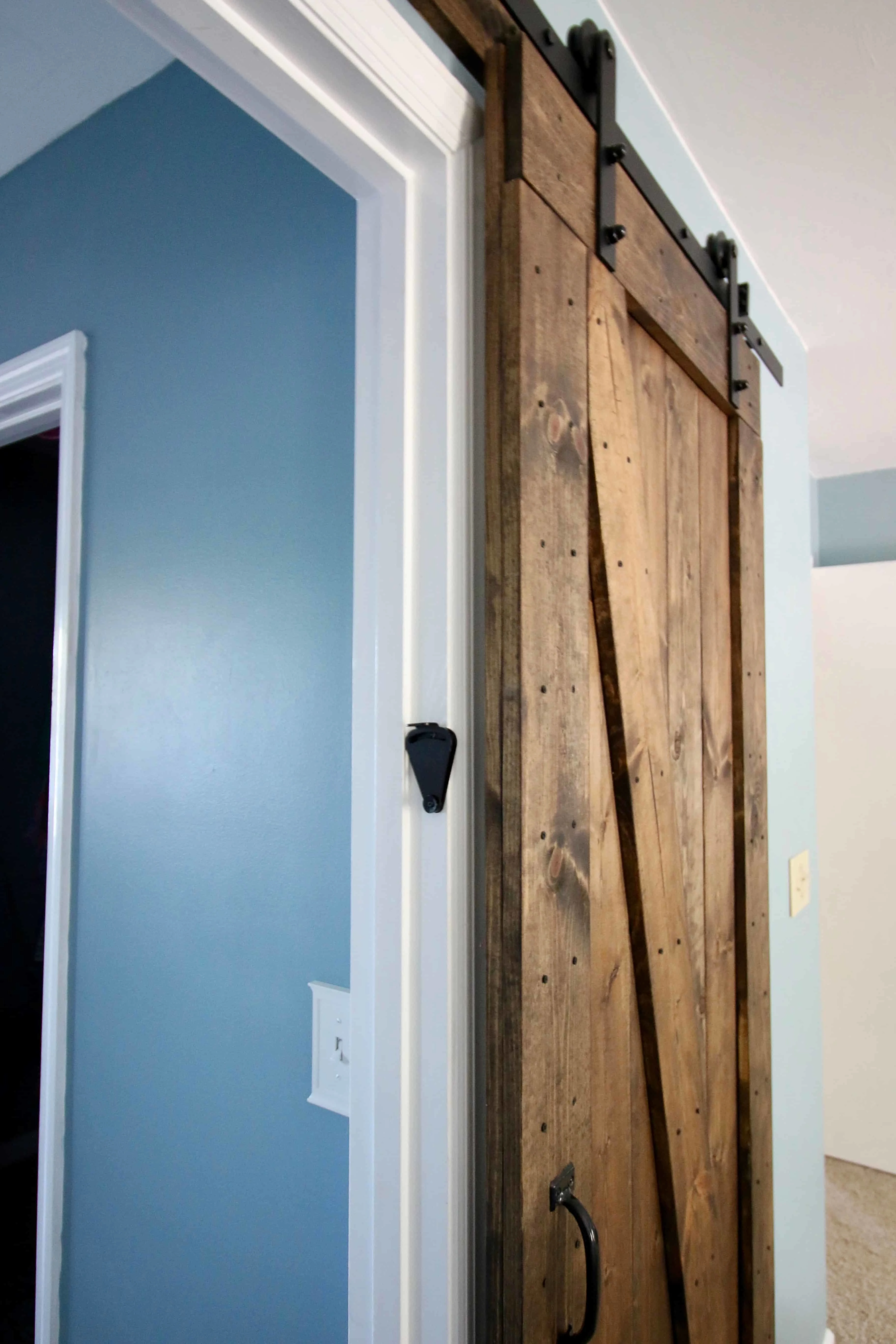 How to lock a sliding barn door from the inside
It is easy to lock a barn door from the inside with a sliding barn door lock. We got this tear drop lock from the Home Depot. It is easy to mount – we wrote a whole blog post on how to add this lock to your barn door – and is inexpensive.
If you prefer to shop on Amazon, here is a very similar sliding barn door lock kit. This works great on interior doors.
A privacy pin lock could also be a good solution for locking your barn door, though we have not personally tried it.
You might also consider a barn door sliding privacy bolt.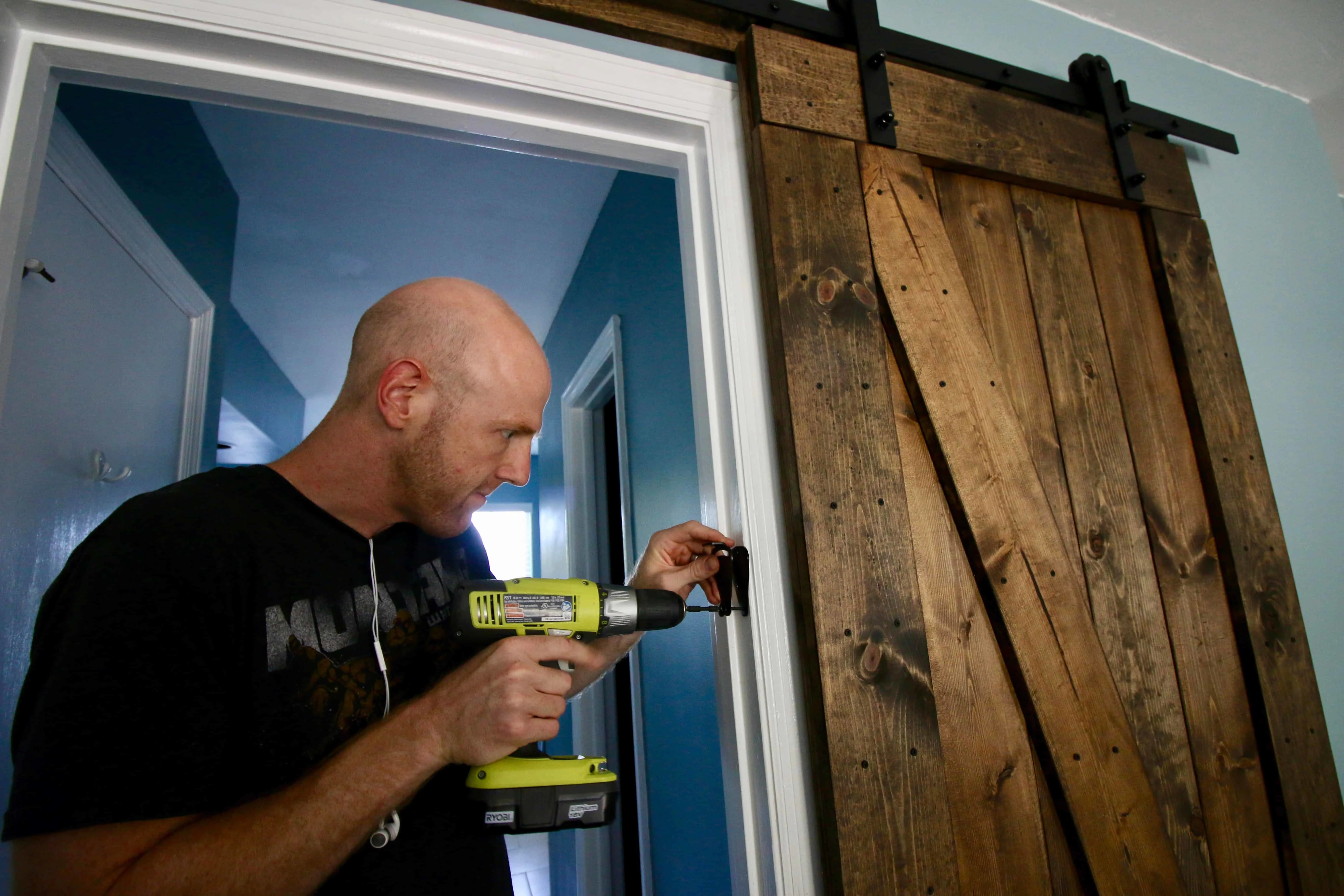 How to lock a sliding barn door from the outside
If you would like to lock your barn door from the outside, you will need a different type of lock. I would suggest a hook and eye latch like this one.
Depending on the thickness of your sliding barn door, you might need to add some sort of spacer between your eye latch and the wall.
A sliding door loop lock can also work on the inside or outside of a barn door – just depending on your setup.
Barn door lock options
These are all great options for barn door locks and should help to make you feel more secure with your decision to use a barn door in your home.
Each of these will have a slightly different installation method, but they should be explained on the packaging.
Here is everything you need to know about using an interior barn door for a bathroom!
Do you have a barn door? Do you use a lock?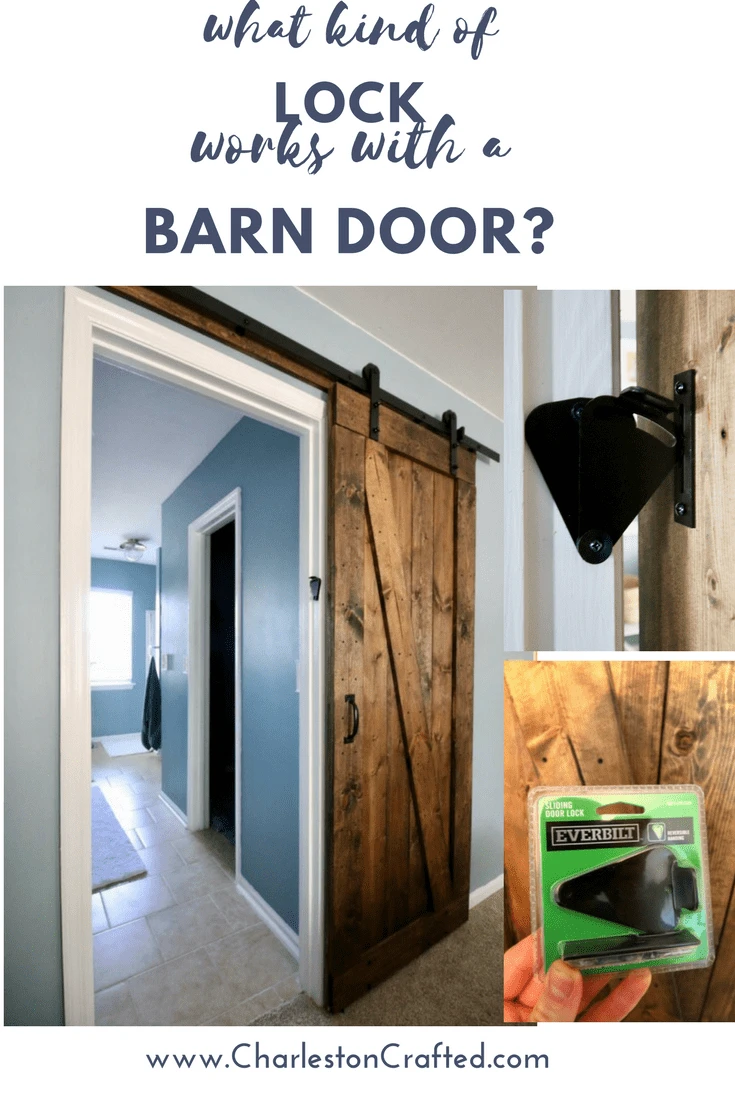 This post contains affiliate links. That means that if you click through and make a purchase, we receive a percentage of the sale. Thanks for your support!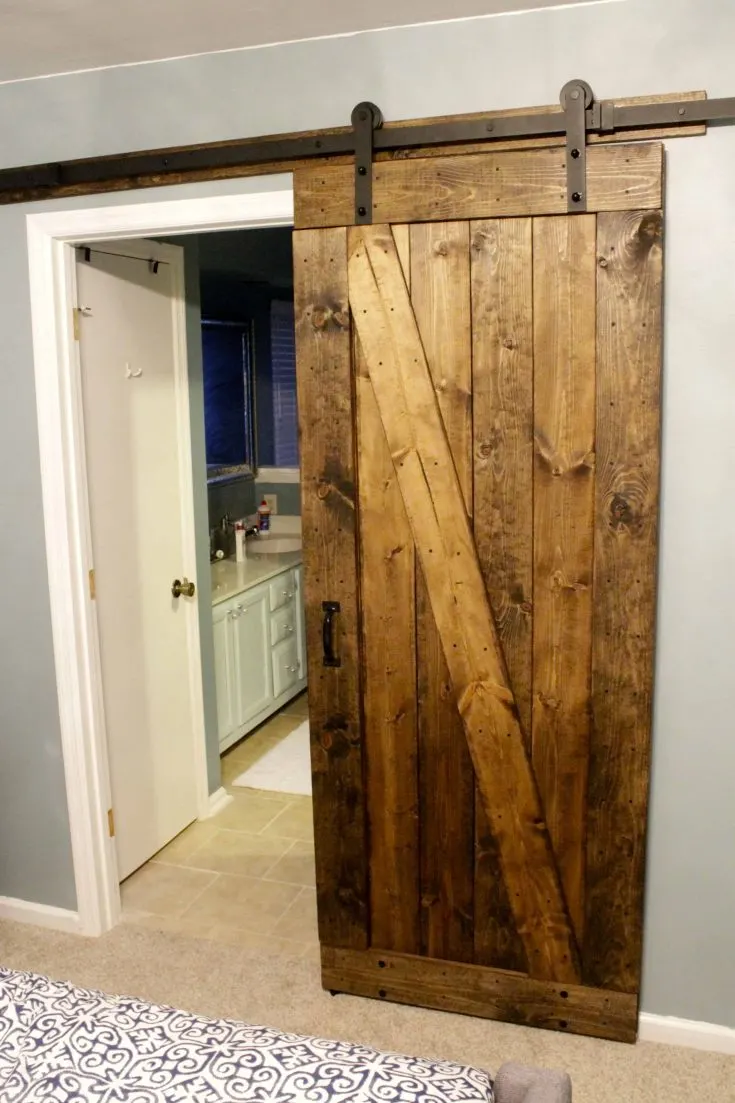 Yield:

1
How to Build and Mount a Barn Door
Barn doors are trendy and fashionable and can add a rustic flair to your space. Here's how to build a barn door and how to mount a barn door.
Materials
Roughly nine 1x6 boards
Screws
Barn door hardware
Instructions
Measure the space you want to cover
Design your door. Use two layers.
For the back layer, use as many 1x6 boards as needed to cover the gap of your door.
For the front layer, cut two 1x6 boards to span the width of your door space and attach at the top and bottom of the back layer. Then cut 1x6 boards to span the gap between those two boards vertically. Finally, cut a board to go diagonal from the top corner to the bottom corner.
Use 1 1/4" screws to attach all the boards from the front layer to the back layer.
Stain or paint your door to fit your decor.
Add a pull for a door handle.
Order barn door hardware. Different brands will differ slightly, but the idea is the same.
Attach a 1x6 board to your wall in the studs if your doorway has a frame that you need to go past. If your doorway doesn't have a frame, you can mount your rail bar directly into the wall.
Mount your rail bar.
Add bumpers for the barn door rollers to hit where you want to door to stop on each end.
Attach the rollers to the top of your door and hang the door on the rail bar.
Add a bottom guide for your barn door so that it doesn't swing back and forth.
Recommended Products
As an Amazon Associate and member of other affiliate programs, I earn from qualifying purchases.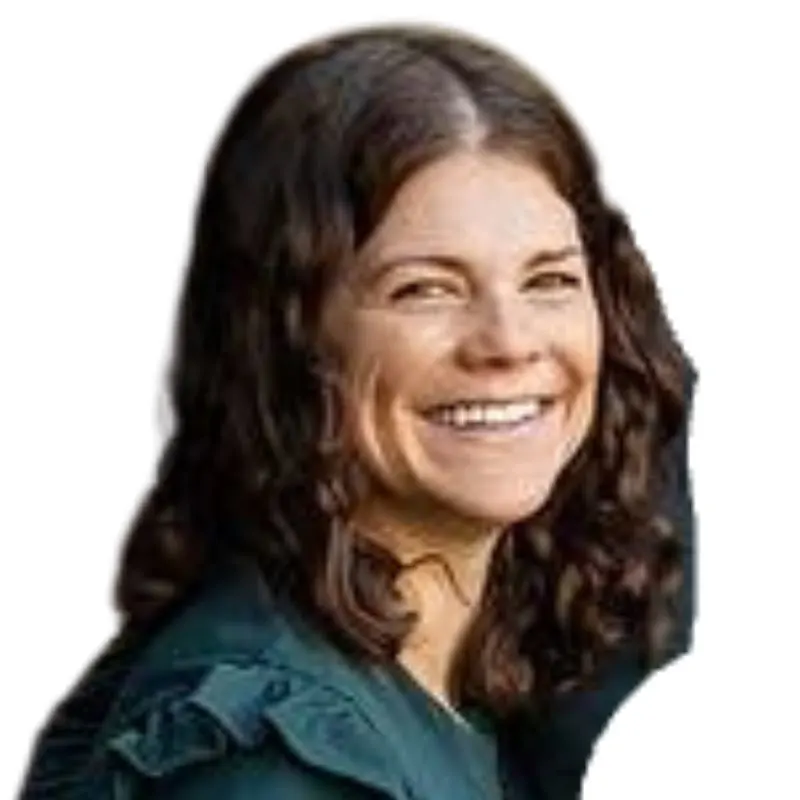 Hello, I'm Morgan, half of the creative force behind CharlestonCrafted.com! With a passion for DIY that dates back to 2012, I've transformed three homes and now I'm dedicated to helping others craft their dream spaces. Let's turn your house into a home together!