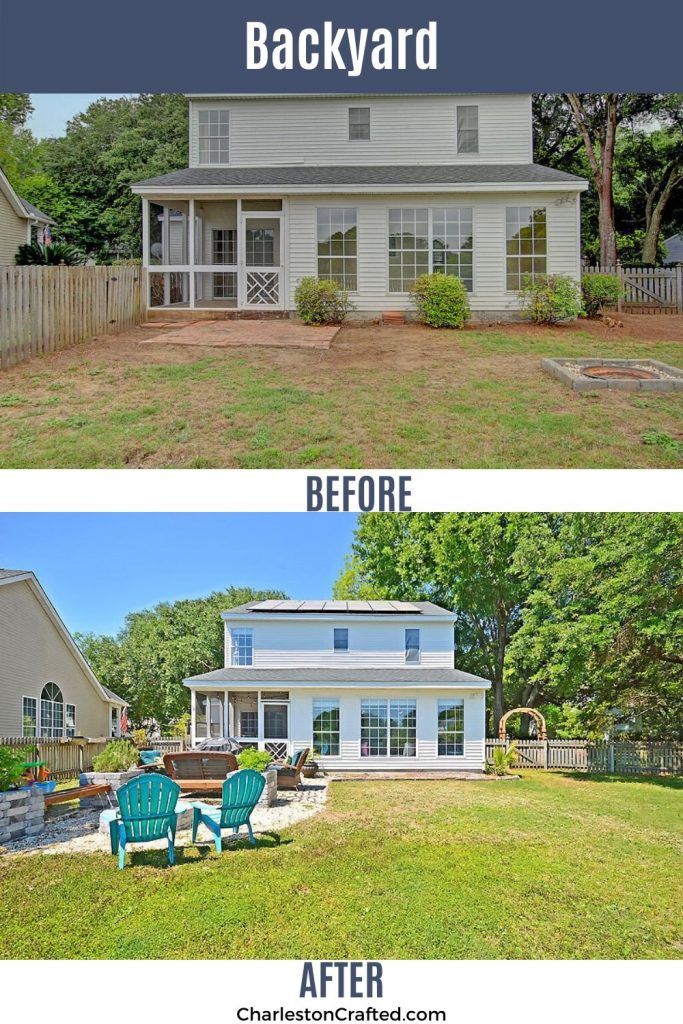 The backyard is the reason that we bought this house. We love the privacy of only having one neighbor, and being on this large lake has been so peaceful and fun.
Our house was previously occupied by a renter and the yard was very neglected. It was mostly dirt and ant hills, with a few sad bushes thrown in.
We tried really hard to make it a more beautiful and useful space!
Our plan:
Build a deck or patio – we laid a molded concrete patio just off the screened porch!
Add a raised vegetable garden – we added several raised garden beds!
Relocate fire pit – for some reason, they had put a crappy fire pit in the exact center of the yard. We removed it and repurposed the stones for flower bed edging!
Add place to hang hammock/swing – Sean built this custom hammock pergola, which has become my favorite spot in the yard.
Remove dead bushes – Sean dug up over 25 bushes, by hand, in this yard. That was a TON of work!
Plant and grow grass – We did our best to grow grass. Here are our tips for growing grass in non-grass friendly yards.
Plant and grow flowers – we planted tons of plants including tropical plants, hibiscus, dahlias, and even a peach tree!
Other projects we did:
Benches and fire pit – We added built in benches and a fire pit in a spot that made more sense for our yard.
Shed – we added a shed to store the lawn mower in a more convenient location.