Want to add a hanging plant stand to your home? Here are the best hanging plant stands!
House plants are kind of like Pringles -once you have one, you just can't stop.
I personally found myself going from a houseplant or two to a large collection in just one season.
One of the best ways to display houseplants in on a plant stand. This also allows you to cram a lot of plants into that perfectly sunny corner!
Another great way to fit plants into your home decor is by hanging them from the ceiling, a hook, or a bar.
If you can combine a plant stand with a hanging mechanism – that's it, you've hit the jackpot!
Today we are going to share some of our very favorite hanging plant stands!
Factors to Consider When Choosing Hanging Plant Stands
Here are some important factors to consider when choosing a hanging plant stand for your room.
Space and Placement
I am terrible about measuring before I order, but it is super important to consider your available space before ordering.
You want to of course be sure that your stand will fit in your room. But, also pay attention to windows and light sources. You don't want a plant stand that will fall totally below a window or out of light's reach!
Finally, double check the depth. Some of these stands can be pretty deep, which can become intrusive in a small space.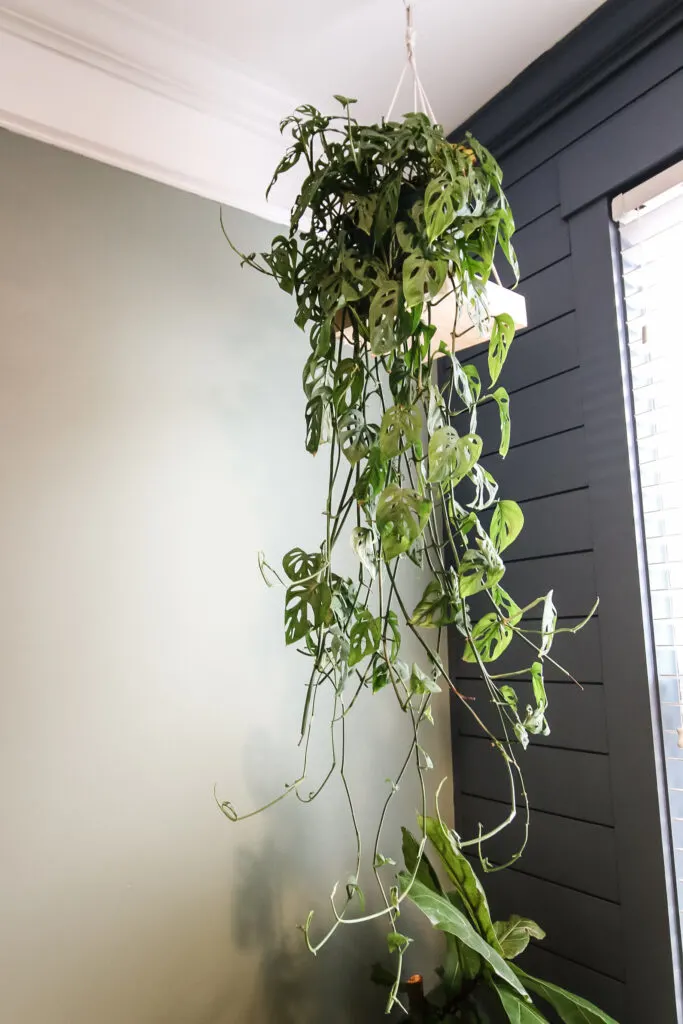 Material and Durability
Hanging plant stands come in a ton of different materials, including metal, wood, and rope. Consider where you will use it and choose appropriate materials.
If you plan to hang it outdoors or even on a porch, be sure that it is made for outdoor use. Some woods can warp, metals rust, and ropes rot if they get wet.
Style and Aesthetic
As with any accessory you bring into your home, you want to be intentional with your choice to be sure that the plant stands aesthetic style will flow with the overall decor in your room.
For example, macrame plant hangers are very popular and look great with an earthy or boho feeling space. However, if your room is modern or very formal, it might look out of place.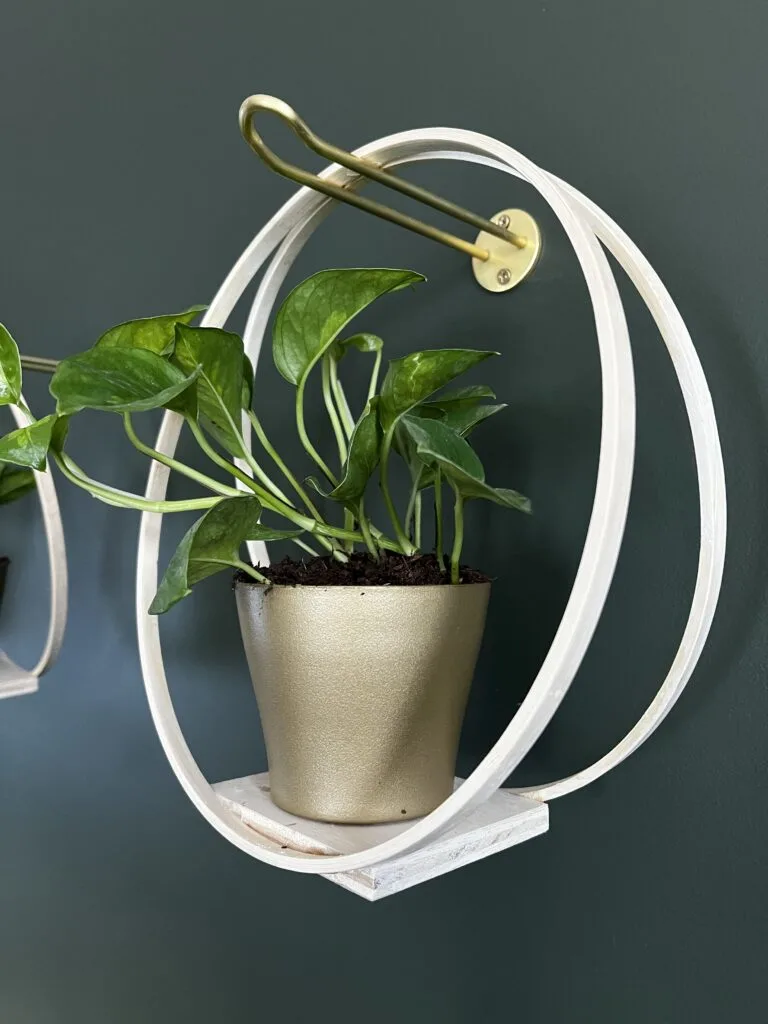 Top Picks: Best Hanging Plant Stands
Here are my favorite hanging plant stands you can buy today!
Modern Minimalist Stands
This hanging plant holder has sleek, black, circular lines that make it both interesting and very chic at the same time. I really love this one!
This is a wall hanging plant shelf with very clean lines and wooden shelves suspended by rope. I love how simple it is but it could pack a lot of plants into a small space and it's a great way to take advantage of vertical wall space in your home.
Bohemian-Inspired Stands
Macramé plant stands are all over the place and are perfect for a BoHo or casual style home. I particularly like the spiral design of this one, so I just had to share it!
This is more of a plant shelf that could hold small pots but I love the tassels and wooden bead work on this one. It's very bohemian, but still minimalist enough to let the plants be the star of the show.
Statement Piece Stands
This half moon shaped floor plant stand is very dramatic and would absolutely be a statement piece in any room. I love how it has lots of different heights of shelves, as well as those hanging hooks to pack in a ton of plants.
This rocket shaped plant hanger is whimsical and unique and could be a perfect fit for someone with a fun personality. It is truly a hanging planter and a cute one at that.
Front Porch Plant Stands
This plant stand has shelves in a hanging rod to accommodate a ton of plants. It is made of a heavy duty metal that is outdoor safe and perfect for your front porch!
These plant stands are a combination of hanging plant holder and welcome sign. They are sturdy and neutral enough to work with a variety of home decor styles.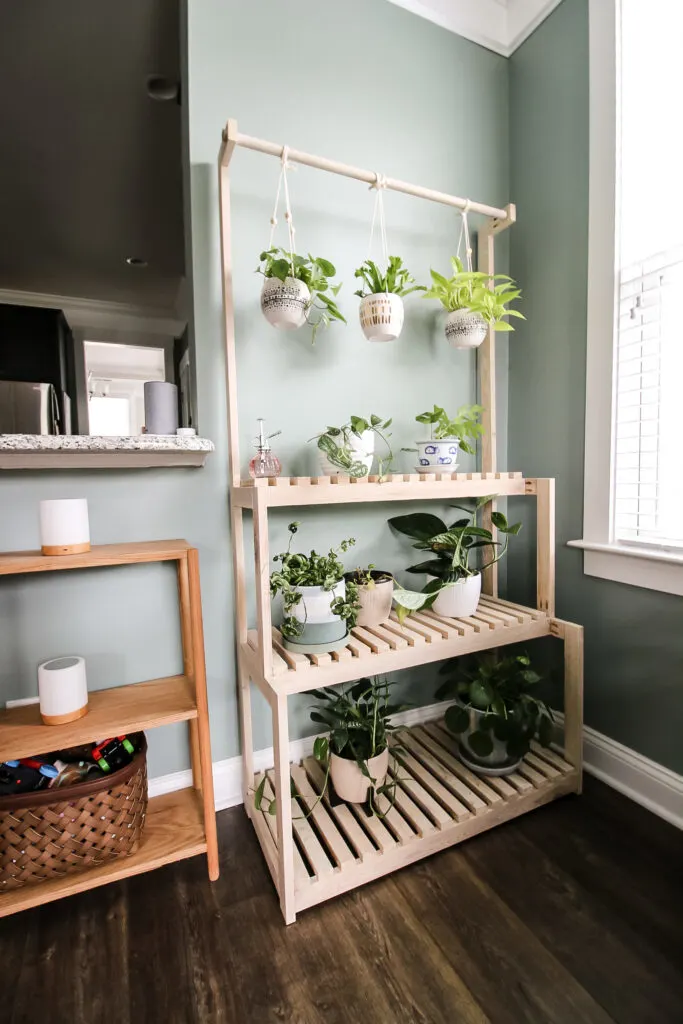 DIY Hanging Plant Stand Ideas
Prefer to build your own? Me too!
Here are a few creative and budget-friendly DIY ideas for making hanging plant stands:
What's your favorite hanging plant stand?