Want to get your potted plants organized in your porch or yard? Here are a ton of DIY Outdoor Plant Stand Ideas to inspire you!
Gardening is a great hobby and one of my favorite things to do year round.
Even though we live in an area with a fairly mild winter, I still like leaving a lot of plants in pots so they can be brought indoors, moved, or more easily covered in the off-season.
However, having a ton of pots in the yard isn't always the cutest solution.
This is when adding an outdoor plant shelf can come in handy. Plant stands outdoors make it easy to organize potted plants and make them look more aesthetically pleasing.
Let's talk about plant shelves for outdoors and share a ton of ideas for how to build your own DIY outdoor plant stands!
Design Considerations for DIY Outdoor Plant Stands
Before your design your plant stand, consider the size and space, stability and durability, and finishing materials that you will use.
Size and Space
It is super important to consider the available space and the number of plants you intend to display.
One of the best ways to fit a lot of pots into a smaller space is with a tiered plant stand that makes the most of vertical space.
Measure your outdoor area and plan accordingly to avoid overcrowding.
When designing a tiered plant stand, plan for the large plants and heaviest pots to go on the bottom, with pots getting smaller as you move up the shelves.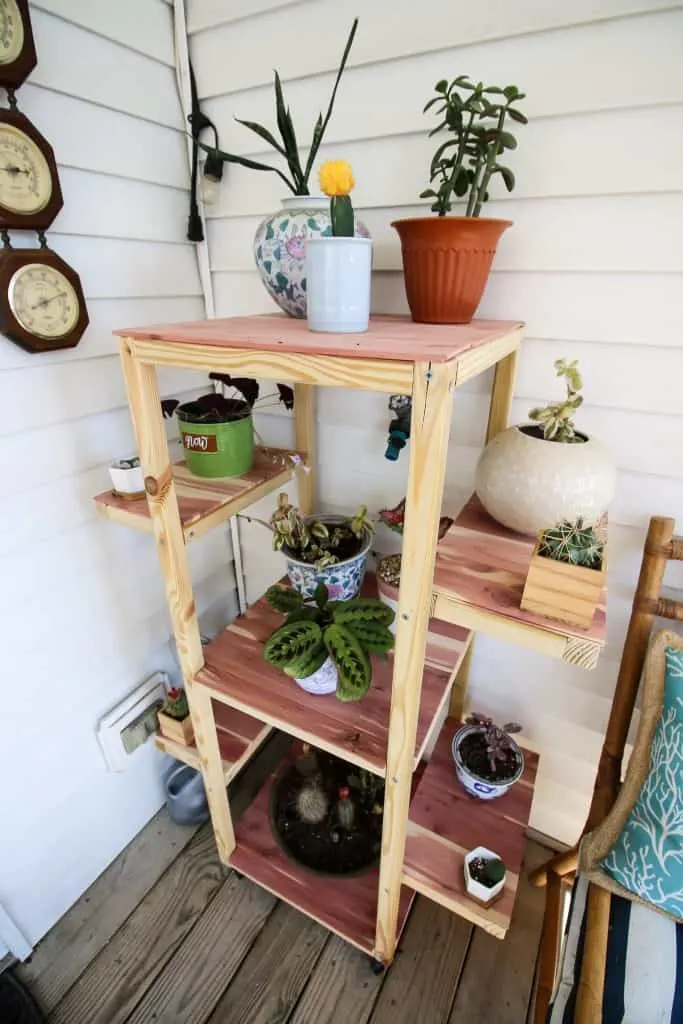 Stability and Durability
It's important to build a stable and durable plant stand. You never want any piece of furniture to fall over, but a shelf full of fragile pots and living plants could become a disaster.
For the strongest possible build, use wood that is sufficiently sturdy (at least 1″ thick) and for joints, combine pocket holes and wood glue for extra security.
Never hang plants that feel super heavy or fragile and always put your heaviest pots on the bottom shelf.
Tall plant stands can be mounted to the wall to help prevent tipping.
When in doubt, stick with plastic or non-breakable pots, just in case.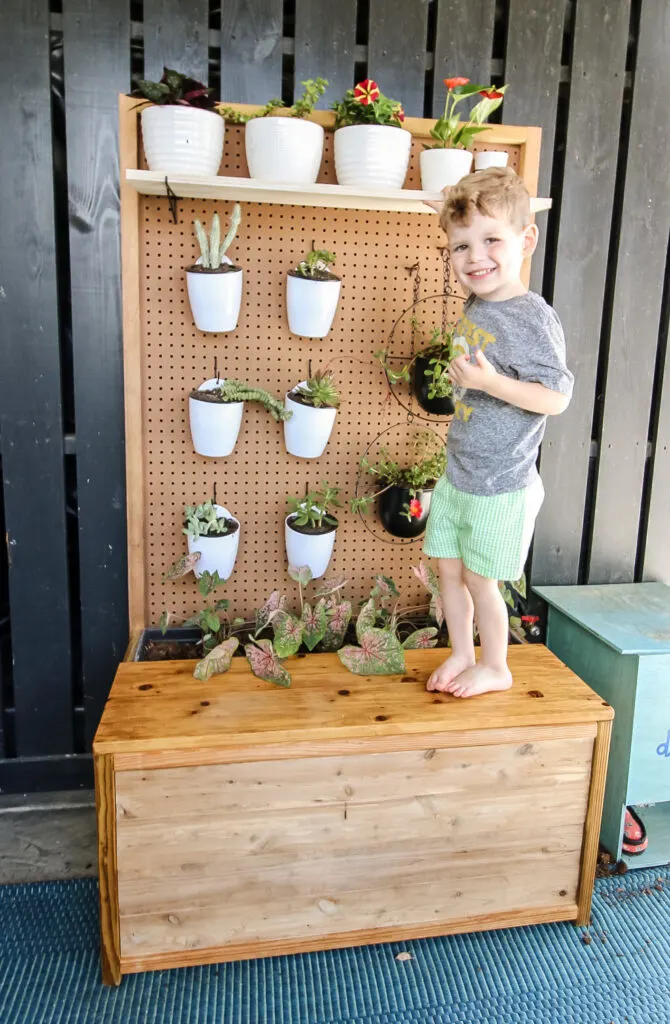 What kind of wood do you use for outdoor plant stands?
It's important to keep weatherproofing in mind when choosing materials and finishes to protect your plant stand from the elements.
Here are some of the best ways to make sure your wood plant stand can withstand the elements.
Use naturally water and rot-resistant wood such as cedar or cypress
Use a pressure treated lumber, made to withstand the elements
Seal your wood with an outdoor sealant – we like Sparurethane
Use an outdoor paint/stain paired with an outdoor sealant
Read our complete guide to finishing furniture for outdoor use here!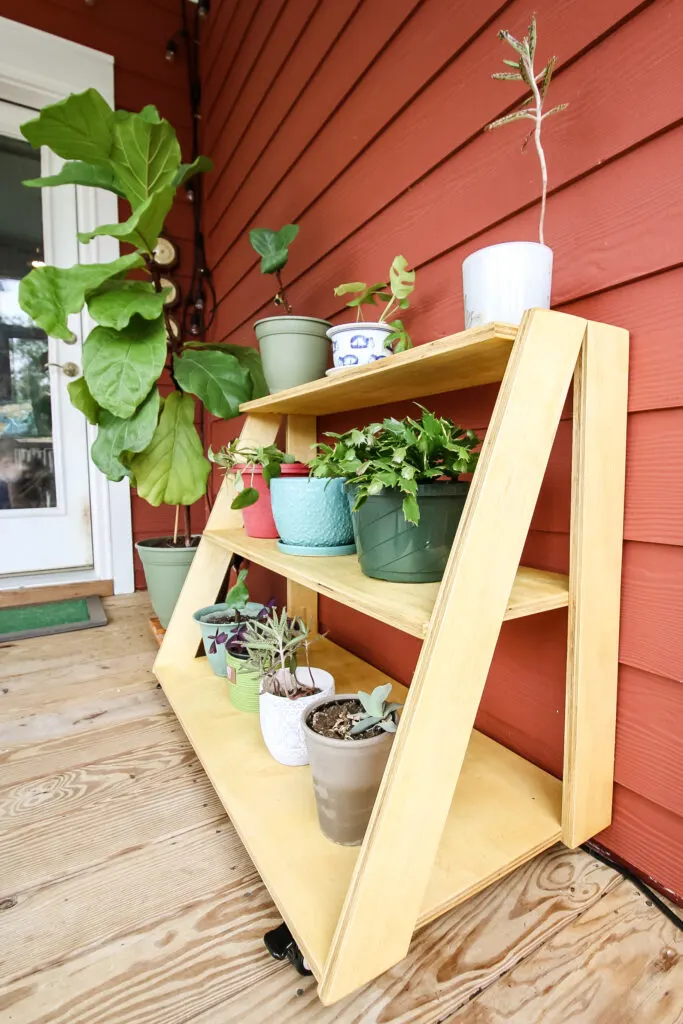 Tips for Successful DIY Outdoor Plant Stands
When designing your plant stand, start with the plants! You can choose your favorite plants from your plant collection, but be sure that they are suitable for outdoor conditions.
Many plants don't like direct sun, so a spot with bright, indirect sun is usually best.
Don't forget to keep up your regular maintenance, such as watering, pruning, and cleaning, to keep the plant stand and plants healthy.
DIY Outdoor planter stand ideas
Here are some specific tutorials for how to build an easy DIY plant stand for outdoors!
DIY outdoor plant stand ideas
Here are a ton of DIY outdoor plant stands that you can build for your yard!
What are your favorite outdoor plant stand ideas?