Want to decorate the inside of your home for Halloween? Here are the Best Easy DIY Indoor Halloween Decoration Ideas!
Want to decorate your home for Halloween? I love decorating outside, but it can be really fun to decorate with indoor Halloween decorations, too.
You don't have to do too much shopping for Halloween decor. Get in the spirit of DIY crafting and make your own spooky decorations to add a hauntingly festive touch to every corner of your house.
Here are a ton of ideas for easy DIY indoor Halloween decorations!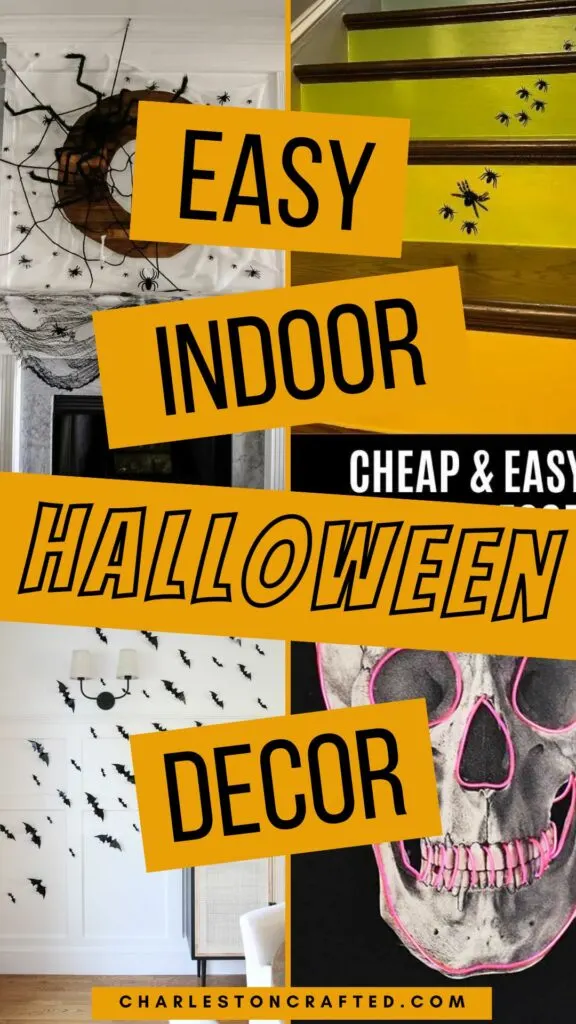 Halloween Decor Ideas for Every Room
Want to decorate your home for Halloween but don't know where to start? Here are some ideas to inspire you!
Living Room
Haunted Mantel Display: Arrange faux cobwebs, eerie candlesticks, and spooky figurines on your fireplace mantel for a haunting focal point.
Pumpkin Patch: Create a display of various-sized pumpkins and gourds (real or faux) in one space of the room (like a coffee table or the TV stand) for a charming fall touch. Clustering decor makes it more impactful than having it spread around the room!
Kitchen
Witchy Potion Jars: Fill clear glass jars with colored liquids and label them as magical potions for a fun and mysterious kitchen display. Or, add mysterious "body parts" to make it extra spooky!
Halloween-themed Dishware: Use spooky plates, cups, and napkins featuring ghosts, witches, and black cats to add a festive flair to your dining table.
Bedrooms
Nightmare Before Bedtime: Cover the beds with dark-colored sheets and add Halloween-themed throw pillows for a cozy, eerie atmosphere.
Ghostly Wall Silhouettes: Cut ghost shapes from black construction paper or vinyl and stick them to the bedroom walls. Illuminate the silhouettes with dim orange or purple string lights for an eerie glow.
Dining Room
Wicked Table Centerpiece: Arrange black candles, faux skulls, and dark florals as a dramatic centerpiece for your Halloween dinner table.
Spooky Wall Decor: decorate shelves with faux spiders, bats, and potion bottles to create a haunted display on the dining room wall.
Kids Spaces
Friendly Ghost Decor: Hang cute ghost cutouts or plush toys from the ceiling for a kid-friendly, not-so-scary touch.
Bathrooms
Spooky Shower Curtain: Swap out your regular shower curtain for one featuring creepy designs like skeletons or haunted houses.
Haunted Mirror: Stick spooky decals or add fake cobwebs to the bathroom mirror to give it a ghostly touch.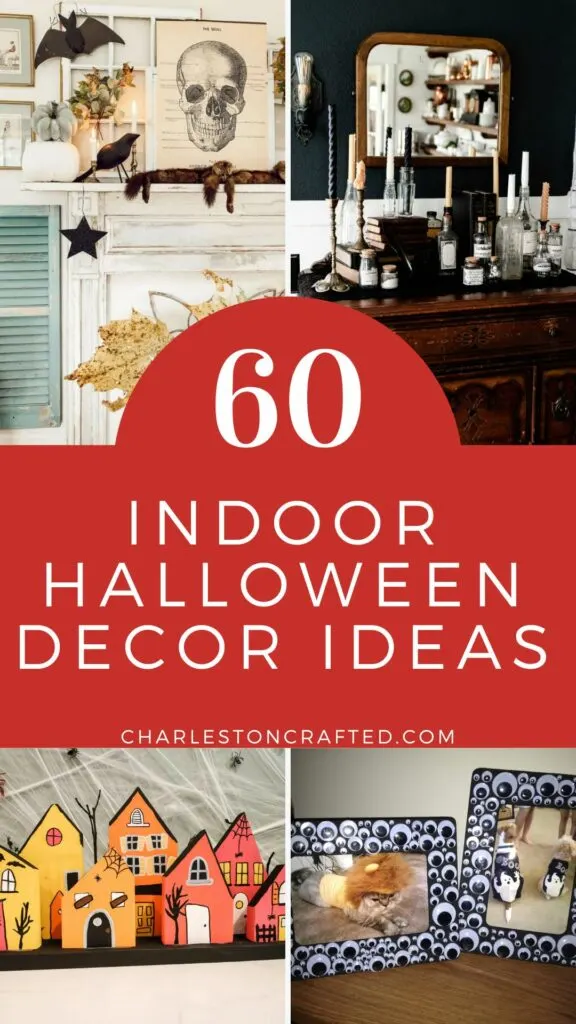 DIY Indoor Halloween Decor Tutorials
Below, you'll find a handpicked selection of the best DIY Indoor Halloween decor ideas. From simple crafts to elaborate projects, these ideas will inspire you to unleash your creativity and create a spooktacular ambiance in your home.
Click on the links to access detailed tutorials and step-by-step instructions for each Halloween decor idea!
DIY Indoor Halloween Decorations
Here are a ton of ideas for DIY Indoor Halloween Decorations!
Happy Halloween crafting!
What's your favorite way to decorate inside your home for Halloween?