Want to make a super simple Halloween craft? Here's how to make ghost tassels from yarn to hang on their own or use as a garland!
One thing that I am really enjoying this year is that my kids are getting old enough to get excited about Halloween.
Halloween is absolutely my favorite holiday (it's just all about the fun, nothing serious about it!) and so seeing that same joy in my kids is really magical.
So, I'm going wild decorating the whole house with Halloween swag.
I was really excited to decorate the wall of the loft – where a lot of their toys are. We even painted the room a crisp white to get it ready for all of my upcoming holiday decorating!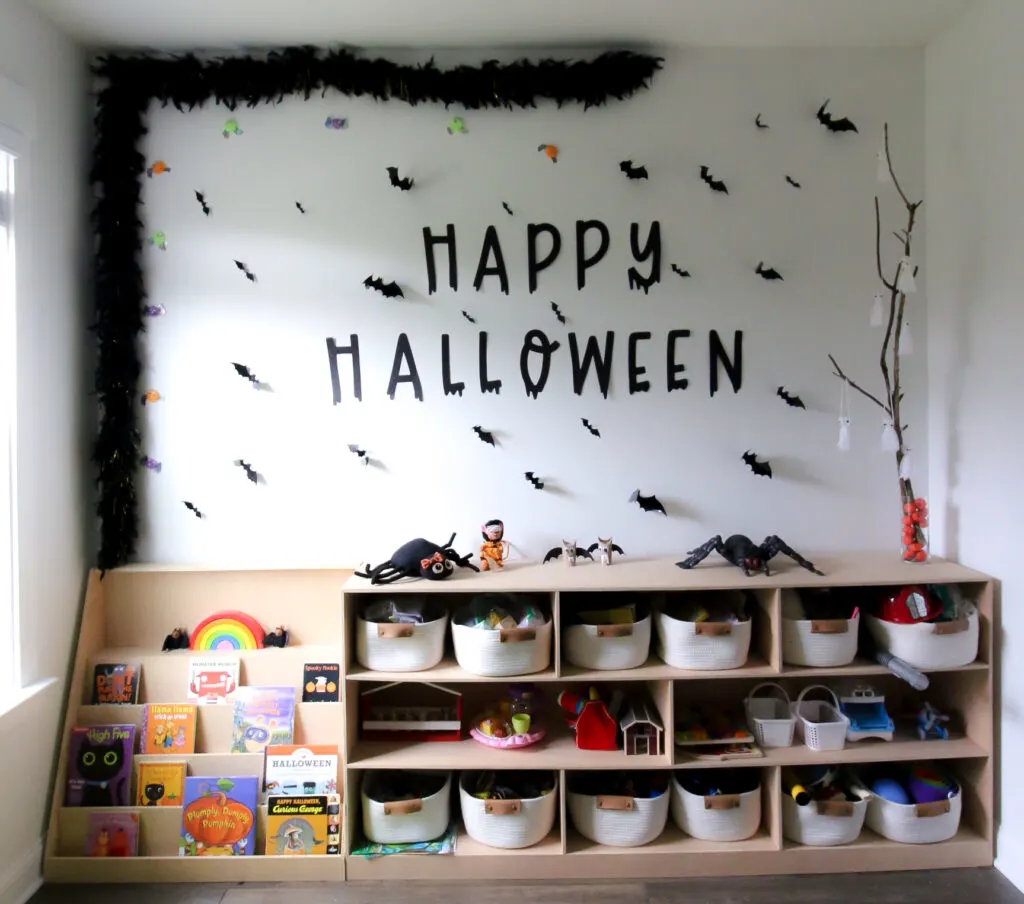 I hung some spooky bats, a couple of black sparkly boas, and HAPPY HALLOWEEN in big letters. But it needed a little something extra!
I grabbed some spooky sticks from the woods behind our house and decided to jazz them up with some little ghosts.
This is a super easy yarn craft and is cute and whimsical for Halloween decor!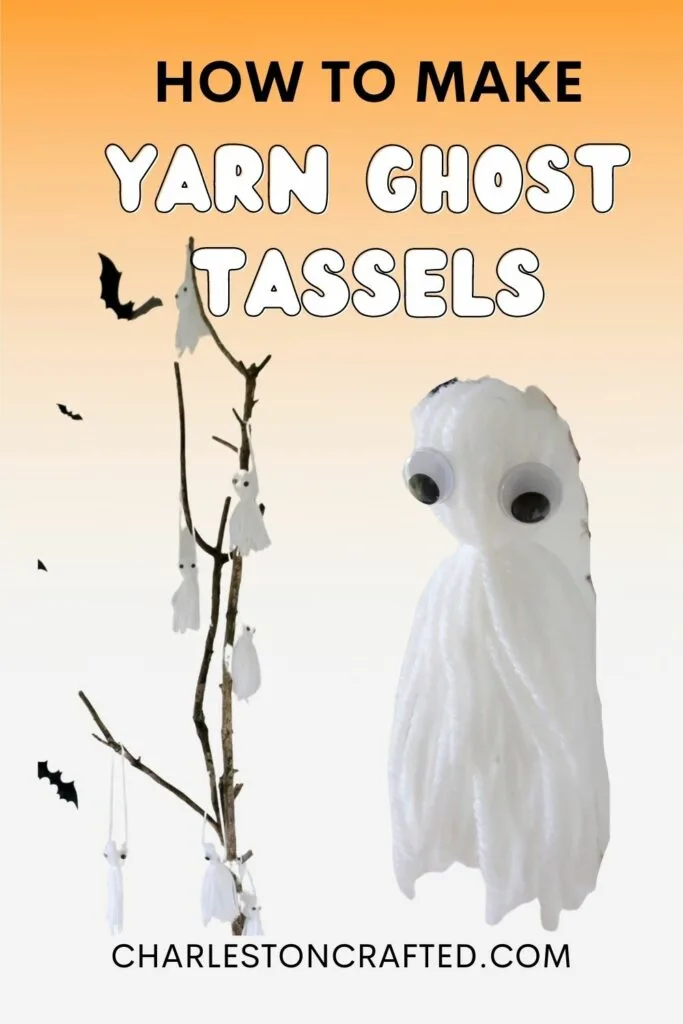 How to make ghost tassels
Here's how to make ghosts out of yarn! You could turn them into a ghost garland or hang them separately, like I did!
Supplies needed:
How to make a tassel out of yarn:
STEP ONE: Make your cardboard guide
Cut a piece of cardboard to 5″ wide – or the length you want your ghosts to be.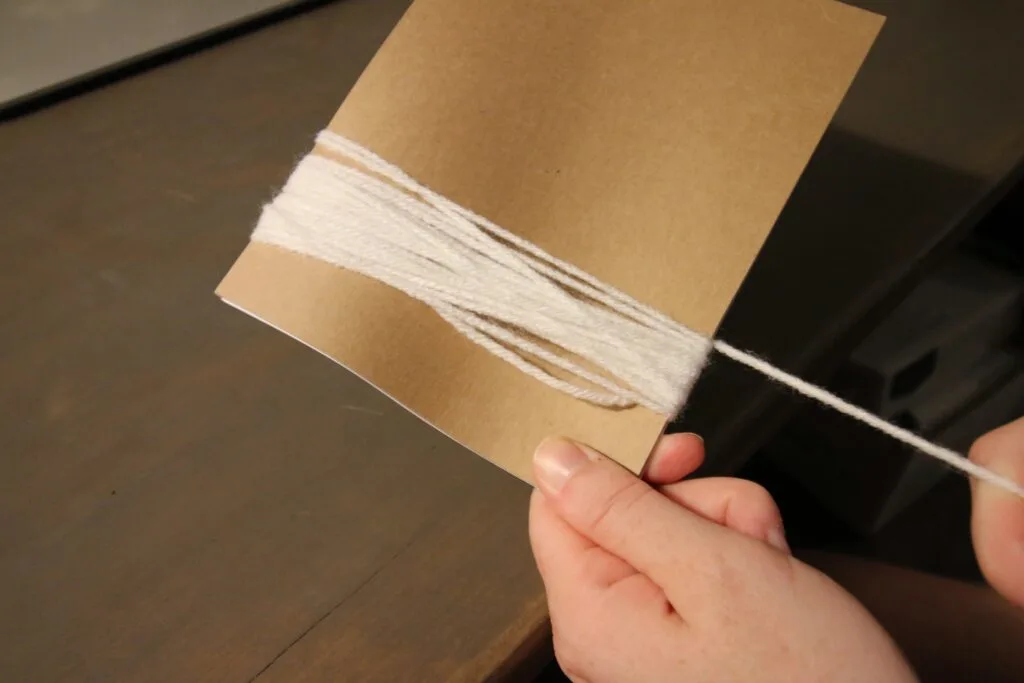 STEP TWO: Wrap the yarn
Wrap your yarn around the cardboard 20 times – or to your desired thickness. Cut the end off the spool.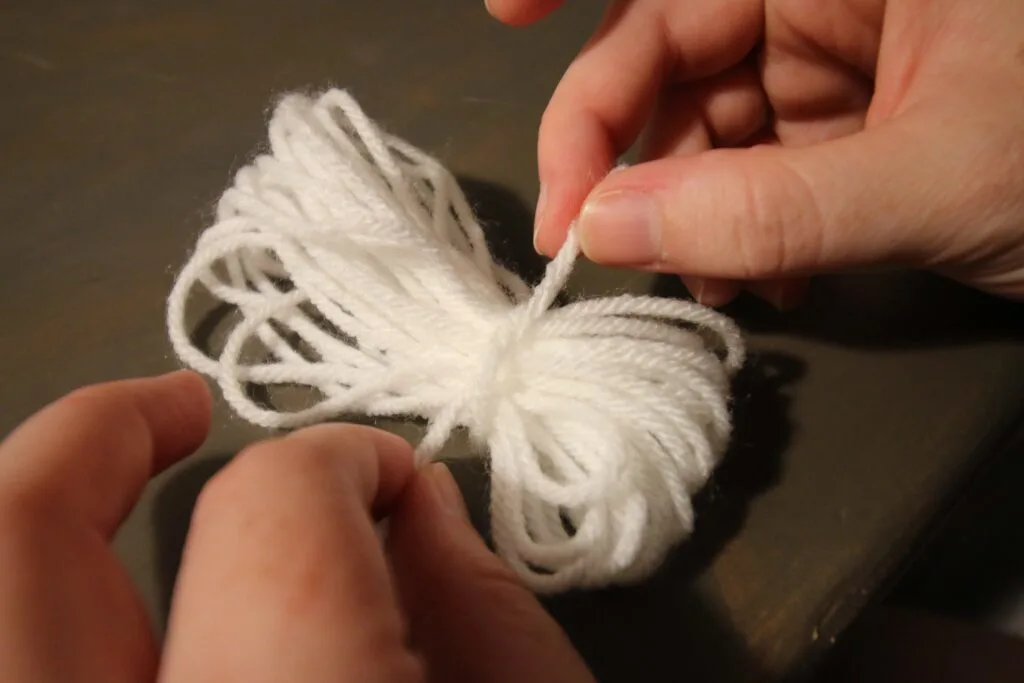 STEP 3: Slide off the loops
Gently slide the yarn loops off the cardboard.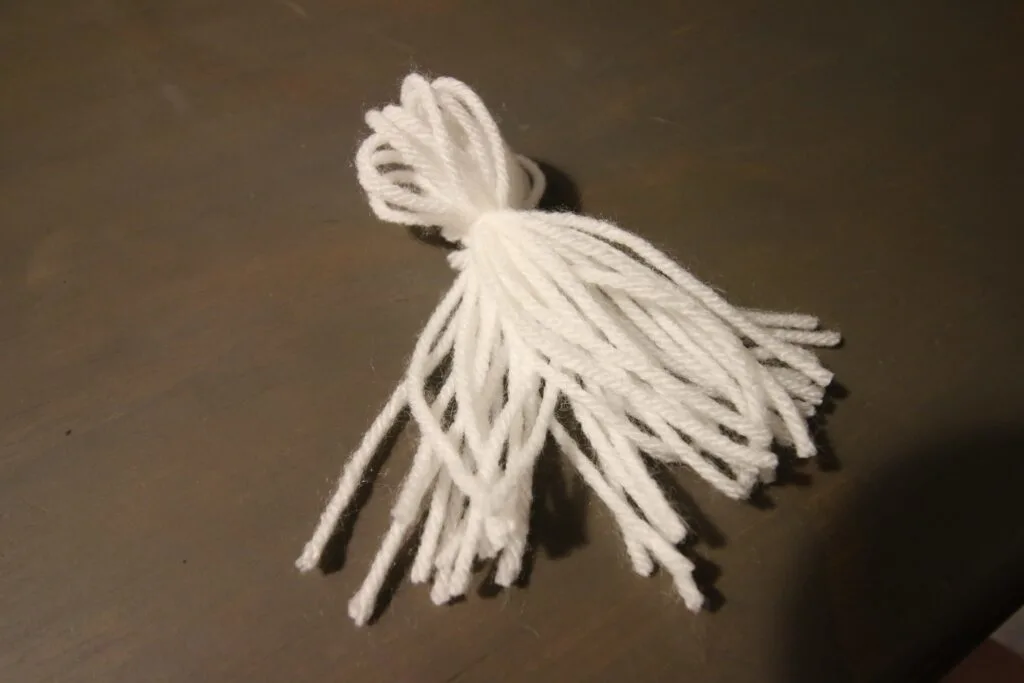 STEP 4: Create the head
Cut a piece of yarn about 4 inches long.
Wrap the piece about 1″ down the loops and double knot to create the head.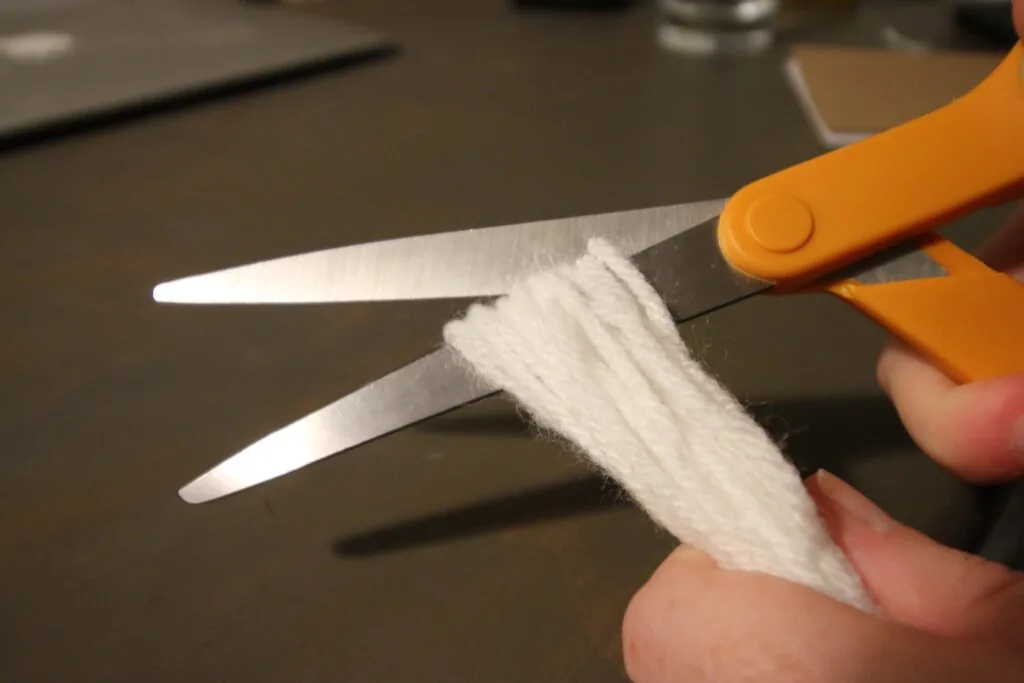 STEP 5: Cut the loops
Cut the loops on the "feet" end of the tassle.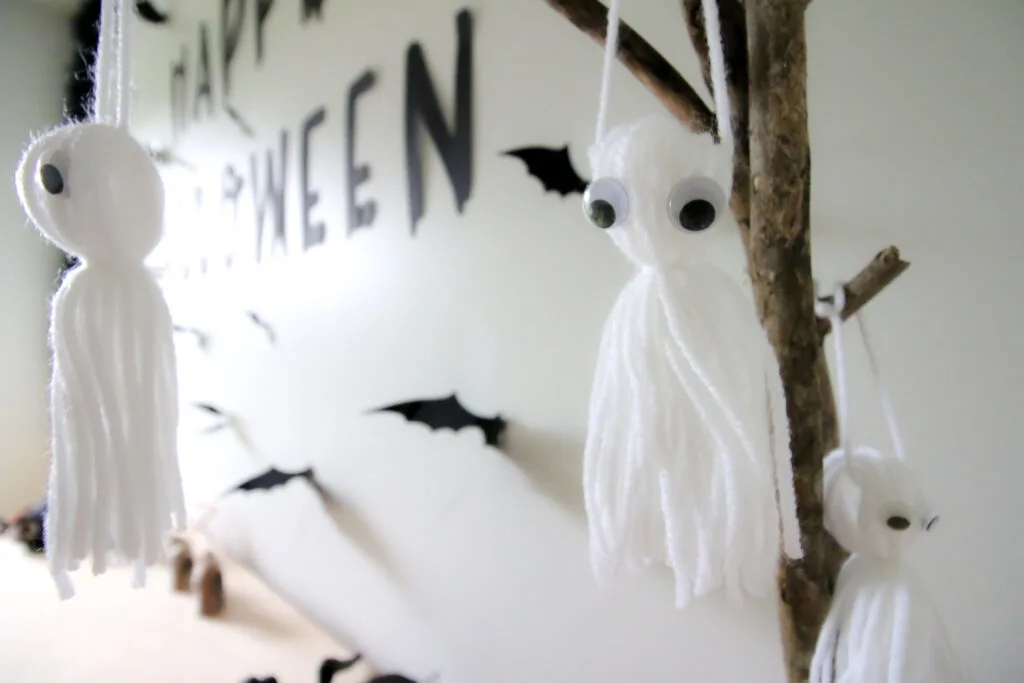 STEP 6: Add eyes
Use glue to add googley eyes!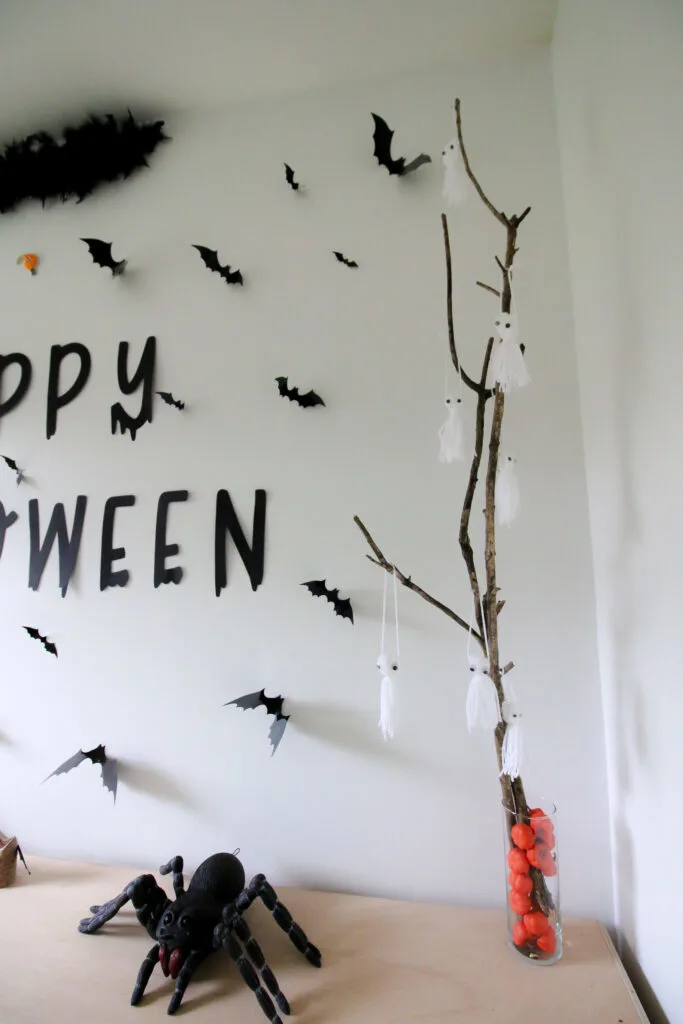 How to make a ghost tassel garland:
You can add a loop of yarn thru the head loops (not around the neck, trust me) and hand this yarn ghost craft individually.
OR you can create a DIY tassel garland!
To do that, you will want to thread a long piece of yarn on a big needle.
Run the length of yarn thru the center of the heads to string them and create this yarn tassel garland diy!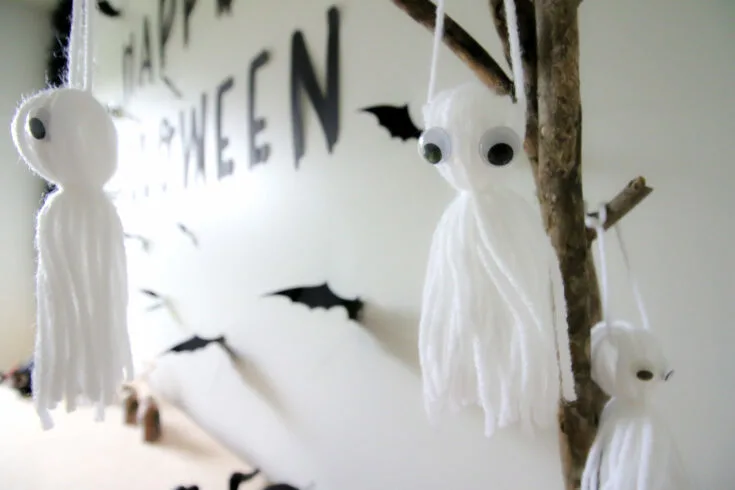 Yield:

1 set of ghost tassels
How to make ghost tassels!
Here's a step by step guide to making these cute and whimsical yarn tassel ghosts for a garland or to hang alone!
Materials
White yarn
Cardboard
Googley eyes
Tacky glue
Instructions
Cut a piece fo cardboard to 5" wide or the length you want your ghosts to be
Wrap the yarn around the cardboard 20 times
Slide the loops off of the cardboard, keeping intact
Cut a piece of yarn about 4 inches long and tie 1 inch down from one end of the loops to create the head. Trim excess.
Add a loop to hang or string thru to create a garland!
Recommended Products
As an Amazon Associate and member of other affiliate programs, I earn from qualifying purchases.
What's your favorite ghost craft?!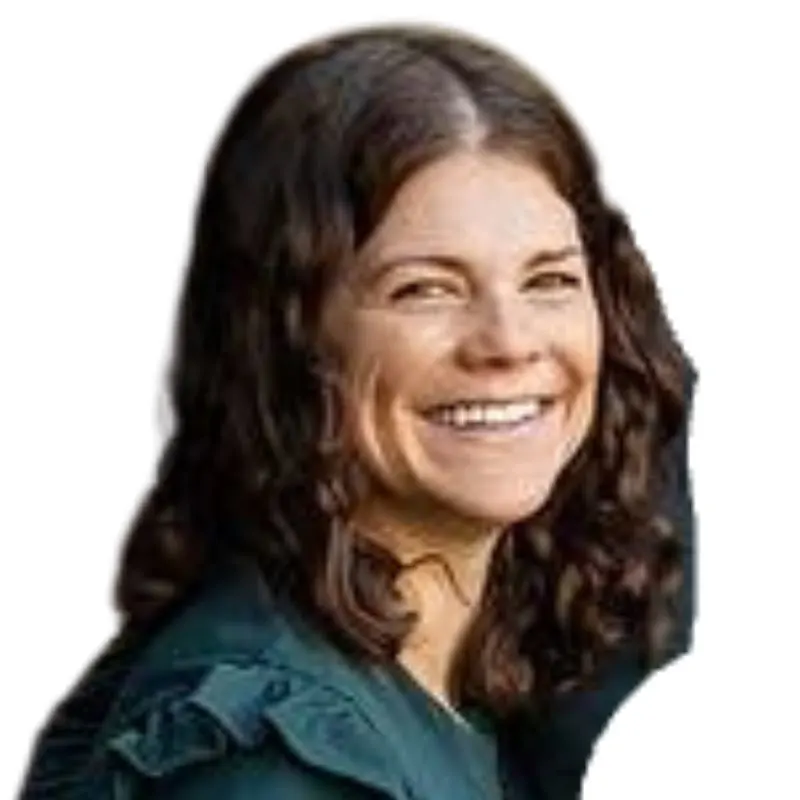 Hello, I'm Morgan, half of the creative force behind CharlestonCrafted.com! With a passion for DIY that dates back to 2012, I've transformed three homes and now I'm dedicated to helping others craft their dream spaces. Let's turn your house into a home together!