Are you asking yourself "which Kreg Jig should I buy?" There are several different Kreg jigs to choose from, so we'll show you the best Kreg jig for beginners and intermediate woodworkers!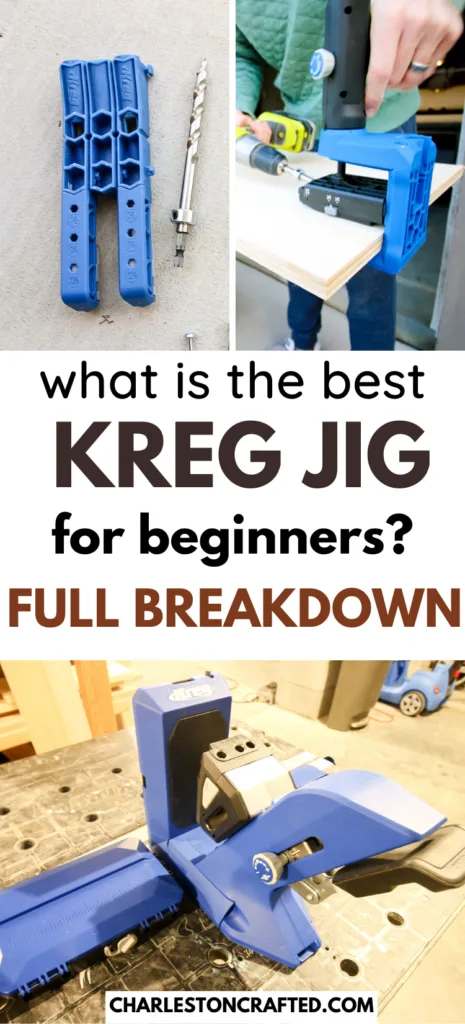 If you're a new woodworker and looking to build furniture and other cool projects, pocket hole joinery is the most simple way to go.
You don't have to have a fancy woodworking background to build beautiful, functional furniture for your home.
Almost all of our woodworking builds use pocket hole joinery because our goal on this website is to make projects as replicable as possible, so we choose pocket hole joinery because it's approachable, budget friendly and easy to use.
However, getting started can sometimes be the hardest part.
If you are new to woodworking and wondering which Kreg pocket hole jig to buy to get started, we'll talk about all the options below and help you decide which Kreg jig you should buy.
Read through the whole post to learn about each jig because, as you'll see in my final recommendation at the end, it's hard to definitively say which jig you should buy because there are a lot of factors involved.
The right Kreg jig is the one that will help you most. Let's dive in.
Read all our tips about how to use a Kreg jig here!
Which Kreg jig should I buy?
Knowing which Kreg jig to buy depends on a few different factors, including your skill level, what you're planning to use the jig for, and how often you plan to use it.
You need to answer all of these questions when making a decision on which Kreg jig you should buy.
Let's take a look at some of these factors and help determine which Kreg jig you should buy.
Is a Kreg jig worth the money?
What are you going to use your Kreg jig for?
Ask yourself the question of why you're planning to buy a Kreg jig.
This could be a very simple, direct answer such as "I'm planning to build a table this weekend and need a jig."
The answer could be a little more vague, such as "I want to start doing woodworking projects for my home."
If you are new to woodworking and are looking to build something for the first time but don't plan to do woodworking projects regularly, that is different than if you just bought your home and are interested in building furniture for each room of your house over the next three years.
Also think about where you're going to use your Kreg jig. Do you plan to work on the back patio for all your projects or do you have a workbench in your garage where you're going to build projects. Depending on that answer, you might need a different jig.
Knowing what you are planning to use your Kreg jig for and where you'll be using it will help you determine which Kreg jig to buy.
Types of Kreg jigs
There are several different Kreg jig models, all with different pros and cons compared to the others. Let's take a look at each Kreg jig model and learn more about it to help you determine which model is best for you.
*Note- all prices are current as of February 2023 and may be different at the time of your reading, however they will remain relatively the same.
Kreg Pocket Hole Jig 720 and 720 Pro
The Kreg 720 pocket hole jig is the best jig on the market today. It has the easiest clamping system, most solid base, and best overall performance for drilling pocket holes.
Read our full review of the Kreg 720 and 720 Pro here!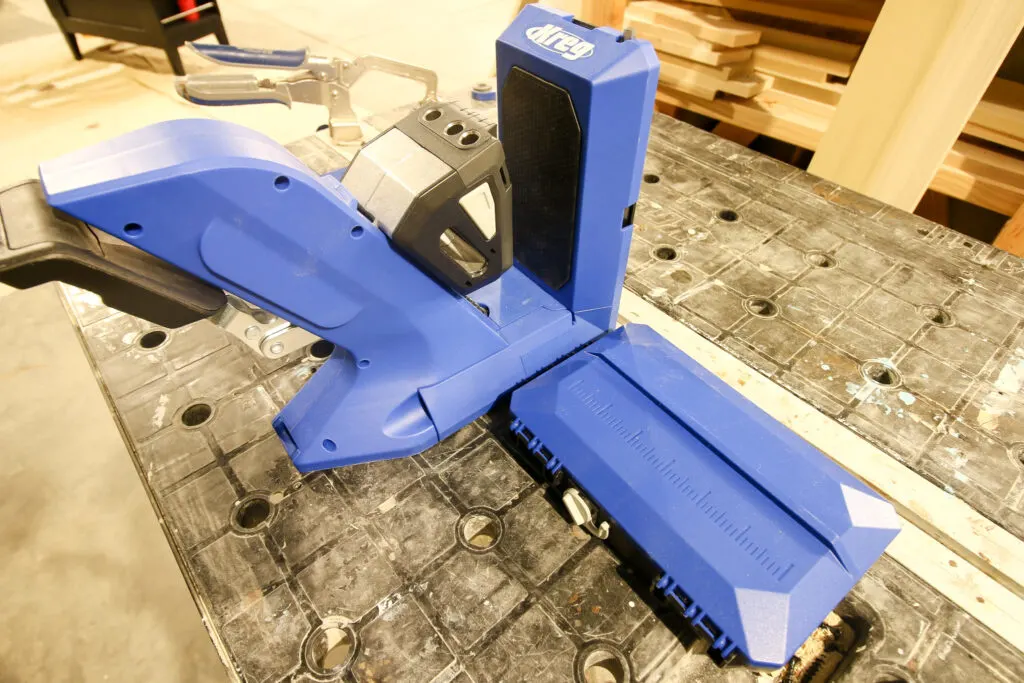 The Kreg 720 comes in a base model for about $129 or the Pro model, which includes a fold down docking station with interior storage for about $20 more. You can buy the docking station separately for about $60, so the Pro model saves you a little cash.
We use the Kreg 720 Pro model and think that it is absolutely worth the extra money.
Kreg 720 Pros:
The Kreg 720 has a solid base that can hold large pieces of wood, especially when you have the folding docking stations attached.
The most unique feature of the Kreg 720 is their AutoMaxx clamping system, which adjusts the jig to the thickness of the wood for you, so you don't have to mess around with that.
Onboard storage on the back of the 720 is also a key point because it keeps everything handy for switching whatever you need.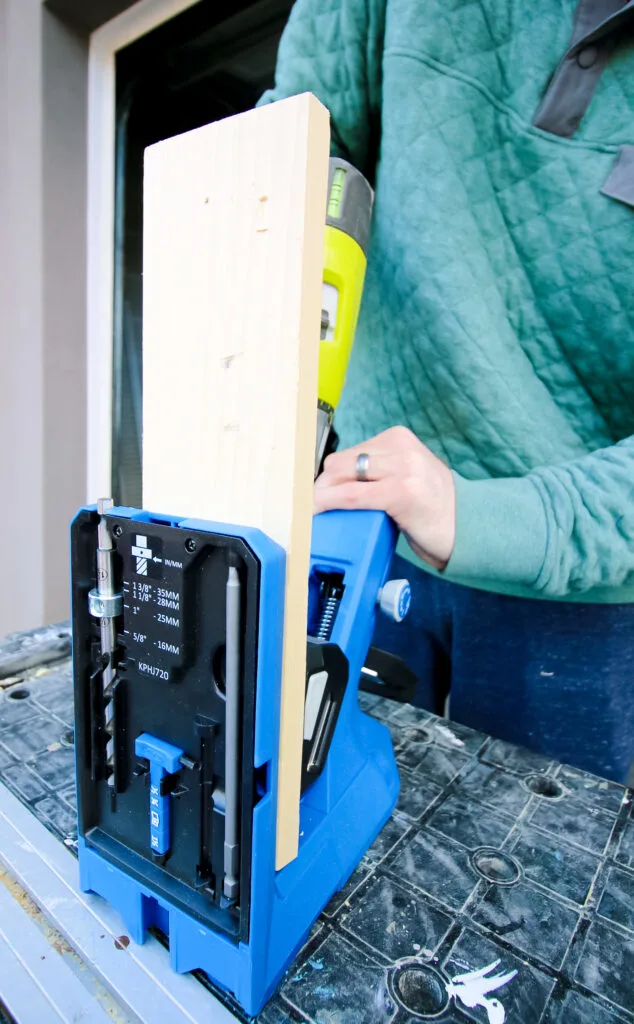 Kreg 720 Cons:
When using the Kreg 720, you'll want to use the vacuum nozzle attachment and hook it to your shop vac, otherwise wood shavings will build up pretty quickly and get in the way.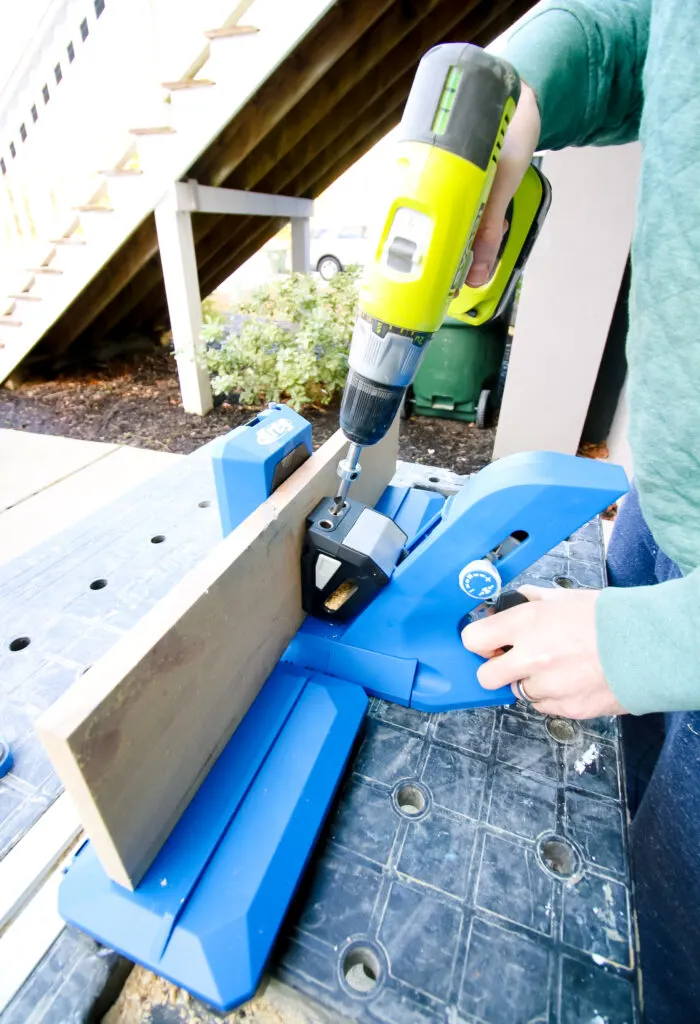 Also, it's not great for drilling pocket holes on the end of long boards. You can turn it on it's back and use it kind of upside down and slide the end of a long board into it, but I find that cumbersome.
Otherwise, there really aren't any other downsides to the Kreg 720 other than it is the most expensive Kreg jig.
Kreg Pocket Hole Jig 520
The Kreg 520 pocket hole jig is great for on-the-go joinery or for large pieces of plywood or long boards. The 520 clamps directly onto the board, making it great for those applications!
Read our full review of the Kreg 520 here!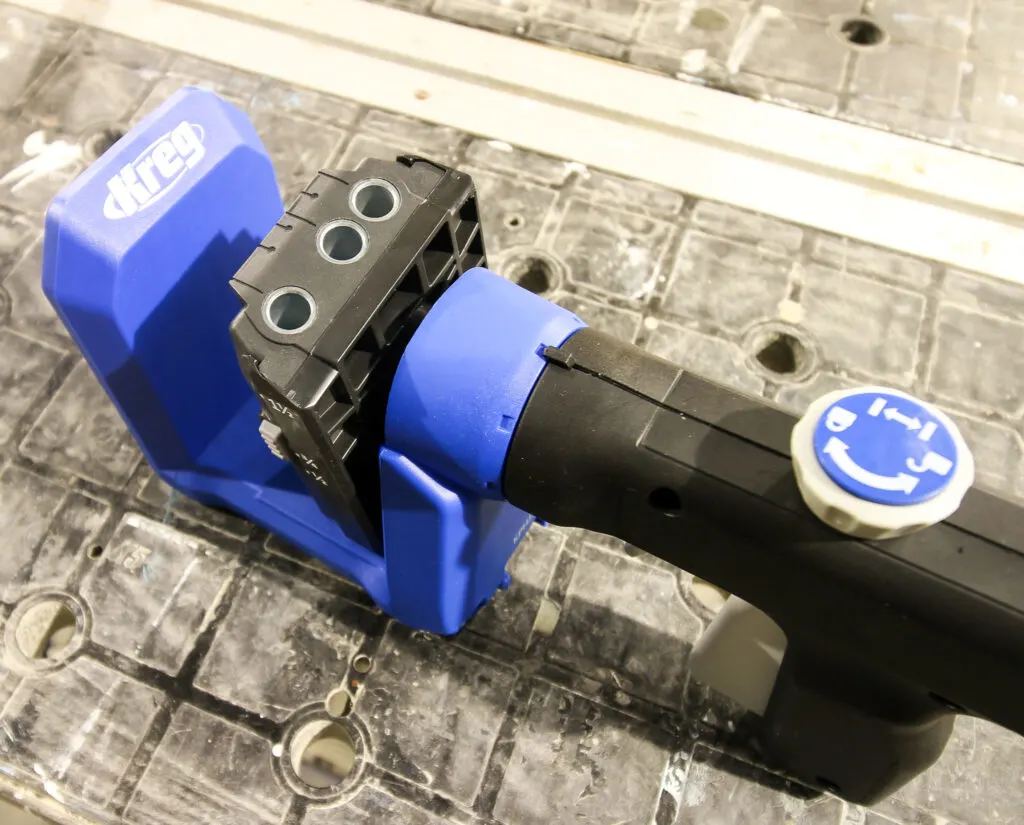 You can get the base model Kreg 520 for about $100 and it will include the drill and driver bits and a clamp to hold it to the table. You can also attach the aforementioned docking station to the 520 as well, but we have never done that.
Kreg 520 Pros:
The best thing about the Kreg 520 is that it is so mobile and is great for using on big pieces of wood. Think large sheets of plywood or long dimensional lumber.
The Kreg 520 works with a squeeze clamp, so you have to use your hand to squeeze it tight, but then it holds really well.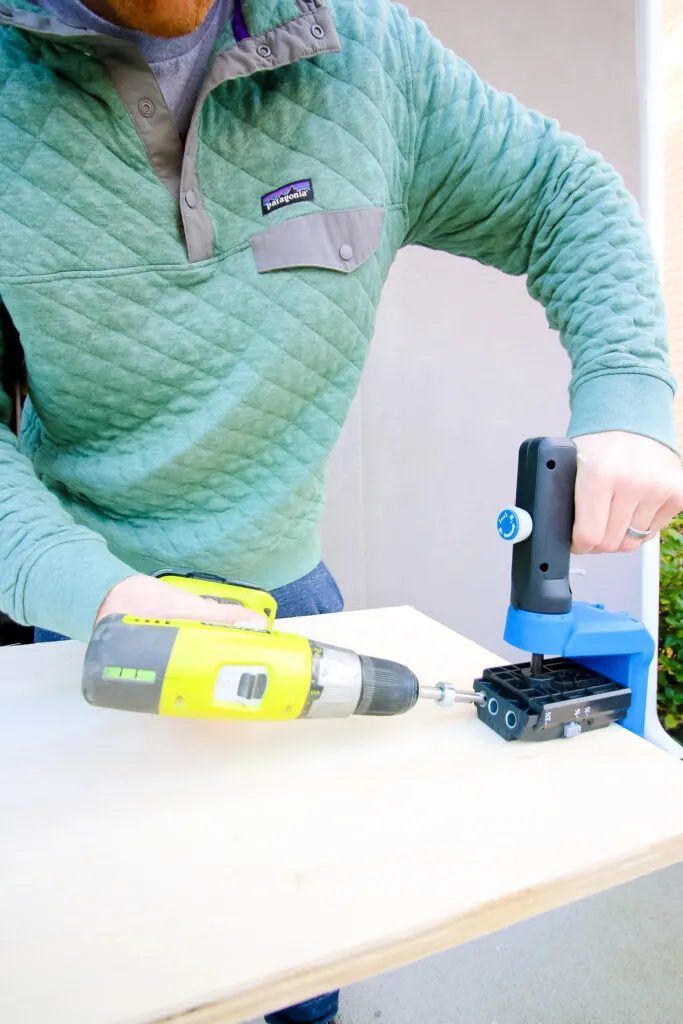 The versatility of this allows you to attach it anywhere you want on a board and easily take it where you want to go. I absolutely love this for working in the driveway or backyard.
The price is pretty attainable, but is not that much cheaper than the Kreg 720 for what you get from each of them.
Kreg 520 Cons:
While they say you can use the Kreg 520 like a tabletop jig, it doesn't really do it for me. It seems to small for that and doesn't seem like it's strong suit.
Also, you have to adjust the jig for the thickness of the lumber and mine has always been difficult to change.
Kreg 320 Pocket Hole Jig
Similar to the 520, the Kreg 320 pocket hole jig has to be clamped onto a board directly. You need an additional clamp for this, but it is also great if you're working with tight spaces, as you can drill just one hole at a time.
The Kreg 320 pocket hole jig costs about $40 and is another jig that clamps directly onto your workpiece, versus putting the wood into the jig. It's a small and versatile jig that has some good pros and cons.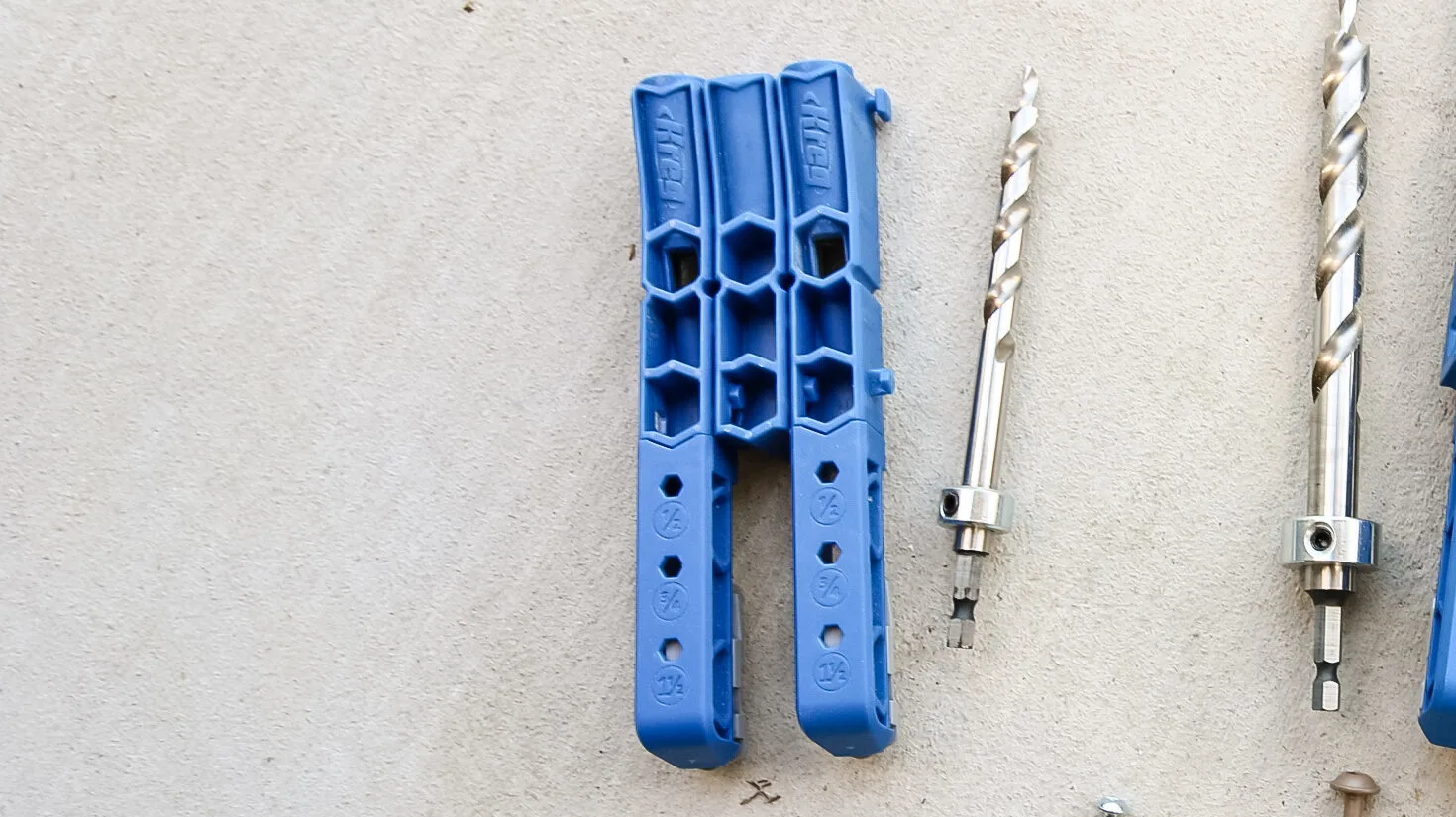 Kreg 320 Pros:
The Kreg 320 is small and easy to use, which is great if you need to make pocket holes in less traditional pieces. It's also great in that it can come apart and be used to drill a single pocket hole and you don't have space for a big jig.
At $40, the Kreg 320 is the cheapest jig by far and makes it very easy to get into the pocket hole game without breaking the bank.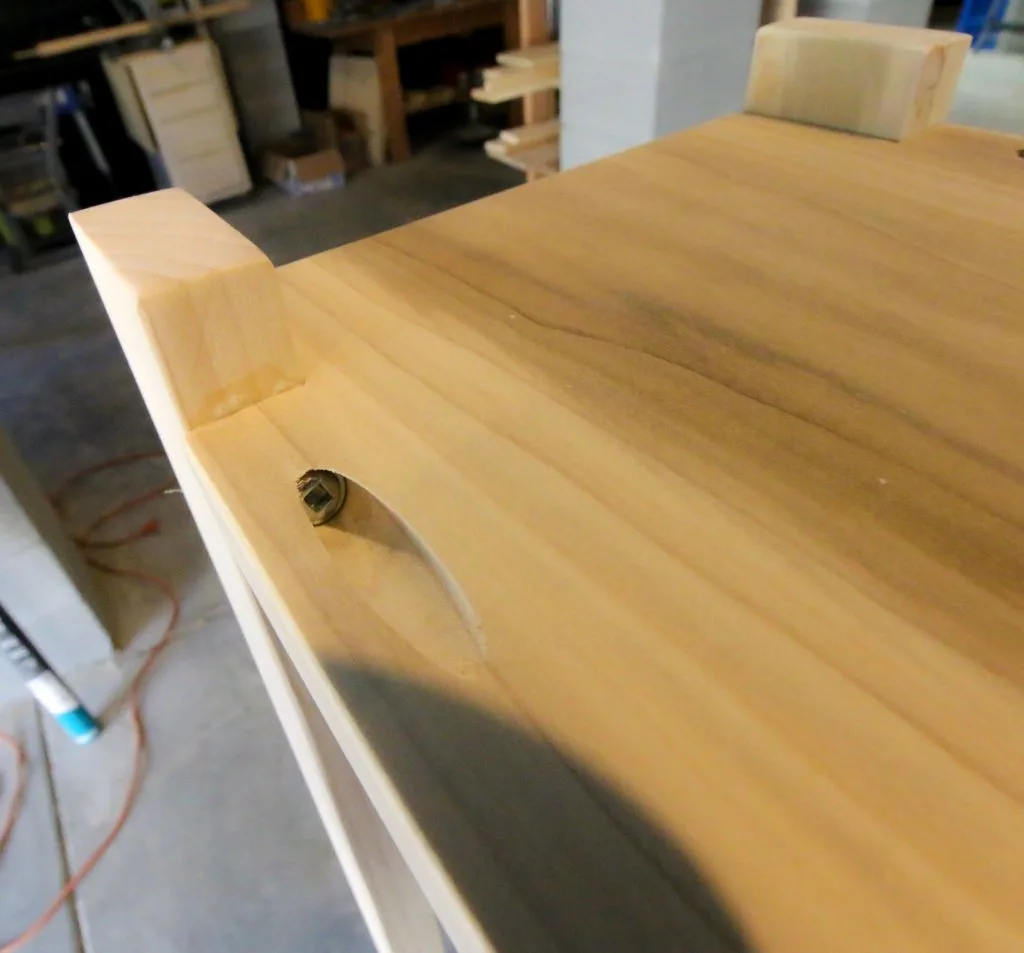 Kreg 320 Cons:
The Kreg 320 requires an outside clamp to attach the jig to your workpiece and it can be difficult to get the tightest right. Plus, it adds a vertical element with the clamp that you might not want at the time.
Also, the Kreg 320 is limited in what it can do. You have to move it with every hole and that can be annoying and cause inconsistencies if you don't get the perfect alignment every time.
Other Kreg pocket hole jig models
Additionally, there are a few more Kreg jigs out there.
The Kreg Foreman Pocket Hole Machine is a large scale pocket hole making machine. It has a huge work surface and automatically clamps your board and drills pocket holes when you pull down on the handle.
The Kreg Foreman makes drilling pocket holes extremely fast and easy and will make you look like a pro in no time.
However, the Kreg Foreman is pretty expensive ($399 at the time of this writing) and is very large. The Foreman is probably not the best bet for beginner woodworkers.
Check out our quick video review of the Kreg Foreman here!
Additionally, there are older Kreg models that you can buy on the secondhand market that are no longer in production by Kreg, specifically the Kreg K4 and Kreg K5.
The Kreg K4 and K5 work very well and you can probably get them for very cheap secondhand. We got our start with the Kreg K4 and used it for years on many projects.
However, you won't be able to get support for these models from Kreg since they are no longer in production, but if you want a good jig for a low cost, consider looking for these online.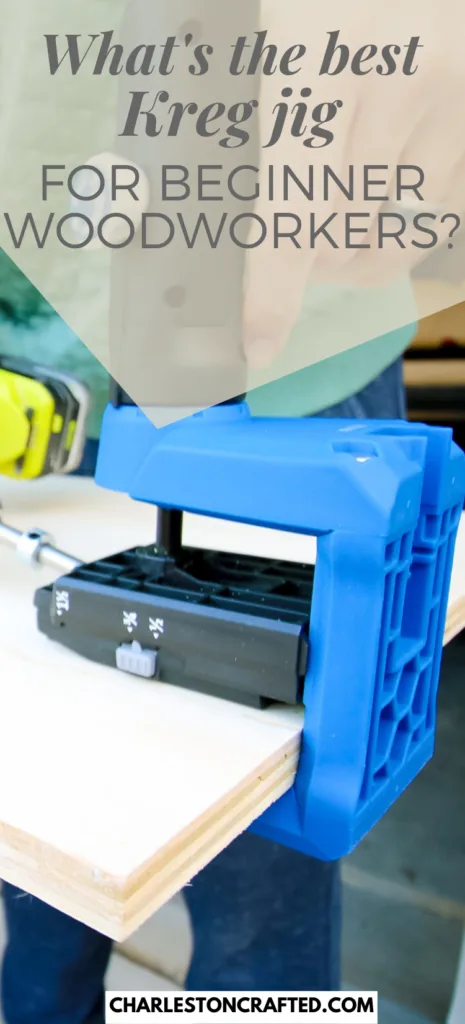 Best Kreg jig for beginners
It's hard to give a definitive answer to the broad question of "which Kreg jig is best for beginners" because the answer truly depends how you are going to use the jig.
If you're a beginning woodworker who is hoping to take up building furniture and decor for their home, I would recommend jumping straight to the Kreg 720. This is going to give you the best results and the highest ease of use over the long-term and you'll be happy you spent a little extra money up front.
If you are a beginning woodworker who wants versatility but doesn't have a big budget or doesn't think they'll be building a ton of projects, go with the Kreg 520. The Kreg 520 can be clamped directly onto anything or can be used as a bench top jig, making it the most versatile.
If you're a beginner woodworker who doesn't plan to do much true building and mostly just needs to join some boards for one or two projects, go with the Kreg 320. It will take up the least amount of room in your storage space and it is easy to use a few times.
Whichever Kreg pocket hole jig you choose, you'll be glad you did.
Good luck with your project!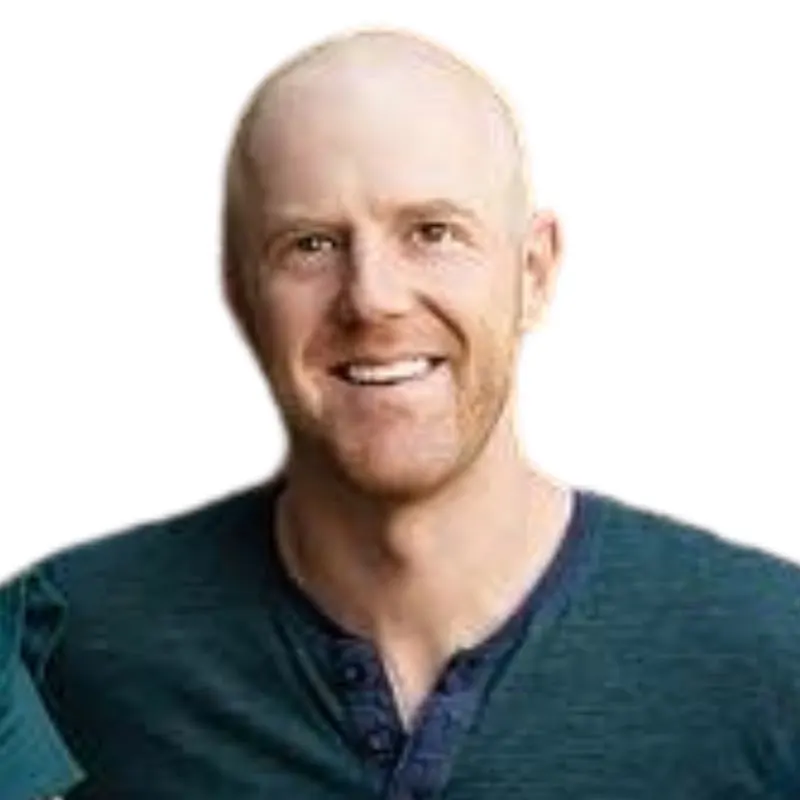 Hey there, I'm Sean, the woodworking enthusiast and builder behind CharlestonCrafted.com! Since 2012, I've been sharing the magic of turning raw materials into beautiful creations. I love teaching others the art and satisfaction of woodworking and DIY. I try to inspire fellow crafters to make something extraordinary out of nothing at all.