If you're looking for easy garage organization ideas to transform you garage space, we have several storage hacks to get you going. Read this post to get ideas for organizing your garage, no matter how big or small it is!
The garage can be the best used or most poorly used space in any house, depending on how you organize it.
Nowadays, it's rare to see a family park both, or even one, of their cars in their garage. Garages today are usually used for a workshop space, storage or both.
Click here to check our our brand new workshop reveal!
If you're not careful, it's easy to let you garage get out of hand if you're using it for storage. Soon, the thing you need will be several layers deep and you can't get to it. Or you'll have so much stuff, most of it is junk anyways.
Scroll down to see a bunch of garage organization ideas and storage hacks for all different sized garages and types of spaces!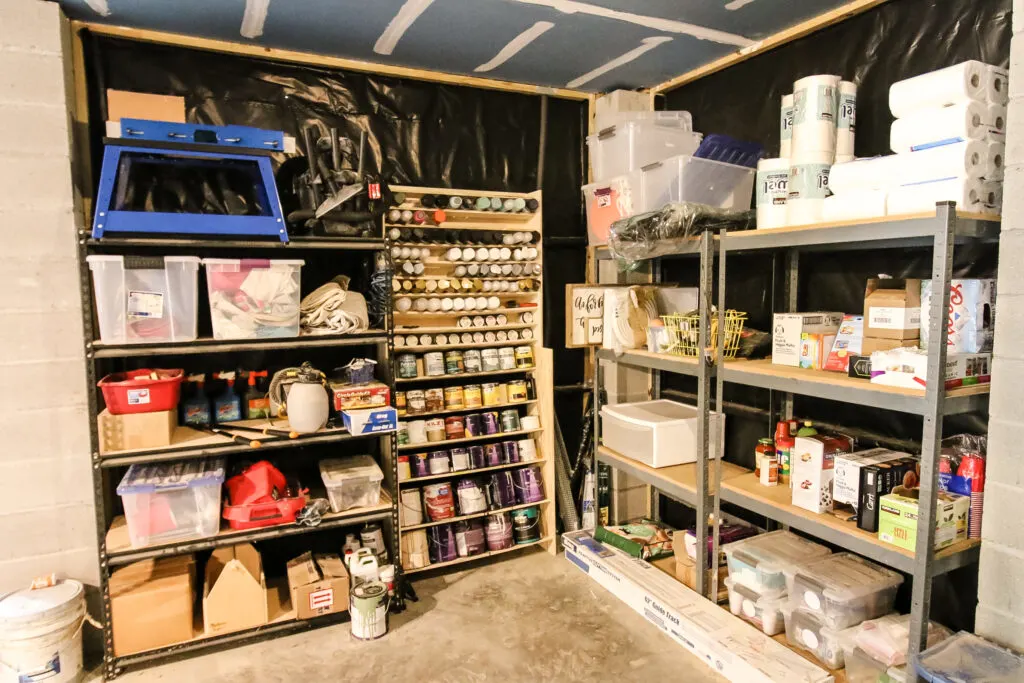 Garage Organization Ideas
Having an organized garage is critical to any home. An organized garage can give you lots of extra square footage and let you get to things you need on a regular basis.
Unlike older homes, most new construction homes have little to no usable attic space, so you can't count on that for storage.
There are easy ways to keep your garage organized and useful and keep everything accessible. Check them out.
Garage Organization Tips & Tricks
The easiest way to start garage organization is to start from square one and eliminate clutter.
Before you can organize, you need to see what you have that works and what doesn't. More on that later, but only organizing things you really need and use is critical.
The best DIY garage organization idea we have is to go vertical. That means take your storage up with shelving, cabinets, wall systems or ceiling hanging storage.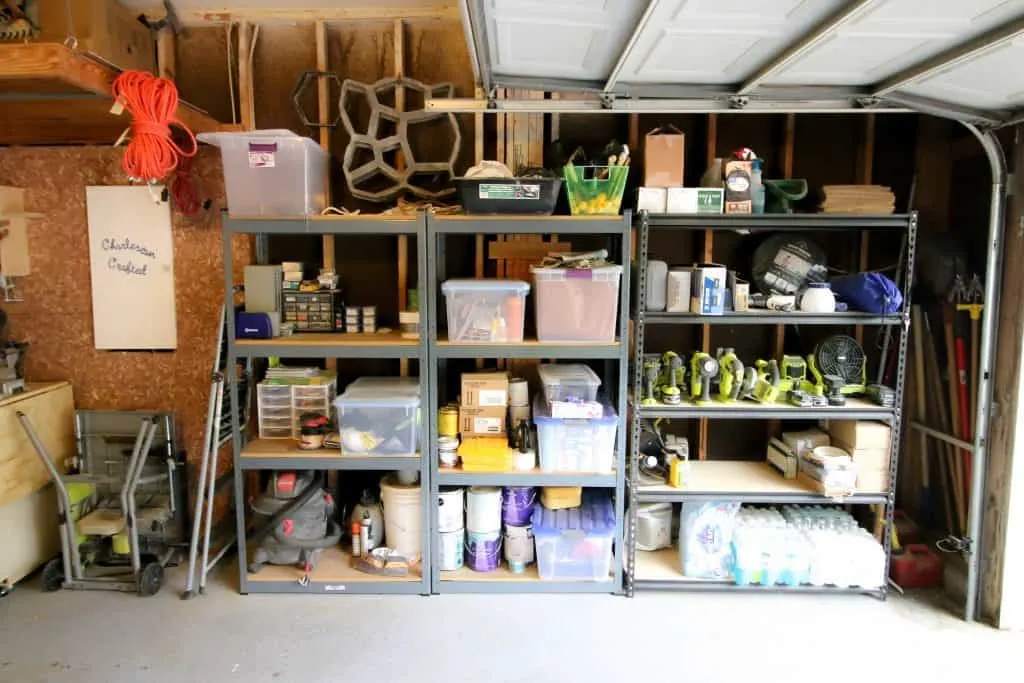 Going vertical keeps things off the floor and allows you to have more space. Don't waste the area above eye level when you can get things up.
Going vertical also makes it easier to organize smaller items and boxes because you can put them on a shelf and see it, instead of losing it in a box or on the floor.
It's always better to use shelves than to just stack bins or boxes – getting the bottom box out from a pile can be a true nightmare.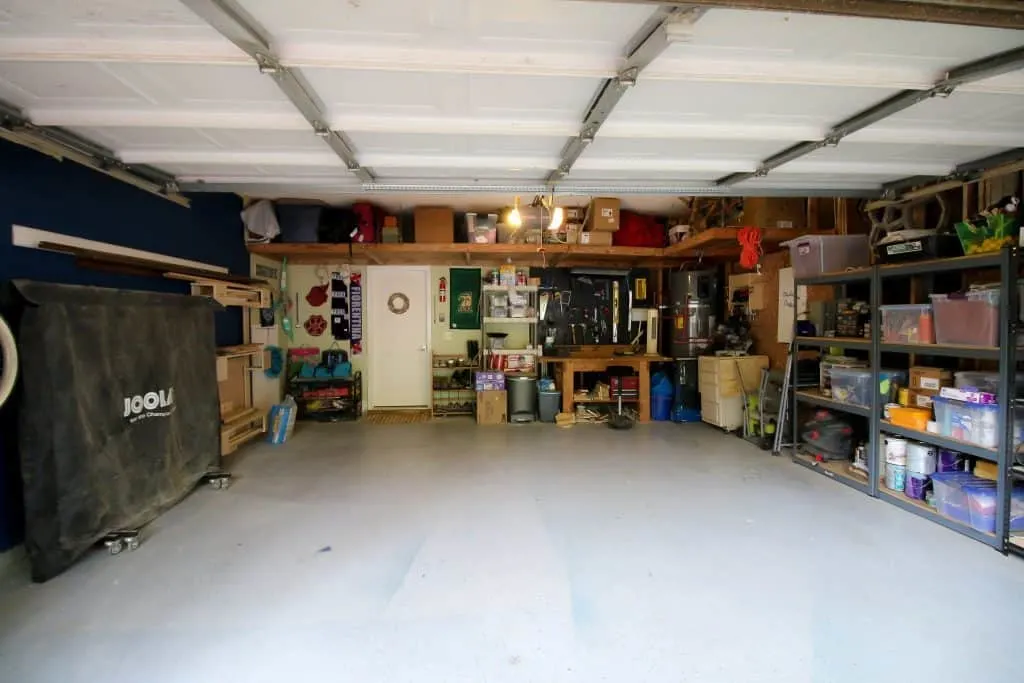 Keep like items together so you know where to go for any need. It's best to keep your household bulk storage together, outdoor equipment together, pool toys in the same place, etc.
Finally, keep frequently used items more handy and holiday decor higher and tucked away. Don't have the artificial Christmas tree box in the corner right next to the door to the kitchen. You only need that once a year, so get it up high.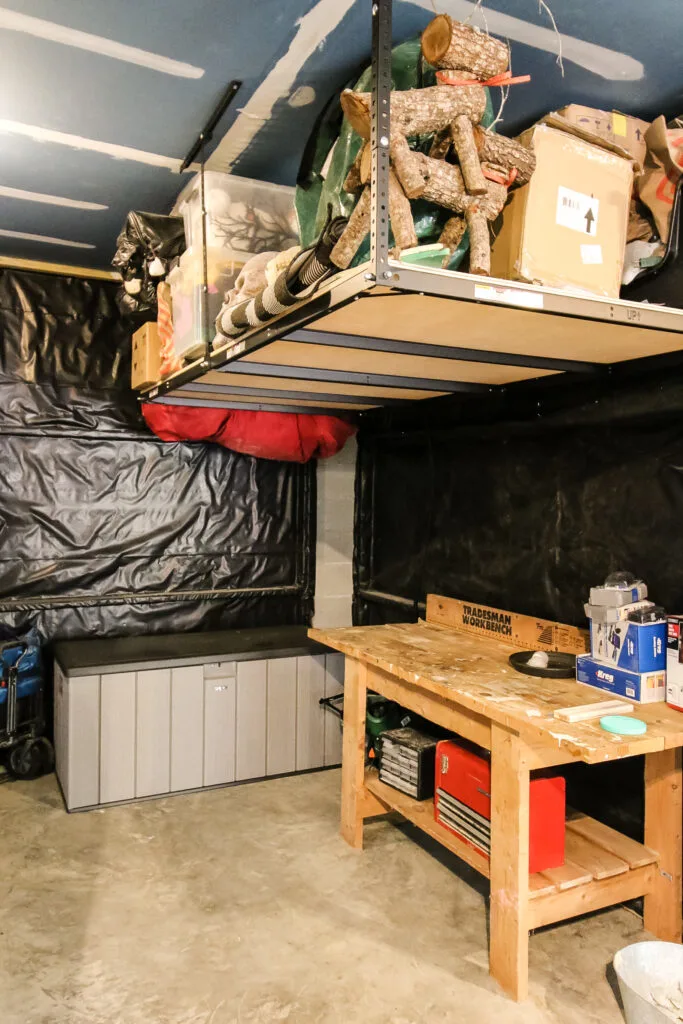 How can I declutter my garage quickly?
Purging is the best. It is such a great feeling! It's easy to declutter your garage quickly.
The best thing to do is to start looking at everything in your garage. Plan a Saturday to open the garage door, clear out the driveway and start getting to work.
To declutter your garage, start by categorizing the things you use and access regularly. Put all of those things in a pile, then organize them by category. These are things you'll keep and need to be front and center when you put things back.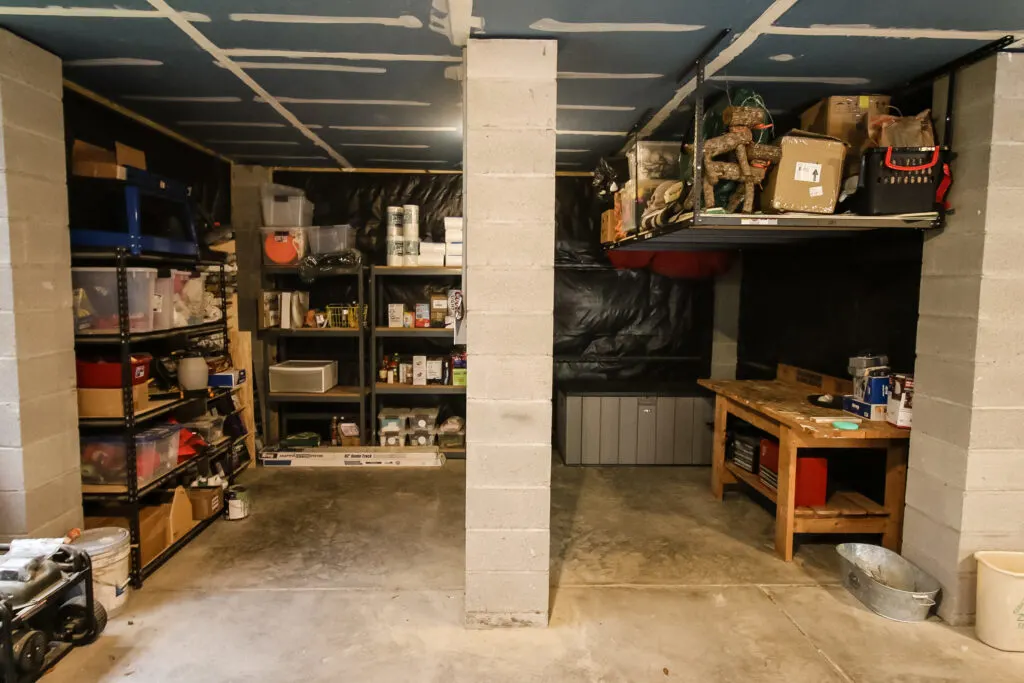 Next go through things that are seasonal, whether by holiday, sports season or whatever. These things are items you'll keep but need to be categorized and will go back into the garage either higher up or further back.
Now look at everything else. Here's where the fun begins.
Purging your garage can be done in a few ways. The easiest way to start is to look at everything that's left and see what you haven't touched in a year. If you haven't used it in a year, chances are you don't actually need it.
You can also look at things that are old. If you've been storing the paint from your kid's nursery and they are in college now, it's not any good anymore anyways, so you can get rid of it.
Purging your garage is about being realistic. If you haven't camped in 15 years, you might not need to have four sleeping bags and a decaying tent anymore. Be real with yourself about what you will use again.
Once you know what you don't want, determine if it is trash or if it can be sold or donated. Check out our tips for successfully selling on Facebook Marketplace!
How can I organize my garage for cheap?
The cheapest way to organize your garage is by throwing away or selling things you don't use anymore and categorizing everything else.
Put frequently used items near your door to the garage or on the same shelf. Make sure you can pull out the lawn mower.
Stuff that you don't use or is broken and old should be disposed of or sold. This will make an immediate impact just by purging junk.
Garage Organization Systems
Garage organization systems are the best way to keep your garage space organized.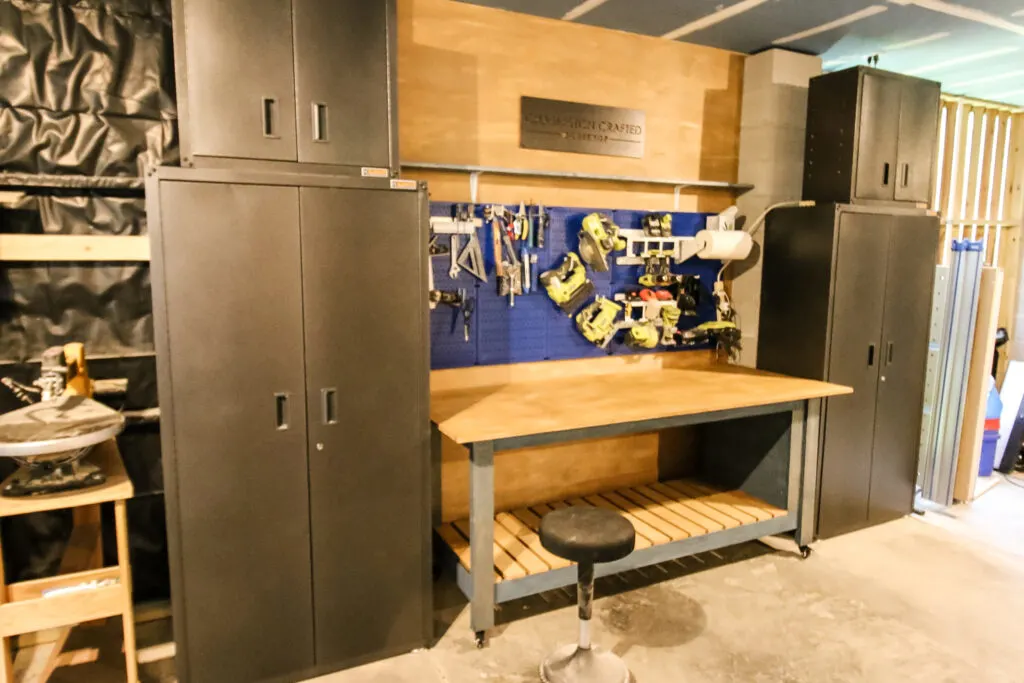 There are dedicated wall mounted garage cabinet organization systems that are modular and you can buy any number of pieces for. These will maximize your space for sure, but can be quite costly.
You can also use standard shelving or carve together your own organization system over time to keep everything organized in the garage.
What is the best garage shelving?
The best option for garage shelving is to go with heavy duty metal shelving.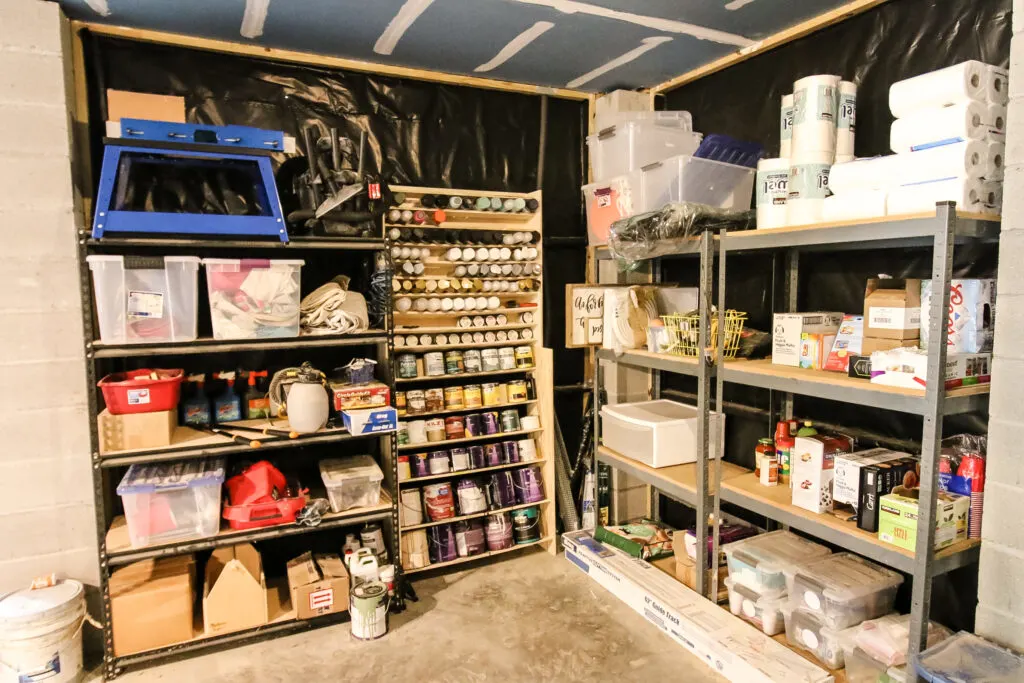 Metal shelving units are wider and deeper than cheap plastic shelves and can hold much more. Metal shelves are also much more sturdy and hold a lot more weight.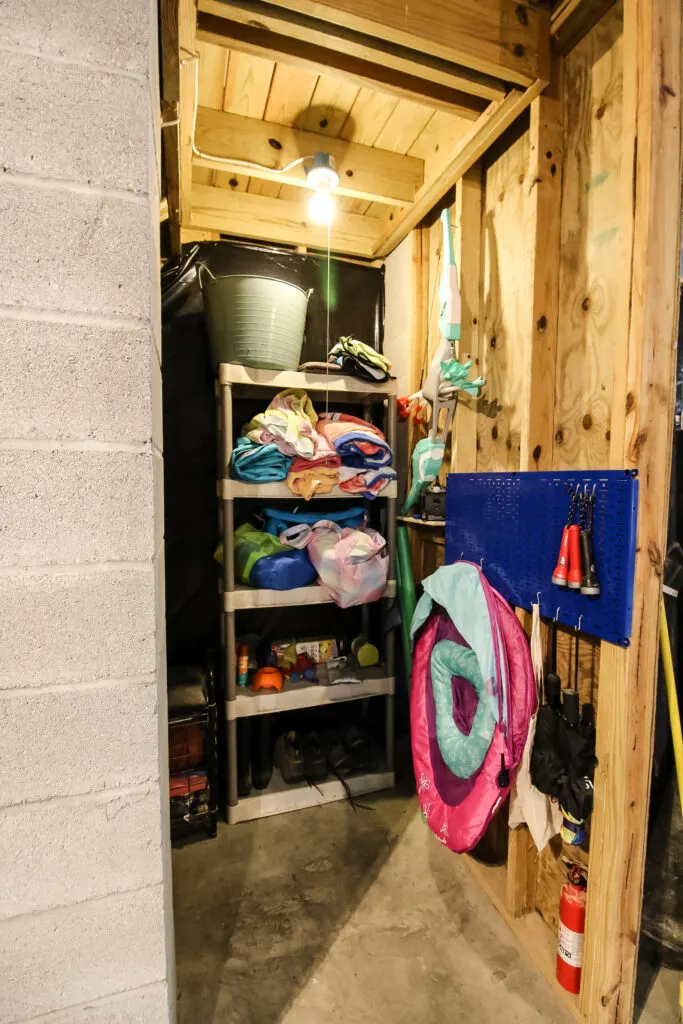 Plastic shelves are cheap and easy to pop together, but are for light duty use and won't hold much weight. But if you're just using them for beach towels, they might be a fine idea.
Metal shelving units will cost more, but will not fall over and will offer you more options. Shelves are usually adjustable and they will hold a lot of weight.
Can I use kitchen cabinets in garage?
You can absolutely use kitchen cabinets in a garage!
Old kitchen cabinets are extremely easy to come by. If you're going through a renovation, you can take the old cabinets out to the garage and give them a second life.
If you don't have old cabinets, you can often find them on the side of the road, or go to a local Habitat for Humanity store which will more than likely have several sets available for pretty cheap.
Old lower cabinets, will probably need a new countertop, but you can just use a sheet of plywood. Upper cabinets need to be secured to the studs so they can be safe and support weight.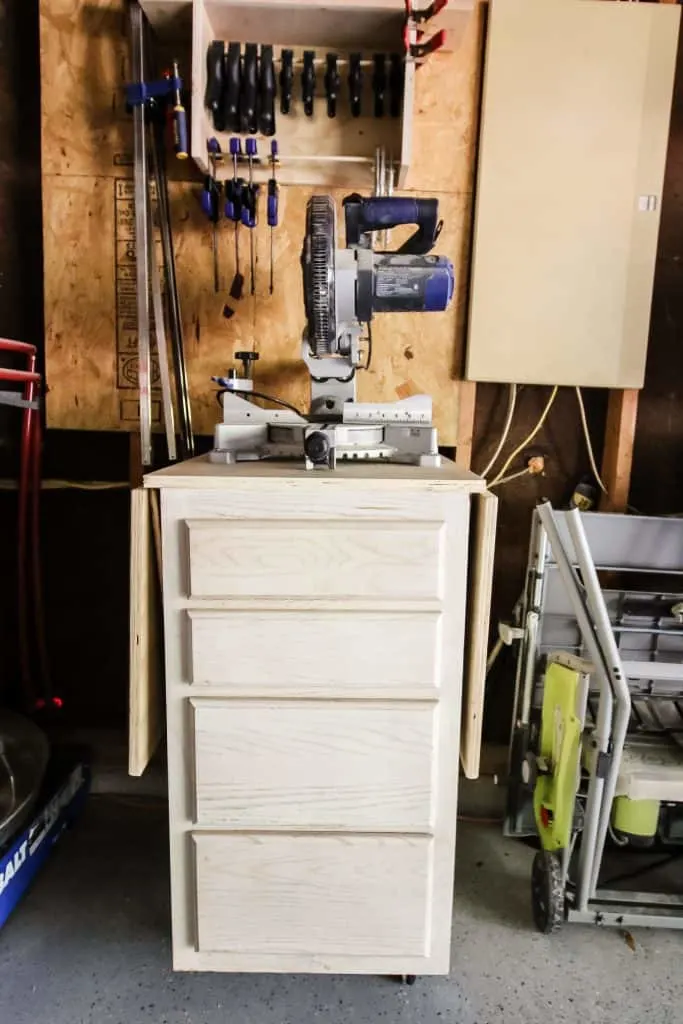 You can also use kitchen cabinets to build a mobile miter saw stand!
What are some overhead garage storage ideas?
Overhead storage is an excellent way to store items that are infrequently used, like holiday decor.
Drop down overhead garage storage units attach to the joists in the ceiling and can support hundreds of pounds of weight. They are fairly easy to install with two people and you can keep tons of stuff up there.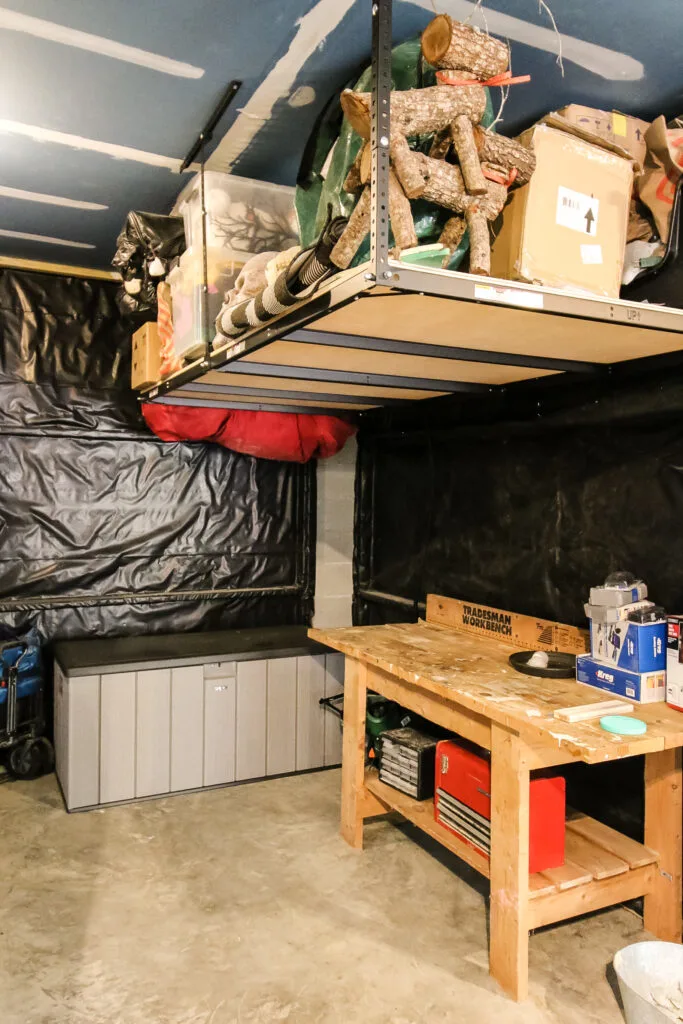 We use this overhead garage system and here's a video of how we put it together!
Ideas to Organize Tools in a Garage
If you use your garage like a workshop, like us, then you need to organize your tools in the best way possible. Tool storage can be tricky, but we have some ideas.
Check out how we built a scrap wood storage rack using scrap wood and mounted it to the wall!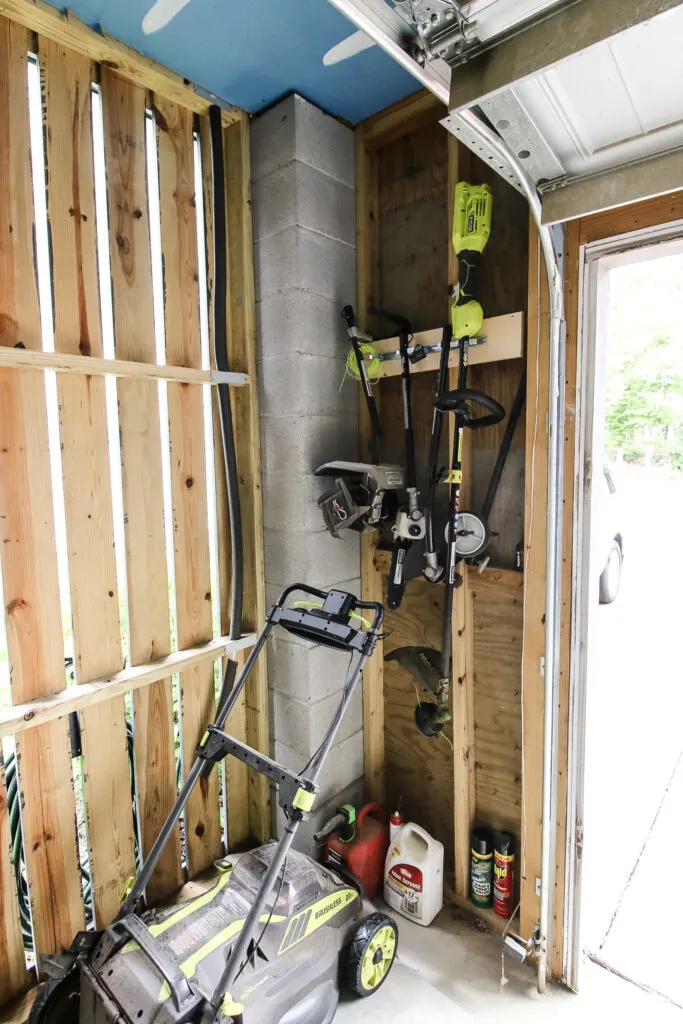 How do I store my power tools in my garage?
We've organized tools in a few ways in the past. This has included lining them up on shelves, hanging them from pegboard, or putting frequently used tools on hooks.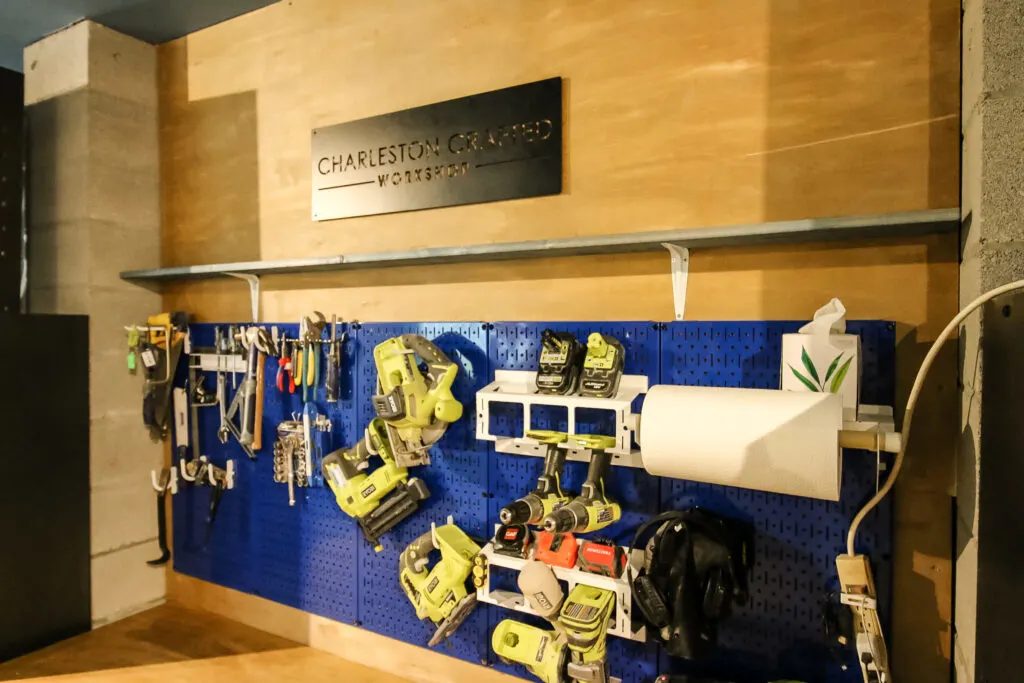 Currently, we're using a Wall Control system above our new workbench in our space. Wall Control is heavy duty metal pegboard that has dozens of accessories for keeping tools and shop items quickly within reach.
You can also put tools you use less often in a locker. The best way to do this is to keep similar tools together, like different saws or drills in one place.
How do you store small tools in a garage?
Small tools and hand tools are usually best kept together on a peg board with appropriate hooks that will help keep small tools handy.
You can also keep small tools in a plastic storage container. Inside our cabinets, we have one plastic bin filled with "random" tools, aka tools that have a very specific purpose and aren't needed very often.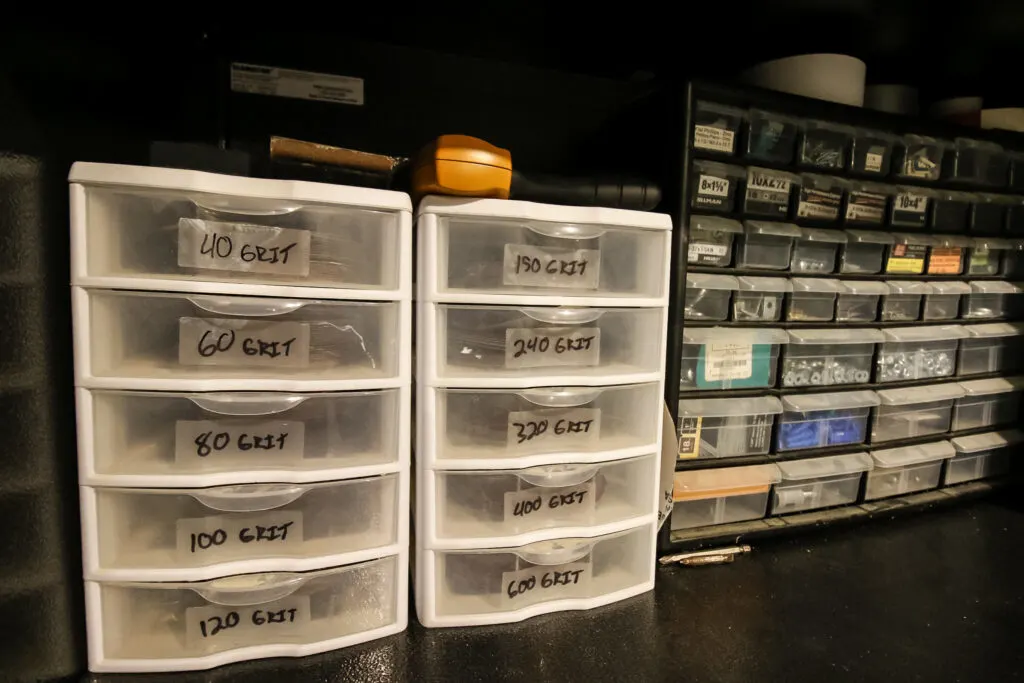 You can also use small plastic drawers to organize screws, nails, sandpaper and other small, loose items.
Will my tools rust in the garage?
Tools can rust in your garage, depending on the situation.
If you have a climate controlled garage, your tools aren't likely to rust.
If your garage is fully-enclosed but gets hot and cold depending on the weather outside, you're also still likely fine.
However, if you have a raised house above your garage, tools can rust. We've run into this problem in our new house with exposed tools.
Even though tools aren't coming into direct contact with the elements, they are still exposed to the moisture levels in the air. Depending on the material that the tool is made of, it can rust, so keep them store appropriately.
Ideas to Organize Paint in a Garage
If you have painted your house or use a lot of different paints and spray pains in your crafts, it's important to have spray paint and paint or stain organization.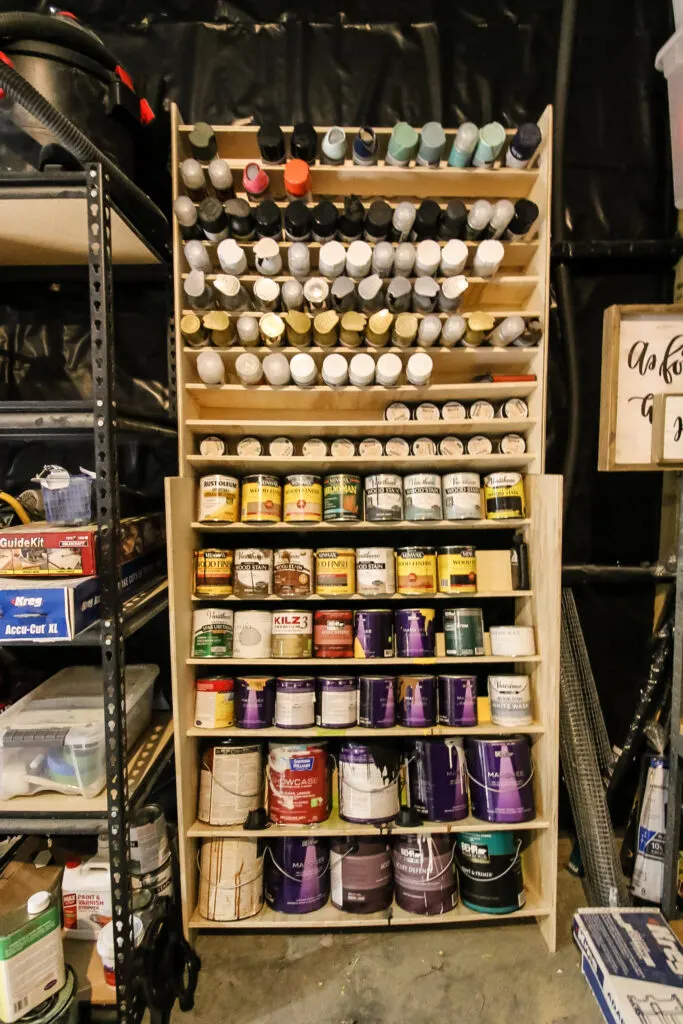 We built a great paint and stain organization rack and a spray paint storage rack that are perfect for a garage. The best part is that they can stack on top of each other for maximum vertical storage.
Make sure to grab the free woodworking plans for our paint and spray paint organization systems!
Garage Organization Layout Ideas
Organize your garage based on the layout that you have. Garage organization isn't as straightforward as home organization can be because you have to keep the middle open and don't have closets to hide things.
Maximize storage space in your garage by going vertical on all sides and hanging down whereever possible.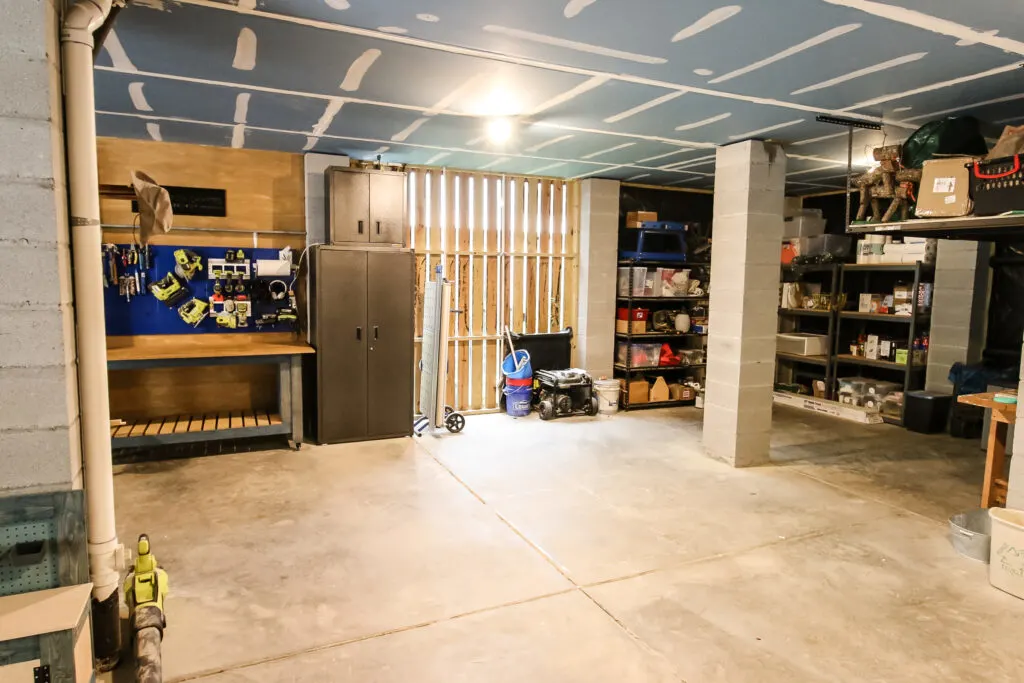 Push storage cabinets and shelving units all the way to the front of the garage if possible.
Having overhead storage above the doorway or your workstation where you aren't storing things below them. The best thing to do is to find ways to use space wherever you can.
How do you maximize storage in a small garage?
If you have a small garage, you especially need to utilize all the tips and tricks in this post. Having a small garage means you have less options to work with, so go vertical and add shelves and cabinets wherever possible!
Need to get your workshop in shape? Check out our Workshop Organization 30 Day Guide eBook!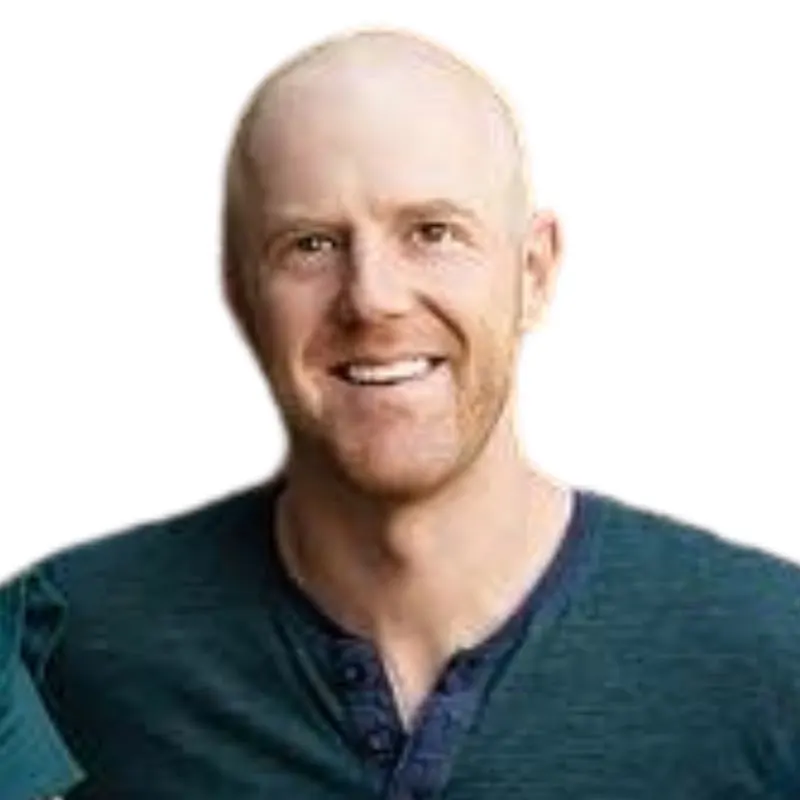 Hey there, I'm Sean, the woodworking enthusiast and builder behind CharlestonCrafted.com! Since 2012, I've been sharing the magic of turning raw materials into beautiful creations. I love teaching others the art and satisfaction of woodworking and DIY. I try to inspire fellow crafters to make something extraordinary out of nothing at all.