Need to get your jewelry organized? Here's one of my favorite hacks – hidden jewelry storage! Here's how to organize jewelry in a drawer!
As a part of our closet and bedroom makeover, I have been organizing my jewelry.
For over a decade I have stored all of my jewelry in a cool full length mirror that opens to show tons of jewelry storage.
But, that mirror didn't have a space in our new bedroom design. So, Sean made sure to build me a spot in the closet – a jewelry drawer.
I actually have a jewelry drawer and a makeup drawer right next to each other, and I love the set up!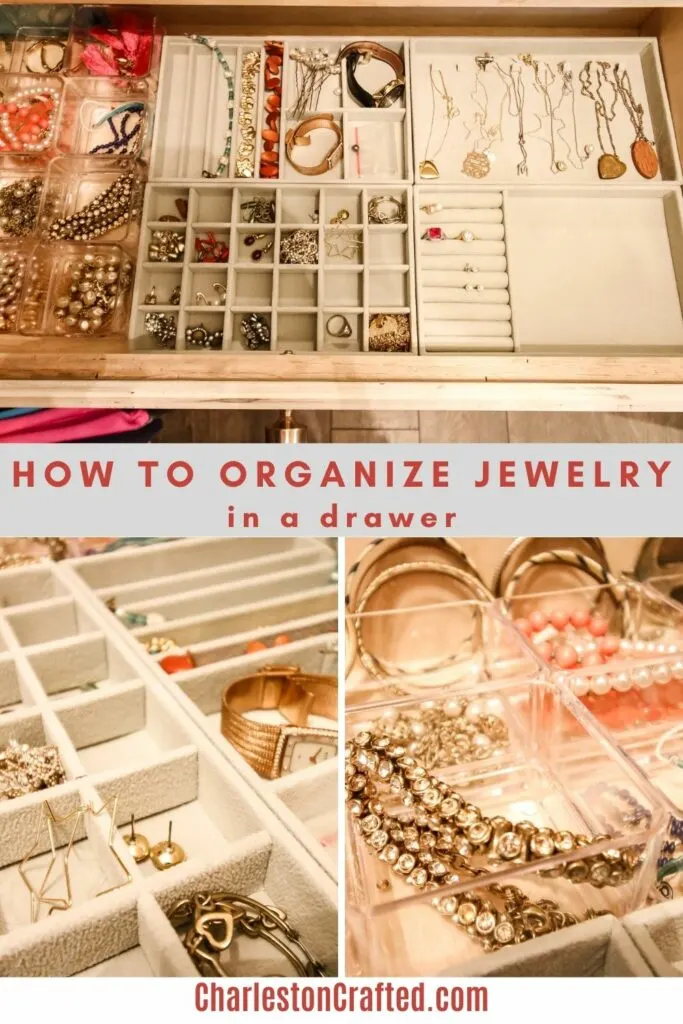 How to organize jewelry in a drawer
How do you turn a drawer into a jewelry drawer?
You can turn any jewelry into a jewelry drawer by simply putting pieces of jewelry in it. I know, I know. But truly it is that simple. Clear out a drawer and make room for the jewels!
Now, once you have a jewelry drawer, you will want to create an organized jewelry drawer.
The way that I did this was with jewelry organizer tray drawer inserts.
The exact tray that you need will depend on your drawers dimensions – I actually ordered 3 sets before I found the perfect fit.
This is the set of jewelry organizer trays I used.
I also used these small acrylic bins and these larger acrylic bins.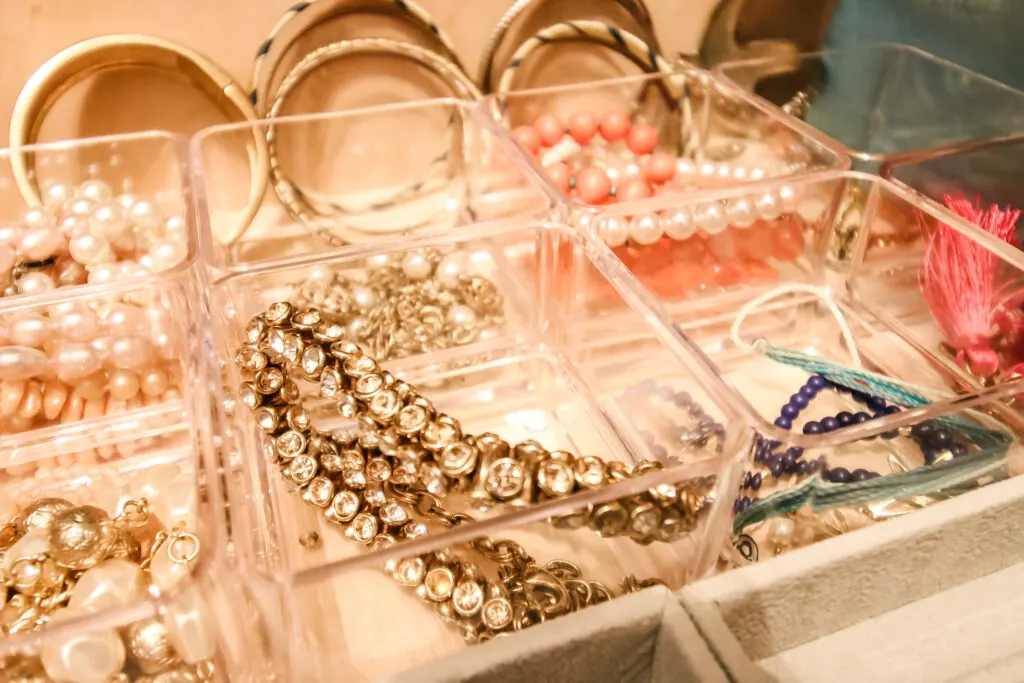 I love that the organizers have a velvet lining to keep everything in place and special storage sections designed to hold rings and earrings. It's the perfect storage solution for jewelry trays!
My drawers are only 3 inches deep, but if you have more standard depth drawers, I suggest looking for stacking jewelry trays, especially if you have a large collection!
Be sure to check out our tutorial on how to make wooden drawer dividers!
How do you use a jewelry organizer?
The exact method that you use will depend on your jewelry organizer, but here are my tips:
Purge your jewelry and get rid of anything damaged, broken, or unwanted.
Measure your drawer and select jewelry organizer trays that work with your space.
Sort by type – necklaces, earrings, rings together
Within each type, sort by size. Smaller items will need different storage than larger items – like stud earrings vs big hoop earrings.
Consider breaking apart everyday jewelry from special occasion jewelry, if you'd rather store it separately.
What goes where in a jewelry box?
Sections with velvet rolls are for rings or stud earrings
Long flat divided sections are for unhooked bracelets or hooked necklaces
Small compartments are for rings, earrings, or brooches
Larger square sized sections are for bangle style bracelets and watches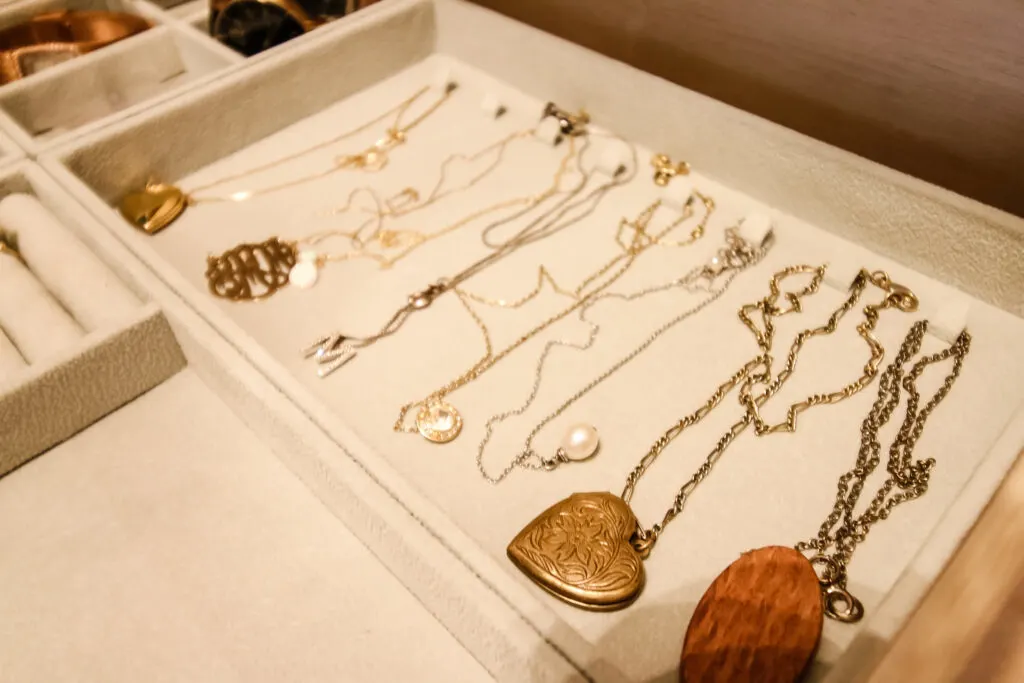 How do you store necklaces in a drawer?
My jewelry organizer set came with a tray for necklaces, each with a small velvet hook to hang it on.
However, you could put each necklace in it's own little section, too, to store it tangle-free.
How do you store necklaces without tangling?
Here are a few hacks to keep necklaces from tangling:
Always fasten necklaces shut so they don't have loose ends flopping around
Keep each necklace on it's own hook or in it's own little cubby – when they intermingle, they tangle
String each chain through a straw to keep it away from tangles
Place each necklace in a small ziplock bag or drawstring bag and store all together in a bin
Wrap chains in microfiber, velvet cloths or even tissue paper
Make 2 small cuts in a business card or similar card stock and wrap a necklace there
Loop necklaces around a toilet paper roll or cut down paper towel roll.
Store necklaces in their original box
Store pendants separately from chains
Purge old unwanted necklaces – it seems like it's always the ones I never wear that are in a knot in the back of the jewelry box. My daily jewelry doesn't get tangled!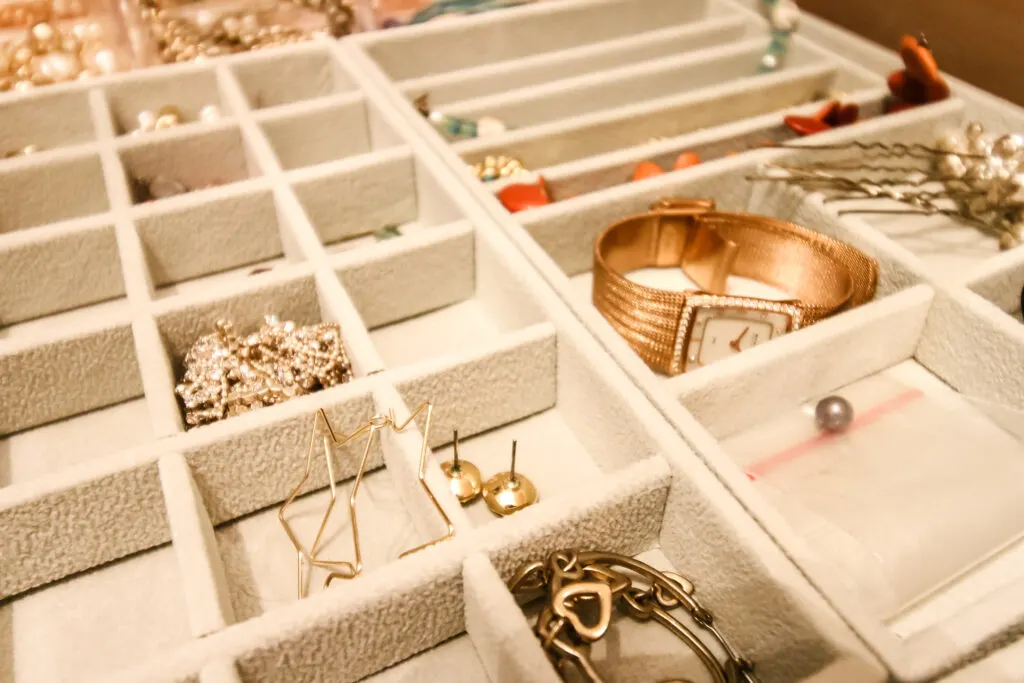 What can you do with earring boxes?
If you have a lot of thick, cardboard type earring boxes, take off the lids and place them in your drawer! This is an easy – and free – way to organize a jewelry collection!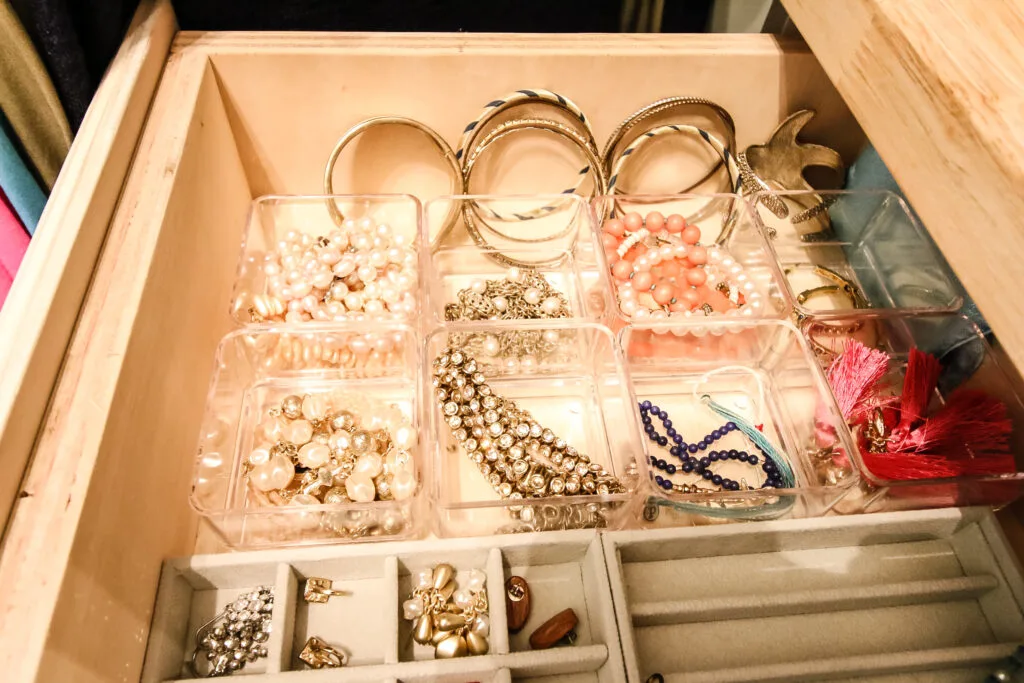 How do you organize accessories in a drawer?
I like to use clear acrylic bins to organize accessories like larger bracelets, jewelry bags, headbands, and more. I also used these small acrylic bins and these larger acrylic bins in my jewelry drawer!
How do you build a drawer organizer?
You can use thin plywood or thick cardboard cut to size to create DIY drawer dividers. You can even cover them with contact paper to make them prettier.
This is great for clothing drawers, but since I wanted the intricate sections for rings, necklaces, and earrings, it was easier and cheaper to just buy a pre-made set.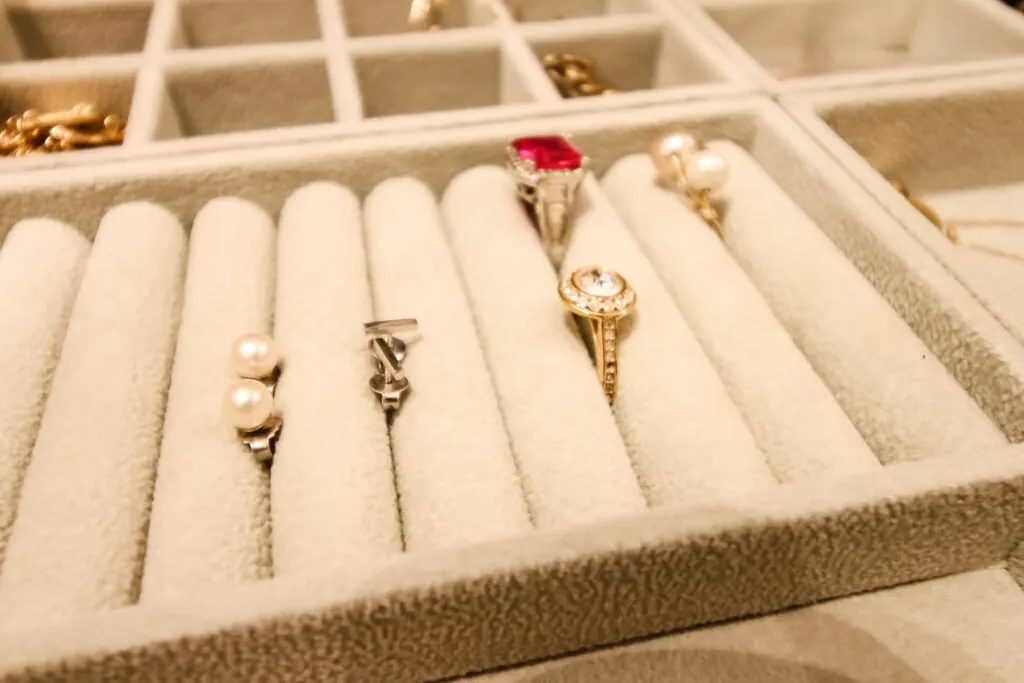 How do you declutter costume jewelry?
Decluttering is an important part of organizing anything, but especially clothing. Something about clothing (and accessories) just accumulate over time. It's important to declutter if you ever want a truly organized space.
Pull everything out – yes, everything. Even if you know you love it.
Do a quick run through to pull out anything damaged, broken, missing a pair, or that you hate.
Sort the remaining jewelry by type – ring, earring, necklace, etc.
Think about what you actually wear. It's OK to have special occasion things, but if you don't have many special occasions, maybe you don't need 20 special occasion earrings.
Put each item away thoughtfully, re-considering whether you love it and want to keep it before placing it back in storage.
Any more questions about organizing jewelry in a dresser drawer?