Christmas tree collars are a super trendy Christmas tree skirt alternative. They have a bit of a more sleek, modern look. They hide the base of your Christmas tree and are surprisingly easy to DIY!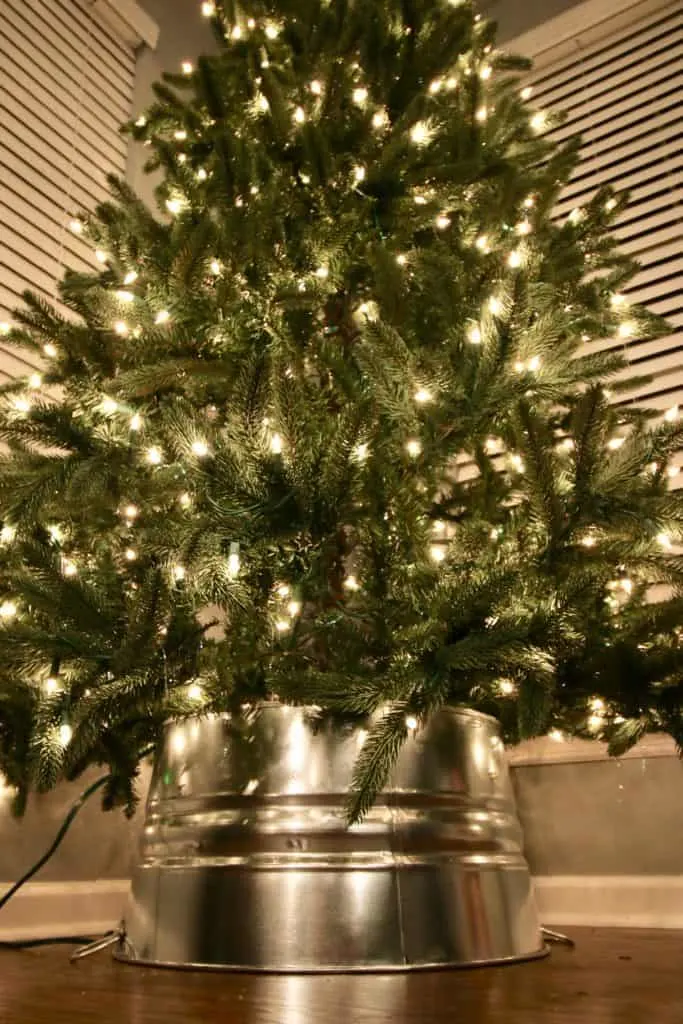 What is a tree collar?
A Christmas tree collar is like a choker for your tree. They cover the base of your tree without any excess.
They tend to look more sleek and modern than a tree skirt.
I made a metal tree collar for our faux tree two years ago and absolutely love it.
I think it looks much more sleek and modern than a tree skirt. Plus, it takes up less room on the floor.
Tree collars are a great option if you want to cover the base or stand of your Christmas tree and want something more solid than a piece of fabric.
Can you use a tree collar with a real tree?
Yes, of course! While tree collars were originally designed to hide the base of artificial trees, they can also work with real trees. Just be sure that your tree's stand will fit inside the collar and you are good to go!
You will also want to be sure that you are able to water your Christmas tree through the collar. It should be open on the top and you can use a watering can.
Tree Collar vs. Box Tree Stand
If you are used to putting your Christmas tree on a box stand, then you are already halfway to a tree collar.
The difference is that the Christmas tree base goes INSIDE the tree collar instead of ON TOP of a box stand.
One benefit of a box stand is that they add height to your tree. See how we use a DIY box stand to make our Christmas tree look taller.
A tree collar does not add height to your tree, but it does cover the base and gives it a sleek look.
How do you make a tree collar fit?
It is super important that your tree collar fit around your tree stand. Measure the inner width and length as well as the height. A tree collar with a stand sticking out is… not a great look.
Typical store bought tree collars will vary from about 21″ in diameter to 27″ in diameter, and between 9″ and 11″ in height. Larger trees should have larger tree collars, with smaller trees getting smaller tree collars to look balanced.
Do you put a tree skirt under a tree collar?
This is 100% a personal preference. I prefer a clean, modern look which means no tree skirt. But, if you want layers or an almost carpet for your gifts, there is no harm in layering a tree skirt with a tree collar!
Check out my favorite DIY tree skirts here!
Make your own tree collar vs buying one
You can purchase pre-made tree collars at places like:
Target
Amazon
Hobby Lobby
Home Depot
Michael's
Joann Fabric
Pottery Barn
However, they typically cost 3x or even more the cost of making your own!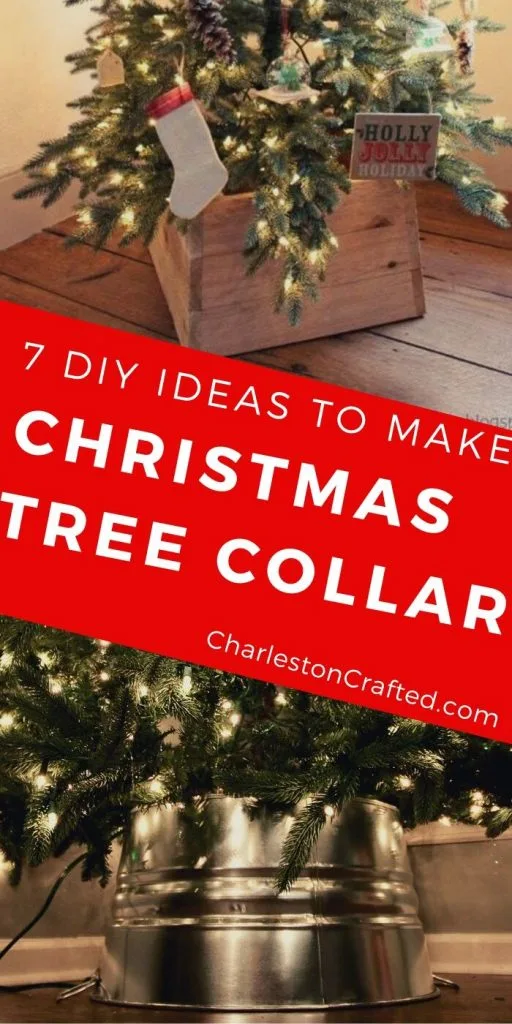 DIY Christmas Tree Collar Ideas
Christmas tree collars are easy to make. They can be expensive or inexpensive depending on what you have on hand and how creative you can get shopping.
What can I use as a tree collar?
There are tons of different options for Christmas tree collars. The most common materials are:
Galvanized metal (like a galvanized bucket)
Woven (like a wicker basket)
Wooden
Fabric (like burlap)
How to make a Christmas tree collar
To make a DIY tree collar, you basically need something big enough for your Christmas tree base to fit inside. This could be a a basket, bucket, bin, or anything.
You will need a hole or opening for the tree to fit in through. It needs to wrap around the base of the stand. Usually, this will involve cutting the bottom off of you basket or bucket.
You can get really creative and design a Christmas tree collar to match any style of holiday or home decor.
There really are no limits to the possibilities!
Here are some of my favorite Christmas tree collar DIY ideas:
DIY Christmas Tree Collar Ideas
Love the modern look of a Christmas tree collar instead of a tree skirt? You will love these ideas for DIY Christmas tree collars!
It is super simple and budget-friendly to turn an old galvanized bucket into a metal Christmas tree collar!
Photo Credit: housefulofhandmade.com
This tree collar is made to look like a wooden box, which is perfect if you have a traditional or rustic style of decor.
Photo Credit: jaimecostiglio.com
Cedar has a natural reddish tone that makes it perfect for Christmas - plus it smells great! Here is a cedar tree collar.
Photo Credit: houseandhome.com
It is super easy to turn a basket into a tree collar following this tutorial!
Photo Credit: houseofhargrove.com
This wooden tree collar was made from a barrel and has an old fashioned, rustic look to it.
Photo Credit: www.3littlegreenwoods.com
Would you believe that this tree collar was made from CARDBOARD? Mind. Blown!
Photo Credit: www.creeklinehouse.com
This tree collar was made with buffalo plaid fabric - which is a pattern that is super on trend - but could be made with any fabric that you chose!
Where to buy a tree collar
Don't want to DIY? Here are some of my favorite tree collars on Amazon:
Love Christmas? Click here to download our FREE funny printable gift tags!
What's your favorite Christmas tree collar?