Brainstorming ideas for how to celebrate Christmas while social distancing? Here are some great ideas to keep the fun in this holiday while still staying safe!
Christmas is a favorite holiday for many people. However, it might have to look a little different this year.
Traditionally, the Christmas season involves a lot of parties, gathering and togetherness. None of those things are particularly socially distanced.
While it's fine to celebrate with immediate household members, meeting up with family who live outside your home can be a little more tricky.
Having big parties is almost entirely out of the question. But, after months of closure, people need something to look forward to.
If you do still plan to celebrate in person, here are some tips to keep in mind:
Gather outdoors if possible (obviously this is weather-dependent)
Wear a mask at all times
Don't serve food buffet-style. Have one person serve the food for everyone.
People who are sick or high-risk should not attend
If possible, quarantine for 14 days leading up to the event
Keep celebrations short
Limit attendees to smaller groups
Have plenty of disinfectant wipes and hand sanitizer available
Here are the holiday celebration guidelines from the CDC.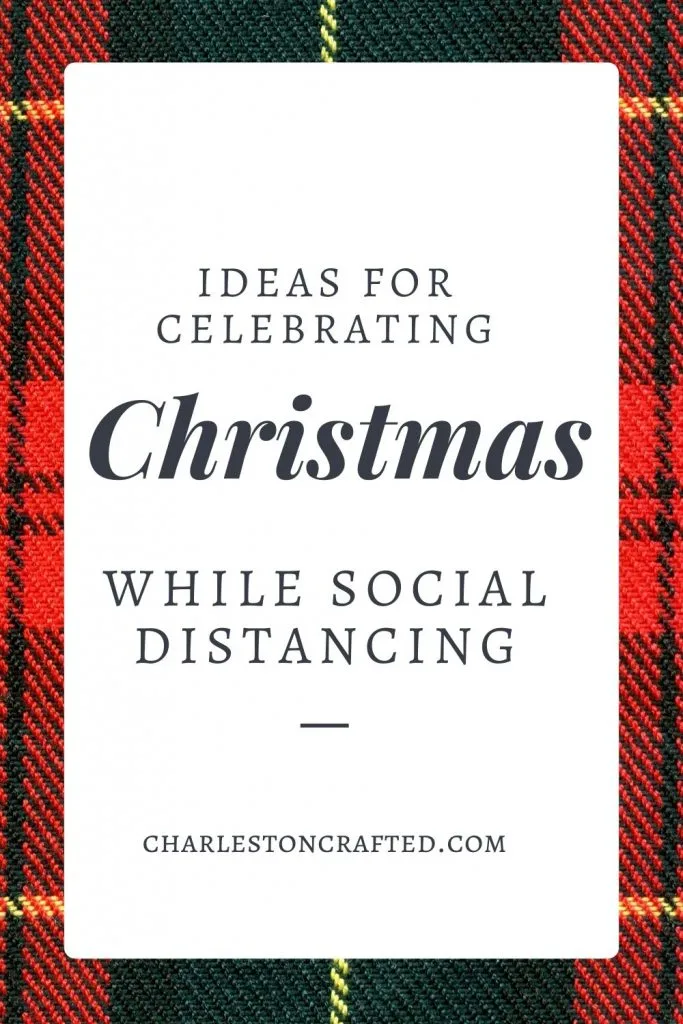 Ways to celebrate Christmas while social distancing
These ideas will allow you to still celebrate the holiday while remaining socially distanced.
Focus on helping others
Focus on the spirit of the holiday and participate in charitable activities. This year has been particularly hard economically for a lot of people, so there is a lot of room for helping others, even while avoiding close contact.
You might not be able to serve food at a homeless shelter, but you could collect food to donate to the food bank.
You could also select a child off of an angel tree and help them avoid a Christmas without Santa gifts.
Have a virtual open house
If the idea of crowded Christmas parties make you shutter, consider having a virtual party. Set up a drop in event online and incourage others to wear their Christmas sweaters while popping in.
You can even set up a backdrop with Santa Claus or another holiday scene to let your guests get their virtual trip to see Santa in, from a safe distance!
Hold a movie marathon
If you usually spend the weekends leading up to Christmas going to lots of parties, you might find yourself bored this year.
Instead, create a schedule to crush your way through tons of holiday movies. Whether you prefer Hallmark or the classics, this is your chance to catch a new movie – and enjoy old favorites.
Host an e-cocktail party
Miss your Christmas drinks? Consider having a zoom or skype party where you all drink the same cocktail separately.
Send a formal e-vite to make the party feel more like a party. Be sure to include a shopping list so everyone can have all of the ingredients on hand that they need to make the drinks.
Long distance Secret Santa
Miss your work secret Santa this year? You can still draw names virtually and send gifts.
Gifts could be mailed directly (just order it on Amazon and ship to their address!) or dropped off at a common location like the office and picked up individually.
Plan to open them on a video chat so you can still enjoy the best parts of Secret Santa – the reactions!
Here are my best ideas for workplace white elephant gifts!
Neighborhood cookie exchange
Poll your neighbors and have those interested in participating in a cookie exchange each put a basket on their doorstep.
Have each participant drop cookies off, along with the recipe, in each basket!
Enjoy your cookies and be sure to have an email or text thread so you can chat about them!
Create an activity advent calendar
Whether you want to entertain kids or yourself, create an advent calendar of activities for the holiday season. It's easy to get caught up on what you CAN'T do because of the virus, so this lets you focus on activities you CAN do.
If you are creating the calendar for yourself, shuffle up the cards in envelopes and draw one each day. If they are for kids or others, you can schedule them to best fit your agenda.
Go for a holiday hike
One place that is safe to be is in the great outdoors. Even if you live somewhere snowy, you can pack a thermos and plan to take a hike somewhere beautiful.
Getting out and enjoying nature is a way to distract yourself from other bummers, and to enjoy the season.
Gingerbread house contest
If you're stuck at home with the same people you've been quarantined with for months, you might be at each other's throats.
Put that aggression to work and have some friendly competitions!
Consider a gingerbread house contest. You can buy a kit or make it from scratch. Stock up on frosting and candy and go to town!
You can have a family vote or post photos on social media for friends to chime in – making it slightly more social!
How will you be spreading Christmas cheer this year?
How are you celebrating Christmas this year?