Brainstorming ideas for how to celebrate Thanksgiving while social distancing? Here are some great ideas to keep the fun in this holiday while still staying safe!
Thanksgiving is one of the most popular holidays in the United States.
It is, however, going to be tricky to maneuver this year.
Thanksgiving is all about togetherness – brining generations of extended family and friends together into one space to share a meal and spend time together.
If you are seriously socially distancing, Thanksgiving is going to be hard.
Whatever your reason for being extra-careful, you probably don't want to risk being around a big crowd. It might not be worth the risk for older or more vulnerable family members to be around big groups.
That can be a devastating thought for many people.
However, with so many holiday gatherings right in the middle of flu season, we have to come up with ways to celebrate without compromising health and safety.
So, I've pulled together my best ideas for ways to still celebrate and have fun on Thanksgiving day – while remaining socially distanced.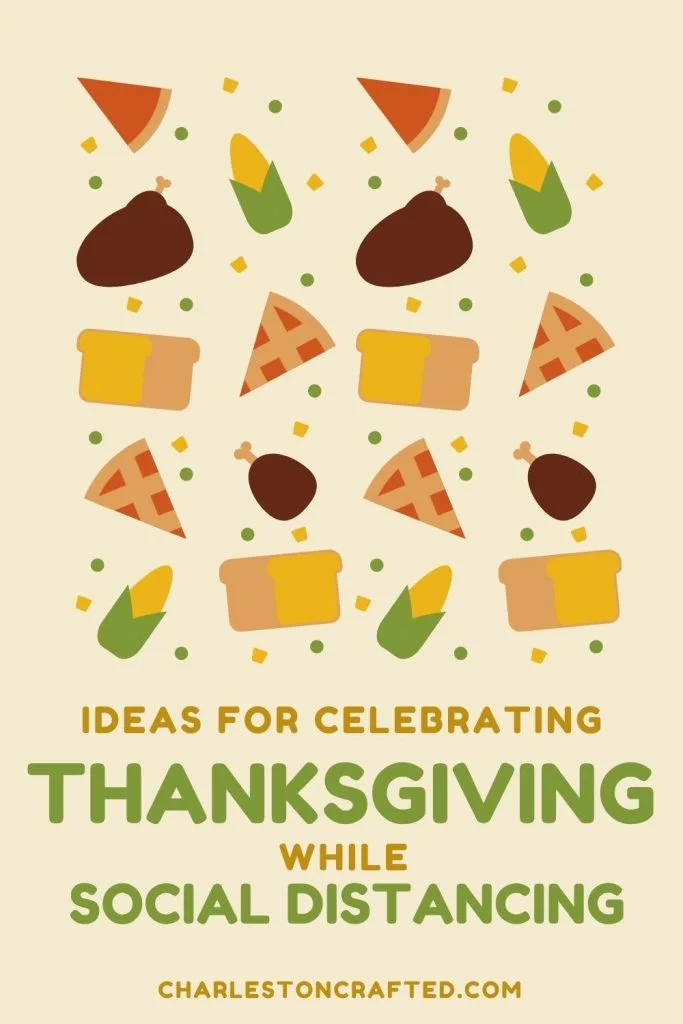 Ways to celebrate Thanksgiving while social distancing
Hold your meal outdoors
If you are sure you want to still host a group or family gathering, it's best to do it outdoors – like the original Thanksgiving!
I know, the practicality of this will vary widely depending on the weather where you live. Grandma probably doesn't want to spend time sitting in the snow, either.
Instead of hosting a buffet, have one person make plates and pass them out to others that way.
Ideally, members of the same household would sit together, 6 feet apart from other family members. That's not super fun or social.
If the weather is mild, consider setting up tailgate style. Each household can open their trunk and picnic out of the back. You can surely figure out a way to pass around casserole dishes without getting too close to each other!
If you do plan to celebrate in person:
Wear a mask when around non-household members
Try to keep 6 feet of physical distance between non-household members
Keep plenty of hand sanitizer available
Higher risk people should not attend
People who are sick or have symptoms should not attend
As much as possible, people should quarantine for 14 days before the event
Here are the official Centers for Disease Control tips and safety measures for hosting gatherings this winter.
Run a virtual Turkey Trot
If a Thanksgiving race is a big part of your family's tradition, you can still do that without the official race.
You could all coordinate so you run the same distance starting at the same time (separately). A running app could also be used to "prove" your times if your family is competitive like that.
Cook together on Zoom
So you can obviously Facetime or Skype your family any time on or around Thanksgiving to chat.
However, if you are each cooking big meals at your own homes, consider calling each other while you are cooking.
This is a fun way to spend time casually chatting and still share the spirit of the food, without actually being in the same room.
Hold a virtual craft night
One of my favorite parts of hosting guests is setting up centerpieces and pretty tablescapes.
If you are just cooking for your immediate family, an elaborate table might seem unnecessary.
However, if you video chat a friend or family member, you can decorate your tables "together"! You'll feel like a pair of Martha Stewarts, and your smaller meal will feel much more special.
Need help getting started? Here are 40 Thanksgiving tablescape ideas!
Focus on the cocktails
If you don't feel like cooking up a big meal without the crowd, order the food as takeout (Harris Teeter is our go-to for pre-made Thanksgiving meals!) and instead focus on cooking up some cocktails.
Here are some delicious looking Thanksgiving cocktails:
Drown your sorrows in Black Friday shopping
When all else fails, there is nothing more socially distanced than online shopping.
All the best Black Friday deals are always online, and this year is sure to see an even bigger push for virtual shopping.
Find a shopping buddy to share the best deals with to help make it feel more like you are shopping together.
How are you celebrating Thanksgiving this year?