We recently shared how we style our whiskey barrel planter with three types of plants. Y'all loved that post but we got so many questions about where you can get one of these gorgeous plant barrels. So, today I decided to round up a ton of different Whiskey Barrel Planters that you can order online!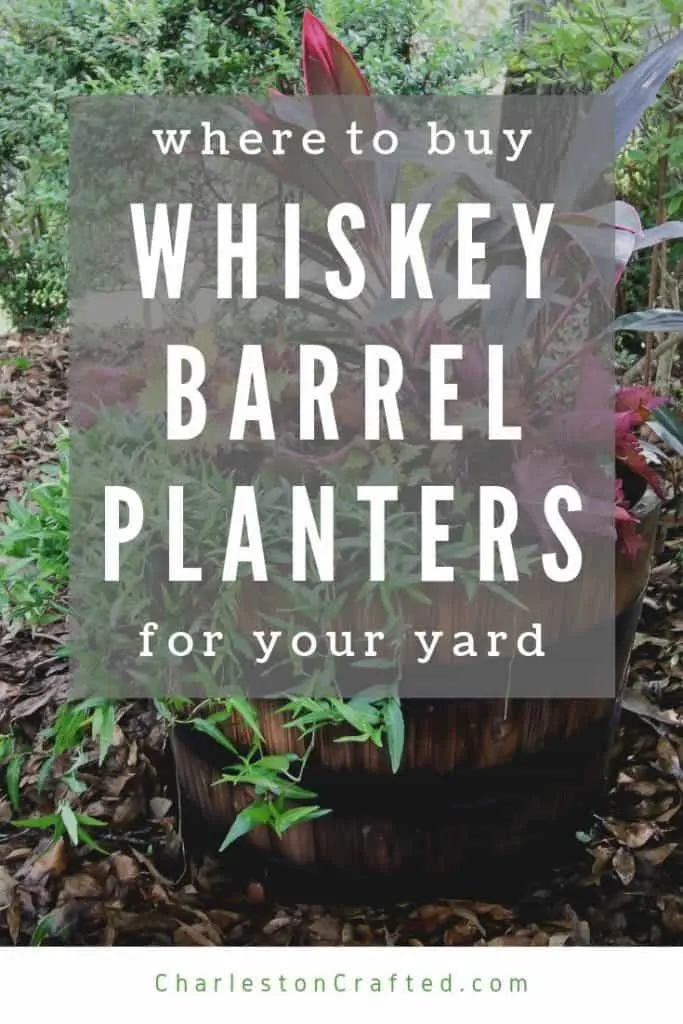 Where to buy Whiskey Barrel Planters
Most garden centers sell whiskey barrel planters. You can find them at:
Aldi
Costco
Check your local garden store!
If you want to get a whiskey barrel for cheap, I recommend checking your Facebook Marketplace and Craigslist. You never know who might be getting rid of one!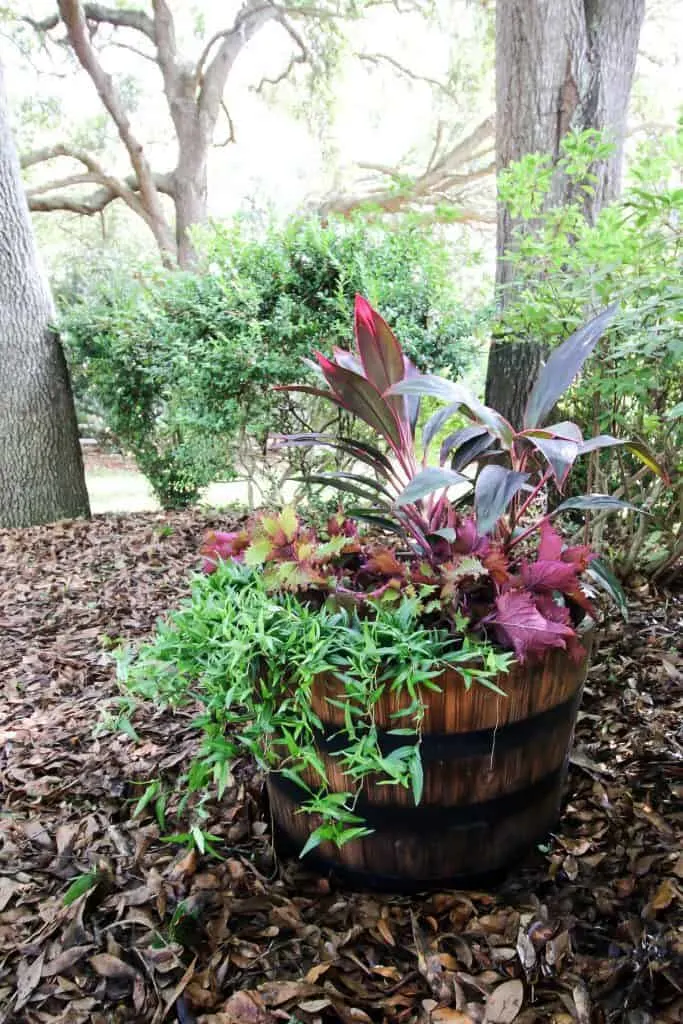 What size are whiskey barrel planters?
Whiskey barrel planters are sometimes called half barrels and come in a few sizes and dimensions:
You should get the size that works best for your space.
If you love the look of a whiskey barrel planter, be sure to check out this gorgeous 3 tiered barrel planter!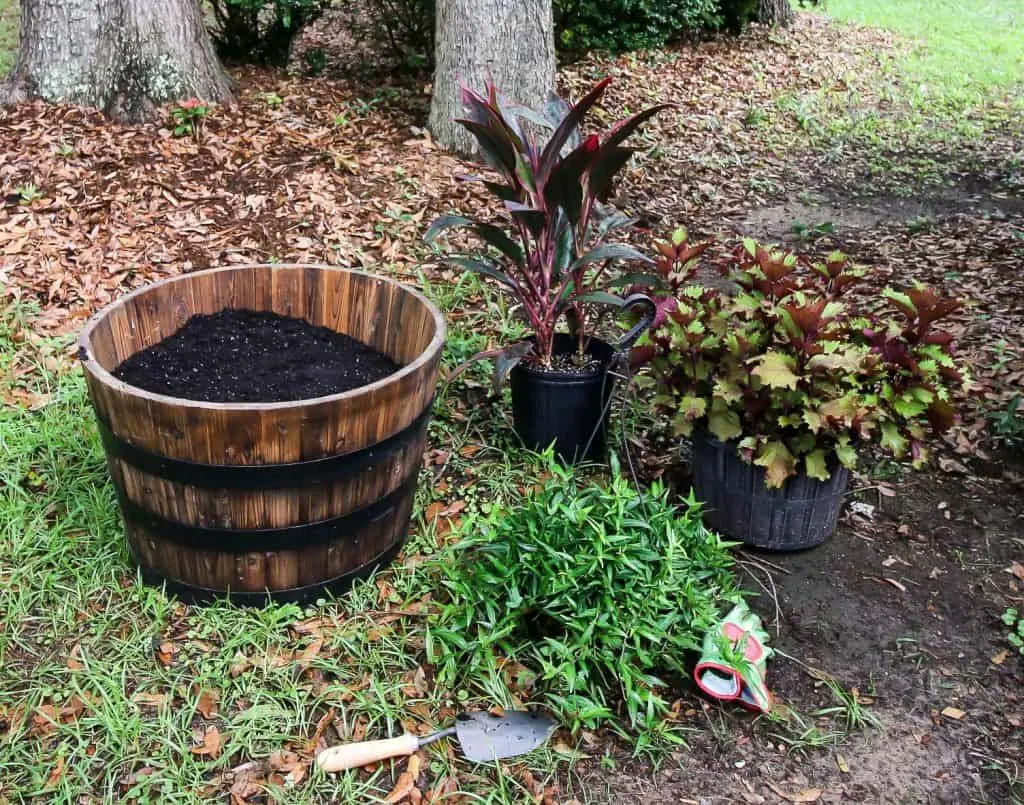 What are whiskey barrel planters made from?
Whiskey barrels are made from a burnt wood and held together with a round, metal frame. The metal frame is important because it holds the wood together in case it expands and contracts due to heat, cold, or moisture.
These barrels come in a variety of wood types including oak or cedar. As long as it is weather resistant, it will be perfect for you.
Be careful when shopping online. Many stores sell plastic whiskey barrel planters. That's not necessarily bad (and plastic or resin planters are much cheaper than wood) but just be aware to check the product details before purchasing.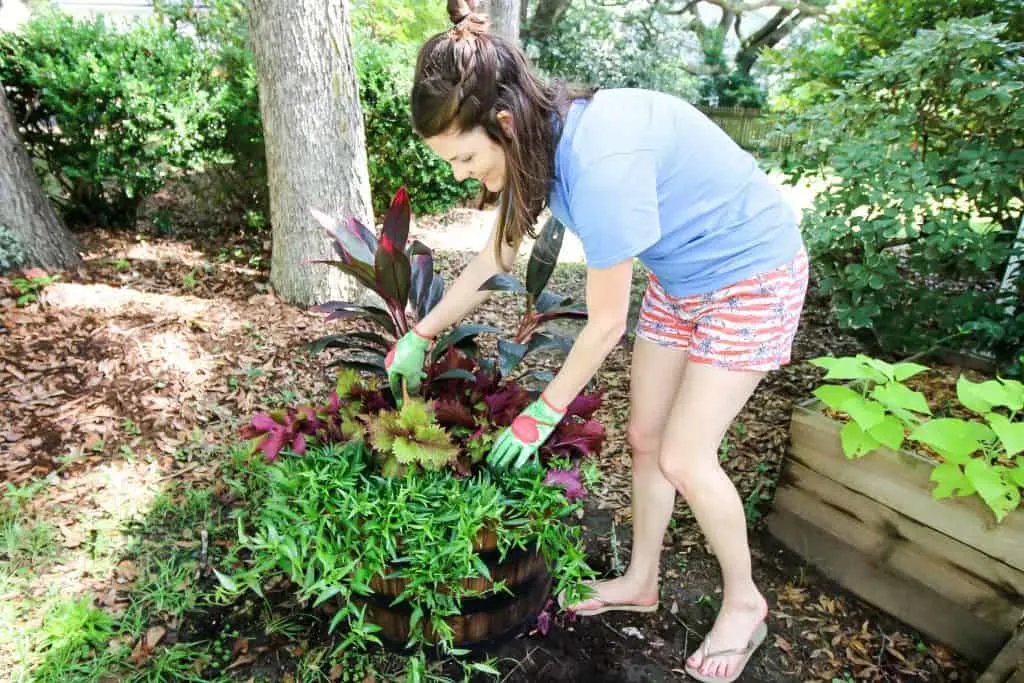 Do I need to add a liner to my whiskey barrel planter?
No, you do not! You can add dirt directly to the planter.
I actually suggest adding some drainage (like small stones) to the bottom of the pot, even if it has drainage holes. This helps your plants from getting soggy.
You can also add large items to the bottom of the planter to take up square footage and use less dirt. This is a great money saving hack since soil can get pricey! Ideas are: cut up pool noodles, water bottles, or rocks.
Do I need to add drainage to my barrel planter?
If your barrel was designed to be a planter, it should already have holes in the bottom. If not, I would drill holes in the bottom to allow water to escape and keep your roots from getting waterlogged.
What plants and flowers can I add to my whiskey barrel planter?
Any plants that do well in containers will thrive in your barrel planter! That could be annuals, flowers, vegetables, or herbs.
Take note of the conditions where you place your planter. Is it full sun? Partial sun? Full shade? Select plants that will thrive in that spot.
My best tip for selecting plants is to actually walk your neighborhood! Look at your neighbors' yards. Look for spots with similar light conditions to yours. If plants do well for them, they are likely to do well for you, too!
When you're planting, remember to have an interesting mix of plants. I recommend grow-ers, show-ers, and overflow-ers. Read more about that in my post on styling a whiskey barrel planter!
Love planters? Check out some of our favorite DIY planters!
Do you have a whiskey barrel planter in your yard?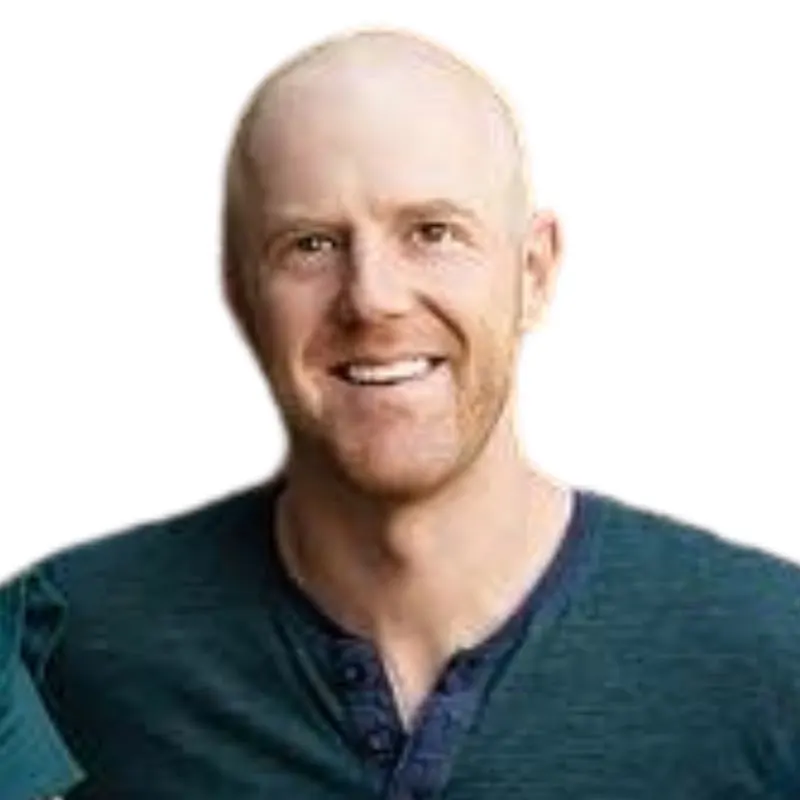 Hey there, I'm Sean, the woodworking enthusiast and builder behind CharlestonCrafted.com! Since 2012, I've been sharing the magic of turning raw materials into beautiful creations. I love teaching others the art and satisfaction of woodworking and DIY. I try to inspire fellow crafters to make something extraordinary out of nothing at all.