Looking for the best tips for buying furniture on Craigslist? Here is everything we have learned from years and years of buying and selling!
I love getting a deal on home decor and furniture. One of the best ways to do that is buying second hand. Thrift stores, Facebook Marketplace, and Craigslist are all easy, accessible ways to get secondhand furniture.
Buying second hand is a great way to:
Get REALLY cheap furniture if you have a teeny budget
Get something nicer than what you could afford if you were buying full price
Recycle furniture + keep it out of the landfill
Find a project piece to update and keep or resell
However, it can be intimidating if you aren't an experienced buyer. There are a lot of rules and etiquette to keep in mind.
The number one rule is to be safe. Remember to trust your gut and don't do anything that makes you feel creepy.
Interested in buying and selling on Facebook? Here are our best Facebook marketplace tips!
Looking to thrift furniture? Here is our advice on what to buy and what not to buy at the thrift store!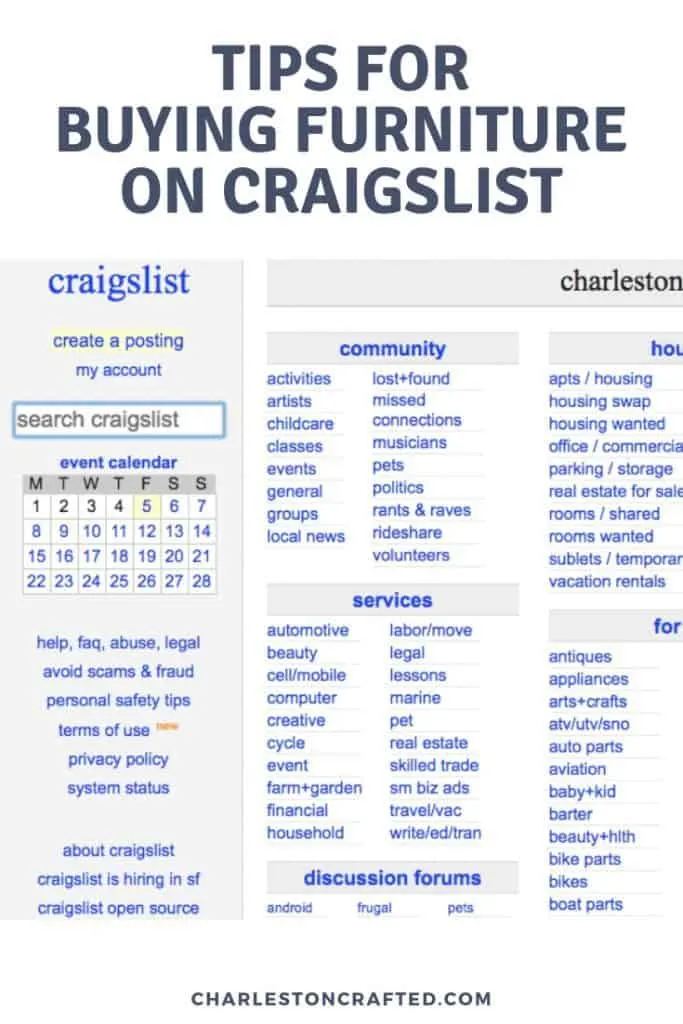 Tips for buying furniture on Craigslist
Be patient. Craigslist isn't Amazon. You are going to have to check back over and over again until the exact item that you are looking for becomes available. If you want that specific item (like when I was hunting down a campaign dresser) it will be worth the wait!
Ask for measurements in advance and measure your space. A good seller will list them, but don't hesitate to ask. You want to be sure it fits in your space AND in your car.
Remember to search for alternative terms – a dresser could also be a chest of drawers! Use a variety of terms for the best results.
Pay attention to location – your time has a value. Something better be AMAZING to drive more than 30 minutes to pick it up, in my opinion. Craigslist can have a wide range in your area, so be conscious of this and clarify location before getting too excited.
Be wary of listings with no images – they might be creepy scams. Ask for photos. Also beware of stock images from a store's website. Ask for photos of the actual item.
Clarify if an item came from a smoke free/pet free home if that is important to you.
Bring cash. If you plan to negotiate down, be sure you have exact change for your offer amount.
Negotiate in advance. If price is a decider for you, negotiate to a price you are OK with before going to pick it up. You can always offer $10 less when you get there, but they can always say no. Don't waste everyone's time if you aren't really willing to pay.
Don't expect them to hold the item for you unless you are willing to pay in advance (via Venmo or Paypal). Sellers get burned on holds all the time, so most won't do holds. I personally won't do holds unless a buyer pre-pays.
Try to meet in public. Even if it's their driveway, I never feel comfortable going into someone's home, especially alone. This is trickier with furniture, but at least take a friend along if you can.
Let someone know where you are going – if you are going alone, always text a friend the address and time you are going and let them know you are OK afterwards. You can never be too careful. Some police stations even have parking spaces in their parking lots dedicated to online sales, providing a great meetup point.
Bring your own labor – don't expect them to help you load it into your car. Bring a friend if you need to!
Do you have any tips that I missed?