We are almost done with our One Room Challenge. The FULL reveal will be live on Wednesday, but we have one little teaser post left for you before then. Today we're focusing on the wooden belt and tie rack that we built for our… belts and ties. Shocker. We designed this one to keep the same wooden theme going to match the main clothes rack and the shoe shelf and it turned out great.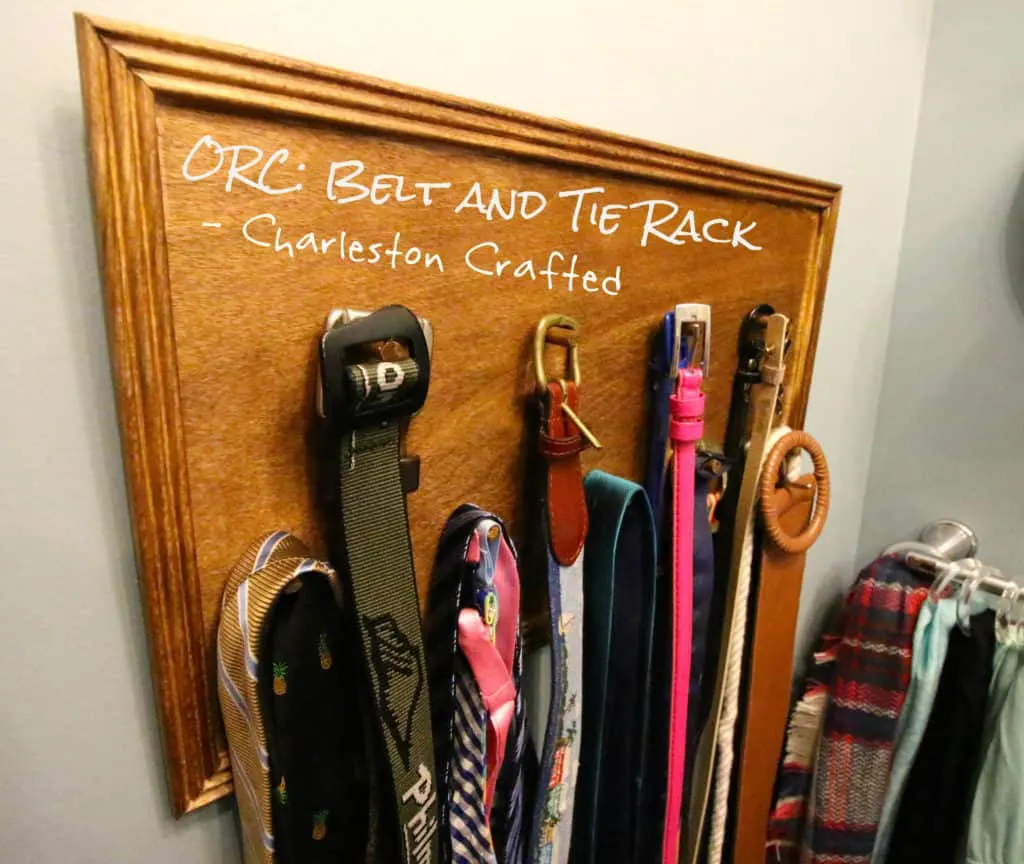 We started by cutting out a 12″x18″ piece of birch plywood and using wood glue to line the edges with a thin piece of molding to look like a frame.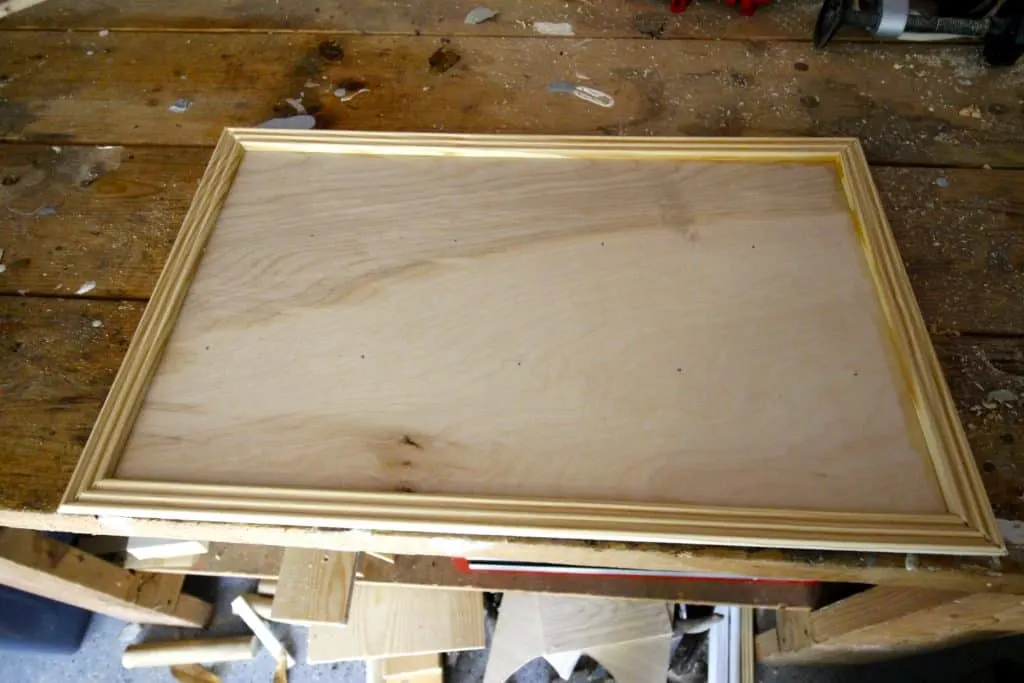 We had decided on making this rack in a peg-style, planning to use short pieces of dowel jutting out from the board to hang the ties and belts on and determined we needed nine pegs to accommodate what we had and for growth. In order to do this, we had to drill holes for the pegs to go in. If you're doing this for a project, try not to drill all the way through the wood, and know that you might need to go one size bigger with your drill bit than the dowel is.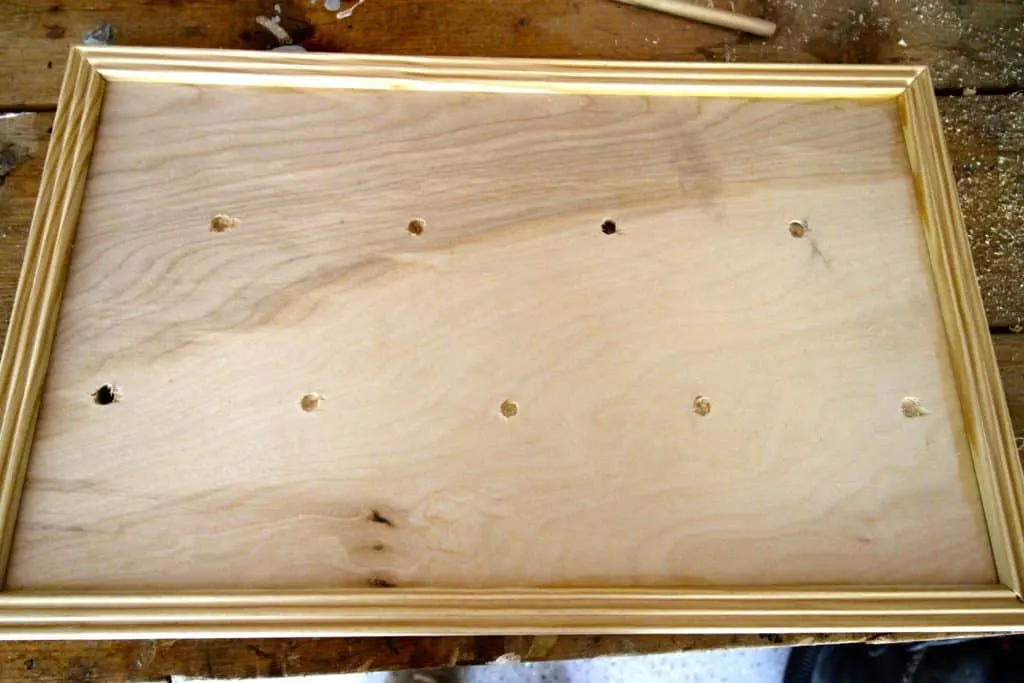 We cut the pieces of dowel to be an inch and a half long. In hindsight, we wish they were maybe a half inch longer, but it's working fine. We stained the dowel and the frame separately using the Early American Minwax stain we had used for the rest of the projects in the closet.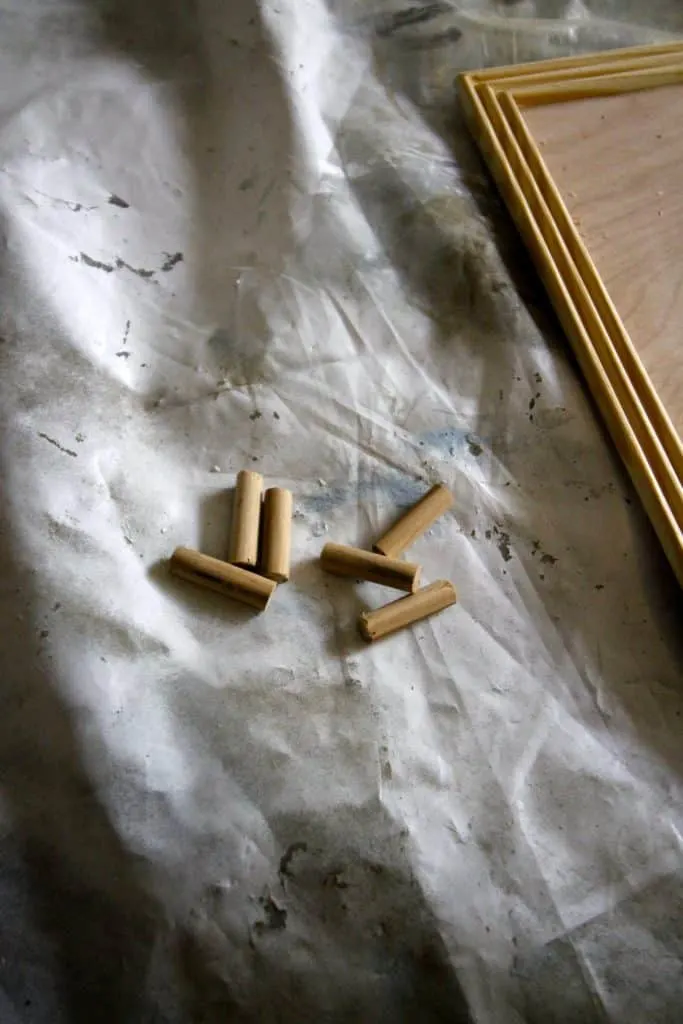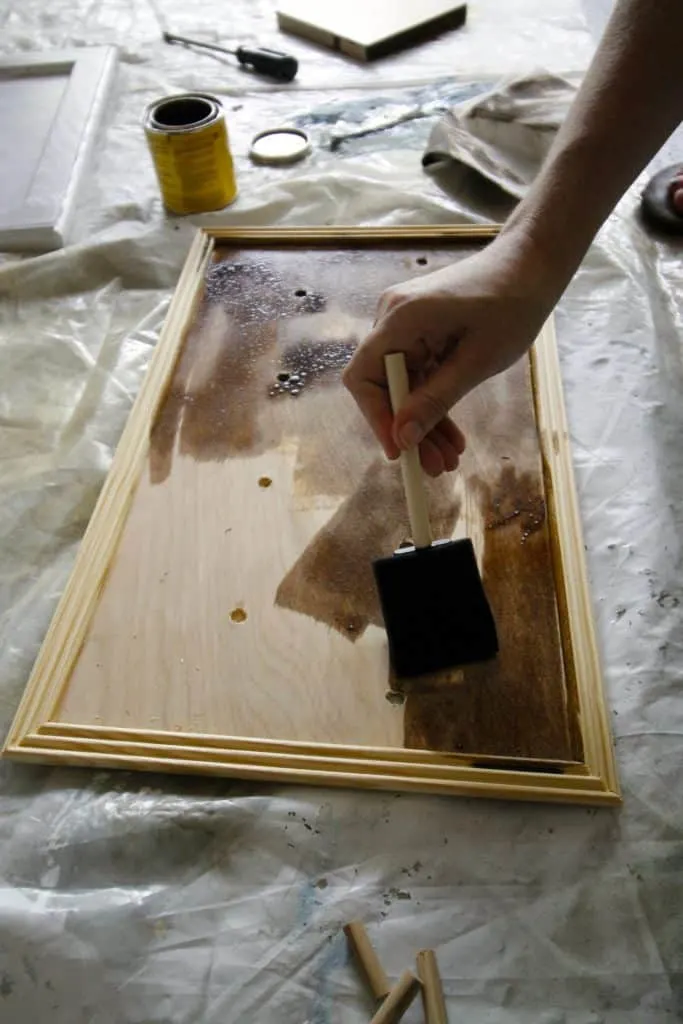 We used wood glue to lodge the dowels into the peg holes we had drilled. We dropped just a small amount into each hole and then stuck the dowel pieces in the hole, being sure to wipe up any excess that squirted out. Then we let that sit overnight.
We added a wire across the back and hung the rack up on two picture frame hangers on the wall.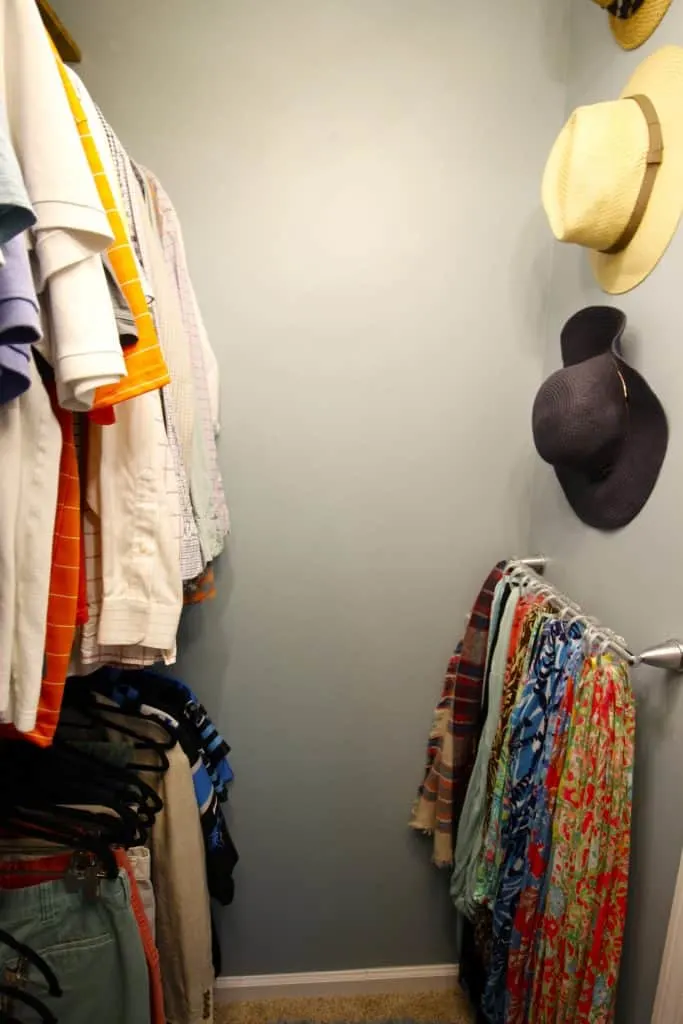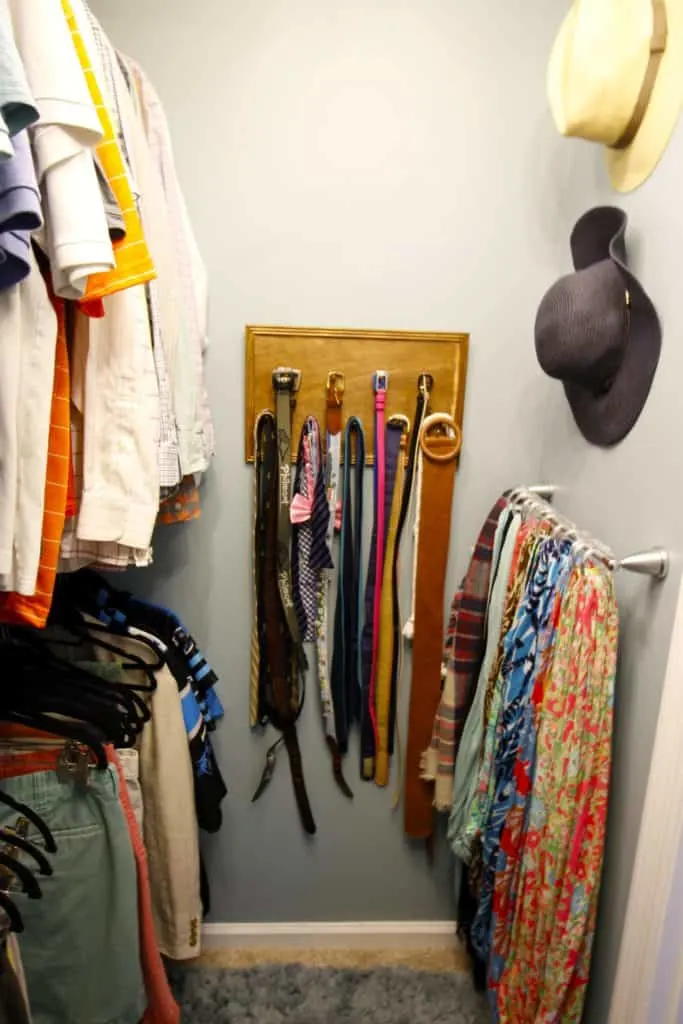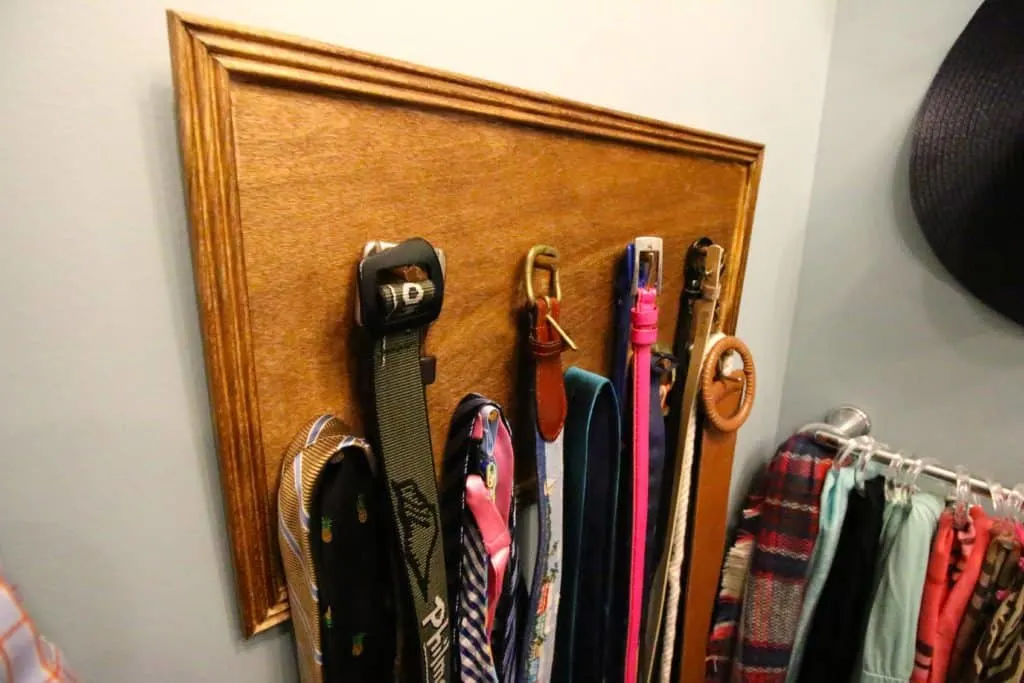 This last project matches everything in the closet and is a great asset for our belts and ties. It looks just a liiiiiittle bit better than the metal over-the-door rack that Sean had used since college that we were still using. It's almost like we're real adults now.
Again, tune in on Wednesday and we'll have the full closet reveal for our ORC!