If you are interested in seeing some of the retired Nugget comfort couch colors, look no further! I have gathered them up for you to enjoy.
Obsessed with Nugget kid's couches? Aren't we all!
This couch is more than just a couch – and more than a kid's toy. It's a beautiful, high quality piece that everyone in your home can enjoy.
Nuggets come in many colors. Part of the allure is collecting multiple colored covers!
However, periodically, Nugget retires colors. This means that they are no longer available for sale from Nugget directly and you will need to buy them secondhand.
These aren't easy to find, but they are fun to admire!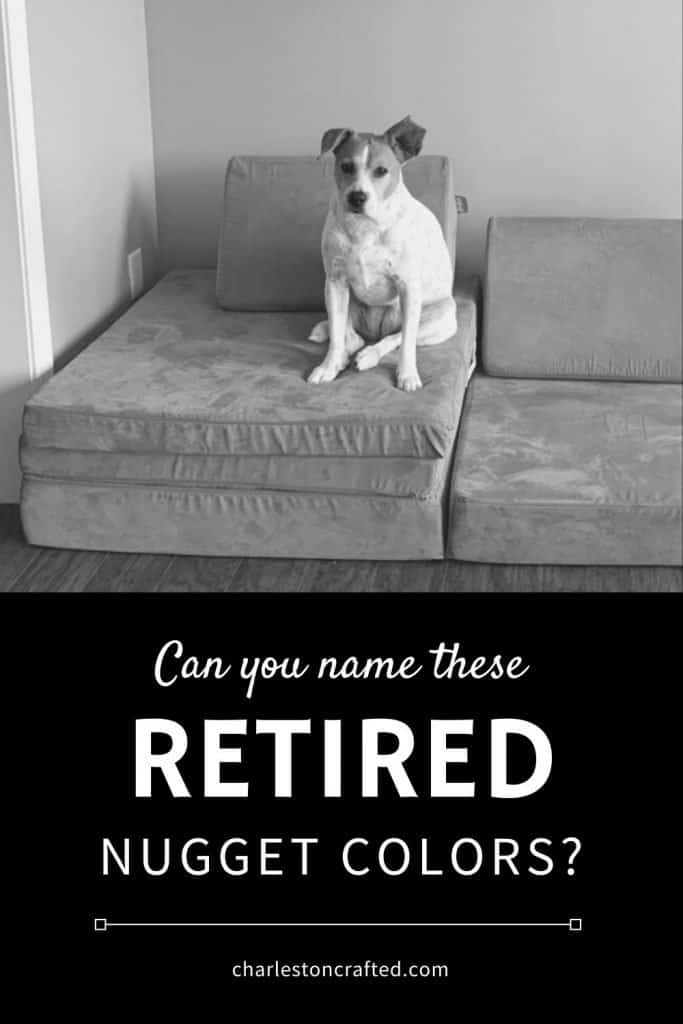 Retired Nugget Comfort colors
Neptune
Neptune is an almost royal blue color.
Sandcastle
Sand castle was a dark tan color – almost a dark khaki.
Piglet
Piglet was a pale pink shade.
Rust
Rust was a collaboration with June & January and very limited release. It's a deep orange color.
Honey Bee
Honey Bee was a dark yellow color, less bright than Lemon or Taxi Cab.
Broadway
Broadway was a deep, bright red color.
Starfish
Starfish was a darker coral color – a bit more pink than orange.
Cactus
Cactus was a medium-dark minty green color.
Rumpus
Rumpus was a limited edition printed cover with muted colored abstract shapes.
Bermuda
Bermuda was a limited edition printed cover, mint with white triangles on it.
Majesty
Majesty is a purple color – it's not a royal purple, but has a bit of pink in it – almost the color of Barney the dinosaur.
Cantaloupe
Cantaloupe was a dark peachy color that is much more orange than pink.
Skydive
Skydive was a beautiful blue color – not pastel at all, but more of a medium-darkness shade of blue.
Lemon
Lemon was a bright, almost neon yellow color. They have white zippers.
Chocolate
Chocolate was an original, Kickstarter color. They also have white zippers.
Grape
Grape was a super bright fuschia purple color, also with a white zipper.
Red
Res was an another original Kickstarter color, also with a white zipper. It was brighter and less deep than Broadway.
Lime
Lime is – like it sounds – a bright lime green. It was an original Kickstarter color with a white zipper.
Midnight
This was a solid black color with a white zipper.
Want more Nugget-y goodness? Be sure to check out:
What's your favorite retired color?
Facebook | Instagram | Pinterest | Twitter | YouTube