Want to buy a Nugget comfort kid's couch? It's not that simple! You have to wait for a restock and shop super quickly as they sell out in minutes. Here are the best tips and screenshots to help to prepare you for the sale!
We love our Nugget couch so much (read my Nugget review!) but I bought it before they went viral and became impossible to procure.
Back when I got it (in October of 2019!) I spent weeks hemming and hawing, thinking about colors, with it sitting in my cart. I finally hit BUY right before Luke's birthday and it arrived in three days.
Why does Nugget do Re-Stock Presales?
But, soon after that, someone shared the Nugget couch – was it a Kardashian? Oprah? I do not know. But they all sold out.
The factory cannot keep up with demand. So they have changed their sales model. I think they need to go on Shark Tank and get some help getting a bigger factory, but until then, this is how it works.
Nugget will announce the date and time of a re-stock sale. Some feature all the colors, some are just certain colors. They will also announce if they have Nuggets, covers, or pillow sets in the sale.
Note: this is not a "sale" like discounted price. This is a sale like they put out 1,000 (or however many) Nuggets for sale at the full price and this is your chance to get them.
There are no discount sales. The only way to get a discount on a Nugget is to buy more than one for a $25 discount.
How do I know when there will be a Nugget restock?
They announce it and market the restocks heavily. Your best bet is to sign up for their email list. You can also follow them on Instagram or Facebook. I recommend the (unofficial) Nugget chatter Facebook group, too!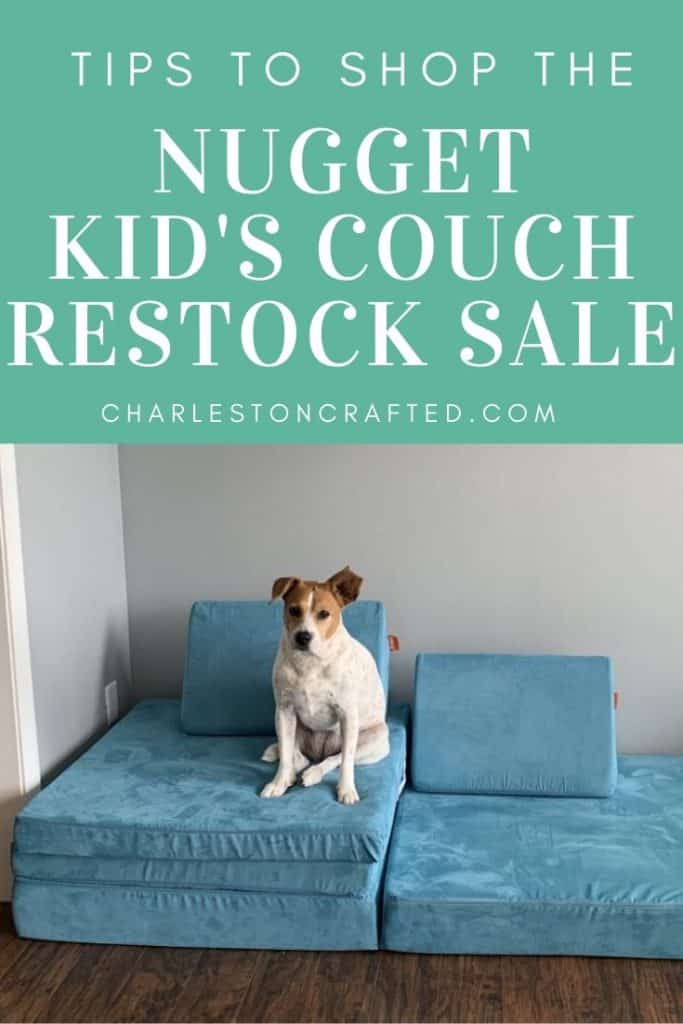 How does a restock work?
Nugget releases a limited number of Nuggets at the time and date announced.
If you seriously want one, you need to be there on their site the minute they go on sale. It sounds intense because it is. In this past release, when I bought our second Nugget, they were fully sold out after 8 minutes.
However, I was able to purchase a Nugget AND go back through the process as if I was going to buy a second one to take screenshots of each step for you before they sold out. If you are prepared, it is easy!
How to prepare for a Nugget restock sale
First, make an account on the Nugget site. Go in the day before the sale (or any time) and create an account. Add your address, confirm your email, and save!
Then, save your credit card on your computer as an auto-fill. Some people might be anti this, so do it the morning of the sale and then delete it.
Do not plan to use Google Pay, Apple Pay, or Paypal (paypal isn't even a choice currently). Lots of people lost out on a Nugget in the last sale because these programs took too long to load.
Nugget accounts will not save payment methods. The time it takes to enter your credit card is long enough for them to sell out.
Also, when you go to shop, have your credit card in your hand in case you need to confirm an expiration date or code.
Pull up the Nugget site on the item you want to purchase and go ahead and select the color you want.
What to expect when shopping the Nugget Restock sale (screenshots!)
This sale started at 12:00. I got online around 11:55 and made sure I was logged in, pulled up the Nugget and selected Lagoon color.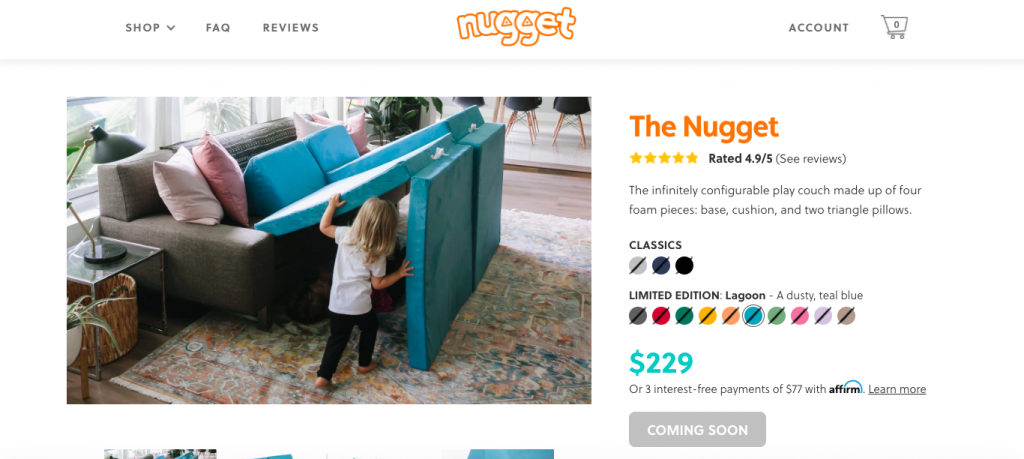 I refreshed right at 12:00 but it still said unavailable. I found it was actually 12:00 and 30 seconds when it went live (lol I told you this is INTENSE).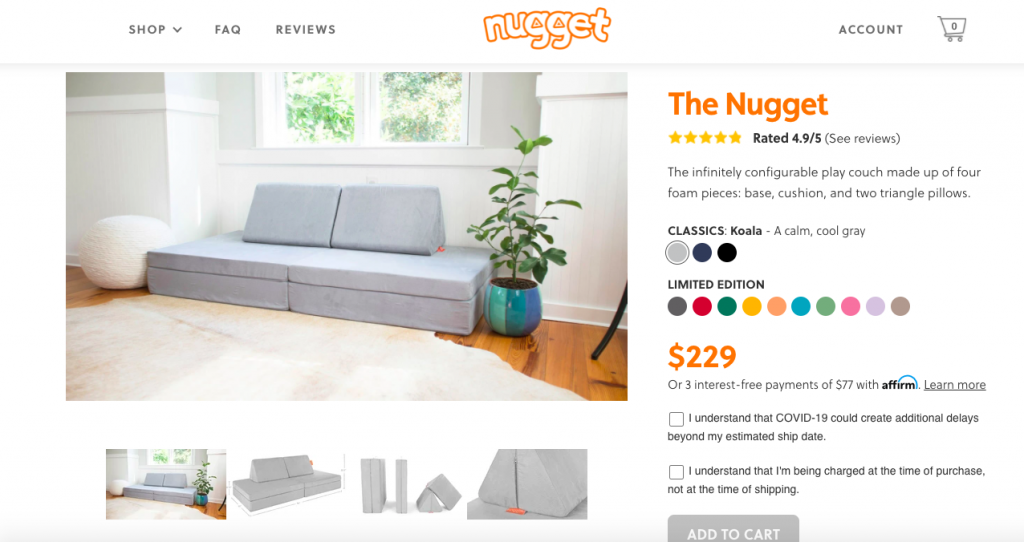 When the sale went live, the product page button changed from COMING SOON to ADD TO CART. (the night before the sale, it said SOLD OUT).
This was the first time I had seen the check boxes – you had to confirm that you know it will take eons to ship and that you have to pay now. Hit add to cart.
When you hit ADD TO CART it will pop up on the right hand side (this is on desktop – I'm not sure how it looks on a phone exactly). You can change the quantity or add another color – just be quick!
Hit CHECKOUT.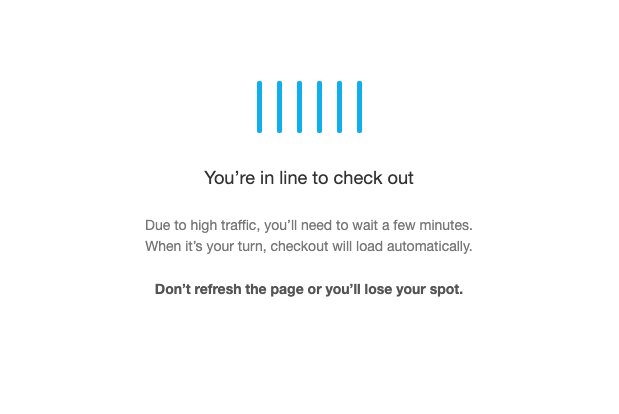 You will then be placed in a virtual line. This is where I have heard people get kicked to a sold out page.
Like I said, I was able to go through this process twice in a row in less than five minutes, so I am guessing they were late or slow.
Sorry if that's harsh, but you gotta be quick!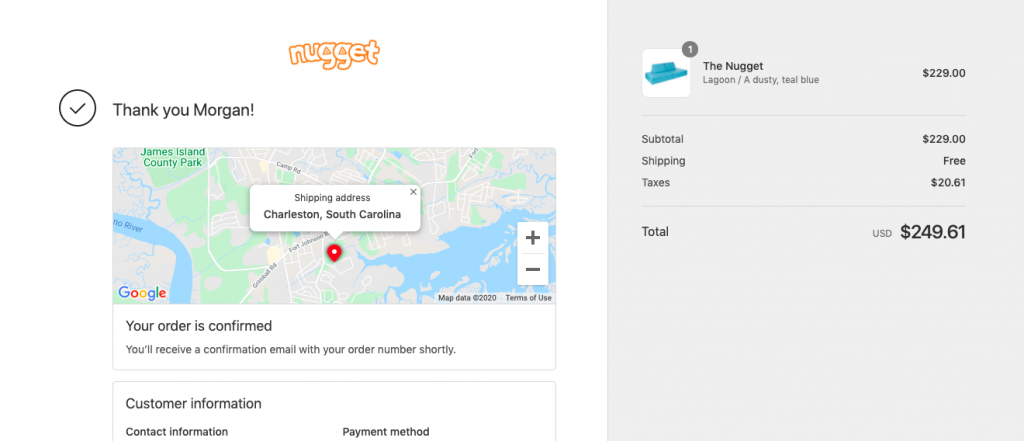 Your address and info will be auto populated if you have an account. Just enter your credit card (or click and select your saved info if you prepared!) Confirm your purchase and you should get a thank you page and email.
What if I miss out?
That really sucks! I understand being disappointed. You need to be faster next time. Prepare fully and try again.
Be sure to check out my full step by step guide and video on how to wash a Nugget cover!
Need to get your playroom organized?
I get it – it is SO HARD to keep play spaces clean and tidy! In my FREE 6 Day Playroom Organization Challenge, I walk you through exactly how to purge and clean up your playroom!
Facebook | Instagram | Pinterest | Twitter | YouTube