This weekend as part of Spoleto, we headed down to Theater 99 and saw the traveling comedy show "Improvised Seinfeld." Improvised Seinfeld is a group of four comedies based in New York City who travel to do their Seinfeld routine. The premise is that they get a cue of something from the audience and then take that to begin an improvised version of an entire Seinfeld episode.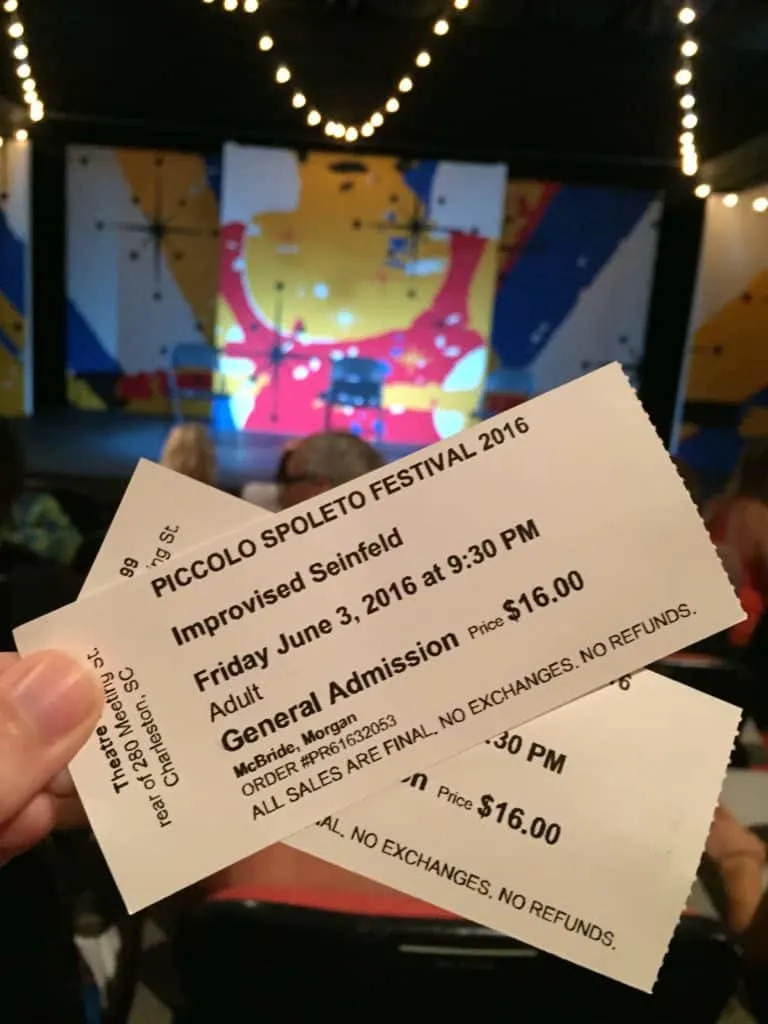 In our Improvised Seinfeld show, the crew took the suggestion of "waffles" in which the Jerry character started the show by improvising a bit of stand up comedy (true to how the TV show Seinfeld started for many seasons) before rolling into a fully drawn out episode of the show that got more and more ridiculous as the night went on. The show was funny and was a great throwback of nostalgia for any big Seinfeld fan, but was also a good show in general for any fan of comedy. Here's what I thought of a few of the aspects of the show:
Mannerisms- The crew did a great job capturing the mannerisms of the original Seinfeld cast.

Noah Forman as Jerry did a good job of having Jerry's high-pitched overreactions, but lacked any real enthusiasm. He started out the show by asking for the suggestion to kick it off, but had no real energy.
Michael Antonucci as Kramer did a great job dressing the part and acted as crazy and insane as Kramer himself. However, he tended to crack too many smiles and started laughing a lot during the show.
Dru Johnston as George was probably the best at capturing the true essence of a character. He got heated up and angry and absolutely ridiculously obsessed with things just like George did. The impersonation was spot on, but unfortunately he was the tallest person on the stage, which is not George-like at all.
Cathryn Mudon as Elaine was terrific. She dressed perfectly horribly like Elaine in the early seasons and verbally sounded the most like her character was supposed to sound. She also mimicked Elaine's tendencies the best, but may have actually done them too often and well.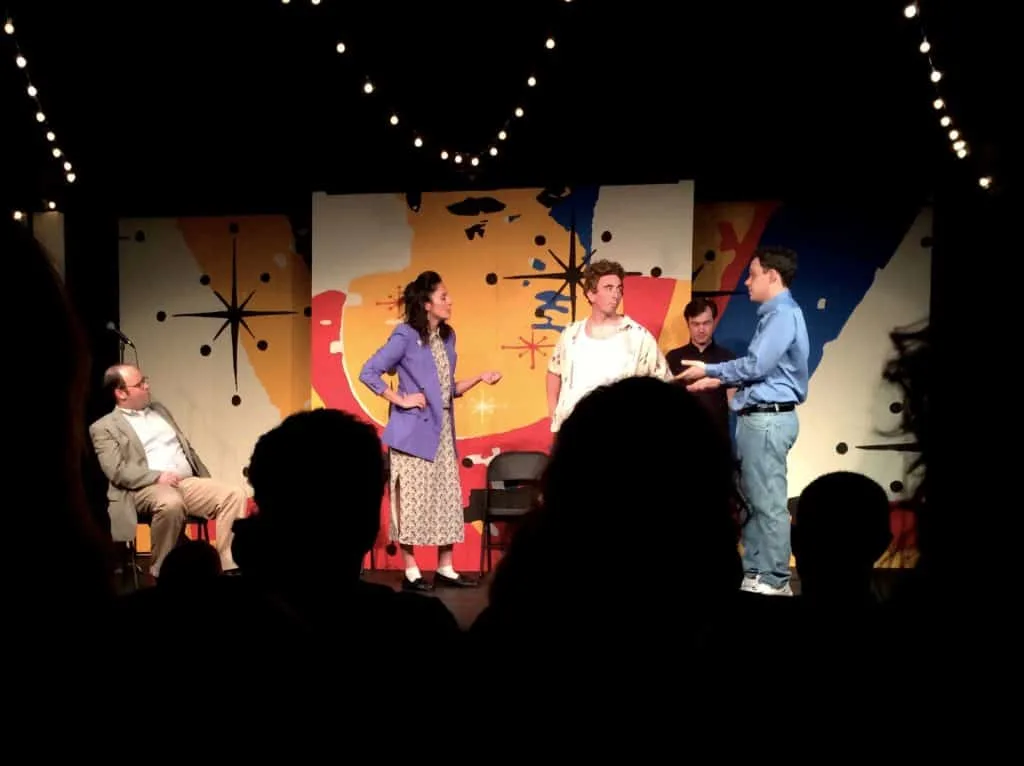 Storyline- The story was great. It started with George talking to Jerry and saying how he had a business breakfast the next day, but that the person he was meeting with liked sweet breakfasts and George liked savory breakfast. He claimed that the number one rule of business was to copy the other person, so he devised a plan to order first so that the other guy would be forced to copy him. Kramer had a business idea to harvest maple syrup from the trees in Central Park; an idea that eventually landed him in Rikers Island prison. Elaine felt like she was being called old by the saleslady at the department store makeup stand and eventually got George to go down there and pretend to be her aunt because he said he could get free stuff. He ended up trying to steal the make-up "products" and landed himself in Rikers Island as well. He and Kramer escaped the prison while Jerry tried to talk to the warden to get them out. Basically, the storyline continued to evolve and got more and more ridiculous throughout the evening as a real episode of Seinfeld tended to do.
Show- The stage consisted of the four main characters and two extras that played various roles throughout the evening. They stepped in to play roles like the waitress, make up girl, warden and Central Park police officer. When the show first started, they were standing there, but we didn't understand what they were doing until they first started talking. It was a little awkward, but once we knew what was up, it made sense. My big negative of the show was that it was only one episode. The show only lasted about 35 minutes and it was the only one they did. Then the walked off the stage and that was it. There was no real intro or exit and it was just one episode. For a comedy show, it was just really short.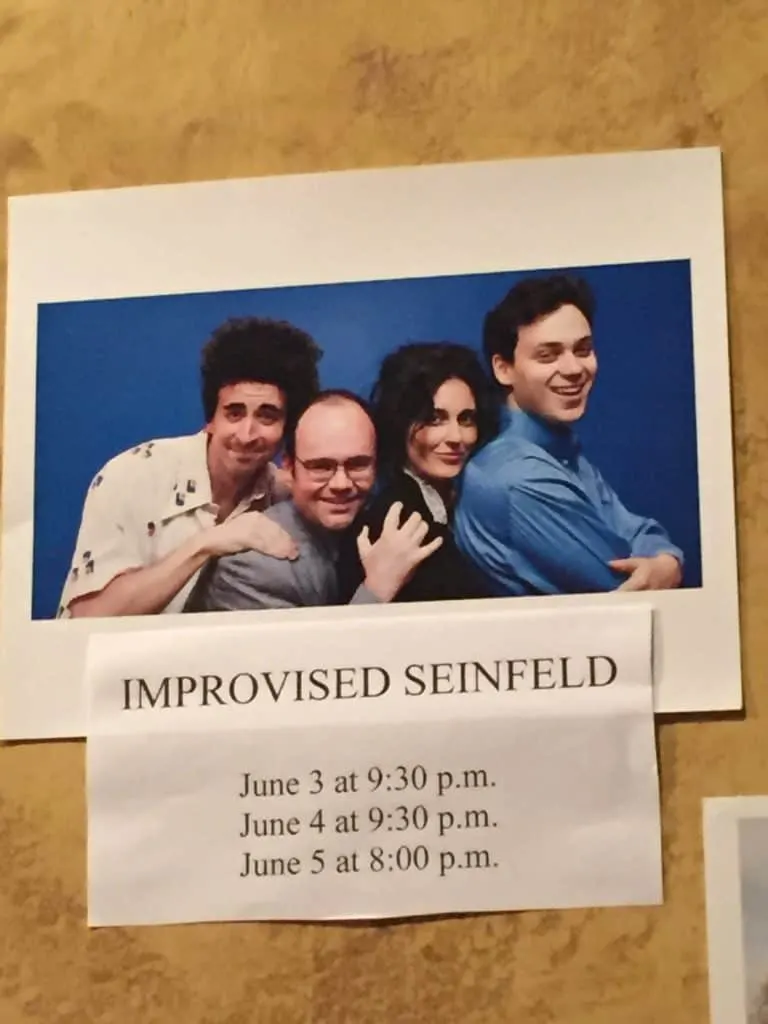 Overall, we really enjoyed Improvised Seinfeld and would recommend it if it is coming to your town. If you're a big Seinfeld fan, this will really make you happy and make you think about all the old feelings you had watching the show.