As I write this, I am recovering from very sore muscles. It took a lot of effort to walk over to my computer. Why? Because I destroyed the Kiawah Island Triathlon this weekend!
It was a goal of mine to do an Olympic distance triathlon for our 101 in 1001 list and I've circled the 2015 Kiawah Island Triathlon on my calendar for a while. I've done several sprint triathlons at the James Island County Park but I've wanted to step up my game. This was the way to go. The Kiawah Island Triathlon consists of a 0.7 mile swim, 25.8 mile bike ride, and a 6.2 mile run. I've been preparing a lot, including waking up at 6 a.m. for spin class at the gym, and I was super ready to conquer this thing.
I woke up at 5 a.m. and drove out to Kiawah to get set up for the race. My mom wanted to come down for the weekend to watch, so me, her and Morgan got out there at around 6:30. I picked up my race packet and headed over to the transition area and set my stuff up. Then, we headed to the beach and walked to the start line. It was a nice 0.7 mile walk at sunrise, which was beautiful.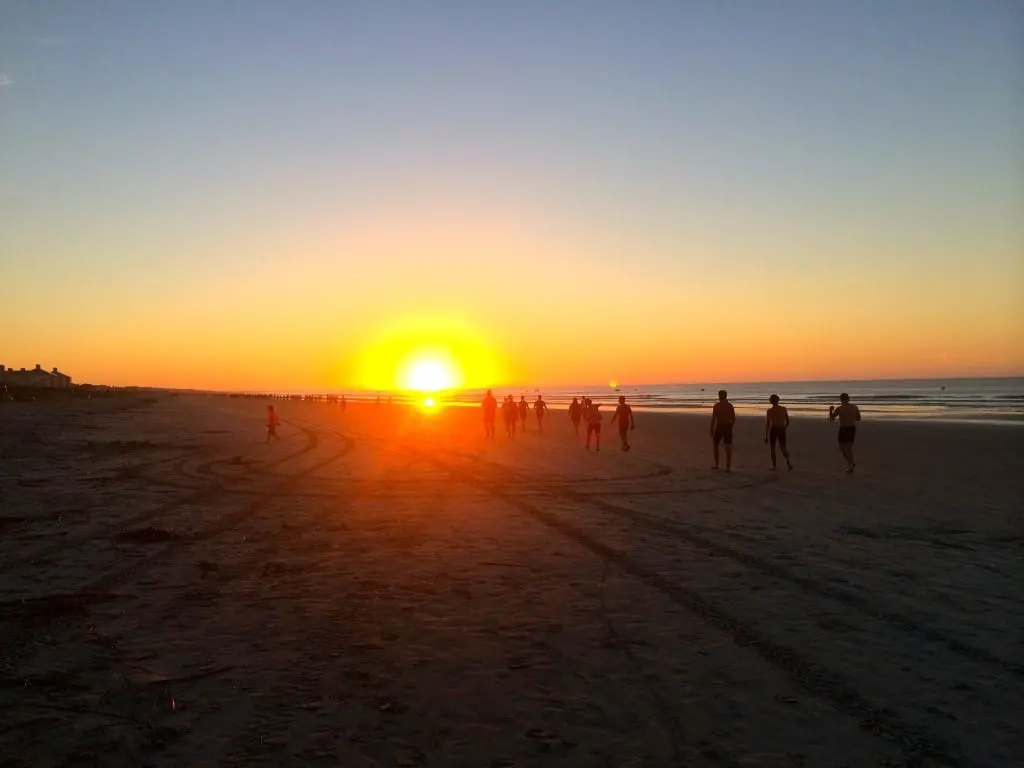 Everyone gathered at the start line and my age group was the second wave to start, jumping into the water at 7:33. The water was a great temperature and wasn't rough or choppy at all. There was a slight current that helped carry us a little and I swam smooth the whole way. I finished the swim (and run to the transition area) in 24 minutes and 11 seconds, good for fifth place in my age group.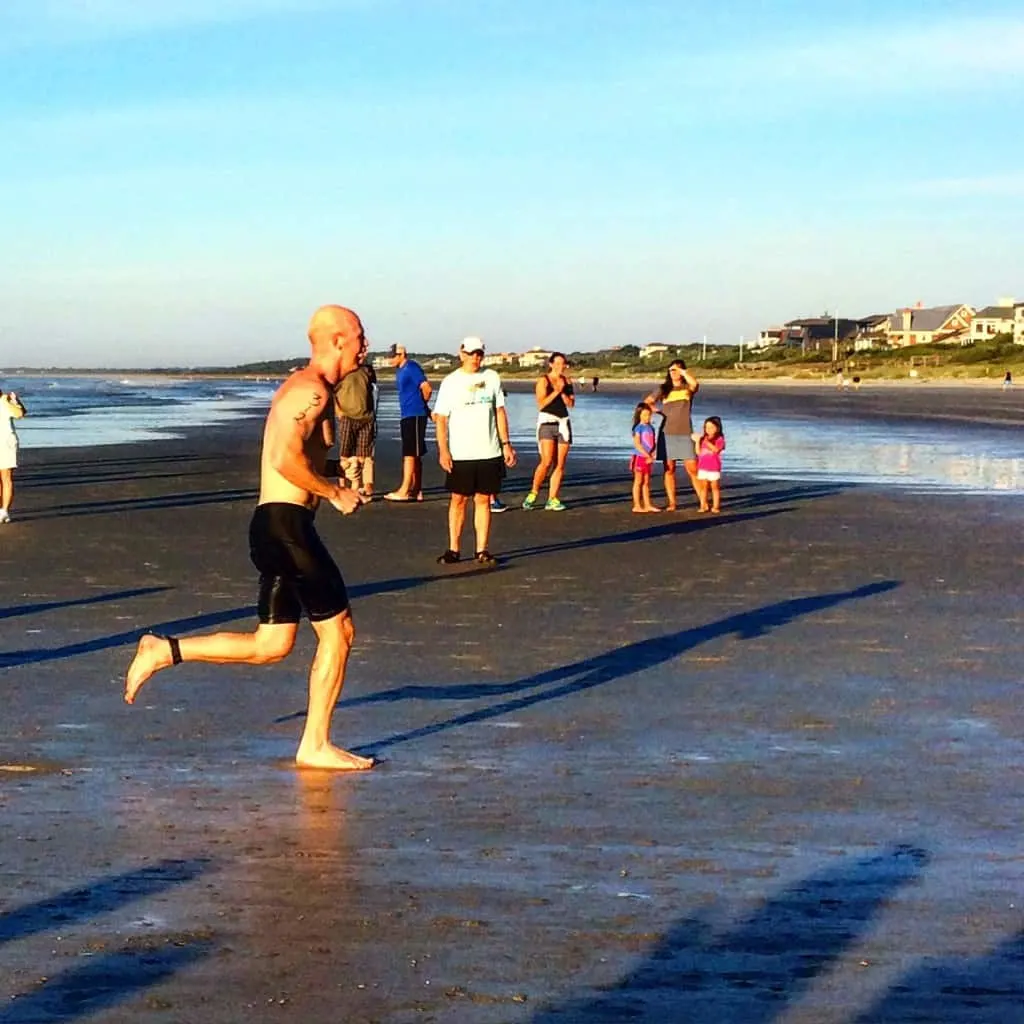 I had a tough time in the transition getting my shirt on and took my time with my shoes, which gave me the privilege of earning the worst time in the first transition, but oh well. I got out on the bike and went for 25.8 miles throughout Kiawah Island. We went to both ends by riding through the neighborhoods, which offered a lot of really good shade and actually made the one hour, 15 minutes and 52 seconds fly by. I was really feeling my hamstring and groin get tight and did my best to keep them worked out.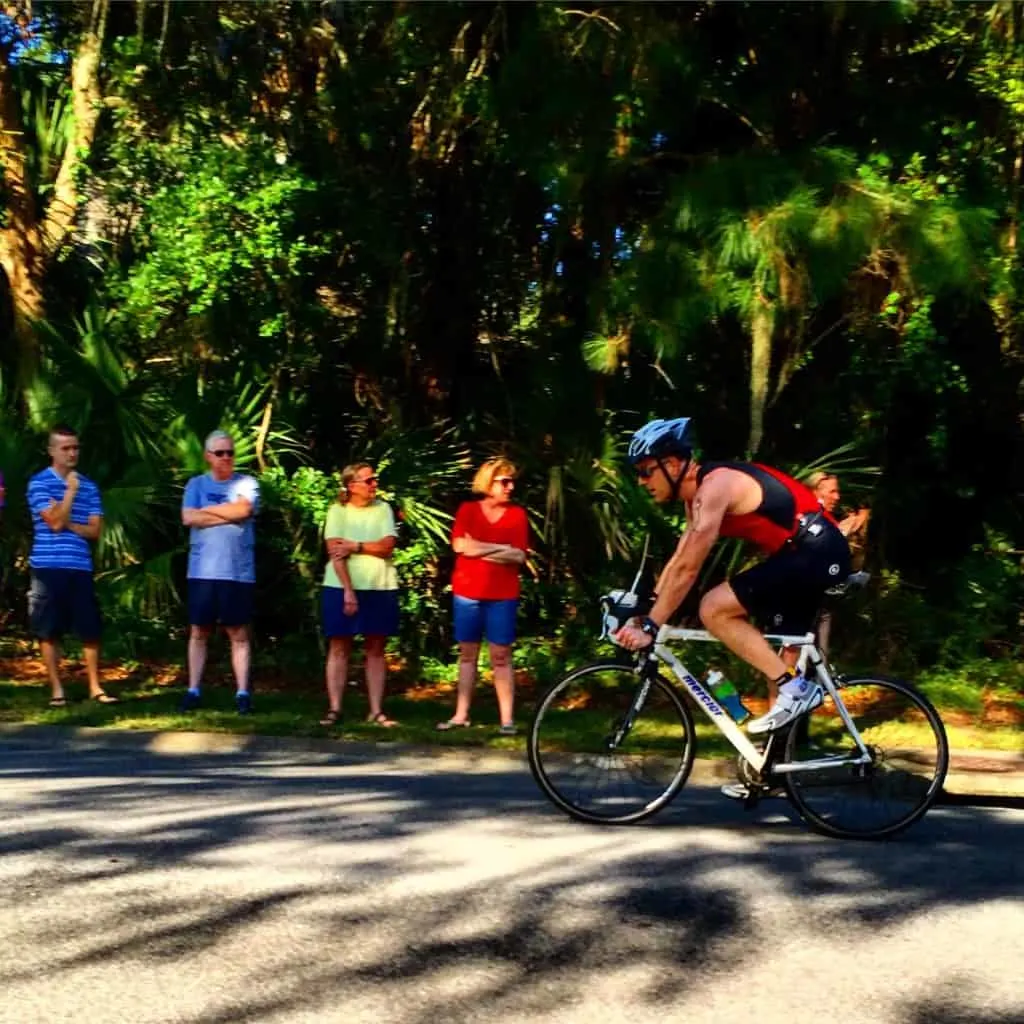 My second transition was a little better and I hit the 6.2 mile run as best I could. My legs felt like lead at this point as I had already been exercising for more than an hour and a half. The run was through the trails of the island, so again, it was nicely shaded… until we went out onto the beach. From the mile three marker until the mile 4.5 marker, we ran along the beach in the brutally hot sun. Still, it was nice. I made it to the five mile marker before having to walk. I just couldn't force myself anymore. I walked about 25 feet and took off again. The rest of the run went well, but it's a deceptive end to the course, as I thought I was turning the corner to the finish line about five different times, but no, it was just more race. I finished the run in 48 minutes and two seconds.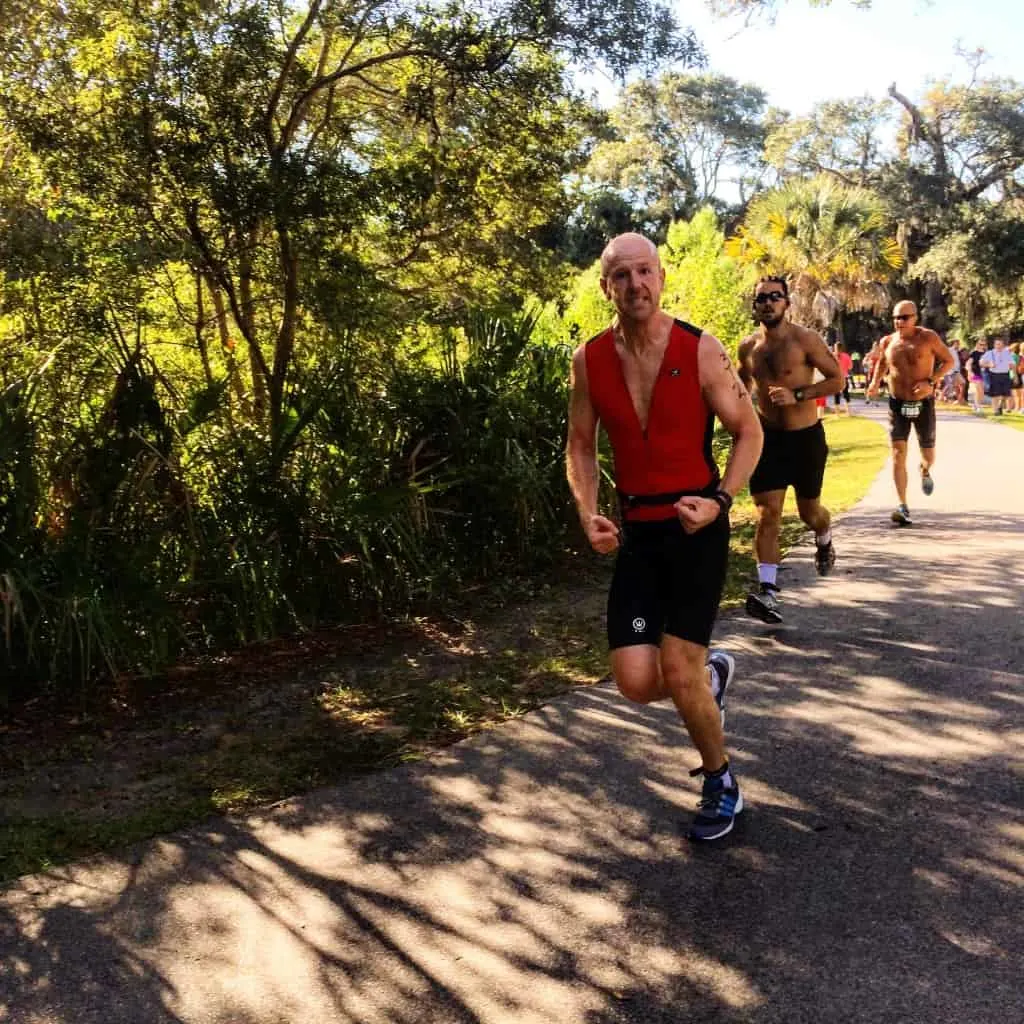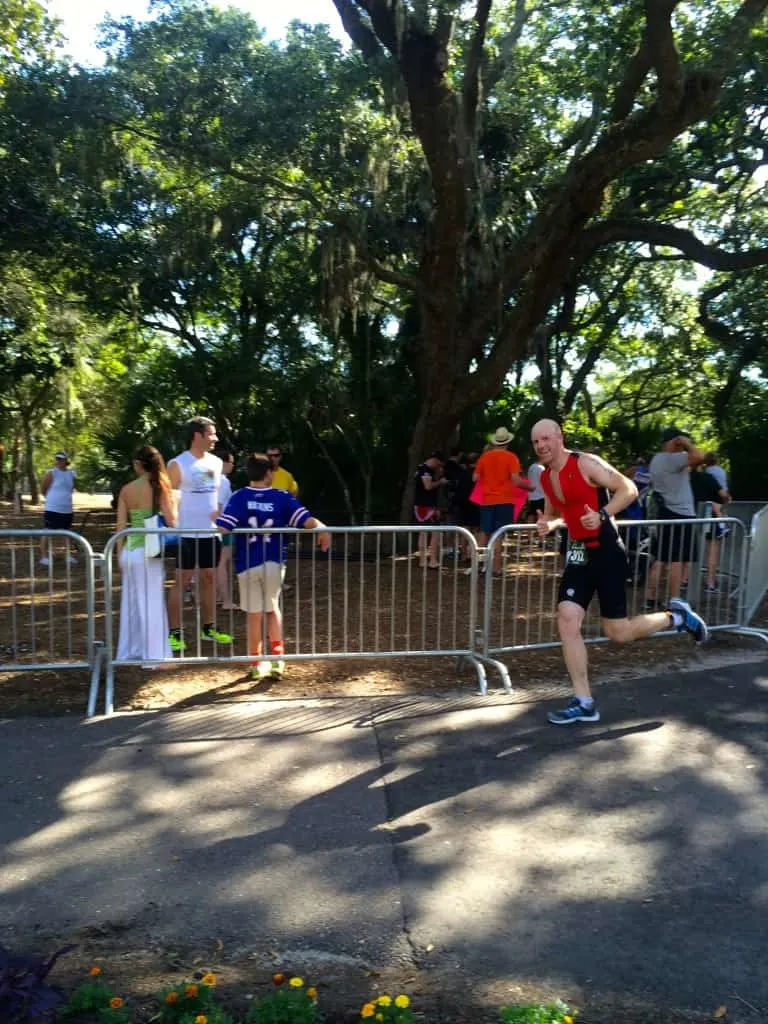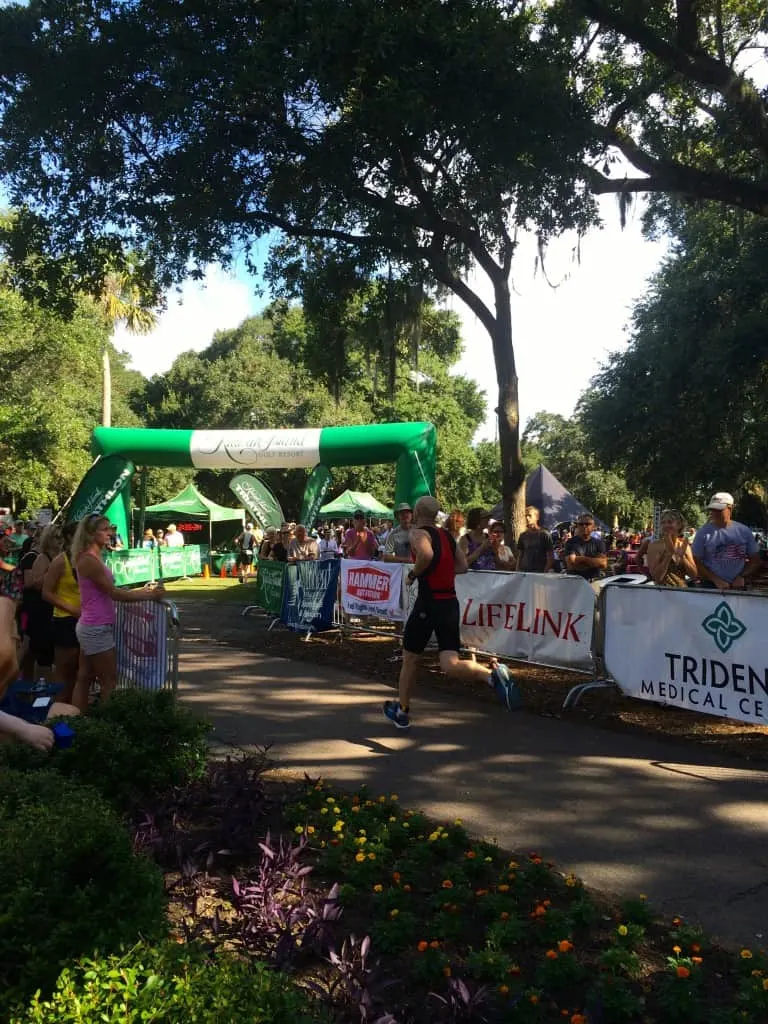 Finally, I came across the finish line with a time of two hours, 32 minutes and 28 seconds, good enough for seventh place in my age group, 70th out of 224 males, and 84th overall out of 343 total participants. My goal was to finish in under 2.5 hours, so I was pretty close.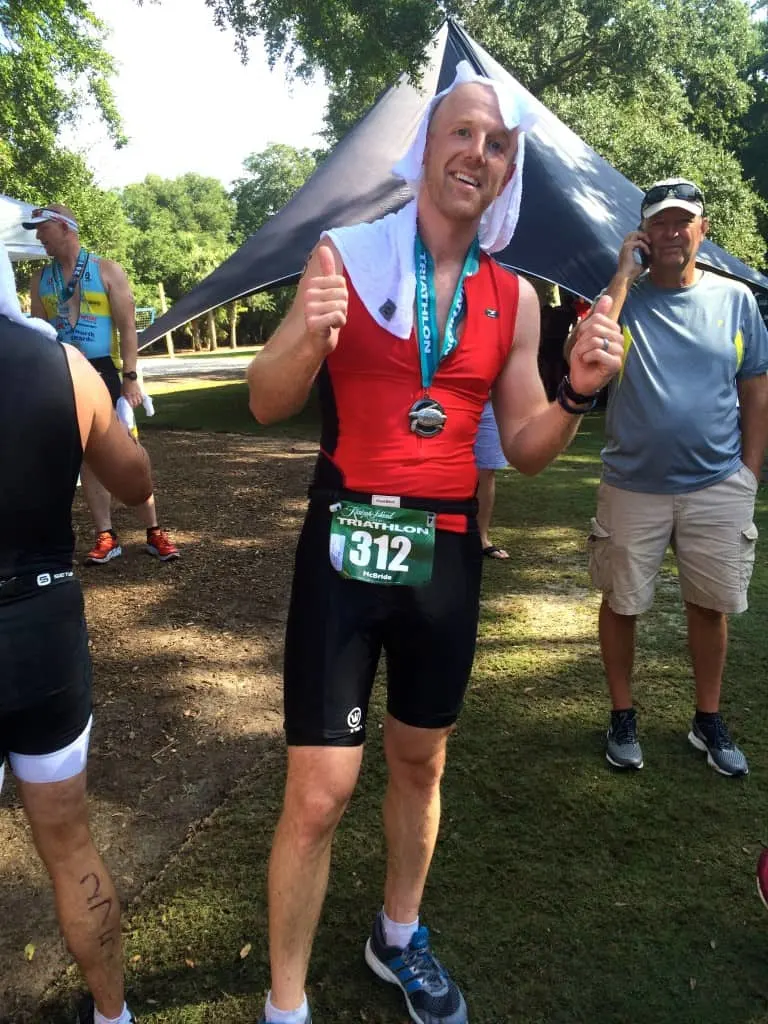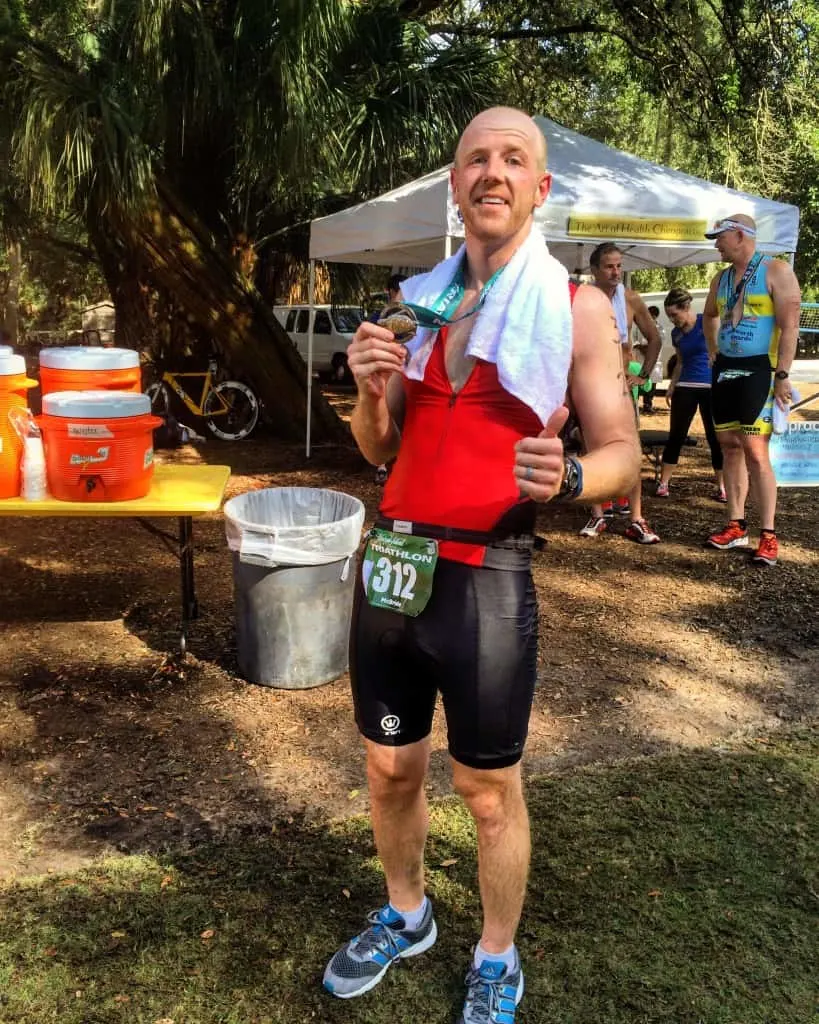 I'm really glad I did this race and I feel like I really overcame something. I'm not sure what my triathlon career will look like going forward in life, but I'm glad I did this one. I'll probably at least have to try to do better on this course next year…