Not all grass is perfect. Even if you have a really nice lawn, there's likely to be patches that are dead.
We've written a lot about what we've learned growing grass and have lots of tips.
Knowing how to patch grass is a great way to fix any small dead areas and keep your yard looking green.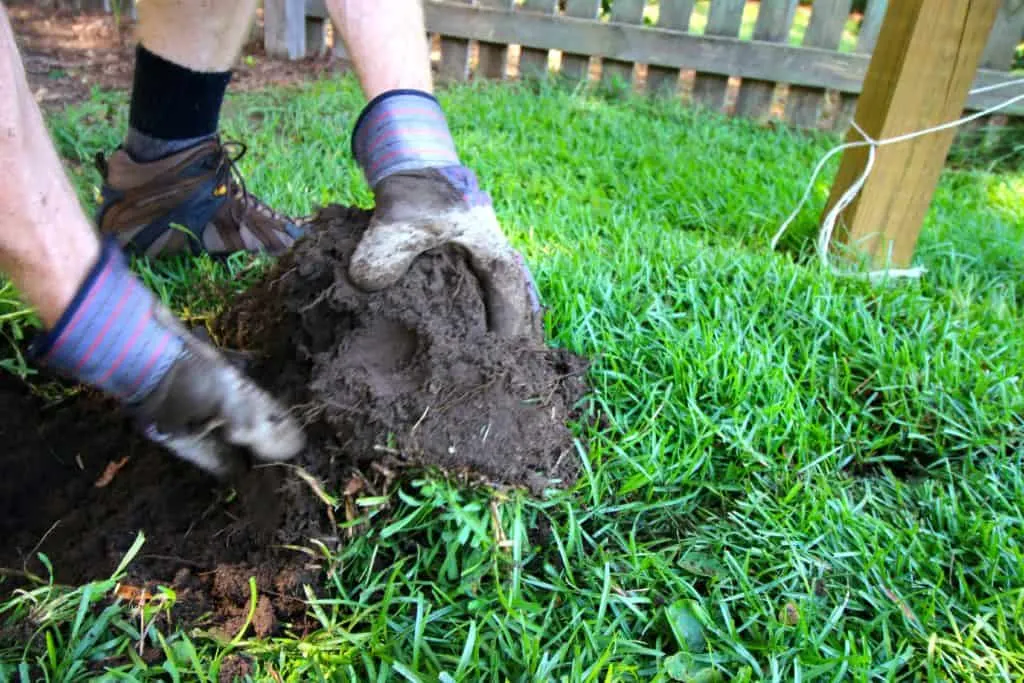 What is the best way to patch a lawn?
There are several good options for patching grass that has nothing growing. The best way to patch grass is to create a space conducive for new grass to grow.
The first thing you should do when preparing to patch grass is to prep the area.
No matter how you try to patch it, the area needs to be ready. Areas of hard, dry, compact dirt aren't going to grow grass no matter what you try.
Start by using a tiller or cultivator to break up the area where you need to patch your grass.
Next, water the area vigorously. You may need to do this a couple of times to really work the area.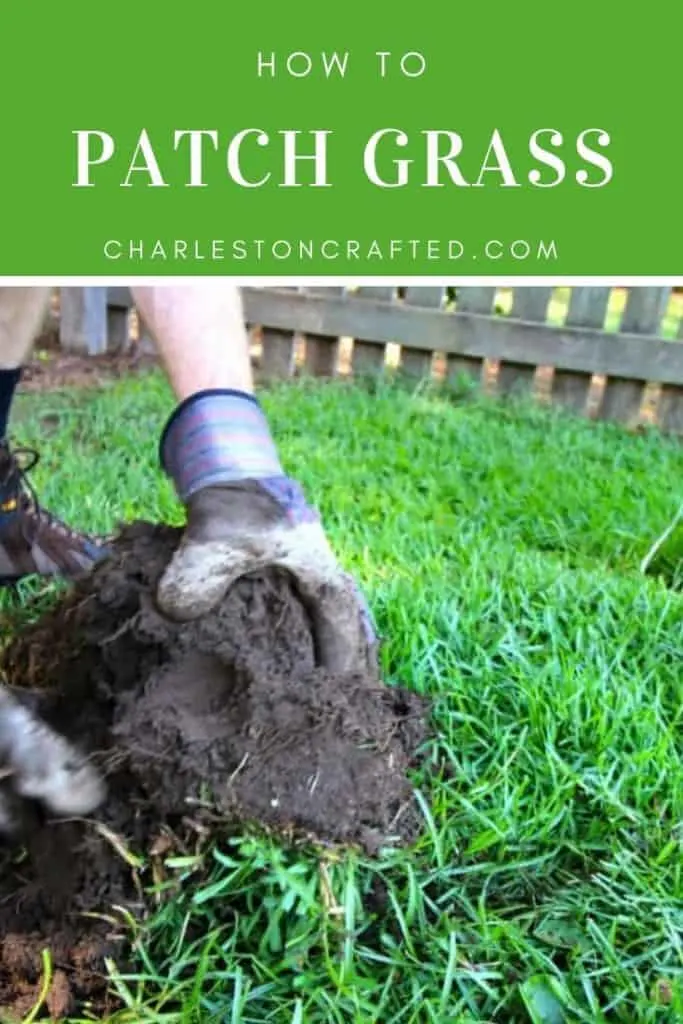 How do you fix dead patches of grass?
There are a few options for fixing bald patches of your lawn:
Spread seed
Transplant grass or sod
Let it grow back naturally
Spreading Grass Seed
The first way to patch grass is to spread grass seed. This is going to take the most amount of time and may actually be the most difficult.
You can only put perennial grass seed down in the spring.
This will give the grass time to grow and establish roots before it gets too hot. If you plant grass in the summer, it will burn and die before being able to take root.
Be liberal when spreading grass seed in a dead patch of grass. You'll want the seed to grow thick to cover the bare patch.
For best results, till your ground then spread your seed and cover lightly with dirt.
Then water regularly, but not with too much water or the seed will wash away.
Grass seed won't spread to bare spots quickly. Spreading seed will help fill a specific area.
That grass won't spread until it has matured, which will take time. It's best to spread seed in spots that are bare.
Transplanting Grass
If you have a patch of dead grass you can transplant grass from another area of your yard if you don't want grass somewhere else.
We did this when we built our hammock area. The grass was spread into where we wanted to spread rocks, so we transplanted it.
The process is simple, but the full instructions for how to transplant grass can be found in our blog post.
Basically, use a shovel and dig at an angle about two inches down.
Continue this in a line of about three feet long, then move to the other side of your grass 12 inches away and do the same thing.
Roll the grass up and then transplant it like sod.
Let Grass Grow Naturally
The other way to fill in a dead patch of grass is to just let it grown naturally. If you have really good grass growing around a hard dry area, this can work for you.
Follow the steps above for preparing the area by tilling and watering. Then water every day where the grass is growing well and the dead patch.
This will help the grass to grow and spread to the area.
This worked for us when we removed an old fire pit where the grass all around was growing very well.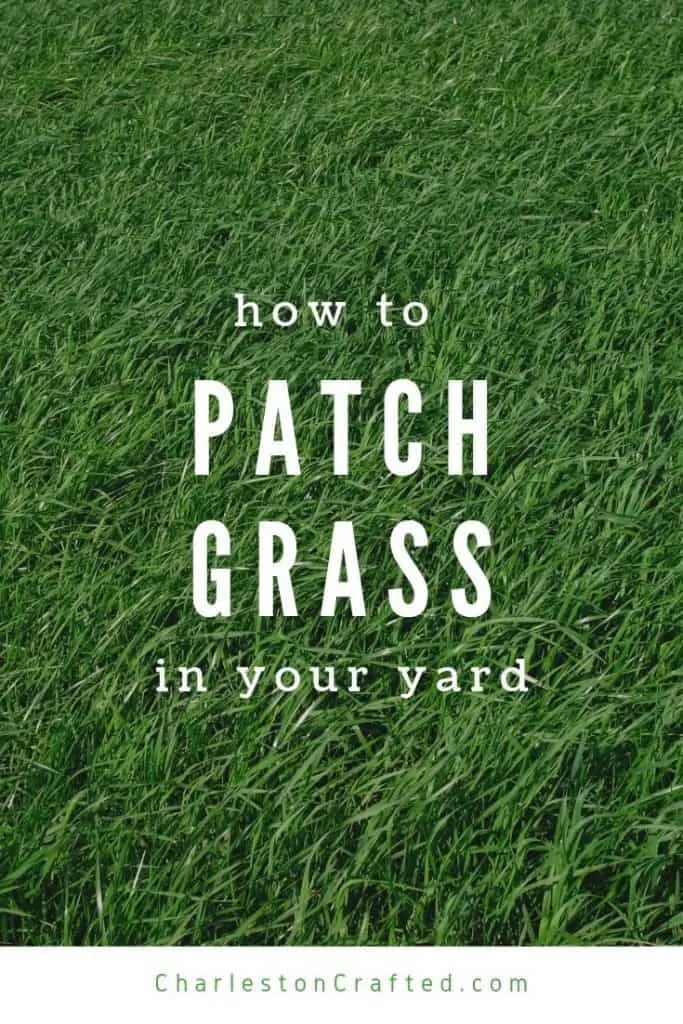 Other Grass Growing Questions
How can I fix a dog damaged lawn?
If you dog has dug your grass up in spots, you can use any of the methods above.
However, the first thing you'll need to do is fill the hole back in.
Try to push as much of the original dirt back into the hole as you can, then fill the rest with extra dirt.
I recommend trying to let the grass grow back naturally over this patch, as there was previously good growing grass there.
When should I put grass seed down?
Spread perennial grass seed in the spring so it has time to grow and take root before the hot summer season.
You'll want to make sure your grass seed and subsequent saplings get plenty of water.
If you're planting something like annual rye grass, you should put that down in the late summer/early fall so that it has time to grow before winter.
This grass looks beautiful, but will die as soon as the weather turns hot.
How many days a week should you water your lawn?
The number of days you should water your lawn per week depends on how much ran your receive, how hot it is and how much direct sunlight your grass receives.
In the summer, if your yard doesn't have much shade and is baking in the sun every day, you're going to want to make sure it receives at least 30 minutes of rain or watering at least 4 days a week.
How can I fix my lawn fast?
Overall, you need to treat your lawn well.
Follow our tips on how to grow grass in general, then follow any of the steps above if you need to patch.
Will grass fill in bare spots on its own?
Some types of grass – like centipede – will grow offshoots or "runners" that will fill bare spots on their own. Other types of grasses will need to be physically patched or re-seeded.
We've shared a lot about grass in the past:
Yield:

1 beautiful lawn
How to Patch Grass
Have dead areas of grass in your yard? Did your dog dig a hole? Knowing how to patch grass is essential for your outdoor knowledge. Luckily, it's easy and it's all right here.
Materials
Grass seed or extra grass or patience
Tools
TIller, shovel, strong hands.
Instructions
There are three good ways to patch grass. Before trying any of them, spend time softening your dead area of grass using a tiller or cultivator and watering the area. Do this for a few days to prepare the area to take new grass.
Spread grass seed- liberally spread grass seed in the area, cover with a thin layer of dirt, then water regularly until the grass is full grown.
Transplant grass- dig up grass from an unwanted area and transplant it to a different area like sod. Use a shovel it dig up the grass about two inches down, then roll it up and transport it to the new area. Then water regularly until it becomes one with the ground.
Let grass grow naturally- this method works if you're trying to get grass to grow somewhere that has really good grass around it, such as if you removed an object from your yard and want grass to grow in that area. Do the prep steps, then water the grass around the area, as well as the area itself, every day and watch the grass start to spread.