Bored with your bland bathroom? You can update it, easily and on a budget. Here's how to make a small bathroom look luxurious!
We just finished giving our main bathroom a one weekend makeover. This was a budget friendly, easy DIY project that really upgraded the space.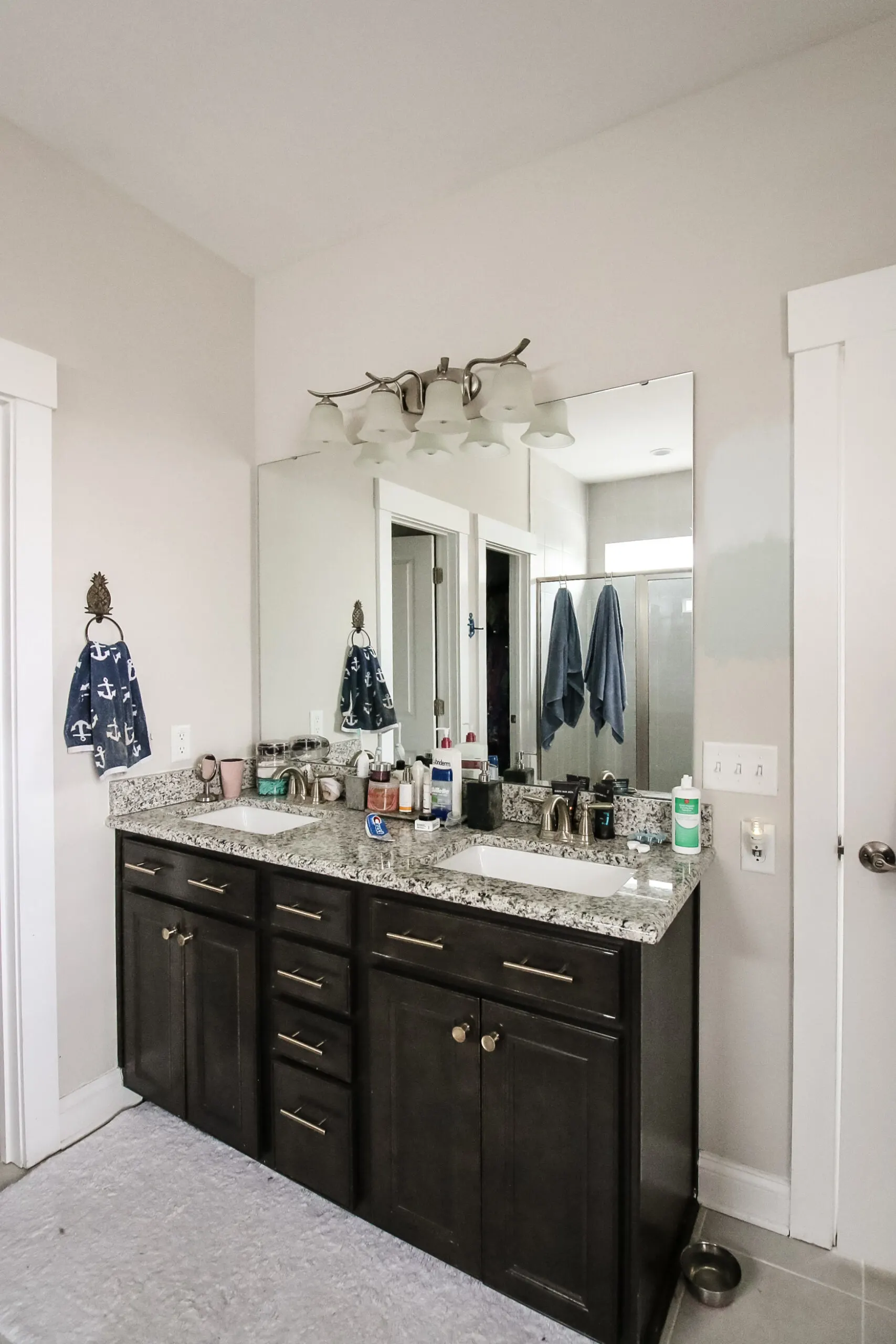 Last year, we did a similar one day (4 hour!) makeover on our half bathroom downstairs.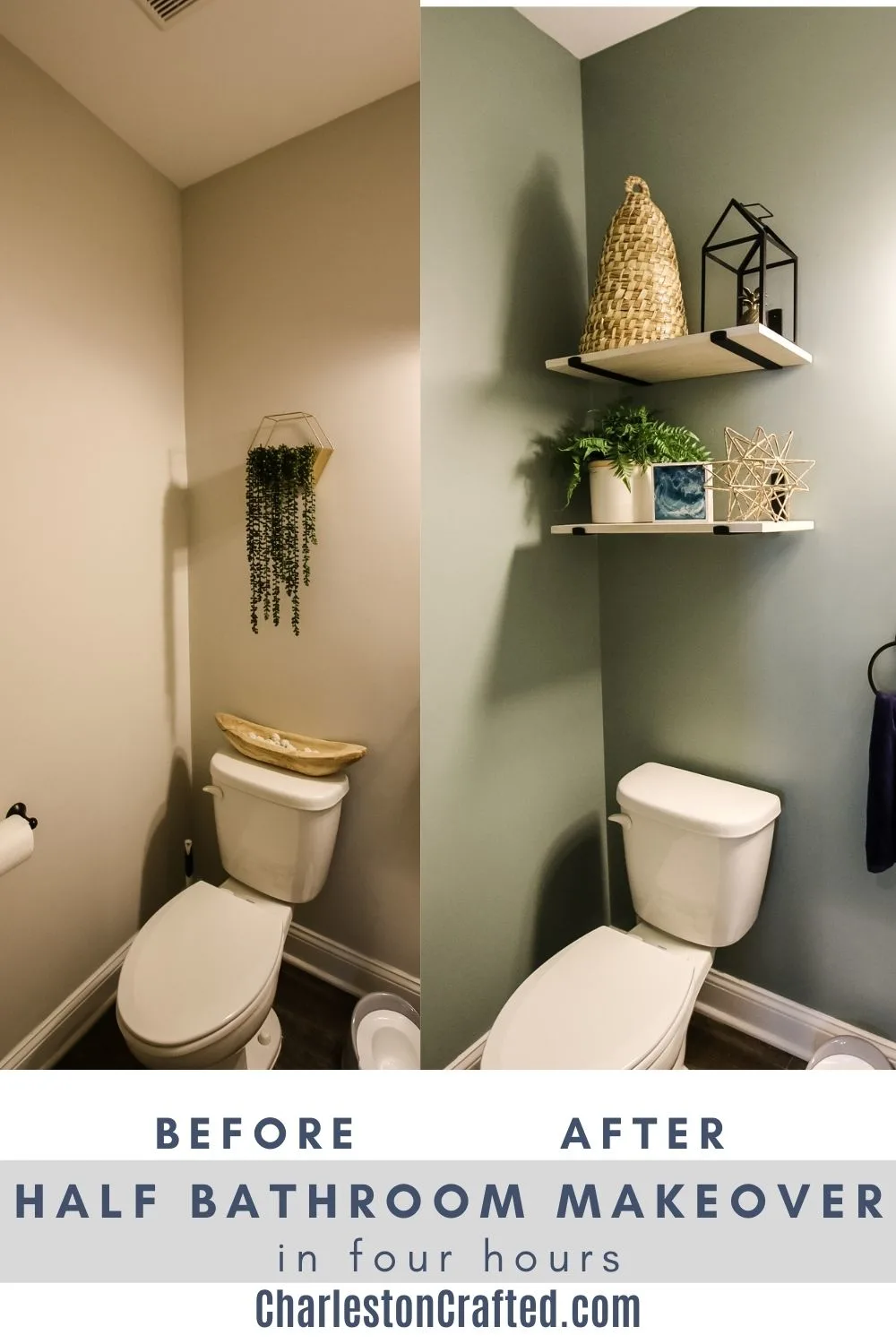 I have learned a lot about the simple, DIY touches that you can add
Here are the best bathroom paint colors!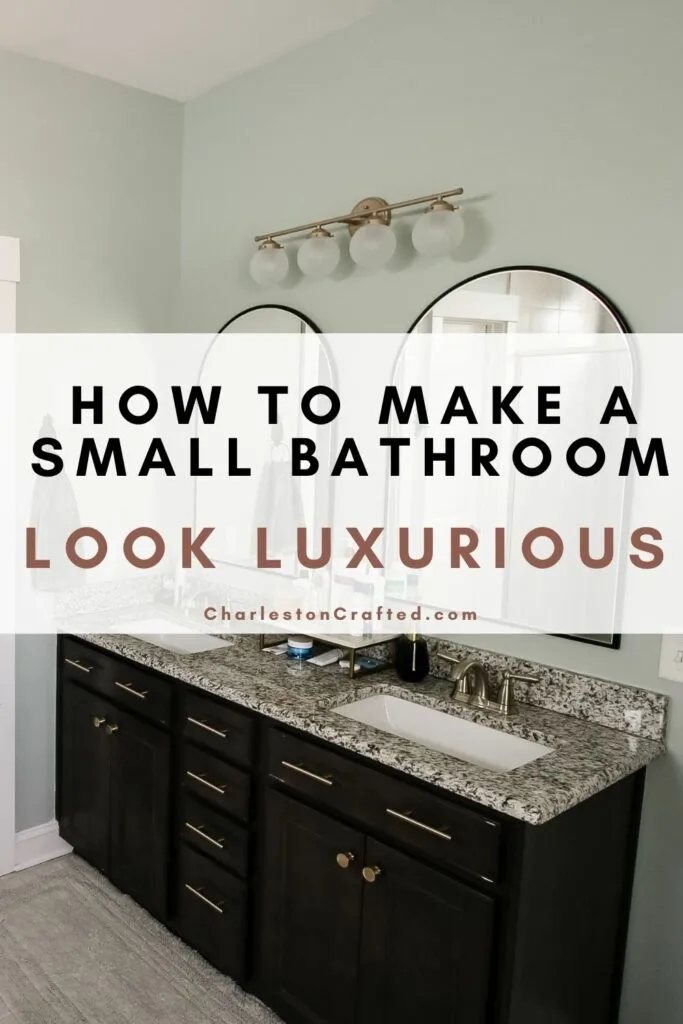 How can I make my small bathroom luxurious?
How do you add luxury to a bathroom?
Luxurious bathrooms are all about keeping it clean, fresh, and adding small touches of luxury. Ideas include:
Swap out builder grade mirrors for something with a frame and/or an interesting shape
Trade out the cabinet hardware for something your style
Replace generic lighting
Add hooks instead of towel rods
Use similar finishes – like all gold – and repeat textures – like woven baskets – throughout the space
Add a bench or stool to the shower (if there's space)
Hang a wallpaper – even peel and stick – for a dramatic, high end look
Add a bathtub tray – here's how to build one
Swap the light switch for one with a dimmer
How do you make a small bathroom pop?
To make your small bathroom pop, give it a few "wow" moments. Maybe it is a beautiful piece of artwork, an interesting shaped mirror, or a bold paint color. You don't want too many focal points – but you do want something interesting for the eye to settle on.
How can I make my bathroom look beautiful?
My top tips to make a bathroom instantly look beautiful:
Declutter – hide small items in drawers, baskets, or bins
Brighten the space with light fixtures or large mirrors
Deep clean the grout of any tile to make it look fresh, consider using a bleach pen
Create a focal point with paint, color, art, or something dramatic for the eye to settle on
Hang a plant – we hung one from a ceiling hook in our shower!
How do you brighten a dull bathroom?
Here are a few ways to brighten a dull or dark bathroom:
Use a light and bright paint color
Remove curtains to let the natural light in
If you have dark flooring, cover it with a lighter rug
Remove clutter
Add mirrors
Have at least 3 light sources (IE overhead light, sconces, window)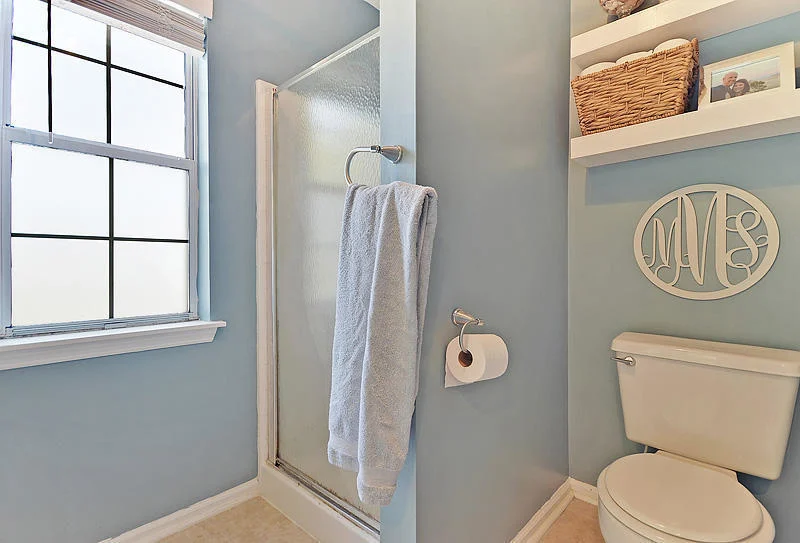 Also consider brightening up the grout by using a grout pen on old, faded grout!
How do you update a small bathroom?
The easiest ways to update a small bathroom is with paint, a new mirror, new vanity hardware, and some simple new accessories.
Another great way to update a small bathroom is by organizing it. If you have a cabinet style vanity, try to get as much stuff as possible off the counters and into the cabinet or drawers. Here are our tips for organizing under a bathroom sink and how to organize bathroom drawers.
How can I make my shower look expensive?
Adding a shower bench is a great way to make your shower look more expensive. Organize your soaps and shampoos and if you are really extra, put them in matching containers. Finally, consider hanging a plant in the shower for a dramatic look!
How can I make my bathroom look less clinical?
Stark white bathrooms can feel clinical. Consider painting the walls a color – or at least a warmer white. Using gold or brass hardware feels homier than shiny silver or nickel.
Add art to the walls and textiles like rugs or shower curtains to additionally soften the space.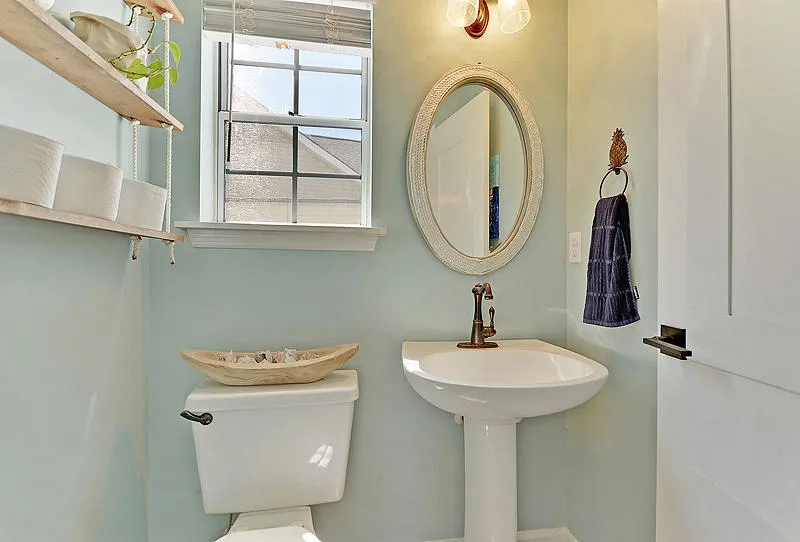 How to make an apartment bathroom look luxurious
Usually you can't paint apartments or do anything permanent. Instead consider:
Using interesting rugs to cover outdated flooring
Use removable contact paper to cover outdated countertops
Hang art that reflects your personal style
Change out the knobs (here's how, save the original ones in a bag and replace before you move)
Use baskets to corral clutter
How do you accessorize a bathroom?
Skip the toilet seat covers and use these bathroom accessories instead:
Cups or organizers for toothbrushes
Glass soap/lotion dispensers
Tiered steps (like for spices) for countertop toiletries
Turntable/lazy susan for under the cabinet organization
Bath rugs – don't need traditional bath mat, other runners can work
Artwork
New knobs or hardware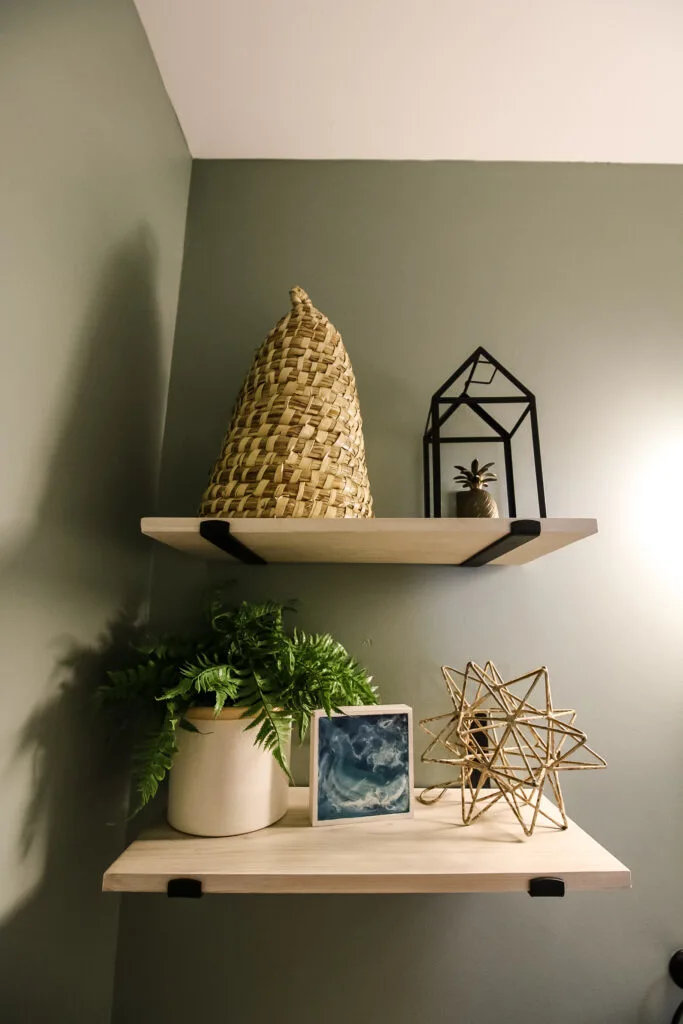 Expensive looking bathroom accessories
You don't have to spend a ton to get good looking bathroom accessories – target and homegoods are my go to shopping places.
Stone pieces usually look high end – you can get a slate looking gray stone or a stone with a marble look.
Cut glass also can look dainty and almost antique and works great for more vintage style homes.
I prefer a matte finish on metals rather than glossy and think that it looks more high end.
How can I make my bathroom feel like a hotel?
Hotels usually have light, white bathrooms, very bright lighting, and minimal accessories.
To go the extra mile, consider buying extra plush white towels, marble finishes, and an upgraded shower head.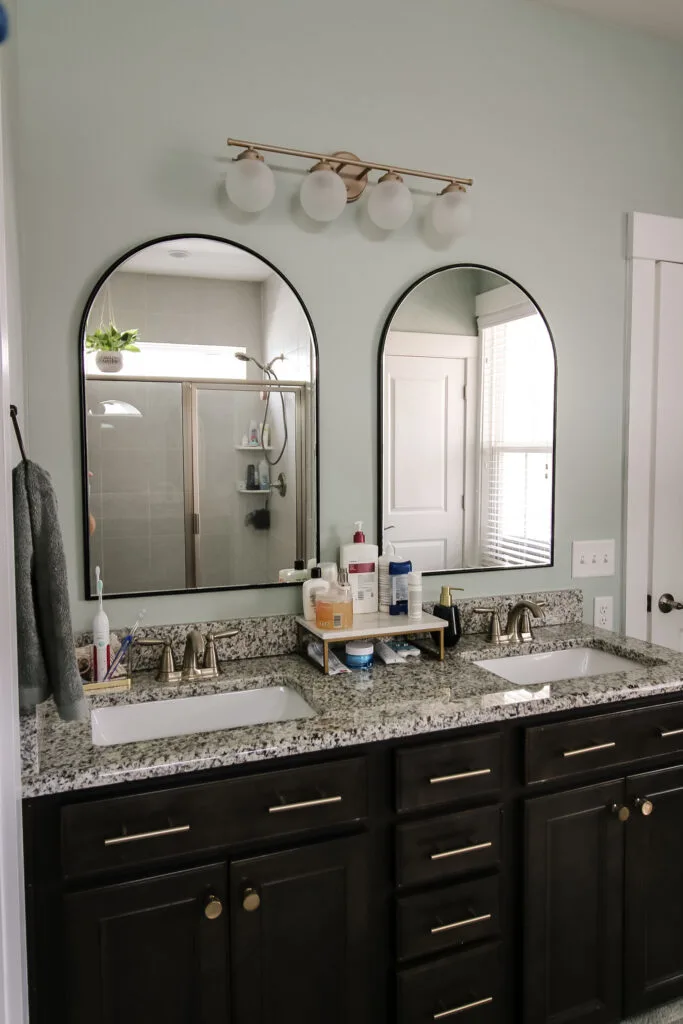 How to make a small bathroom look bigger
There are a few easy ways to make a bathroom look bigger. They are similar to my ideas for making the room look brighter, because a bright room usually looks bigger than a dark one!
Hang a large – or multiple – mirrors to bounce light
Remove curtains and let natural light in
Hang art or shelves that go up high on the walls, drawing the eye up
Use the largest rug that will fit in the space
Be minimalist with accessories and countertop clutter
Choose a simple color palette of light and bright colors
If you have a shower curtain, consider adding a curtain tie back to open up the space when not in use
Hang shower curtains up as high to the ceiling as possible – get an extra long shower curtain!
Bathroom decorating ideas on a budget
You don't have to spend a ton to get your bathroom updated!
Consider using spray paint to make mismatched accessories or decor all one color.
Check out the dollar tree for really cute bathroom and organization accessories
And always remember – less is more. Cluttered bathrooms always look a mess. Save money by doing less!
Small but beautiful bathrooms
Here are some real life small but beautiful bathrooms to inspire you!
Small luxurious bathrooms
Here are some real life small but beautiful bathrooms to inspire you!
How do you like to decorate your small bathroom?