Want to refresh your stained tile grout? Here's how to use a grout pen to give your tile and grout a fresh look!
I would really love to renovate our kids' bathroom. It's builder basic and it has a weird awkward layout (with a diagonal door that bangs into the vanity – we actually took the door off the hinges since our kids are so young and don't care.)
However, a bathroom gut job just isn't in the cards for us at the moment.
This bathroom is deep cleaned once a month, but the floors were still looking not-so-fresh. So, I decided to pick up a grout pen and refresh the floor tile grout!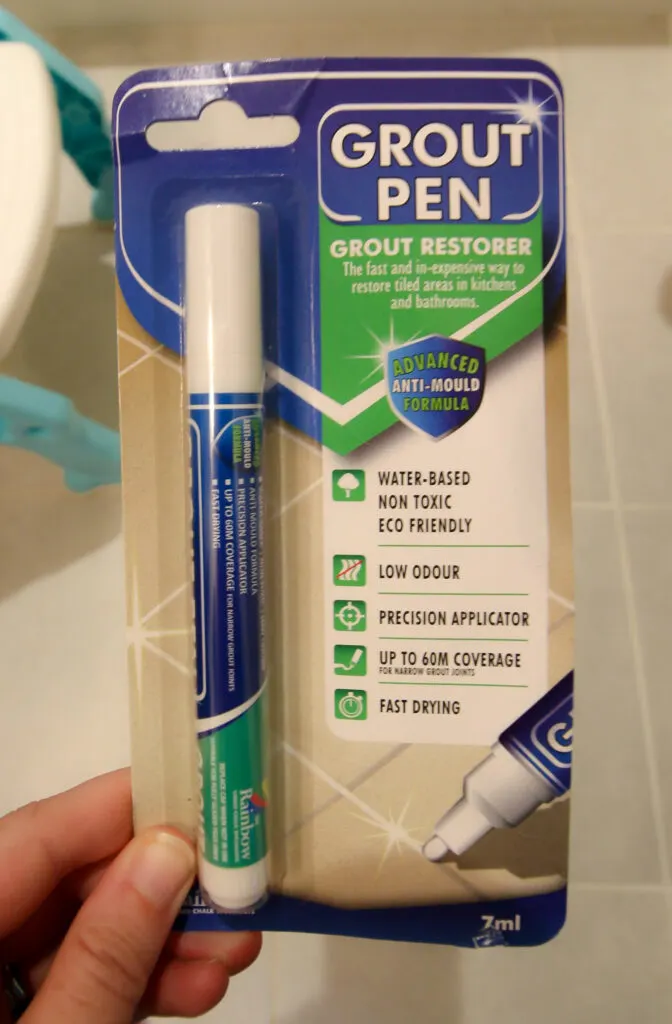 What is a grout paint pen?
Grout pen are paint pens with paint that is specifically formatted to color grout. You can use it to refresh stained or discolored grout or to change the color of existing grout in a space.
Grout pens come in a variety of colors, usually white, terra cotta, brown, gray, beige, cream and black. They also come in 2 thicknesses – fine tip and thick tip – depending on the width of your grout.
This waterproof tile grout colorant is easy to use, inexpensive to buy, and a great way to give your tile a fresh look!
How does a grout pen work?
Grout pens are grout colorant and sealer that work by covering the existing grout with a thin layer of paint. The pens will not do grout repair and they are not a permanent solution (the paint fades over time), but it is easy and inexpensive to get great results.
Why does grout get discolored?
Grout is porous, meaning that it is absorbent. So, it is more likely to absorb stains and messes than the surrounding tile. Our kids' bathroom grout is very stained around the toilet – that's just life with two preschool aged kids!
Grout paint is water resistant – so it won't wash off – and can help to seal grout so it is less absorbant and less likely to grow mold or mildew.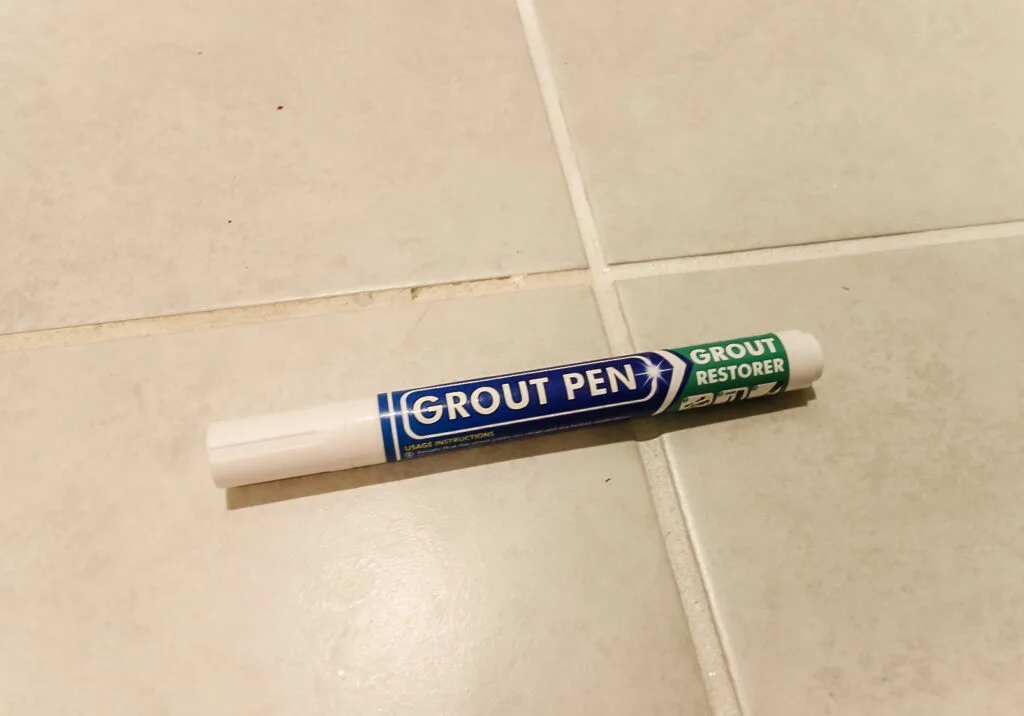 What is the best grout pen?
Most water based colorant and sealer pens for grout work the same way. I have had great success using this grout pen.
How long do grout pens last?
The paint from a grout pen is just that – paint. It is not new colored grout. How long the paint lasts on your grout lines will depend on wear and tear on the space. Expect the grout to need another touch up in about 2 years.
Does grout pen come off of tiles?
If you get a little paint on your tile while you are painting it onto the grout, you can use your finger or a piece of paper towel to easily wipe it off.
Once it is dry, it can be a little trickier to get off – I'd use a Q tip and nail polish remover. See my tutorial for how to get paint off of tile here.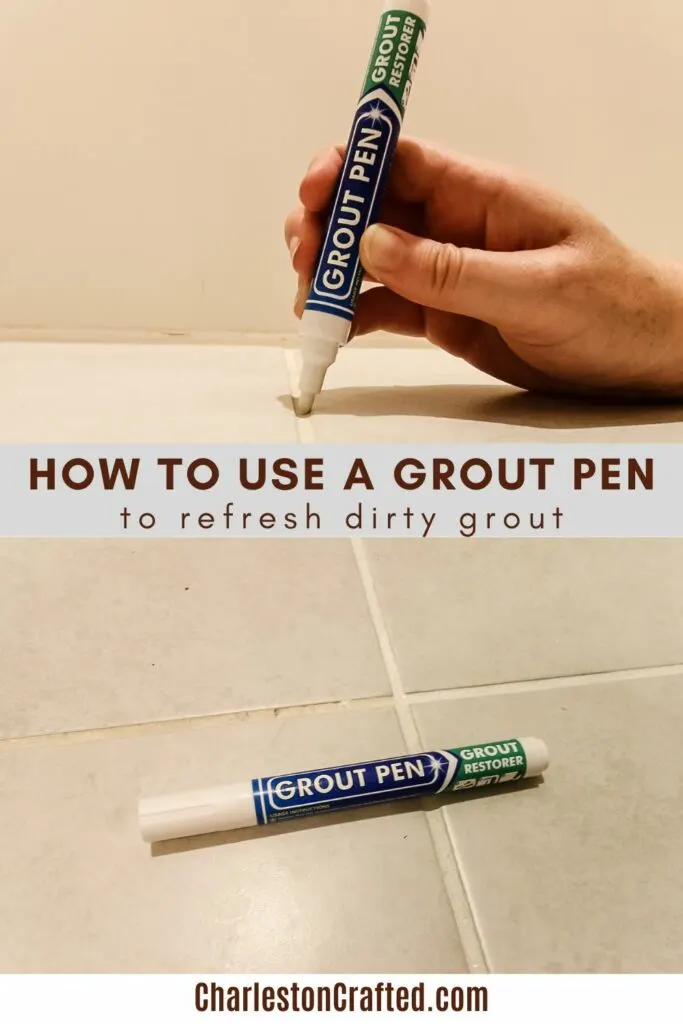 How to use a grout pen
Supplies needed:
Paper towel
Bathroom or kitchen tile
Steps to use a grout pen
Step 1: empty the space
Remove any furniture or rugs from the space, especially if you are doing tile floor.
Step 2: clean the grout
You will want to thoroughly deep clean your grout before painting it. This could mean wiping it, mopping it, or steam cleaning it, depending on how dirty it is.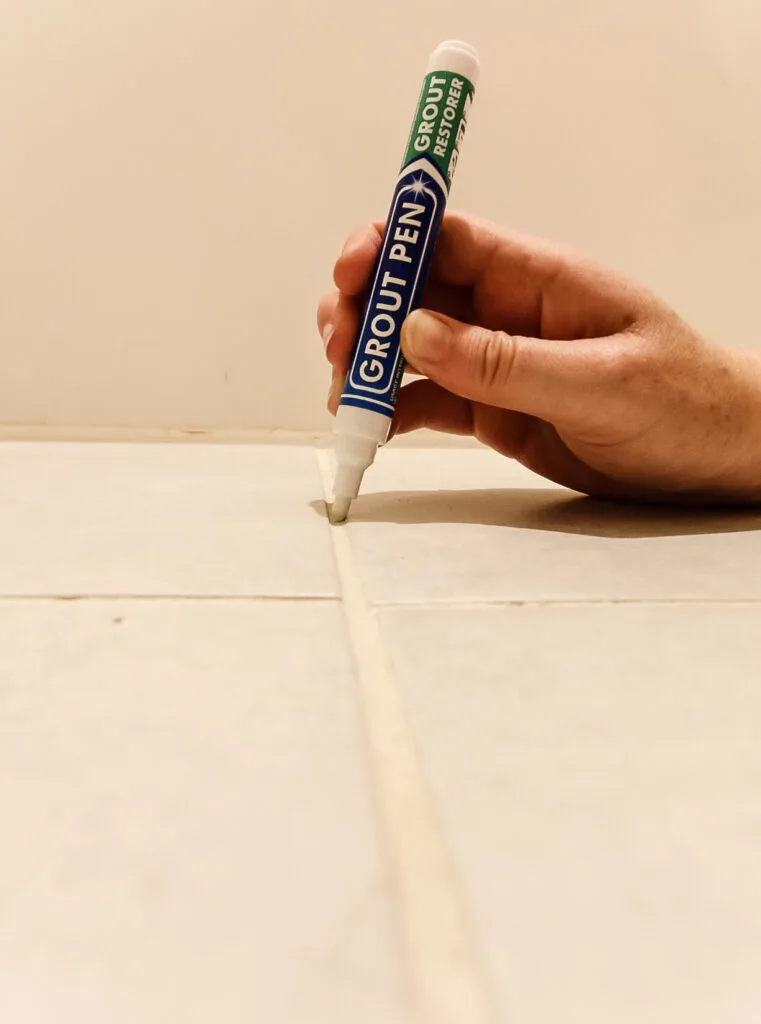 Step 3: apply the grout pen
Get the pen started by pressing the tip into a piece of cardboard in and out a few times until it gets juicy.
Use the grout pen to paint along the grout lines. Go slowly to avoid getting paint on the tile, but you can wipe any slip ups off quickly while it's still wet.
Hot tip: if the pen seems to be drying out, press the tip completely into a piece of cardboard a few times to get the juices flowing again!
Repeat this until all of your grout is done. I also painted the caulk around the base of the toilet and bath tub!
Step 4: let dry
The paint is fast drying and is dry to the touch in 5 minutes, but you will want to wait 6 hours if possible before putting things back on the paint, or they might stick a little.
Step 5: replace items in the room
Once the paint is totally dry, you can put your stuff back in the room and enjoy!
Grout pen before and after
The effect of the white grout pen on our floor tile was significant. You can see in the below image the section that I put white paint on compared to the rest of the grout.
And yes – this grout was originally (6 years ago) white. I can confirm that because the grout against the wall away from the sink and toilet is still white!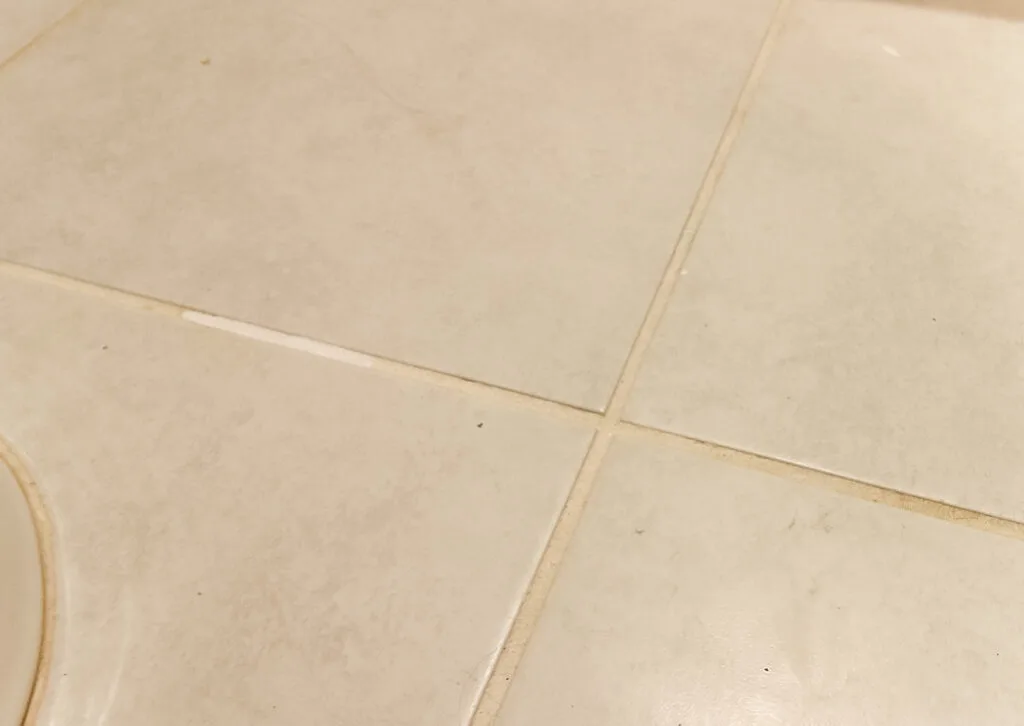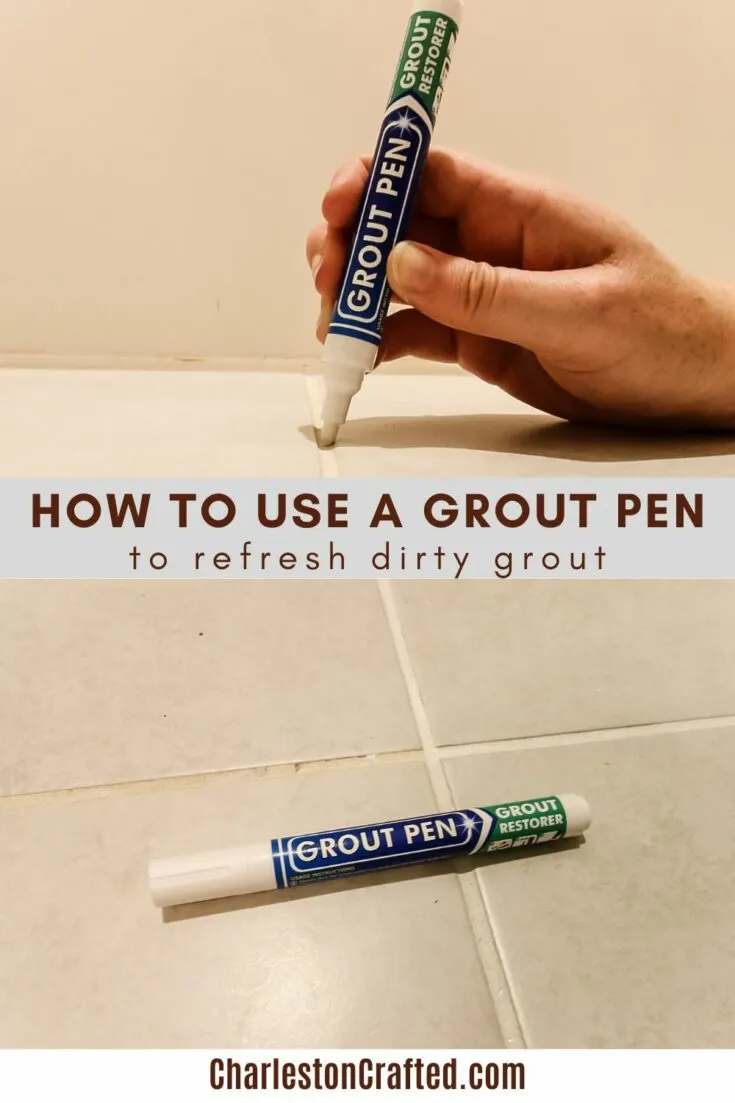 Yield:

1 refreshed grout
How to use a grout pen
Total Time:
1 hour
15 minutes
Dirty grout? Here's how to refresh it with a grout pen!
Instructions
Remove all furniture or decor from on the tile
Deep clean the tile as much as possible
Get the pen started by pushing the tip in and out on a piece of cardboard
Use pen to color in all grout, wiping anything that gets on the tile off as you go
Let dry for 6 hours
Put things back in the room
Enjoy!
Recommended Products
As an Amazon Associate and member of other affiliate programs, I earn from qualifying purchases.
What grout are you going to refresh in your home?!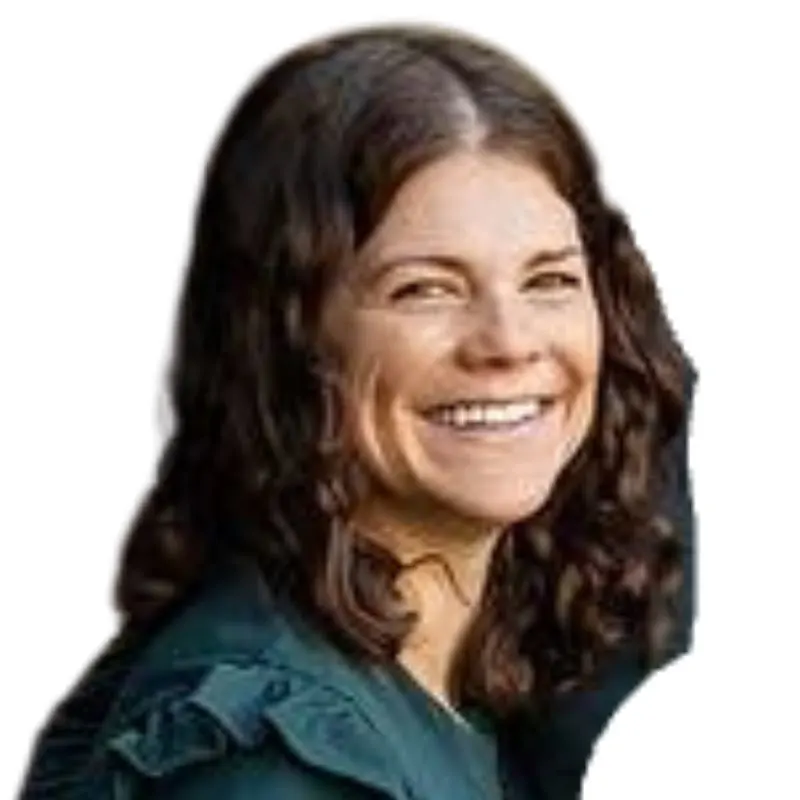 Hello, I'm Morgan, half of the creative force behind CharlestonCrafted.com! With a passion for DIY that dates back to 2012, I've transformed three homes and now I'm dedicated to helping others craft their dream spaces. Let's turn your house into a home together!