Want to replace the hardware on your cabinets? Kitchen or bathroom, this is a super easy and budget-friendly DIY! Here's a full tutorial + how to video.
Want to give your cabinet a new look but you aren't up for a major home improvement project? Changing out your cabinet knobs is a fantastic way to get a new look for a low price.
Installing cabinet knobs and pulls is super easy to do. You don't need any fancy tools and it doesn't take very long at all.
Our new home has beautiful gray-brown cabinets in the kitchen and all of the bathrooms. However, the hardware that the previous owners chose is just not our style. It's rusty "industrial" and we wanted something lighter & brighter.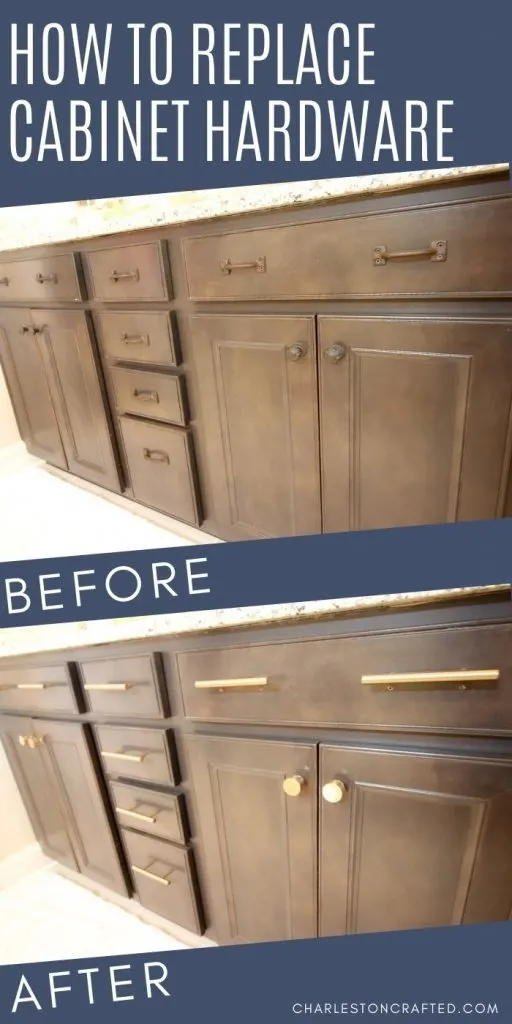 I selected hardware from Liberty Hardware in their Champagne Bronze color. It is a light, muted gold tone. This home has a lot of warm undertones, so the bronze complements that without being overwhelming.
I used these 3 inch bar pulls and these round knobs, all in champagne bronze. The sleek shapes also helped the gold tones from being too much!
Want to upgrade your cabinet hinges? Check out our tutorial for how to convert your cabinets to slow close!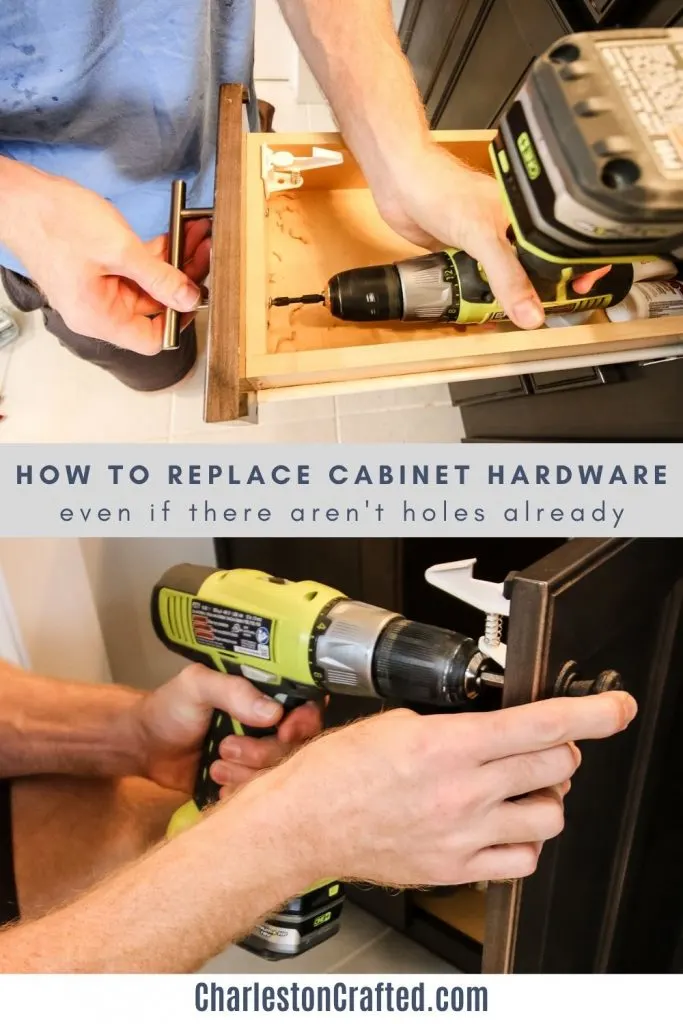 How to change cabinet hardware
What you need:
New hardware
Drill or screwdriver
Damp cloth
Wood filler, touch up paint or stain, and sand paper (if not using existing holes)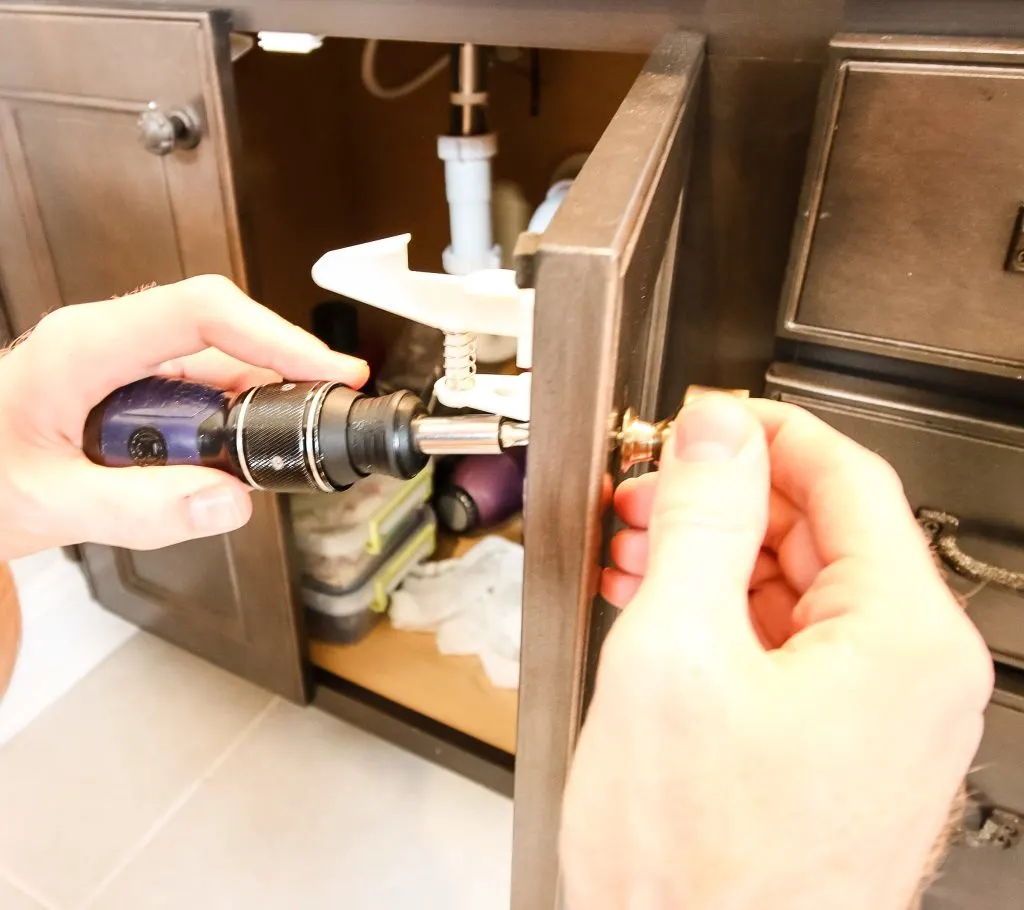 What you do:
Open your drawer or cabinet. Use a drill or screwdriver to loosen the screw and unscrew the existing hardware from the inside. Remove the screw and the knob and set aside.
Once the old knob or pull is gone, take this as an opportunity to wipe off that section of the cabinet or drawer front. You can just use a damp cloth to get it nice and clean.
If your cabinet does not have holes, or the holes are in the wrong spot, you will need to drill new holes.
Place your drill bit in the existing holes (if they do not go all the way through) or where you want the hole to be, and drill a new hole.
Insert the screw of the new hardware from the inside of the cabinet door or drawer. Place the knob on the screw on the outside.
Use a screwdriver or drill to tighten the screws.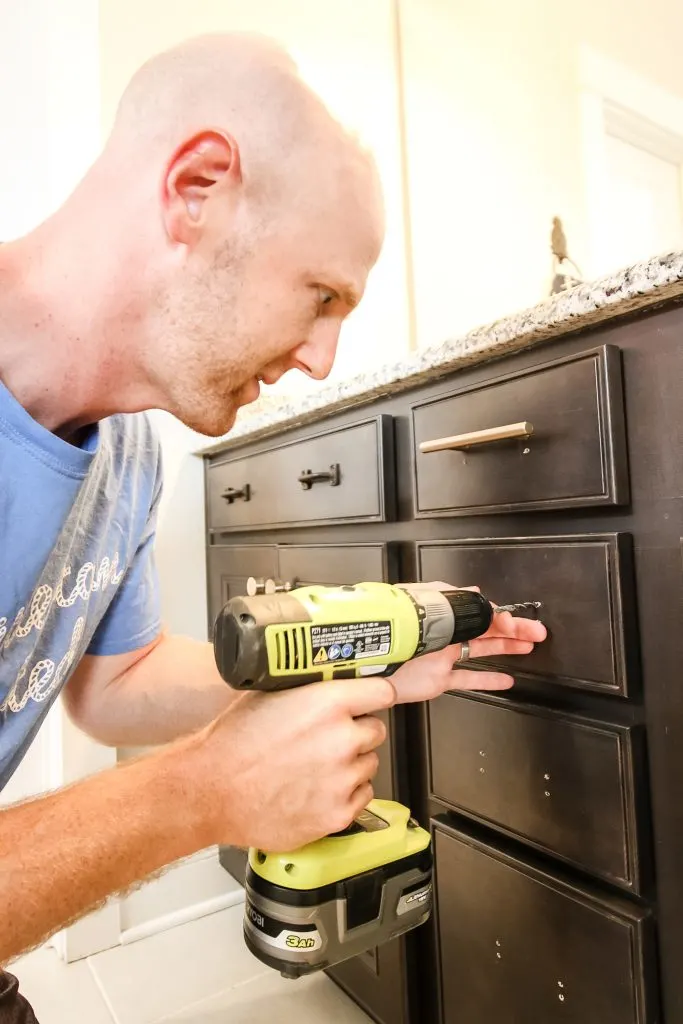 Frequently Asked Questions
How do I select hardware when shopping for new cabinet knobs or pulls?
There are a few things to keep in mind when shopping for new cabient hardware:
Size – if it has 2 holes, how far apart are they? It is easiest to get the same size as your existing pulls, though totally doable to change the size.
Aesthetics – What color do you like? What style or look?
Function – how will this cabinet be used? Do you have kids with small hands or people with arthritis trying to use them? Keep their comfort in mind.
Do I want knobs or drawer pulls?
When you install cabinet hardware, you can really pick whatever style you like. However, it is typical to have knobs on cabinet doors and pulls on drawers. While you can easily have a knob on a drawer, it's a little more rare to see a pull on a cabinet door, although vertical pulls on cabinets are becoming popular.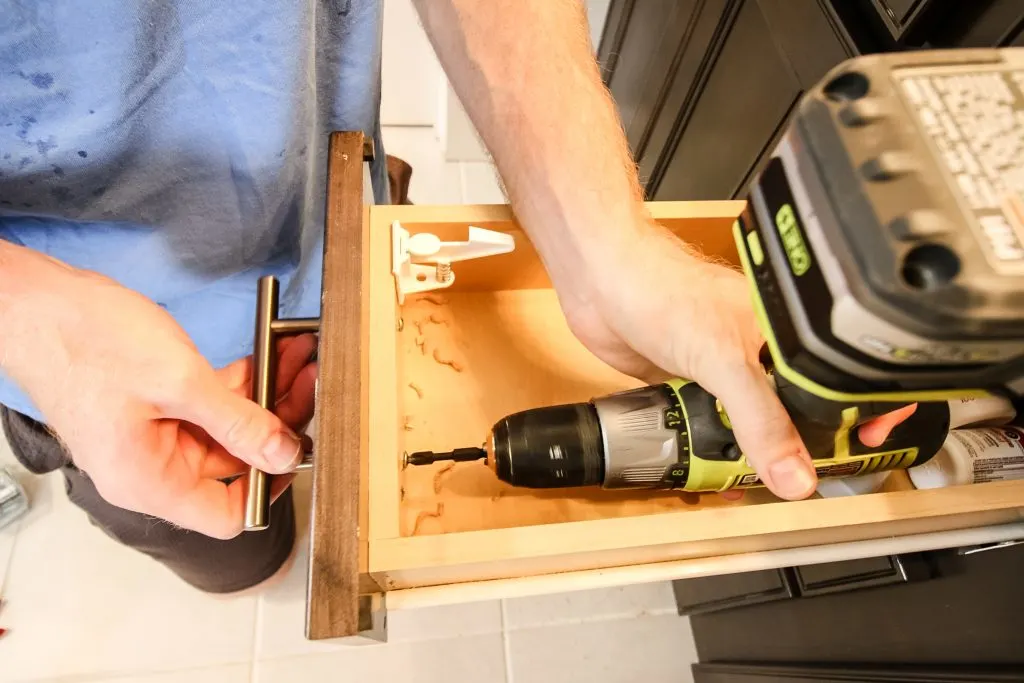 How do I fill old holes if my hardware is a new size?
If you want to make the old holes in your cabinet disappear, you will need to use woodfiller to fill the holes. Apply to the hole, then wipe the excess off. Sometimes you need to do this twice to get it completely full. Sand smooth.
Then, you will need to paint or stain to match your cabinets. Luckily, we had a stain touch up pen for our cabinet color. Just do your best to color match!
Should I use a screwdriver or a drill to attach cabinet hardware?
You can use a screwdriver or a power drill to attach cabinet hardware. One thing to keep in mind is that it can be tough to fit a drill inside a drawer to screw in the new knobs.
The other thing to remember is that you don't want to screw too hard, so you need to have control on the drill if you use that.
As you can see in our video, Sean used a screwdriver to get started and then finished off with a drill. You can't go wrong!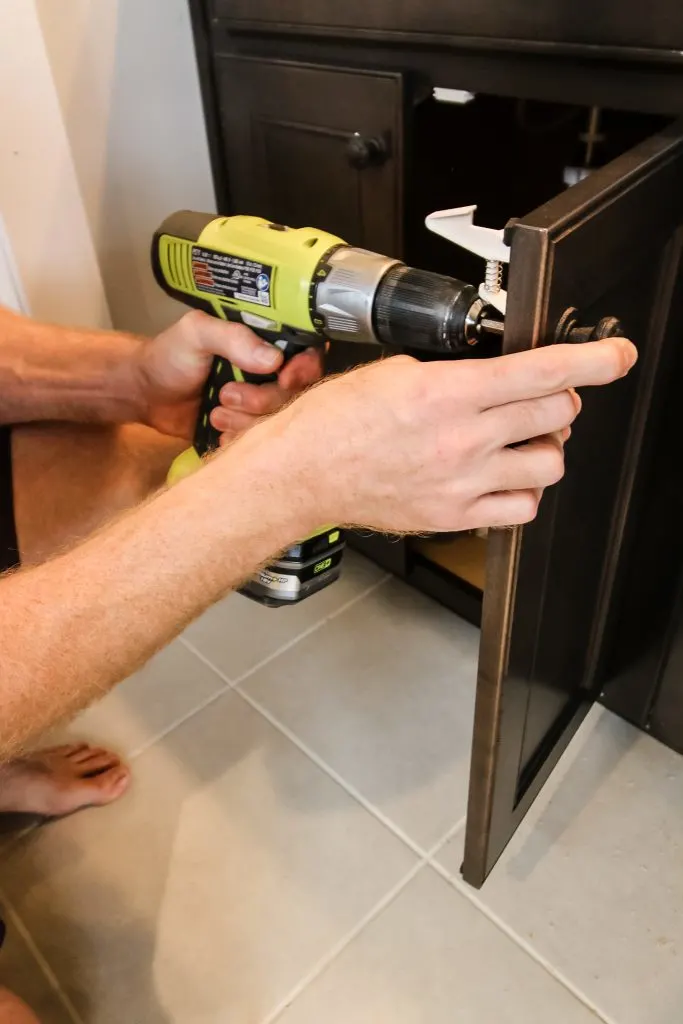 What should I do with old kitchen cabinet hardware once I remove it?
We were able to sell our old cabinet hardware on Facebook Marketplace! If you have a lot of matching pieces, it's definitely worth a try. Be sure to check out my tips for selling on Facebook Marketplace.
Yield:

1 new hardwared cabinet
How to replace cabinet hardware
Want to swap out the hardware on a kitchen or bathroom cabinet? It's super easy. Here's a full tutorial and how to video!
Materials
New knobs or pulls
Woodfiller + stain/paint for touch ups (optional)
Tools
Drill or screw driver
Damp cloth
Instructions
Use drill or screwdriver to unscrew existing hardware from the inside. Remove.
Insert screw of new hardware. Screw in from the back.
If you need new holes, you will need to use a drill to drill pilot holes to screw the new hardware into.
If you do not want to use the old holes, you will need to fill them with wood filler, sand lightly, and then touch up with paint or stain.
Recommended Products
As an Amazon Associate and member of other affiliate programs, I earn from qualifying purchases.
I hope this tutorial helped! What other DIY projects are you working on?