Need to get your bathroom organized? Here are some great ideas for how to organize under a bathroom sink – to keep it clean for good!
We are in the midst of a bathroom and closet makeover. Out bathroom is large with lots of storage – it's just not currently utilized well.
We are moving Sean's clothes to the linen closet (it's surprisingly large and deep, don't feel too bad for him!)
To get ready for that, we need to clear some of the toiletry and first aid type items out of the linen closet and into either the hallway linen closet (so many closets on this floor of our house!) or under the bathroom sinks.
I love organizing under sinks. You can see how I organized under the kids sink over Christmas in this quick video.
Adding an organization system to your sink cabinet gives everything a place and makes it much more likely that you will put things back when you are done with them!
Check out my tips for how to make a small bathroom feel luxurious!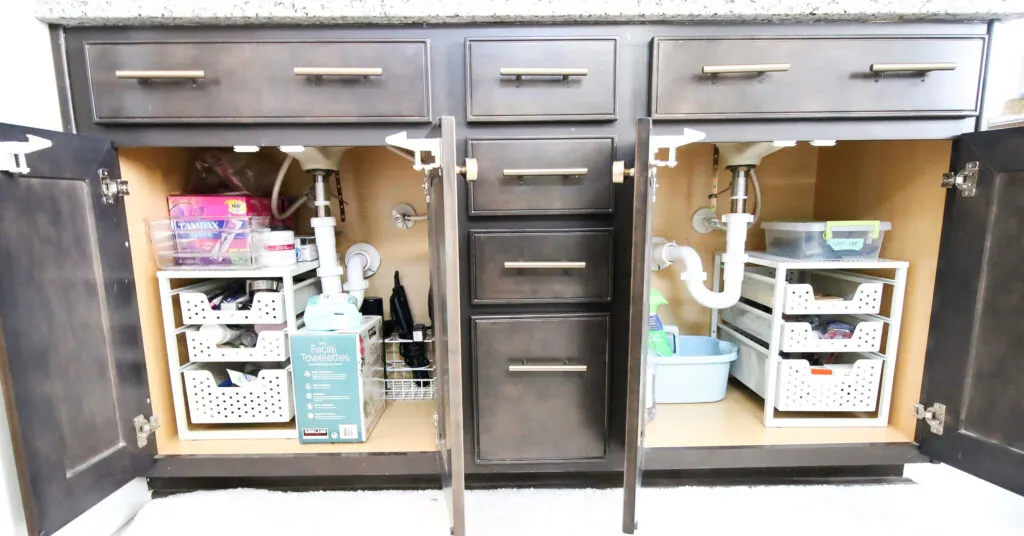 I hope that these DIY under sink storage ideas inspire you to get organizing!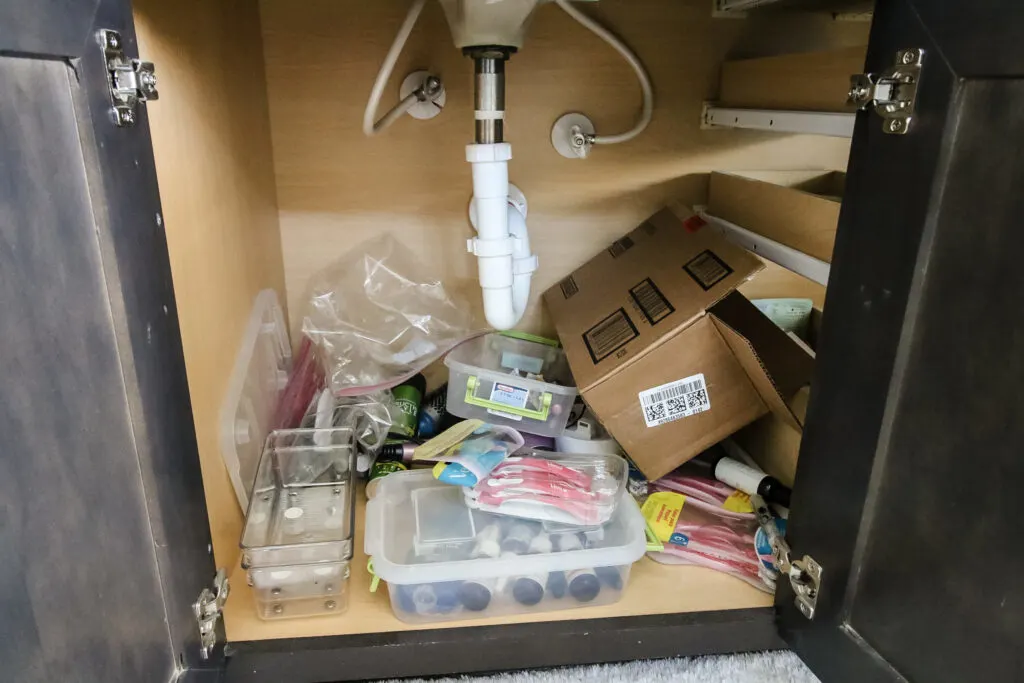 How do I organize my bathroom sink underneath?
The best way to organize under your sink is by taking everything out and putting it back in. This gives you a chance to purge anything unwanted and organize what you do plan to keep.
Organize like-items together to make the best use of your sink area.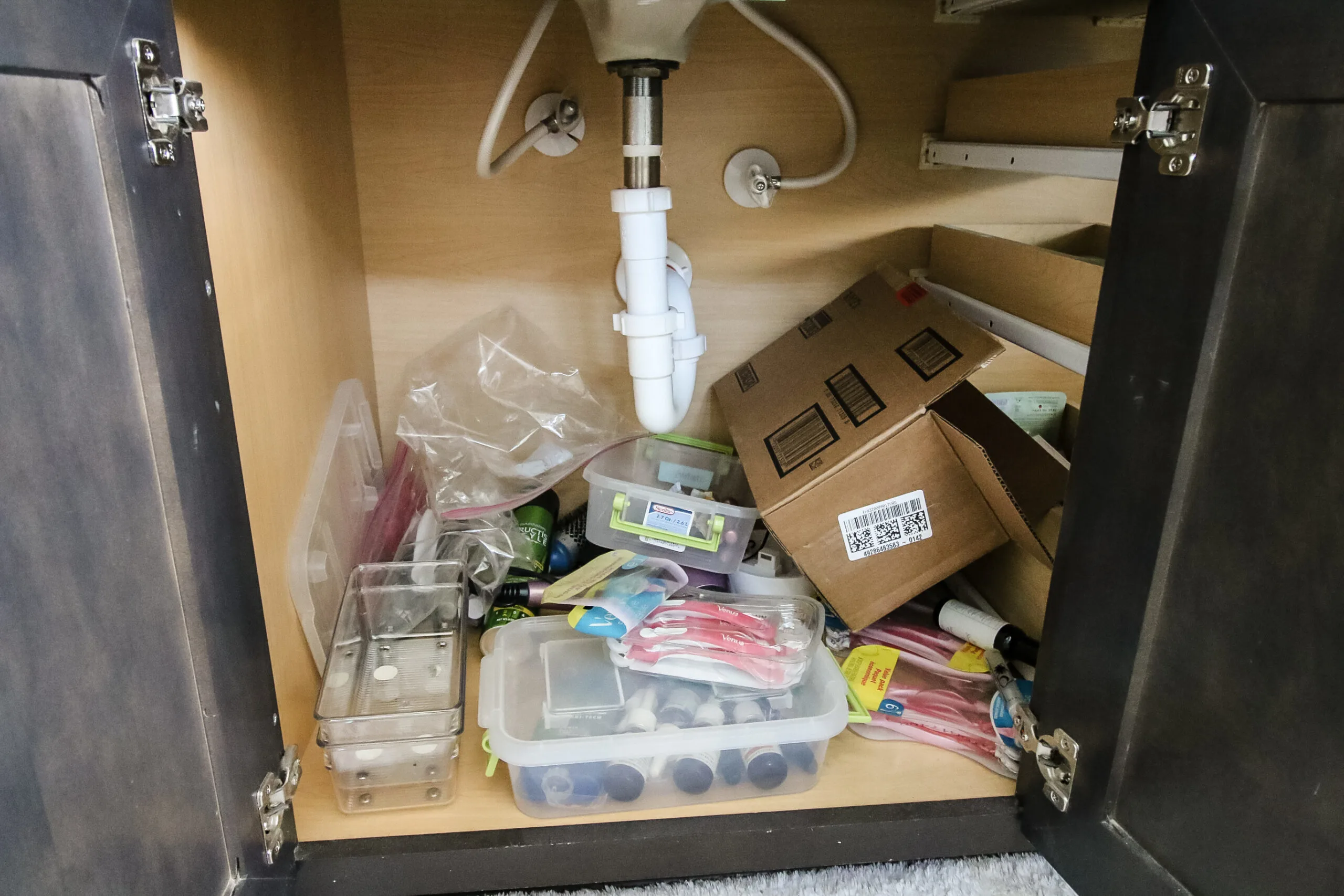 How do I maximize the space under my sink?
There are a few ways to maximize the space under your sink:
Think vertical with shelves or drawers
Use a removable caddy for things like cleaning supplies
Utilize the cabinet door for storage of smaller items
Use storage bins whenever possible to corral smaller items
What should I keep under my sink?
You can keep anything that you like under your kitchen sink but the most popular things could include:
Extra toiletries
Cleaning supplies
Trash bags
Extra towels
First aid supplies
Medications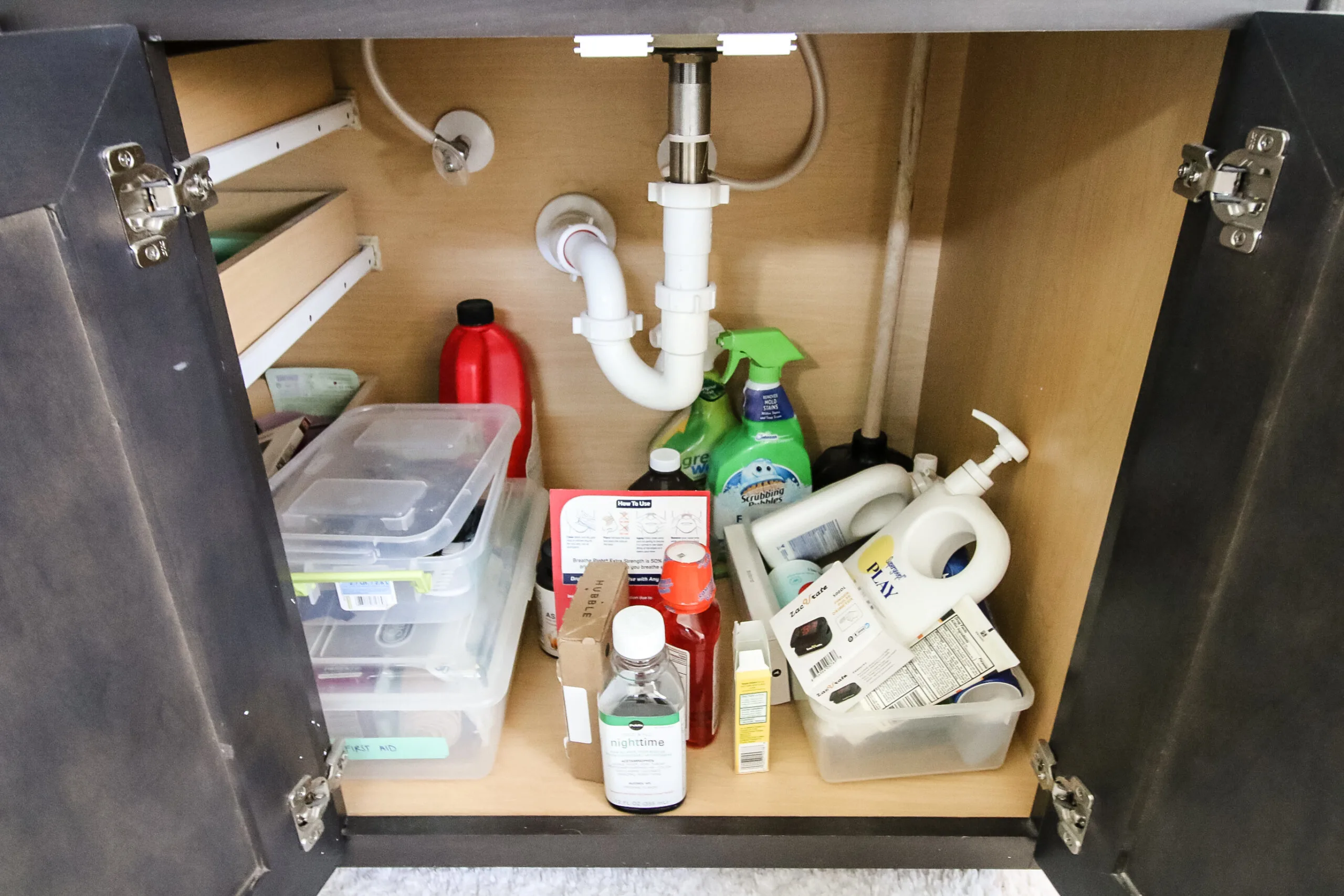 How do I hide the pipes under my bathroom sink?
The easiest way to cover the pipes under a bathroom sink is with a cabinet. You can check out our DIY cabinet we built to slide around a pedestal sink.
Exposed pipes can also be hidden with a sink skirt, a small shelf, or disguised behind potted plants!
While you're down on the ground, refresh your grout with a grout pen!
How to organize bathroom drawers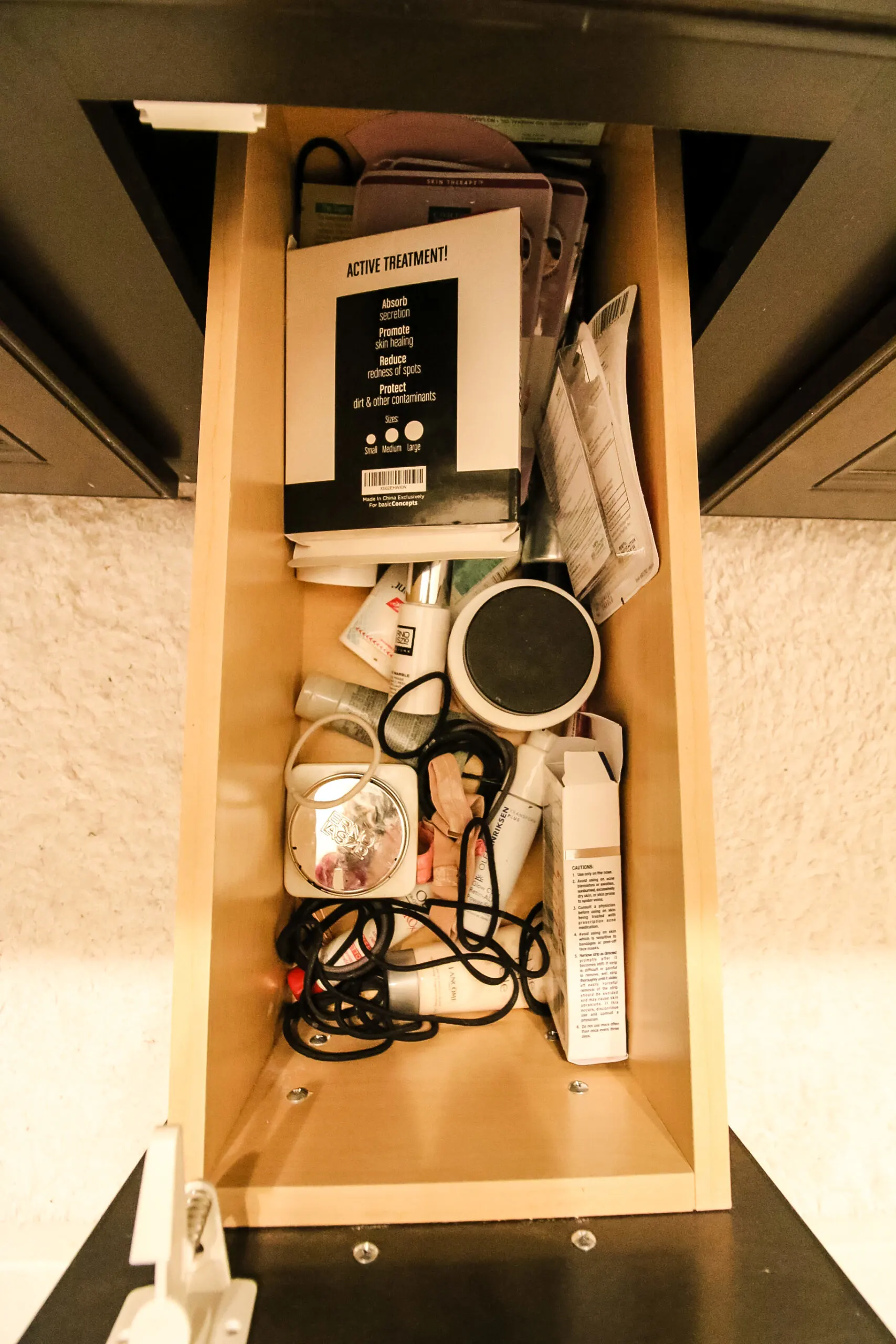 If your bathroom cabinet has built in drawers, you are lucky! Drawers are so easy to organize and keep items right at your fingertips.
Whenever possible, I suggest using dividers to keep things from sliding around in your drawers. You can purchase dividers or make them.
We made them at our old house from recycled cardboard! This time I had some clear bins on hand already from an old desk, so we used those.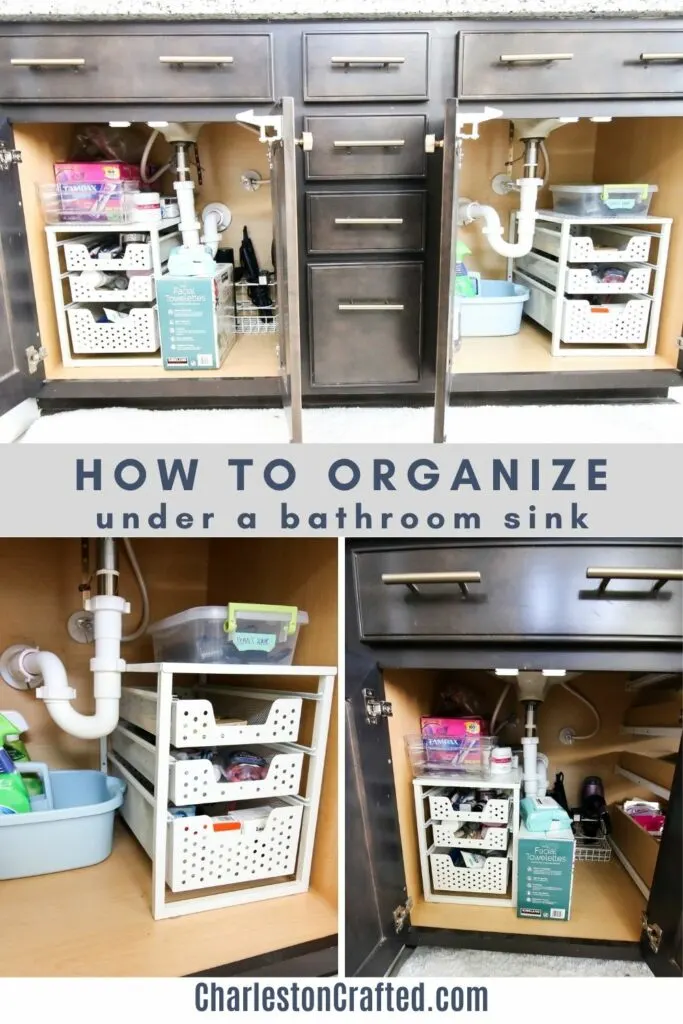 How to organize under a bathroom sink
STEP 1: Empty your cabinet
The first step to organizing anything is to clear it out. Take EVERYTHING out, sort it by type, and trash or recycle anything unwanted.
STEP 2: Clean it out
Take a moment to wipe down the shelves and clean up any spills or messes.
STEP 3: Measure your space
Measure your space. Write this down in case you need to buy or make shelving or storage bins.
STEP 4: Line the cabinet
Optional, but if you want to apply a peel and stick contact paper liner, this is the time to do that.
STEP 5: Think vertical
Assess your vertical space. If possible, add shelving or stacking drawers to best fill it.
STEP 6: Work around pipes
You will need to work around any exposed pipes. This could mean a caddy underneath them for cleaning supplies! Or, a lower bin with small items coralled together.
STEP 7: Use the doors
If you need extra space, consider mounting storage to the inside of the cabinet doors.
STEP 8: Replace your items
Put everything back, grouped together, and enjoy your newly organized space!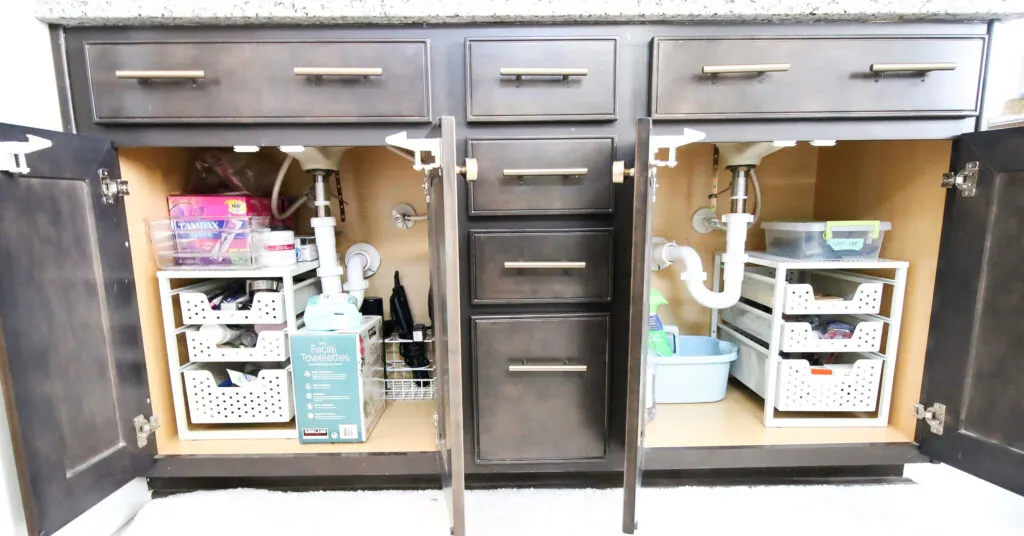 What's your favorite way to organize under a bathroom sink!?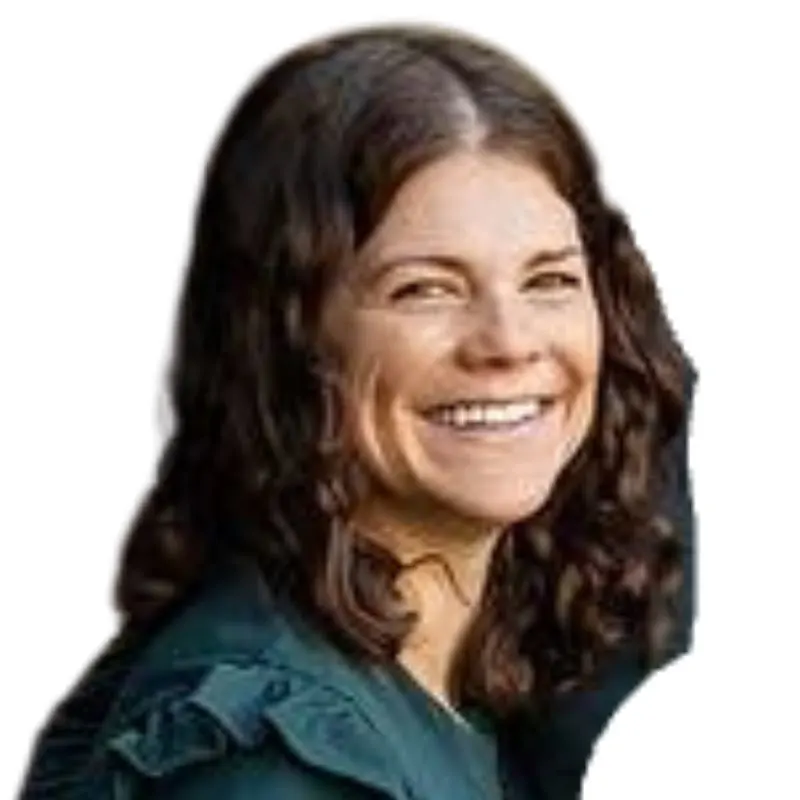 Hello, I'm Morgan, half of the creative force behind CharlestonCrafted.com! With a passion for DIY that dates back to 2012, I've transformed three homes and now I'm dedicated to helping others craft their dream spaces. Let's turn your house into a home together!