Looking for bathroom drawer storage ideas? I recently organized ours and they look so much better! Here are my best tips and hacks for how to organize bathroom drawers!
As a part of our bathroom makeover, I am trying to get all of our spaces organized. I recently organized the bathroom cabinets and that led me to organizing the bathroom vanity drawers, too.
I feel really lucky to have drawers in our bathroom vanity – they really come in handy. I love drawers for keeping frequently used items right at hand but still out of site and off of the countertop.
But, drawers can quickly become messy. Then you are digging and digging and end up buying duplicates of things you don't realize that you already have.
My biggest tip for keeping bathroom drawers organized is to organize them really well. Once everything has a designated place, you are much more likely to put things back where they belong!
Check out my tips for how to make a small bathroom feel luxurious!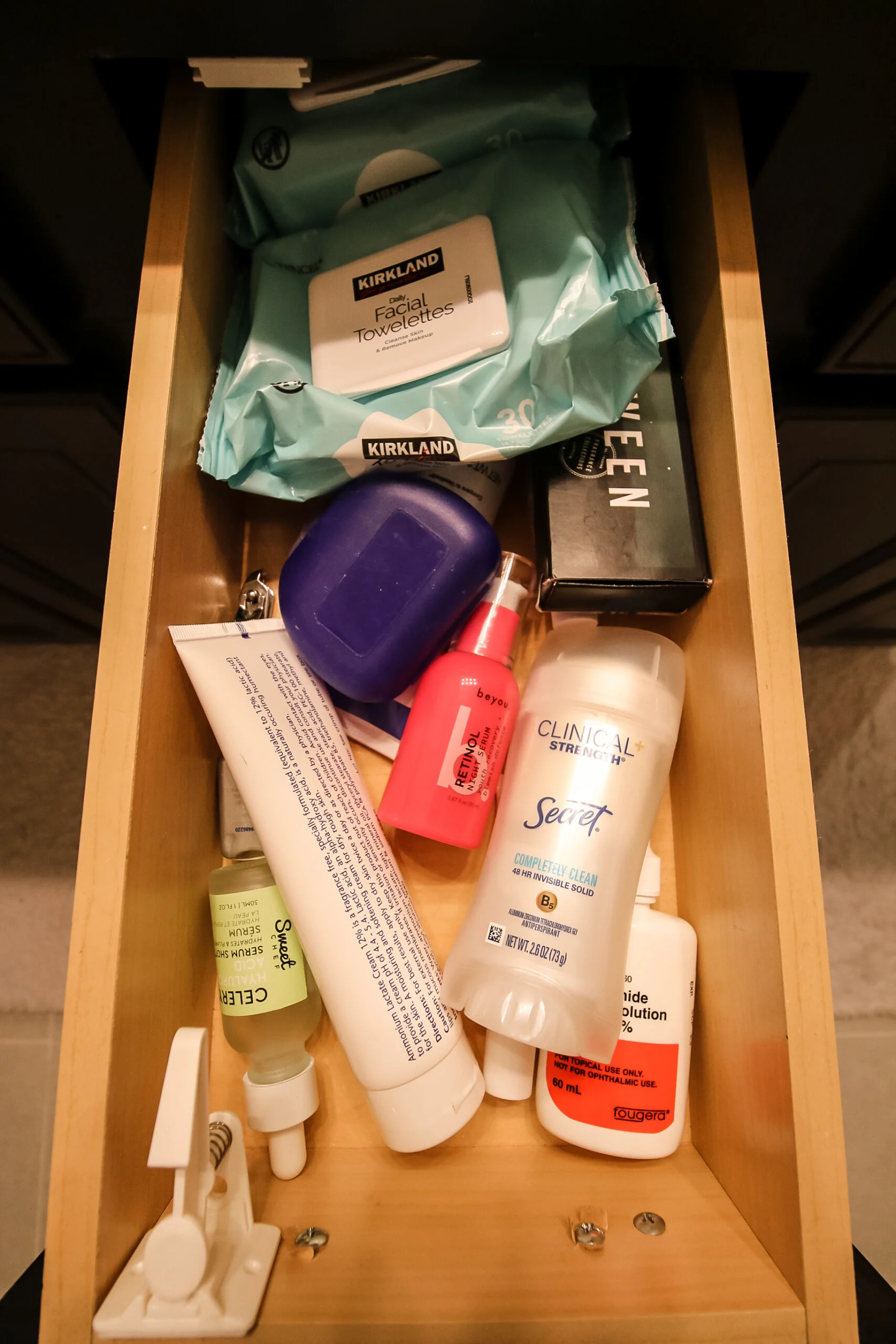 Click here to see all our tips for how to organize under your bathroom sinks!
What do you put in your bathroom drawers?
You can keep anything that you'd like in your bathroom drawers, but some popular options include:
Frequently used toiletries
Cosmetics
Medicine cabinet type supplies – medicine, first aid, etc
Wash cloths or hand towels
Overflow bulk toiletry storage
Cleaning supplies
Here are our best tips for painting a wooden vanity.
Bathroom drawer organizer ideas
Here are some different bathroom drawer storage ideas!
Containers meant for drawer organization
This is the most obvious, so I had to lead off with it. You can purchase containers specifically for drawer organization. These are the ones that I used!
Small baskets
Small baskets can work well for organizing drawers. Measure to be sure the height is appropriate.
Usually plastic baskets work better than woven ones. This is because plastic baskets are much thinner. You don't want to waste precious drawer space!
Dollar store containers
Another great storage solution comes in the form of dollar store containers! The Dollar Tree is a great place to shop for budget friendly organizers.
They sell baskets, bins, and even tupperware containers. Lots of options!
Just beware that most dollar stores do NOT allow for returns, so don't overbuy with the intent to return. I learned that the hard way!
Silverware dividers
Drawer dividers meant for silverware can work great for organizing makeup, toothbrushes, or other long items in bathroom vanity drawers.
Cups
Cups can be used to store items vertically if your drawers are deep enough. This is great for mascara or lipgloss or any similarly sized tubes.
Pouches
If you have stuff that you often grab as a group, consider putting it in a zipper pouch. That makes it super easy to keep your favorite products all together!
DIY drawer organizers
If you want to organize on a budget, make your own drawer organizers! The best way to do this is with recycled cardboard boxes. Not thick boxes but more like cereal box material.
If possible, find boxes the right size and just cut the bottoms off for an instant shallow bin organizer!
Be sure to check out our tutorial on how to make wooden drawer dividers!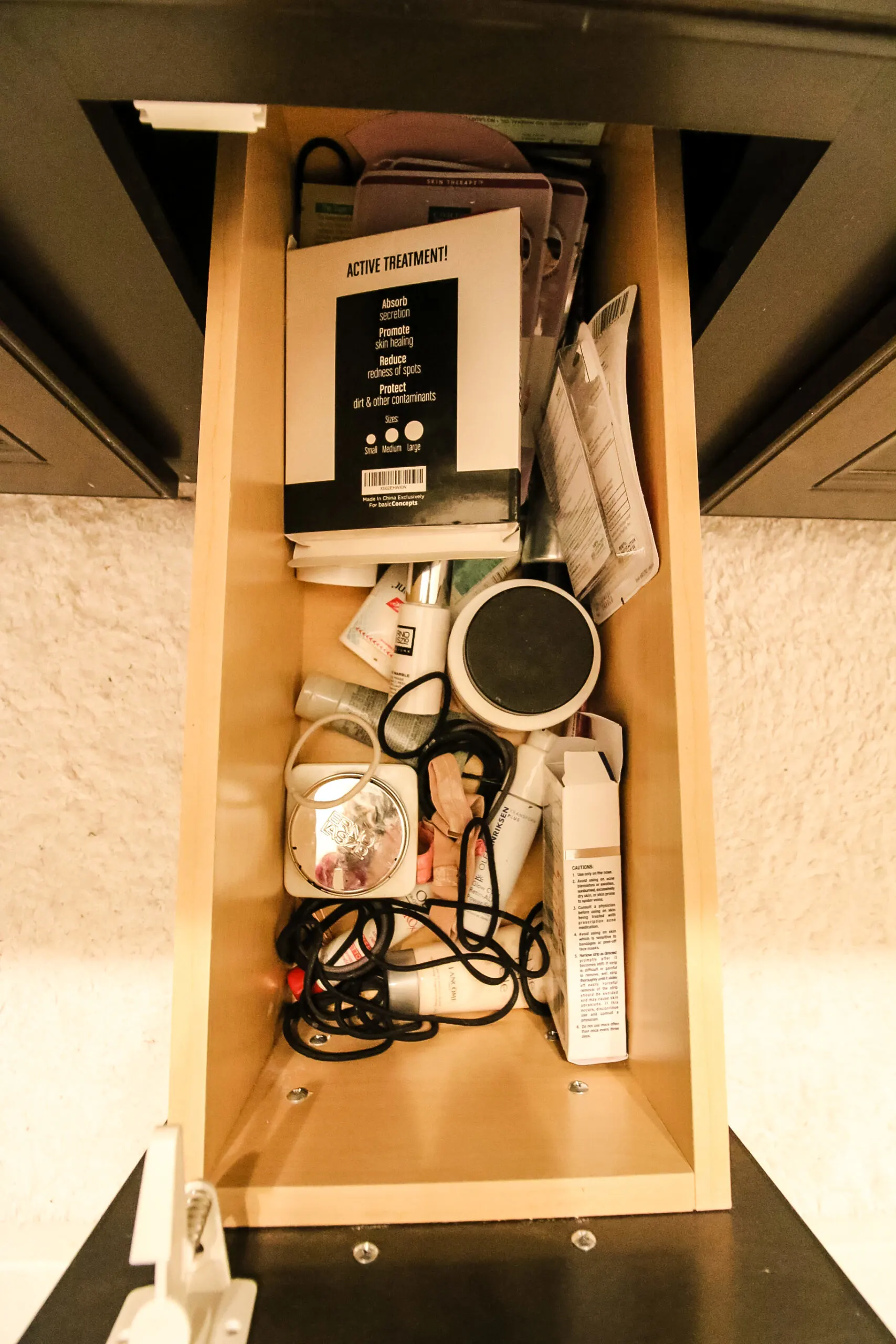 How to organize deep bathroom drawers
Deep bathroom drawers are great for bonus space! This is the best place to keep your larger items, such as a hair dryer or tall bottles.
Try to organize things standing up vertically as much as possible to make the most room in those deep drawers.
If you have a lot of small items, consider grouping them together in stacking bins or pouches to keep it even more organized.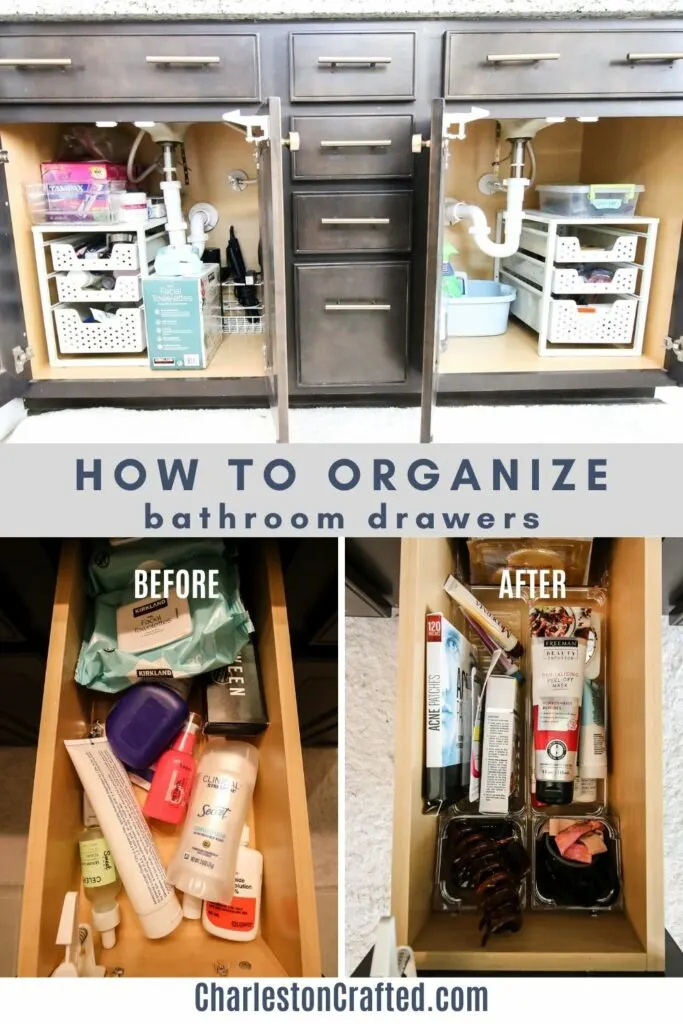 How to organize bathroom drawers
Here are the steps on how to organize messy bathroom drawers.
STEP 1: Empty your drawers
Pull everything out! Yes, everything!
STEP 2: Clean out the drawers
Take a beat to wipe out the drawers. You can add a contact paper liner at this time if you'd like.
STEP 3: Purge
Go through everything. Sort it by type. Throw out, donate, or recycle anything unwanted.
When I did this, I donated a big box on (unopened) travel toiletries to a local blessing box. Homeless shelters are often looking for new toiletries. If you don't know of a place, post in your neighborhood group or a local Buy Nothing Facebook group.
STEP 4: Measure
Measure the inside of your drawers before buying or making any dividers!
STEP 5: Add dividers
Add the dividers or containers that you selected.
STEP 6: Put your stuff back
Fill the containers. Take some time to try things in different configurations until you find the solution that you are happy with!
What are your best bathroom vanity drawer organization ideas?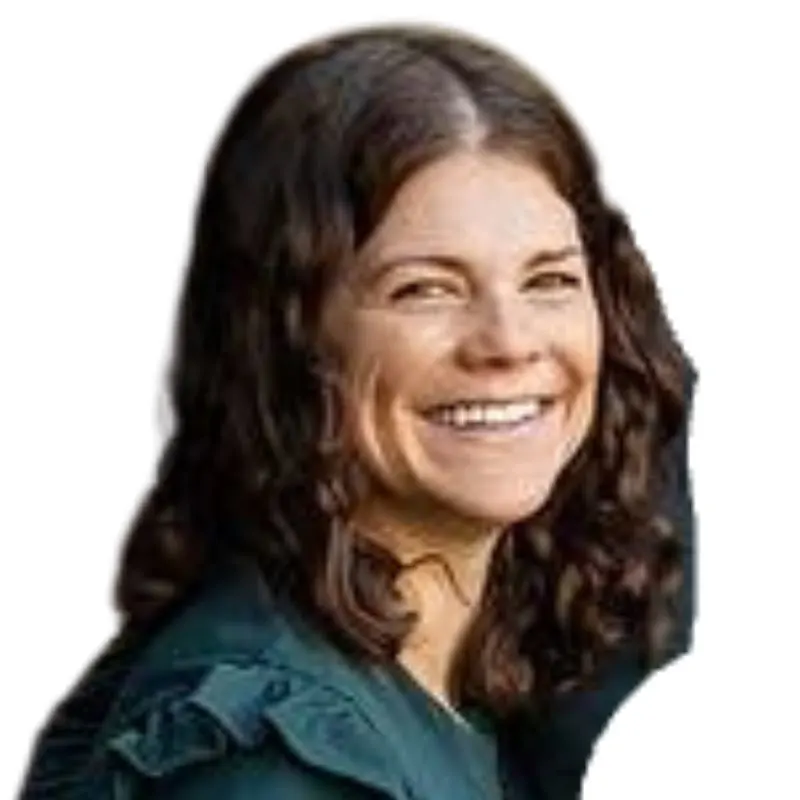 Hello, I'm Morgan, half of the creative force behind CharlestonCrafted.com! With a passion for DIY that dates back to 2012, I've transformed three homes and now I'm dedicated to helping others craft their dream spaces. Let's turn your house into a home together!