Want to stock your indoor garden with the hottest trending plants? Here are the top trending houseplants for the new year!
Houseplants have been on trend for a while, but the exact house plants that are trending changes from year to year, just like all styles.
Be sure to check out my recommendations for the newest home decor trends and paint color trends!
The house plant aesthetic isn't going anywhere anytime soon – but the top trendy houseplants are changing!
You by no means HAVE to get new houseplants just because they are trending, but if you want to stay on top of the trends, it can be fun to get the hot new plants!
Trends that apply to plants
Here are some of the home decor trends that will be influencing what plant parents are buying!
Minimalism
Minimalism will continue to thrive in 2022. This means that plants with smaller, sleeker leaves will be trendy.
Tone on tone texture
A popular decor look is to instead of have pops of color, to have tone-on-tone colors. So, layer multiple shades of green for example. So, plants with tone-on-tone variegation will be popular!
Hanging baskets
Hanging baskets continue to be on trend. Trailing plants are the perfect fit for that!
Curved lines
Curved lines will be everywhere in the new year. So, look for plants – or leaves – that mimic those trending arch shapes.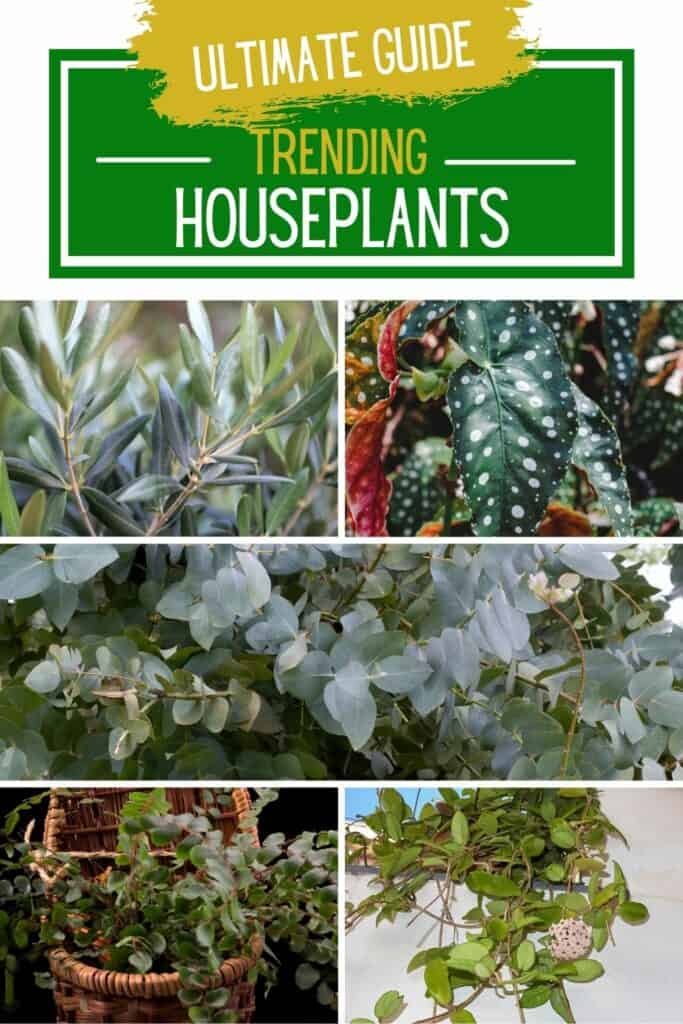 The top trending houseplants
Here are some of the top houseplants for the new year!
Eucalyptus
Eucalyptus is a wonderful smelling plant with small, smooth leaves. The leaves are a gorgeous minty green color that is really trendy, too!
Olive trees
Olive trees also have small, smooth, minty green leaves. They smell wonderful and really do produce olives!
Warning: they need a lot of light to survive! I bought an olive tree last year and actually had to move it outdoors because it dropped most of it's leaves inside – even in a sunny window.
Hoyas
Hoyas come in a TON of varieties (I love my hoya hindu rope plant!) But, they are beautiful trailing plants with interesting mostly dark green leaves. The perfect aesthetic plant!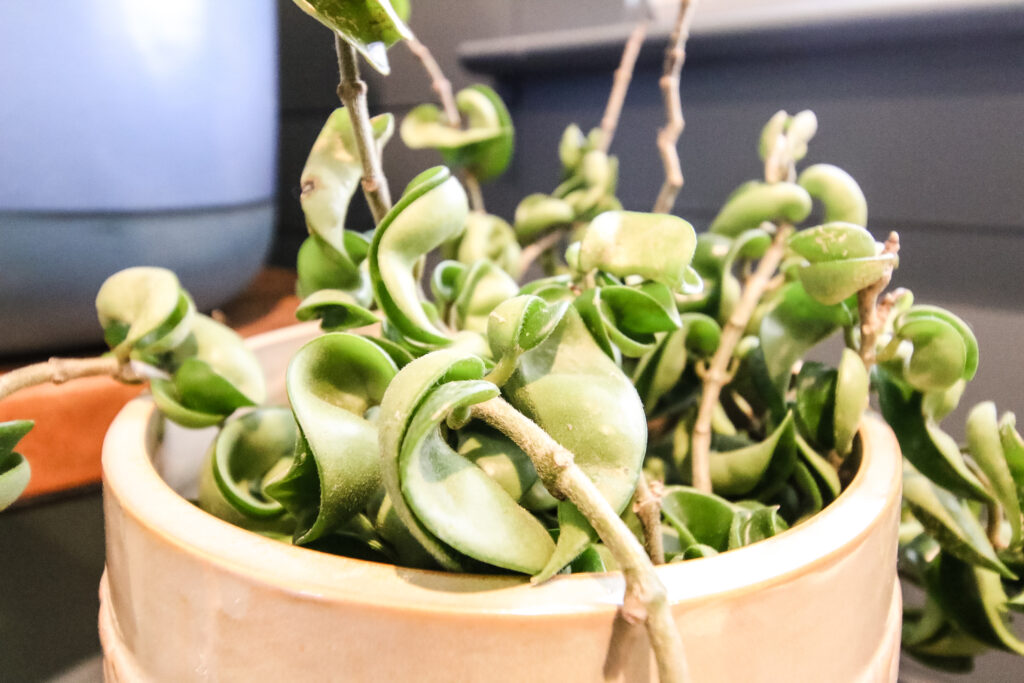 Begonias
Begonias once again come in a lot of varieties, making them fun to collect. They often feature beautiful green-on-green variegation and interestingly shaped curved leaves!
Philodendron Micans
Micans have definitely been super popular in my local houseplant swap group! I love the velvet look of the leaves and the tiny touches of pink.
They have gorgeous rounded top leaves and are very easy to grow and propagate!
Ferns
Ferns as indoor plants seem to be coming back into style in a big way. I think this is because they give a lot of texture to a space, and can be grouped together – hanging or on plant stands – for a very dramatic look!
Peace Lily Domino
Peace lilies honestly make me think of doctors office waiting rooms, but give this one a chance. This variety has gorgeous variegation that makes it really unique and — you guessed it – trendy.
Satin Pothos
Pothos is my favorite plant because it is so easy to grow and propagate. This variety is gorgeous with it's silver detailing. Very trendy!
What do you think will be the most popular houseplants of the year?!
Want to show your houseplants some love?!
–> How to clean plant leaves
–> How to propagate a plant (free eBook!)
–> When to repot a plant
–> Rotating houseplants
–> When to cut leaves off of plants
Facebook | Instagram | Pinterest | Twitter | YouTube