Looking for the best rug pad for your hardwood floors? Here's everything that you need to know!
Rugs are a hard thing to buy. You might spend weeks or months agonizing over the perfect pattern or colors. And I totally get it – rugs are expensive and it's important that you find one you really love!
However, don't follow up all that research and shopping by impulsively adding a rug pad to your cart!
Rug pads will make your rug softer and more comfortable – but they also protect your hardwood floors from scratches and damages.
As expensive as rugs are, refinishing your hardwood floors is even more expensive – so pick the right rug pad up front!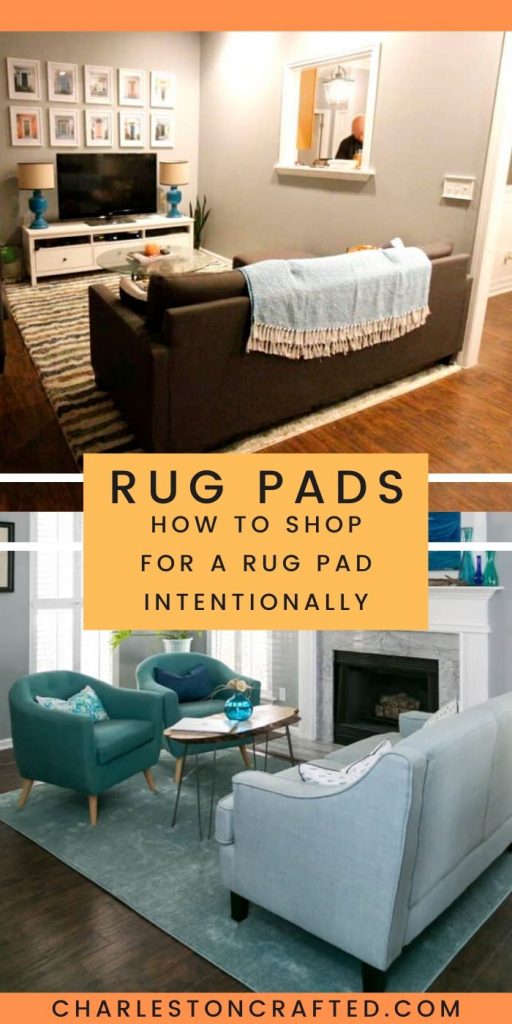 The Best Rug Pads for Hardwood Floors
What is a rug pad used for?
A rug pad acts as a buffer between an area rug and the floor underneath it. This can increase the lifespan of both your rug and the floors underneath it!
Rug pads prevent debris from getting stuck in between your rug and the floor and being ground into the floor due to heavy traffic.
Some rugs have a lot of dye in them. A rug pad can help to keep the dye from seeping into your floors over time.
Rug pads also work to give your rug no-slip grip – basically, they keep the rug from sliding around on the floor.
Rug pads raise rugs off the floor ever so slightly and allow air to flow underneath, helping to prevent mold and mildew from growing.
Quality rug pads will offer additional cushioning underneath a rug. This makes them feel more plush underfoot, and can help to prevent sound from transmitting. If a rug is on a second floor (or higher!) in a home, a rug pad can help to muffle the sound of footsteps downstairs.
Rug pads also help to extend the life of your rug. As we walk on rugs, the fibers that make them up get squished and damaged. This can make the rug look older and fade more quickly. High quality rug pads add support and take stress off the rug to help it last as long as possible.
What's wrong with cheap rug pads?
Inexpensive rug pads are coated with adhesive. This adhesive makes them stick to your floor so the rug doesn't slide around. Sound great?
Think again! This adhesive can stick to and damage your floors. It also has chemicals in it that are not great for your family, especially if you have pets or kids who crawl around on the floor.
The solution to this problem is to select a high quality rug pad. This will cost you more upfront, but is likely to save you money in the long run!
Can cheap rug pads ruin your hardwood flooring?
There are a few ways that cheap carpet pads can ruin your hardwood floors:
The adhesive can stick to the floor and leave a residue of adhesive or even bits of rubber
The chemicals in the cheap rug pad can discolor your floor
Chemicals in the cheap rubber pads can also wear the finish off your floor over time
Not only can cheap carpet pads damage your floor, they can do a bad job of preventing slips and are not as thick and cushioning as higher quality rug pads.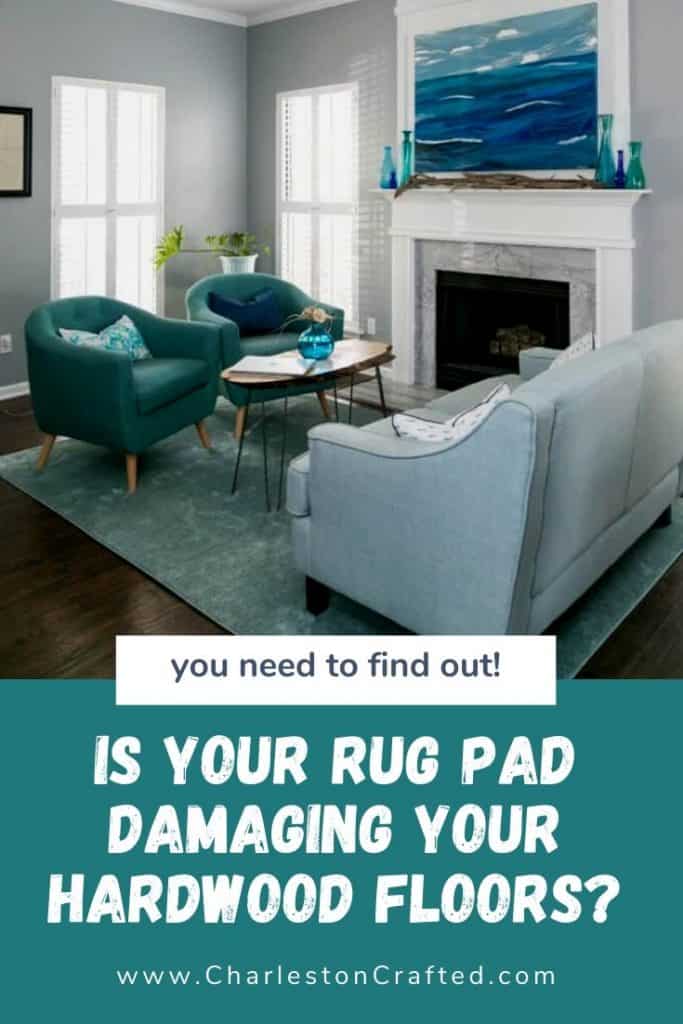 What is the best rug pad for my home?
I love this rug pad, and it's a great deal for the quality!
I love that this Gorilla Grip rug pad:
is made from a combination of felt (on top) and natural rubber (on the bottom)
is extra plush and thick
it's hypoallergenic
it contains no VOC, off-gassing, or harmful chemicals
is made in the USA
comes in 13 different sizes
Click here to see what a great price you can currently get on this Gorilla Grip rug pad on Amazon!
This 100% felt area rug pad is another good buy.
I love that this Mohawk rug pad:
is made from 100% recycled felt
is 1/4 inch thick – reviews rave about how soft it is!
comes in several sizes and shapes – oval and round are available!
is made in the USA
Click here to find the latest great price on this Mohawk felted rug pad on Amazon!
What size rug pad should I buy?
Your rug pad should be about 1 inch shorter than your rug in all 4 directions. So, subtract 2 inches from the length and width of your rug – that is the size pad that you should buy!
| | |
| --- | --- |
| Rug Size | Rug Pad Size |
| 2′ x 3′ | 1'10" x 2'10" |
| 2′ x 4′ | 1'10" x 3'10" |
| 2′ x 8′ | 1'10" x 7'10" |
| 2′ x 10′ | 1'10" x 9'10" |
| 4′ x 6′ | 3'10" x 5'10" |
| 5′ x 7′ | 4'10" x 6'10" |
| 5′ x 8′ | 4'10" x 7'10" |
| 6′ x 9′ | 5'10" x 8'10" |
| 7′ x 10′ | 6'10" x 9'10" |
| 8′ x 10′ | 7'10" x 9'10" |
| 8′ x 11′ | 7'10" x 10'10" |
| 9′ x 12′ | 8'10" x 11'10" |
What is the best thickness for a rug pad?
The thickness of your rug pad depends on the thickness of your rug!
Thin rugs should pair with a 1/8″ – 14″ thick rug pad.
Thicker rugs, such as an oriental carpet, can pair with a rug pad that is 1/4″ to 3/8″.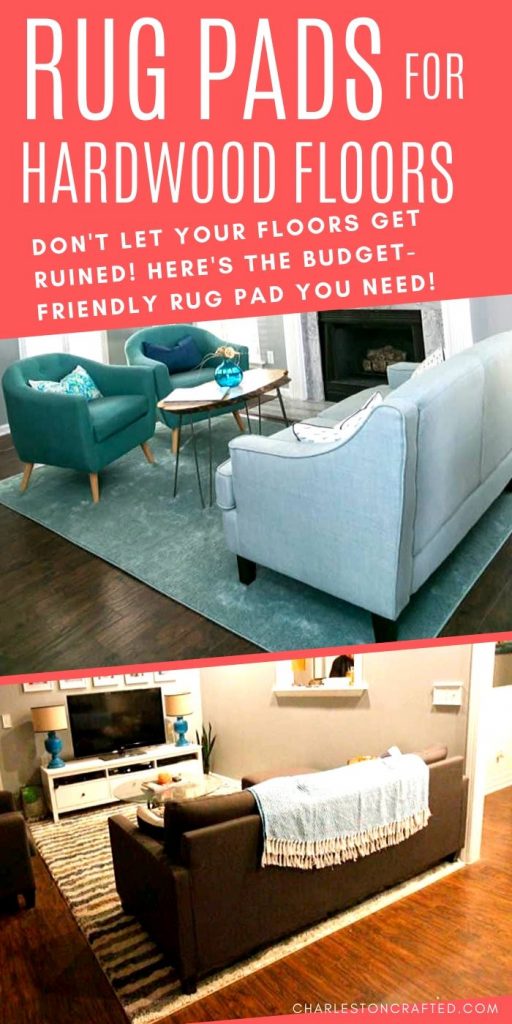 Do you need a rug pad underneath an area rug?
Yes, you definitely need a rug pad underneath your area rug. This will help you protect the floors underneath.
Why you need padding under a rug
Rug pads keep the rug from sliding around on your floors
The pad will also protect your wood floors from being scratched by the underside of the rug
A rug pad adds an extra thick layer of cushioning and makes a rug feel thicker
Rug pads reduce noise – especially if your room is on an upper floor
Help your rug last longer – especially in high traffic areas
What is the best material of rug pad to buy?
The best options for a rug pad material will be:
Felt pads
Natural rubber pads
Rug pads that are a combination of felt & natural rubber
Felt pads naturally adhere to the bottom of rugs, keeping them in place really well.
Natural rubber holds the rug in place on your floor, without many of them chemicals in un-natural rubbery rug pads.
What kind of rug pad should I use if I am laying an area rug over carpeting?
Rugs laid over carpeting have different needs than rugs laid over hardwood flooring. A polyester rug pad with a vinyl backing often works great for laying over carpet. Check out this Gorilla Grip rug pad made especially for laying over carpet!
What kind of rug pad works best over laminate floors?
For laminate flooring, use the same rules as hardwoods! Avoid chemicals and adhesives and look for a felt or natural rubber rug pad.
What is the best rug pad for tile floors?
While cheap rug pads are unlikely to damage tile, they can stain and damage the grout in between tiles. It's best to invest in a high-quality rug pad mad eith non-toxic materials, the same as with hardwood or laminate floors.
Facebook | Instagram | Pinterest | Twitter | YouTube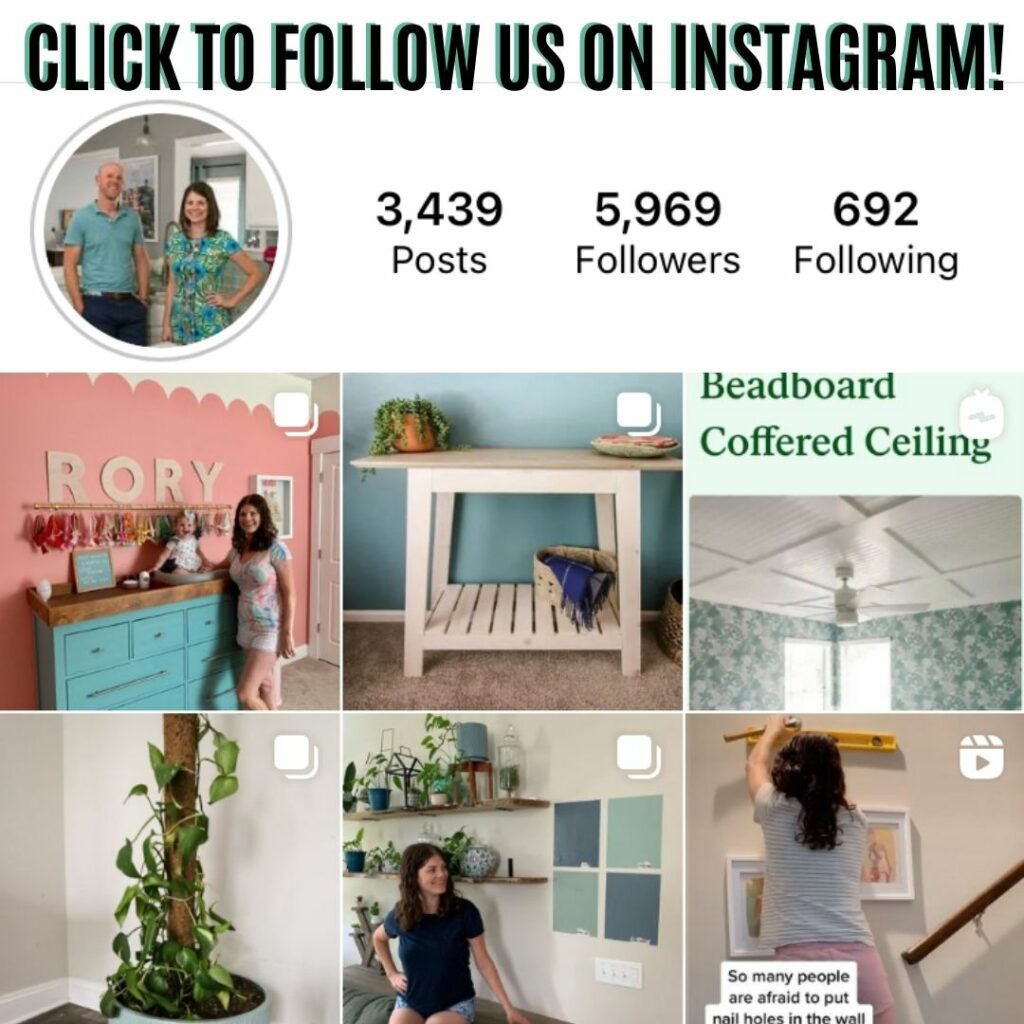 ---
Can we send you our newsletter?
Another great way to keep up with out latest projects is by joining our weekly newsletter! Get alerts of our latest projects and special peeks behind the scenes!
Follow along on Instagram
Join our online community where we share real time behind the scenes looks at our DIY projects and peeks inside our home + family!
---