Hello y'all! Long time no chat. We took a little break from new content to celebrate and enjoy the birth of our daughter, Rory, but we are so excited to be back with you today!
As you might remember, we moved to a new house ten days before Rory was born. It was a wild ride, but we are so excited to be here and be able to share our new home with you today.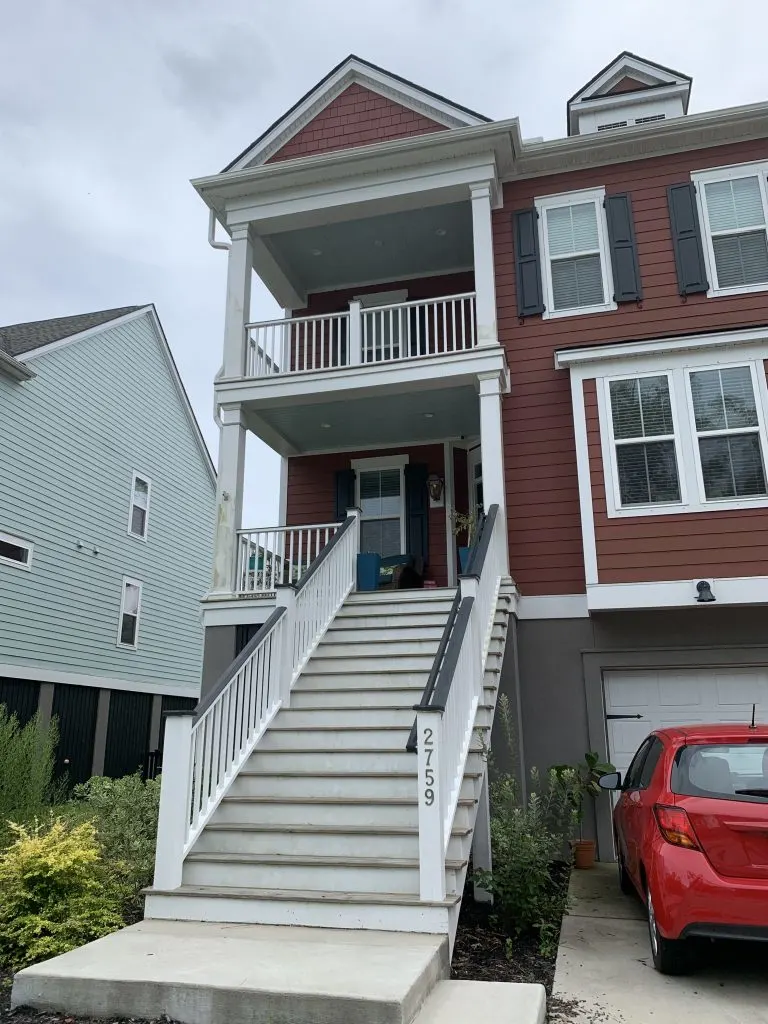 The curb appeal
This house is a raised house, meaning that the entire ground floor is garage. This is a common style here in the lowcountry due to flooding and flood zone restrictions.
So, you have to walk up 16 stairs to enter our home. As you can see, we have stacked front porches. I really got attached to the idea of stacked porches when we toured homes in this neighborhood and am so excited to have them for ourselves!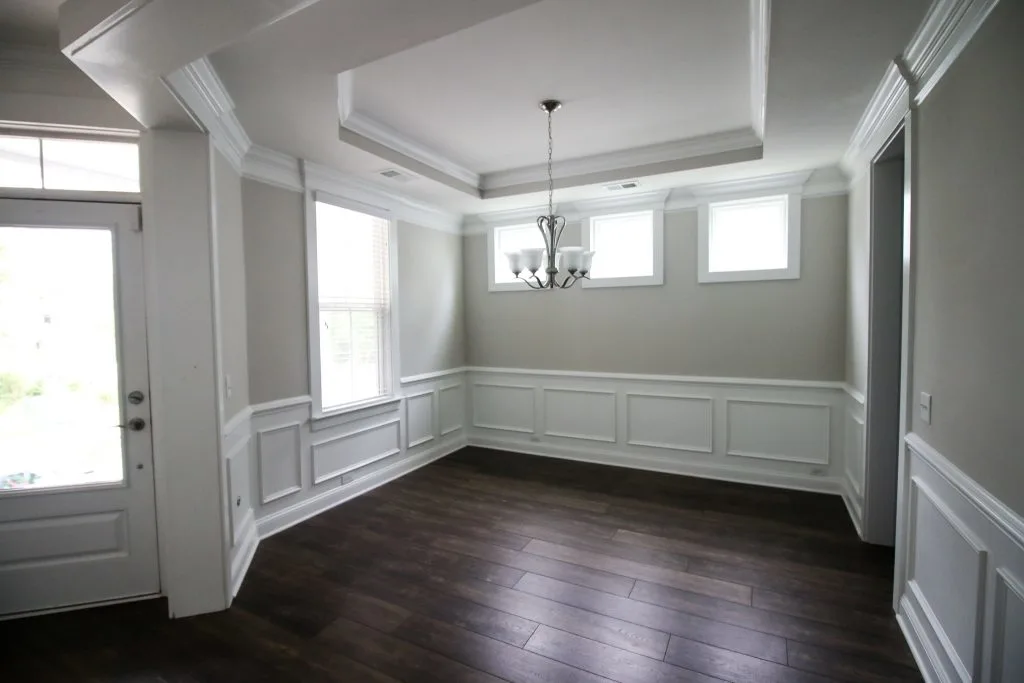 The office
When you enter our home, there are rooms on the left and the right. To the left is the dining room. We plan to use this space as an office since we don't need a formal dining room.
It is open and the first thing that you see when you walk into our home, so we need to be sure that it stays neat, tidy, and pretty!
We plan to do some quick fixes for this space and then do a bigger makeover in a few years.
Projects for this space:
Change light fixture
Add large desk + cabinet storage
Add a storage cabinet for craft supplies
Create a rolling/movable workspace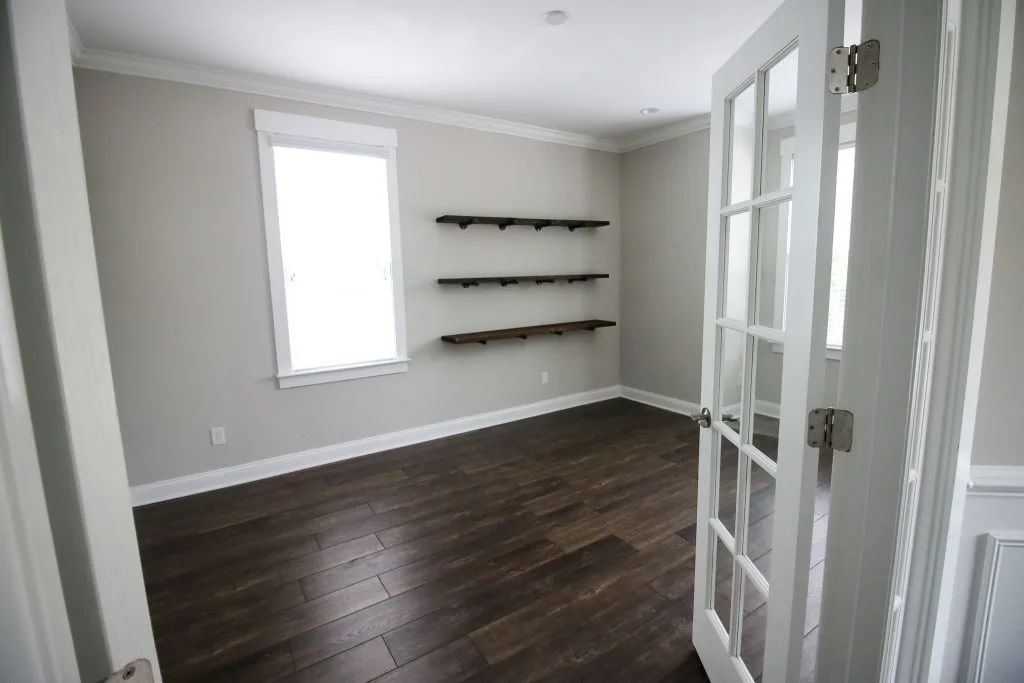 The guest bedroom
Adjacent to the office is the guest bedroom. This could be used as an office, but it's perfect for a guest bedroom for us. I love that it has a bit of separation from the rest of the bedrooms so our guests have a bit of privacy.
This room is actually quite large and spacious. We have big plans to perhaps swap the bed for a murphy bed and come up with an alternate use for this space, but for now, it will just be a guest bedroom.
We went ahead and set up the space since we had tons of guests around the birth of our daughter. I love how this room looks already!
Projects for this space:
Add a ceiling fan
Add a custom closet system
Frost glass doors/windows to entryway
Long term: find additional purpose for this space, maybe add a desk or small workspace.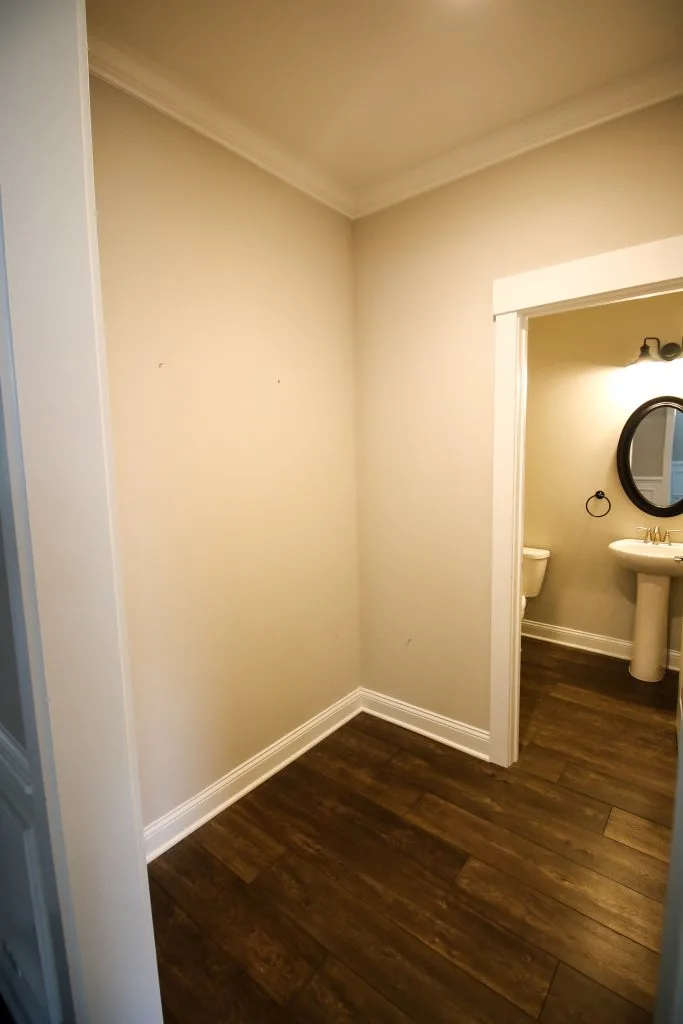 The mudroom
One thing we miss about our previous house is an entry coat closet. Instead, this home has a mudroom space between the entry and the half bathroom.
The builders had an option to have a locker system added here, but the original owners didn't add that on, so we plan to build our own version!
Projects for this space:
Create a built in locker/storage mudroom system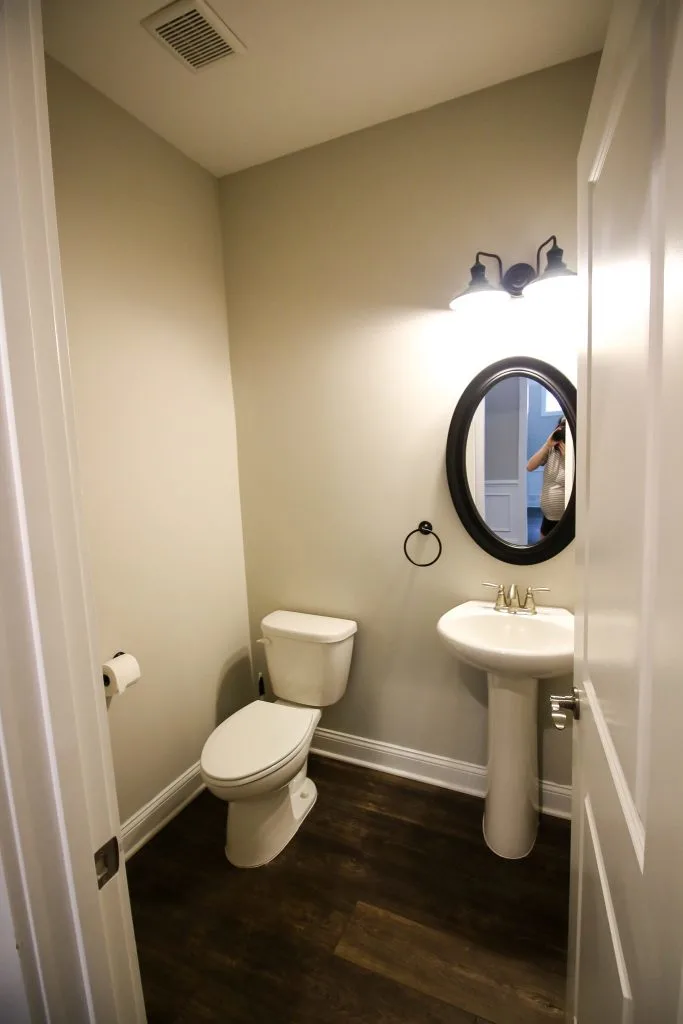 The half bath
There is a half bathroom downstairs. I wish it was a full bath – and in my fantasy life we would eat into the mud room a bit and add a shower in here – but for now, we just want to make a few updates.
Since the guest bedroom is upstairs, our guests will use this bathroom to brush their teeth and other small things like that, but have to go upstairs to shower. The pedestal sink doesn't have surface area for leaving any toiletries, so we will need to add something that does.
Projects for this space:
Build a storage shelf
Molding accent wall
Update mirror
Update faucet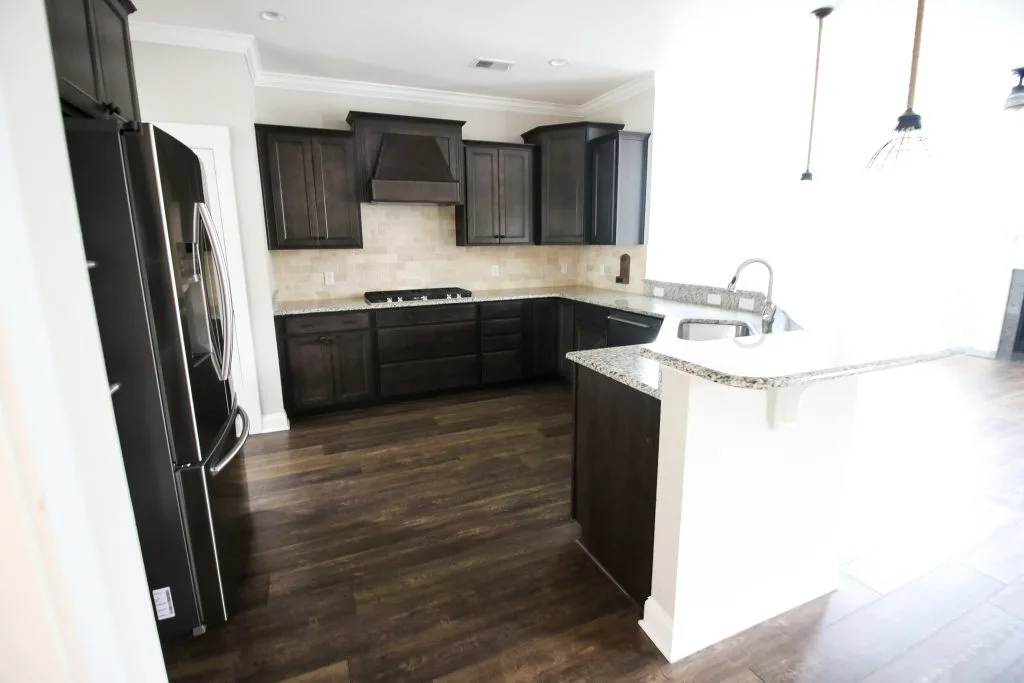 The kitchen
The kitchen on this house is nice, just not at all what we would have selected. We may do a major overhaul on this space – it really depends on how long we decide to stay in this house.
In the meantime, we are going to work with what we have. We originally planned to paint the cabinets, but the brown-gray wood color is really growing on me.
What is not growing on me is the backsplash, so I will have to come up with some way to easily update that. Similarly, the industrial style lighting and hardware on the cabinets have to go!
Otherwise, it will be organization and small upgrades that help to take this kitchen up a notch!
Projects for this space:
Swap knobs
Update pendant lights
Pantry remodel
Add additional shelves inside cabinets
Update backsplash
Add organization to peninsula – tiered tray or similar
Add open shelving to back end of island
Add a pull out trashcan in a cabinet
Create and organize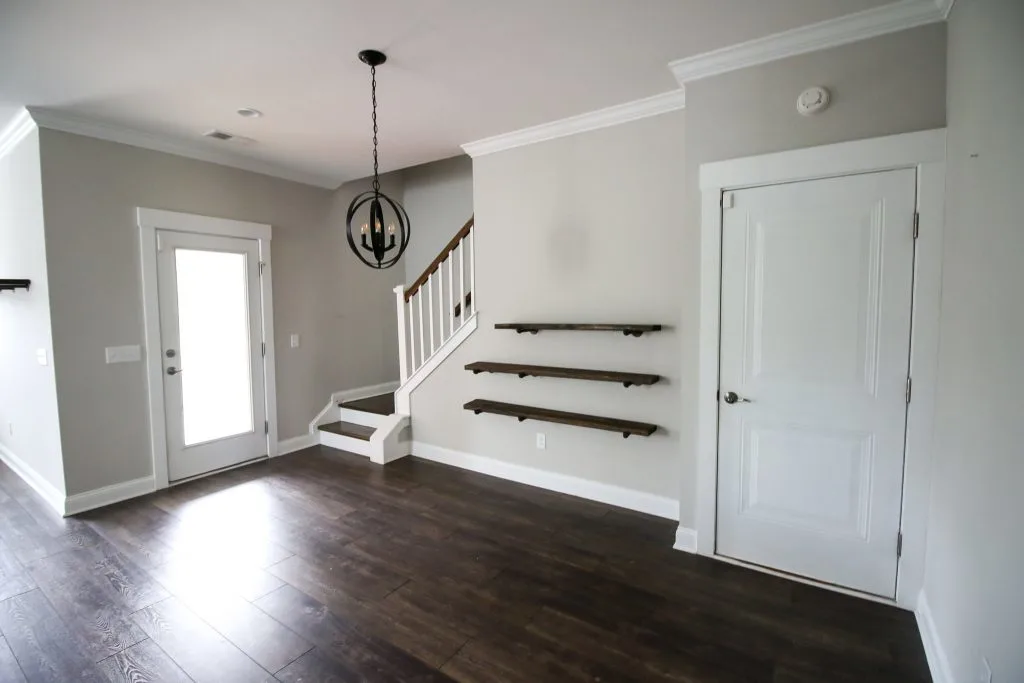 The dining area
We are planning to use the eat in kitchen area as our primary dining space. We already have our table and chairs there and just need to make a few small updates!
Projects for this space:
Add built in shelving display/storage
Paint the door to the garage
Change the light fixture
The living room
I love the living room in this home! It is spacious but still feels defined and cozy, which I think is hard to do with an open concept home.
The furniture that we moved in is honestly too small for this big living room. We are going to live with it for a little while until we figure out our plan for a more functional layout.
I am most excited for a fireplace makeover. I have always wanted a gas fireplace and I can't wait to make it feel really special!
Projects for this space:
Fireplace update
Hang live edge shelving over couch
Build sofa table for between sofa + wall
Update the fan
Build a new coffee table
Cover outlet behind TV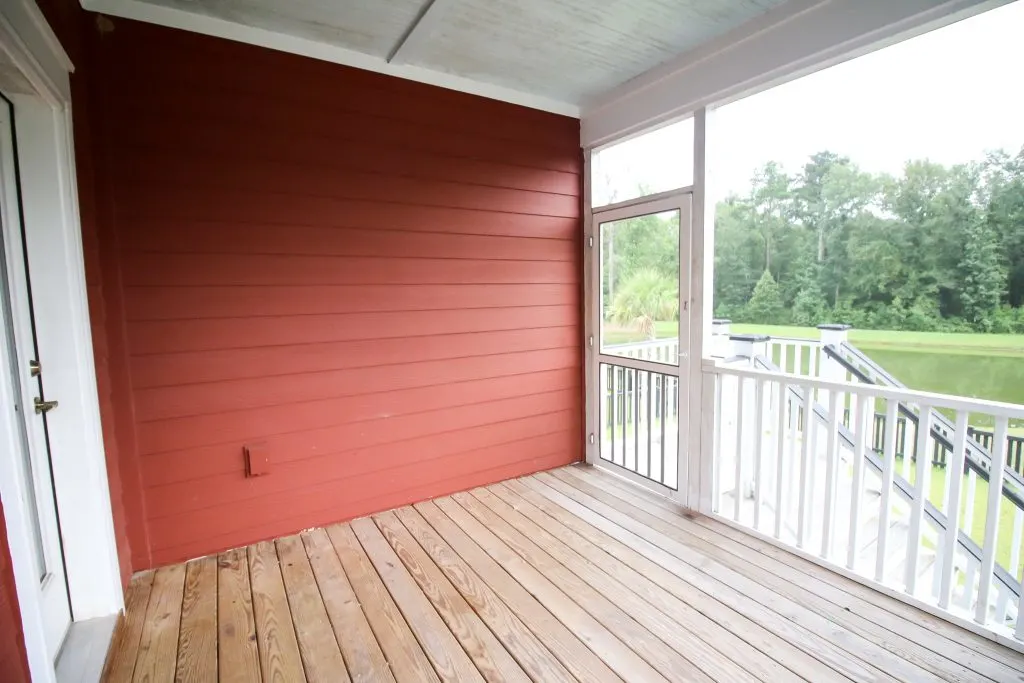 The screened porch
A screened porch was a must have for us and I love that this one is elevated on the second floor, so it has excellent views of the pond and woods.
Projects for this space:
Stain decking
Add fan
Add lighting
Add planters along railing/steps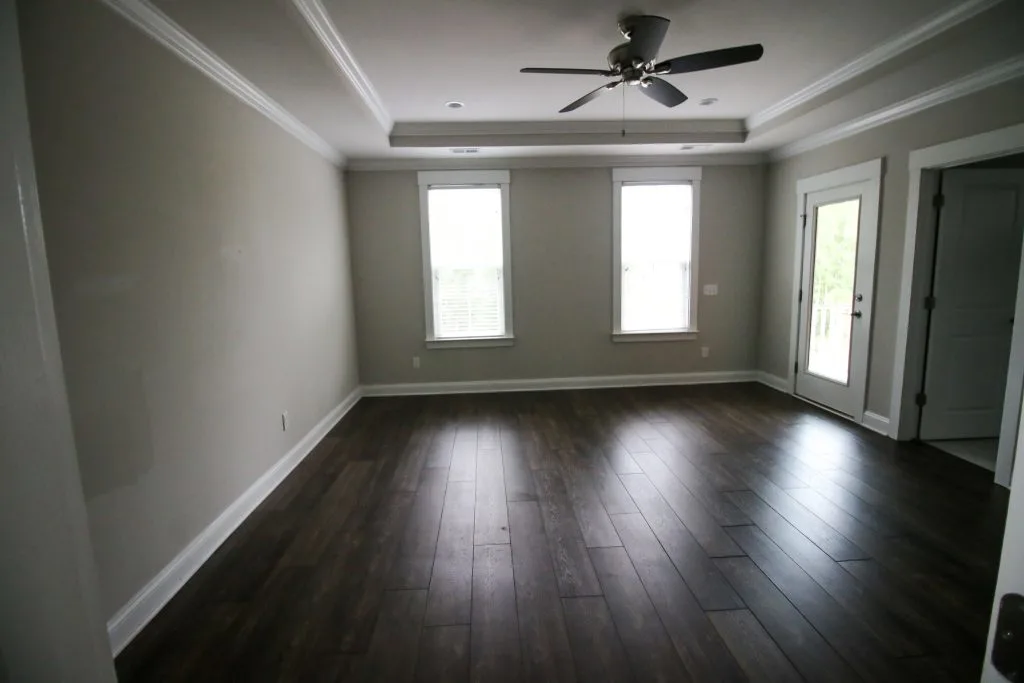 The owner's suite
The owner's suite includes the bedroom, a porch, a bathroom, and closets. It's a pretty blank slate, so the main thing that this space needs is personality!
Honestly, this room will be pretty low priority for us, and our needs may change in the meantime. We will have to see how it turns out!
Projects for this space:
Plank tray ceiling
Build a vanity
New side tables
Towel hanging solution
Renovate both closets
Update lighting over mirror
Update mirror
Replace hardware on cabinets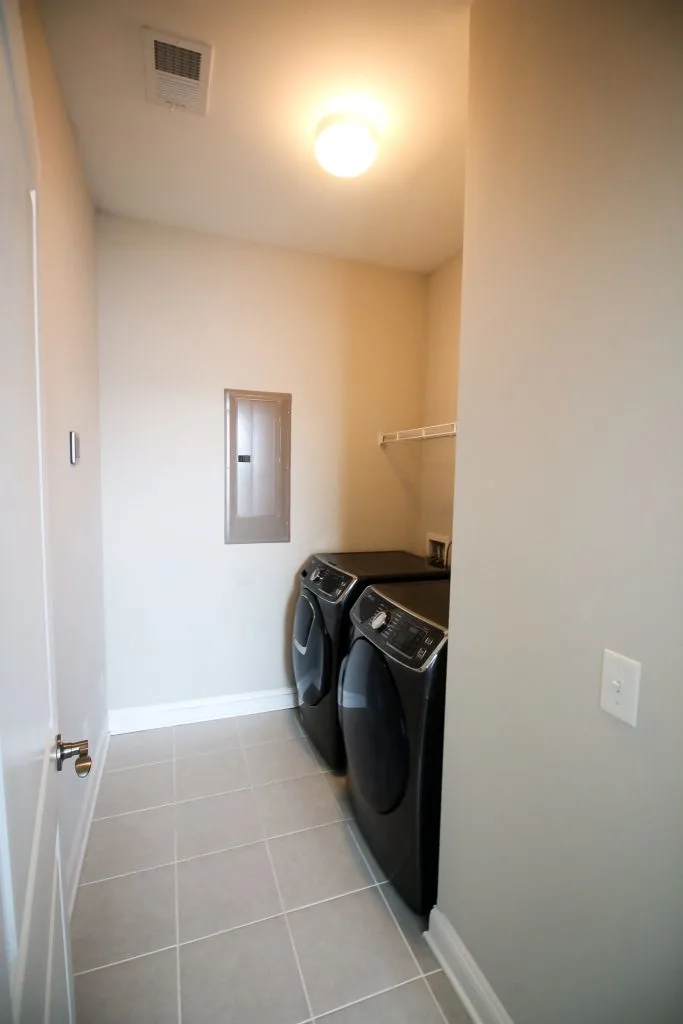 The laundry room
I was really excited to get a home with an upstairs laundry room – you wouldn't believe how hard this was to find! It's great to have the space – it's just really builder basic.
Our plan is to quickly add some shelves that I can reach (the one shelf is too high currently) and a rod since I hang dry most of my clothes. Then, we will do another makeover down the line!
Projects for this space:
Add shelves
Add a countertop
Cover electric box
Add an accent wall
Update light fixture
Add a hanging rod
Add cabinets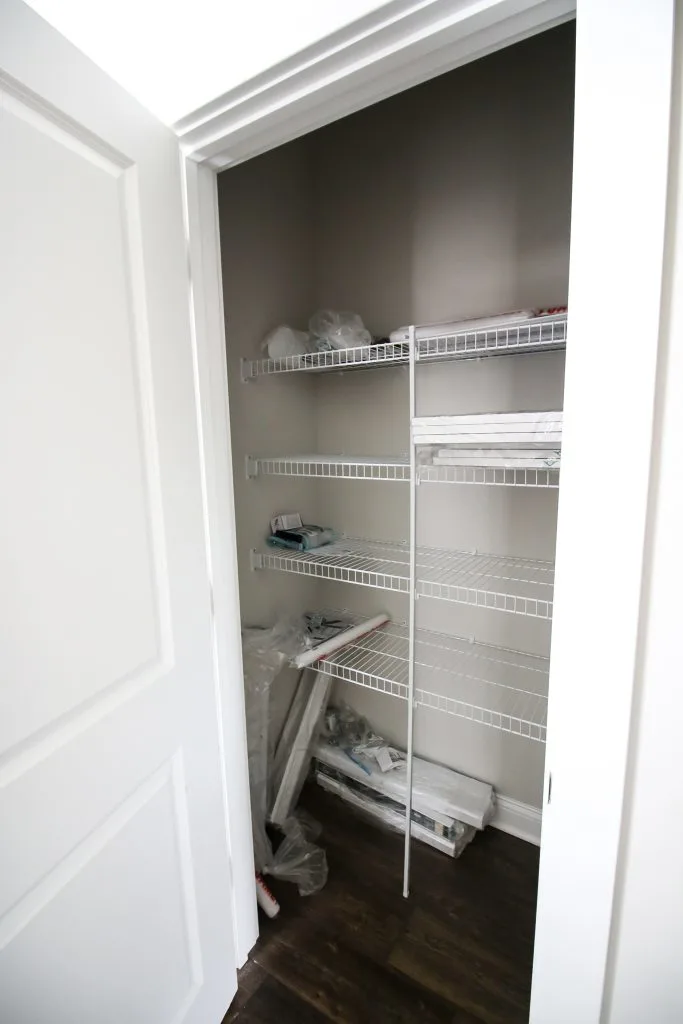 The linen closet
Next to the laundry room is a very large linen closet. Honestly, I wish this space was incorporated into the kid's bathroom, but for now we will just organize it and add better wooden shelving.
Projects for this space:
Add cat door to door
Add shelving and organization system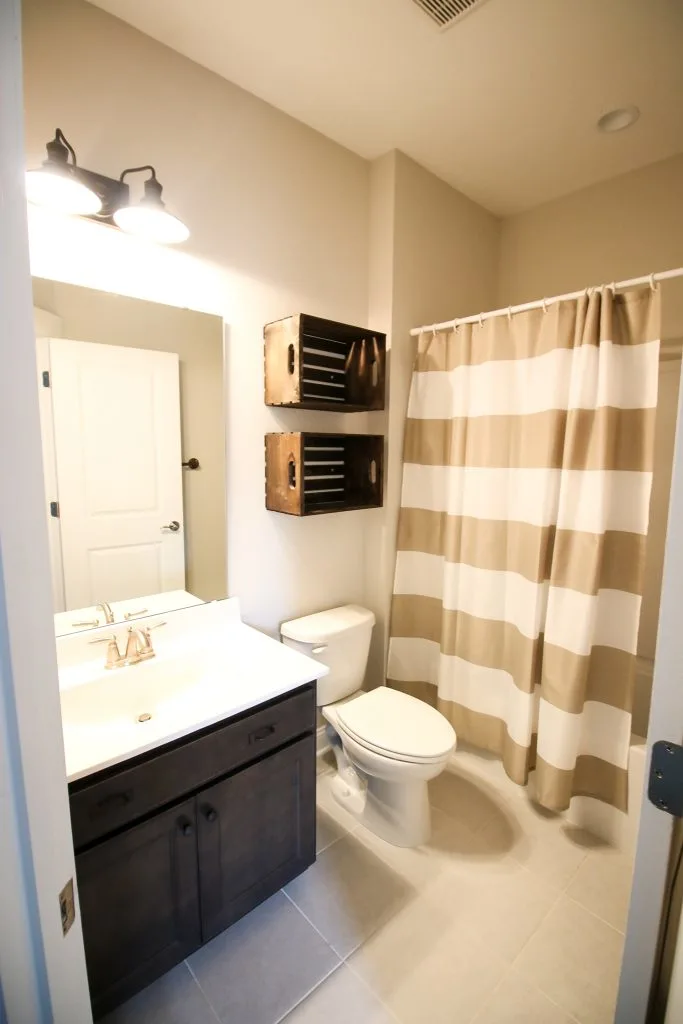 The kid's bathroom
I really hate this bathroom! It feels shockingly small, considering the size of the house and the size of the kid's bedrooms. While we could expand it, that seems unlikely at this point. So, we will just make a few small updates to help it work better for us.
Projects for this space:
Remove existing rod and replace with hooks
Remove crates, add shelving
Update mirror
Add a step stool
Update hardware on cabinets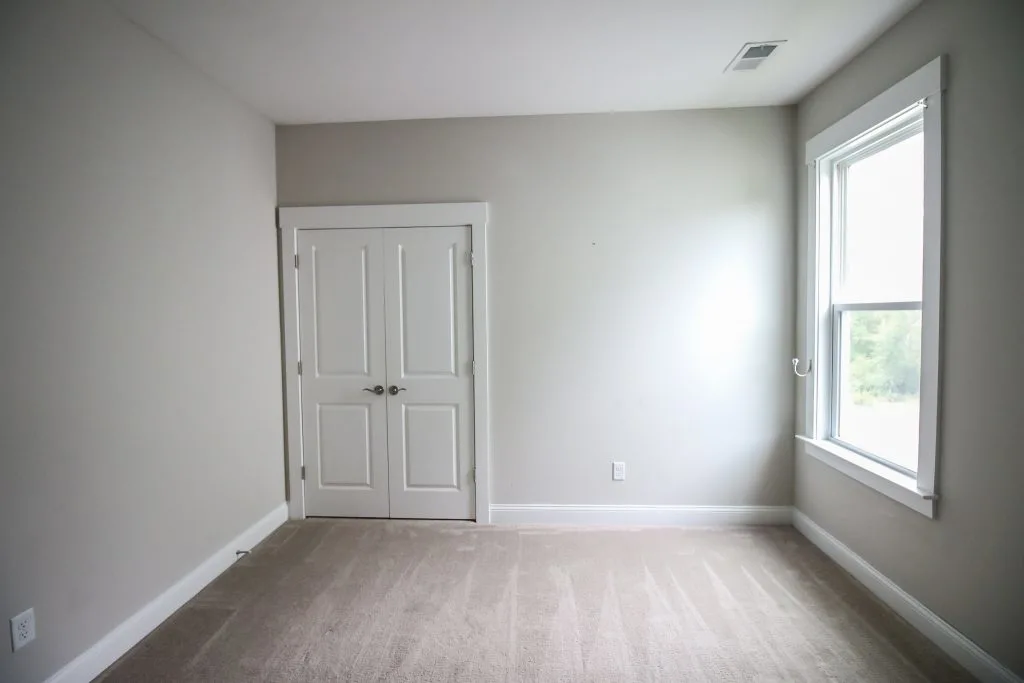 Rory's bedroom
I'm so excited to do a girly, pink bedroom for Rory! We hope to be in this house for many years and so I imagine that it will get a few makeovers in that time.
Projects for this space:
Paint a fun wall treatment
Refinish dresser
Hair bow storage/display
Add a bookshelf
Paint crib
Add a fan
Update closet system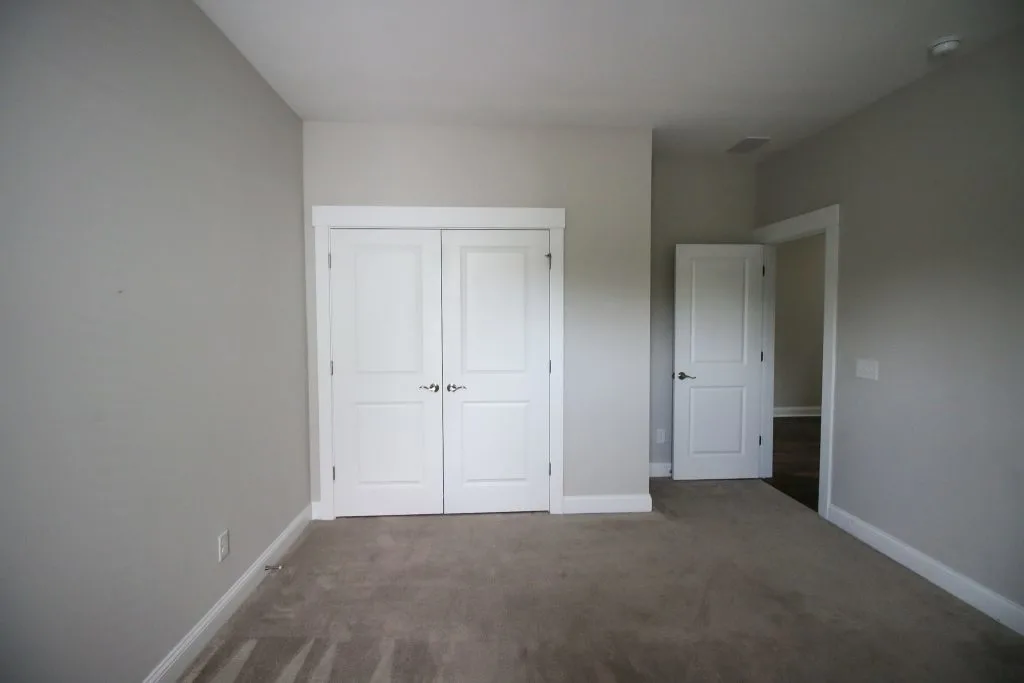 Luke's bedroom
Luke's new room is huge and I am very excited to decorate it. I have big plans for this space – and it is the first room we plan to tackle!
Projects for this space:
Paint a fun wall treatment
Build a big boy bed
Add a reading tent/nook
Update closet system
Build book storage
Add a fan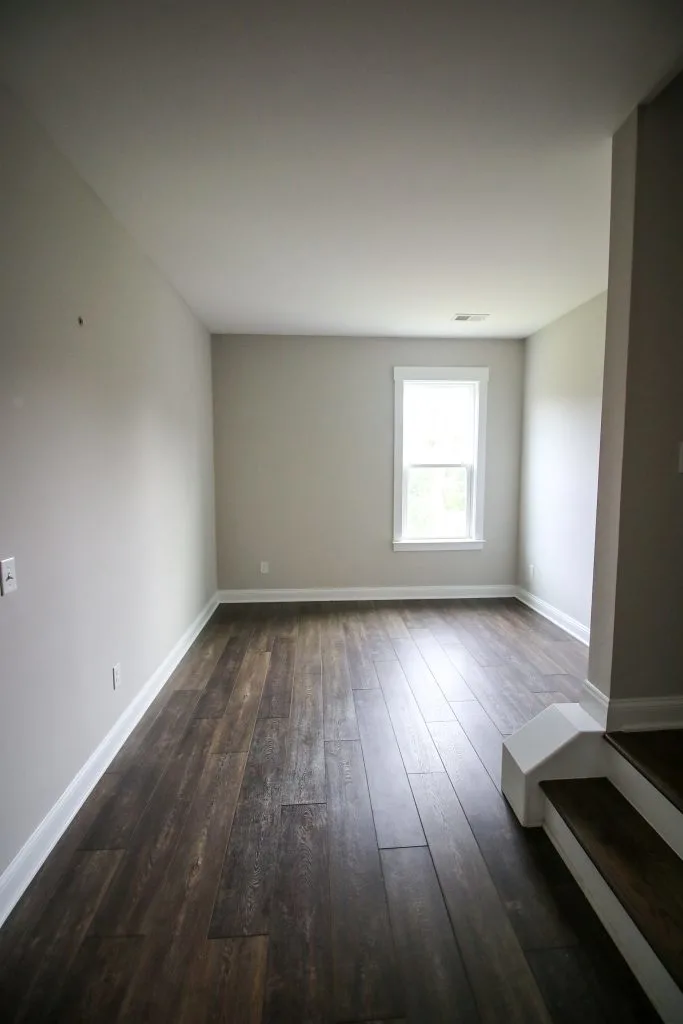 The loft
The loft is across from the kid's bathroom. Together with the 2 bedrooms, this makes what we jokingly call the "kid's wing" of the house.
Currently, the loft is home to all of Luke's smaller toys. I am sure that this space will evolve over time, but I am excited to decorate it as a colorful, fun toy room for now!
Projects for this space:
Build a toy shelf
Add a comfy rug
Adult seating
Coloring/art station
Add overhead lighting
Fun & colorful decor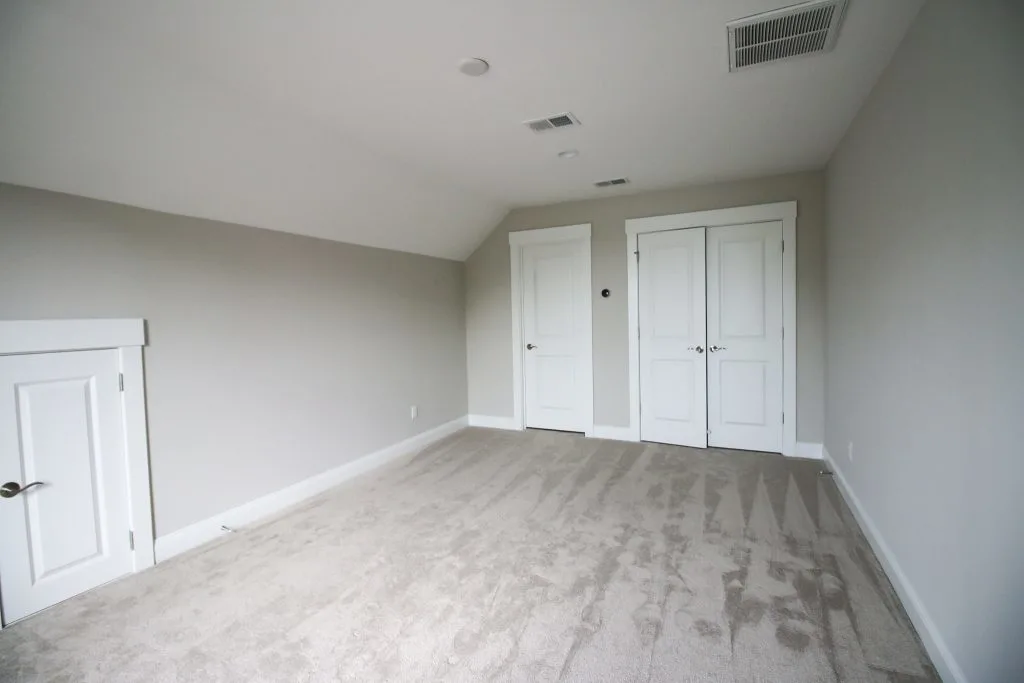 The playroom
The 3rd floor of our house is a bonus room with a full bathroom. We have all of Luke's big toys up there, including the nuggets and pikler triangle.
I have a vision of this becoming a TV watching, video game playing, sleep over room. But, for now we are going to keep it pretty simple and let the toys shine. I want them to feel free to act wild up here so I don't want too much decor to get in their way!
Projects for this space:
Rainbow stair risers
Hang gallery wall
Update to meet our needs down the line
Any questions?